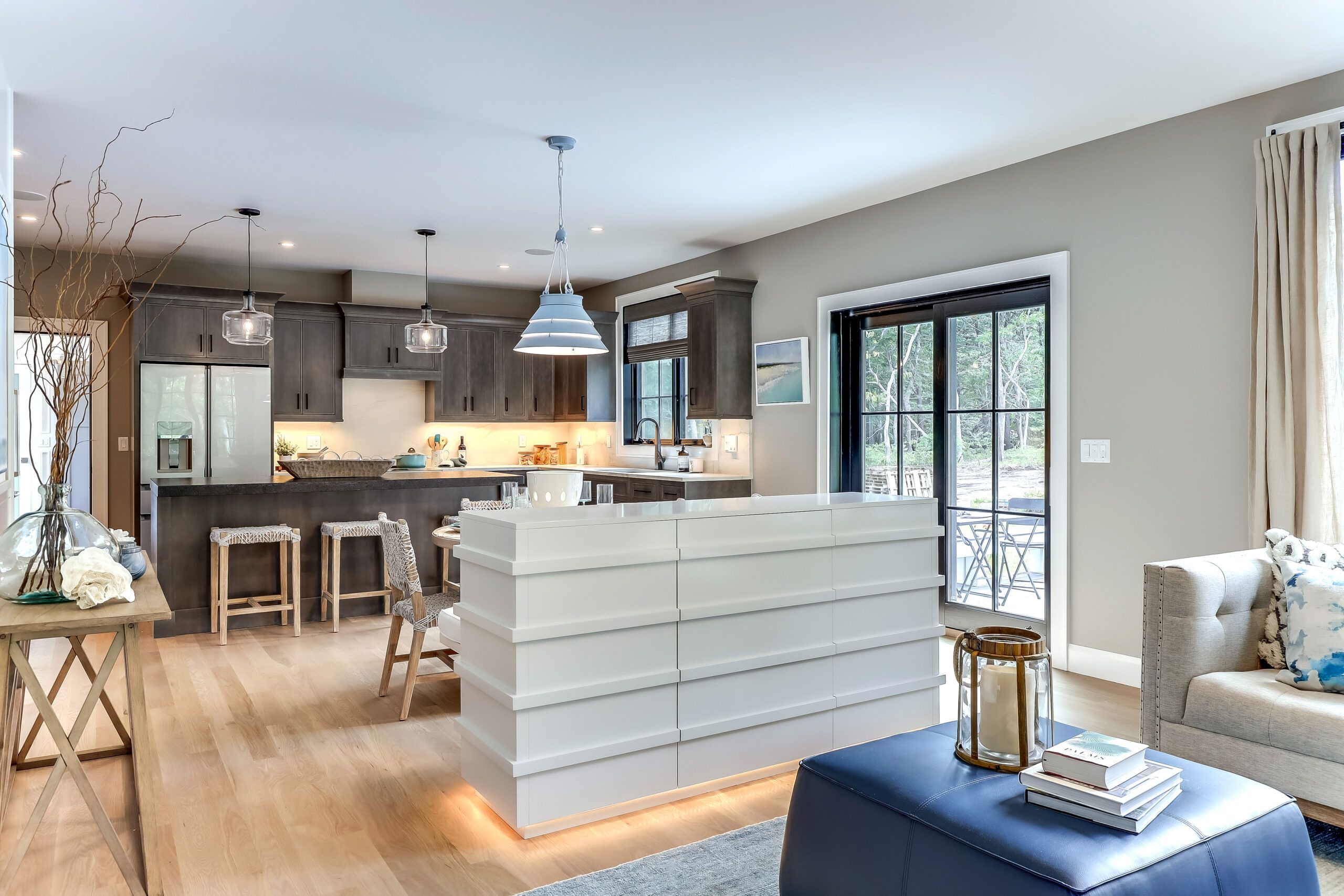 Interior designer Denise Enright believes an eye-catching light fixture can make—or break—a room. "Lighting is an opportunity to influence the style and personality of a space, and I love the challenge of finding just the right piece." Of the selection process, Enright says, "Consider the proportions of the room; would it benefit from a low-profile, flush-mount fixture or a bold, daring pendant? What shapes, materials, and finishes will best complement the overall design? In this home, I knew going in that we were looking for pieces that would fit the coastal-chic theme, which helped narrow down the field. But sometimes I'll fall in love with a piece first and build a whole room around it."
Read on for more about the lighting fixtures Enright selected from our friends at Progress Lighting for the Cottage on the Cape (and which one turned out to be her favorite!).
Living Room Lighting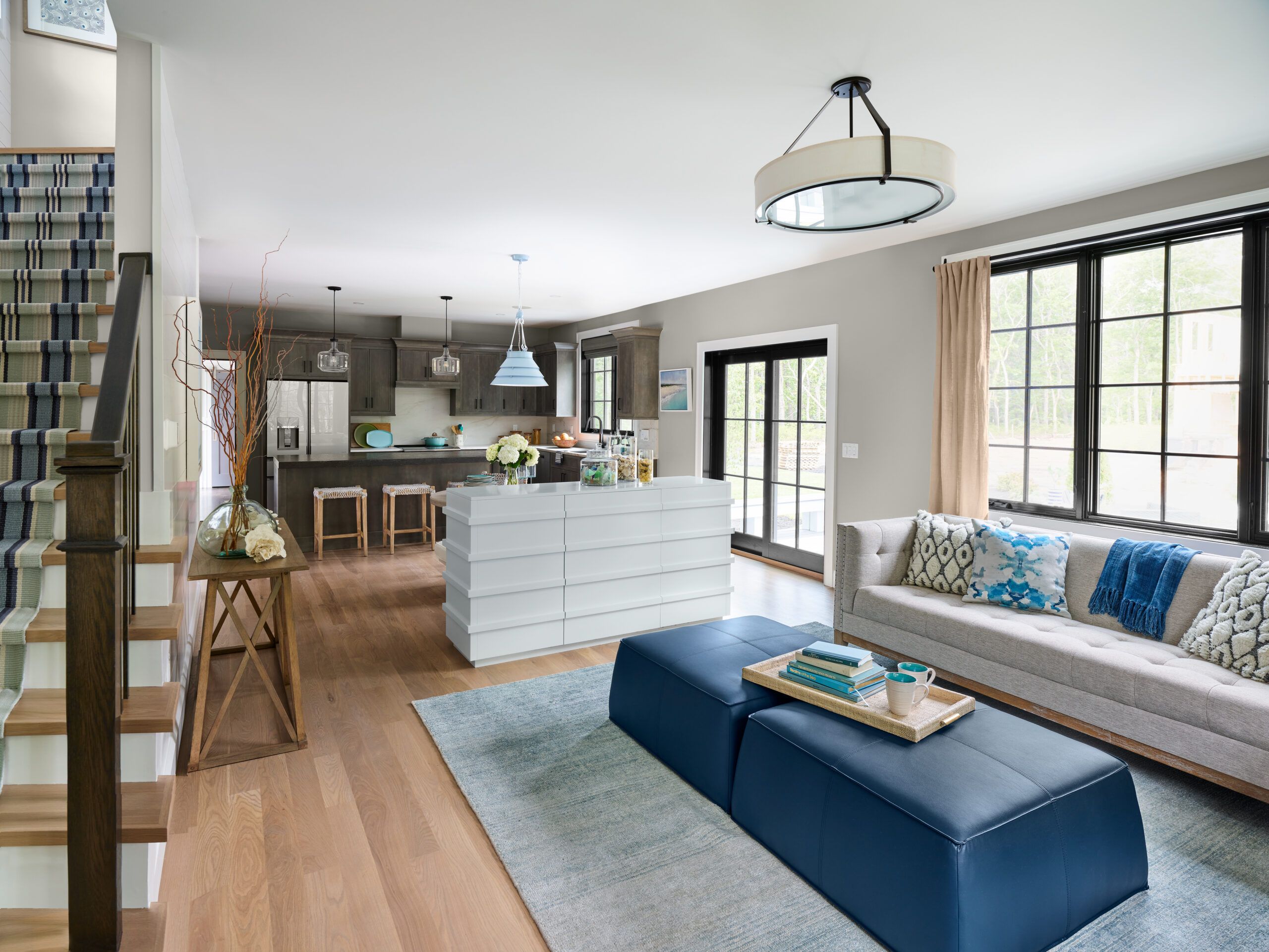 "Our living area is designed to be casual and comfortable, but decidedly modern and sophisticated. I chose a sleek, low-slung fixture that shares those traits," Enright says of the Ratio six-light pendant. The metal frame and crisp linen shade offer soft, diffused light, and evoke casual modern style.
Shown: Ratio Collection Six-Light Pendant by Progress Lighting
Dining Table Pendant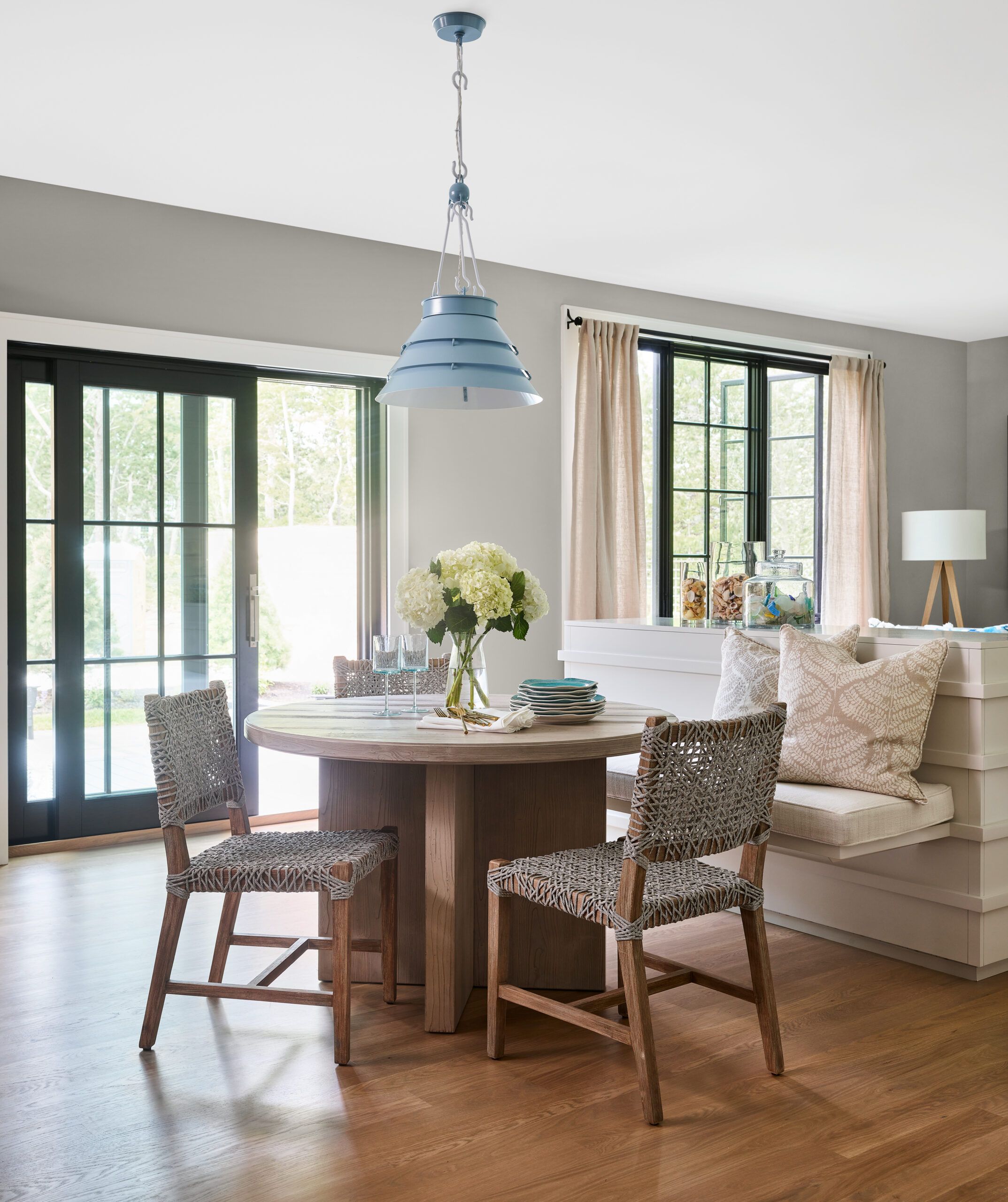 With its tiers of blue reminiscent of gentle waves lapping the sandy shore, "the Surfrider pendant is definitely my favorite fixture," says Enright. Oversize hooks suspended from a simple orb link to a floating braided metal cable, beautifully marrying form and function. Even the color evokes the ocean—it's called Maliblue, a soft blue-gray finish inspired by designer Jeffrey Alan Marks's love of the Malibu waves and sky.
This fixture is part of the Jeffrey Alan Marks Point Dume™ lighting collection, which celebrates a curated mix of yesterday and today, distilling both industrial and artisanal influences.
Shown: Jeffrey Alan Marks Surfrider Collection Pendant by Progress Lighting
Open-Plan Lighting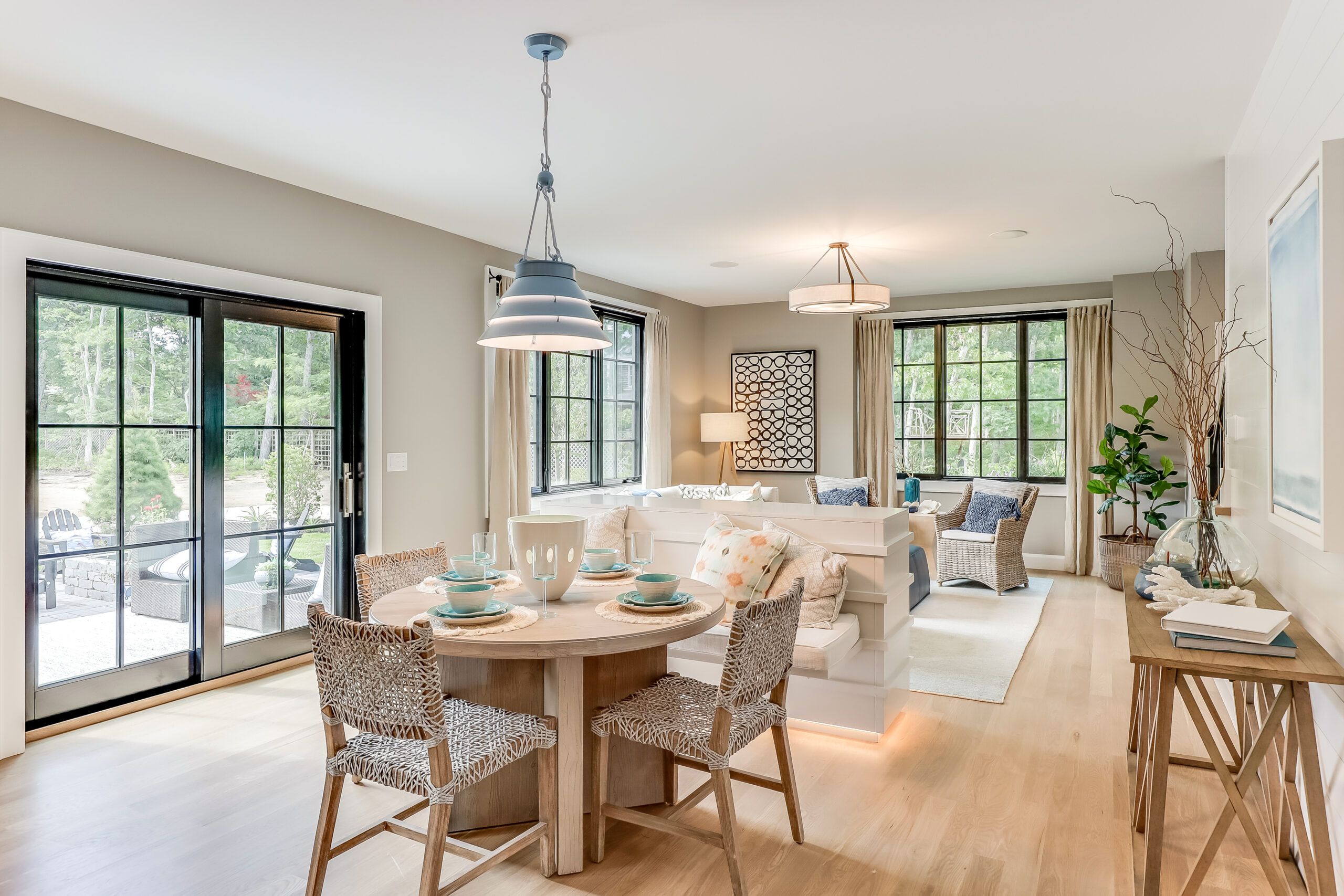 Taking a view from the kitchen toward the front of the house, the blue Surfrider pendant pairs beautifully with the neutral Ratio pendant beyond. "In an open space where you can see several fixtures from one vantage point, you'll want the fixtures to complement one another, but not necessarily match. Here, each fixture shares a similar shape and circumference, but the Surfrider hangs a bit lower to bring a sense of intimacy to the dining area. And the soft blue color is reflected in dinnerware, artwork, and other accessories to tie the room together."
Shown: Jeffrey Alan Marks Surfrider Collection Pendant by Progress Lighting
Contemporary Glass in the Kitchen
"Above the island, I chose clear glass pendants with matte black ceiling plates that echo the black hardware and leathered countertop for a contemporary vibe," says Enright. These bottle-inspired glass shades combine simple vintage charm with modern appeal.
Shown: Latrobe Collection Black One-Light Pendant by Progress Lighting
Stairwell Sconces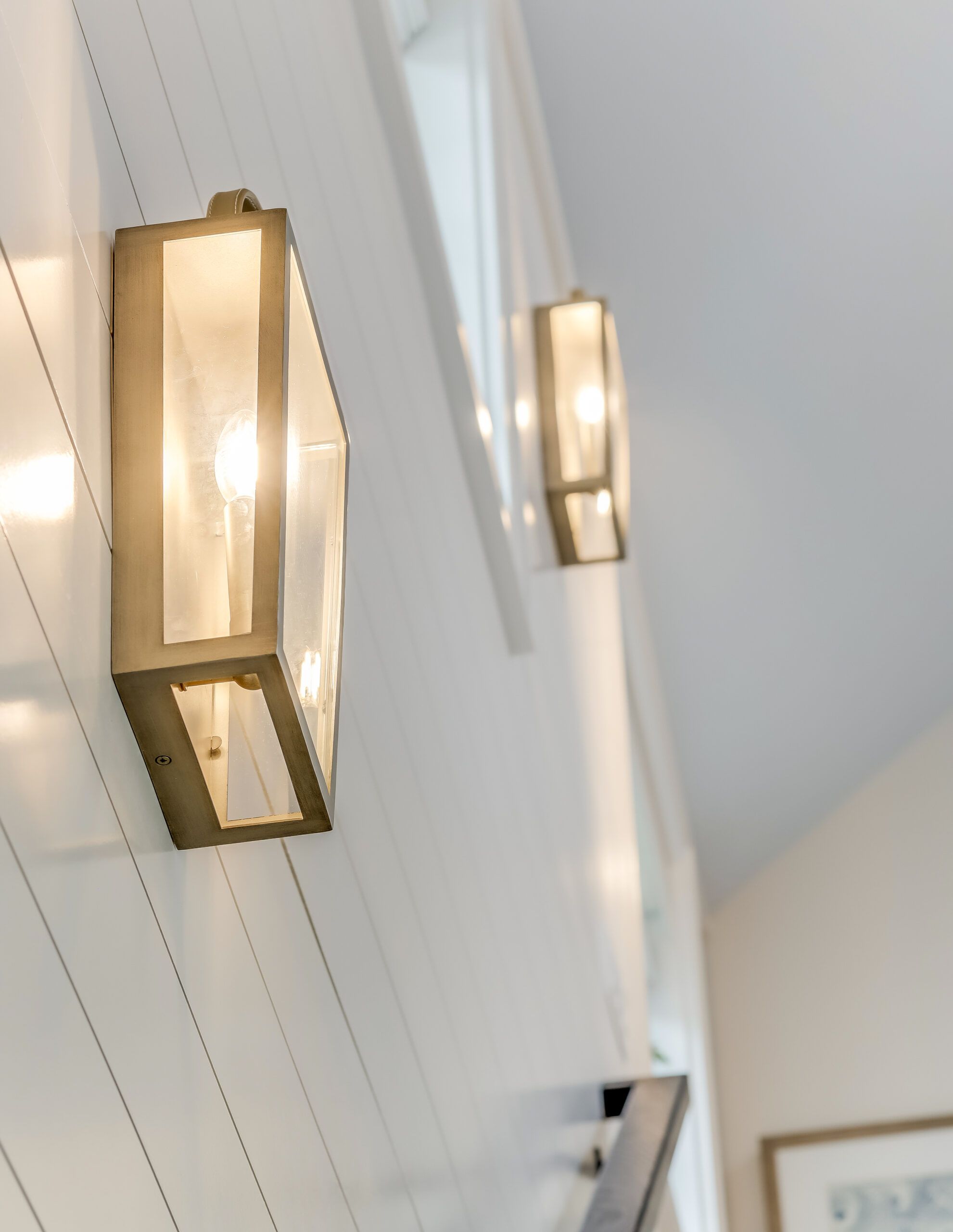 To highlight the main stairwell's shiplap wall, Enright chose these seafaring-inspired lanterns. "They remind me of lamplight along the coast at night."
Shown: Jeffrey Alan Marks Shearwater Collection Sconce by Progress Lighting
Modern Fixtures in the Master Bath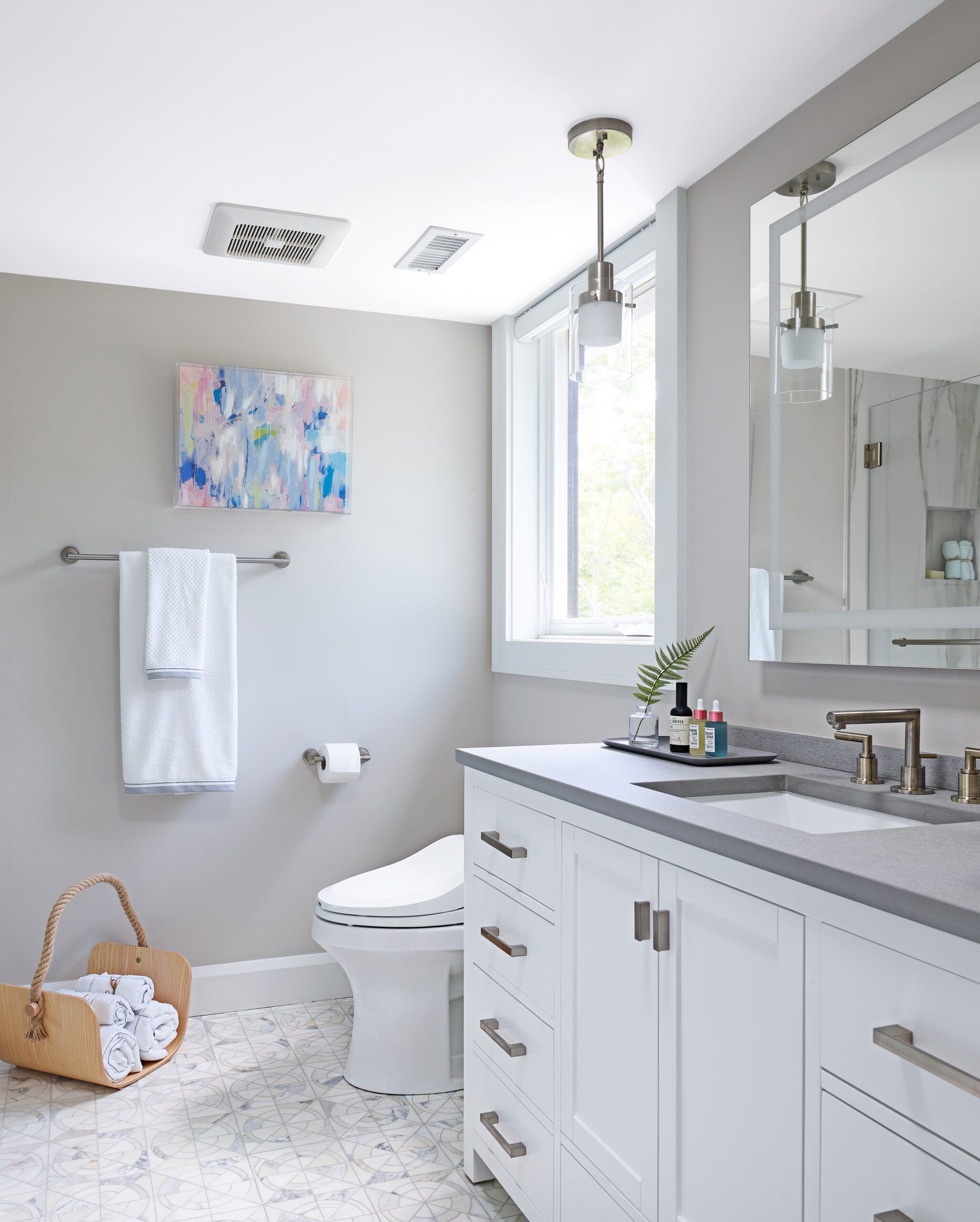 "In the master bath, the vibe is chic and modern; I love the simple silhouette and linear frame of this one-light pendant," says Enright. Featuring clear outer glass with an inner etched-white-glass shade, this pendant also has an AC LED module that delivers energy-efficient illumination and long-life performance.
Shown: Moderna Collection One-Light Mini-Pendant by Progress Lighting
Welcoming Light in the Mudroom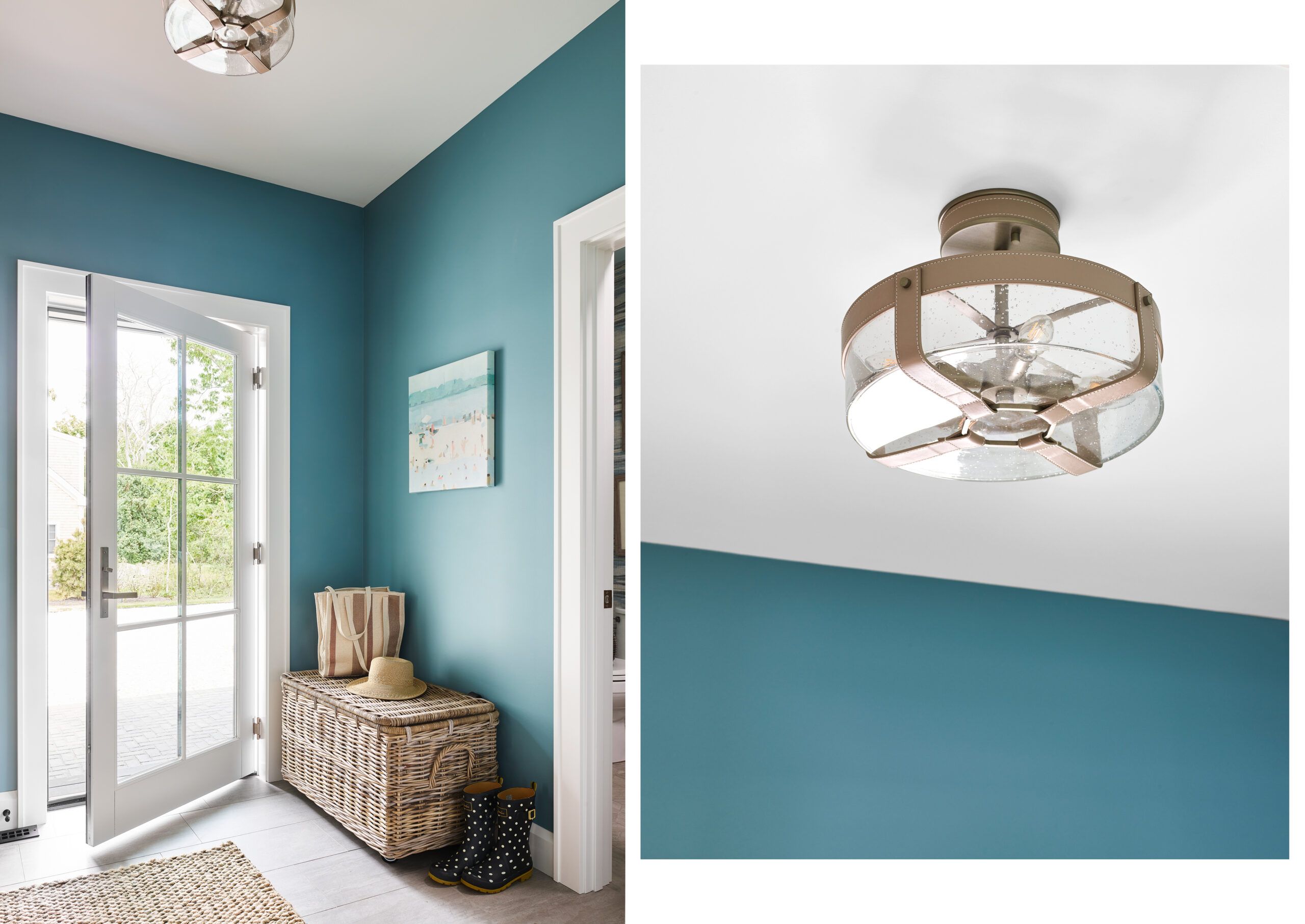 Says Enright, "This piece is described as being inspired by a bespoke handbag or boot, and I felt it was right at home in our mudroom/family entrance. It's fashion-forward, with beige leather straps and seeded glass, and I love the way it plays off the blue-green walls here."
Shown: Jeffrey Alan Marks Rockdance Collection Semi-Flush by Progress Lighting
Overhead Task Lighting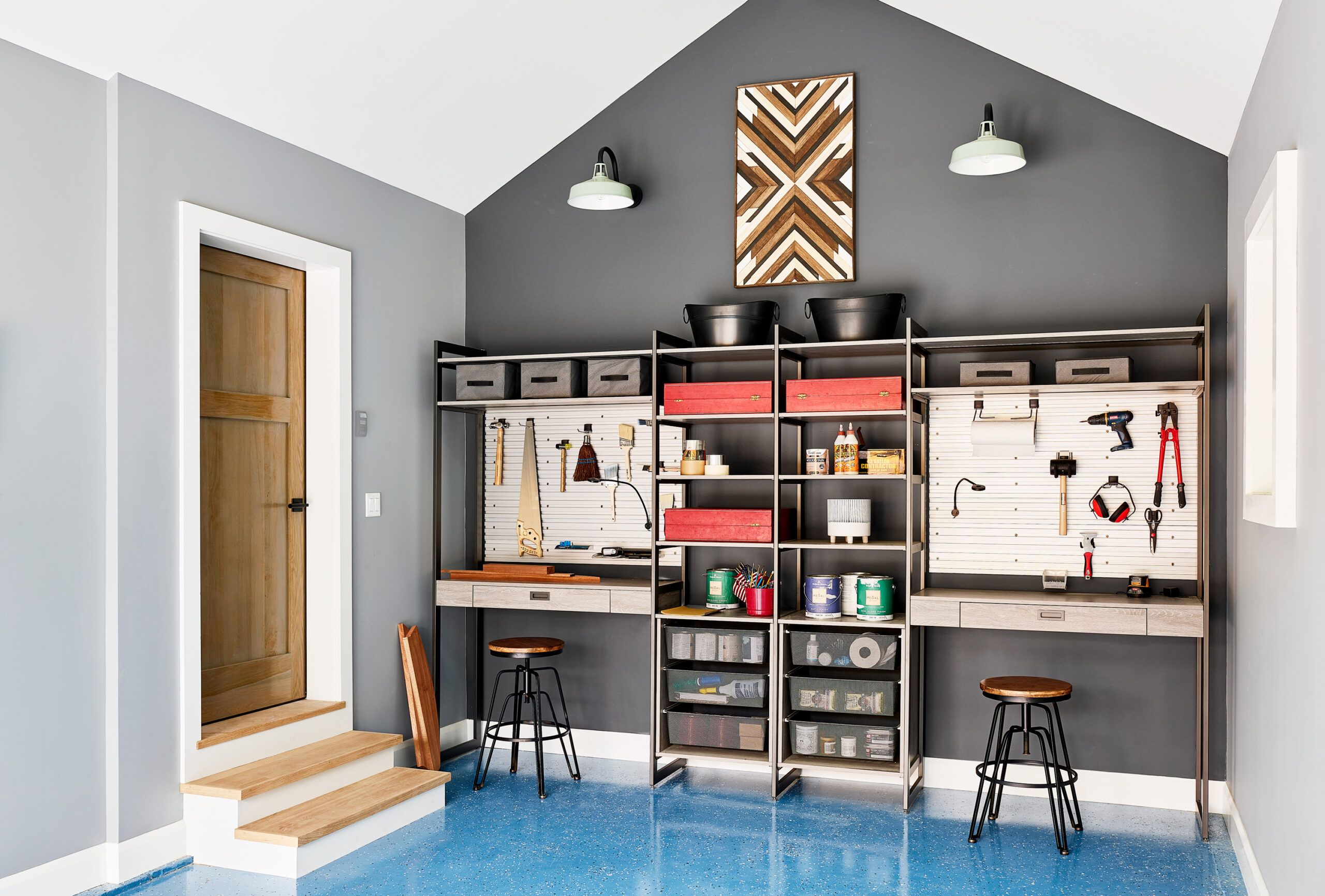 For the workshop, Enright was looking for fixtures to illuminate the workspace and foster creativity. "This fixture has the classic, gooseneck style I was looking for, but the cheerful pistachio-colored shade is what really drew me to the piece."
Shown: Cedar Springs Collection One-Light Wall Lantern by Progress Lighting
Guest Bathroom Vanity Lighting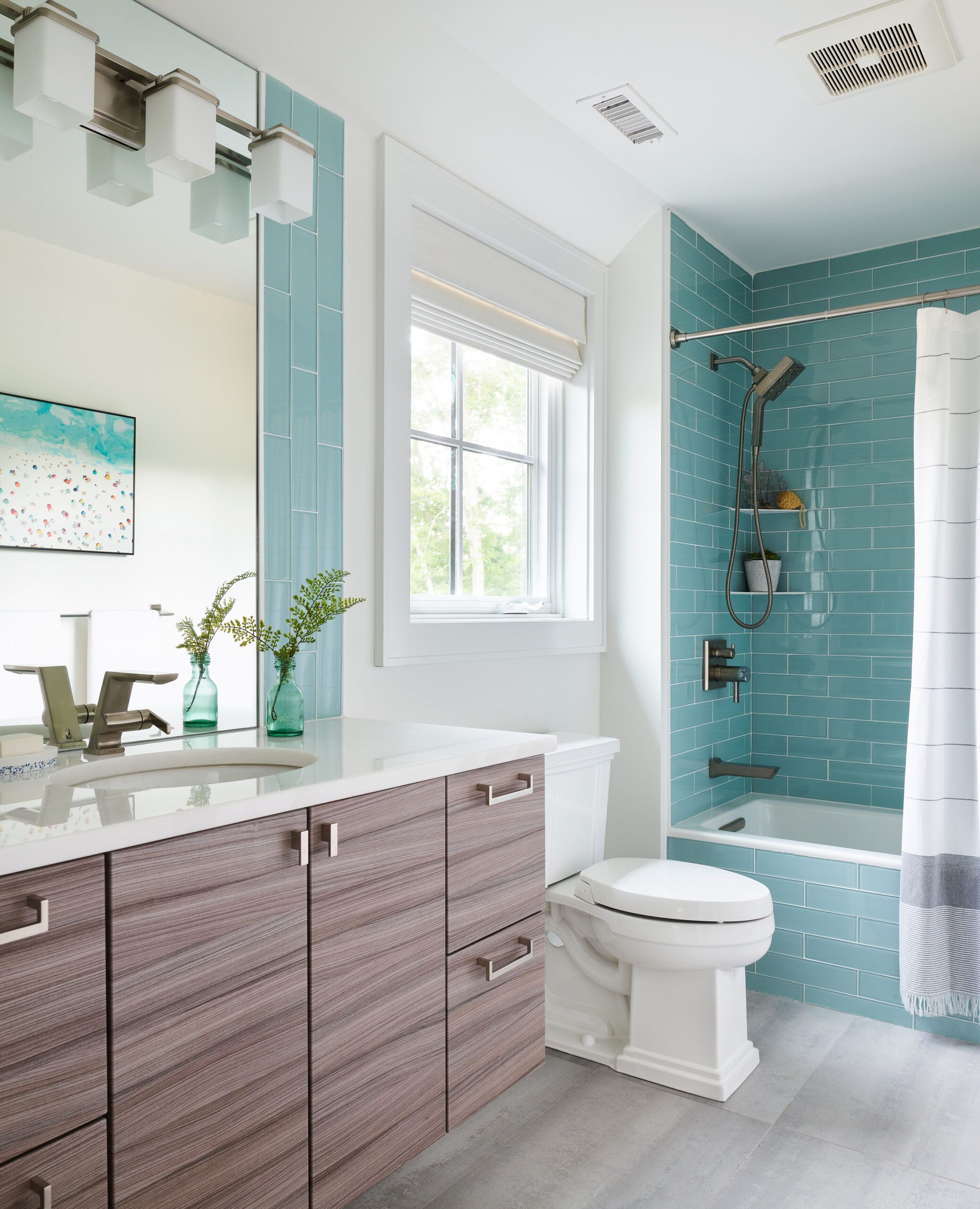 This cool and modern design features a quad of simple, etched opal glass shades nestled inside a die-cast frame.
Shown: Metric Collection Four-Light Bath & Vanity by Progress Lighting
Asymmetrical Chandelier in the Entryway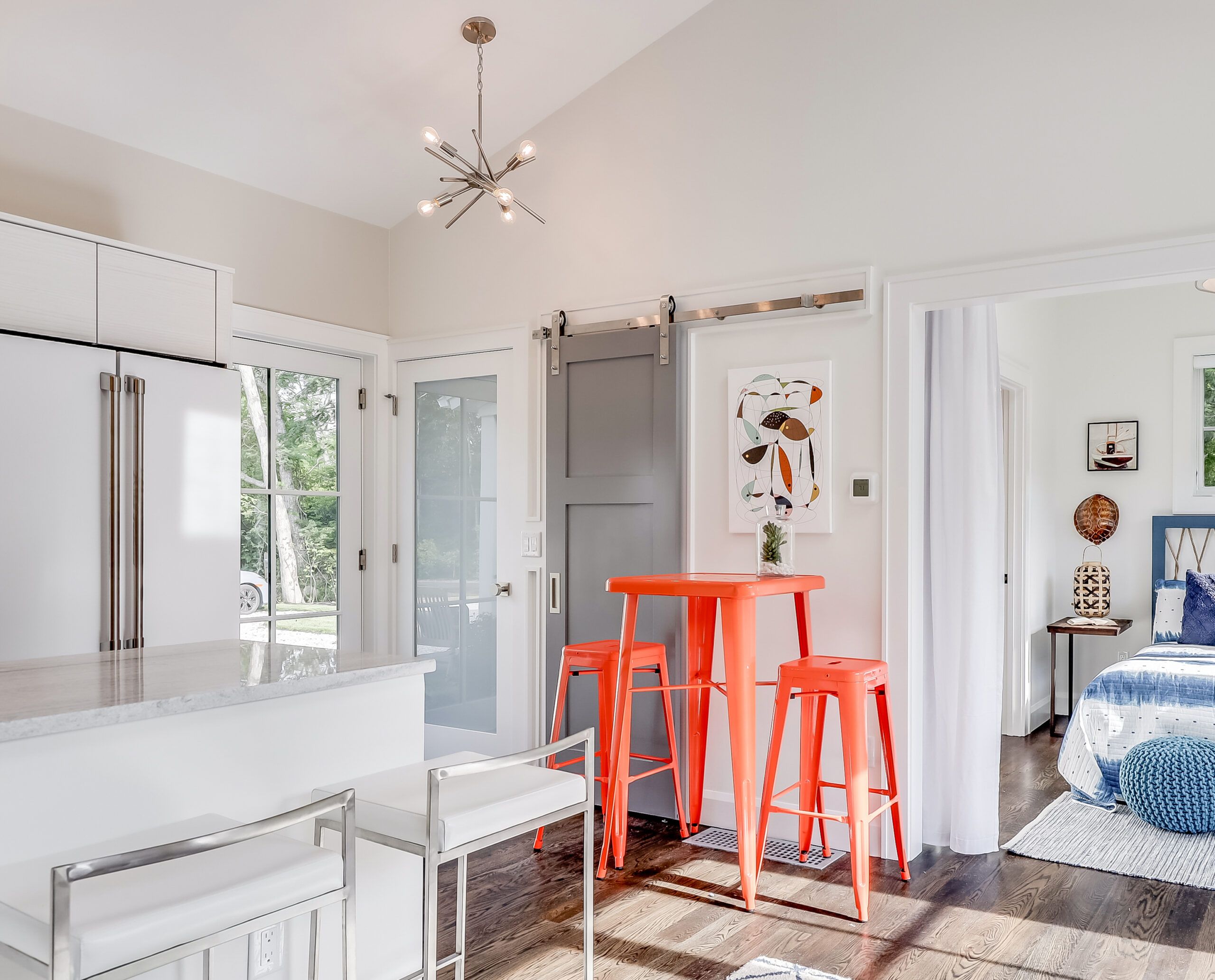 "Our ADU (auxiliary dwelling unit) is modest in size but packs a lot of personality," says Enright. "This asymmetrical steel chandelier reminds me of a starburst. It's modern, yet lighthearted and fun, and adds a unique focal point to the entryway."
Shown: Astra Collection Six-Light Chandelier by Progress Lighting
Sophisticated Pendant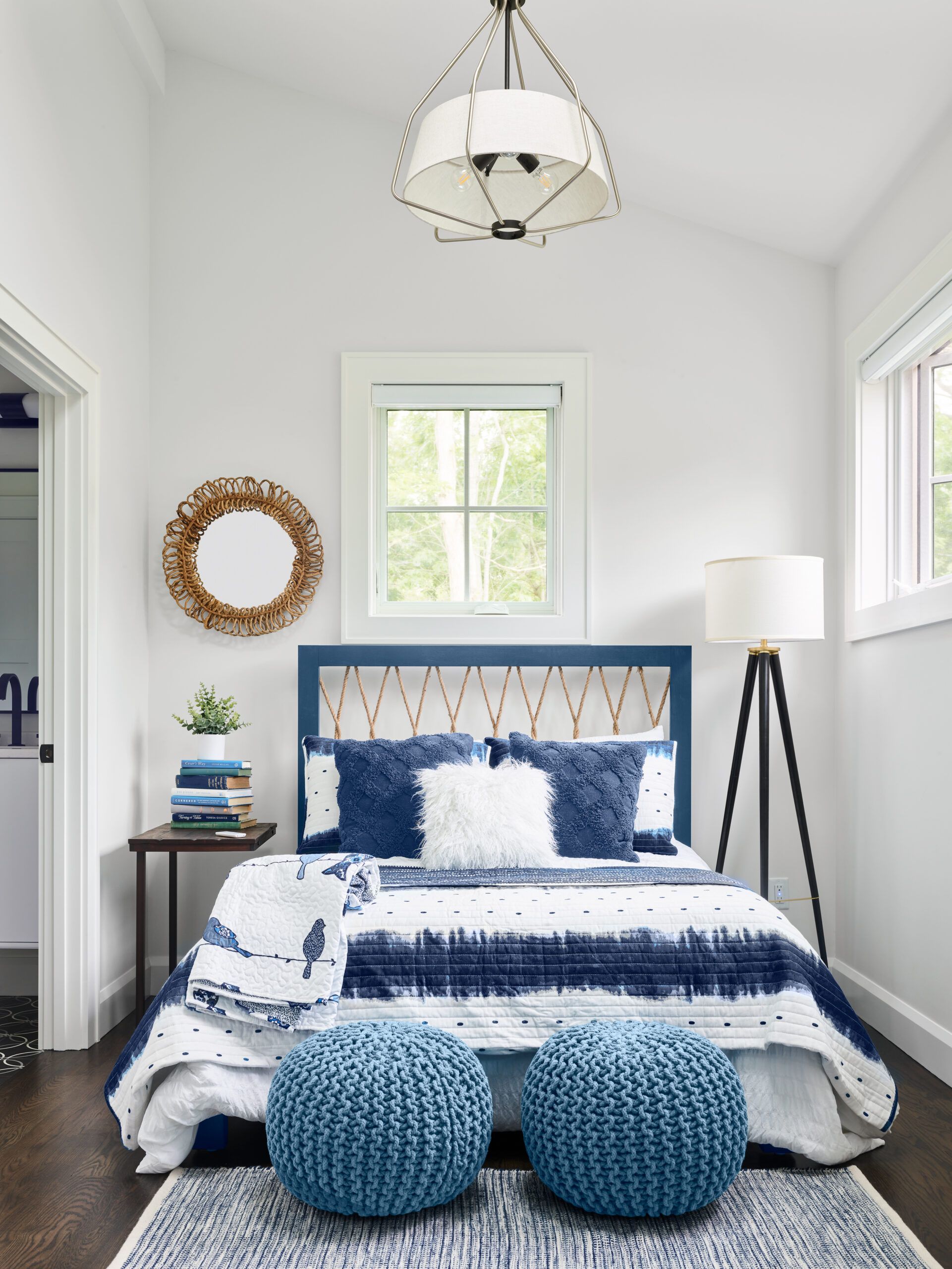 "The ADU sleeping area is a modest space, but the high ceilings gave me the opportunity to create some real visual interest," explains Enright. This three-light pendant, which features a sophisticated, statement-making brushed-nickel frame with graphite accents, helps occupy the vertical space.
Shown: Hangar Collection Three-Light Pendant by Progress Lighting
Lighting Up the Living Area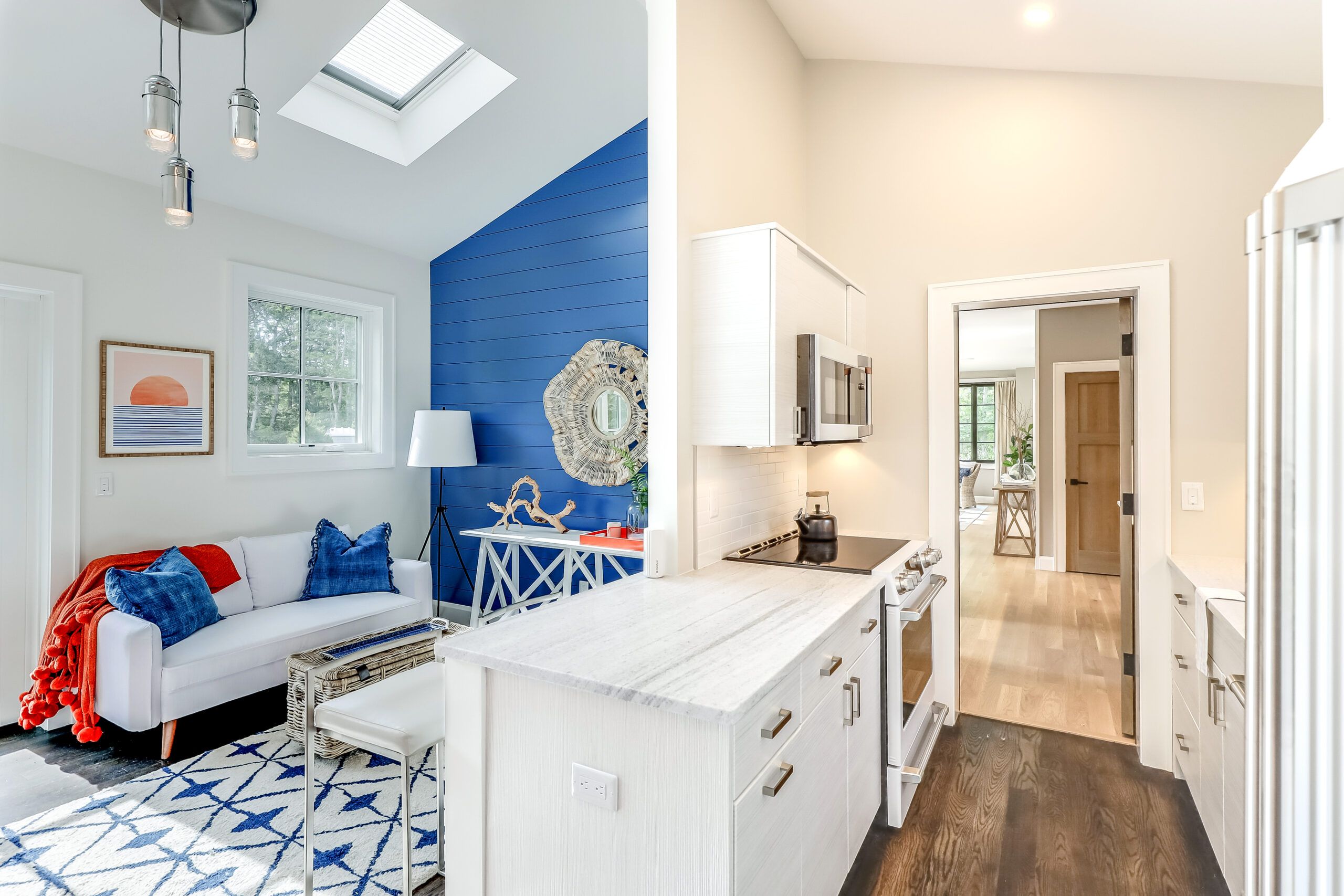 "I really like the mix of industrial and modern styling of this fixture, and it brings a sense of balance to the sloped ceiling in the living area," says Enright.
Suspended from a round canopy by herringbone cloth cords, these mini pendants are named Beaker, as they were inspired by beautiful glass forms commonly found in a science lab. The 9W LED source offers energy-efficiency and cost-savings benefits, while the industrial-inspired aesthetic complements a variety of interior designs.
Shown: Beaker Collection One-Light LED Mini Pendant by Progress Lighting
Farmhouse-Style Fixture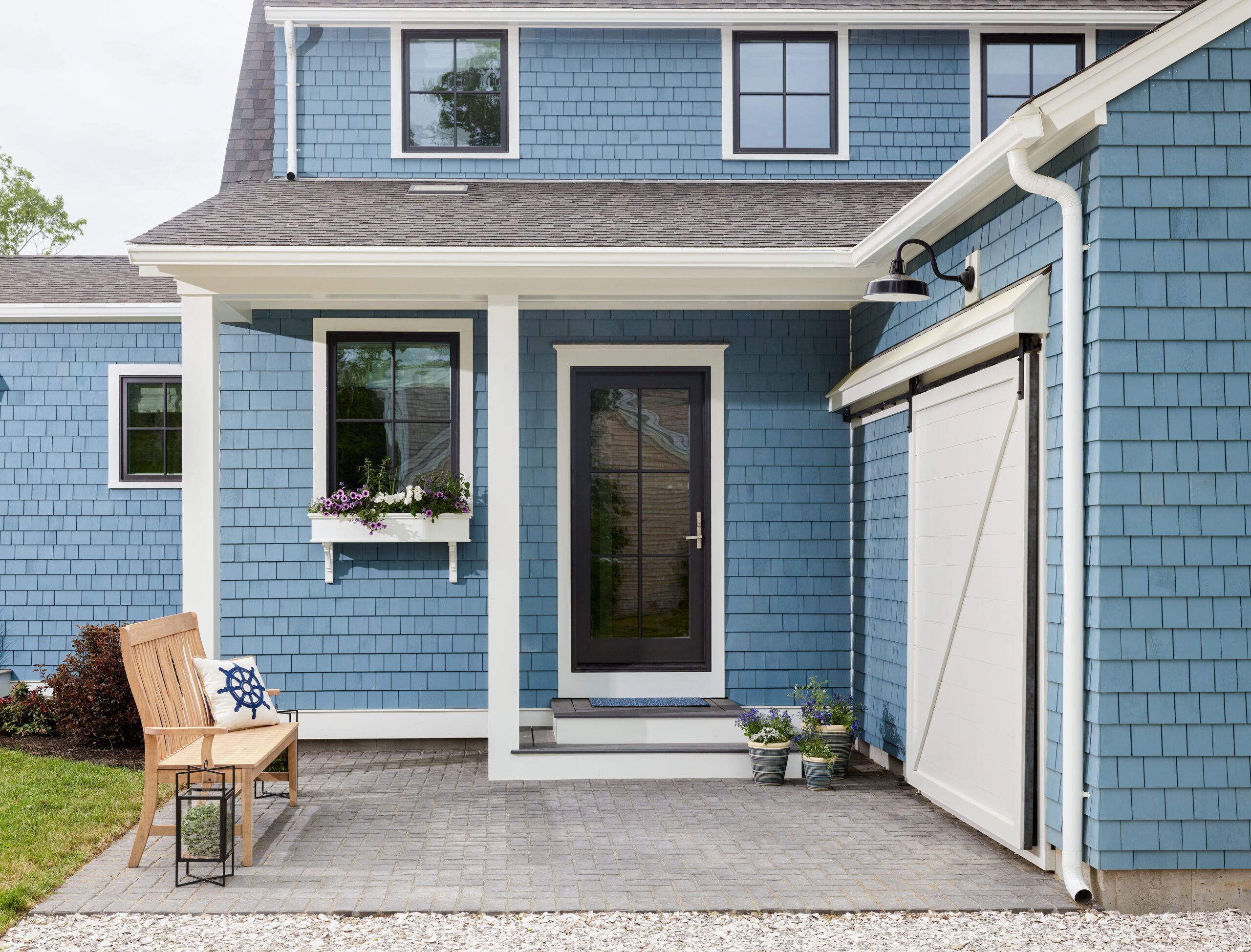 This fun take on the traditional warehouse shade provides excellent illumination at the doorway to the workshop. Says Enright, "The gooseneck styling and matte black finish are in perfect harmony with the rustic barn door and black hardware and trim."
Shown: Cedar Springs Black One-Light Extra-Large Wall Lantern by Progress Lighting
---
To experience more than 5,000 lighting fixtures made with trendsetting elements and unique detail, visit ProgressLighting.com.