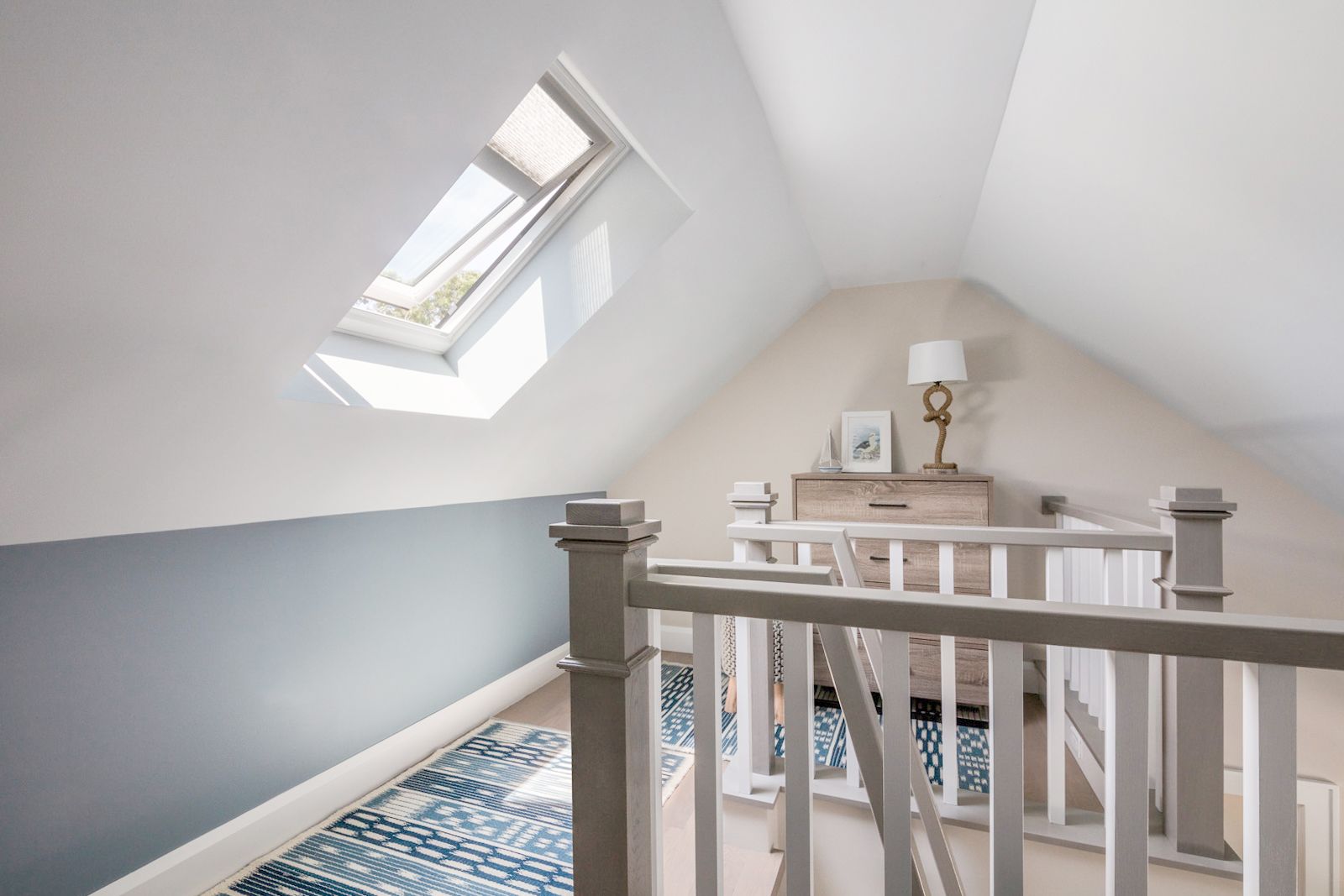 Natural light helps to balance your circadian rhythm, which controls everything from your sleep patterns, appetites, and brain activity. Lack of direct sunlight also causes health issues such as vitamin D deficiency, which can contribute to feelings of tiredness, fatigue and low mood.
Skylights are a cost-effective way to transform interior spaces with natural light and bring in a breath of fresh air. And ingenious Sun Tunnel skylights make it possible to bring light into even the deepest interior rooms. Read on for the ways we incorporated both skylights and Sun Tunnels to brighten up our seaside cottage and take advantage of that ocean breeze.
Shown: VELUX No Leak "Fresh Air" Skylight with Light-Filtering Blinds in Misty Brown
A View From Above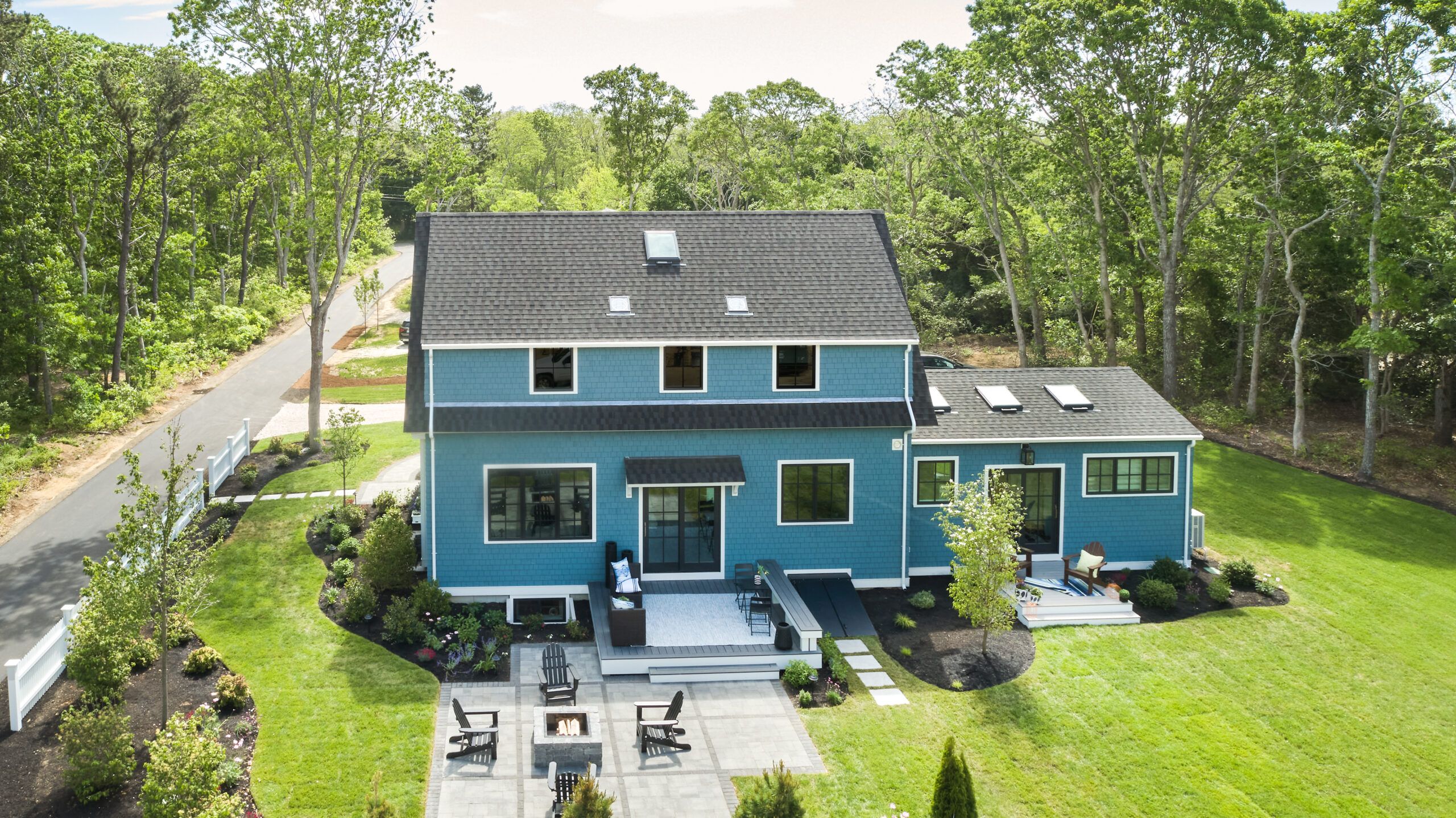 Looking down at the house, skylights and Sun Tunnels installed on the east roof plane capitalize on the abundant morning sunshine.
VELUX No-Leak "Fresh Air" Skylights feature advanced LoE3 glass for better energy efficiency, higher visible light transmittance, and improved solar heat gain performance. Their lower roof profile and neutral gray color is suited to blend in with most roof materials and colors. And the low-profile design of the Sun Tunnel skylights create a sleek appearance on the roofline.
Watch Now as the Cape Associates team installs a no-leak skylight to ensure a tight, secure seal.
Skylights Above the Living Area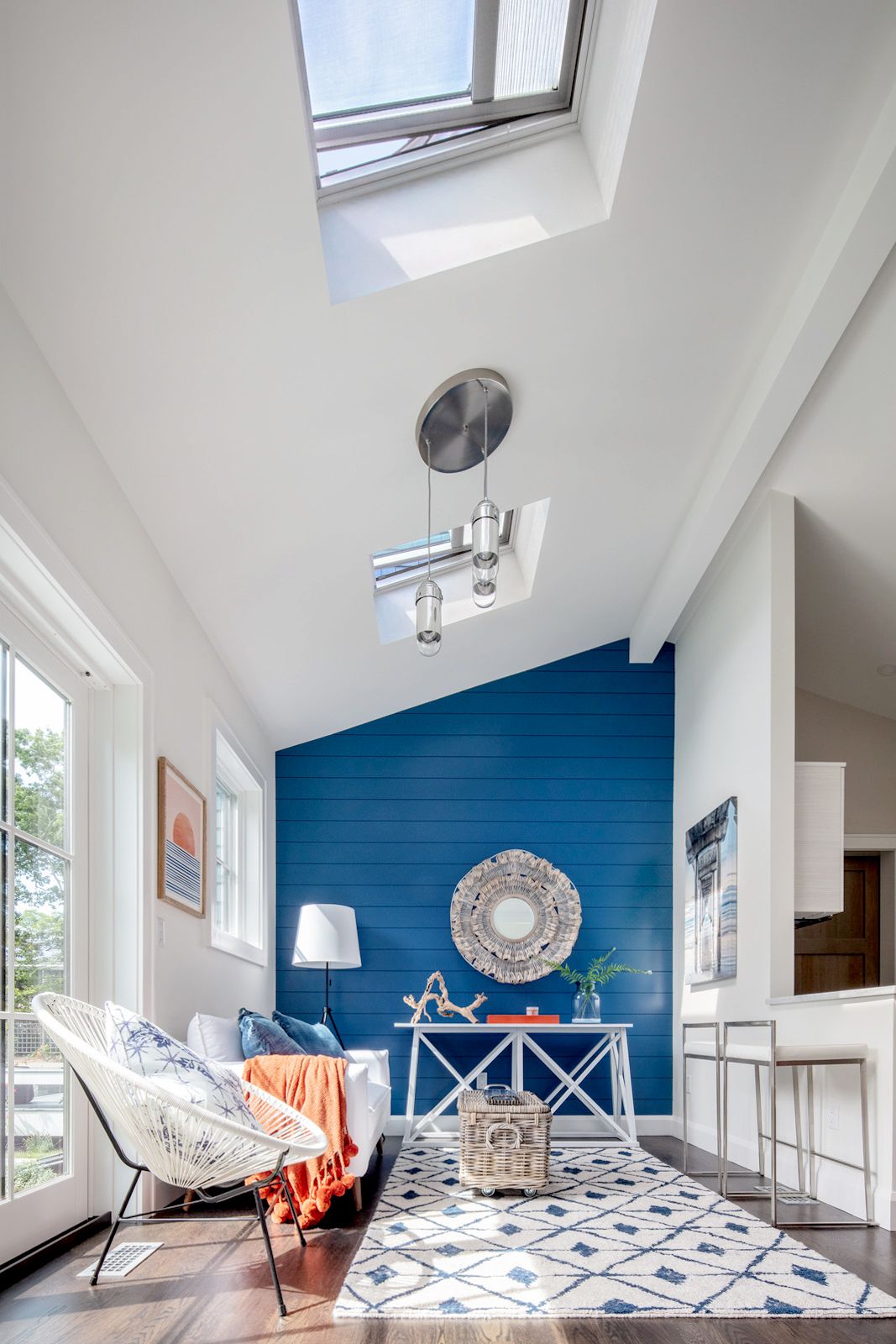 A vaulted ceiling, solar-powered skylights, and French doors leading to the patio make the modest, 432-square-foot rental unit feel much bigger. In the living area (shown here), a pair of skylights feature factory-installed solar-powered blinds; blinds are available in over 75 colors and patterns to coordinate with any style decor.
Shown: VELUX No Leak "Fresh Air" Skylight with Light-Filtering Blinds in Wavy White
A Closer Look at Solar Powered Skylights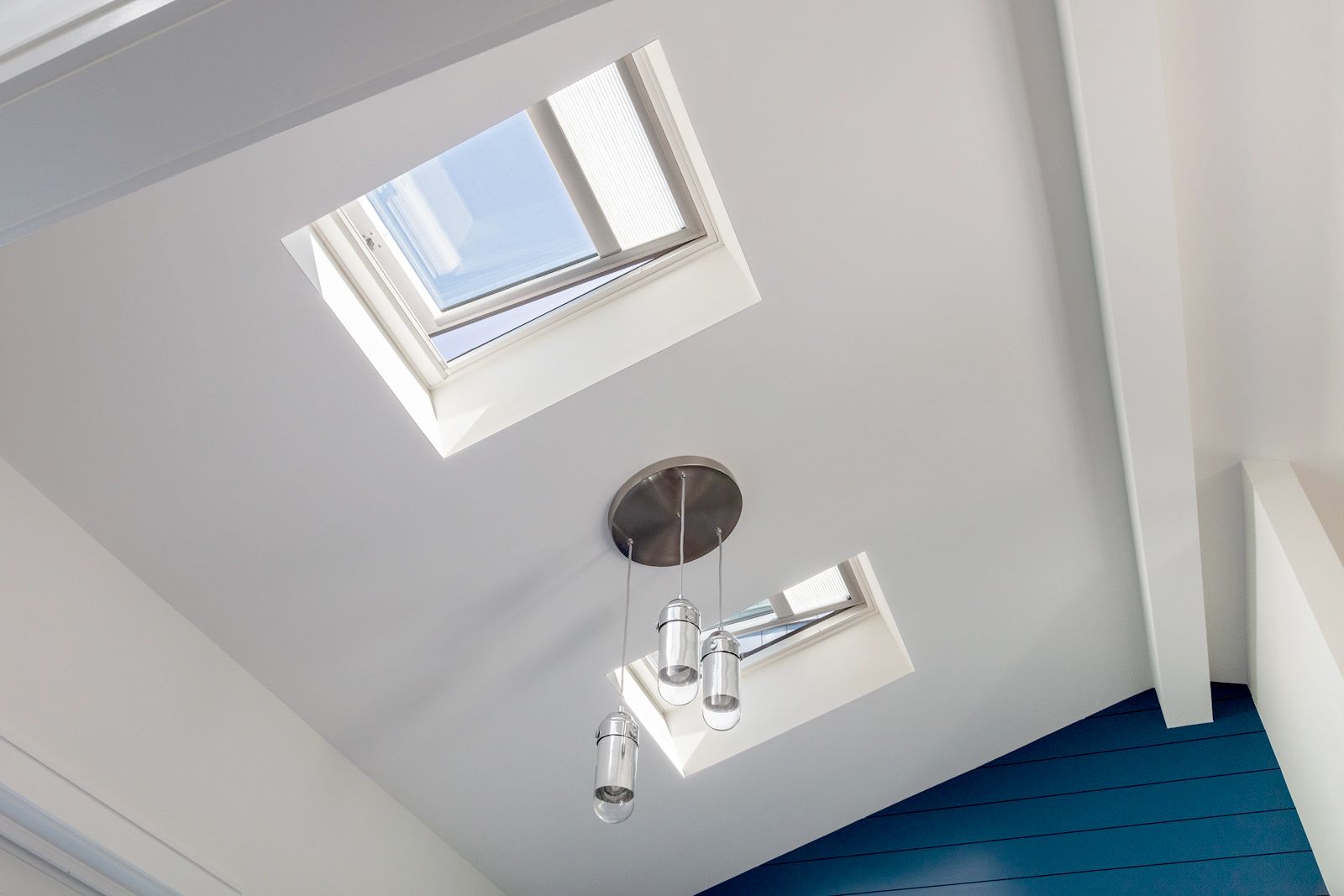 The solar-powered No Leak "Fresh Air" Skylight by VELUX features a solar panel that captures available daylight and uses it to recharge a highly-efficient, fully concealed battery powered operator and control system.
Get Smarter: The optional VELUX ACTIVE with NETATMO is an automation system that connects to an online weather station and has indoor climate sensors that measure temperature, humidity and CO2 levels. The system proactively opens the skylight if doing so will improve the air quality inside. Likewise, it proactively extends the blinds to prevent heat buildup when the outside forecast shows a hot day ahead. And rain sensors automatically close the skylight at the first sign of bad weather, so you don't need to worry when you're away from home.
Shown: VELUX No Leak "Fresh Air" Skylight with Light-Filtering Blinds in Wavy White
Skylights in the Sleeping Nook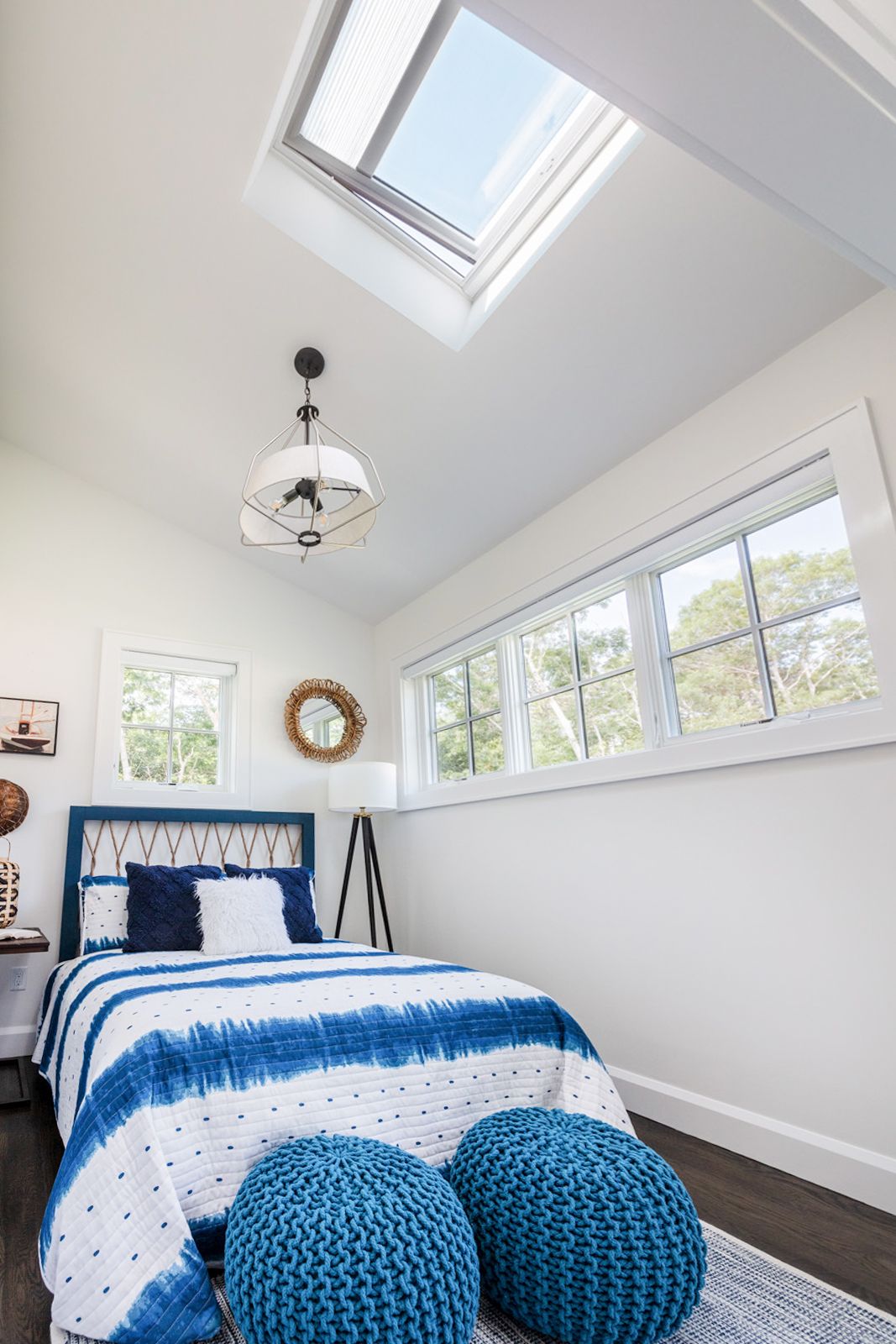 Exposure to the sunrise makes waking up easier—and far more pleasant than a blaring alarm. This skylight is outfitted with a solar-powered blind that can be manually adjusted via remote control. Blinds are available in light filtering or room-darkening models for personalized comfort.
Shown: VELUX No Leak "Fresh Air" Skylight with Light-Filtering Blinds in Wavy White
Fresh Air in the Maker's Workshop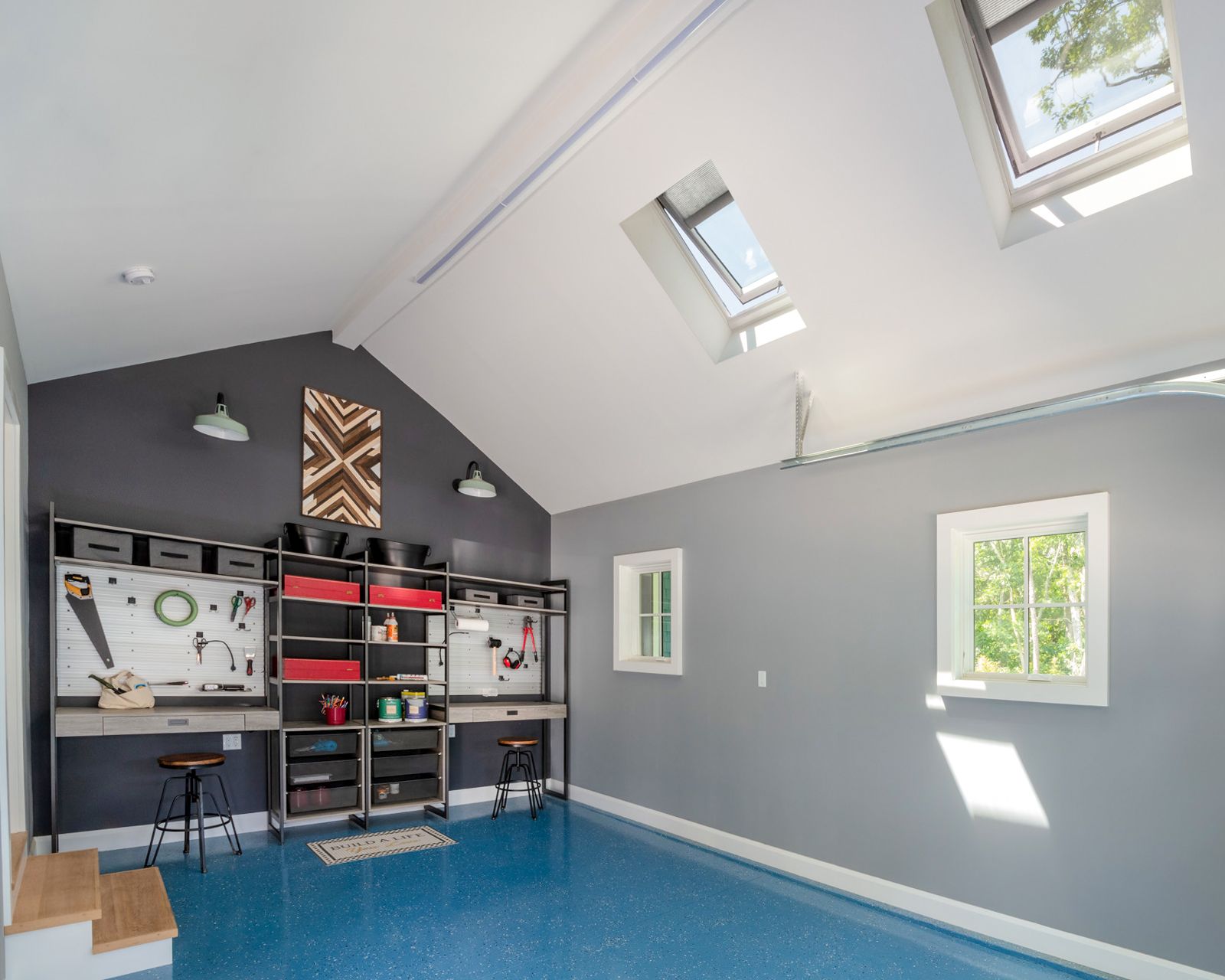 Here in the workshop, a pair of solar-powered skylights feature light-diffusing blinds that can be controlled to suit individual lighting needs. These skylights can also be opened to allow fresh air in while ventilating any fumes or odors from paints and adhesives that a maker might generate during projects.
Shown: VELUX No Leak "Fresh Air" Skylight with Light-Filtering Blinds in Infinite Gray
Sun Tunnel Skylights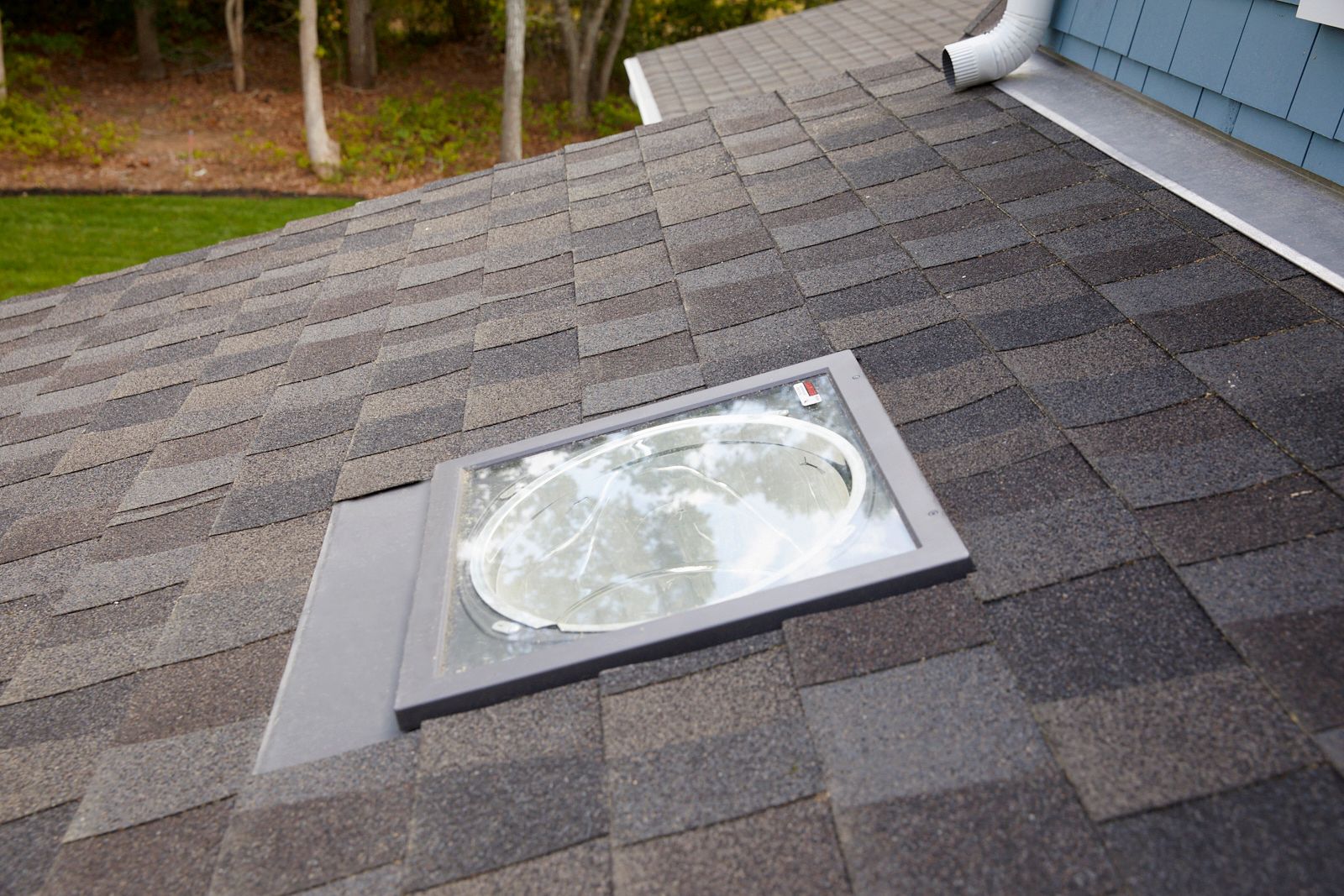 When a traditional skylight isn't an option, or you don't need a sky view, consider a strategically placed Sun Tunnel skylight.
Easy and quick to install, a lens is mounted on the roof and a highly reflective aluminum tunnel connects it through the attic to a diffuser in the ceiling below. Sun Tunnels can be installed from start to finish in as little as two hours. Here's a look at where we used them in our Cottage.
Shown here: from outside, VELUX Sun Tunnel skylights are low profile and unobtrusive
Lightening Up the Powder Room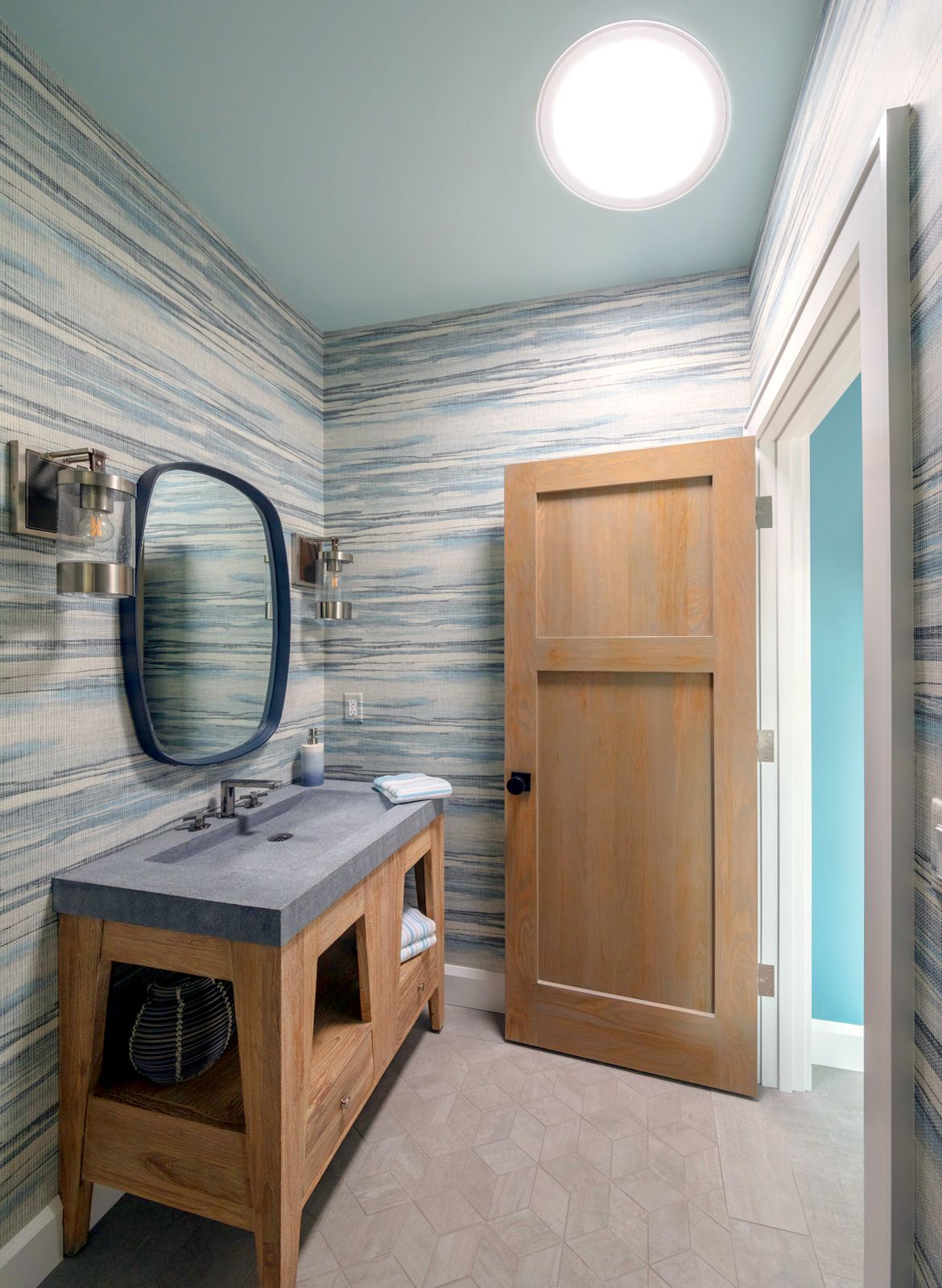 In a windowless interior room like this powder room, a Sun Tunnel can bring in a welcome burst of natural daylight. They can also be equipped with an optional solar-powered night light that provides a soft, moon-like glow—and makes the product eligible for a federal solar tax credit off product and installation (Learn more, here.)
Shown: Sun Tunnel Skylight by VELUX
A Brighter Master Bath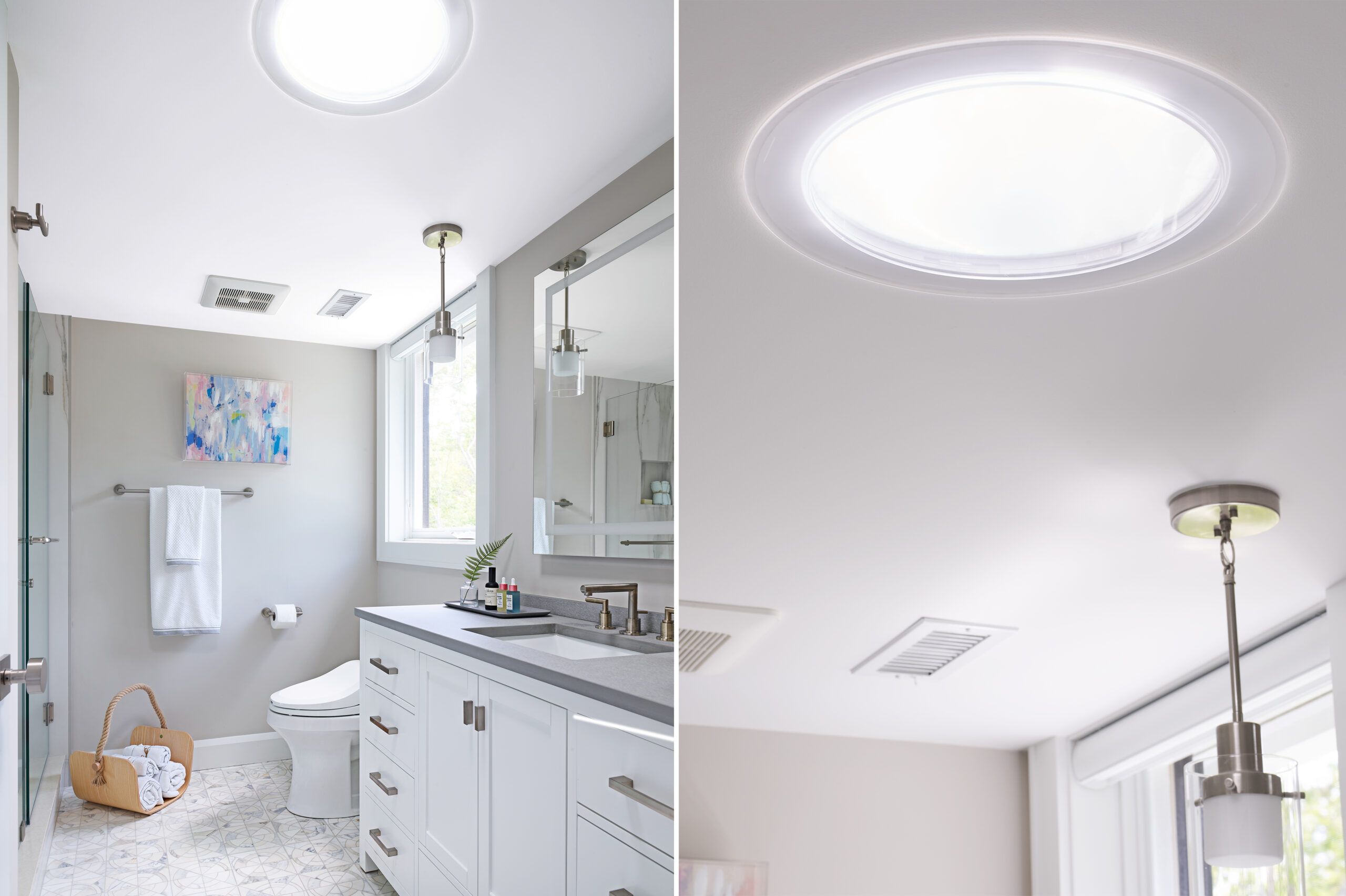 A Sun Tunnel skylight provides balanced natural light in the vanity area. The sleek design is flush to the ceiling for a polished look.
Shown: Sun Tunnel Skylight by VELUX
Brightening Up the Guest Closet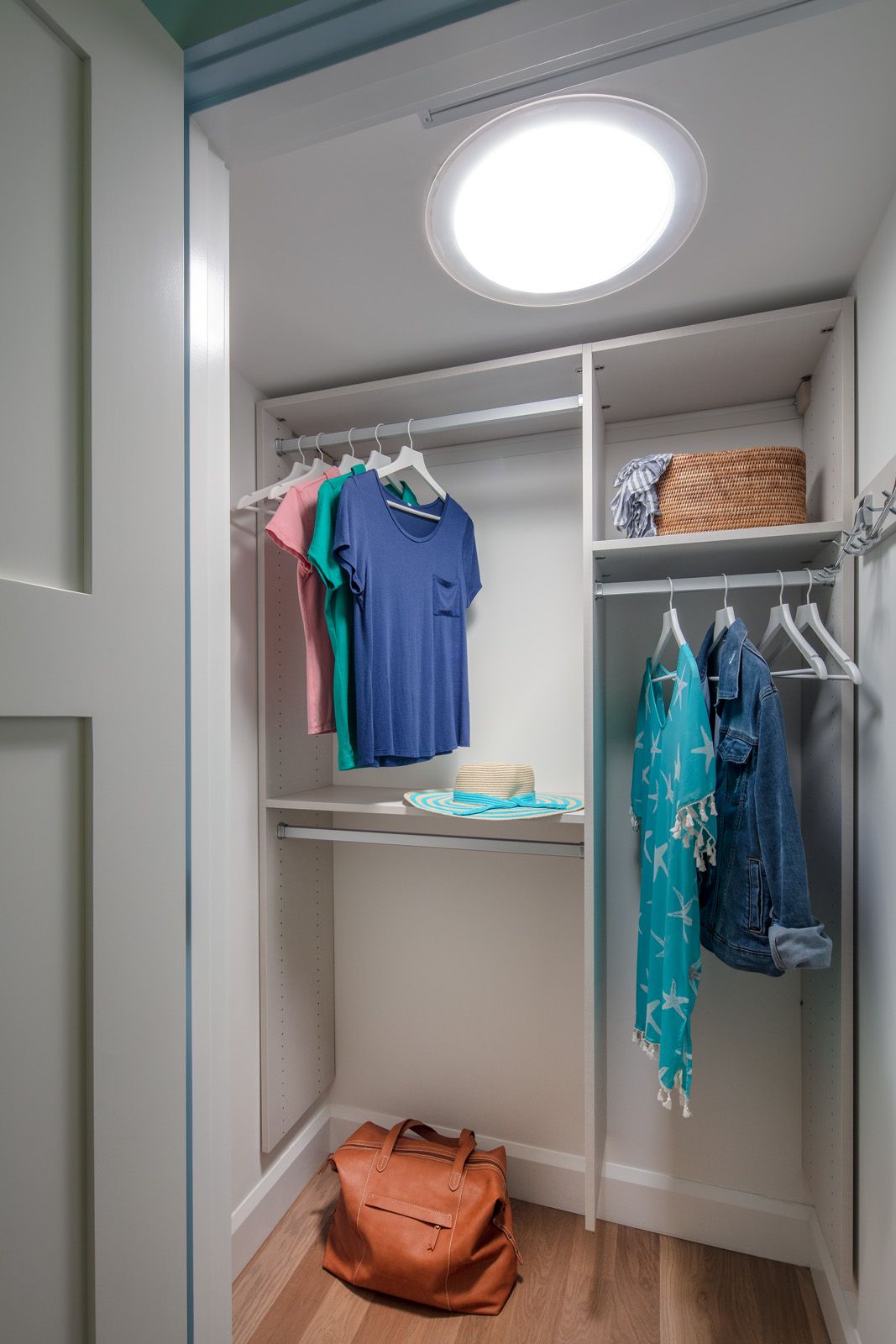 No need to install additional light fixtures in here. Coordinate colored clothing with ease, thanks to a Sun Tunnel tucked inside the closet. Sun Tunnels can be installed around attic obstructions like rafters and venting, so they can reach just about any interior space.
Shown: Sun Tunnel Skylight by VELUX
---
VELUX No Leak "Fresh Air" Solar-Powered Skylights bring in all the sunlight and fresh air you want—without letting in rain, heat, or harmful UV rays. And lighten up smaller interior spaces with economical Sun Tunnel Skylights. Visit whyskylights.com for more information or get a jump start on your project with a free virtual design consultation, now.