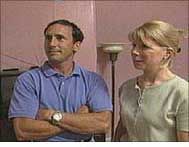 My husband, Dan, and I have been living out our dreams for the past two years.
After getting engaged on a mountain top in the Canadian Rockies, we exchanged
wedding vows in Westport, Massachusetts last September and soon found our dream
home at the top of Boston's Bunker Hill, in the scenic borough of Charlestown.
Charlestown was our home even before we bought our current house. We were drawn to the charm and hometown flavor created by sandwich shops with
message boards, friends on every block and welcoming neighbors. Its proximity to downtown Boston makes it ideal.
Dan, the founder and manager of his own design consulting business, was on the
hunt for a larger project than those attempted in years past. After many months
of searching, we found the ideal property. The ceilings, space, character, detail and light overtaking every corner made the house too difficult to pass up. A four story row house built in 1865, our house has witnessed many historic changes and been called "home" by a long list of families. Erected at the same
time that Union soldiers were finding their way home after a bittersweet victory on the battlefields of the Civil War, the façade still evokes the charms of old Boston and an era when horse and carriage was the dominant means of transportation. Its proximity to the Bunker Hill monument strengthens its bond to the past, while offering an exciting future for us, its newest owners.
In April, we received an unexpected phone call from Bruce Irving, interested in a tour of our soon-to-be-purchased home. We were perplexed. Why would the producer of This Old House be calling us? The structure and look of this antique row house was so unique and captivating that it had also caught the eye of This Old House's home improvement team, which was actively seeking a renovation project for fall 2000.
After some consideration we embraced the idea of re-designing our home with the
assistance of This Old House's team of exceptional professionals. Our only concern: the fear of going over budget. So far Tom Silva and Jack French
have worked with Dan to take advantage of the latest home-building
techniques and designs while Bruce has searched far and wide for the latest
and greatest products. Revitalizing this culturally exquisite but structurally
fatigued old house will take careful, belabored decision-making to steer costs within budget.
We've laid out many plans to make this project work, including a roof deck to
take advantage of the spectacular 360-degree views of the bay and downtown Boston
skyline. Whenever the project gets overwhelming, Dan and I will go up to the
roof—supported by scaffolding that rises 50 feet into the air—and stand above all
the demolition and construction. Then we look out over the neighborhood, over
the Bunker Hill Memorial monument, out to the harbor and we recapture our sense
of excitement.