Before: Zero-Privacy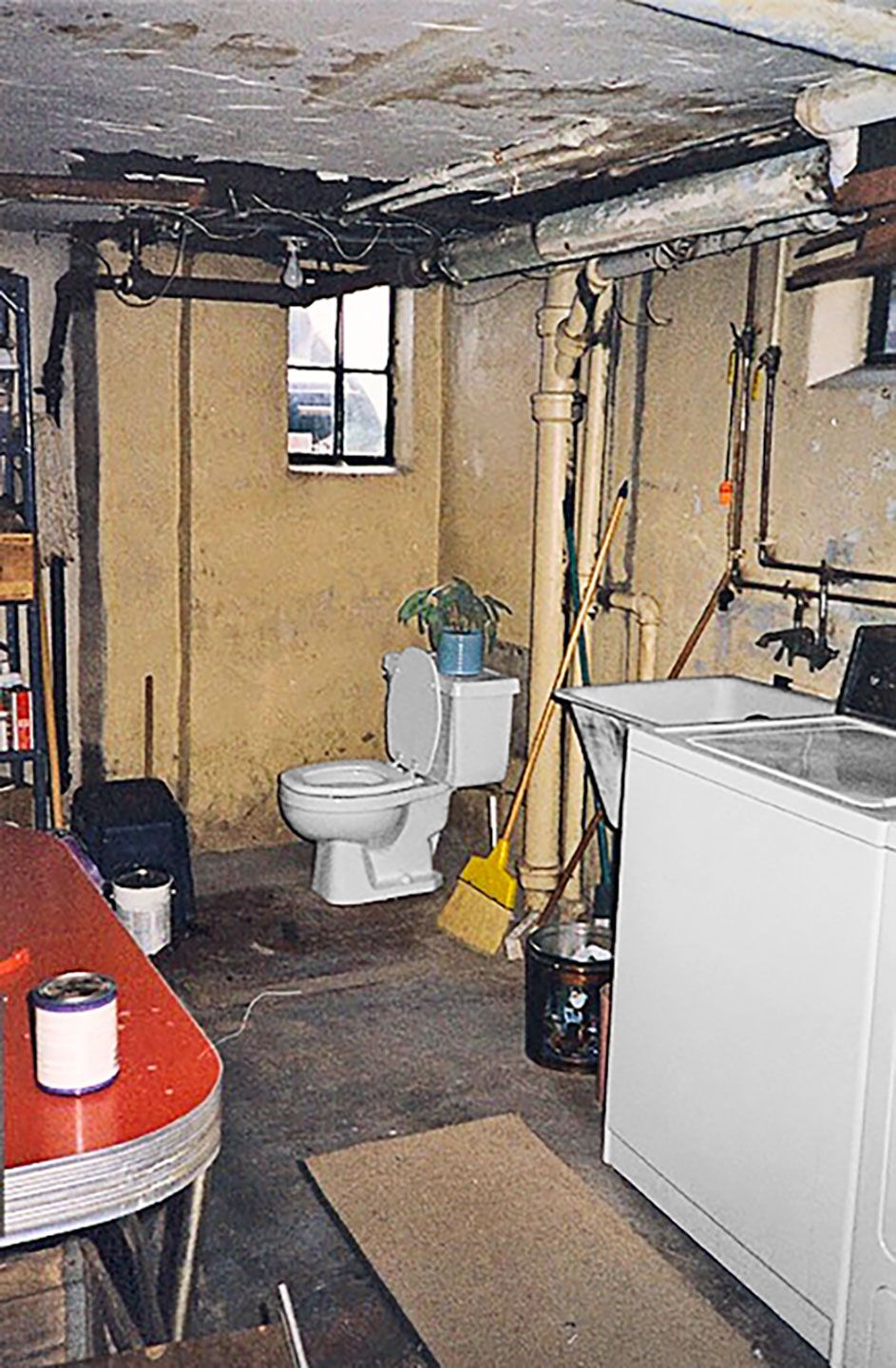 Starting at the bottom may be the natural way to build a house, but ambitious renovations don't often begin in the basement. For Jennifer Vreeland McDermott and her husband, Mark, however, the bottom floor topped the to-do list. Built by Mark's father in 1937, their Dutch Colonial Revival home had plenty of sentimental value, but with just 1,600 square feet and a single bath upstairs, it was a tight squeeze for the couple, their two kids, and two dogs. Though they did plan to add on, "we just felt like we needed space right away," Jennifer says. Making the unfinished basement livable was the obvious solution, but it meant dealing with a low ceiling, major moisture issues, and a toilet—with zero privacy—in the laundry area.
Shown: More utility room than family room, the basement held a mess of exposed pipes and necessities.
Hidden Gem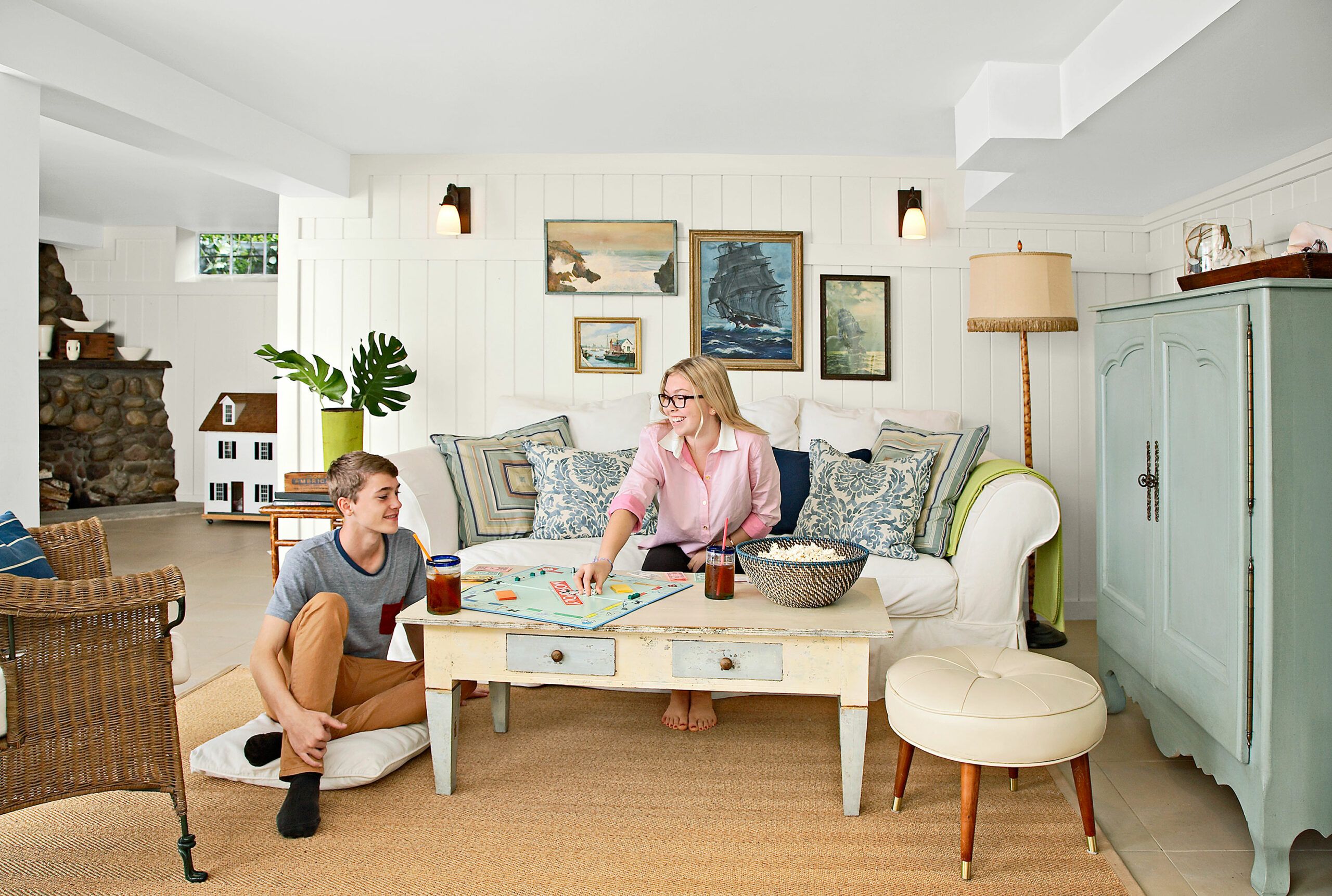 After stripping off all the existing surfaces, they hung new drywall, preserving every inch of ceiling height they could, then added a French drain and a sump pump to ensure a clean, dry blank slate. Jennifer, an interior designer, used her drafting skills to draw up a floor plan that hid mechanicals, added storage, enclosed the laundry, and fit in a full bath, while creating a comfortable living space now finished in shades of sandy beige and watery blue. "It was a challenge figuring out how to organize it all," Jennifer says, but now, "it's the beach house we wish we had!"
Shown: The long wall of the existing mechanicals room and a new closet for the sump pump create a cozy TV/game room area for teens Dillon and Kate.
Banishing the Gloom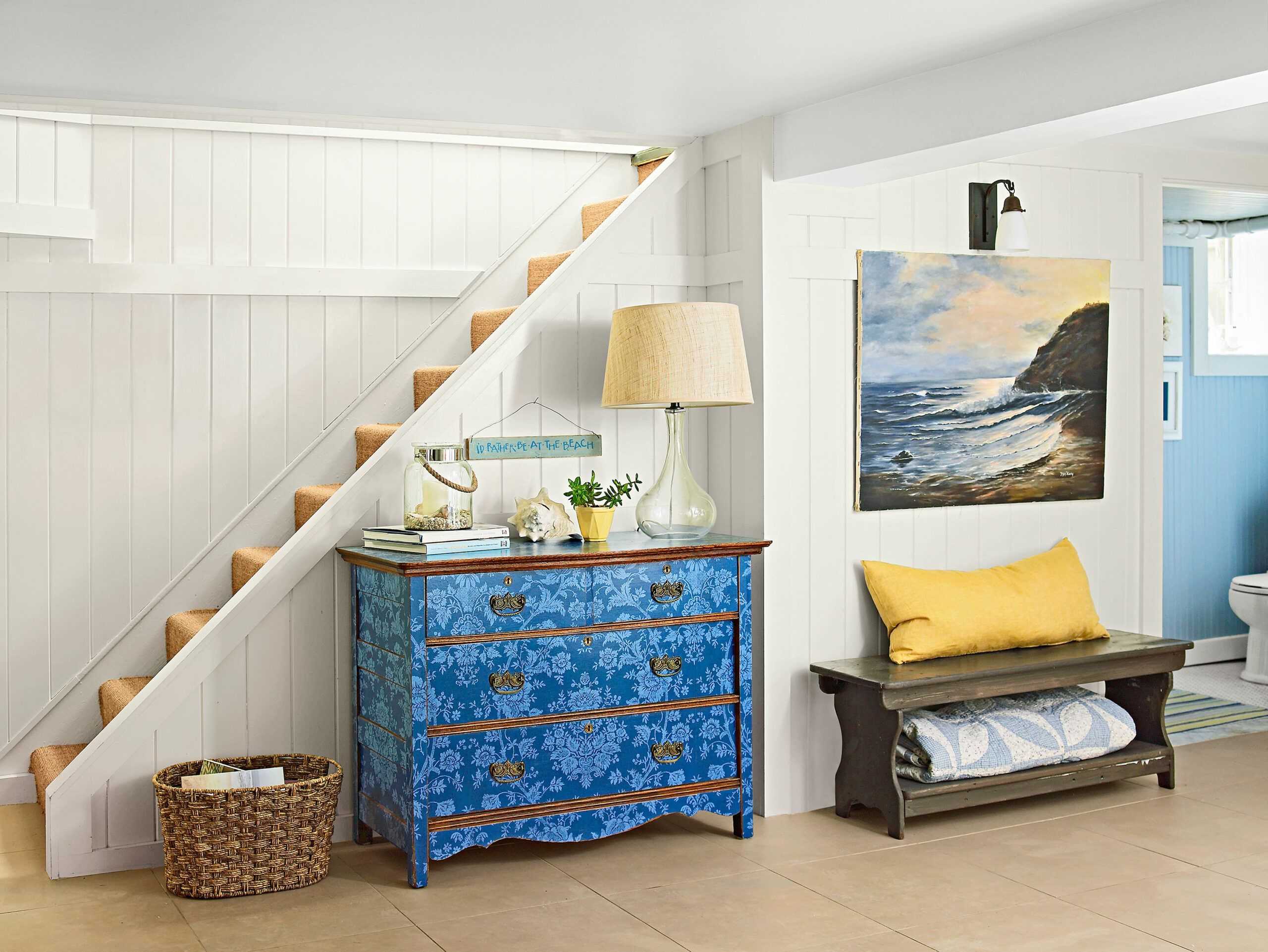 In a space with just three small windows, a variety of lighting fixtures banishes any gloom.
Shown: Tapping dead space behind and beneath the stairs allowed for a shower and a storage closet whose door is tucked behind a bureau.
Vintage Medicine Cabinet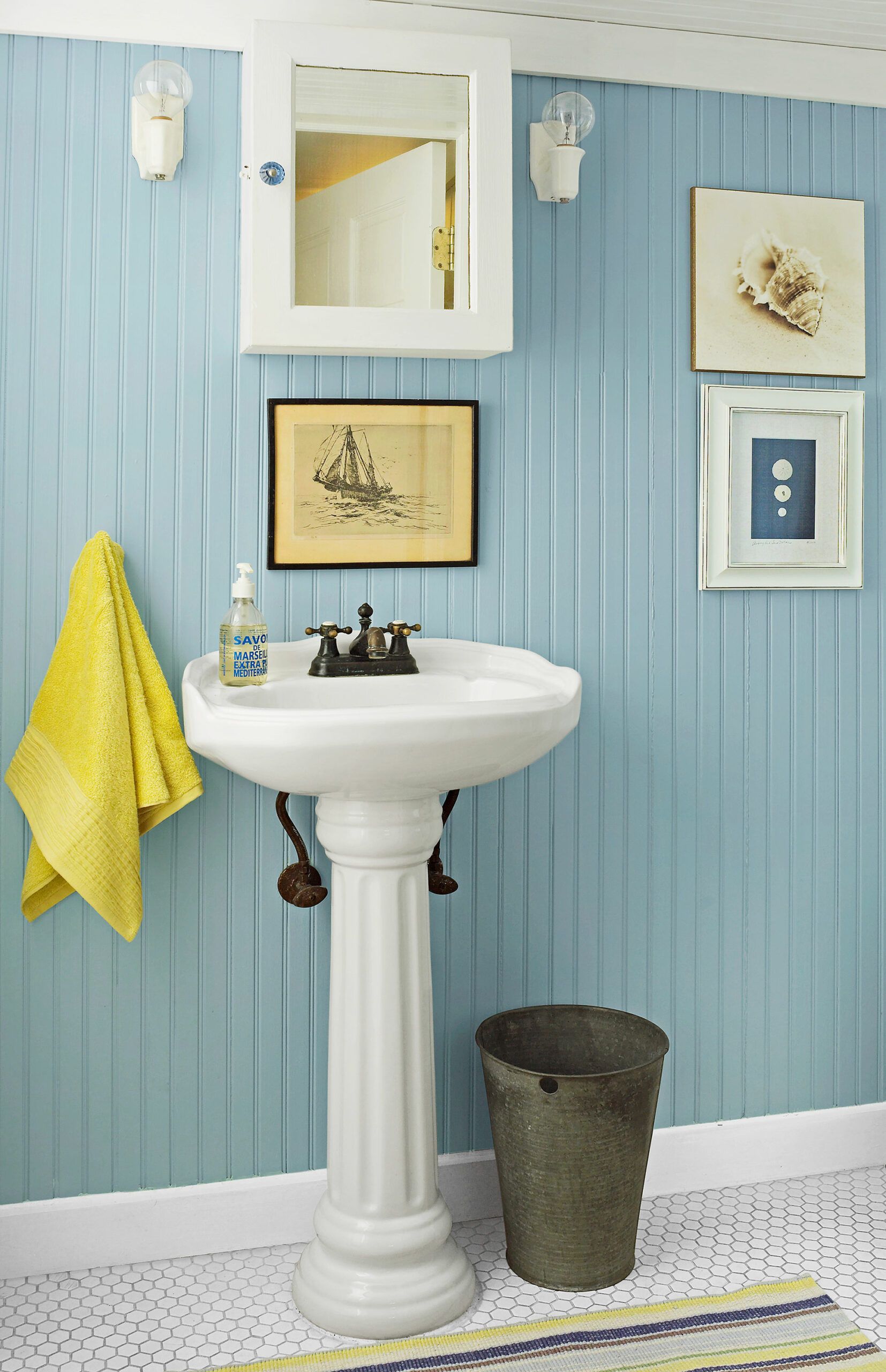 Hanging the sconces and vintage medicine cabinet high on the beadboard wall creates the illusion of a higher ceiling in the tiny bath.
Wall paint: Glidden's Glistening Sea
Versatile Furnishings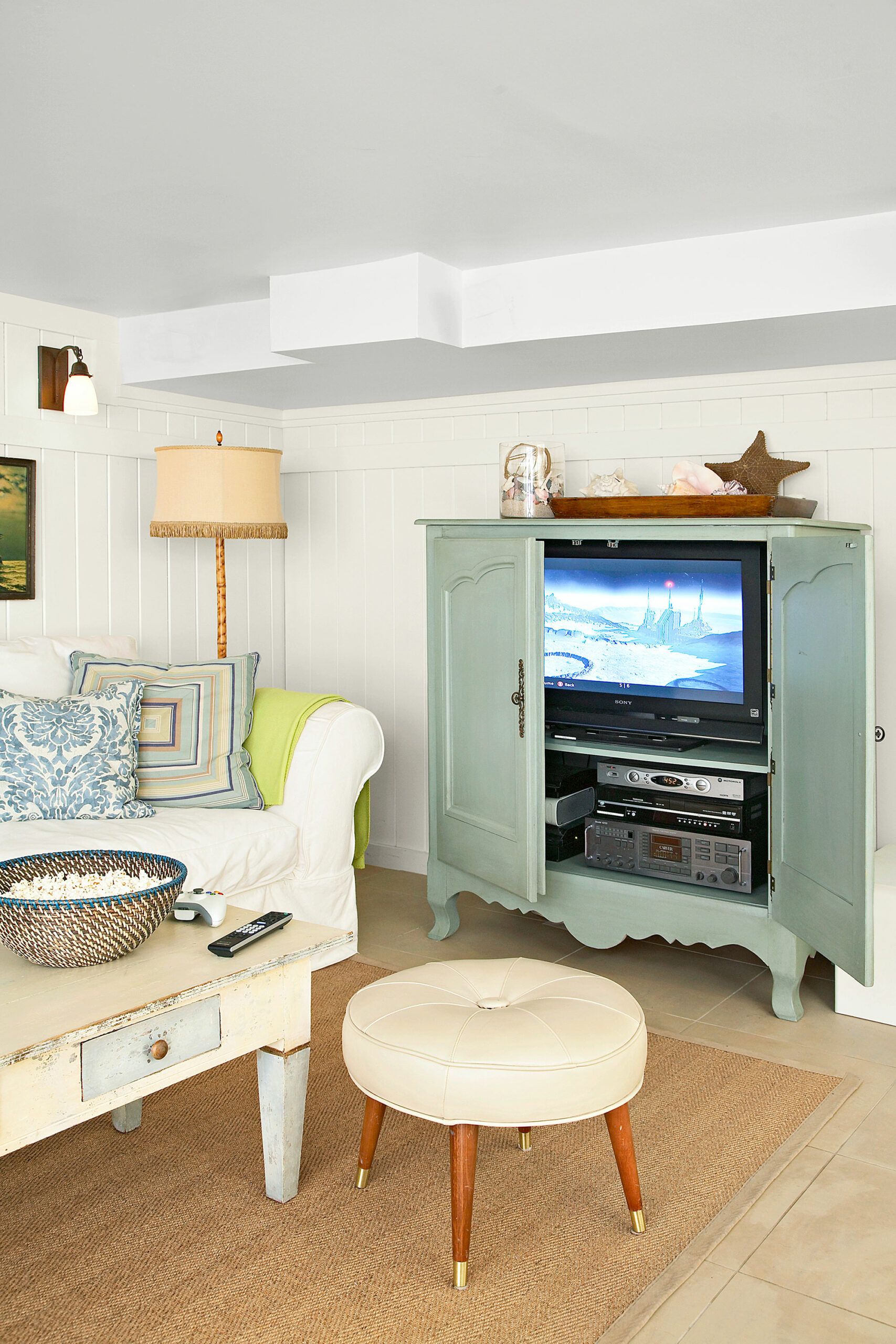 Much of the furniture does double duty: A vintage-style cabinet conceals the TV and Xbox, while the sleeper sofa pulls out for overnight guests.
Cabinet: British Traditions
Sofa: Jennifer Convertibles
Seaside Style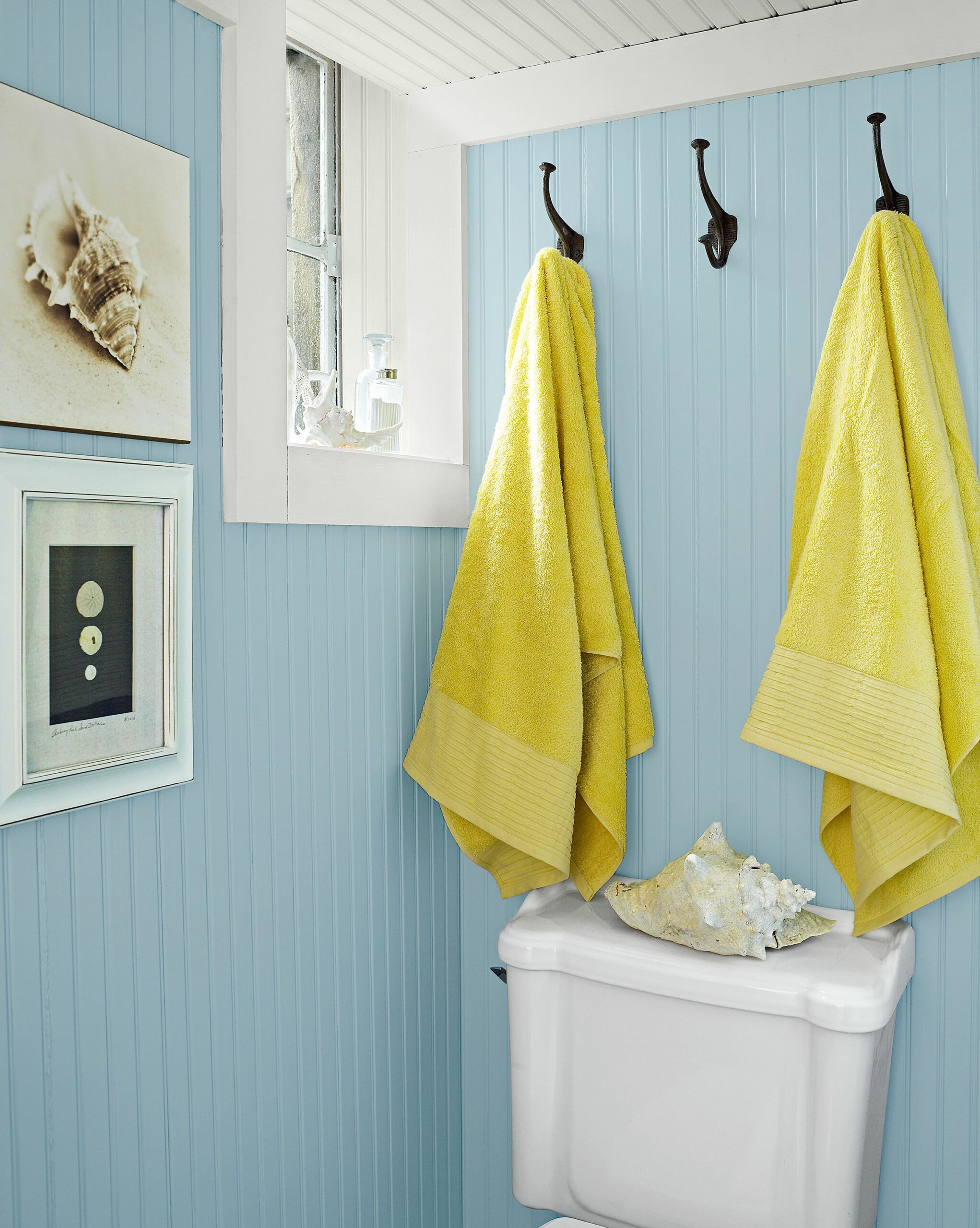 A seaside theme unifies the basement's eclectic mix of artwork and found objects, including vintage prints and jars of shells collected on family vacations. A palette of white, tan, and pale blue with pops of sunny yellow plays up the beachy vibe.
River Stone Fireplace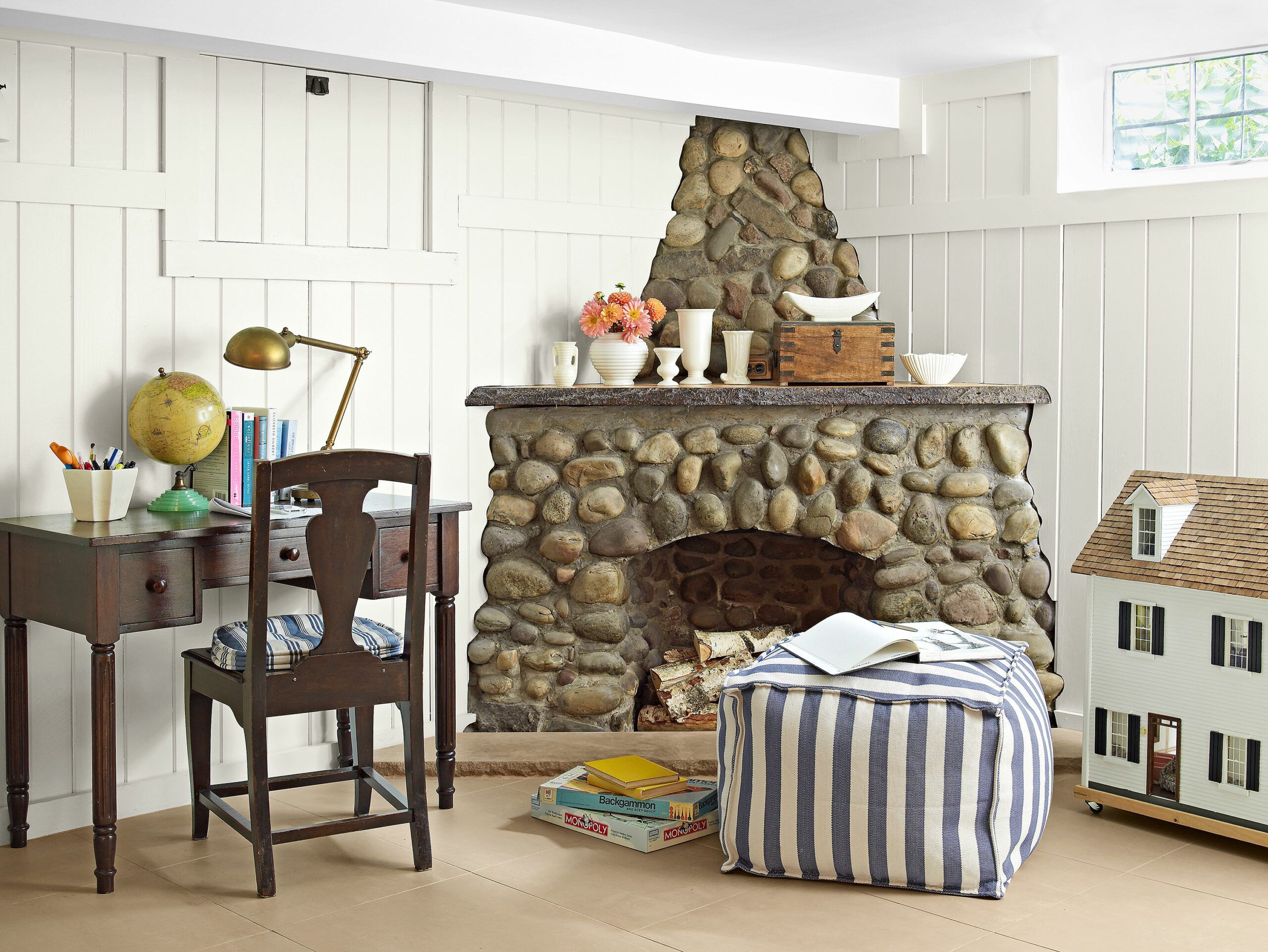 The river stone fireplace built by Mark's father and grandfather finally has a worthy setting, with V-groove pine-paneled walls. The pull-down door high up on the wall accesses a crawl space.
Homeowner Tip: "Choosing the right materials was the best investment we made. Paneled walls gave us the look we wanted, and the tile floor is virtually maintenance-free." —Jennifer Vreeland McDermott, Englewood Cliffs, NJ
Floor Plans: Before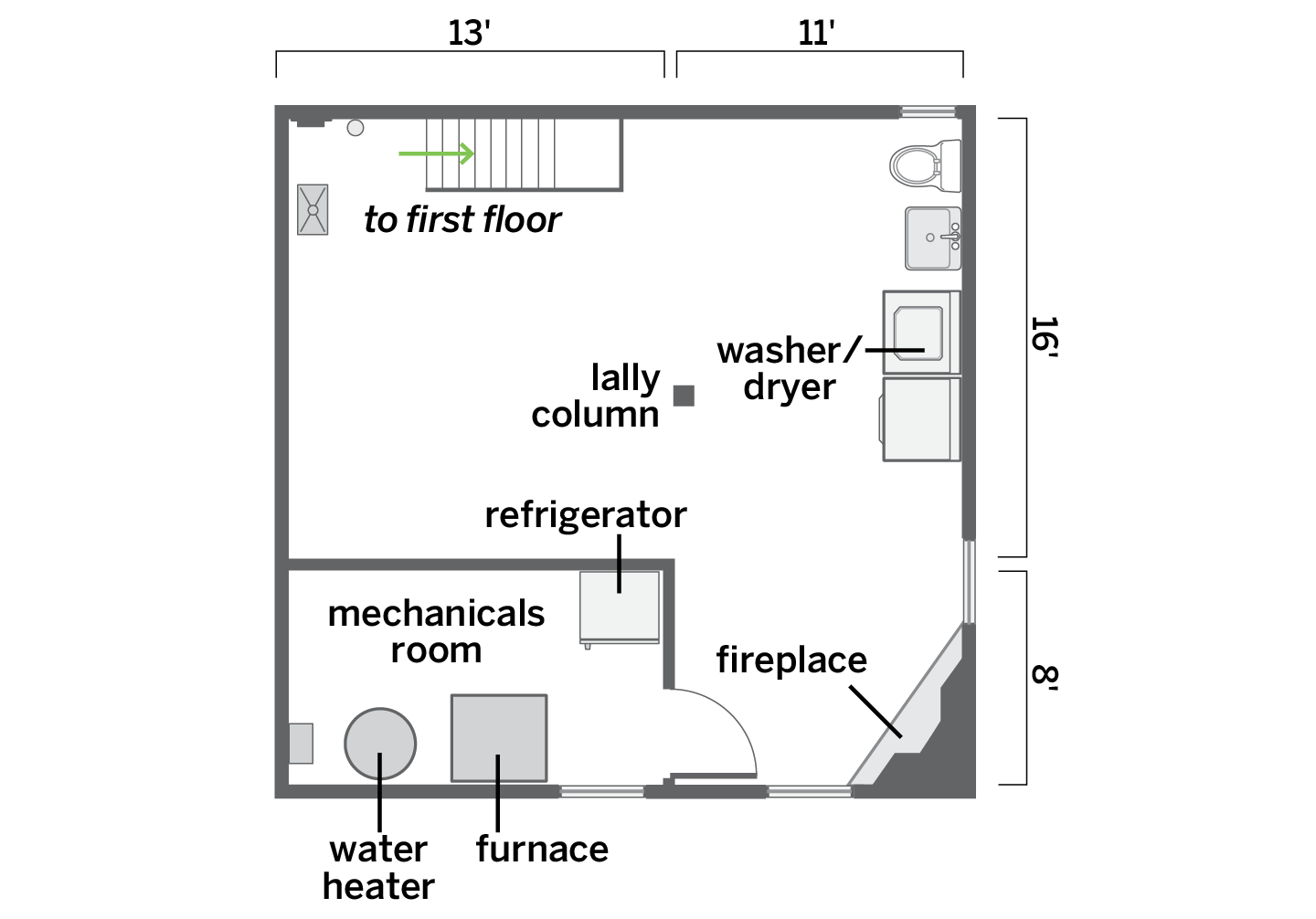 The mechanicals and an extra fridge were walled off, but everything else was out in the open.
Floor Plans: After
Additional walls now enclose a laundry, a full bath, and a second utility closet, leaving one large open living area.
1. Built a closet for a new sump pump tied into a French drain, to ensure the basement stays dry.
2. Placed a sofa along the wall of the existing mechanicals room to establish a TV/game room zone.
3. Added shelving in the mechanicals room, which now has an air handler for central AC.
4. Enclosed the toilet along with a pedestal sink and a shower to squeeze in a full bath.
5. Walled off the laundry and the utility sink; double doors allow easy access and blend in when closed.
6. Kept floor space around the fireplace open for lounging and added a homework desk.