When you live in an apartment, the balcony is a critical extension of your living space. Akin to the back deck on a home in the suburbs, the balcony gets you outside for grilling, entertaining, people watching, and fresh air. Or, maybe your home in the country has a balcony off the master suite. Either way, these design ideas will help you make more of your balcony—and do it with flair.
Balcony Design Ideas
Cover the floor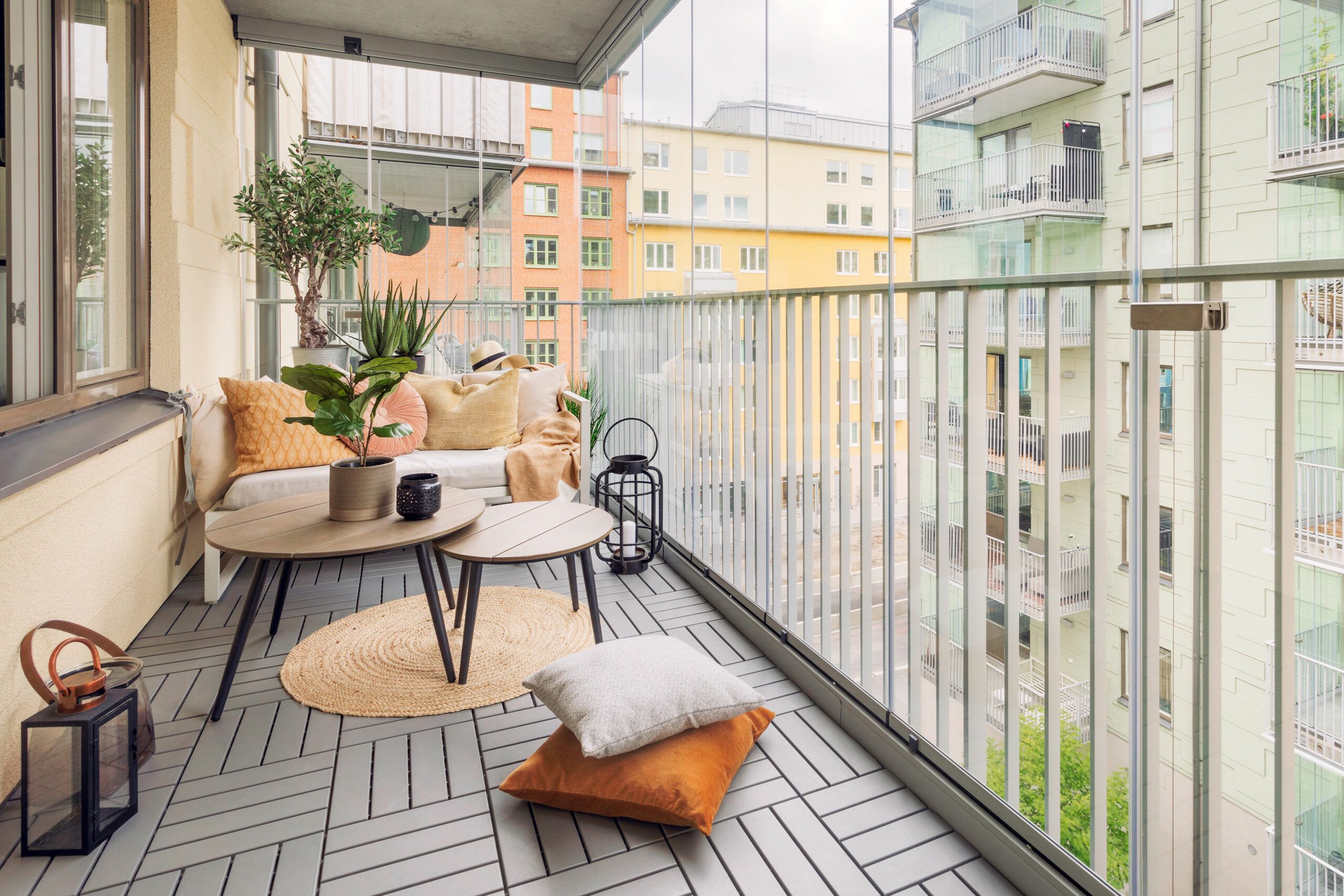 Plain concrete is hardly inviting. And it's the most commonly used material for balcony floors. If your balcony floor begs for improvement, choose a covering that suits your style. Consider laying a tile to complement your indoor decor. Wooden tiles will give the space a more natural vibe. You might also want to layer with a rug or two. An artificial turf rug will make the area feel more like the outdoors.
Balcony bar
Entertain in comfort with a space-saving bar that hangs from your balcony railing. Create one yourself or buy one ready-made of beautiful hardwood and iron. Add a couple of bar stools, which you can stash underneath, and you have a perfect outdoor place for dining or working from home.
Choose the perfect lighting
For an evening of elegance, hang cascading fairy lights from your balcony's ceiling. No ceiling? No problem. Hang a curtain of lights on the wall! Use candles judiciously in such a confined area; a glass lantern is a safer choice than an open flame. And, if you want a task light for evening reading, mount an adjustable wall sconce over a chair.
Protect your privacy
If you'd rather not have the neighbors across the way watching you enjoy your morning coffee, hang curtains from the ceiling above the railing. Opaque curtains will block the heat of the afternoon sun while sheers will allow light in. If your balcony has no roof, covering the railing will still provide some privacy.
For a touch of boho, drape woven blankets over the railing. Or, for privacy that keeps the outdoor vibe alive, attach a rattan blind to the railing. Finally, if you want plants and total coverage, consider growing bamboo in planters on the floor along the rail. Bamboo is known for growing quickly, which makes it an excellent botanical screen.
Go green and grow things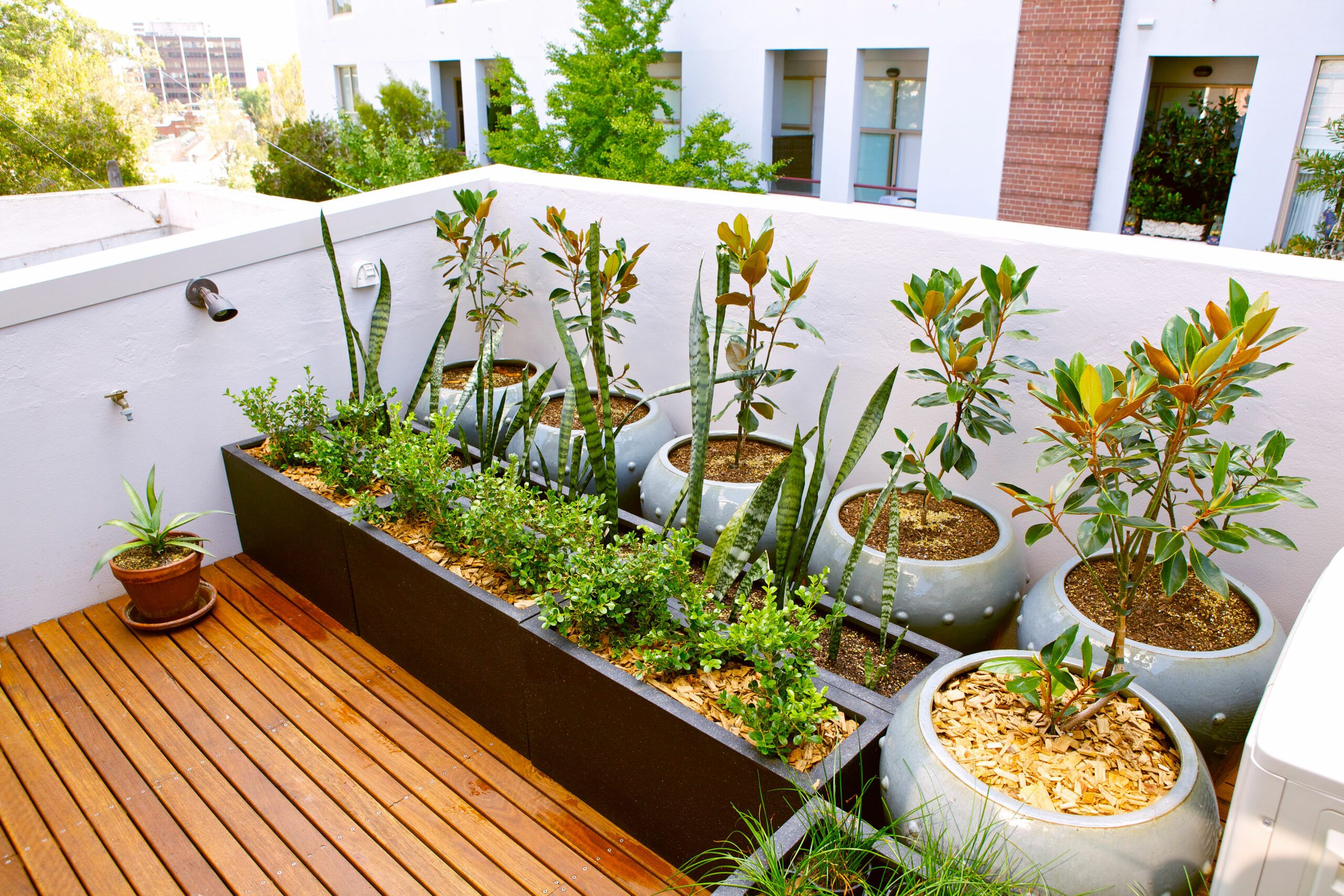 Add plants to your balcony if you enjoy gardening but have no yard. They give you the feeling of being out in nature, and, even in limited area, you can grow flowers, herbs, and vegetables. If you don't want to take up floor space, consider suspending planters from the rail, hanging baskets from the ceiling, or mounting planters on the wall.
Introduce a pallet wall garden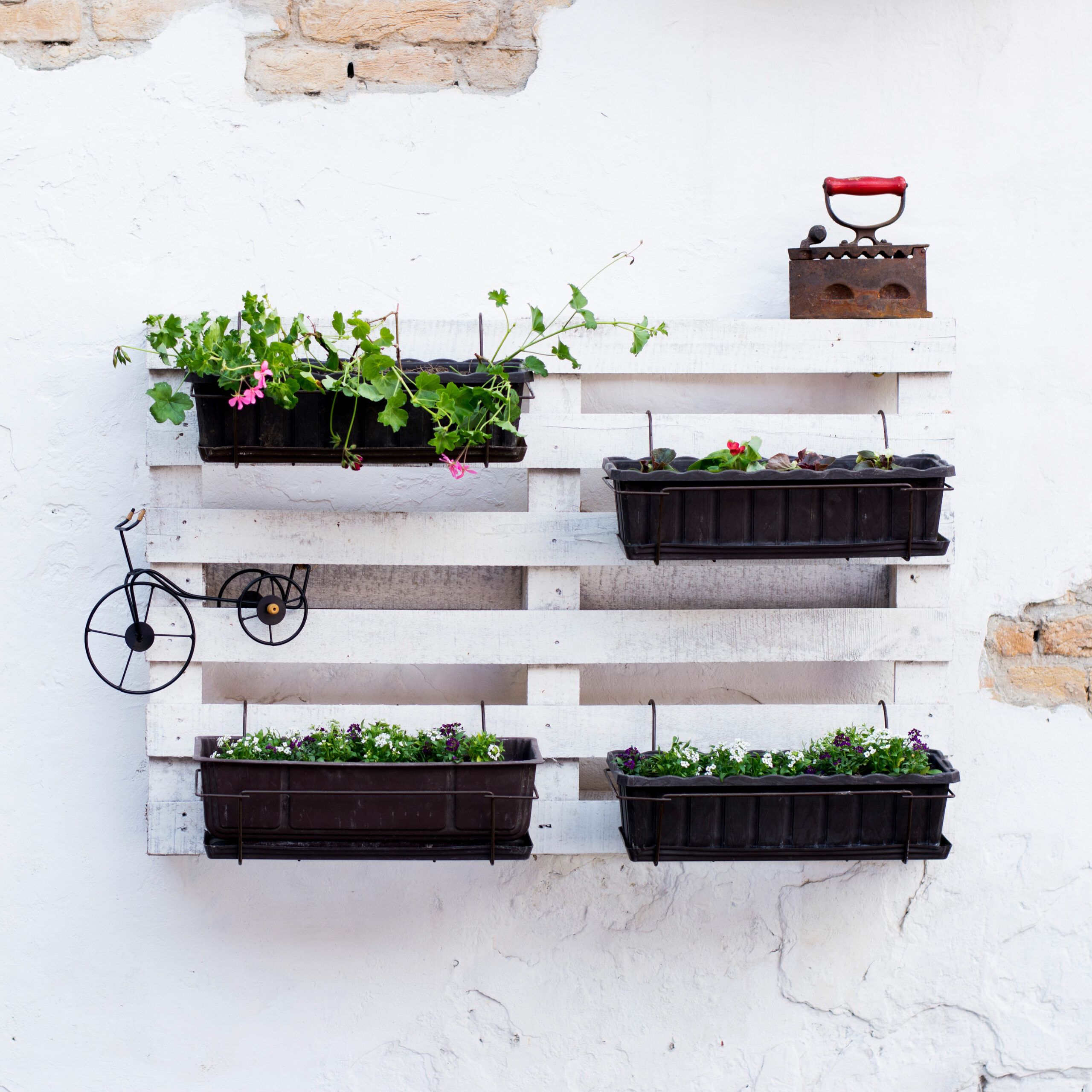 Create a garden wall by upcycling an old pallet. Begin by removing every other board from the top of the pallet. Then paint or stain it in a shade that complements your decor. Next, screw hose clamps in a random pattern to the remaining boards. Hang the pallet on the wall and insert empty jars into the clamps and tighten. Add herbs or vining plants to the jars. Finally, dress it up even more with intertwining fairy lights.
Create a park-like atmosphere
Vining plants and flowers will give you the feeling of lounging in the park. Place an arbor on your balcony to give those vines somewhere to go. Consider planting wisteria or climbing roses at the base, and once the plants grow over the arch, you'll have a place to sit that's as fragrant as it is beautiful.
Stay warm
There's nothing like gathering around a fire pit on a cool evening. But that's not possible on a balcony. Or is it? To bring some warmth to your outdoor living space without the risk of open flames, mount a heater on the ceiling or wall. Or, if you want the romantic atmosphere a fire brings, try an electric fireplace heater. Include some comfy pillows and wooly throws, and you're all set for cozy times ahead.
Extra space for guests
Turn the balcony of your small apartment into a guest room with a daybed. Add a canopy and curtains to it, and you have a delightful option for overnight guests during temperate weather. Furnish the space with a side table, outdoor rug, and soft lighting to make it even more inviting. At other times, the daybed becomes comfortable seating for entertaining and relaxing.
Folding furniture for added space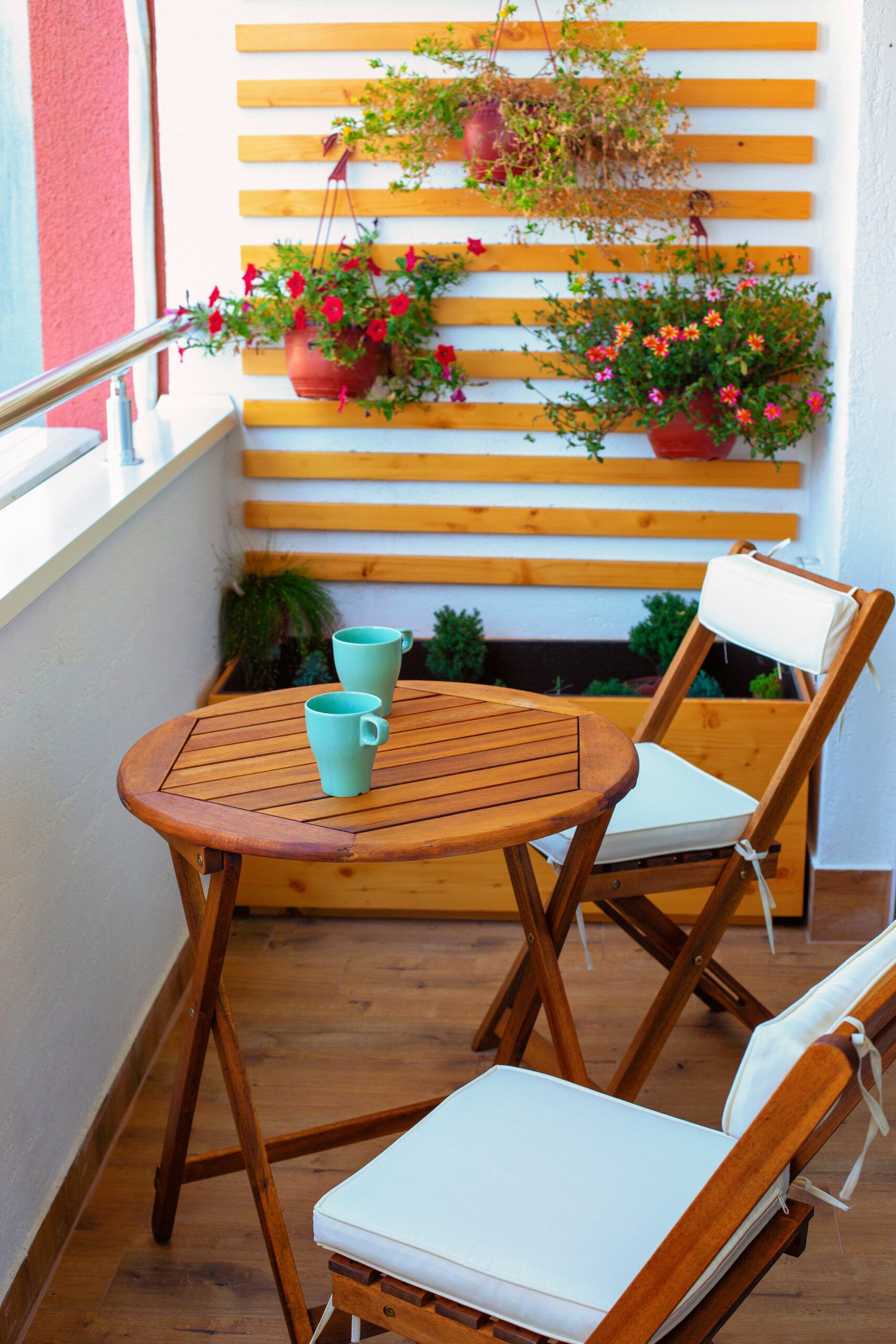 Choose dining furniture that folds up and stores against the wall if you have a small balcony. Unfold it for your morning coffee or when you have a friend for drinks. Then, fold it and unroll your yoga mat for your morning routine.
Add shade
For an uncovered balcony, you want shade. Maybe you've never heard of half an umbrella, but it's a thing! Or, hang a shade sail over your balcony to shield you from the sun's rays. Another alternative is a retractable awning, available with manual or electric operation. All of these options are easy to put up and down at will.
No matter the size, your balcony can—and should—be enjoyed as an extension of your living space. Whether you design it as a boho-chic retreat or a garden oasis, use this small outdoor area to get away from it all, entertain friends, or work from home. And, as always, let your personality shine.