Add Flair to Your Front Porch Steps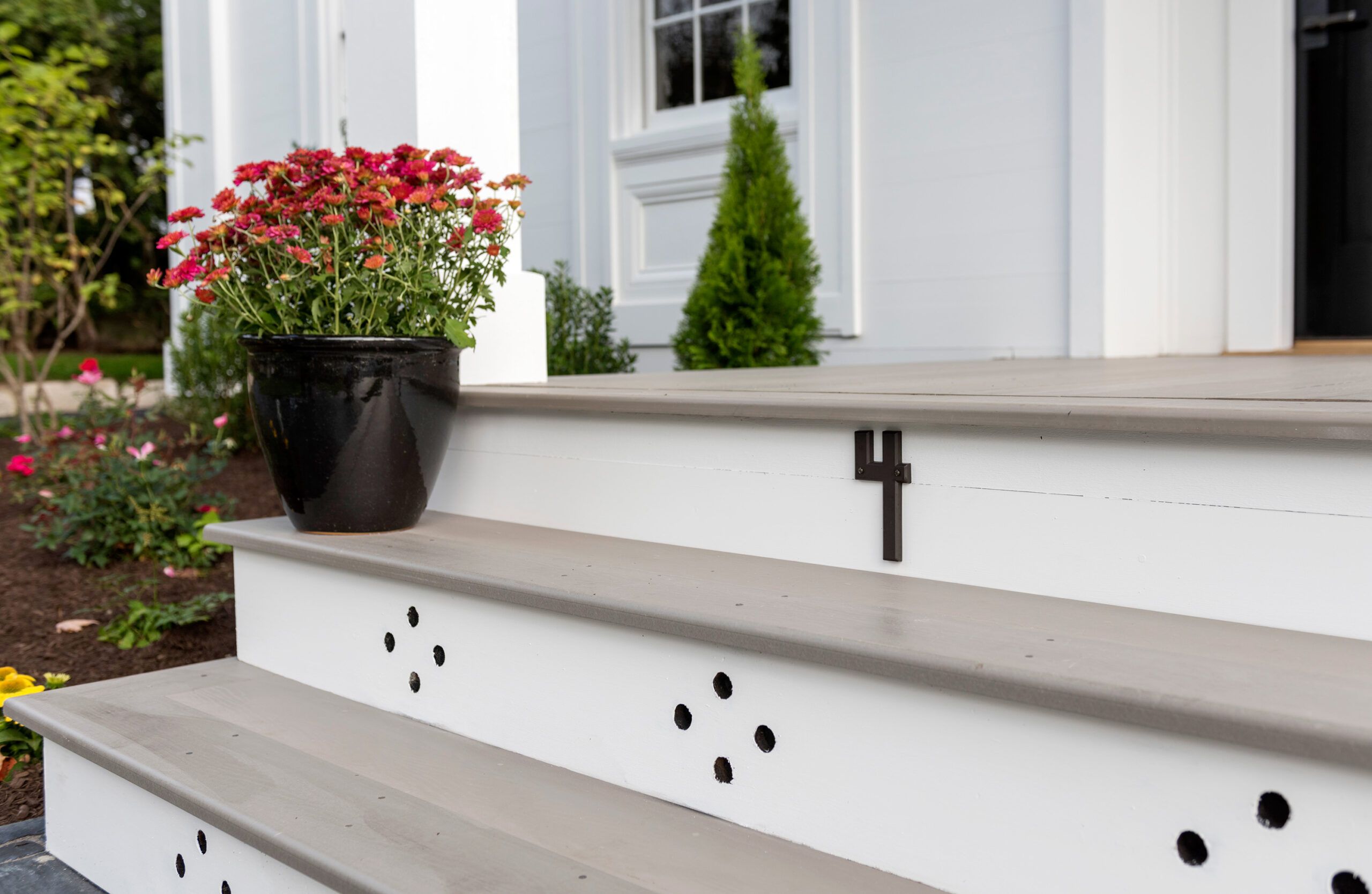 First impressions count, and with just a little effort you can welcome visitors in style. We replicated the quarter-size stair riser cutouts that were original to the Greek Revival home. And we embellished the risers with a minimalist house number below the top step. A planter with colorful blooms that can be changed out seasonally completes the look.
PORCH STEPS: Aeratis
PORCH NUMBER: House of Antique Hardware
Connect Rooms with Color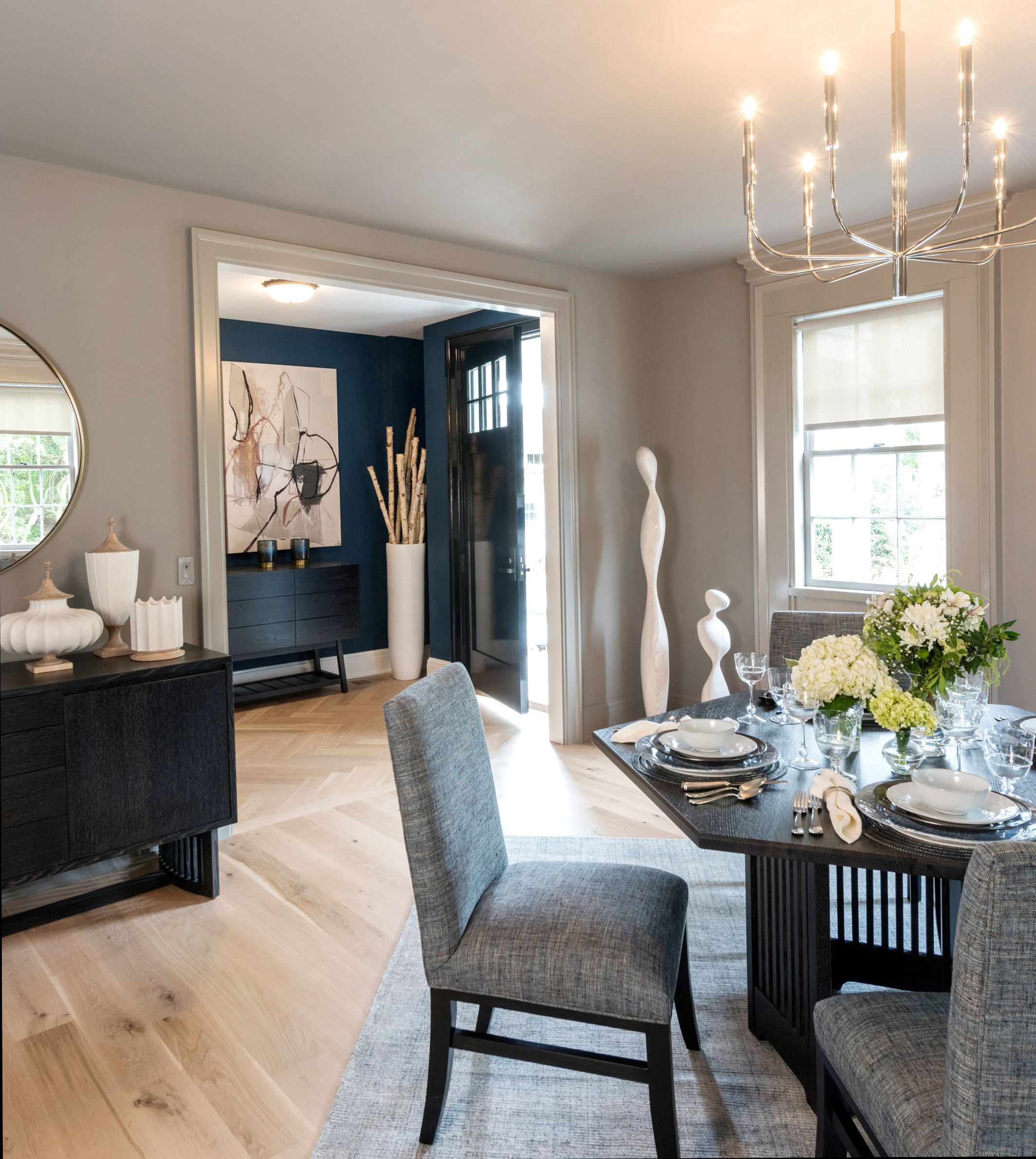 Complementary colors, carried from one room connected to another, create a pleasing flow. Here, a moody blue accent wall in the foyer is seen from the subdued gray dining room. Subtle hints of blue are repeated in the dining chair fabric and place settings, as well as in the cabinetry of the adjacent working kitchen.
STYLING, FURNISHINGS & ACCESSORIES: Stickley Audi & Co.
FLOORING and TRIM: Baird Brothers Fine Hardwoods
SCULPTURES: Dick Shanley
WINDOW SHADES: J Geiger Shading
CHANDELIER: Clarkson Lighting
PLACE SETTINGS: Juliska
PAINT: Benjamin Moore's Newburyport (foyer) and Galveston Gray (dining room)
Group Your Collections for Maximum Impact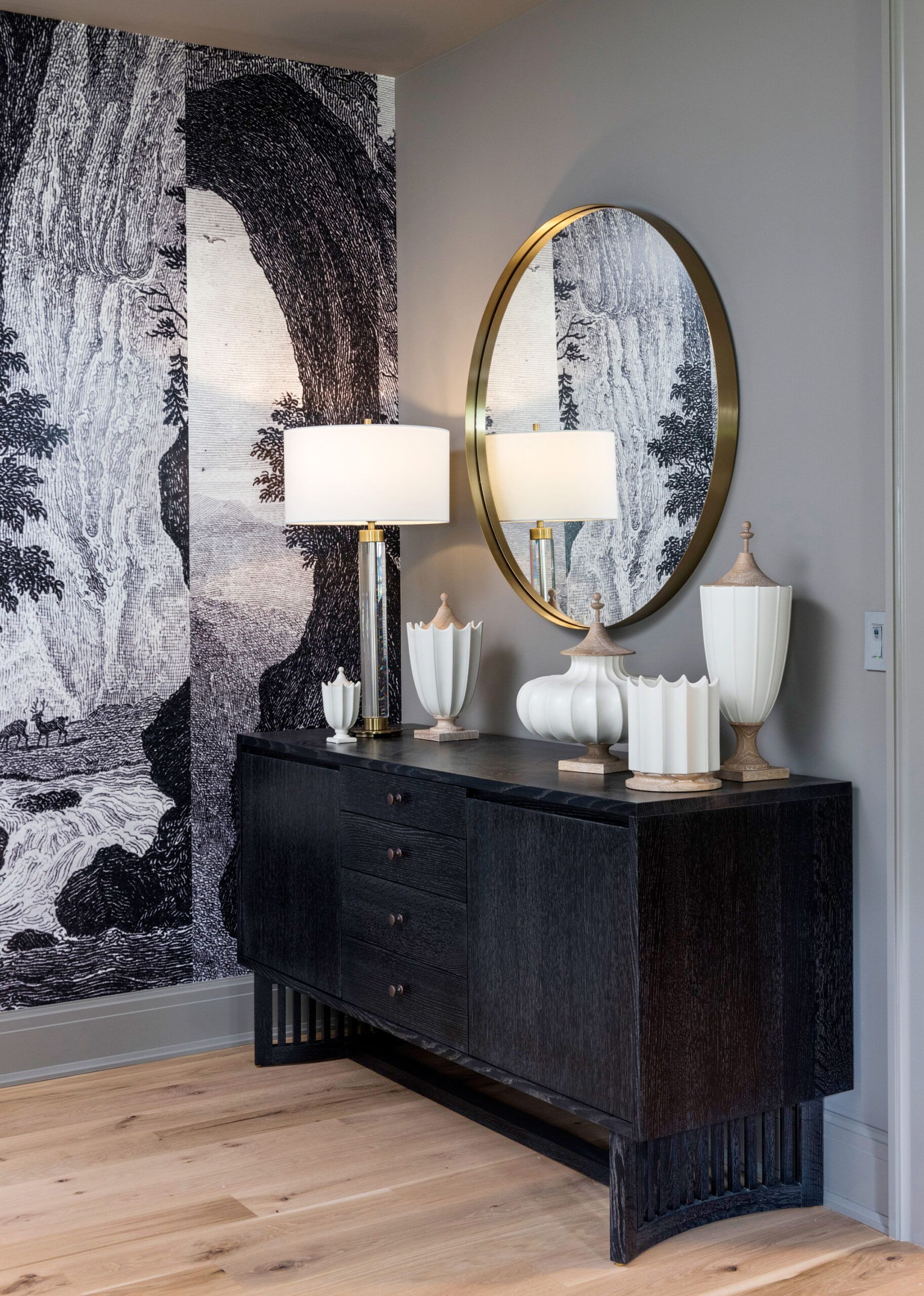 Warm white pottery displayed on the dining room buffet makes an impressive statement against the rich gray walls of the dining room. Give each piece room to breathe and go for varied textures and sizes to keep it visually interesting.
STYLING, FURNISHINGS & ACCESSORIES: Stickley Audi & Co.
Set a Layered Table
The secret to setting a stunning table? Layers of colors that complement your space. Start with a charger, add the dinner plate, then salad plate, and top with a bowl.
PLACE SETTINGS: Juliska
Make it Inviting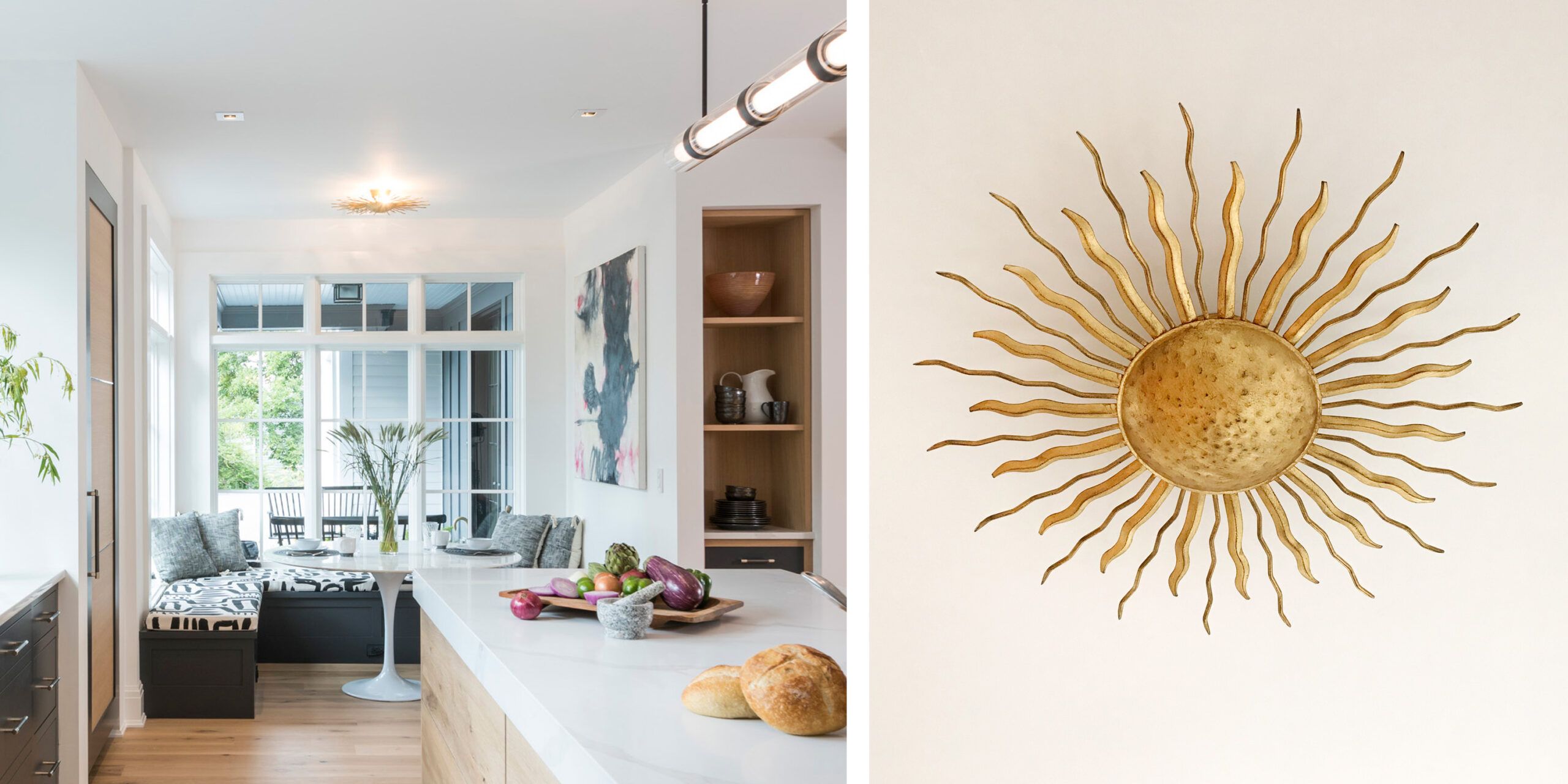 A pedestal table makes sliding in and out easier in the breakfast nook, where the sun is always shining thanks to a playful, gilded-iron flush-mount fixture above.
STYLING: Iconic Modern Home
LIGHT FIXTURE: Circa Lighting
Use Outdoor Fabrics Indoors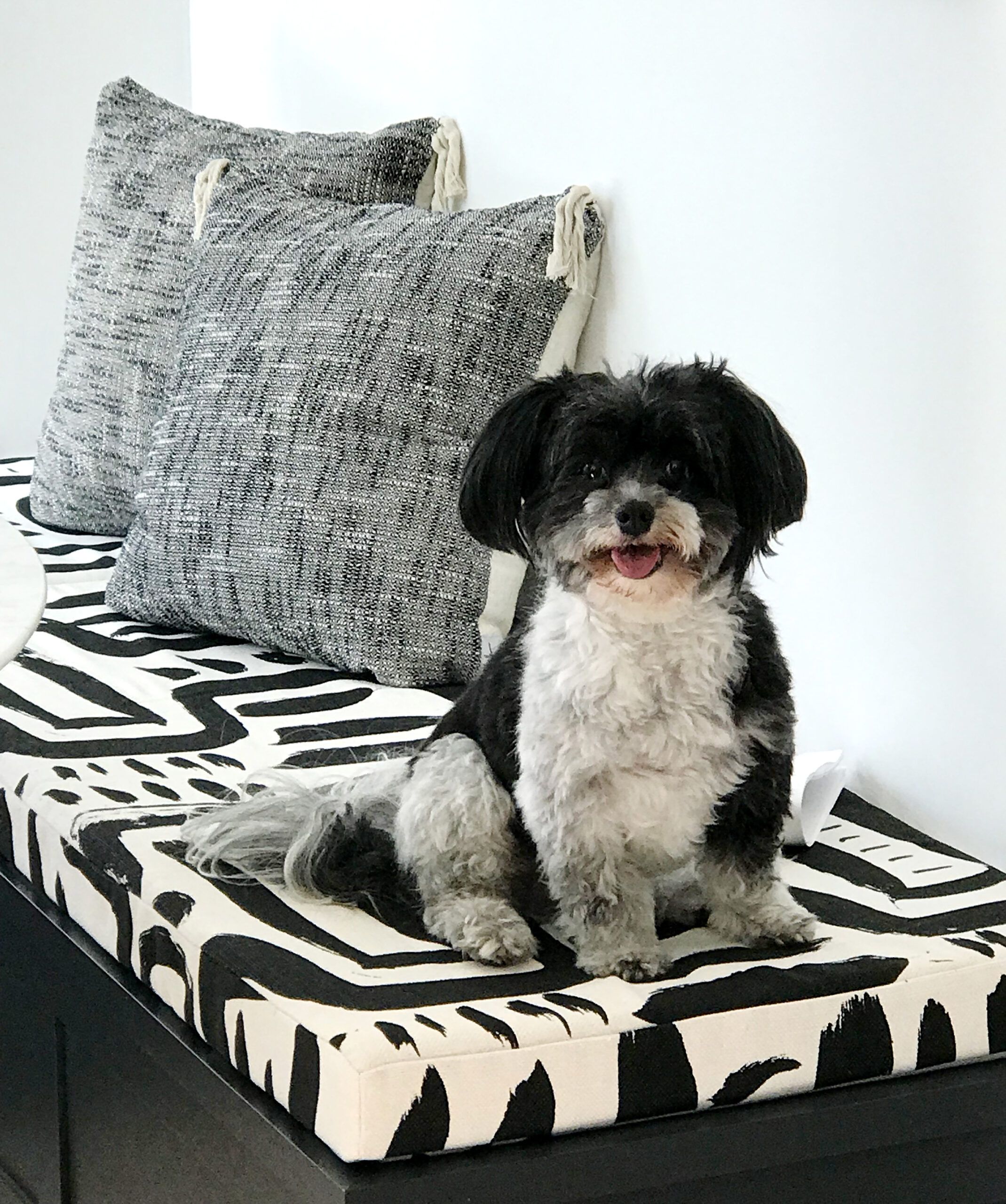 Upholster high-use furniture like breakfast nook benches in durable, easy-clean outdoor fabrics. They'll stand up to kids, spills, and even pets, and you'll be glad you won't have to replace them as often.
STYLED BY: Iconic Modern Home
Channel Your Inner Lighting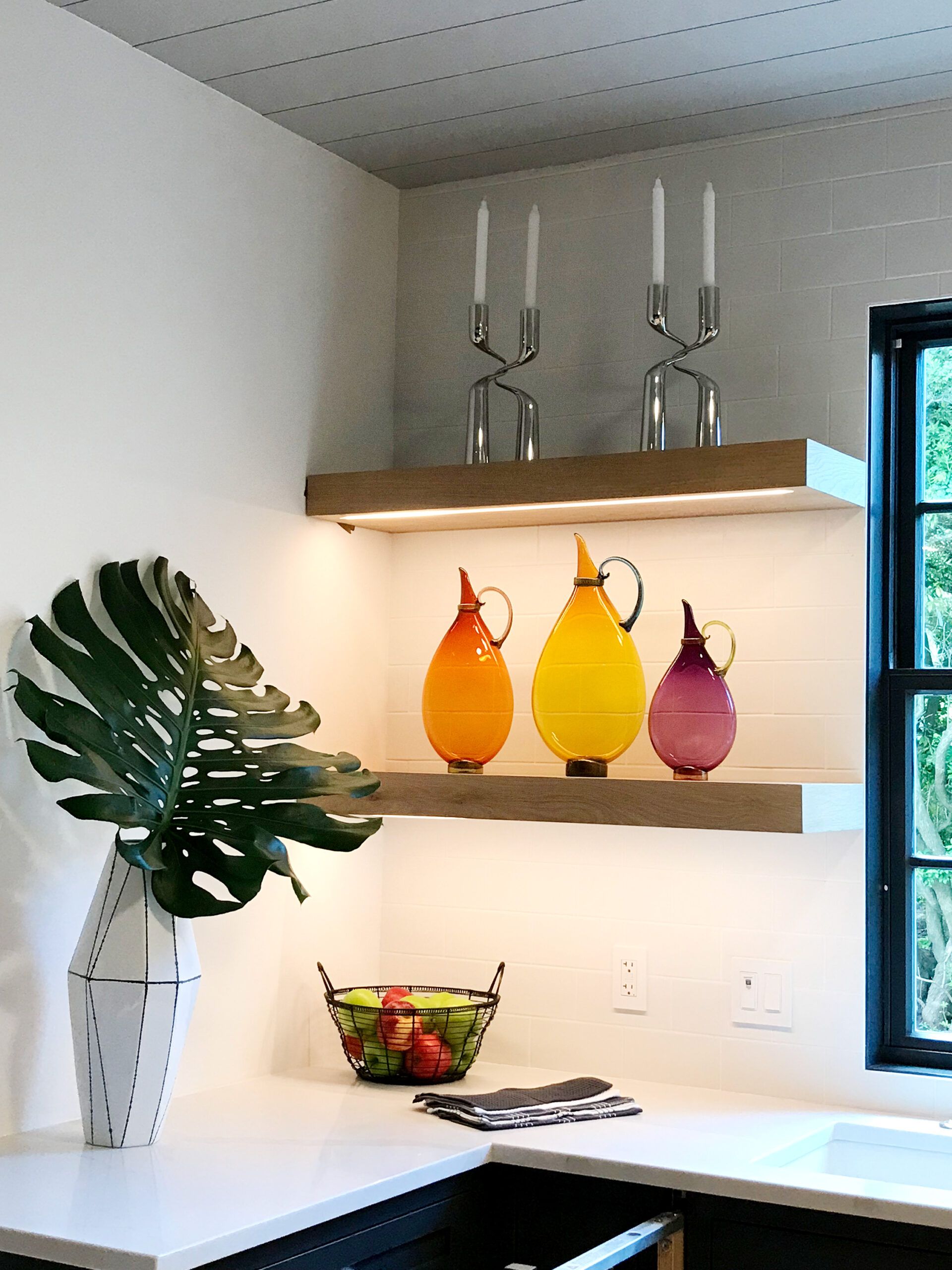 Carve channels into open shelving to house hidden LED light strips for a polished look. Here, a colorful collection of handblown glass vessels pops against a wall of white subway tiles.
LED LIGHTING: Häfele
GLASS COLLECTION: Vetro Vero
TILE: Merola Tile
Give Kids a Leg Up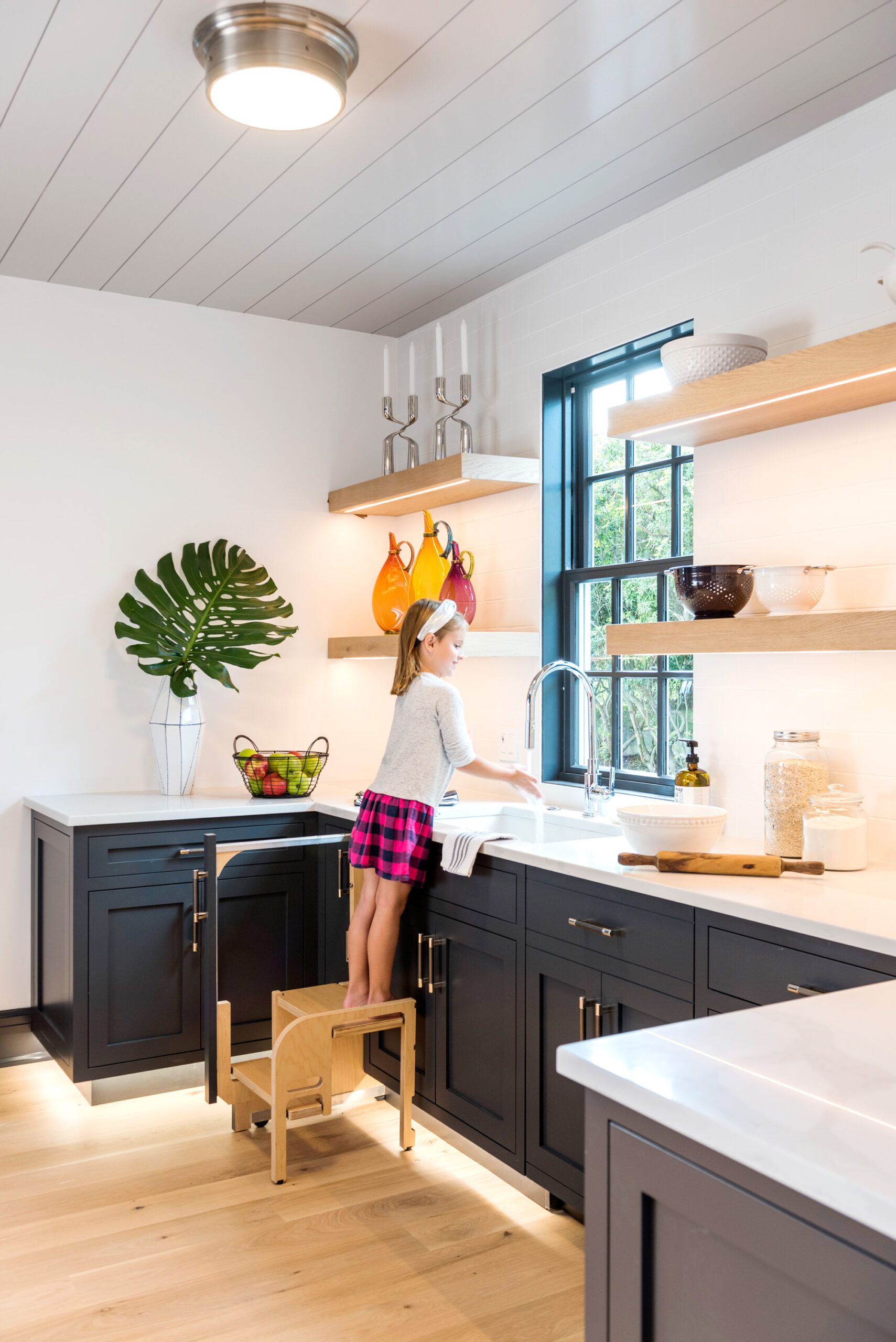 All you need is an inch-and-a-half of space to include this pullout step stool which folds up and tucks neatly into the cabinetry when not in use.
STEP STOOL: Hideaway Solutions
CABINETRY: New England Cabinet Company
TOE KICK LIGHTING: Häfele
CEILING LIGHT FIXTURE: Circa Lighting
SHIPLAP CEILING: Baird Brothers Fine Hardwoods
Flaunt Your Best Assets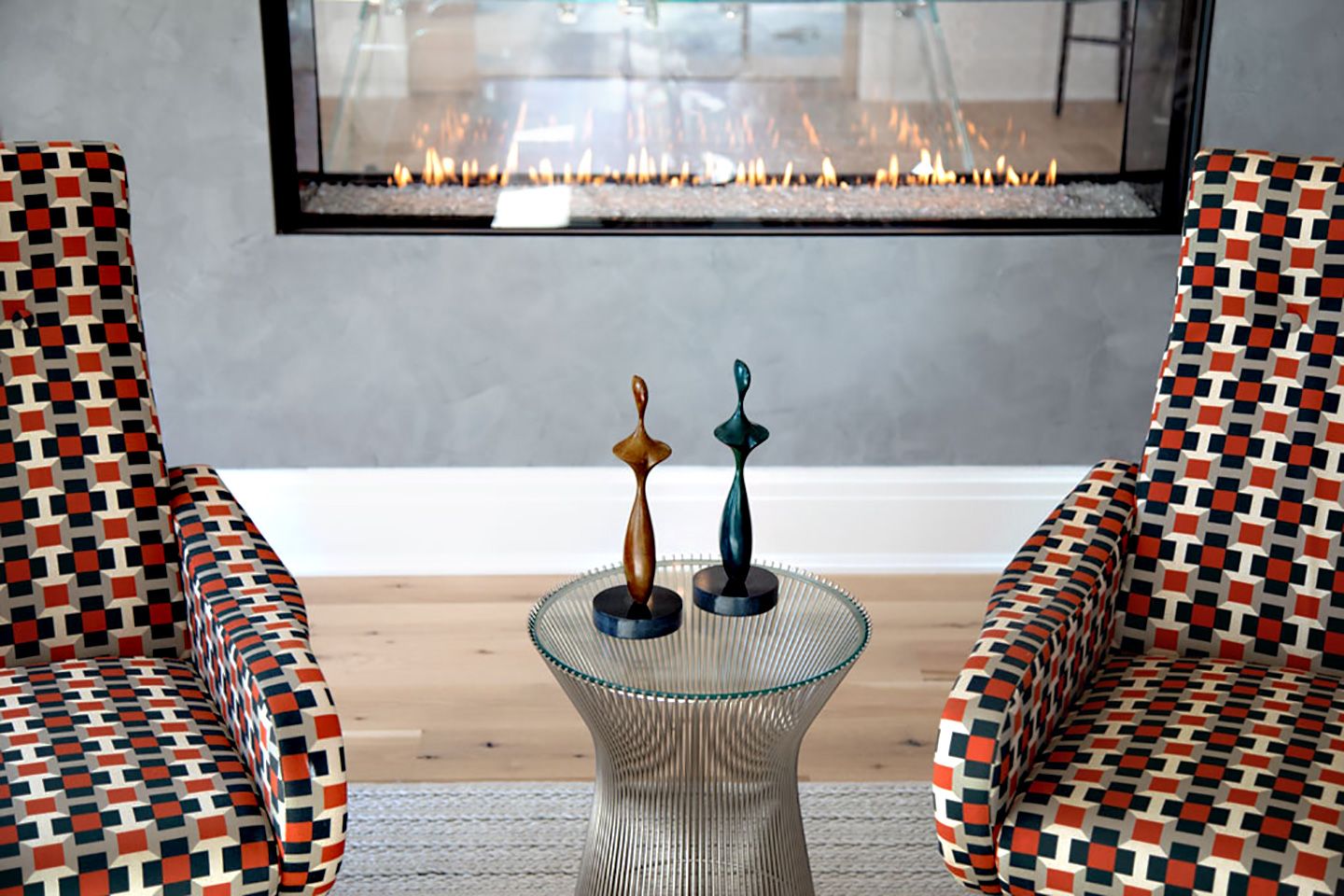 This see-through fireplace is a stunning focal point in the family room. To draw attention to it without obscuring its beauty, we flanked it with a pair of vintage chairs upholstered in an eye-popping fabric. Small bronze sculptures set atop a low-profile glass-and-metallic side table draw the eye toward the dancing flames.
STYLING: Iconic Modern Home
FIREPLACE: Town & Country Luxury Fireplaces
BRONZE SCULPTURES: Dick Shanley
Turn Your Backsplash into a Photo Focal Point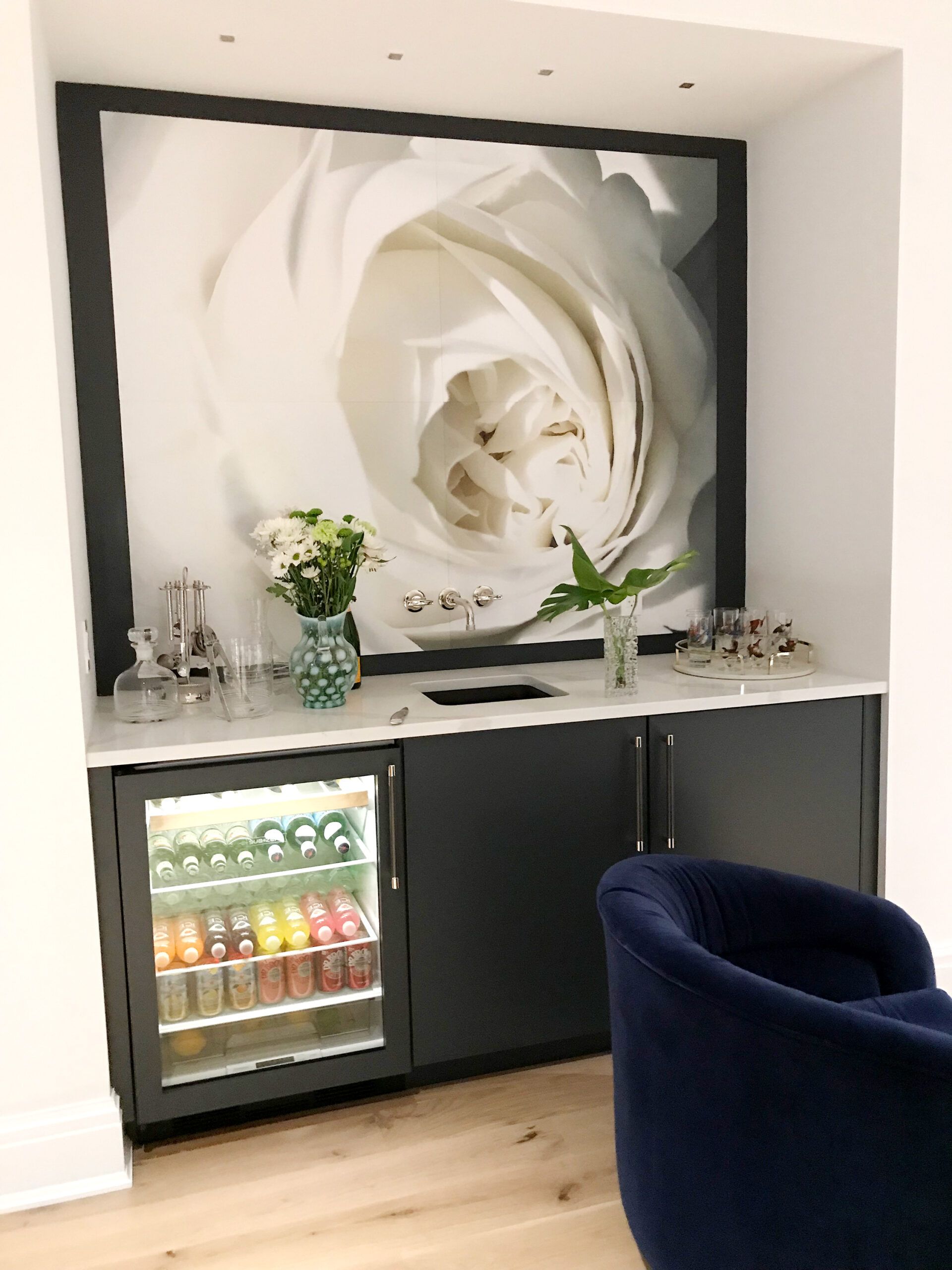 As an alternative to the traditional tile backsplash, consider printing a favorite photograph on aluminum sheet metal for a more contemporary and dramatic look.
BACKSPLASH: Russ Hardin for christensenHARDIN
UNDERCOUNTER BEVERAGE CENTER: Clarke: Official Sub-Zero/Wolf/Cove Showroom
CUSTOM CABINETS: New England Cabinet Company
COUNTERTOP: Aurea Stone provided by Everest Marble, fabricated by Dushi Marble & Granite
FAUCET: ROHL
Repeat Patterns and Textures for Cohesive Design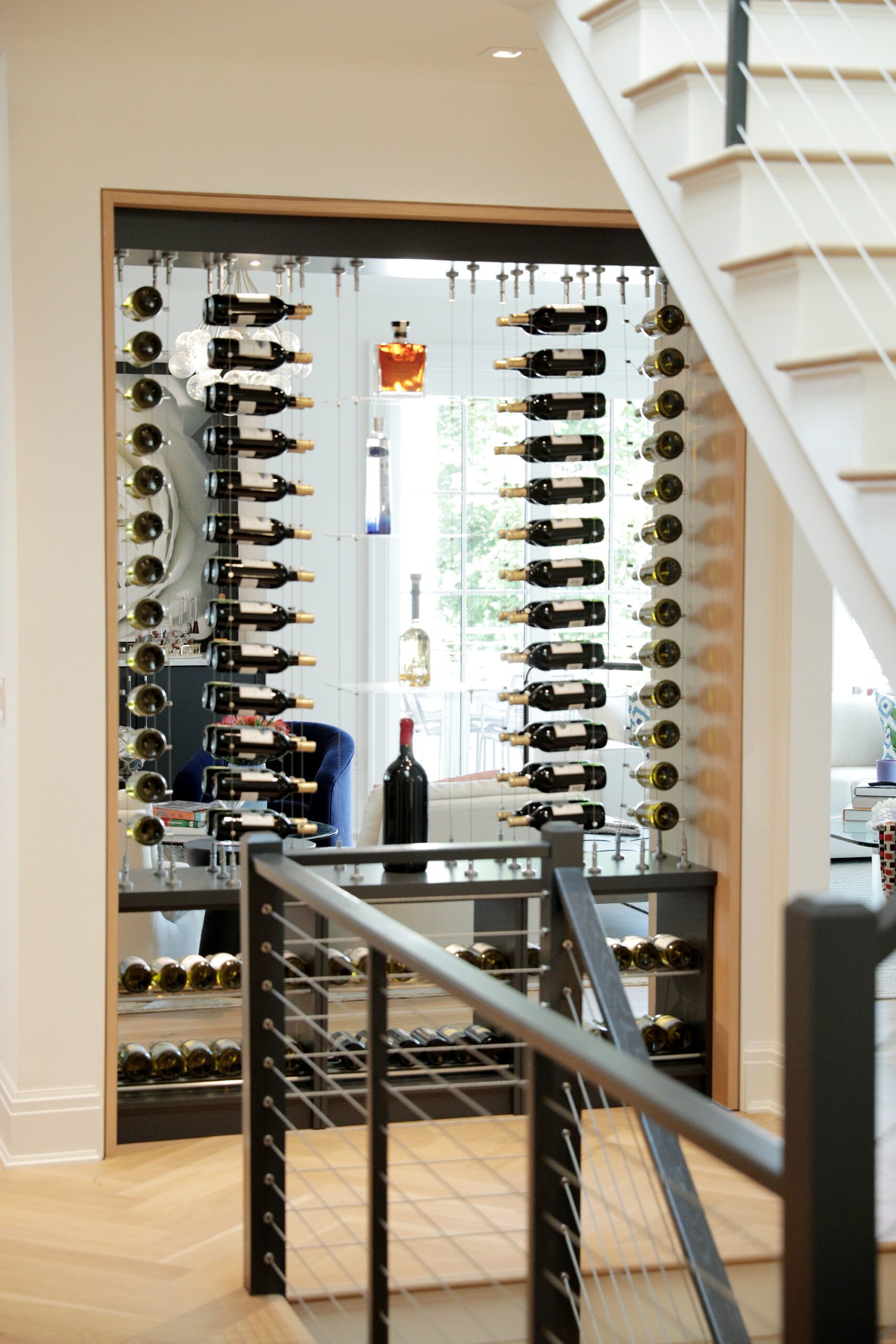 Aluminum cable railings, repeated in a floating wine rack, preserve sight lines and help define the home's contemporary style. The oak floor of the entry hall and tiled floor in the basement's beehive oven room (visible through the open staircase), share a herringbone pattern.
WINE DISPLAY: Cable Wine Systems
CUSTOM WINE CABINET: New England Cabinet Company
ENTRYHALL FLOOR: Baird Brothers Fine Hardwoods
CABLE RAILING: ViewRail
Use—and Reuse—Sustainable Outdoor Dishware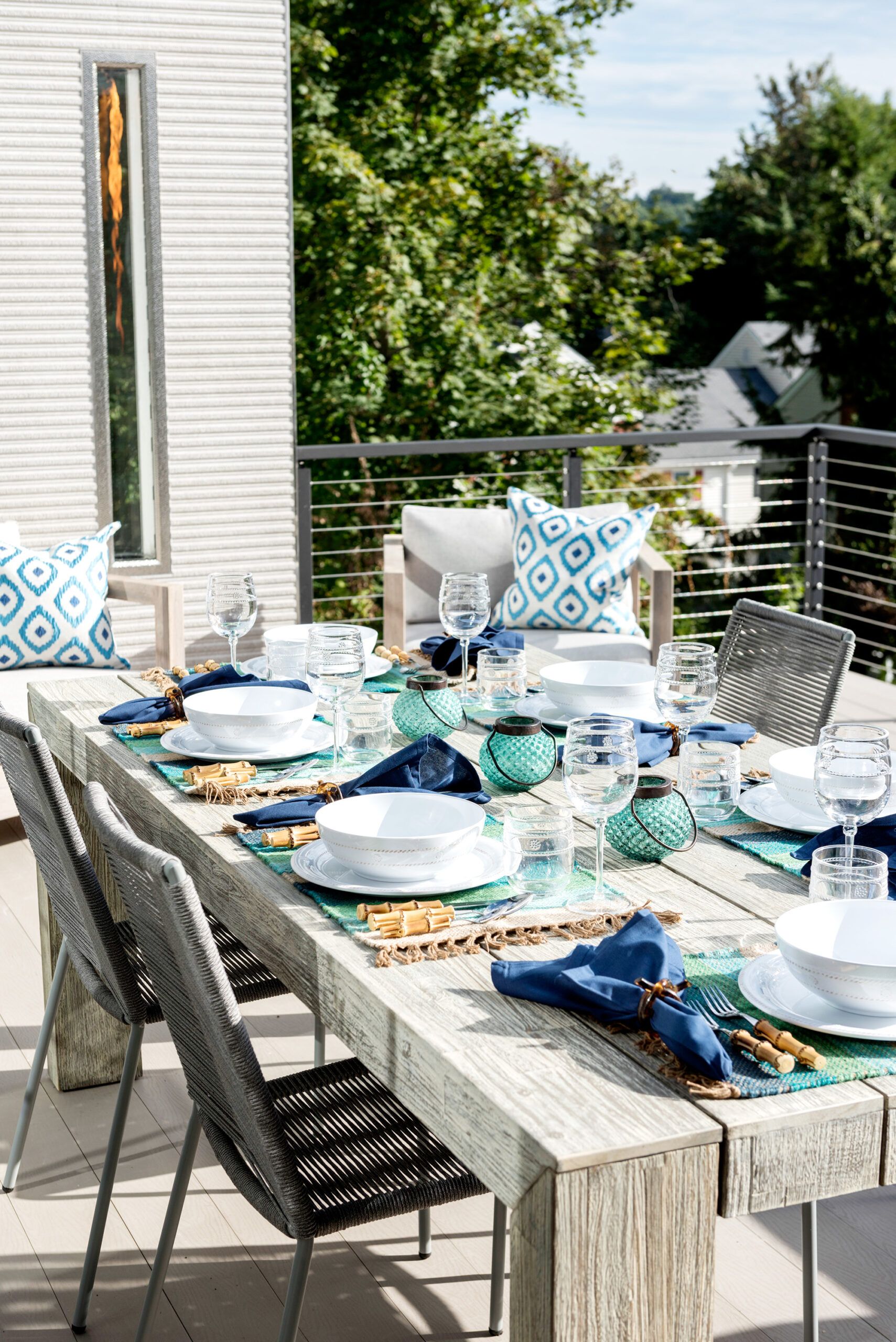 Forgo disposable plates and glasses for al fresco entertaining and invest in a set of durable, dishwasher-safe melamine dishes and acrylic glasses. Your guests (and the planet) will appreciate it.
STYLING: Iconic Modern Home
DINNERWARE: Juliska
Light the Way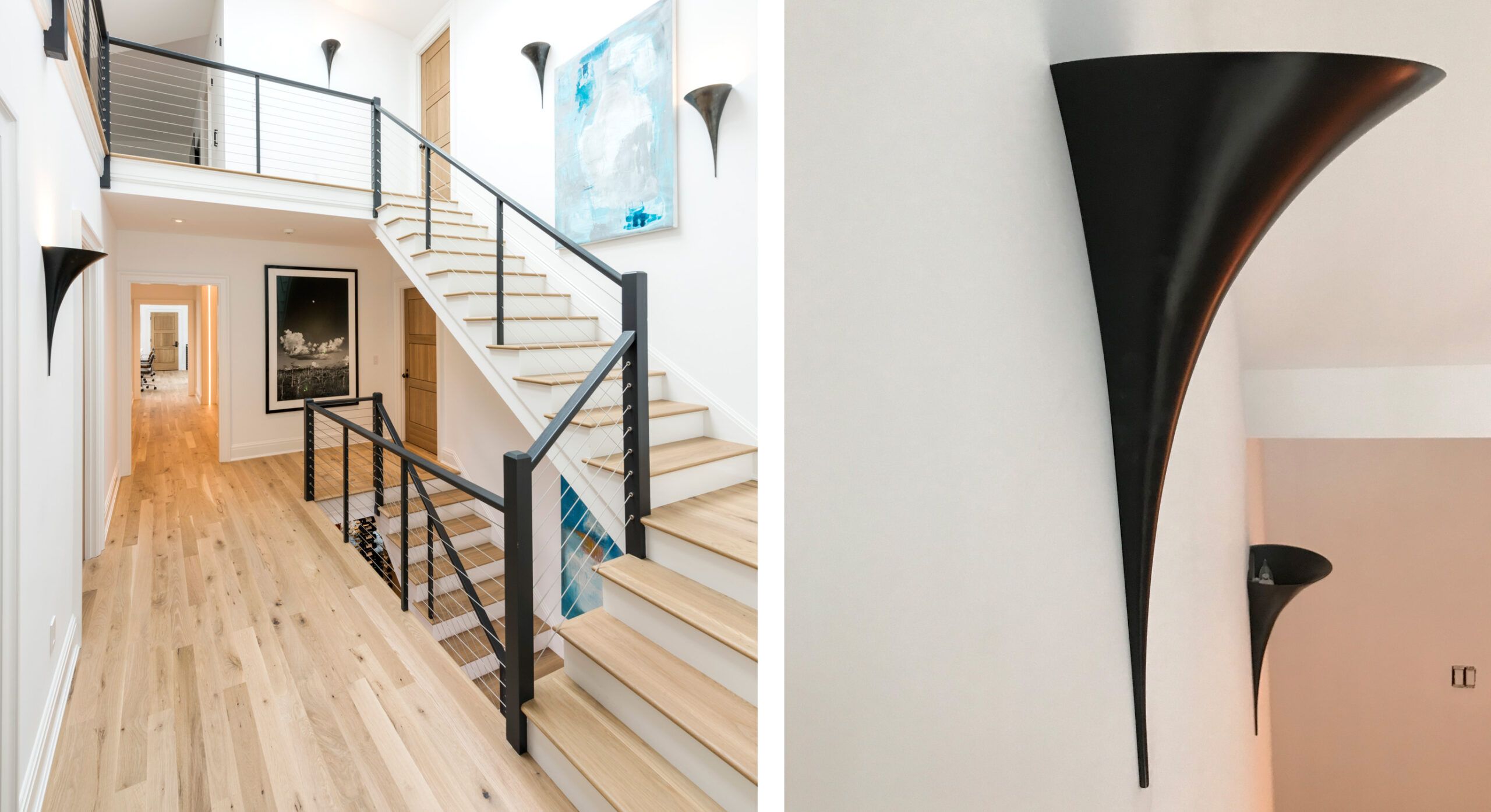 Create a sense of drama and draw the eye upward with distinctive stairwell light fixtures. Here, curvilinear Art Deco wall sconces in bronze lead the way to the third floor.
LIGHT FIXTURES: Circa Lighting
FLOORING: Baird Brothers Fine Hardwoods
Wash Your Stairwell in Up and Down Lighting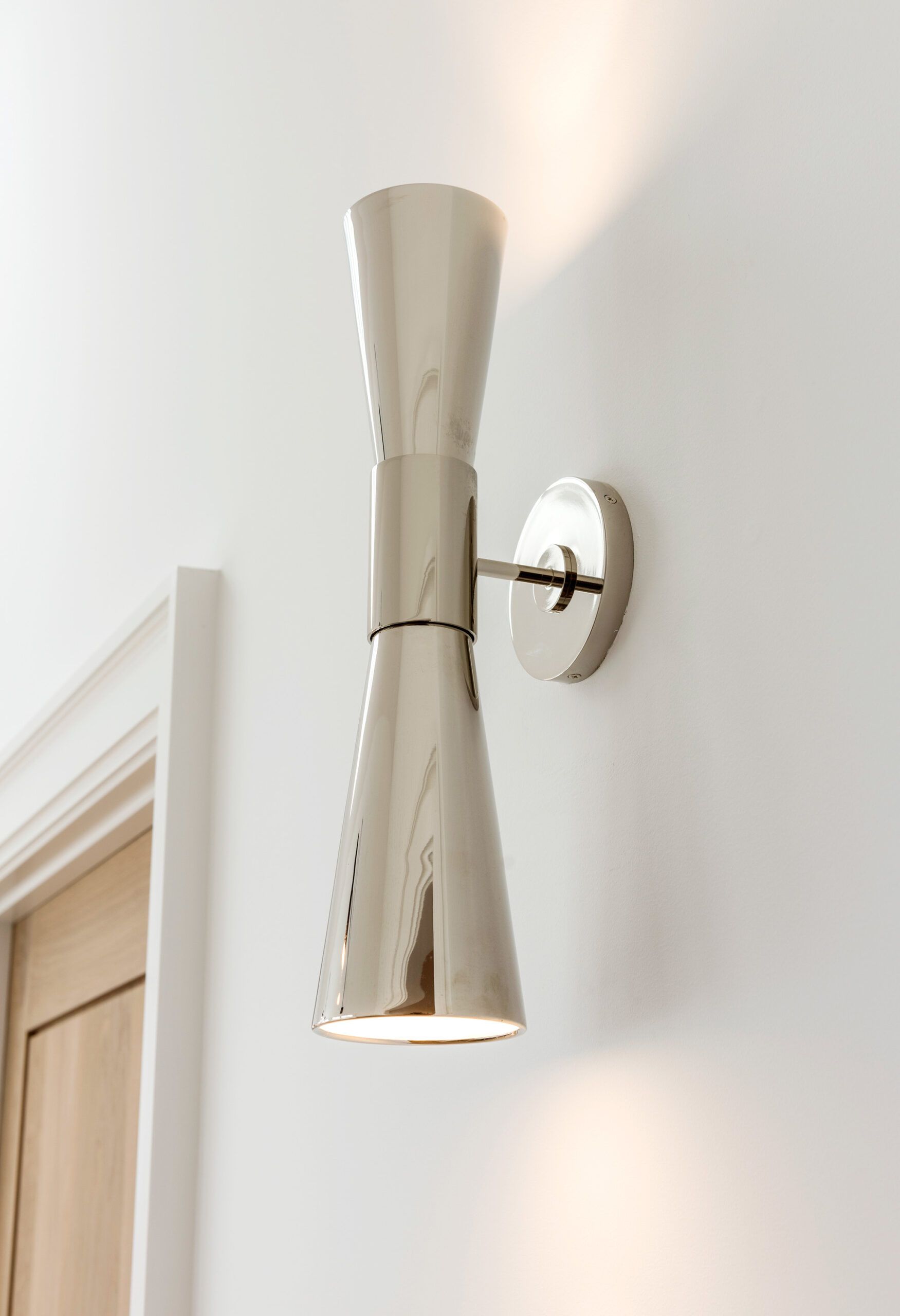 Sconces that direct light both upward and downward are ideal for stairwells with vaulted ceilings as they wash the entire space in light.
LIGHTING FIXTURE: Circa Lighting
Make a Good First Impression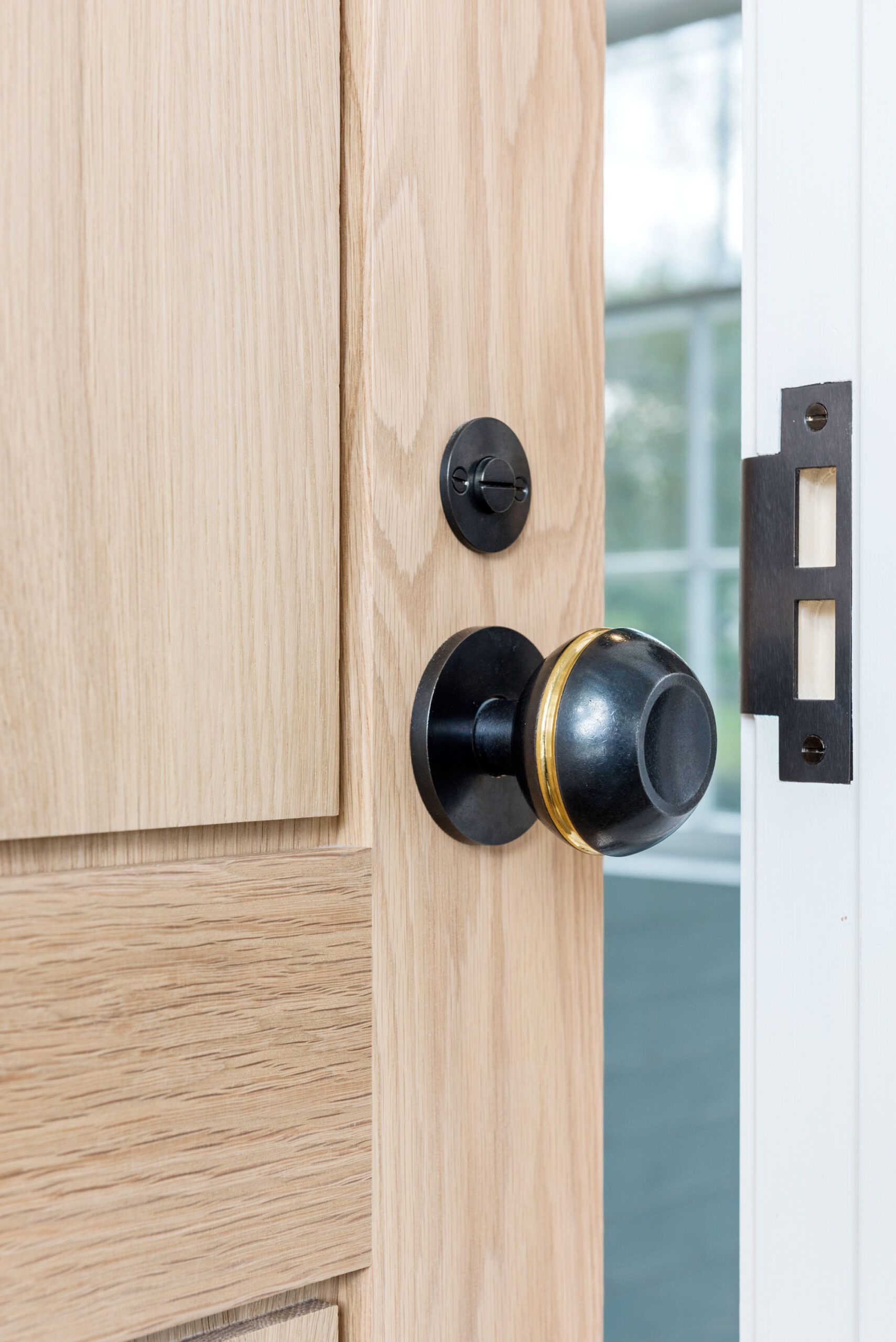 A doorknob is the first thing you touch upon entering a room and the last as you leave. So why not make it special? We outfitted handsome (and hefty) white oak doors with oil-rubbed bronze and brass architectural hardware throughout our Idea House for a look and feel that can't help but be noticed.
DOOR HARDWARE: Jay Jeffers for Access by Accurate Lock & Hardware
DOOR: Baird Brothers Fine Hardwoods
Turn Bedtime into "Such Stuff as Dreams are Made On"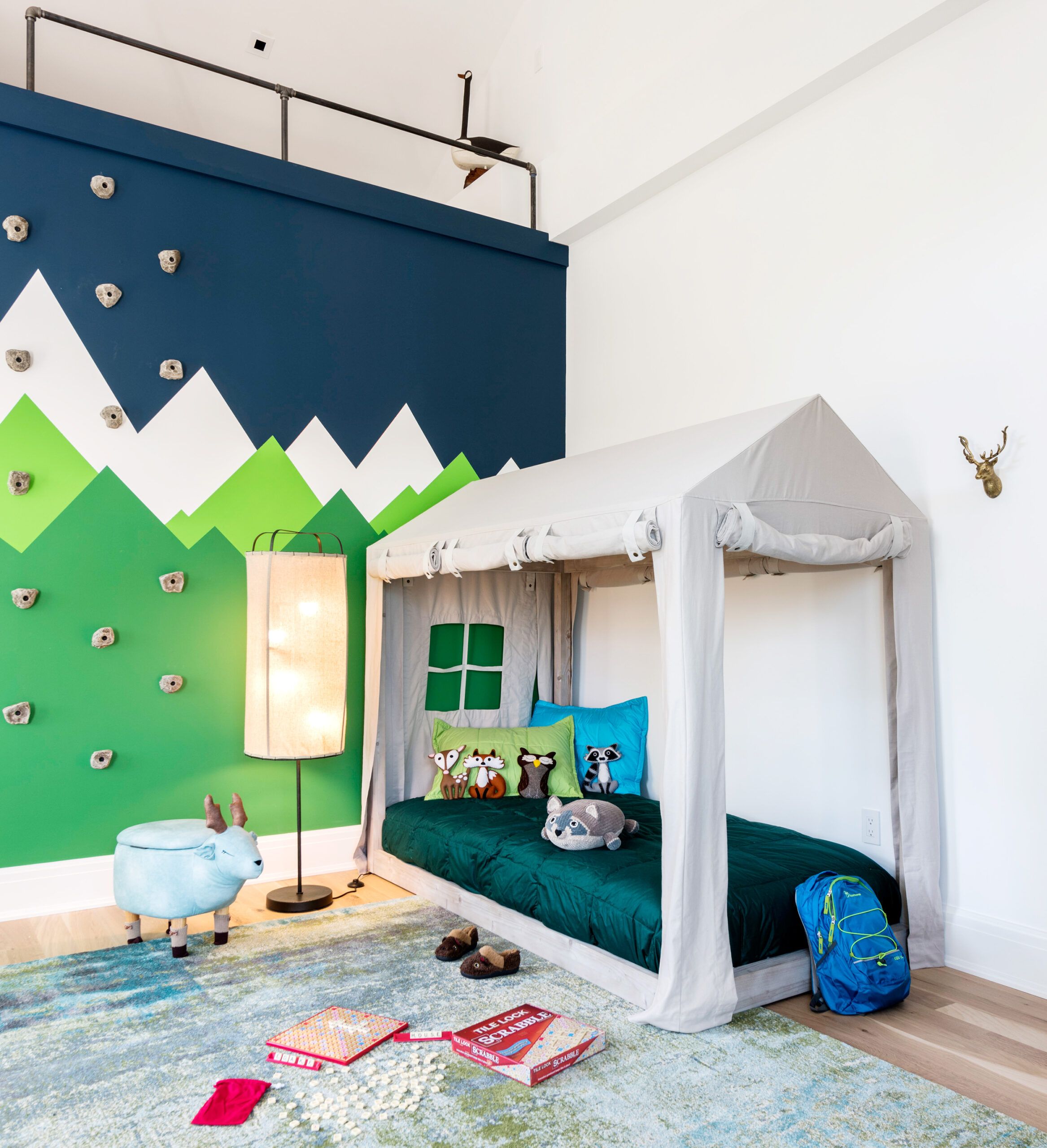 Erase the bedtime blues with a canopy bed sure to inspire dreams of adventure. This low-to-the-ground tent bed is ideal for transitioning tots from their cribs. And don't forget to outfit it with plenty of welcoming woodland friends.
TENT BED: RH Baby & Child
LIGHT FIXTURE: Clarkson Lighting
MOUNTAIN MURAL: Sandy McDonald
Go Green
Moisture-rich bathrooms are the perfect place to bring the outdoors in with playful planter tiles that house no-fuss air plants and low-maintenance succulents.
PLANTER TILES: Pandemic Design Studio
Invite Visitors to Look a Little Closer

From afar, the wallpapered accent wall in this bedroom looks like a textured pattern. But on closer inspection, it's a fun aerial view of a sandy beach blanketed with sunbathers.
ROOM STYLING: Iconic Modern Home
WALL COVERING: Mitchell Black
ARTWORK: Emily Klima
Dive Right In!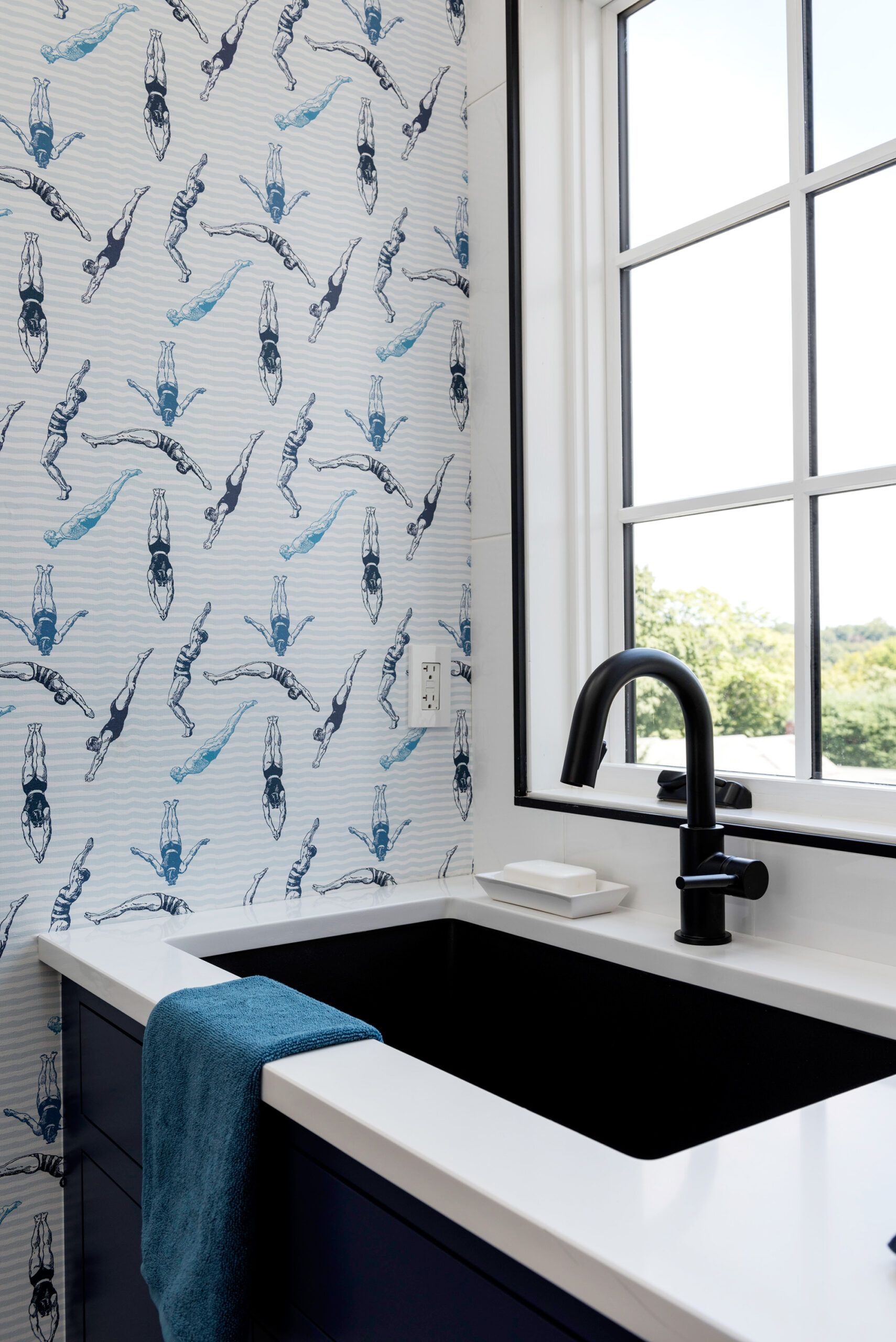 You spend a fair amount of time doing laundry, so why not make the space more inviting with some playful wallpaper like these divers in retro swimwear? Adding black aluminum edging around windows frames the view and complements the sink and matte-black faucet.
WALL COVERING: Mitchell Black
EDGE TRIM: Schulter-Systems
FAUCET: ROHL
COUNTERTOPS: Dushi Marble & Granite
Brighten the Basement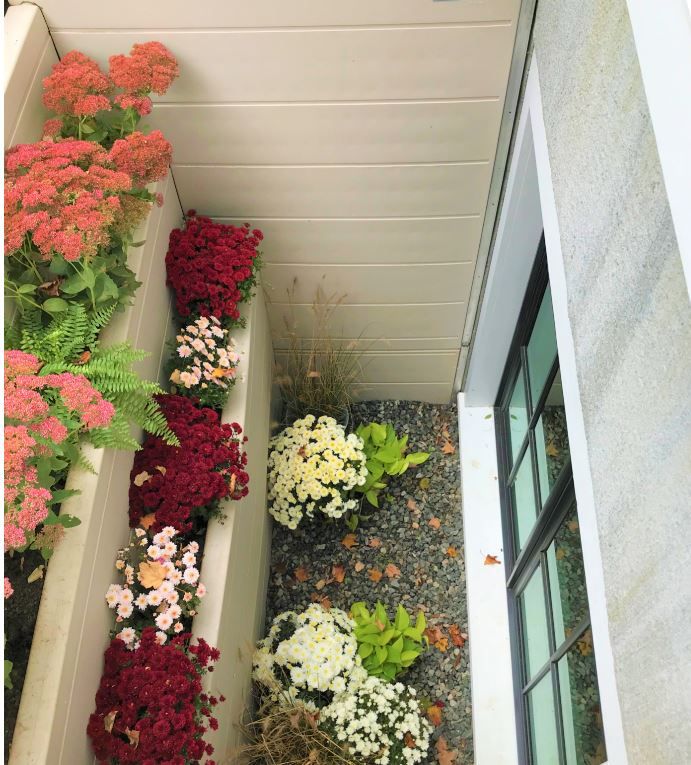 Below-ground spaces, even beautifully furnished ones—can feel dreary and uninviting without natural daylight. The best way to let the sun shine in: Install window wells on the southern or eastern sides of the house. With its stepped design, this one doubles as an easy emergency exit and the planter wells located within the steps make for an eye-catching display from inside and out.
EGRESS WINDOW WELL: BILCO
Carve Out a Niche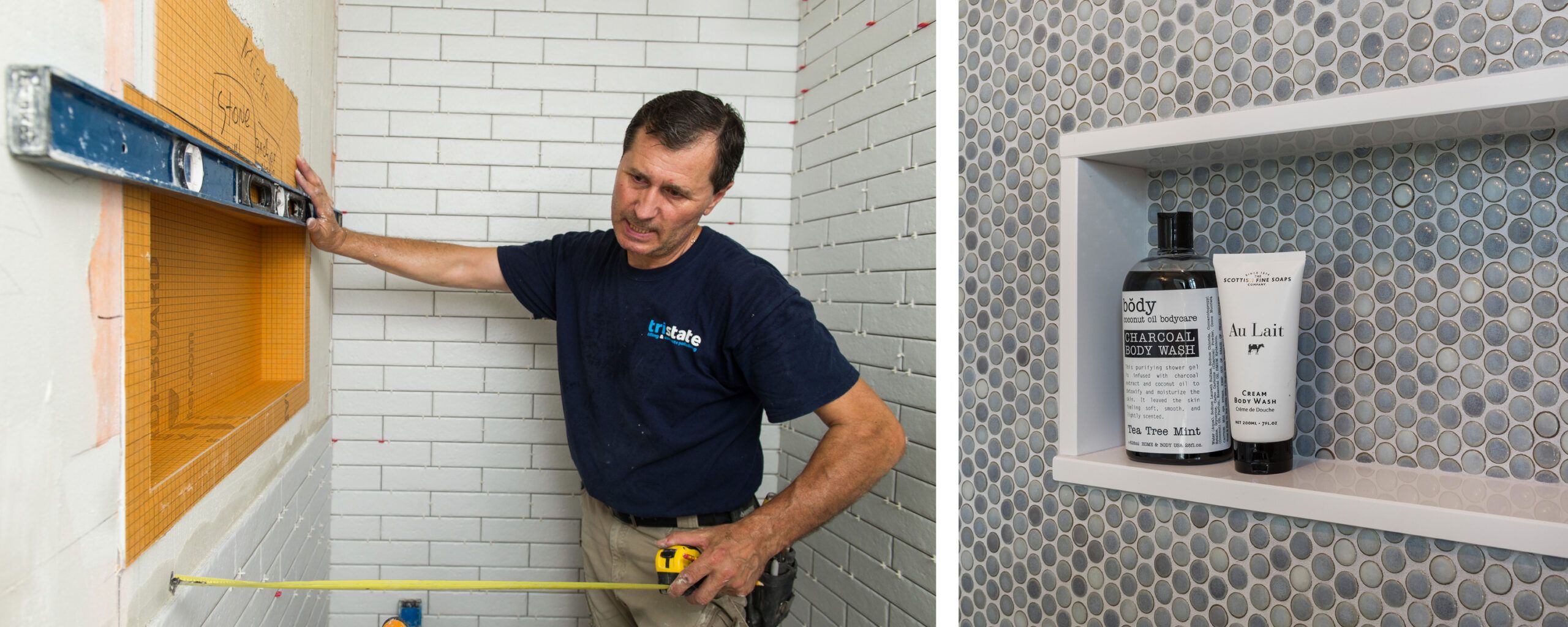 Redoing your shower? It's easier than ever to add a handy spot for toiletries thanks to prefab, completely waterproof shower niches that come in a variety of sizes—all ready to tile.
Shown here: (left): Our tiler measuring twice so that he'll only have to cut once; (right): We framed the niche in the penny-round accent wall of this shower with quartz for a crisp outline and even easier install.
SHOWER NICHE: Schulter-Systems
TILE: Merola Tile
Incorporate Natural Elements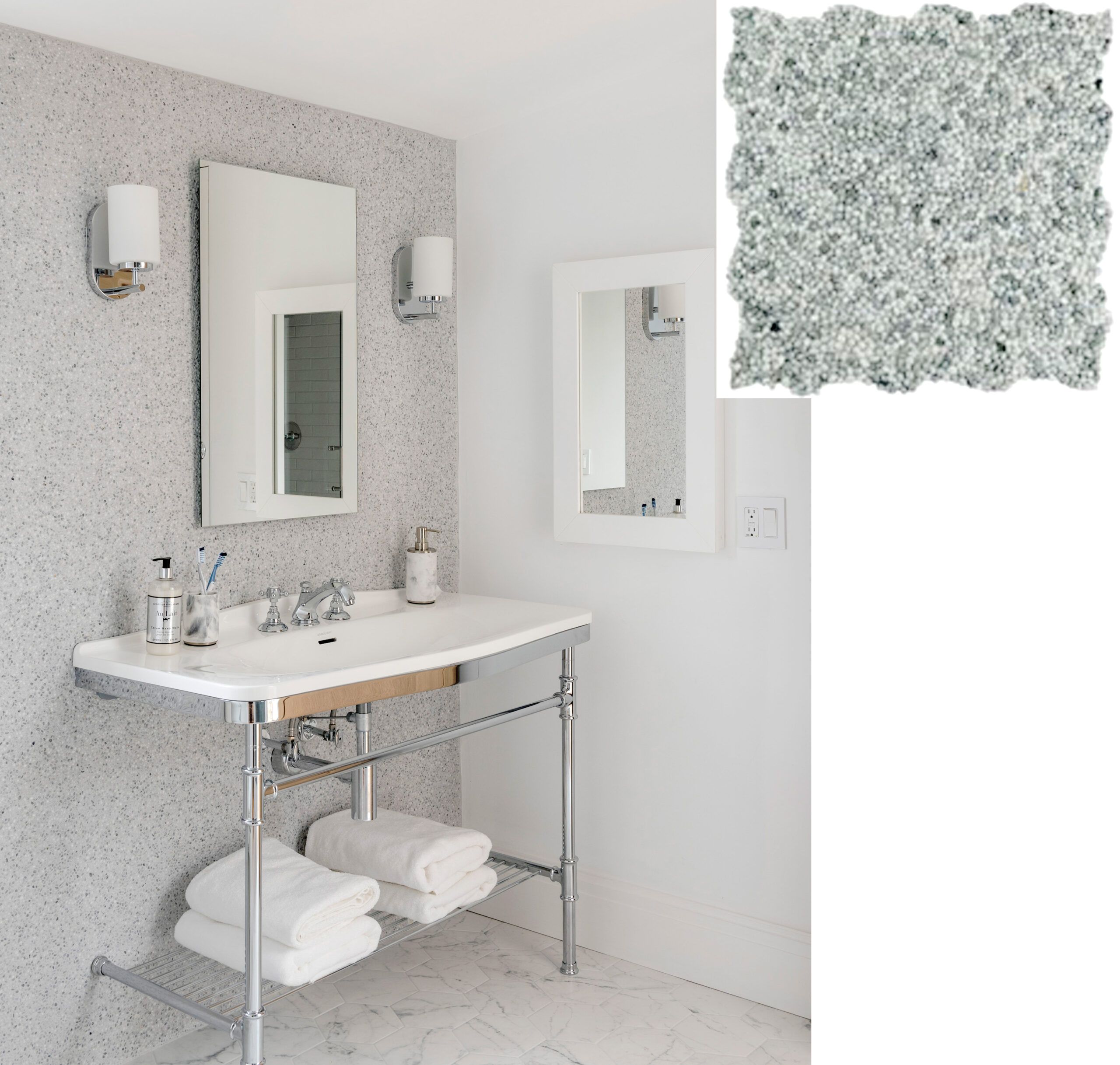 Teeny pebbles that look as if they've been plucked from the sea and hand set onto this accent wall bring a refreshing vibe to the third floor bath of our Idea House. Our secret for easy installation? They come in 12×12-inch sheets with a variegated interlocking system that makes grout lines imperceptible.
TILE: Merola Tile
CONSOLE: Victoria + Albert
SCONCES: Clarkson Lighting