Front Row Seat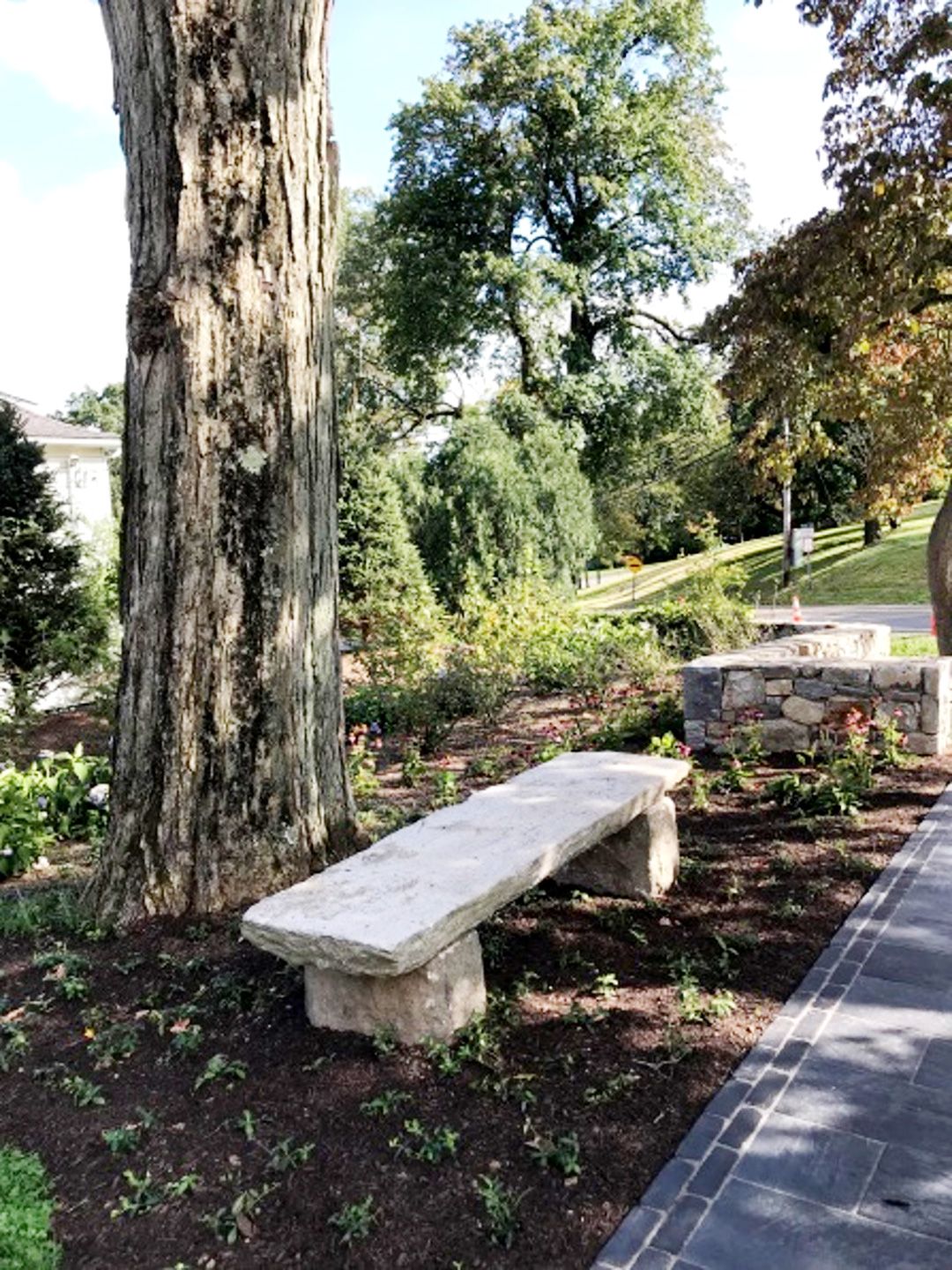 The KARP building team salvaged the vintage stone bench that was original to the house, and placed it alongside the paver pathway from the sidewalk under the cooling shade of a stately tree. It's an inviting resting spot for kids waiting for the school bus, gardeners who need a quick break, and catch-up conversations with neighbors.
PAVERS: Unilock
Put-Your-Feet-Up-and-Sit-Awhile Porch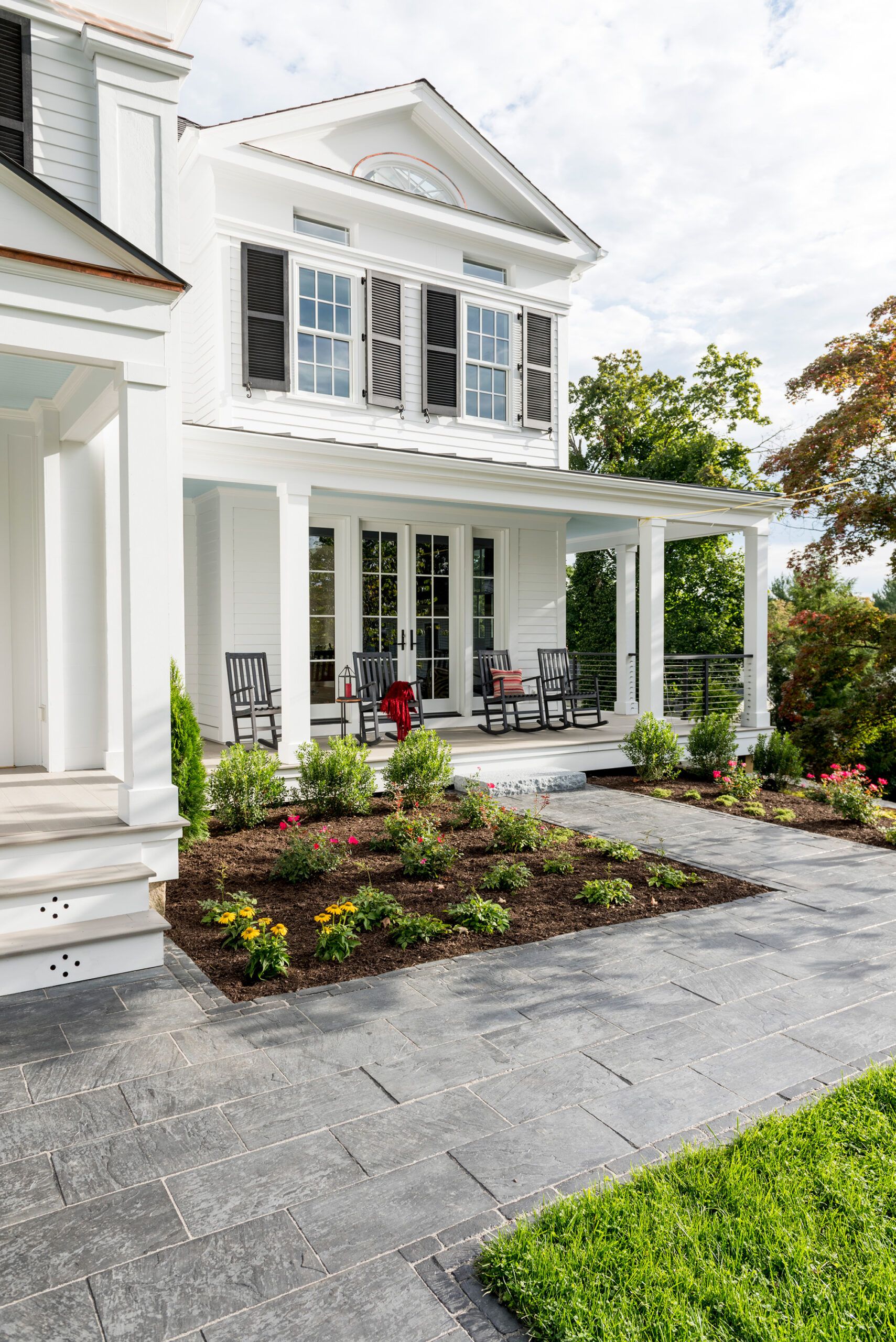 The side wing that was added to the circa-1840 house in the 1960s was rebuilt in its original Greek Revival style, and its new double-hungs have been flanked with historically accurate, operable shutters made from a composite that won't warp or split. The stepped-back wing helps retain the look of an antique home added onto over time. Concrete pavers cast from historic molds lead to a wraparound porch, which offers a chance to while away a neighborly hour or two with friends and passers-by.
ENGINEERED WOOD SIDING: LP SmartSide
ASPHALT ROOFING: GAF
WINDOWS, FRENCH DOORS: Sierra Pacific Windows
SHUTTERS, PORCH FLOORING AND CEILING: Aeratis Porch Products
PAVERS: Unilock
PAVING JOINT COMPOUND: Joint-It
MICROCLOVER SOD: Sodco
PORCH STYLING: Iconic Modern Home
Multi-level Gathering Spaces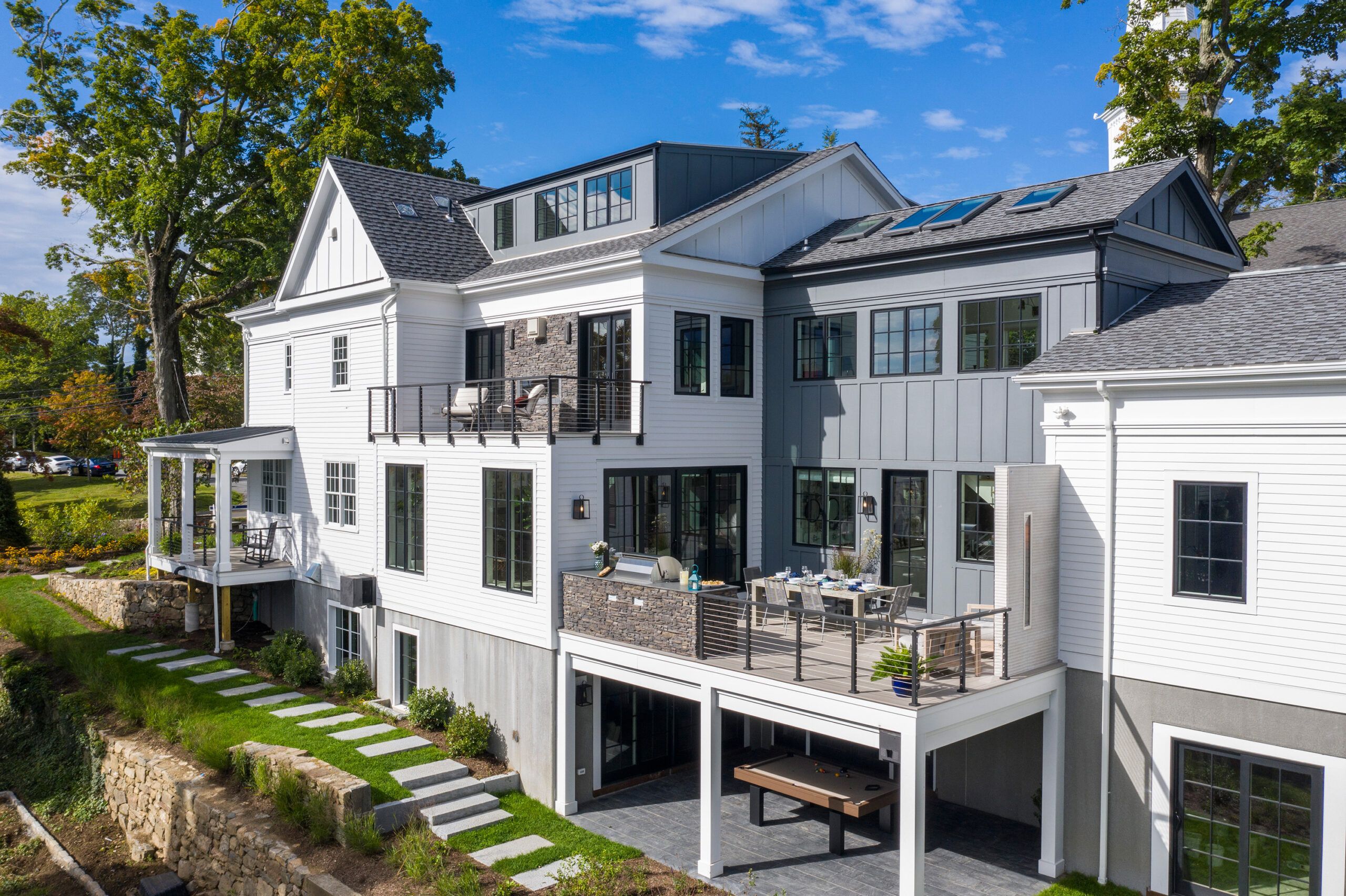 Moving from front to back, the home's architecture becomes less traditional and more contemporary as clapboard siding transitions to board-and-batten, and white double-hung windows make way for black-framed casement units. This side of the house offers spaces for enjoying the outdoors on multiple levels, from the sheltered basement billiards patio to the first-floor dining deck and wraparound porch to the upstairs master bedroom balcony.
SIDING: LP SmartSide
ASPHALT ROOFING: GAF
SKYLIGHTS: VELUX
PAVERS: Unilock
WINDOWS & DOORS: Sierra Pacific Windows
SOD: Sodco
PORCH FLOORING: Aeratis
OUTDOOR KITCHEN: Eldorado Stone
POOL TABLE: Blatt Billiards
Room for Two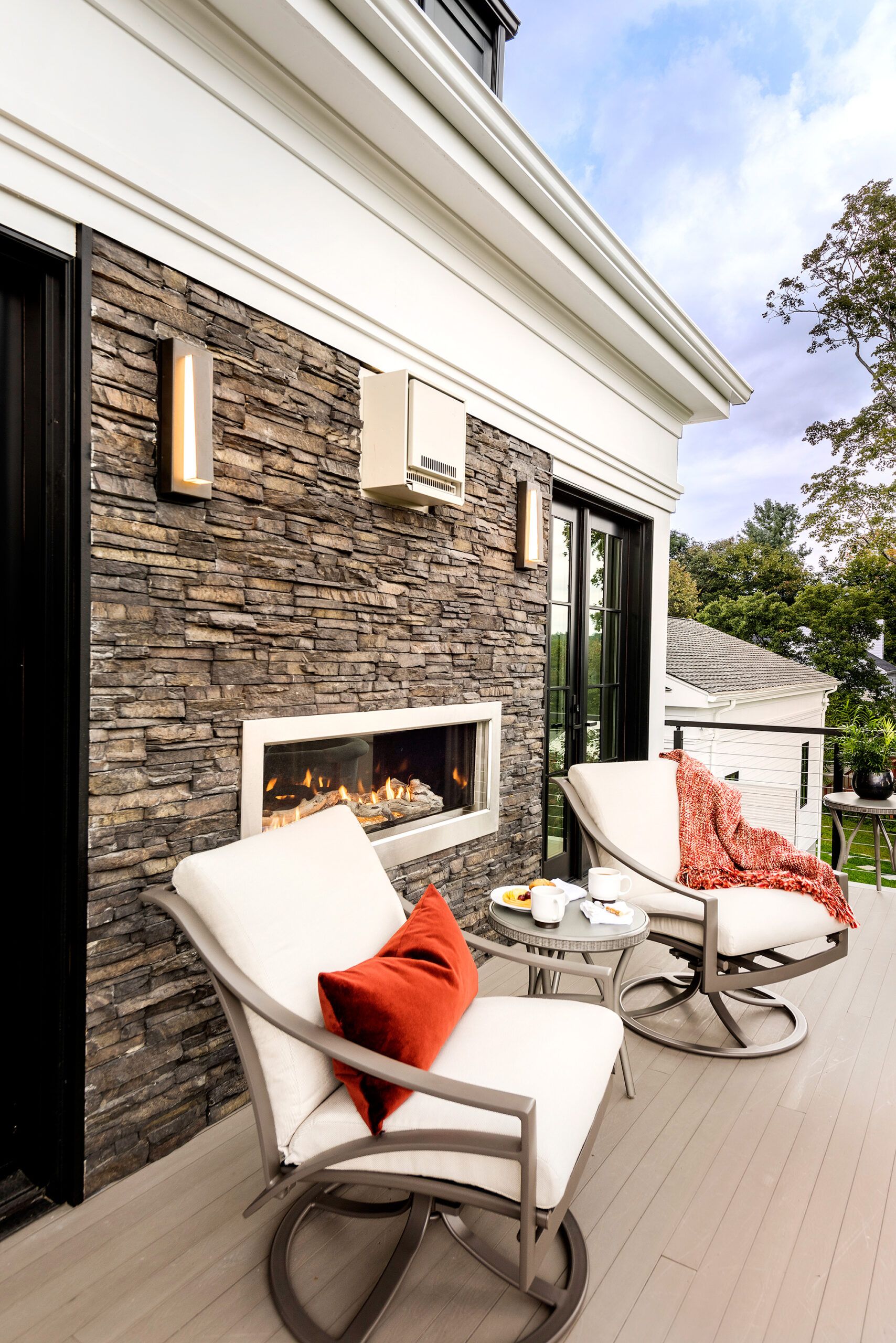 Three stories up on the south side of the house, a private deck off the master bedroom presents an opportunity to step outside and enjoy the view. French doors open onto the private outdoor seating area, where the two-sided, sealed gas fireplace (the vent box can the seen above the opening) is set off by a manufactured-stone-veneer accent wall. Sleek steel-cable deck railings offer unobstructed views.
STYLING, FURNISHINGS & ACCESSORIES: Stickley Audi & Co.
FIREPLACE: Town & Country Luxury Fireplaces
STONE VENEER: Eldorado Stone
STONE VENEER MORTAR: Sakrete
PORCH FLOORING: Aeratis
RAILING: ViewRail
Deckside Dining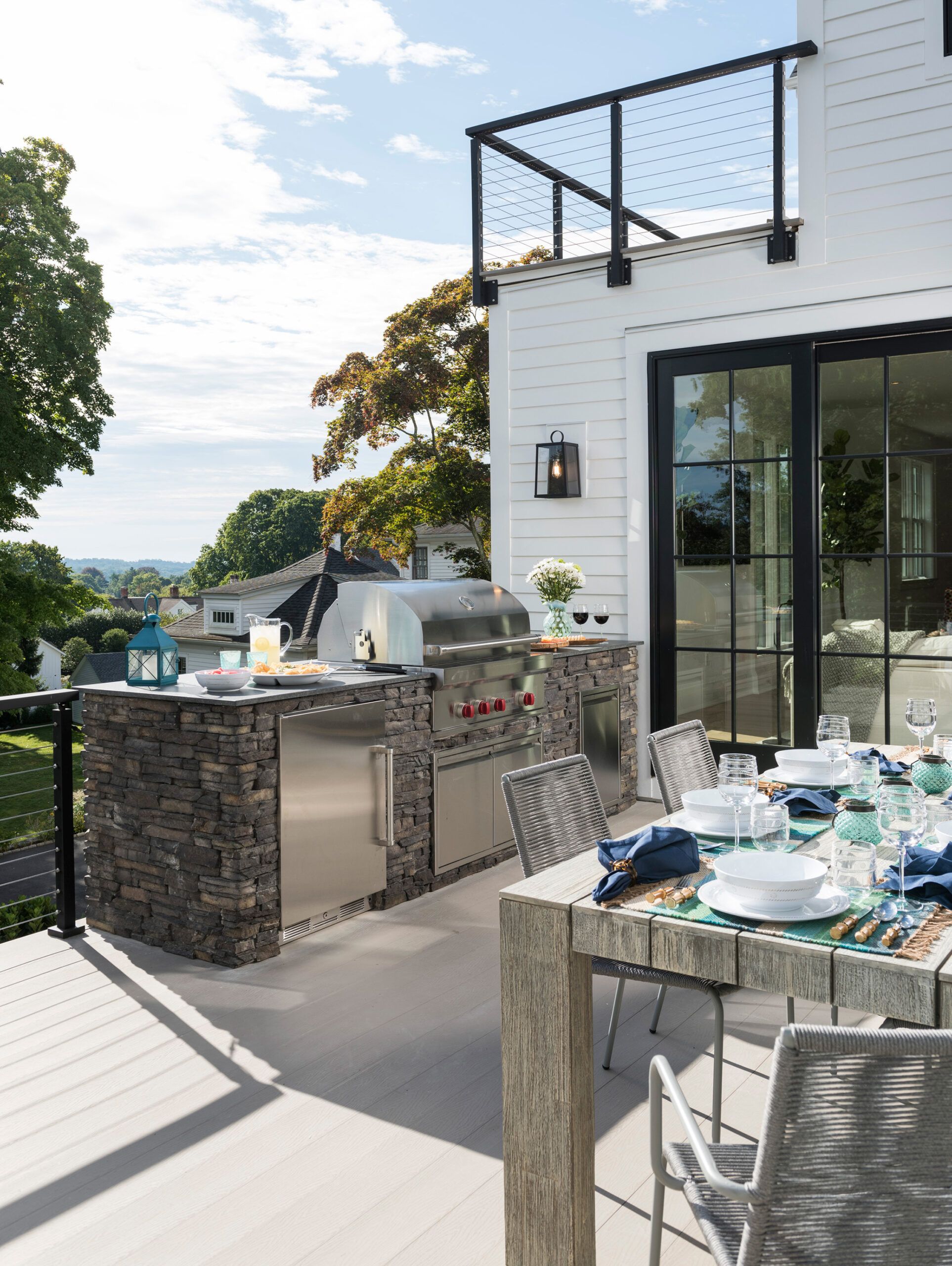 Sliding doors from the family room open onto a raised deck that hosts a full outdoor kitchen and dining table for meals alfresco. Durable, easy-care PVC deck boards are slip-resistant for safety in all kinds of weather. An outdoor kitchen equipped with a grill, undercounter refrigerator, and built-in garbage bins means the cook spends less time running and back and forth from the kitchen and more time enjoying the company of diners. The granite-topped island is clad in durable manufactured stone veneer.
STYLING: Iconic Modern Home
OUTDOOR KITCHEN: Eldorado Stone
STONE VENEER MORTAR: Sakrete
UNDERCOUNTER REFRIGERATOR: Clarke: Official Sub-Zero/Wolf/Cove Showroom
COUNTERTOP: Dushi Marble & Grantie
DECK FLOORING: Aeratis
SCONCE: Clarkson Lighting
SIDING: LP SmartSide
SLIDING DOORS: Sierra Pacific Windows & Doors
Head-Turning Architectural Fire Feature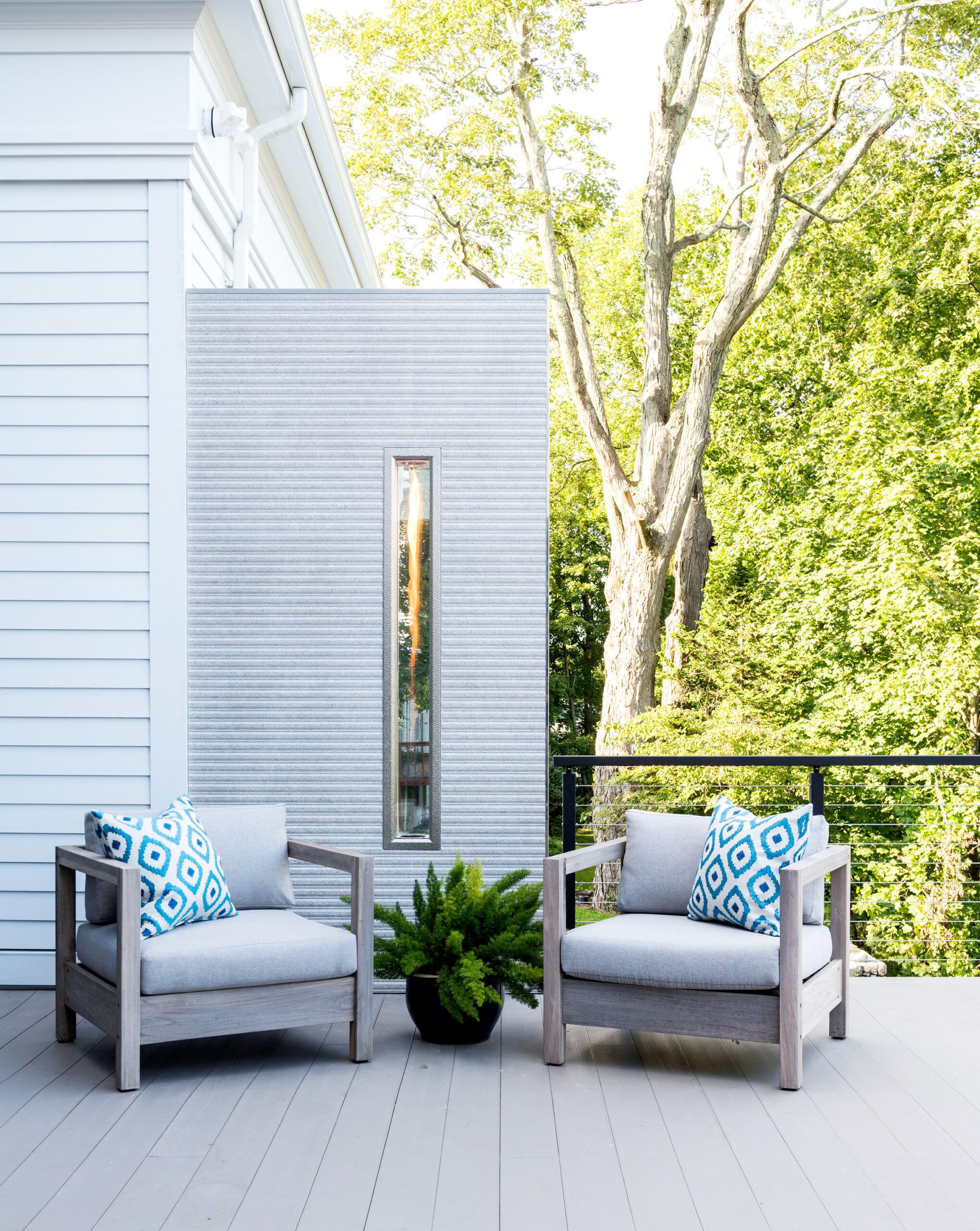 At one end of the deck, a vertical gas-fire feature with an oversize porcelain-tile surround invites family and friends to come out and relax awhile, even when there's a nip in the air. Steel-cable deck railings carry the interior's contemporary look outside, echoing the home's interior stair railings.
VERTICAL FIREPLACE: Town & Country Luxury Fireplaces
STYLING: Iconic Modern Home
PORCH FLOORING: Aeratis
RAILINGS: ViewRail
Outdoor Billiards Room
Below the dining deck, a sheltered patio hosts a hangout area with access to the yard. We furnished it with an indoor-outdoor pool table in a corrosion-resistant finish and Sunbrella outdoor fabric designed to withstand the elements.
INDOOR/OUTDOOR POOL TABLE: Blatt Billiards
PATIO PAVERS: Unilock
FRENCH DOORS: Sierra Pacific Windows
Dining Room Drama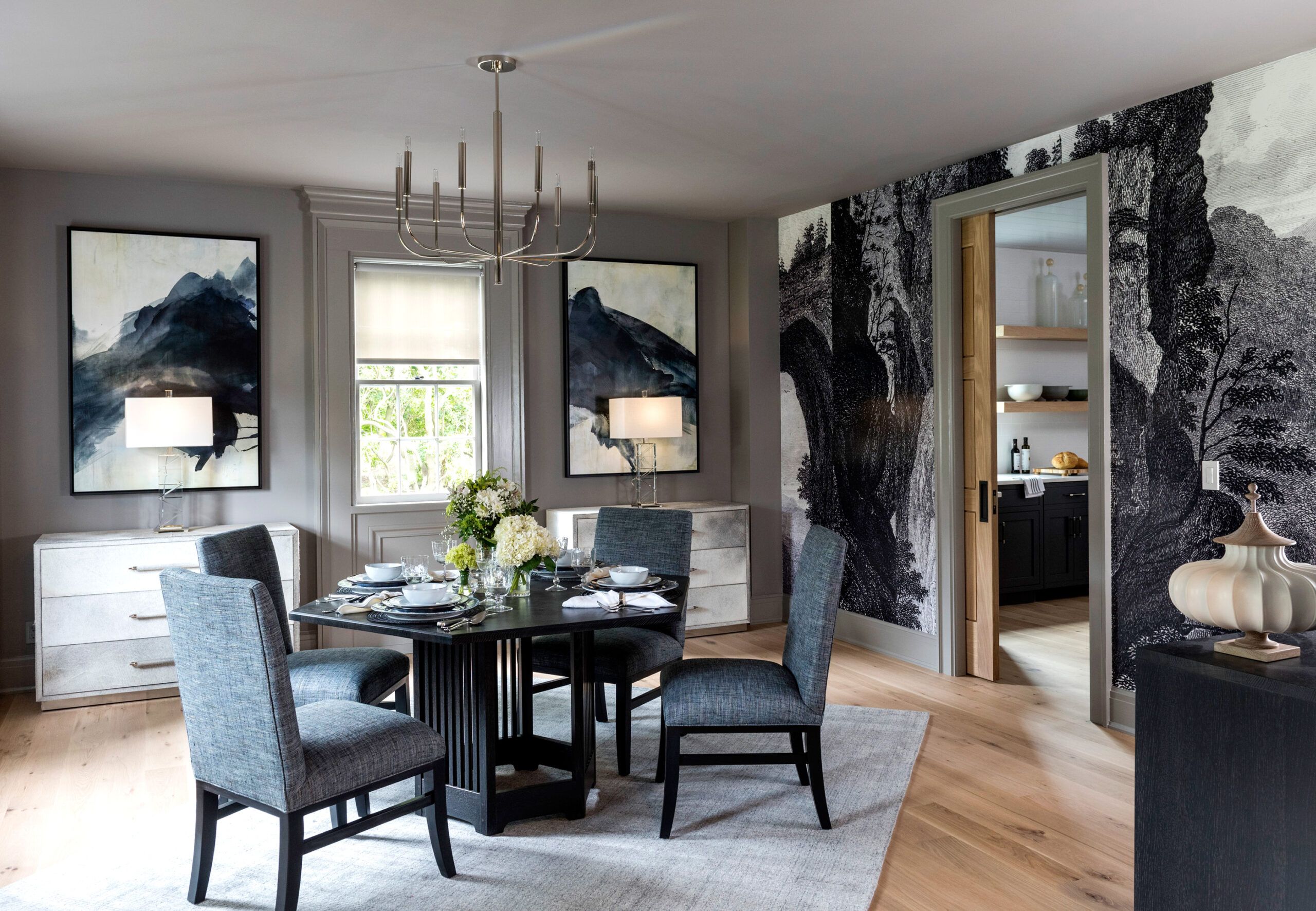 Just inside the front hall, a distinctive, modern dining room signals "dinner guests welcome." Angling the rug and the ebonized oak table relieves the formality of the room, where the furnishings were inspired by the abstract black-and-white wallpapered accent wall. A pocket door connects the dining room to the working kitchen.
STYLING, FURNISHINGS & ACCESSORIES: Stickley Audi & Co.
WALL COVERING: Mitchell Black
CHANDELIER: Clarkson Lighting
POCKET DOOR & FLOORING: Baird Brothers Fine Hardwoods
PLACE SETTINGS: Juliska
Entrancing, Airy Entrance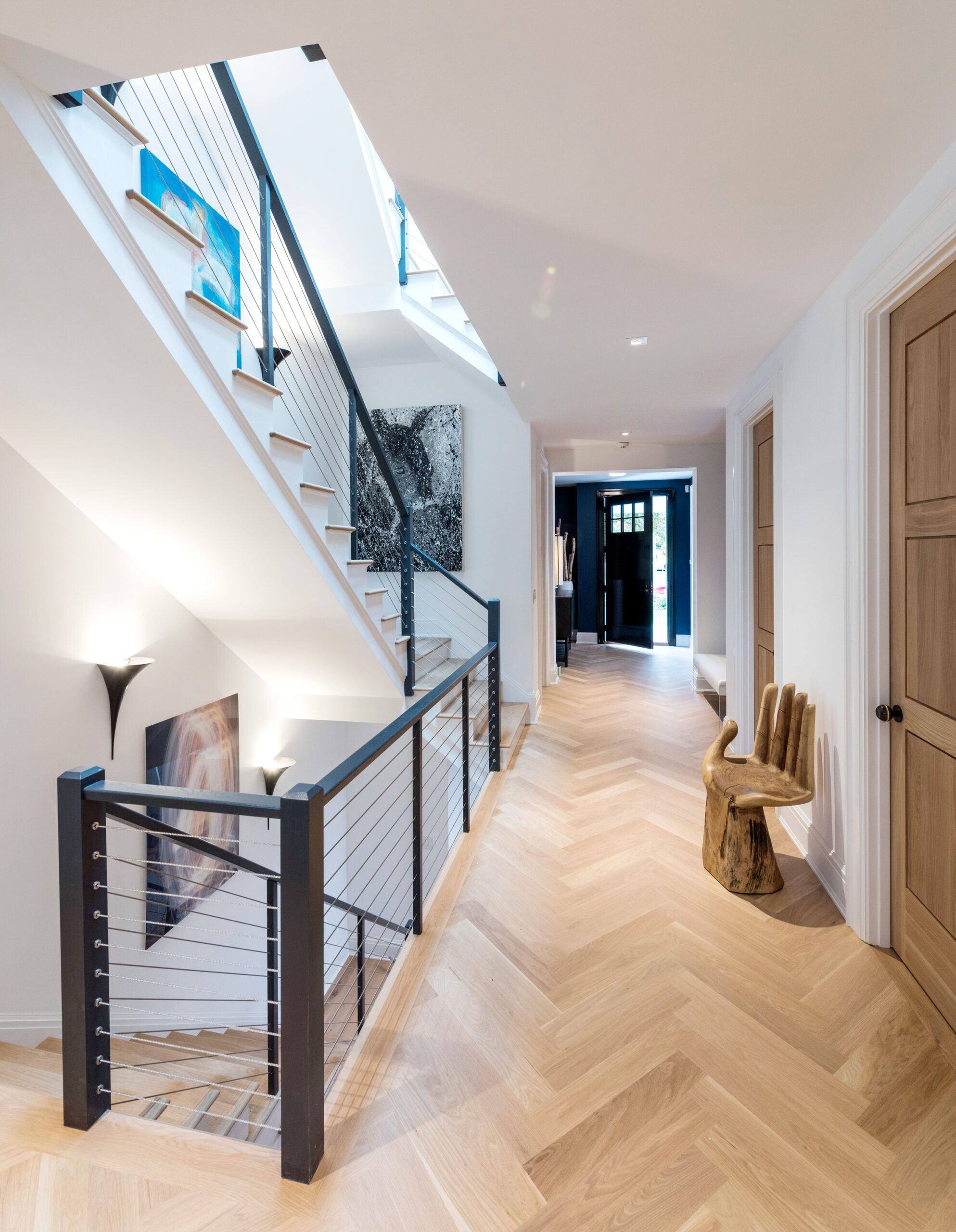 First impressions count. Our formal entry's herringbone floor points past the front stairs toward the living area. The dramatic open staircase, which rises from the walk-out basement to the third floor, is crowned with a bank of skylights that usher in light.
FLOORING, DOORS & TRIM: Baird Brothers Fine Hardwoods
SCONCES: Circa Lighting
Functional Design Statement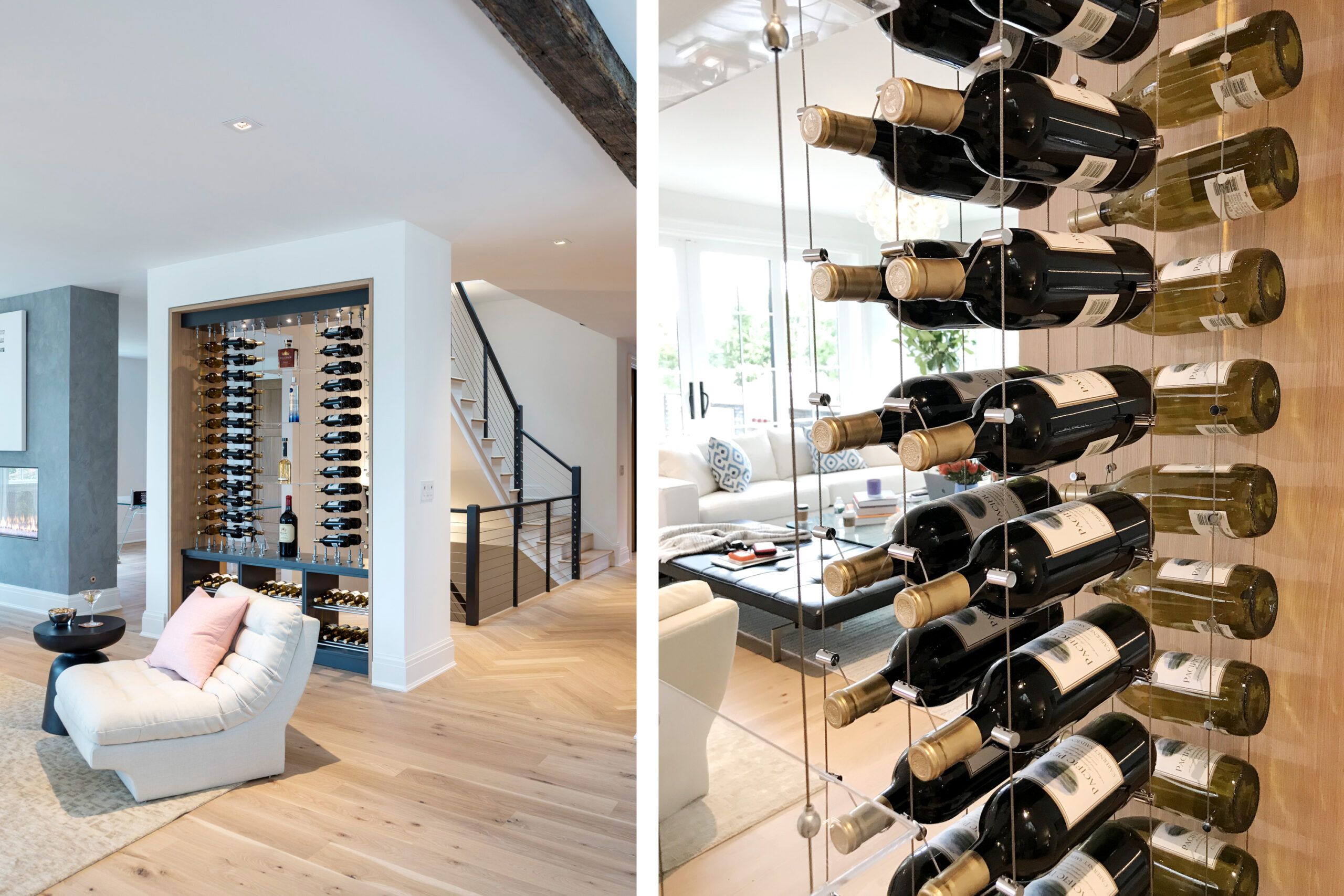 A cable wine rack in the lounge area just off the open kitchen obviates the need to trudge down to the cellar for bottles and acts as a design statement, room divider, and storage piece all in one. It can be encased in glass with a temperature control system located below in the basement.
WINE RACK: Cable Wine Systems
CUSTOM CABINET: New England Cabinet Company
CABINET LIGHTING: Häfele
FLOORING: Baird Brothers Fine Hardwoods
STYLING: Iconic Modern Home
RUG: Lillian August
Conversation Lounge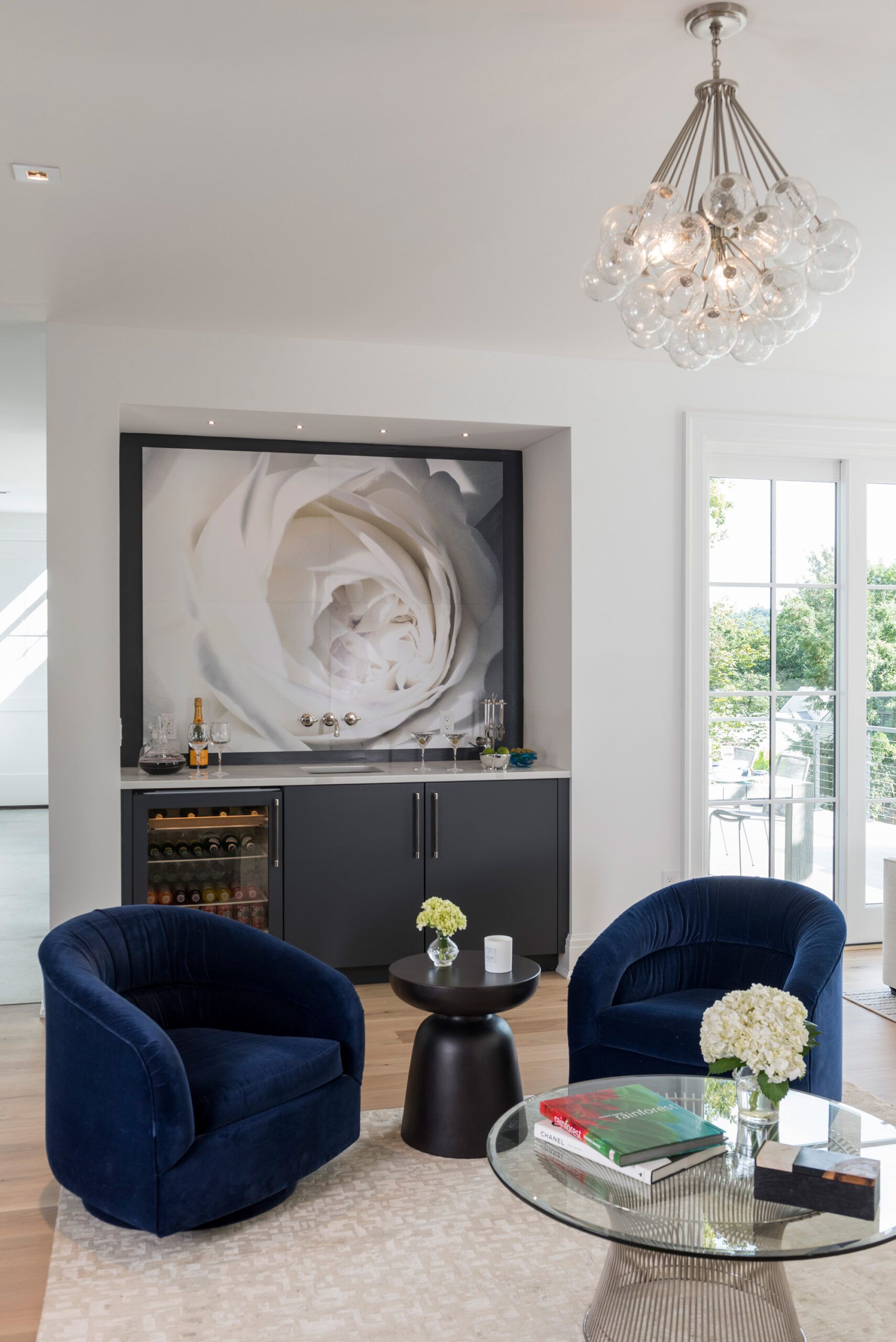 Sandwiched between the cable wine system and a built-in bar on the opposite wall, a casual lounge area with four comfy chairs centered around a coffee table allows family and guests to commune with the cook without getting in the way.
STYLING: Iconic Modern Home
RUG: Lillian August
PENDANT LIGHT: Clarkson Lighting
BUILT-IN CABINETRY: New England Cabinet Company
UNDERCOUNTER BEVERAGE CENTER: Clarke: Official Sub-Zero/Wolf/Cove Showroom
BACKSPLASH ARTWORK: Russ Hardin for christensenHARDIN
Flexible Seating for Family & Friends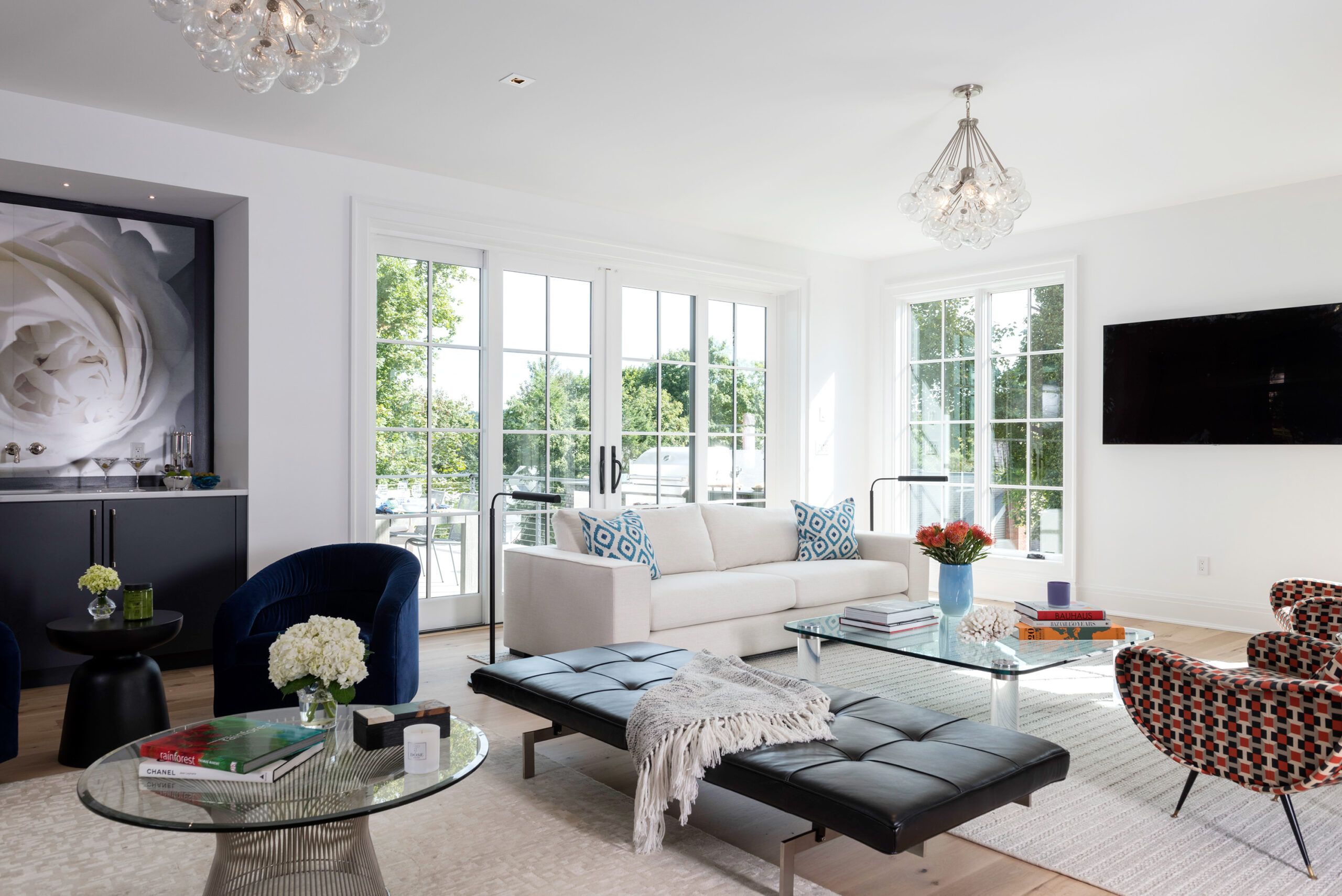 A leather-tufted gallery bench acts as a bridge between the lounge area and family room, giving guests the option to join conversations in both. Sliding patio doors put the outdoor kitchen steps from the family room, which is styled for ease and comfort.
STYLING: Iconic Modern Home
WINDOWS & PATIO DOORS: Sierra Pacific Windows
RUGS: Lillian August
PENDANT LIGHTS: Clarkson Lighting
TV: County TV & Appliance
Free-Flowing Function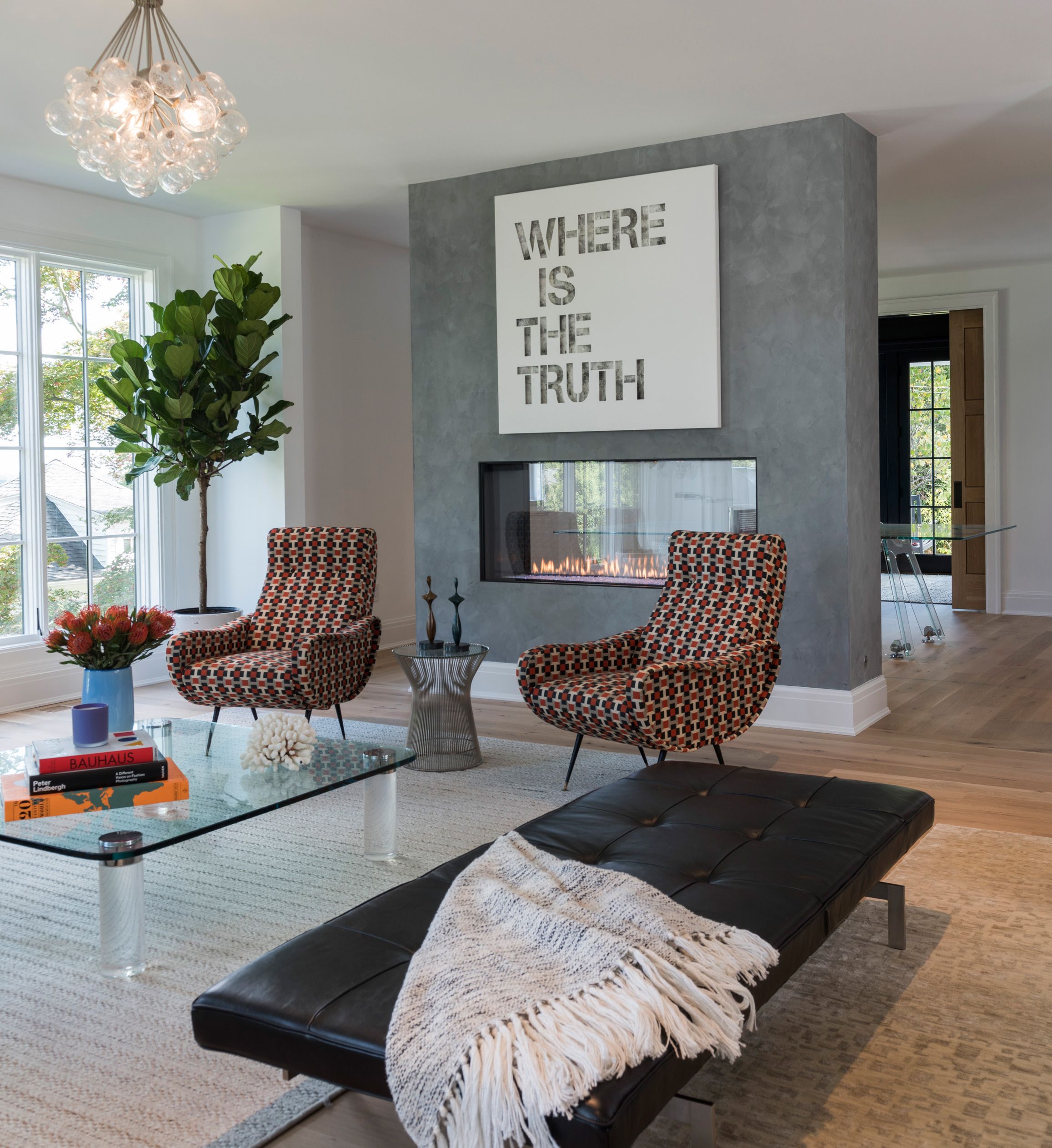 A two-sided gas fireplace separates—and connects—the family room with the adjacent game room. The partition wall gets its velvety texture from hand-applied Venetian plaster tinted a warm gray. Glimpsed beyond the game room's glass Ping-Pong table are pocket doors leading to the home office.
STYLING: Iconic Modern Home
RUG: Lillian August
FIREPLACE: Town & Country Luxury Fireplaces
VENETIAN PLASTER: Sandy McDonald
PING-PONG TABLE: Impatia by Blatt Billiards
PENDANT LIGHT: Clarkson Lighting
BRONZE SCULPTURES: Dick Shanley
Glass-Inspired Game Room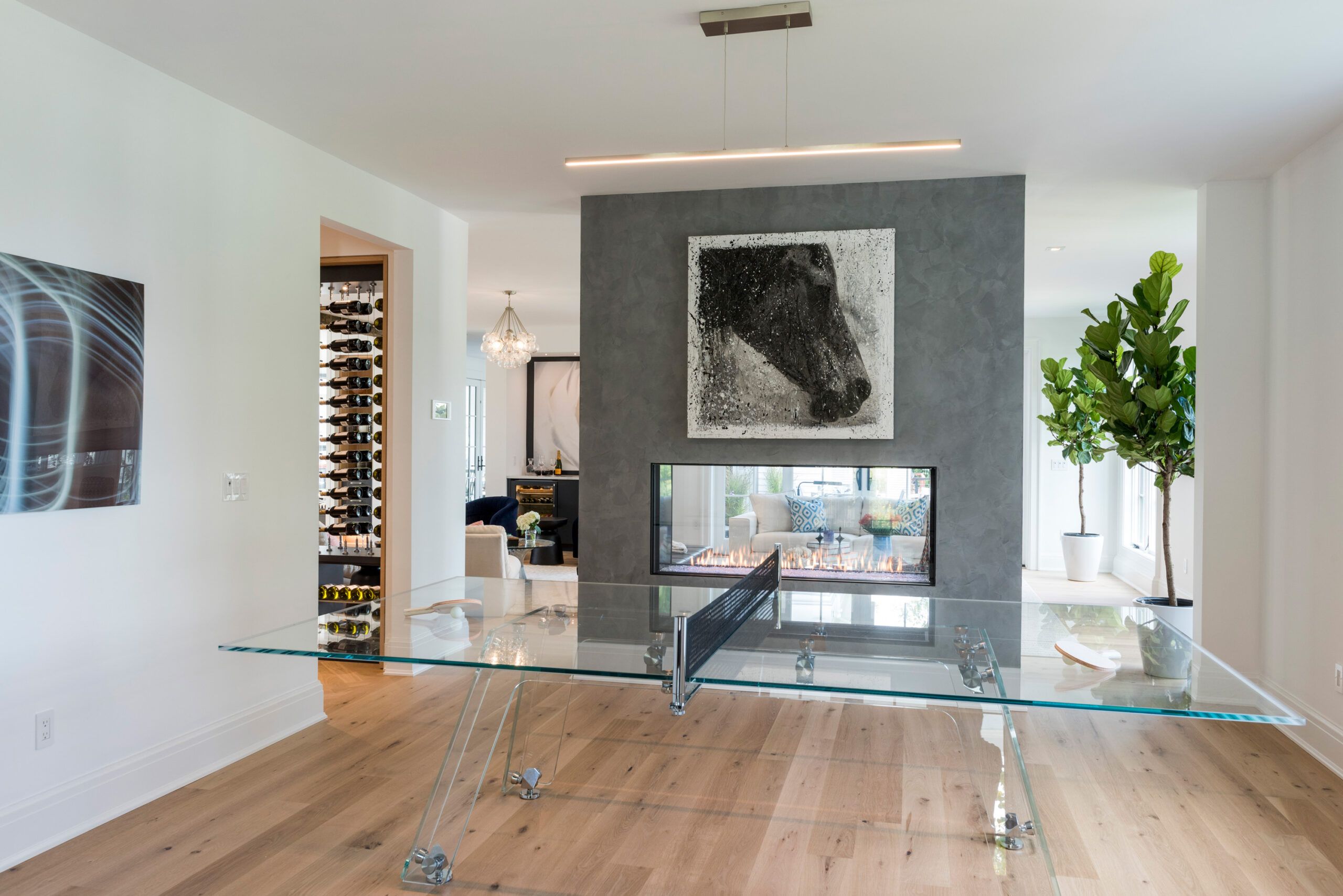 A see-through fireplace lets family-room spectators keep up with the action in the adjacent game room. With the net removed, the dramatic glass Ping-Pong table can be used for additional dining.
GLASS PING-PONG TABLE: Impatia by Blatt Billiards
ART: Dollka Morico (horse)
FIREPLACE: Town & Country Luxury Fireplaces
VENETIAN PLASTER: Sandy McDonald
FLOORING: Baird Brothers Fine Hardwoods
Cozy Beehive Oven Room Retreat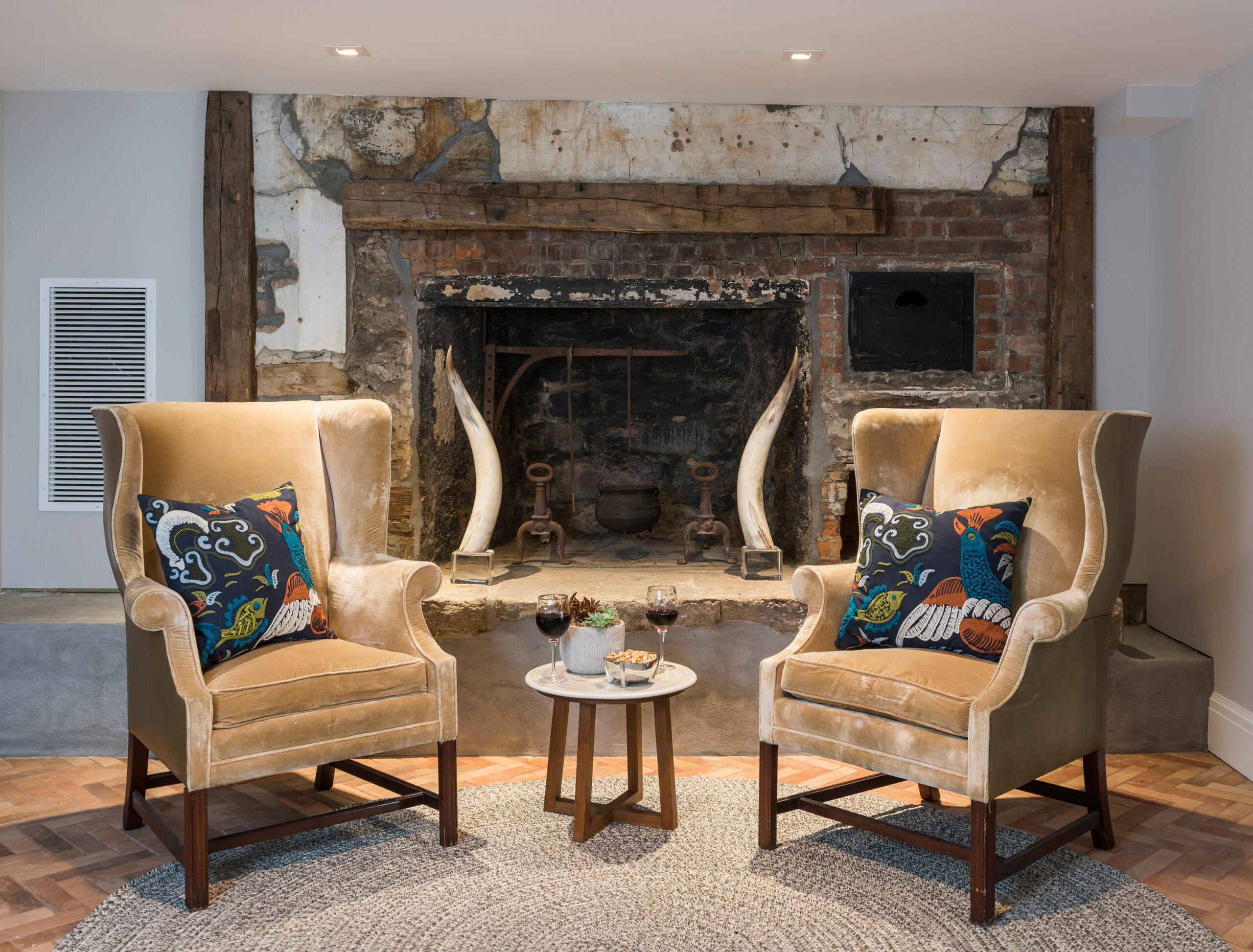 Located at the bottom of the entry hall stairwell, the original 19th-century coal- and wood-burning fireplace would have been used for baking bread and cooking. Repointed, crowned with a beam from the original house, and with a herringbone tile floor before it, it's now the focal point of a cozy reading nook.
STYLING: Iconic Modern Home
TILE: Merola Tile
BEEHIVE OVEN RESTORATION: KARP Associates Inc.
Inviting Teen Hangout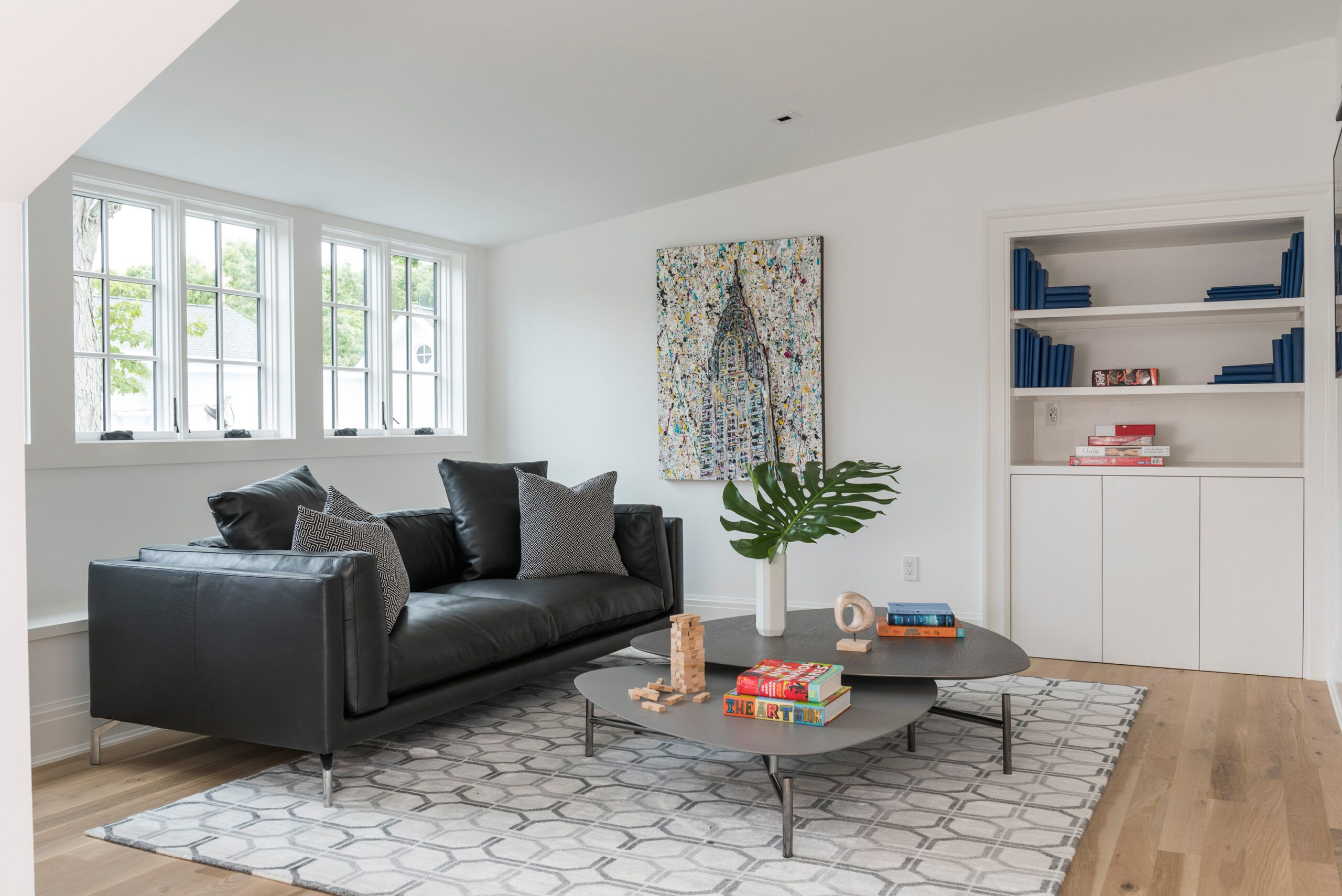 The third-floor playroom is designed as a teen hangout with a comfortable couch facing an oversize TV, and built-in storage for video and board games.
STYLING: Iconic Modern Home
WINDOWS: Sierra Pacific Windows
ART: Dollka Morico
TV: County TV & Appliance
RUG: Lillian August