Living Room Balanced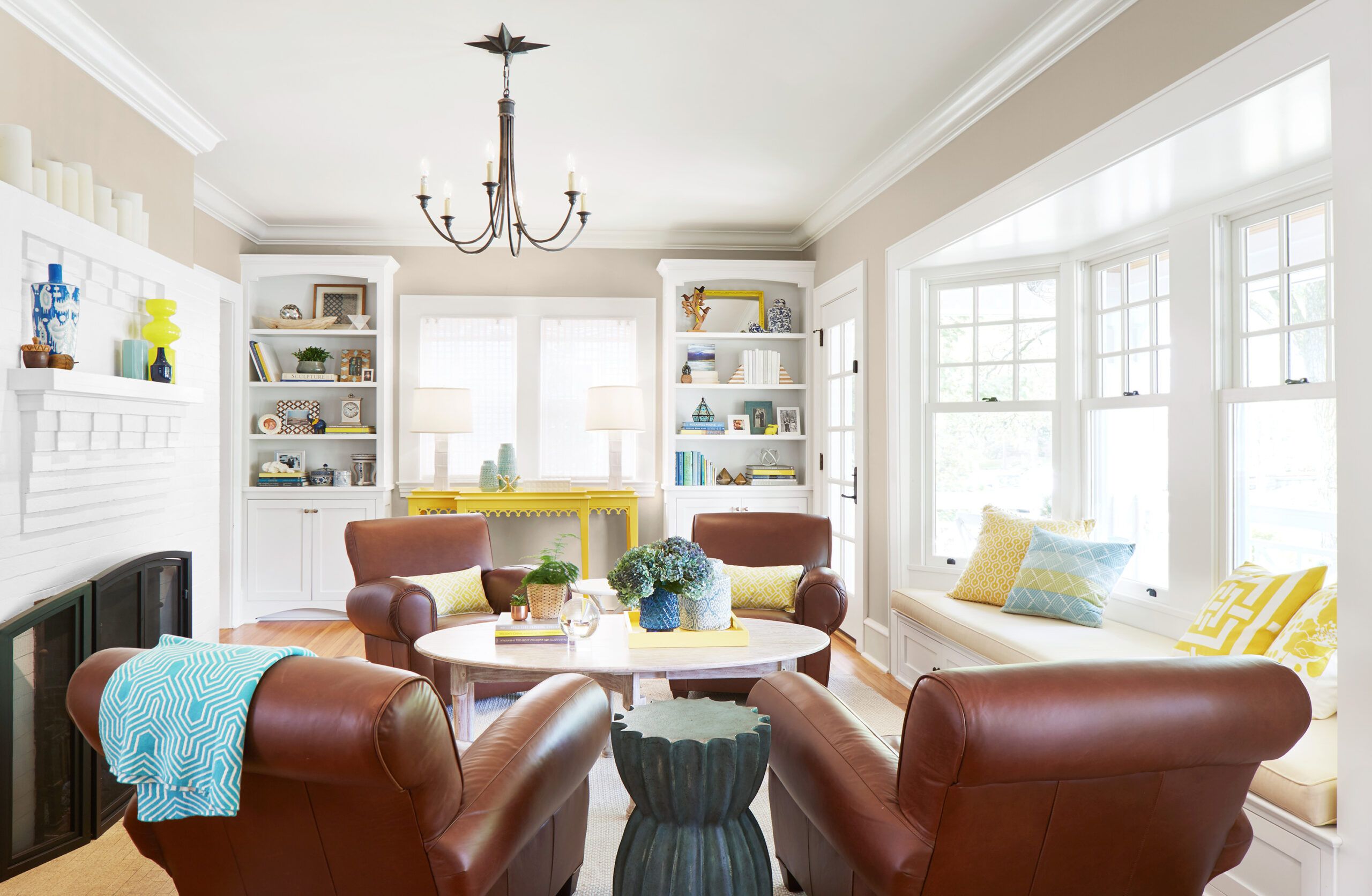 Say you're a successful entrepreneur with a beautiful fiancée and a newly acquired house in a great neighborhood where you look forward to raising your kids. The place needs a little work. You kill yourself doing the obvious stuff like ripping out carpet. Then, one night at 2 A.M., with a gaggle of houseguests on hand, an ancient drainpipe springs a leak, spewing wastewater inside walls and down through ceilings, and when you finally get someone in there to open things up, you find missing joists—important ones, meant to hold up the house. So you think, That's a problem, but all problems are solvable, so maybe I could be my own general contractor and simply hire some help.
What could possibly go wrong?
Shown: Living room built-ins include a window seat flanked by French doors that open to the porch.
Doors: Marvin
Chairs: Pottery Barn
Yellow table: Oomph
Coffee table: Somerset Bay Home
Table lamps: Bungalow 5
Widescreen Porch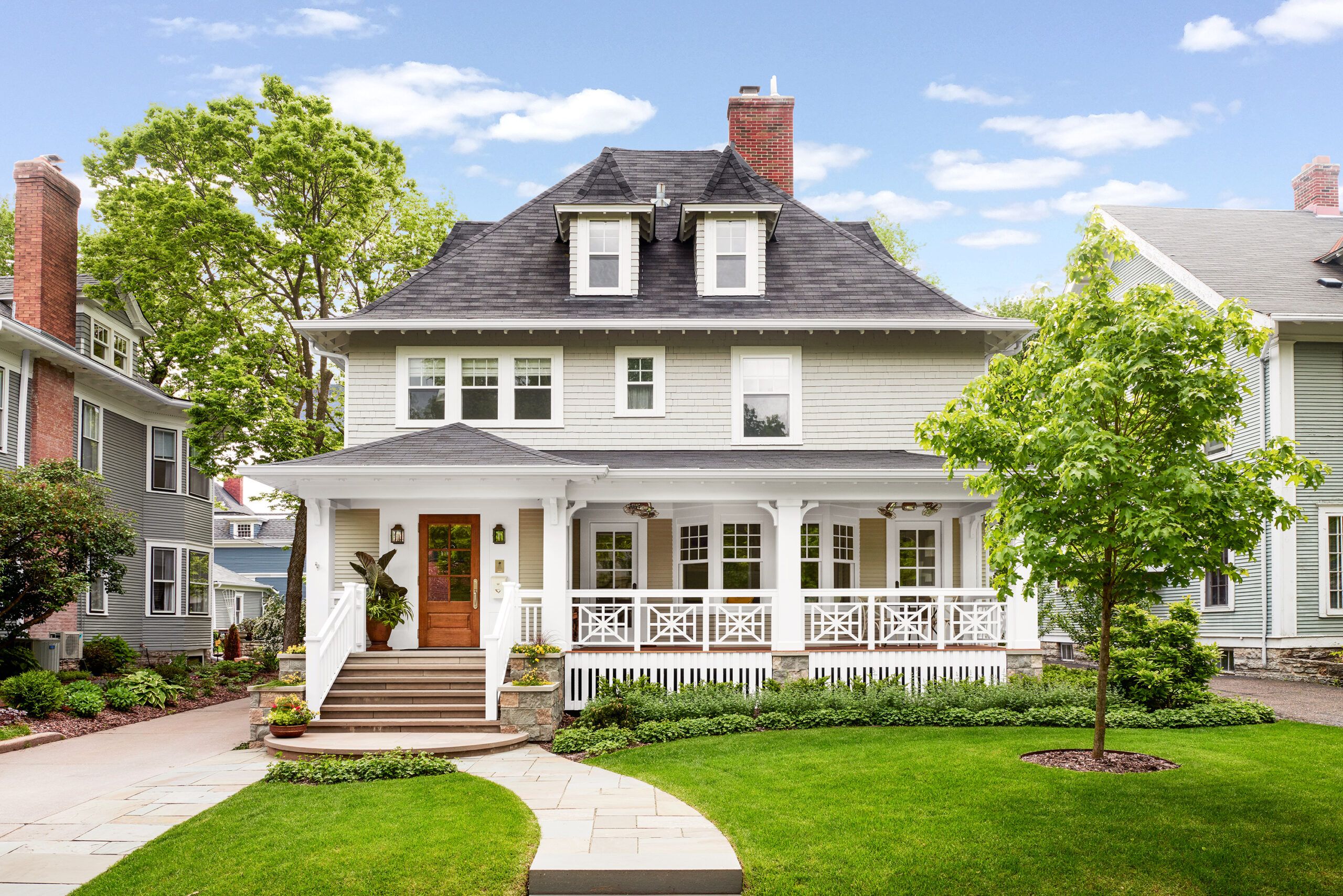 From the point of view of Björn Stansvik, who was trained in Sweden as a civil engineer and went on to found a software development firm with hundreds of employees and offices in three countries, managing the renovation of a 2,800-square-foot house in Minneapolis should not be so hard. Repair the leaks, fix up the kitchen, paper the powder room, and get on with the rest of your life. "After we finally got the insurance company to agree we needed to put in steel beams, our rallying cry was 'Now is the time,' " Björn says. "We had a handyman, then five…. I was the general contractor and running my company at the same time—and going out of my mind."
Shown: A new full-width porch, finished with a patterned balustrade and retractable screens, sits above handcrafted latticework, limestone stairs, and a bluestone landing.
Meet the Homeowners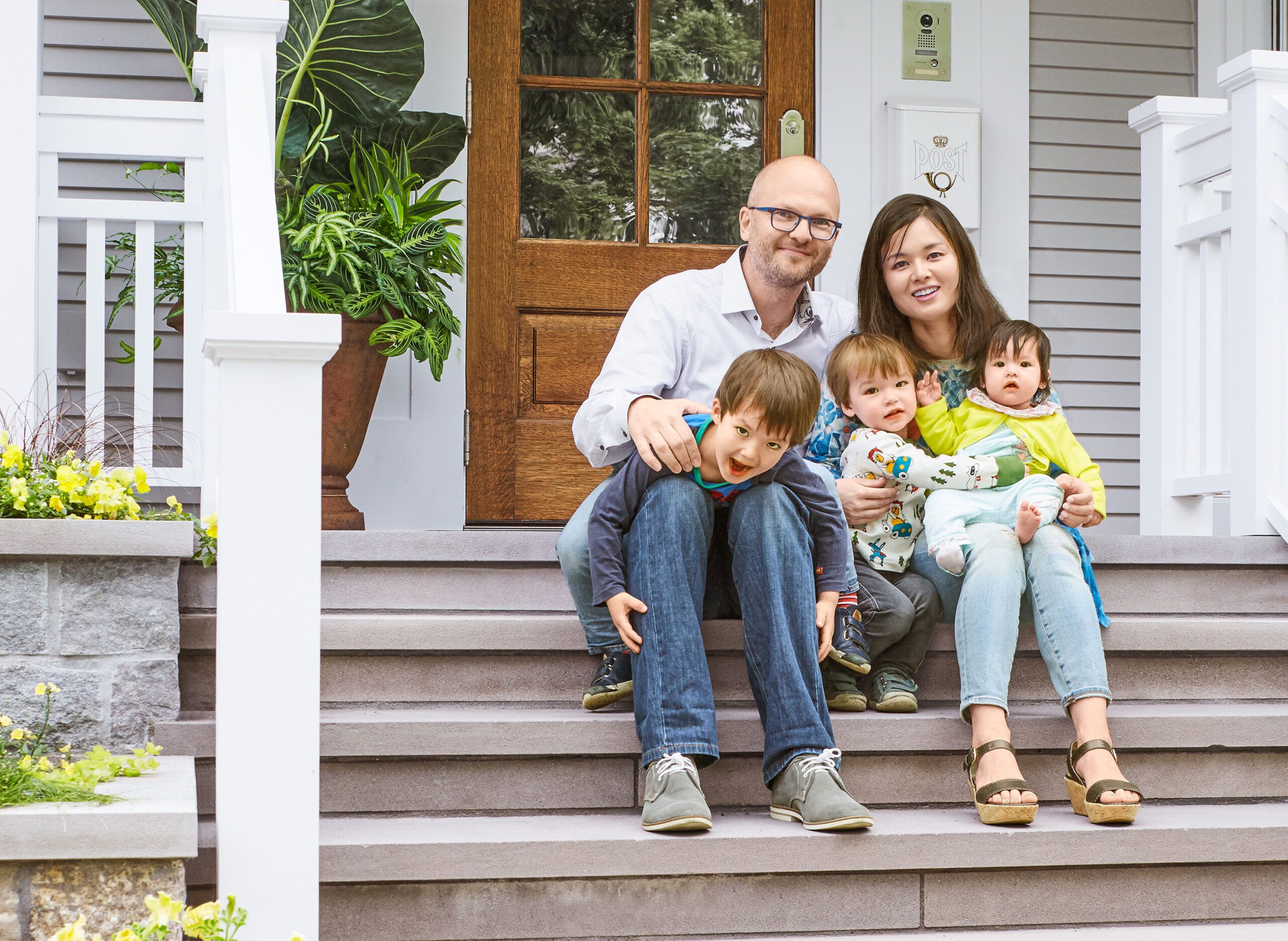 The path to renovation hell is often paved with good intentions, not to mention irrational optimism. After two-plus years of chaos, snarling subs, and unfinished work, Björn and his wife, Hanae, snapped. "We had our first child and it was so dusty—living in a construction zone is really stressful," says Hanae, who grew up in saner circumstances in Japan.
Shown: Björn and Hanae Stansvik on the front porch with sons Arn, 4, and Rolf, 2, and daughter Saga, 7 months.
Sunroom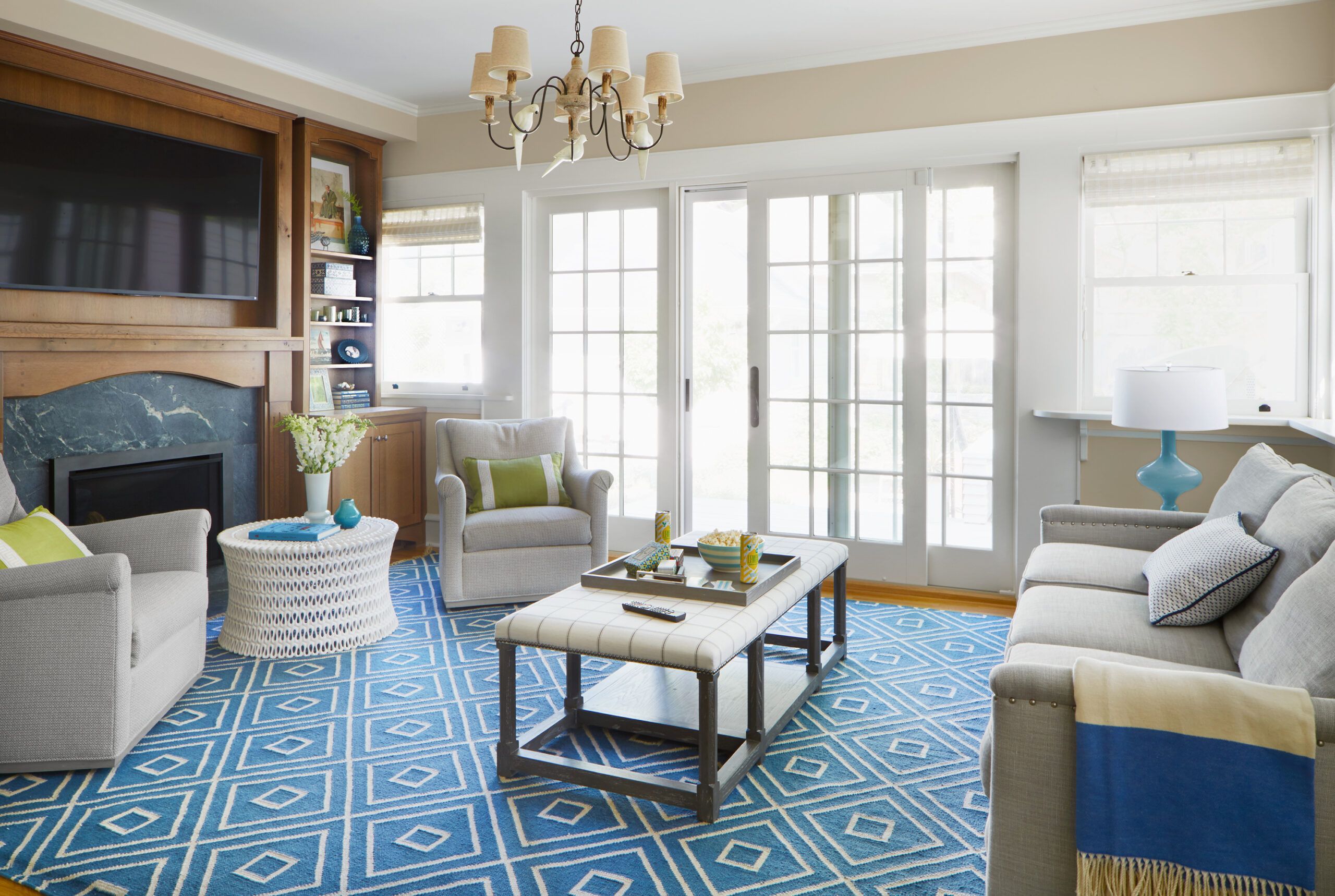 Into the morass stepped a seasoned design-build firm with an auspiciously Scandinavian name, TreHus (meaning wood house), which grabbed the unruly house by its shoulders and gave it new orders. "As the owner of the firm walked from one room to the next, he said we were going to have to slow down," Björn says. "They had systems, it was very structured and very planned, and it went like clockwork.
Shown: The sunroom has new windows and doors and a fanciful chandelier. In winter, the fireplace, converted to gas, makes the cozy scene even cozier.
Paint: Benjamin Moore's Revere Pewter (walls) and White Dove (trim)
Rug: Dash & Albert
Chairs: Wesley Hall
Table lamp: Arteriors
Accent table: Oly
Ottoman: Vanguard Furniture
Dolled Up in Back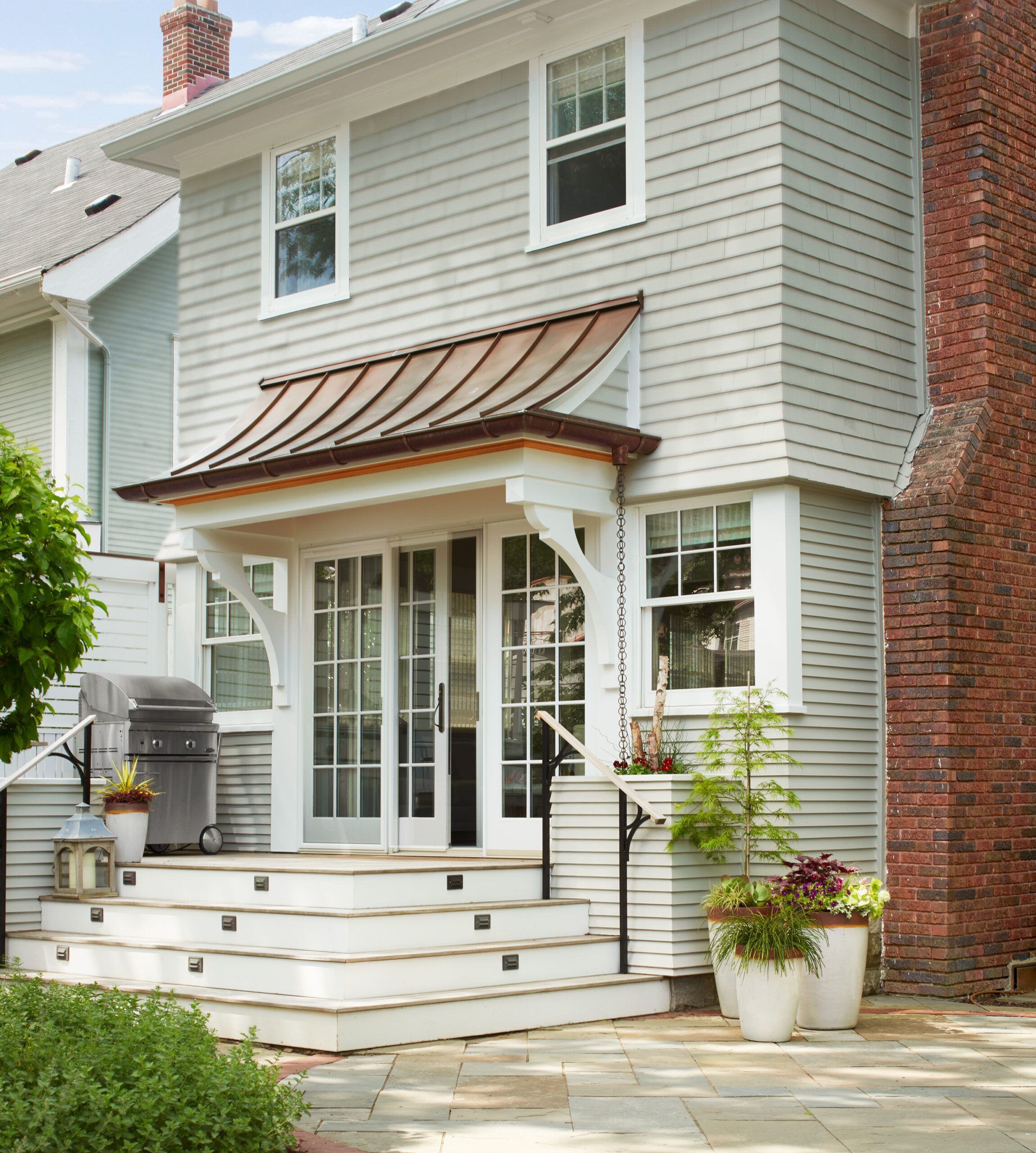 "It was costly," he continues, referring to a mop-up job that evolved into a four-year, whole-house-and-garage remodel, "but fun after that." When the couple first saw the house, a porticoed 1905 foursquare bumped out, at some point, in back, they were put off by its bland facade and awkward layout; to reach the kitchen from the main entry, you had to climb halfway up the bifurcated front stairs, then down again on the other side. But one interior door had a rustic heart motif that reminded Björn of Sweden (Minneapolis was settled by Swedes) and the place was close-in, on a street populated by rambling old houses, shady elm trees, and kids on bikes.
Shown: The formerly drab back of the house was dolled up with new siding and windows on the first floor and an ipe deck with a slatted privacy fence, a bracketed canopy with a copper standing-seam roof and copper gutters, and stair risers with built-in foot lights.
Exterior Stone: Helberg Supply
Relaxed Dining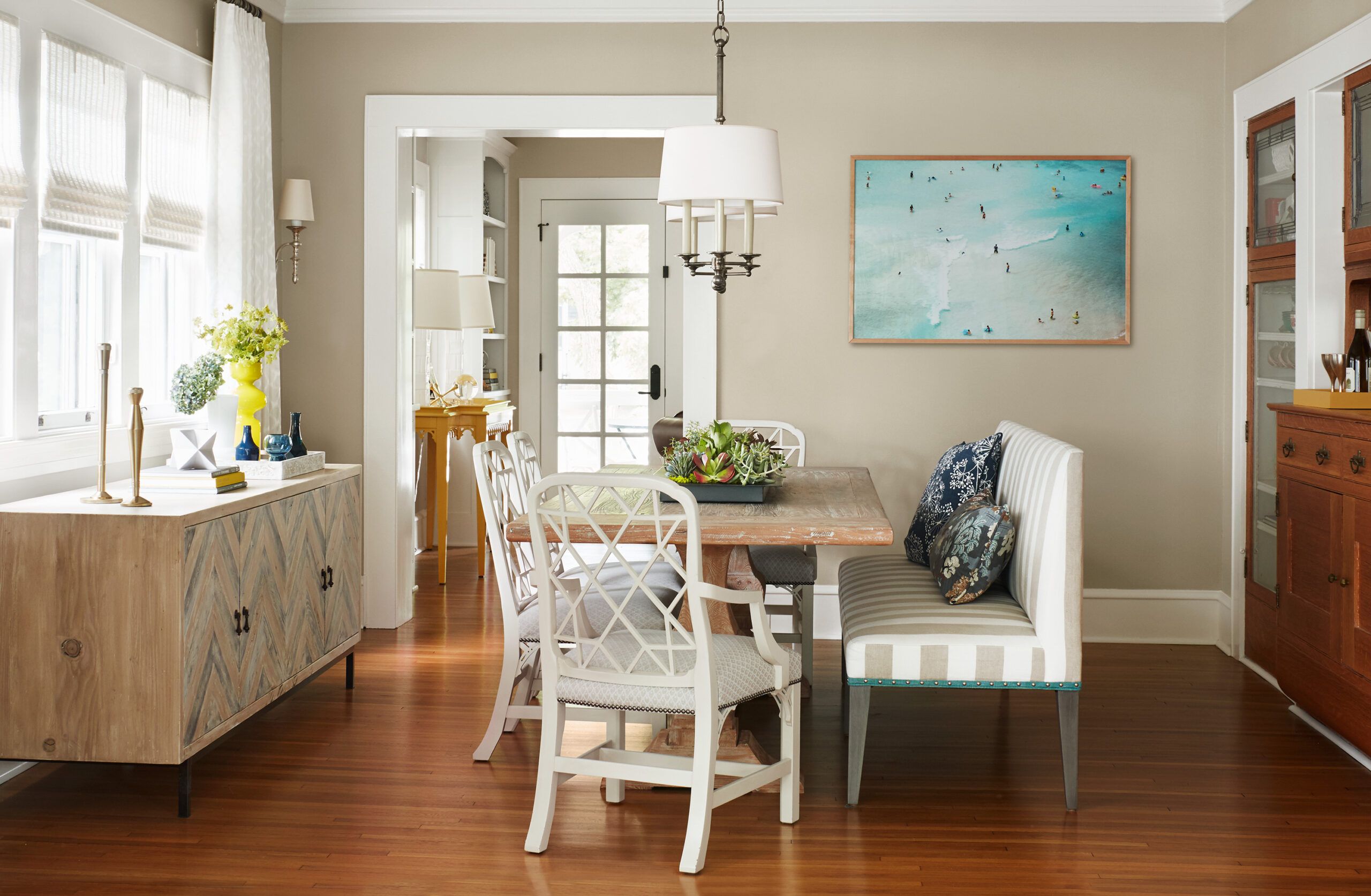 Seven months later they came back for another look—and love of location, as they say, is blind.
During the reign of the subs who couldn't nail straight, the couple managed to put in the steel beams, eliminate a rear staircase and the steps leading down to the kitchen from the foyer, and cut a fresh path from the kitchen to the foyer via the living room. They also gutted and rebuilt the kitchen. Upstairs, a sewing room was sacrificed to create a master suite.
Shown: Pale neutrals give the formal dining room a relaxed vibe.
Bench: Lee Industries
Sideboard: Noir
Wall paint: Benjamin Moore's Revere Pewter
Chairs: Hickory Chair
Chandelier: Circa Lighting
Artwork: Max Wanger 'Waikiki no. 6'
Stately Kitchen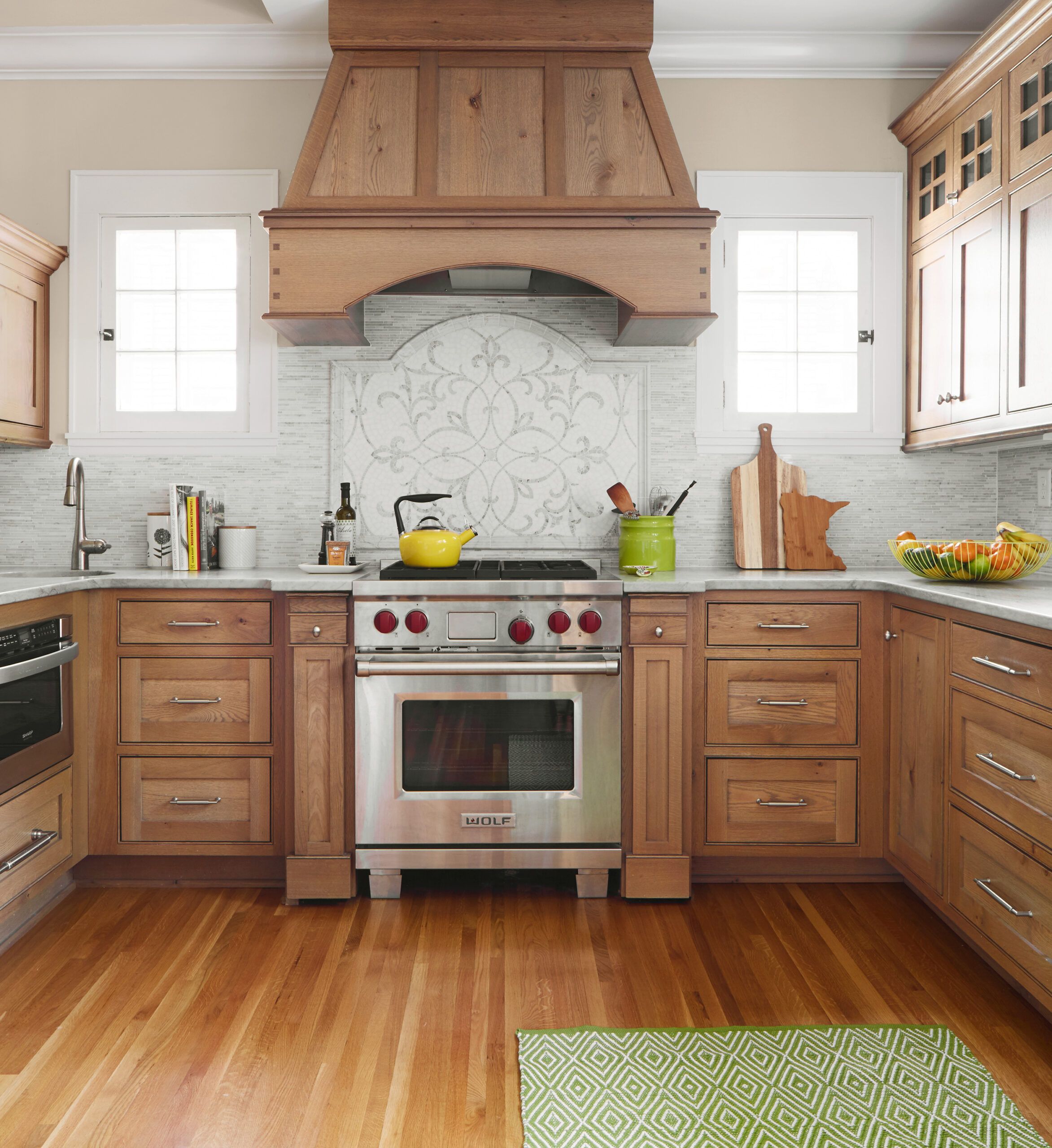 Still, nothing beyond the kitchen was finished or quite livable. It was all "half-baked," as TreHus project manager Craig Favorito puts it, adding dryly, "We nicknamed it The Rescue."
The new team, led by architect Jon Colliander, hammered out a plan and introduced it to the tech-savvy couple with 3-D-modeling software. A useful breakfast nook could be squeezed in here, and an elongated front entry there. And while they were at it, why not improve the facade?
Right, the facade.
Shown: Gutted and rebuilt with custom oak cabinets and maple flooring, the kitchen is anchored by a stately range hood and a backsplash of hand-cut marble; the window on the right was added to balance the original one on the left.
Range: Wolf
Flooring: Floors by Steve
Rug: Dash & Albert
Cozy Nook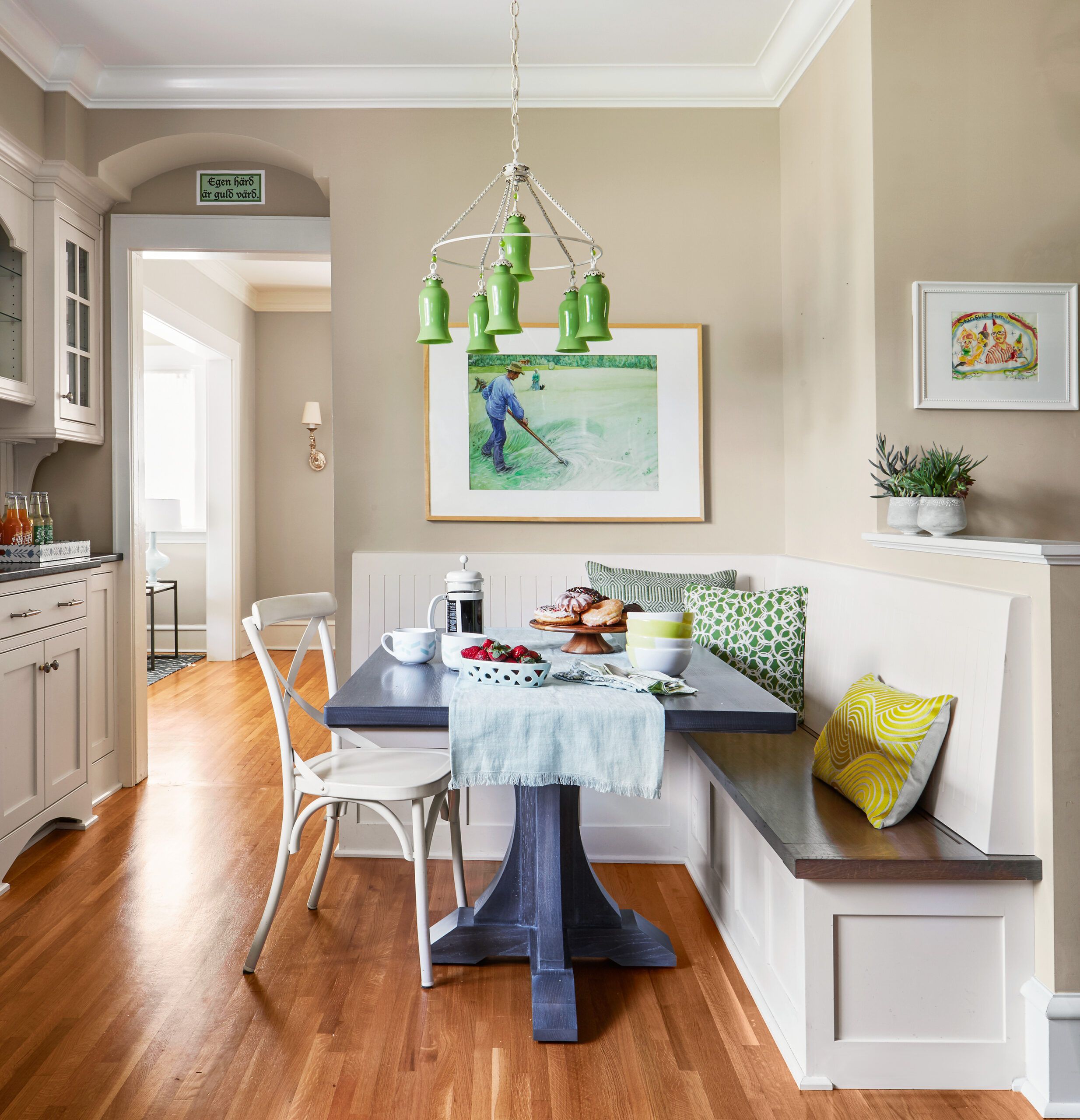 Colliander saw suggestions of Shingle style, but architecturally the house was a "mutt," he says, with an off-center portico in front and a funky wood stoop in back. And Björn was agitating for outdoor living space. "I love those porches on Swedish houses," he says. "You can sit there, see what's going on on the street, and not be stopped by the rain."
Shown: A breakfast nook with radiant floor heating moved into space vacated by the former powder room. The built-in banquette doubles as hidden storage.
Table: TreHus
Chandelier: Canopy Designs
Table runner: Pine Cone Hill
Basement Bar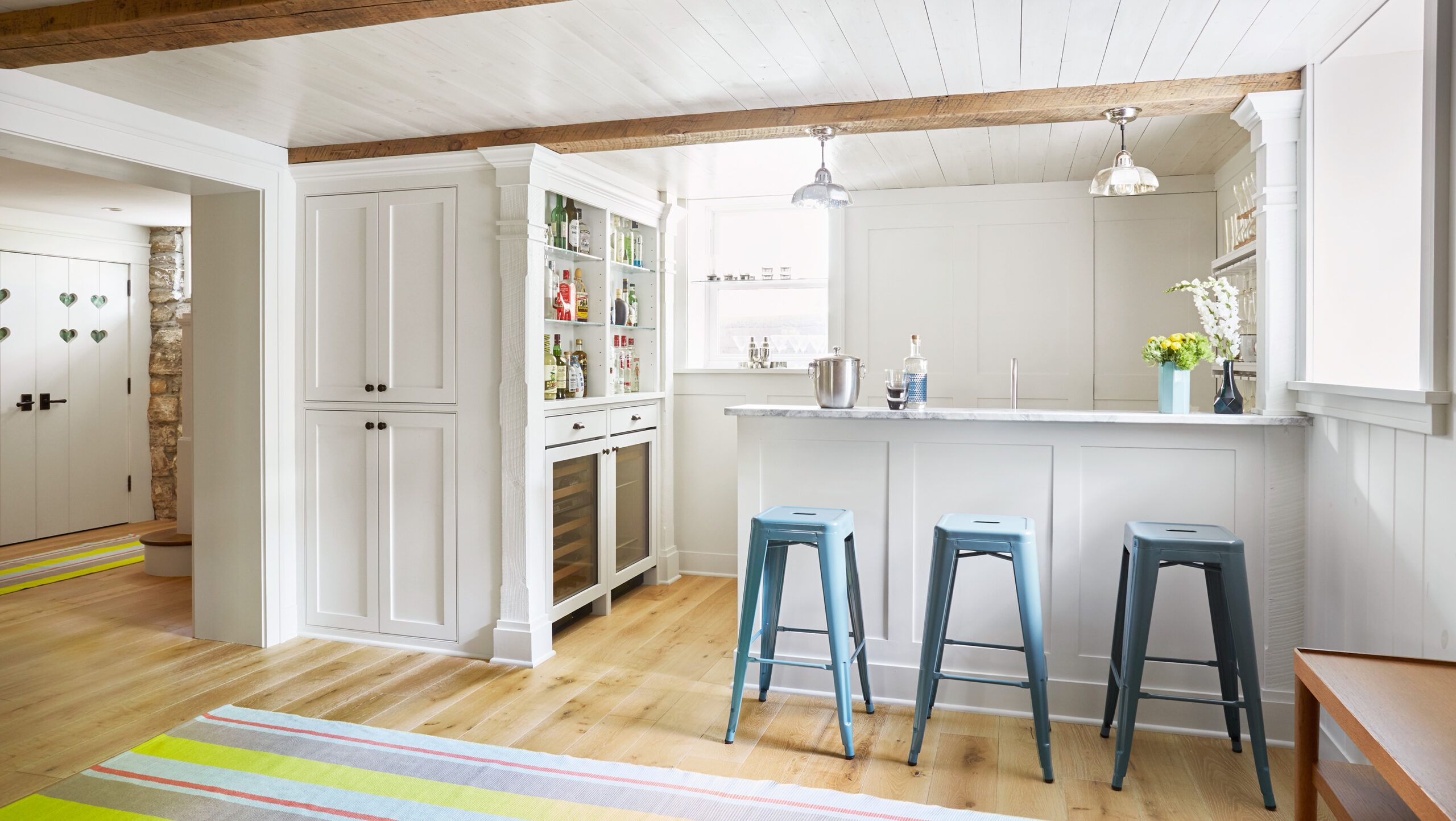 Fixing the exterior would require careful surgery, as the city's setback requirements limited bumping out. An open porch could be only 8 feet deep, for example, and front steps only 9 feet wide. To get a deeper entry, Colliander pushed it into the house. Then, to match the distance between the porch columns, he visually broadened the steps by flanking them with built-in planters. New windows and French doors channel light. In summer, retractable screens descend from the porch roof to create a breezy, bug-free leisure zone.Shown: The basement bar area holds a dishwasher, sink, and microwave. Shiplap, decorative reclaimed barn beams, and engineered oak flooring contribute to the Scandinavian-cabin style.
Stools: Target
Cabinets: Eull Woodworks
Bar top: Capital Granite
All Points Lead Out Back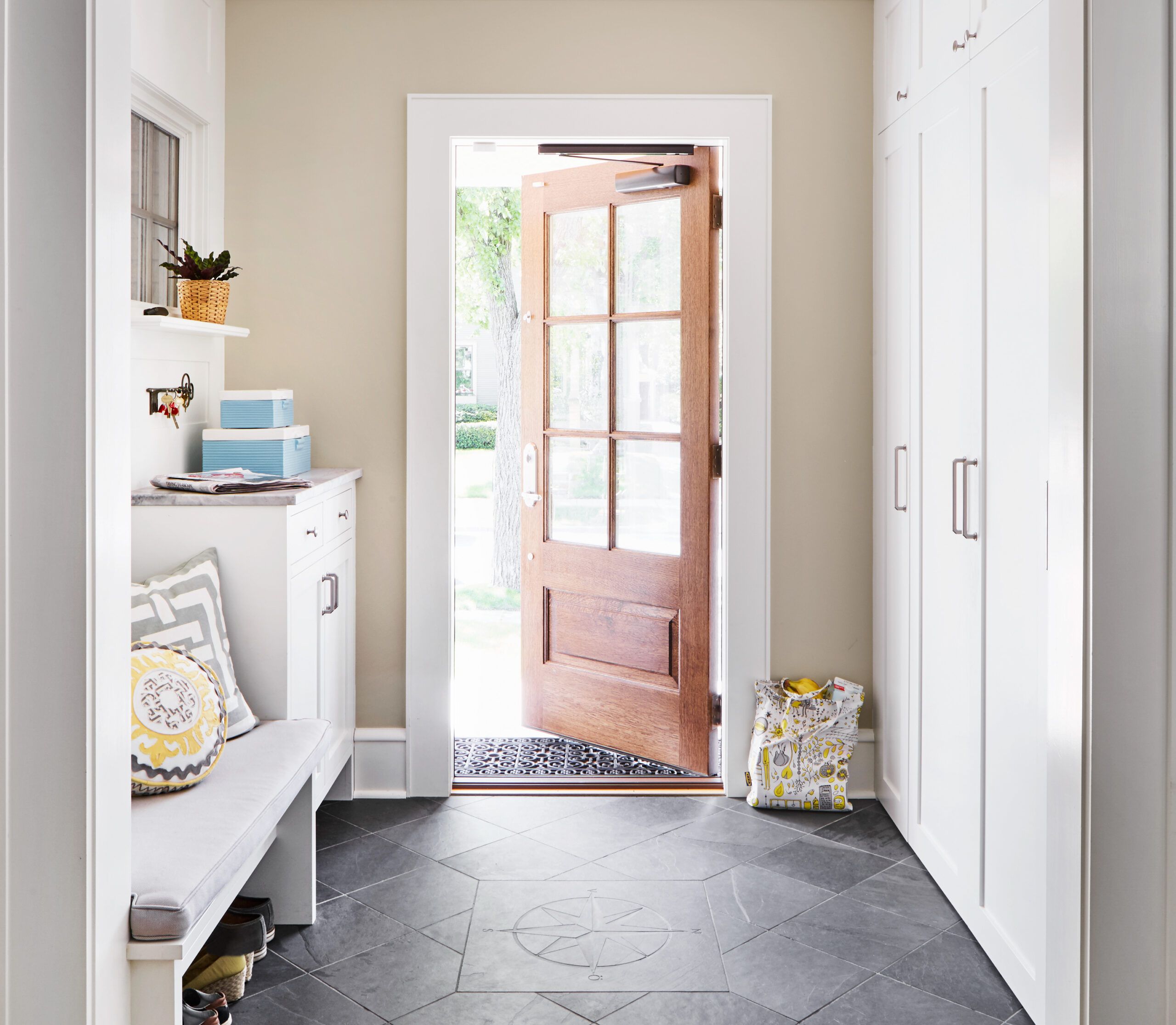 At the back, the team opened the sunroom to a setback-compliant deck. Then they tackled the siding, keeping most of the cedar shingles on the upper portion while patching in all-new siding below. Then of course everything had to be repainted. (TreHus's labors were not in vain; the firm nabbed four awards for the exterior.)Shown: The new entry has to-the-ceiling storage along one wall and a slate floor etched with a compass-rose pattern.
Stacking Boxes: Belacor
Heart-Cutout Balustrade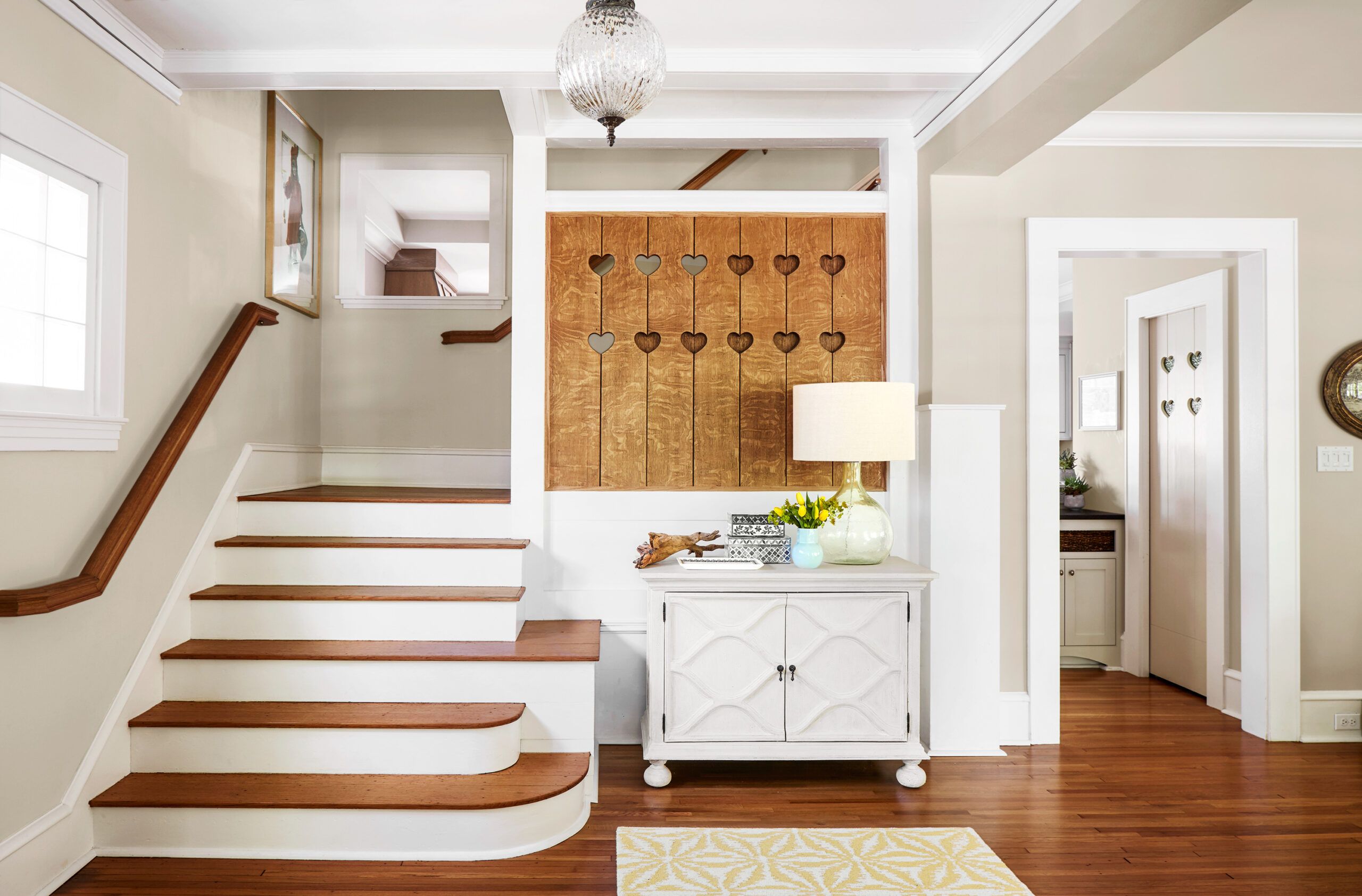 The design-build team had already turned their attentions belowground, where rough limestone walls, dusty rooms, and an unfinished bath suggested potential. "It's a real basement," Björn says, "but two feet of it are aboveground"—allowing air and light to enter and visions of an adult play space to take hold. Those aren't kids' toys on the shelves of a 6-foot-deep pullout under the stairs, but medieval action figures, scene-setters during marathon sessions of Björn's favorite Hârn fantasy game.Shown: Opposite the front door is the original staircase and its heart-cutout balustrade, a motif repeated elsewhere in the house.
Rug: Dash & Albert
Master Bedroom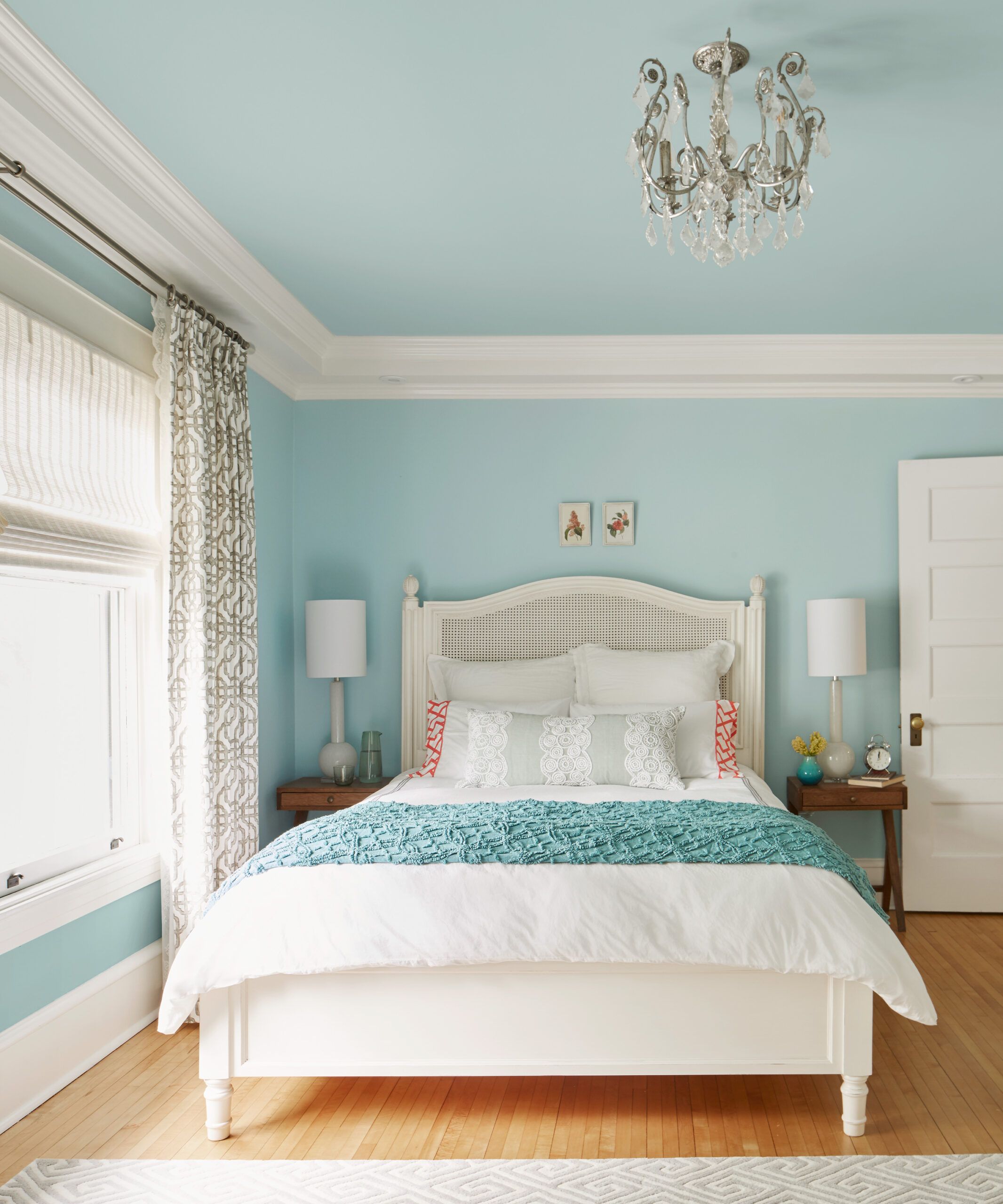 The homeowners, at the time soon to be parents of three, asked the team to wring function out of every room. They fit in a bar area with a fridge, wine cooler, dishwasher, and microwave, and set up areas for a desk, a workshop, and lounging. A flat-screen hangs on one wall, and a screen pulls down on another, served by a miniature projector hidden in a decorative barn beam. Carpenter Brian McCarty, a guitar-maker in his spare time, hollowed out the beam to also hold wires, then fitted the itty-bitty projection booth with a magnetic door, its handle the size of a ball bearing.
Shown: Built-up crown molding sets off the ceiling in the master bedroom.
Bed: Redford House
Side tables: Noir
Lamps: Jamie Young
Chandelier: Horchow
Throw: Pine Cone Hill
Wall and ceiling paint: Benjamin Moore's Blue Porcelain
Decorative pillows: Pine Cone Hill
Polished Finishes
Thanks to the soundproofed ceiling, "we can have parties without disturbing the kids," Hanae says. Just don't call it a basement rec room. "We prefer stuga"—Swedish for cabin.
TreHus carved out distinct spaces not only for fun and games but also for a new HVAC and air-filtration system, a cedar-lined storage area for woolens, and a pantry finished with the same heart motif found on the balustrade and on a door that was moved and modified for the powder room. Pale engineered oak flooring reinforces stuga style; in-floor heating keeps it toasty.
Shown: Polished finishes in the master bath include a custom marble-topped vanity and candlestick sconces.
Faucet: Kohler
Sconces: Circa Lighting
Basement Doors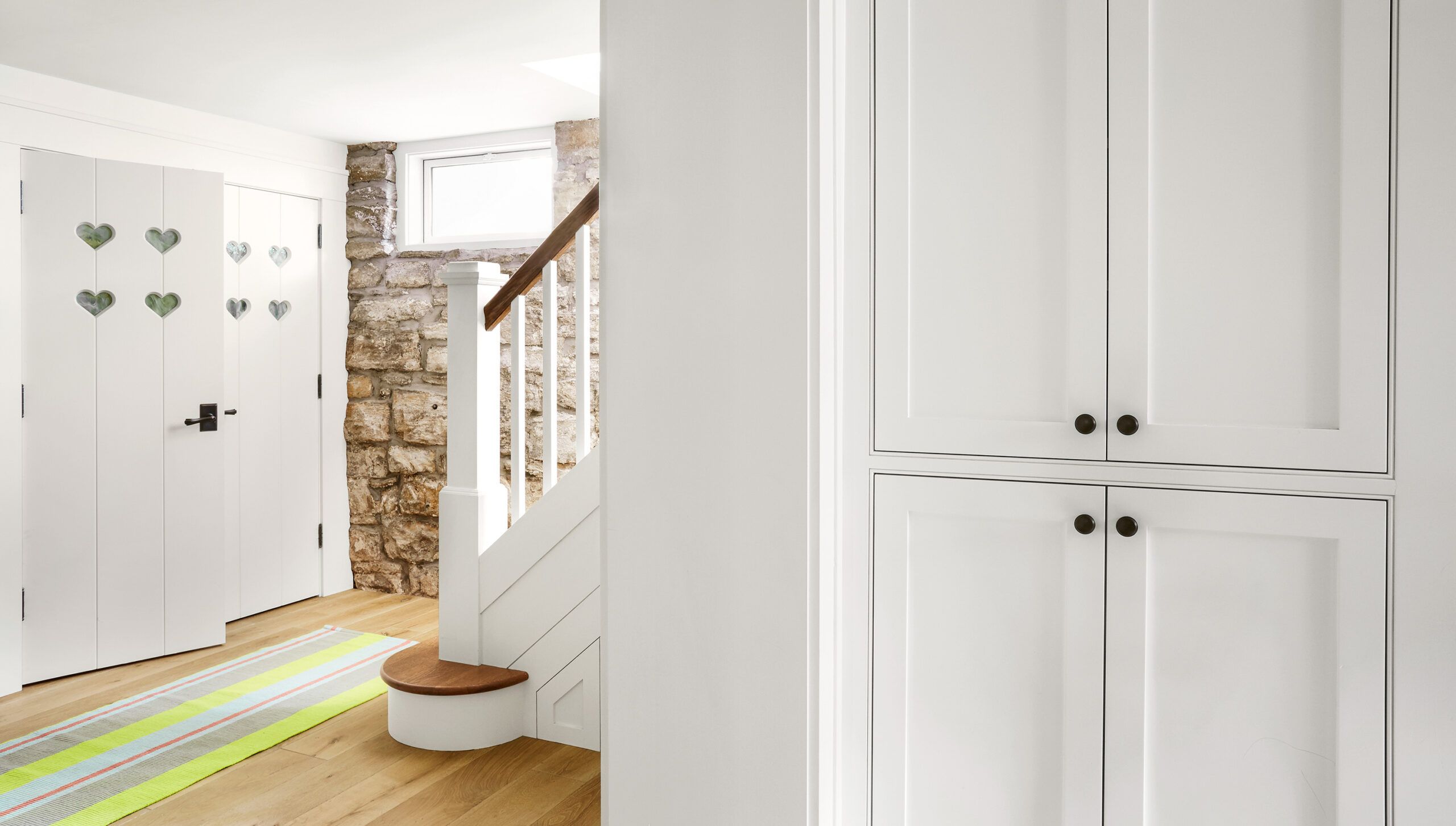 In the end, almost nothing on the property was left untouched, from the front-facing bay window to the formerly nondescript yard and garage. Six spruced-up bedrooms are now served by three full and two half baths, including a guest suite on the top floor frequented by family members from overseas, some of whom stick around for months at a time.Shown: In the finished basement, a raw limestone wall meets pantry doors with Scandinavian-style glass-inset cutouts.
Lots of White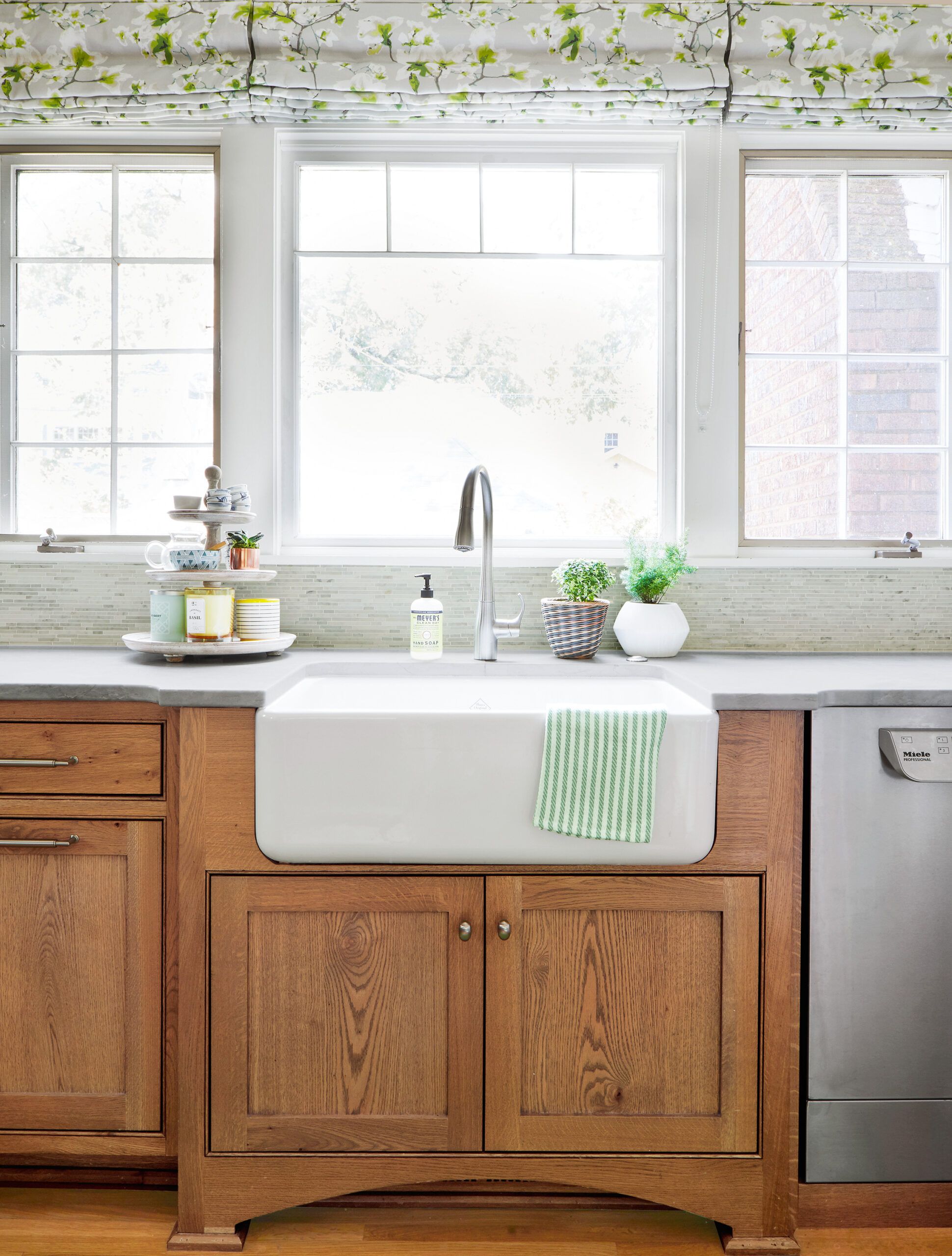 And who can blame them? Working with Martha O'Hara Interiors, the homeowners finished the rooms in seven Scandinavian style, all signs of clutter tucked away, Japanese style. "In Japan we don't have much space," Hanae says, "so we have to do this."
Shown: Oak cabinets in the kitchen are balanced by lots of white.
Sink: Rohl
Roman blinds: Martha O'Hara Interiors
Dishwasher: Miele
Cedar-Lined Storage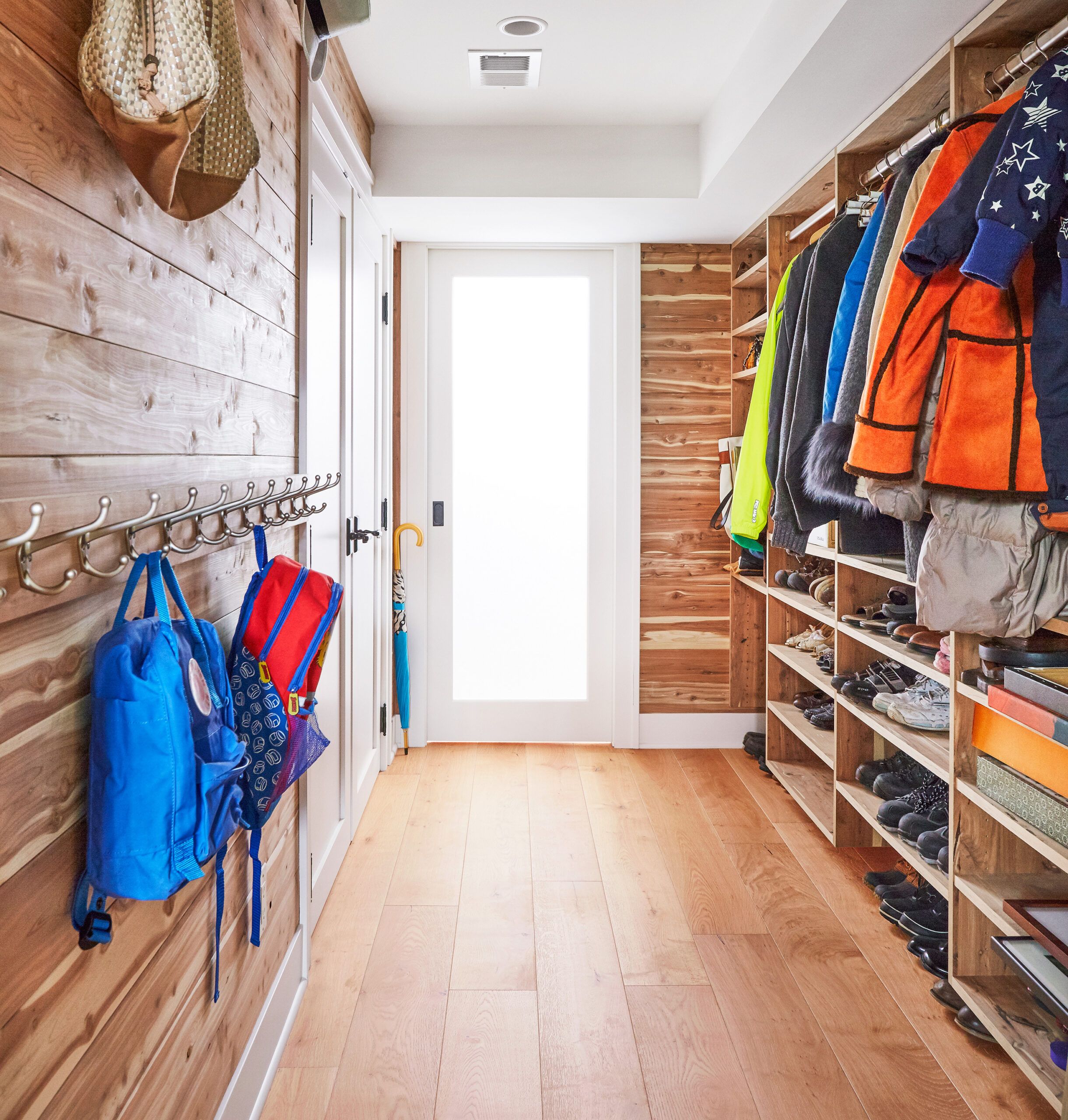 Asked what she likes best about the house, she says, "Sitting in the sunroom and looking at the beautiful backyard.
"And I love the stuga," she adds. "It's like a boat that makes use of every square inch." But bigger than your average boat, of course, in finest Scandinavian-Minneapolis tradition.
Shown: The homeowners created a red cedar–lined storage space in the basement for off-season outerwear, sports gear, and schoolbags. Light pours in from a window behind the frosted glass door.
Paneling: Cedar Specialties
Vintage Flavor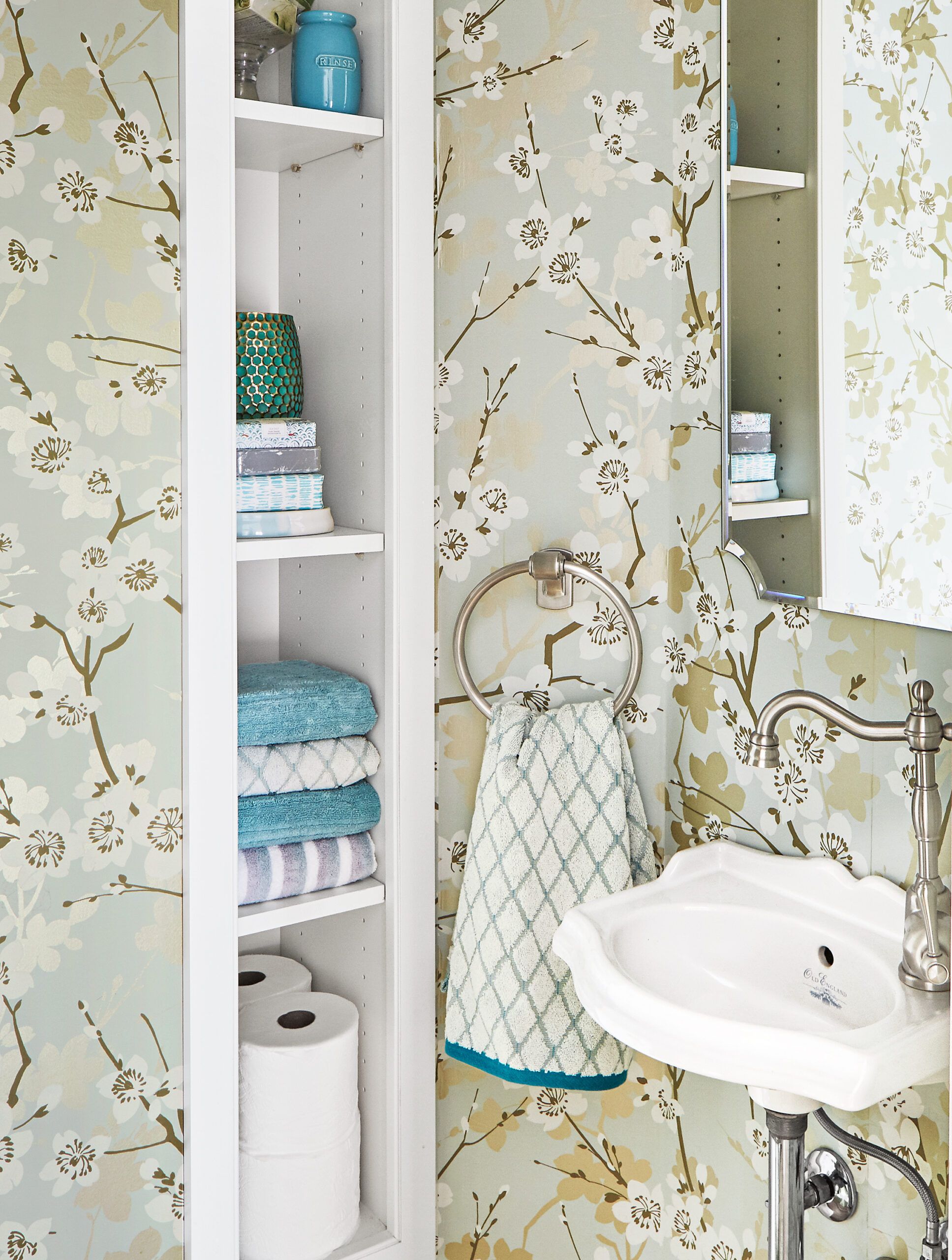 The vintage-flavored powder room is wrapped in cherry blossoms and finished with a petite wall-hung sink and storage between studs.Wallpaper: Schumacher
Floor Plans
The 2,780-square-foot house gained 900 square feet of basement living space, new paths from the foyer to the kitchen and from the kitchen to the living room, and a wider opening between the dining room and sunroom. Back stairs came out and the powder room was relocated to create a breakfast nook, and the kitchen was rebuilt with a new window. The living room and sunroom gained doors to a new front porch and rear deck. The second floor gained a master suite and laundry room; the third floor (not shown) holds a guest suite and play space.