220 Years of Improvements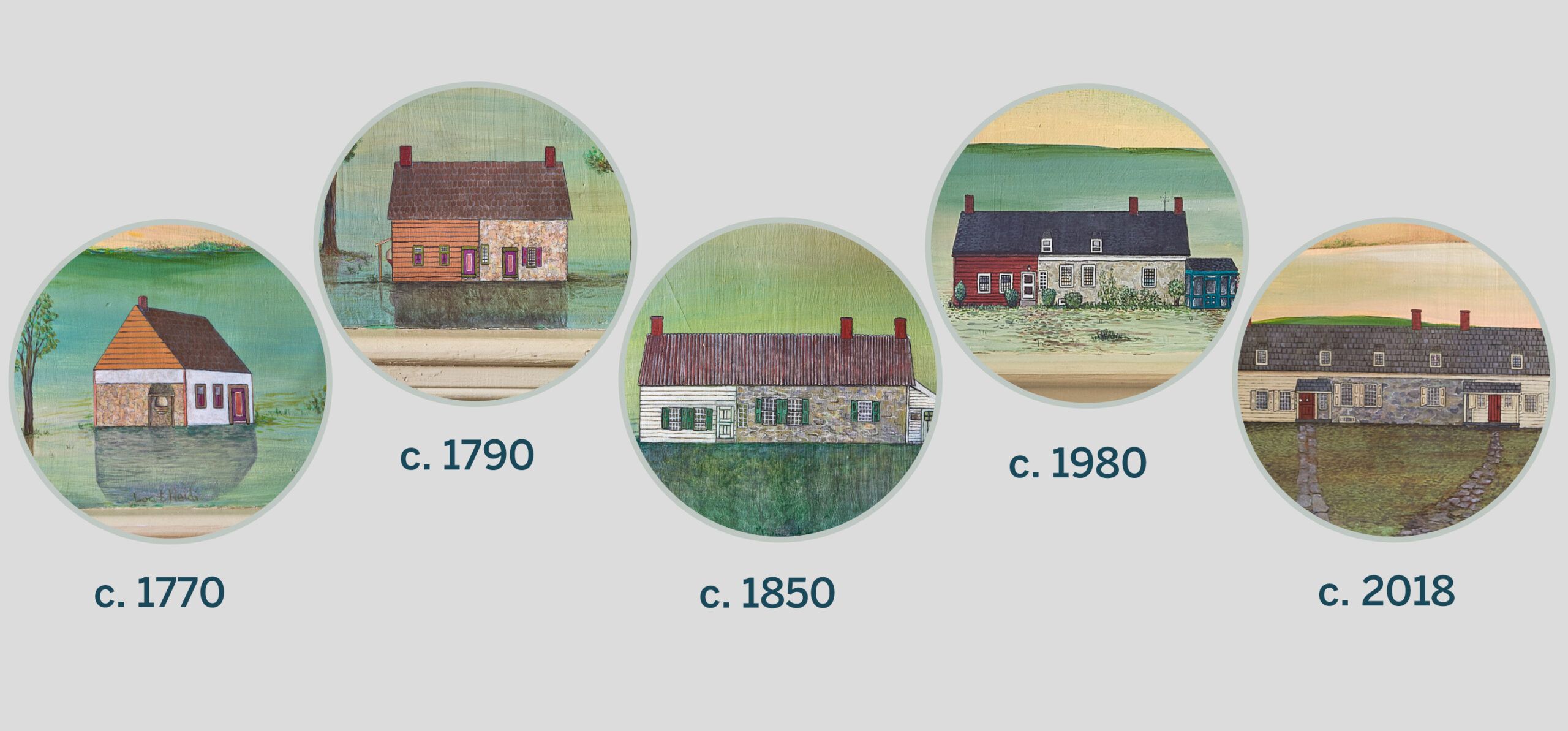 All hands on deck… one pair holding his brother's ankles?
When Kim Kimble and Tom McEntee looked up one day during the endless renovation of their family's 18th-century relic, they were pleased to see their two grown sons getting ready to shingle the roof. It had been years since the whole-house reno had gotten under way, they were all tired of living in chaos, and word had gone out: Everyone, please help!
Kim, who had done time on the roof herself, nonetheless did a double take when she looked more closely. One of the boys had decided to nail a bracket in place by lowering himself over the ridge—headfirst.
Not to worry, Mom: His brother was holding his feet.
Shown: The homeowners commissioned a dining room mural in the 19th-century itinerant-painter style. It tells the story of the house as it evolved over 220-plus years.
Stone and Timber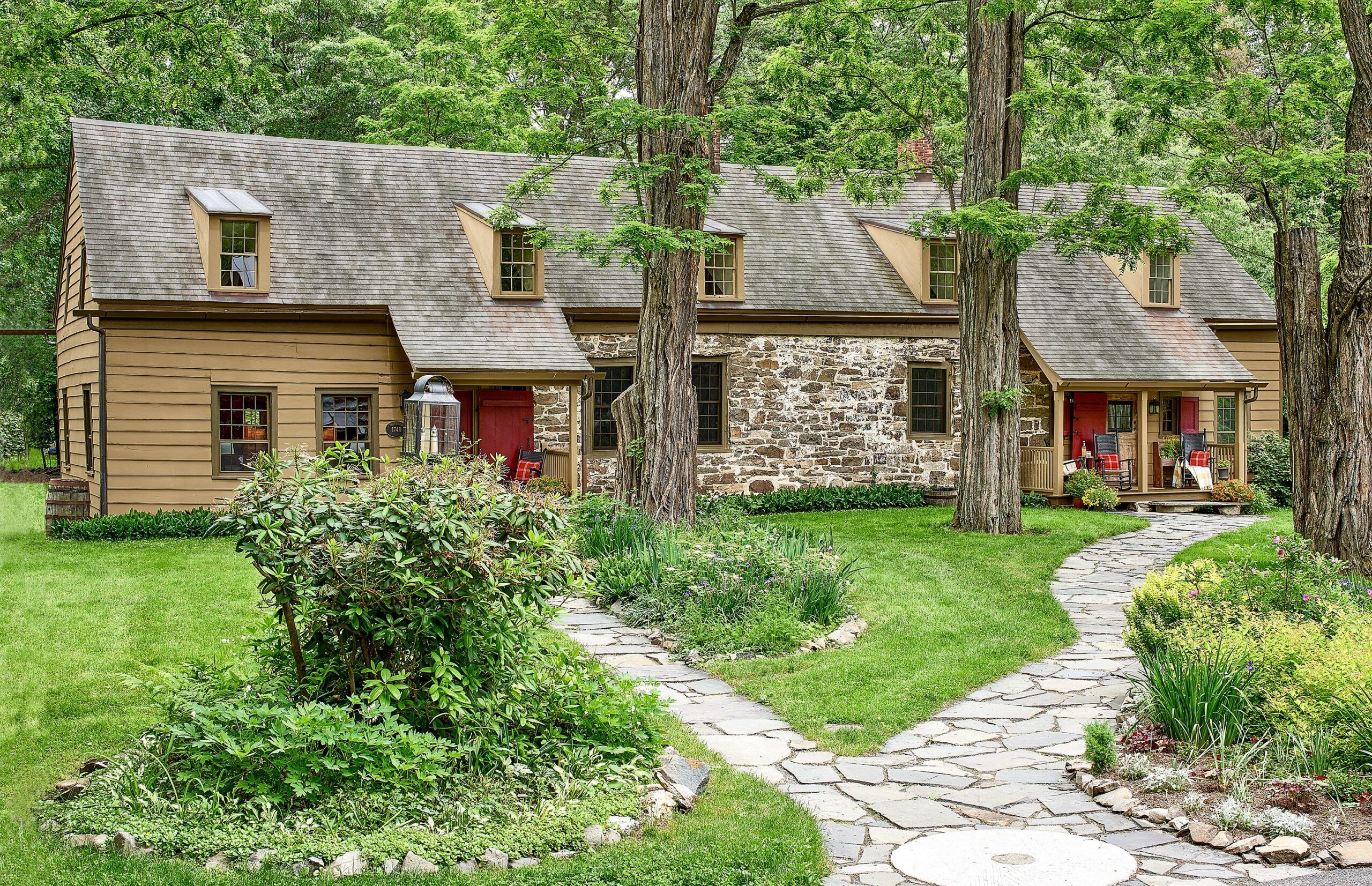 From the beginning, this renovation has been a family affair, starting with the moment Kim and Tom first took a hard look at the place, a charming bag of bones in historic New Paltz, New York. They hadn't planned on it, but were visiting former neighbors with one of their four kids when the house, called Thornwood, "reached out to us," Kim says-—despite its long stint as a college-town crash pad. (Response of said kid: "You're buying that?")
Shown: An unusual blend of stone and wood frame, the house predates 1800. During its latest reno it gained three dormers, two porches, and a two-story wood-frame addition.
The Homeowners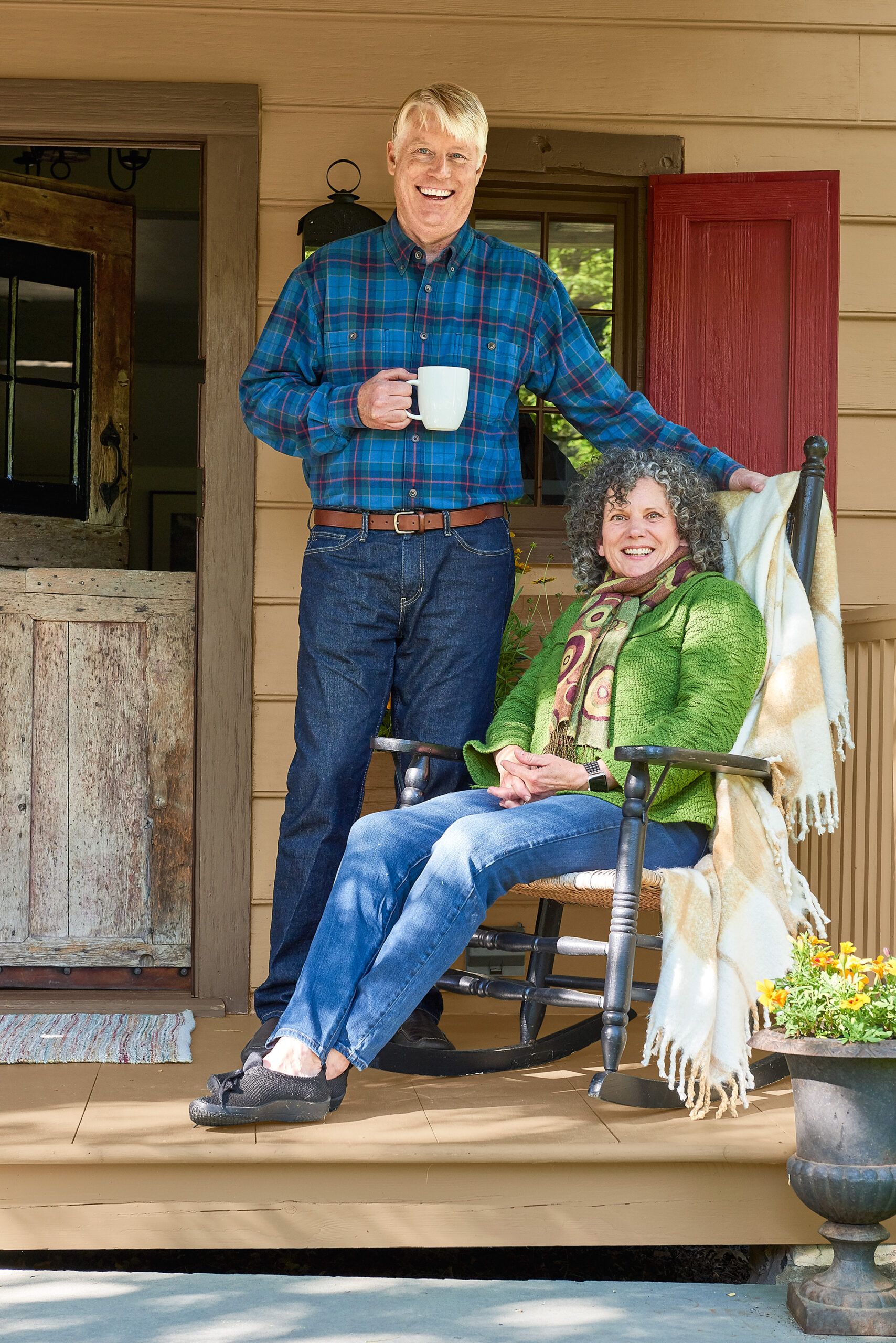 Of course fixing it up would be hard, but the couple had lots of energy and the house had lots of bedrooms, so they figured they could camp in one area while making repairs in another, doing the reno bit by bit, with everyone's help, over time.
A lot of time, as it turns out.
Shown: Tom McEntee and Kim Kimble on a new porch with an original Dutch door. The siding was beaded, distressed, and installed unevenly to make it look old.
Timber Dining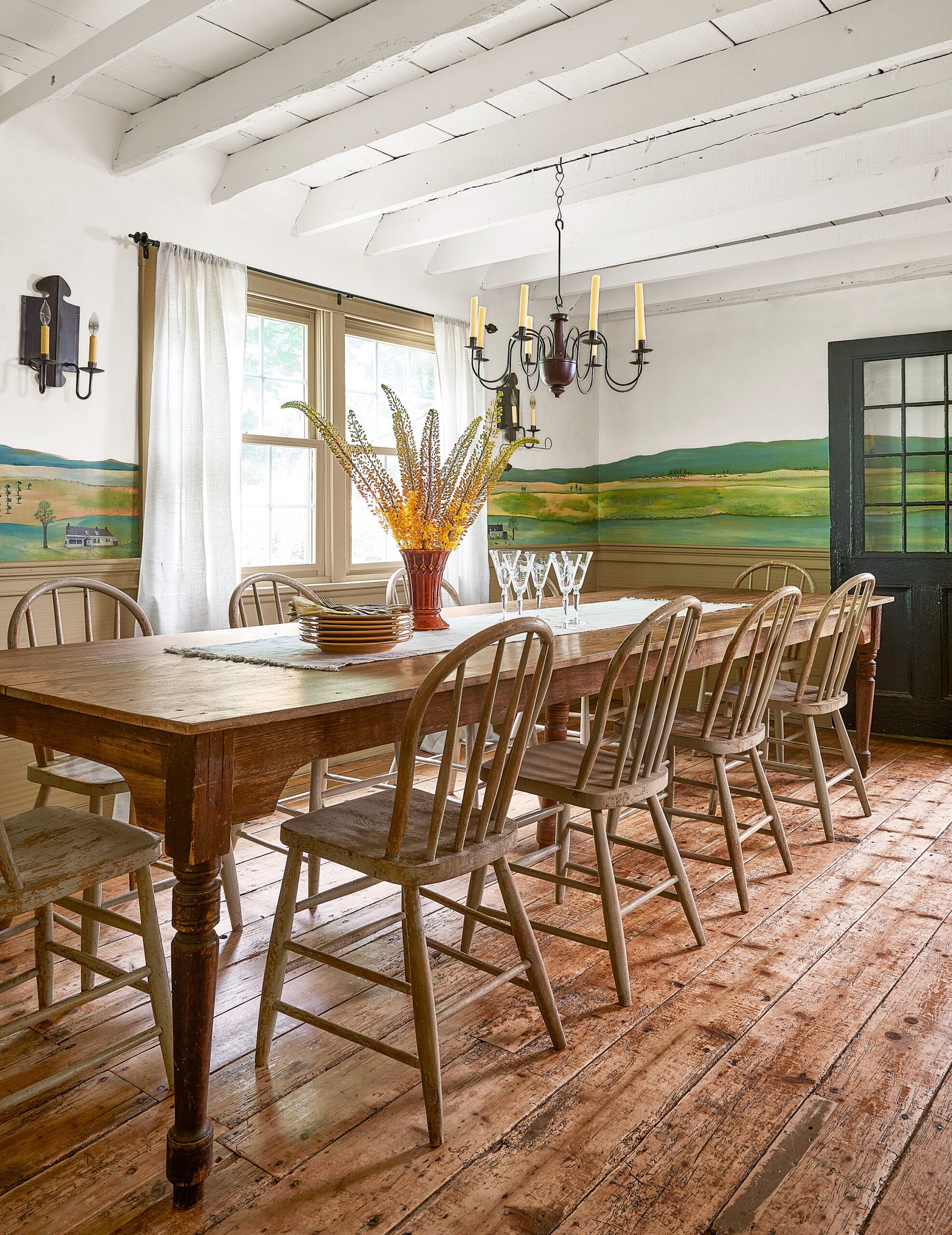 Tom, an airline pilot, was game to improve his DIY skills, and Kim, who swears she has learned to love wielding a nail gun, was up for the challenge too. It felt good, after all, to salvage a place that has at times been a serious contender for landmark status.
Shown: The table is a favorite spot for board games and sees serious action during annual gatherings known as Happy Merry Thanksgiving.
Dining room mural: Heidi Reagan and Lou Sarra
Spacious Kitchen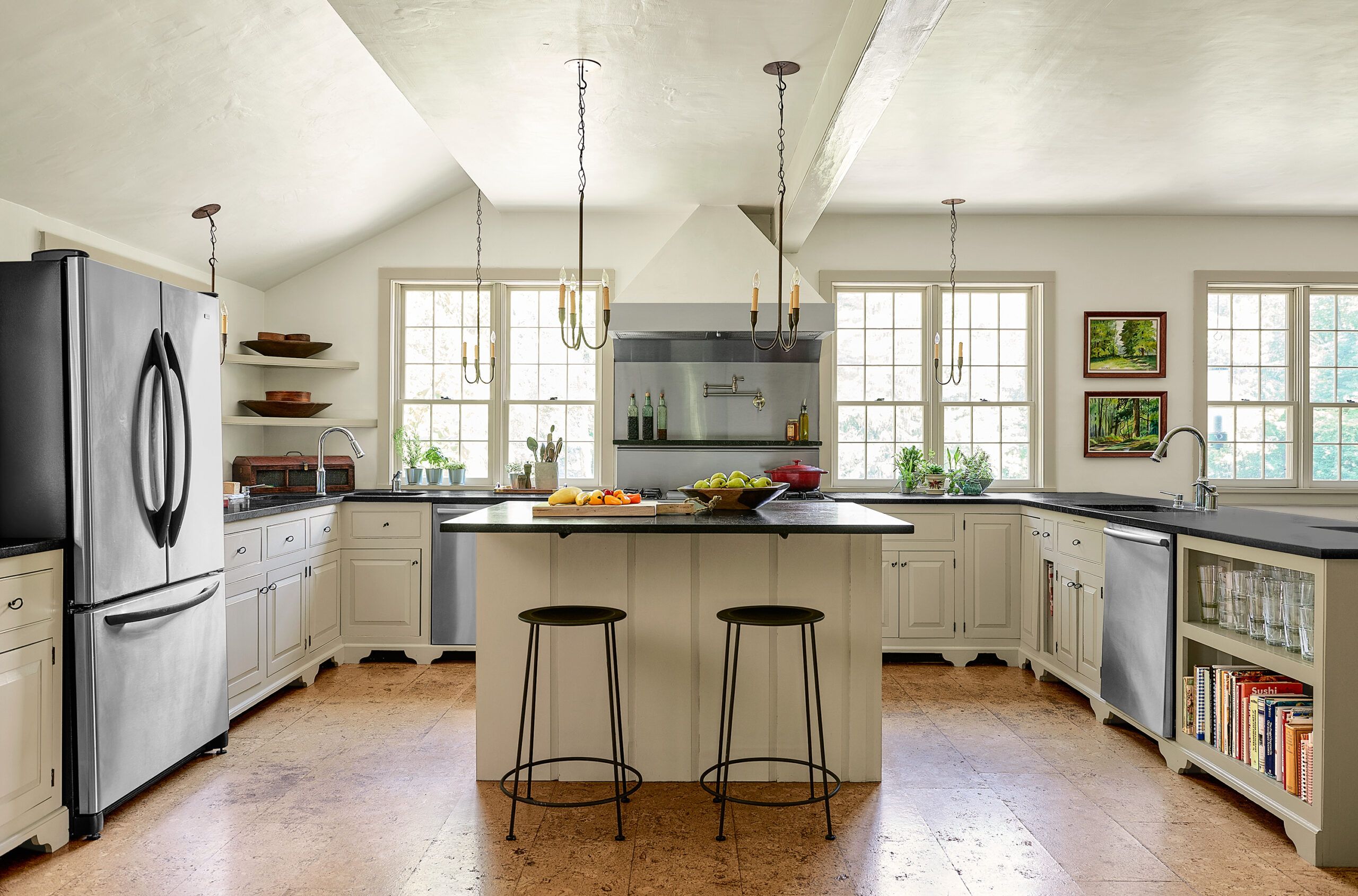 Digging around in historical documents, Kim traced the house back to the town's founding members, known as the "Duzine"—a dozen French Huguenots fleeing old-world Catholics and the annoying new-world Dutch by making their own land grab along the Hudson River. After clustering in what is now downtown, the men ultimately divvied up the rest of their vast tract among their descendants, one of whom built the original one-room wood-frame house. The exact year is unknown. The two-room stone addition was documented by a town assessor in 1798 and is believed to predate 1781.
Shown: The addition holds a family-size kitchen with cork flooring, soapstone countertops, and two dishwashers. Nine-over-six windows match the originals; a layer of joint compound on the drywall gives the look of plaster.
Coordinating with Beams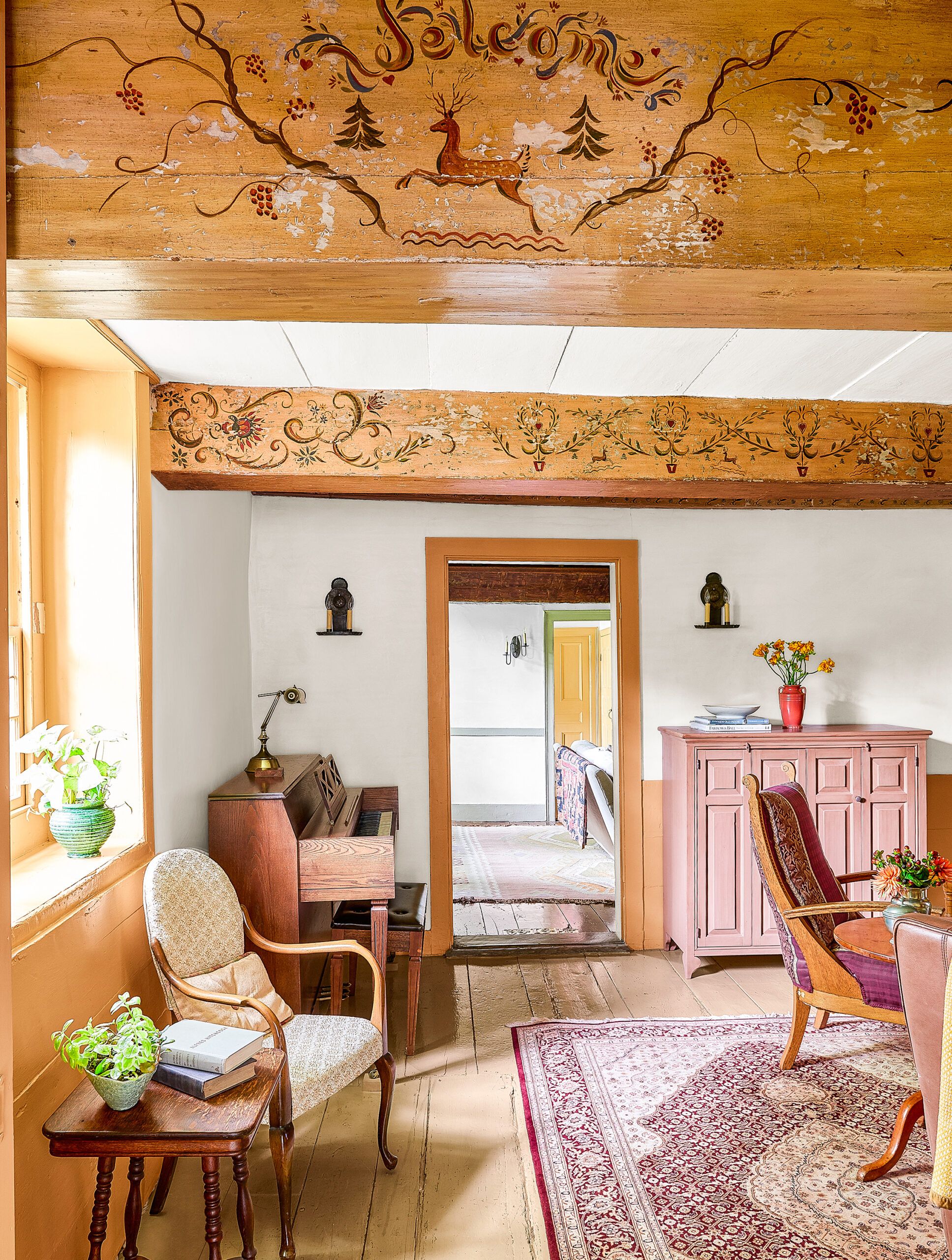 Down through the decades the house tumbled, with walls added and subtracted, its rooms reassigned, and periodically suffering from what Tom politely calls "deferred maintenance." One previous owner ran a dress shop on the first floor. Another, who dropped by late in life to reminisce, paused before the same room, now a guest bedroom. "This is the parlor," she informed Kim. "We only used it to lay out the dead."
Shown: The homeowners preserved the decorative painting on the game room beams and unified the room with a coordinating trim color.
Paint: Benjamin Moore's Dark Beige (trim)
California Paints' custom color: Bayberry Wax (floor)
Game Room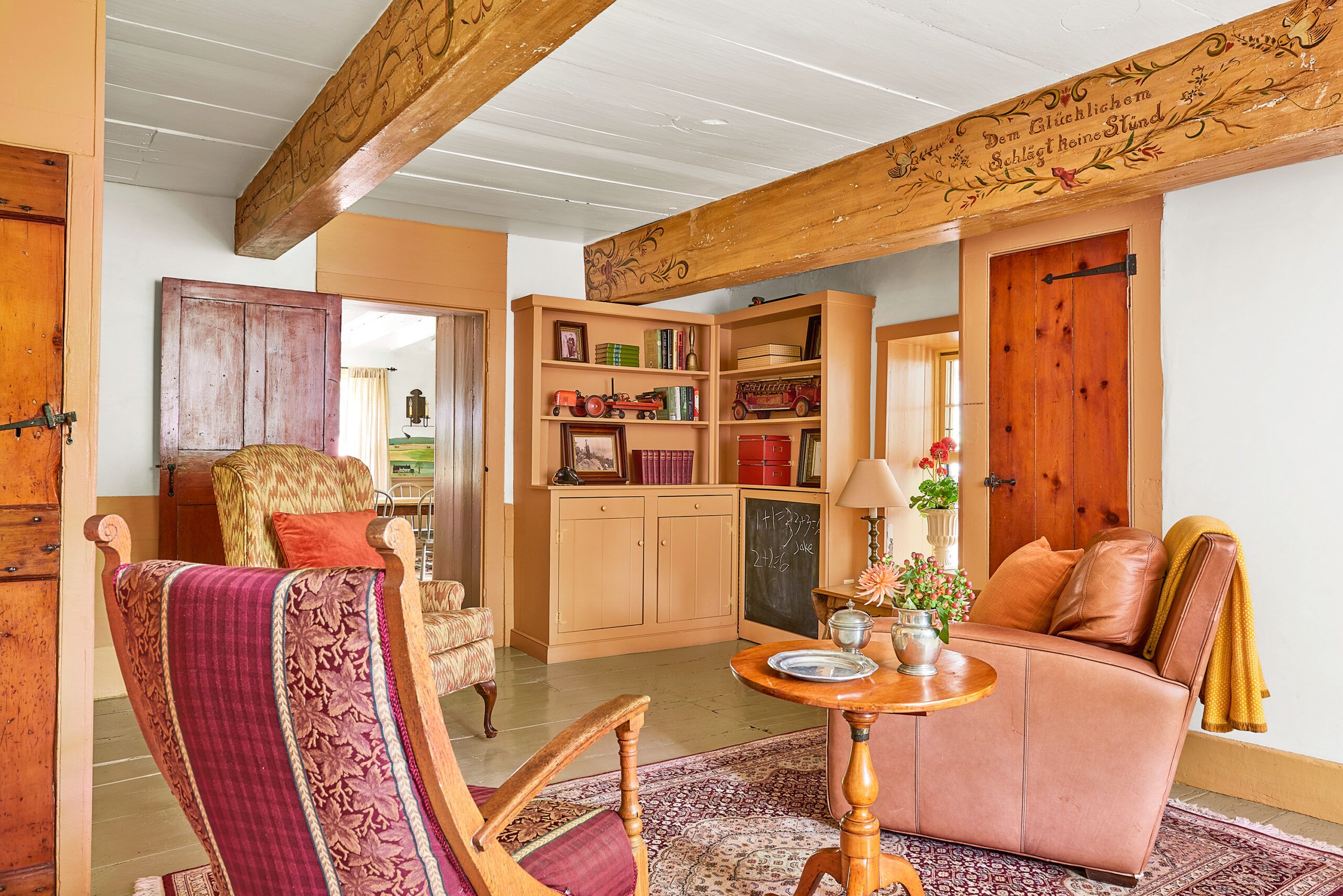 To one side sat a 1970s kitchen, with a medley of five doorways and flooring stacked atop patched flooring like lasagna. Tom pulled up six layers only to reveal damaged planks and a dramatic gap under the doors. The beams had been decoratively painted, but the space felt cramped. "We brought in a kitchen designer to try to figure it out," Kim says, "and that's when we realized we had to add on."
Shown: Formerly the kitchen, the game room held on to old built-ins, one with a new blackboard front for kids to scribble on.
First Door on the Left
They already had a skilled crew, led by old-house whisperer and general contractor Brian Kennedy. But with a mind-numbing to-do list unfurling before them, the couple weren't sorry when visitors asked if there was anything they could do to help. Kim recalls her stepfather working on a door that needed rehanging—nothing in the house was plumb, nothing was level—and another set of grandparents being charged with hitting knotholes with extra primer and helping to paint windows. Tom had already reglazed countless old ones. "We call it the House of a Thousand Panes," he deadpans.
Shown: An 18th-century foyer-closet door was flipped to reveal the paneled side, and wallpaper remnants left visible over the stairwell.
Living Room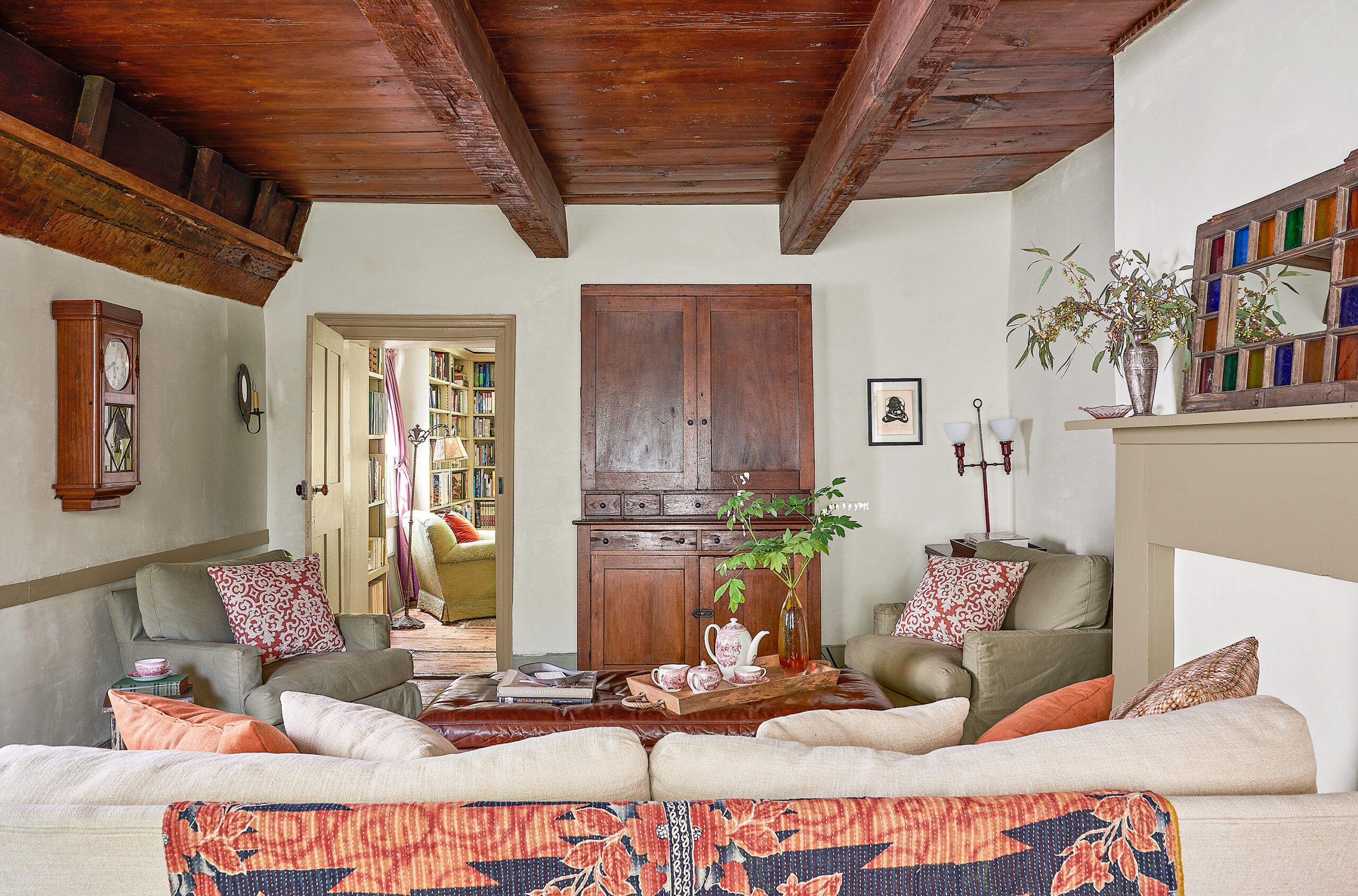 To stay on budget, he hit the road, zipping down to Connecticut to save shipping costs on interior storms, custom made to conform to windows with out-of-whack dimensions, and collecting cedar roof shingles offered at a huge discount as long as you picked them up—in Arkansas. When subcontractors arrived, Tom apprenticed with them, mastering skills like wiring and carpentry. He consulted timber experts who tried but could not pin down the species of the old-growth trees that went into the house. And he still remembers dealing with the ancient, nonfunctioning chimneys. One had to be relined, for a wood-burning stove off the kitchen, and another was so ready to be demolished that "bricks were falling down faster than we could catch them."
Shown: Dark trim and a walnut-stained ceiling in the living room set off restored plaster walls that were finished with a tinted skim coat.
Paint: California Paints' custom color: Bayberry Wax (trim).
Skim coat pigment: Benjamin Moore's Vanilla Ice Cream
Guest Room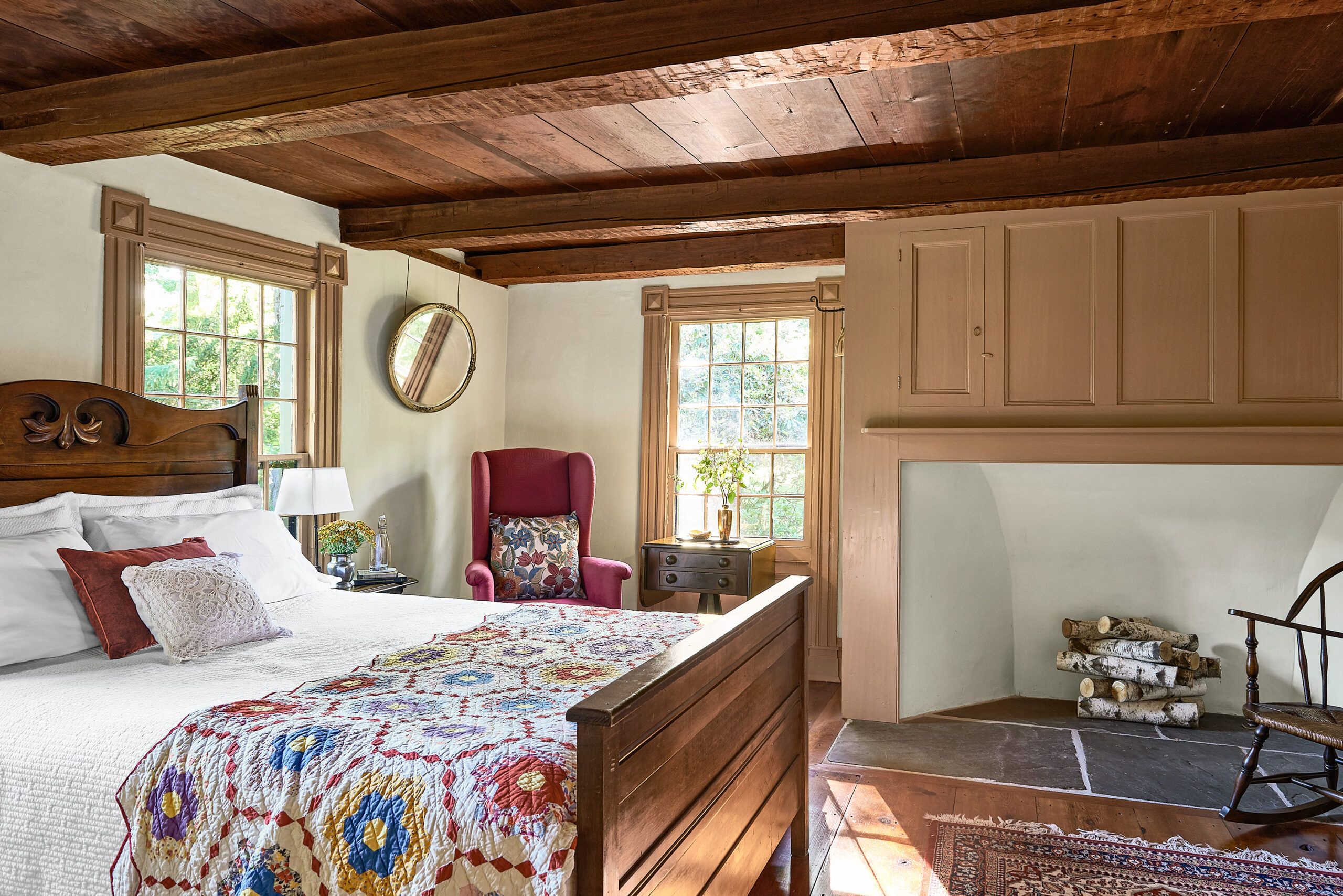 "Everything in the fullness of time," Tom and Kim kept saying, quoting the dress-shop owner, whose son confided that his mother never stopped renovating or repeating this phrase. It was that kind of place.
The couple hired an architect, Paul Varanouskas, who brought in a structural engineer to see if those out-of-plumb windows and doors indicated more than a period-perfect sag. "A lot of structural stuff had failed," Tom says, "and the rear wall was four inches out of plumb." The sill beam that sat on the foundation had to be replaced, and reinforced. Then the original structural supports were reinforced with a gaggle of concrete piers and pressure-treated posts in the basement.
Shown: The guest room once served as a dress shop and before that was a formal parlor. The wide floorboards are believed to be eastern white pine.
Guest Bath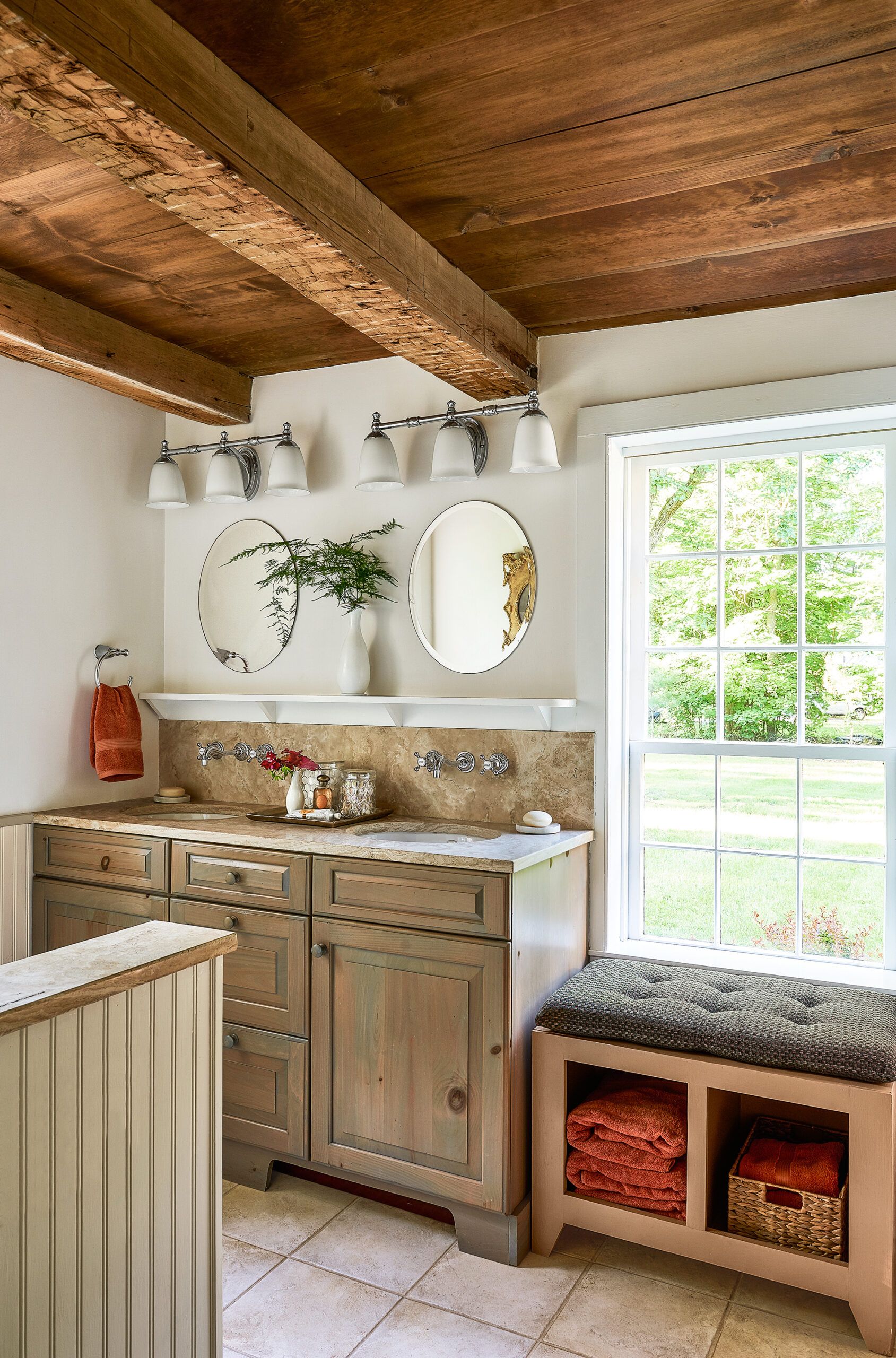 The stone foundation had to be repointed before Tom could put in gutters and a French drain. And the house still needed drying out. Radiators gave way to forced air, with air handlers in the basement and attic and registers in ceilings and floors to reduce the need for wall-busting ductwork.
Shown: The guest bath was gut-renovated and set up for two.
Vanity: Brookhaven
Wall paint: Benjamin Moore's Hazy Skies
Open Kitchen Storage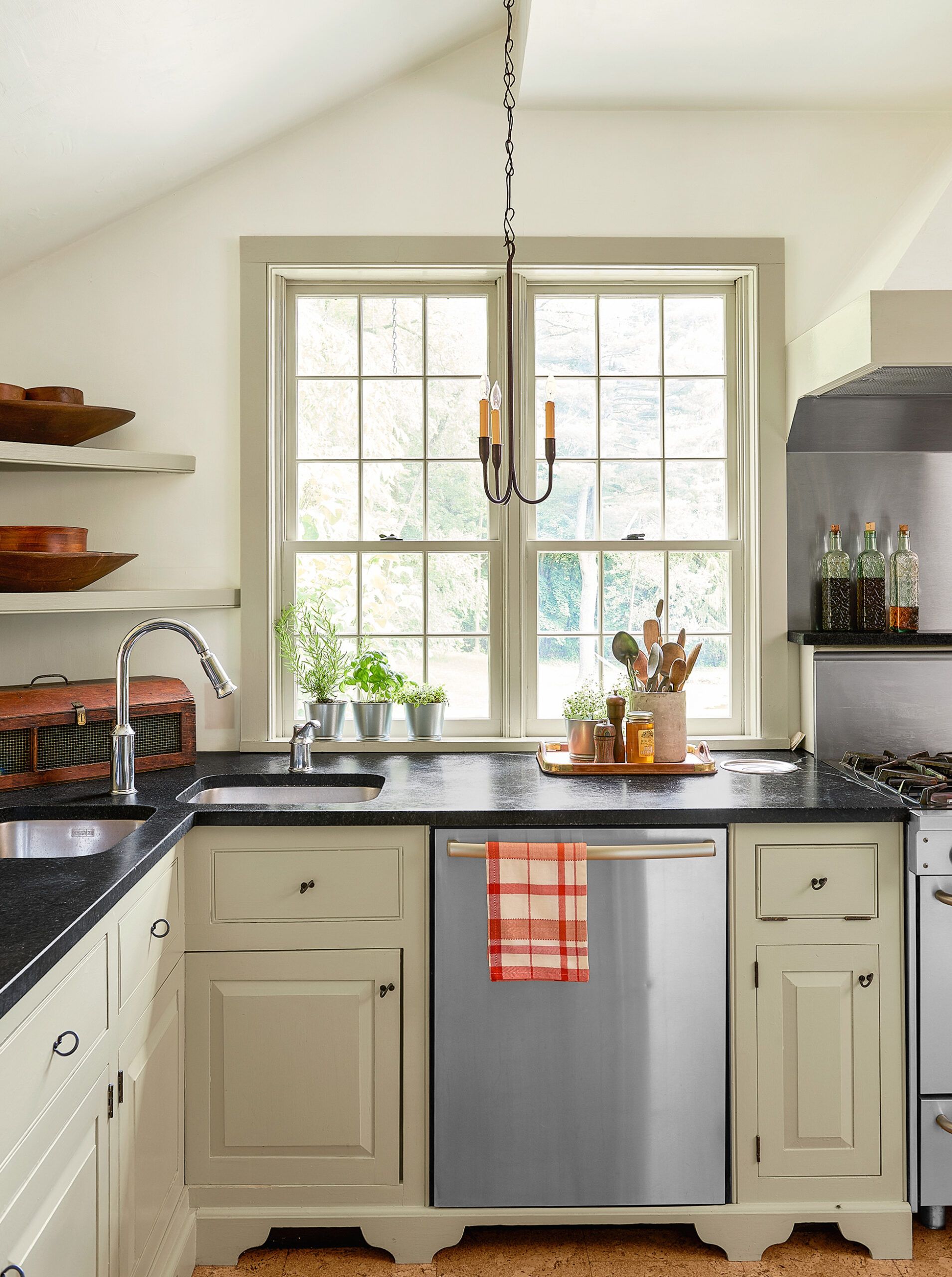 Plaster was patched and preserved, even as chunks fell here and there; ceiling joists were exposed, two baths were redone, and an addition was grafted onto a gable wall. Varanouskas's plan was to have the addition step back, but Kim made a case for enlarging and extending it to be flush front and back, and Kennedy made it work, yielding a 1,156-square-foot wing that balances the 18th-century wood-frame original at the other gable end.
Shown: The base cabinets are 30 inches deep for extra storage. This allowed upper cabinets to be removed, maximizing light from the window overlooking the pond. Pots and pans go into this dishwasher during large-family-meal prep; a cleanup zone for dirty dishes is stationed closer to the table.
Mudroom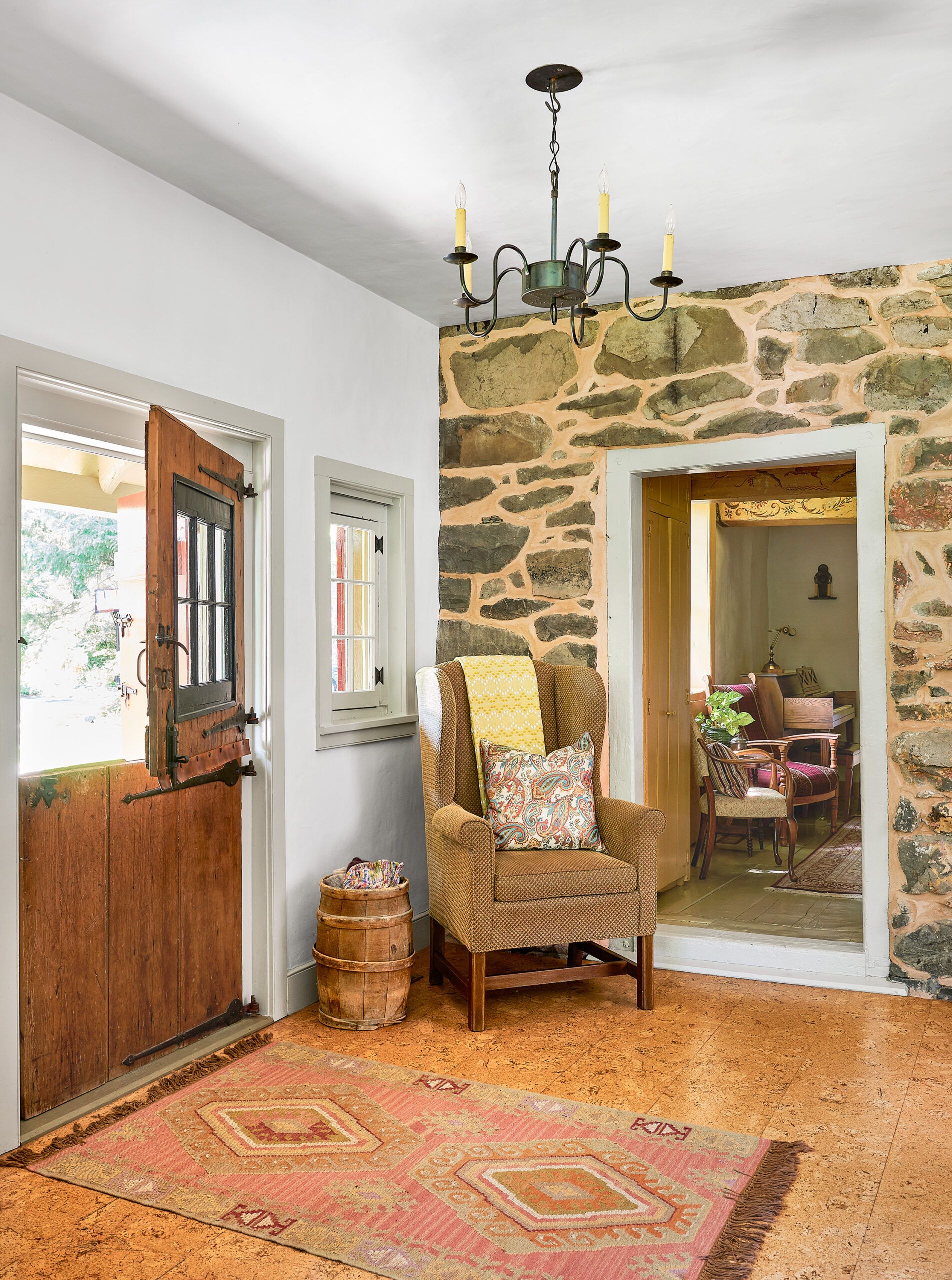 Adding on allowed the old kitchen to become a game room. Another room became the library, with a paneled, period-style "bed box" (a.k.a. Murphy bed). The TV hides out in the living room.
The addition replaced an old screened porch, which itself replaced an "out kitchen" that can be seen in a 1908 snapshot. Because the addition has a second floor, Kennedy had to work to meld roof-lines, but the payoff was a bonus room upstairs and a roomy kitchen with a roofline-accommodating, varied-height ceiling, open to a gathering spot large enough for informal dining and a foldout sofa.
Shown: A Dutch door in the new addition leads to a mudroom area.
Mystery Inscription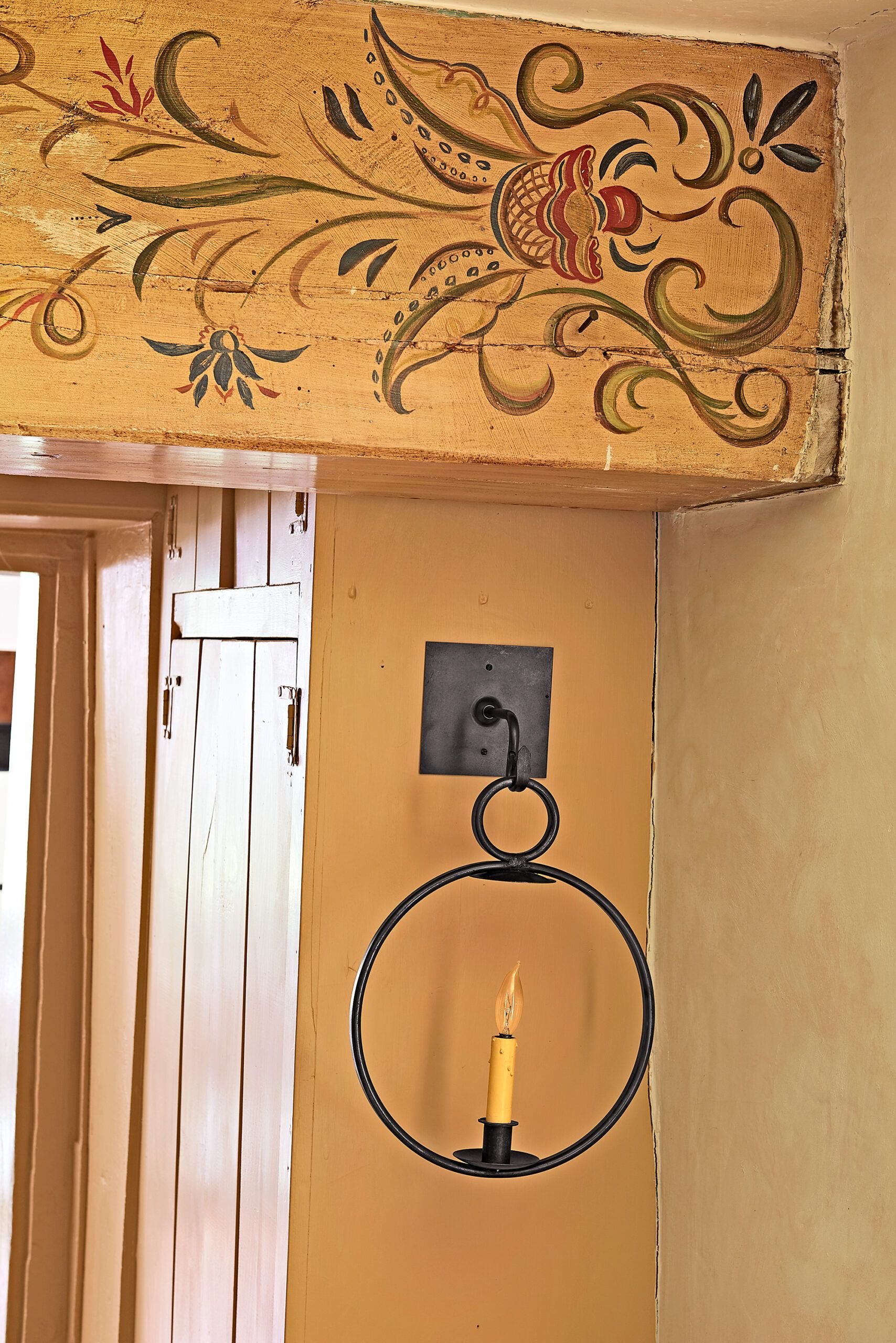 "Our goal was to sleep 15," says Kim. "When I was growing up, every year siblings and spouses and kids would descend on my mother and stepfather for what we called Happy Merry Thanksgiving-—three holidays rolled into one. After they moved to a smaller place, we wanted to do it here."
The couple put out welcome mats in the form of two front porches, one leading to a mudroom area in the addition. A new screened porch felt like a no-brainer, especially one within reach of the kitchen.
Shown: Marde Fjasted, an exchange student, painted the beams in the game room in the 1950s. The words translate, roughly: "If you don't hear the clock ticking, you're having a good time."
Materials Mix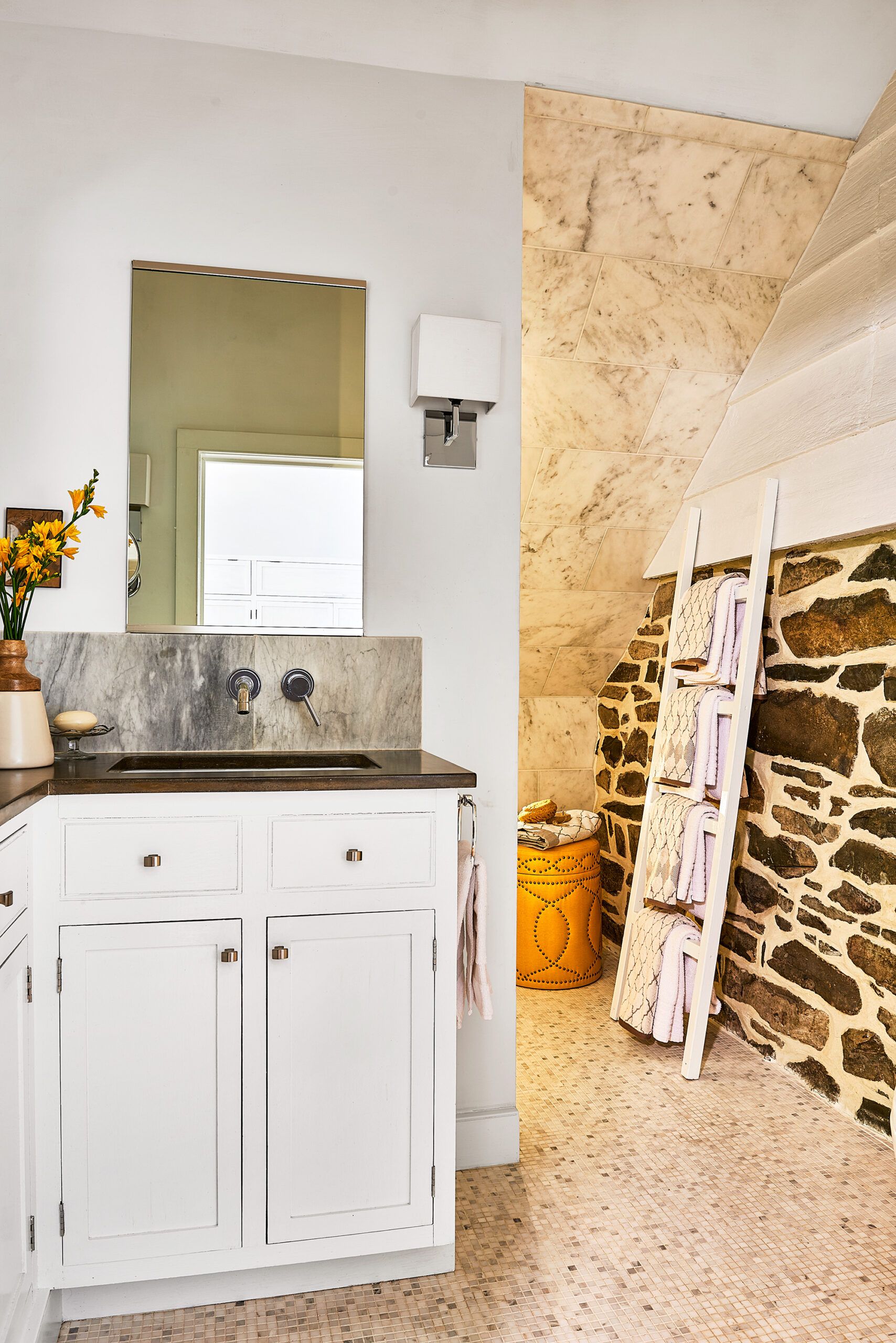 The bonus room began as a playroom for the two youngest kids, then became a dance studio, complete with wall-mounted barre, for a daughter who taught ballet. When she flew the nest, Kim and Tom turned the studio and its closet into their master bedroom and bath, freeing their first-floor bedroom for guests.
Of which they have plenty. Thornwood has become so popular among friends that Kim and Tom have started staging storytelling sessions inspired by The Moth Radio Hour. When the house is full, there's spillover space in the barn—naturally, the house came with a barn, and naturally, these irrepressible fixer-uppers couldn't leave it alone.
Shown: The new upstairs hall bath blends old and new materials, including rustic stone and polished marble.
Thornwood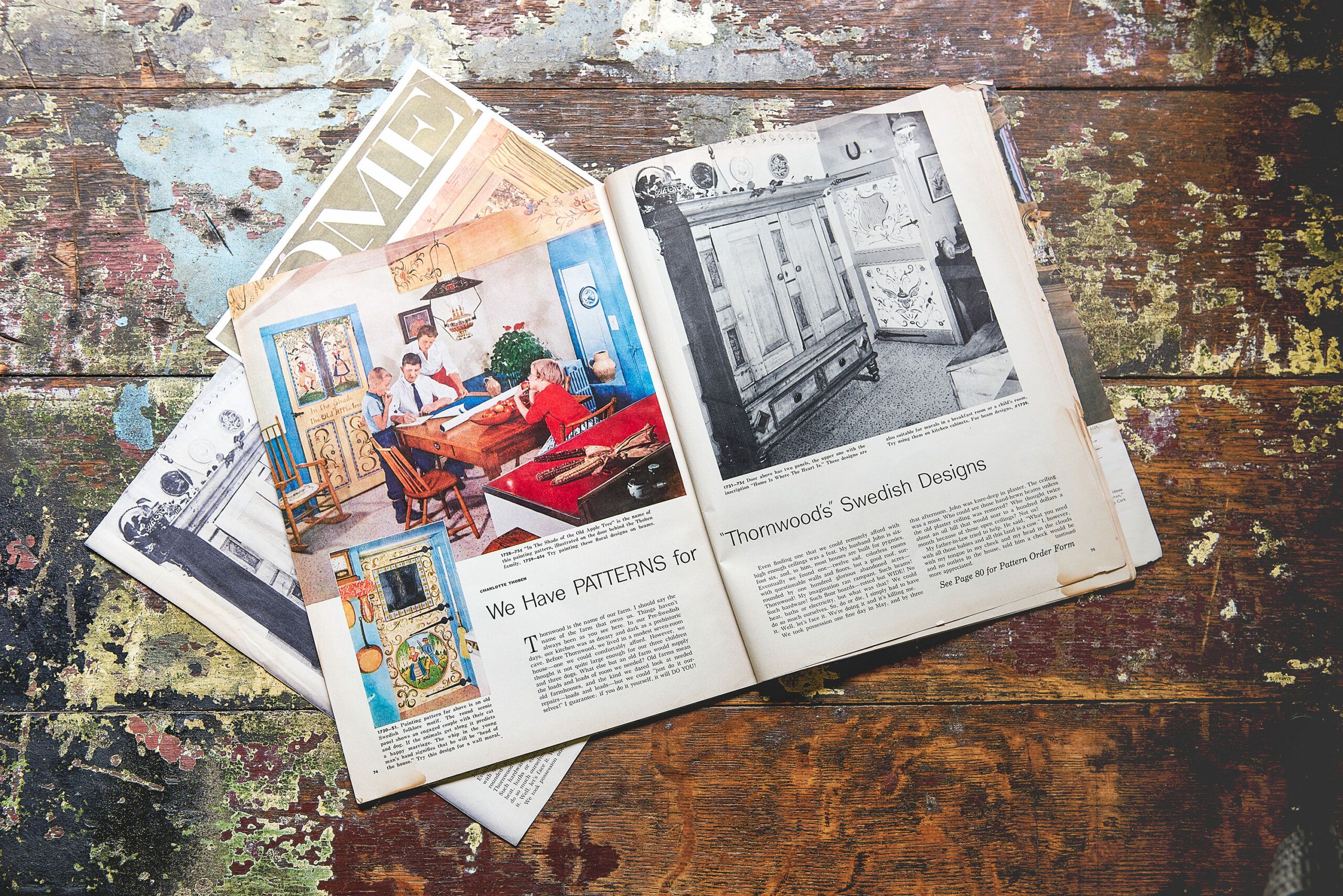 That project got done about four years ago, at which point you might assume the couple's labors were over. But not quite. Next came replacing the septic, laying a new patio, and rebuilding the pond that also came with the house. Tom plans to get to one "last" finishing touch—reclaiming a pile of old shutters—soon, early next year if not this weekend.
Shown: Previous owner Charlotte Thoben dubbed the house Thornwood and immortalized it during the 1950s in articles for American Home magazine. She ran a dress shop in what is now the guest room.
License to Fill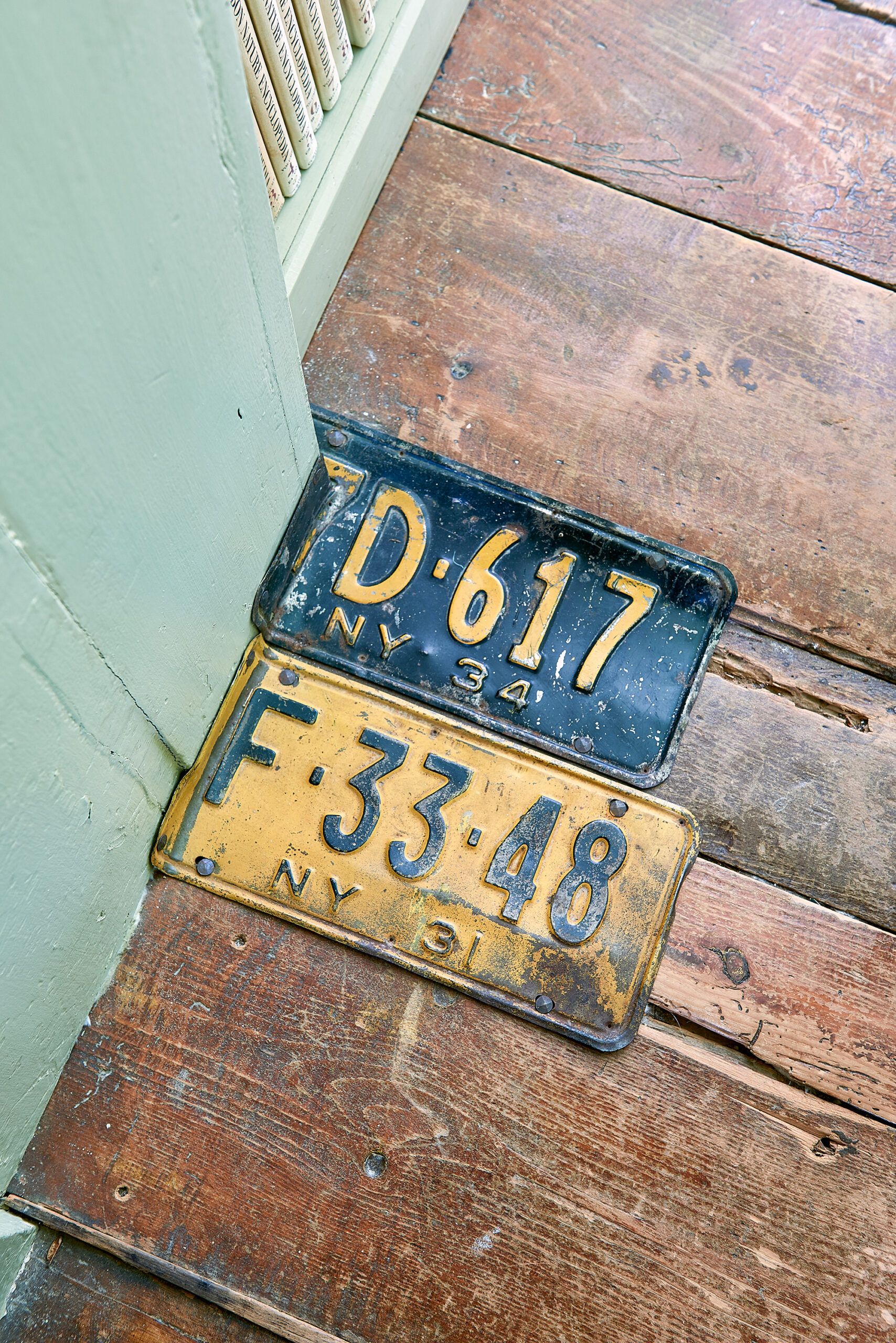 Time that's passed, so far? Almost 15 years, or long enough for one of those roof-shingling sons to have a son and a daughter of his own.
Luckily, when they come to visit they don't have to sleep on the floor. "I'm excited about creating memories here with my grandchildren," says Kim of the house whose needs and joys never quit. "It is our hobby and passion—and it also happens to be a great place to gather our growing tribe."
Shown: Previous owners covered uneven patches of flooring with old license plates. This set handles foot traffic between the living room and library
First Floor Plans

Originally 3,102 square feet, with six bedrooms, two baths, and a kitchen in what is now the game room, the house gained 1,156 square feet—a kitchen with dining space, a mudroom area, and a half bath below a master suite in a side addition.
Second Floor Plans

On the second floor, two bedrooms became a sitting room, and a bath was rebuilt. The first-floor bath was also rebuilt and its door relocated to create a guest suite, and the door between the dining room and library was shifted for better traffic flow. The house also took on two front porches and a screened porch.