From Derelict to Inviting Craftsman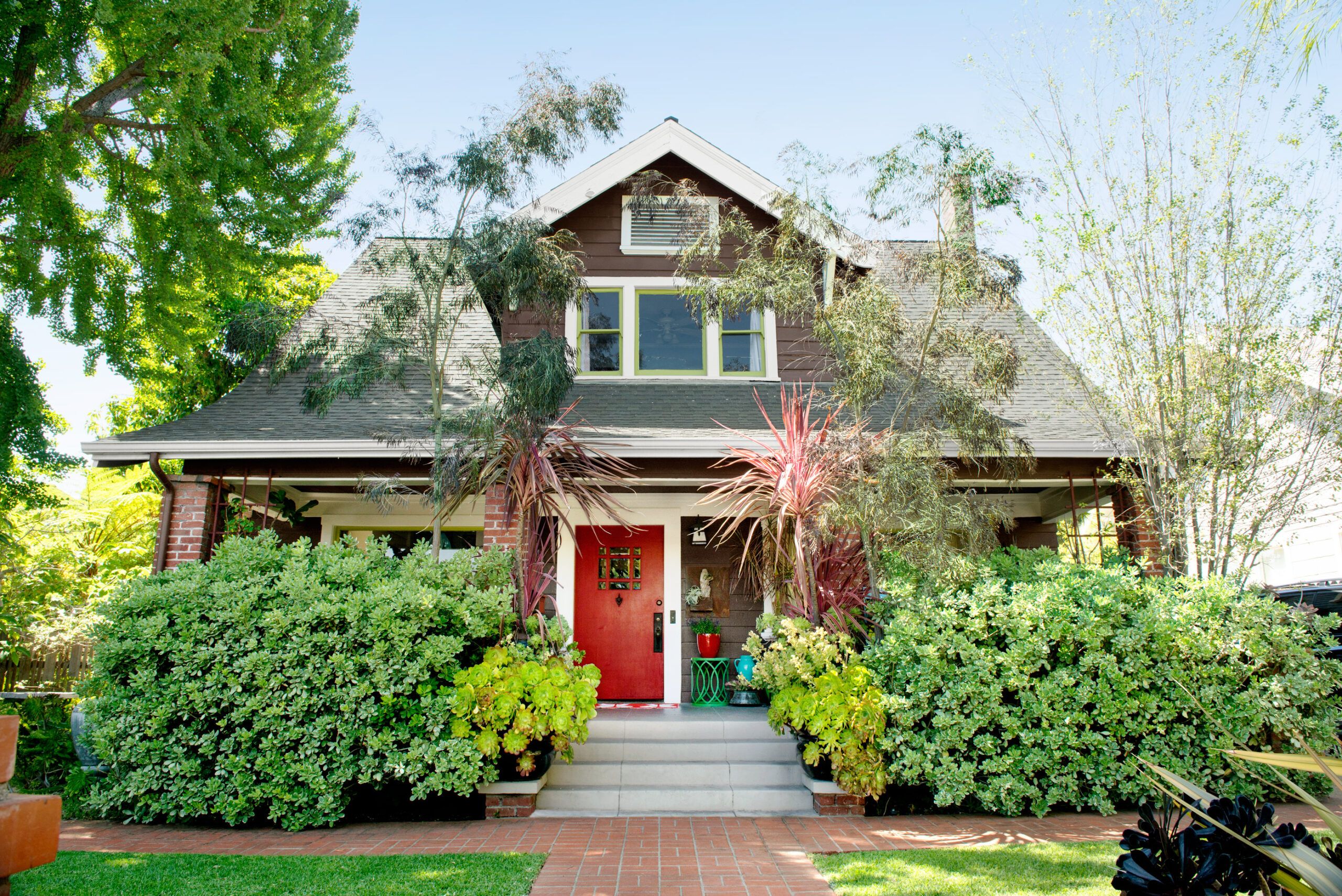 For years, Annette Gutierrez had eyed the large, derelict house across the street. A 1908 Craftsman bungalow being used as a rooming house for college students, it had long threatened to implode, a crumbling roof and a severely sagging midriff among its ills. One day, while she was looking out a window of her own neighboring Craftsman, the timeworn property's old wood gate plunked onto the pavement. Which gave Annette an idea.
Shown: Gray-brown siding, a bright-red door, and chartreuse windows give the 1908 bungalow updated curb appeal.
Architect: Oscar Morales; 323-313-2718
General contractors: Jeff Board; 818-391-5088, and James Orvis; 310-562-0075
Bright Front Door for Major Curb Appeal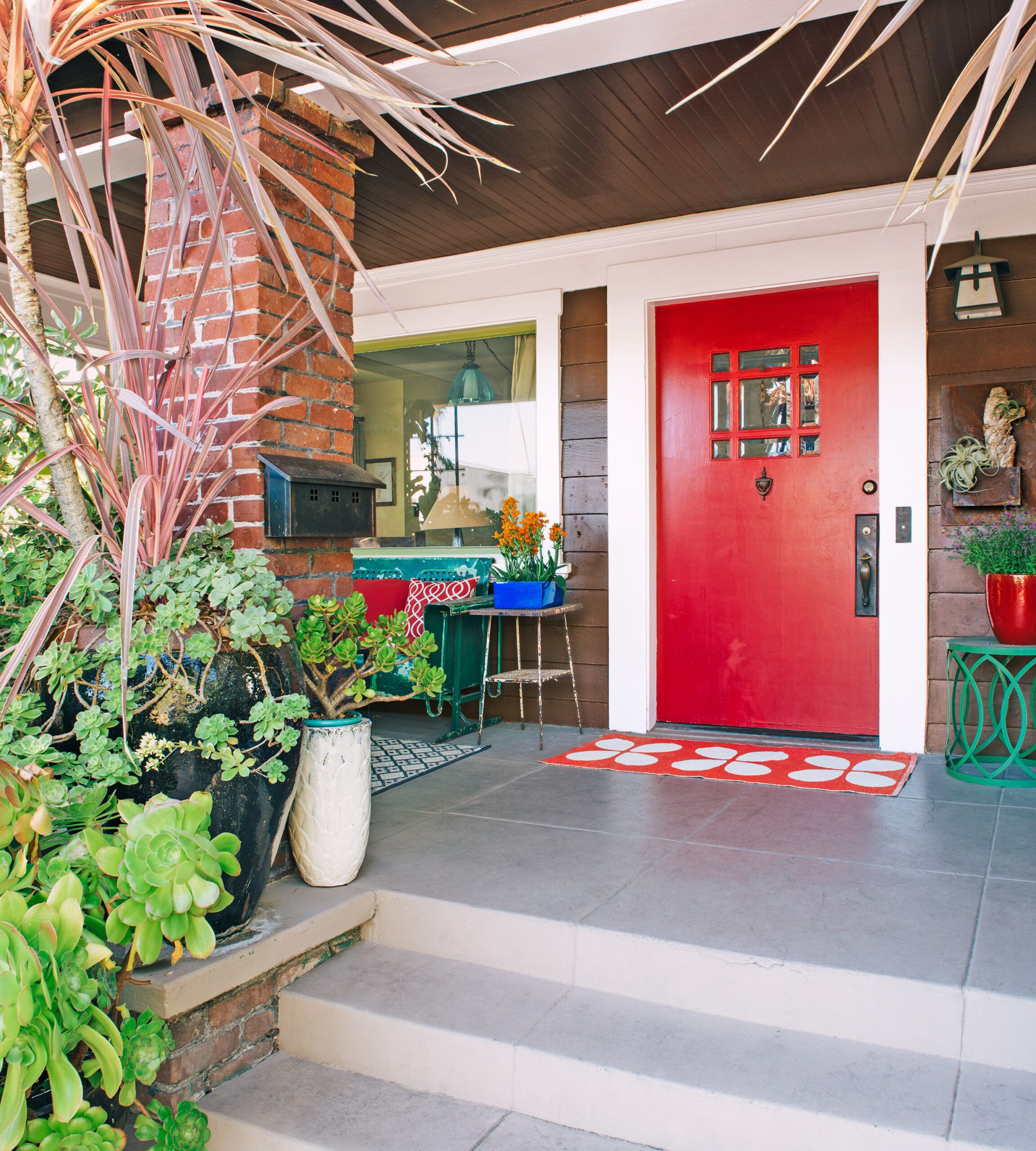 She and her husband, Gustavo, loved their location in the Hollywood Grove section of Los Angeles, but the bungalow they owned at the time had a master suite flying solo on the second floor, while the other bedrooms, including that of the couple's daughter, Lola, then 7, were downstairs. For a long time, Annette had wanted a traditional bedrooms-upstairs layout. Plus, their lot had no backyard privacy. The wreck, with its larger second story and a secluded back lot, could solve those problems. Soon after the gate fell, the house went on the market. Annette went head-on into a bidding war, won, and needed all of a day to sell her house in the sought-after historic district. Confident in their decision, the family completed their 150-yard move.
Shown: The recessed front door is bright enough to lend poppy curb appeal from the street.
Eclectic, Welcoming Front Porch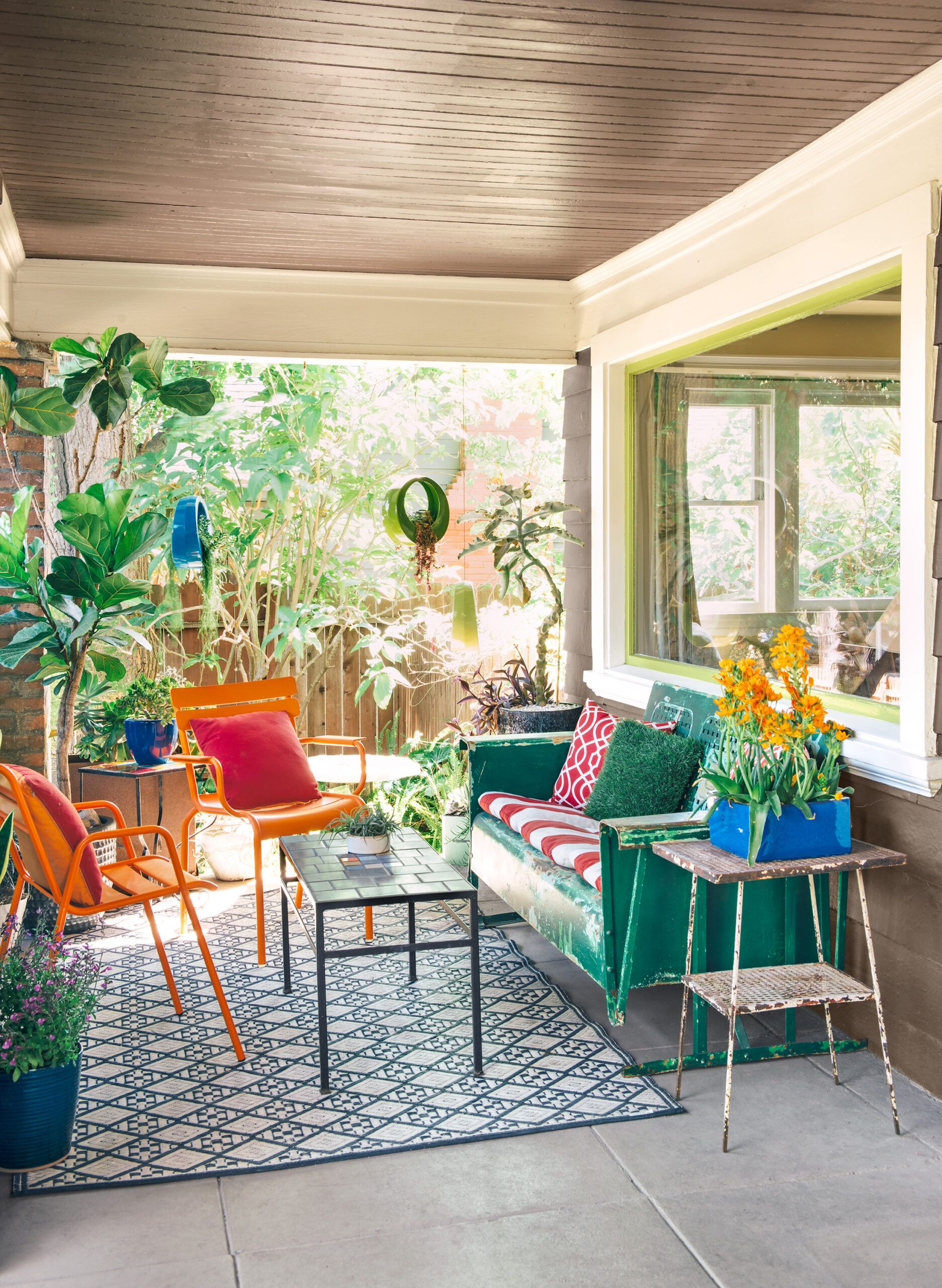 And then their high hopes took a dive. Annette and Gustavo, an IT consultant, soon learned that the house was on the verge of collapse—and it would take them 15 years and two phases of remodeling to transform it from forlorn to fantastic.
Shown: The front porch combines modern furnishings, flea market finds, and colorful hanging planters from Annette's shop.
Area rug: Mad Mats
Doormat: Chilewich
Orange chairs, pots, and plants: Potted
Grass pillows: Firmly Planted
Red striped seat cushion: Pottery Barn
Red lattice pillows: Kmart
Turquoise Pops in the Living Room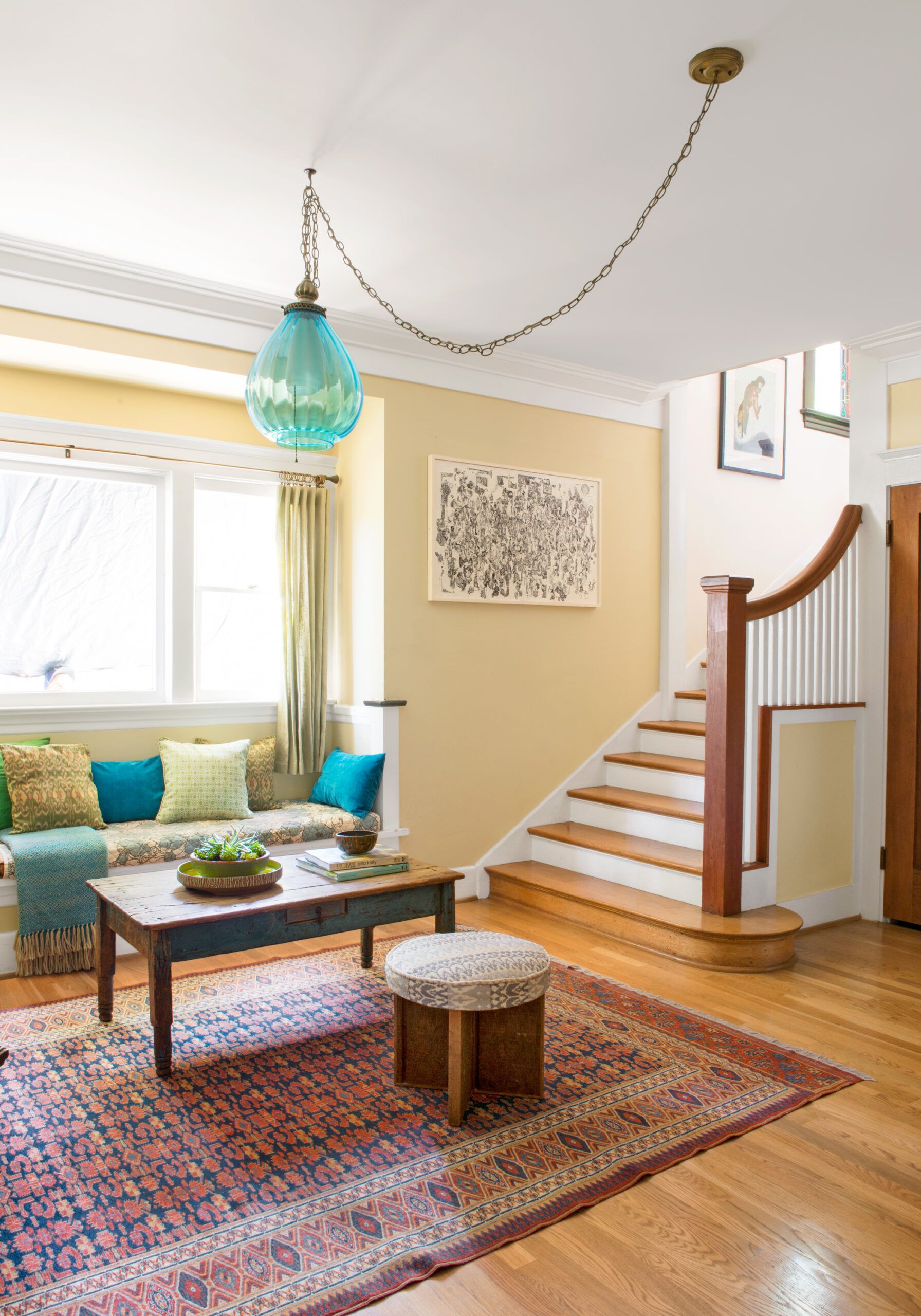 Annette, the daughter of a contractor and now co-owner of Potted, a garden shop in the nearby Los Feliz neighborhood, had no fear of an old house in need of hard work. She'd figured they would fix the bowed floorboards and skewed door frames, then reconfigure the 2,300-square-foot layout. "The original house wasn't badly designed," she says, "but the back of it was a series of old porches that had been enclosed, so it was dark and chopped up." Initially, her plan called for opening up the traditional main floor—formal living, family, and dining rooms—to the cramped rear kitchen and den, so the entire living area would feel like a modern, multifunctional great room. The upstairs, with a master suite and two smaller bedrooms, needed mostly cosmetic fixes. Itching to put her green thumb to work, she got started on planting the lush 4,800-square-foot backyard right away.
Shown: The original wood floors upstairs were saved, but those downstairs are new strip oak.
Paint: Martha Stewart's Squash Blossom
Turquoise pendant: Anthropologie
Original Built-In Intact in the Dining Room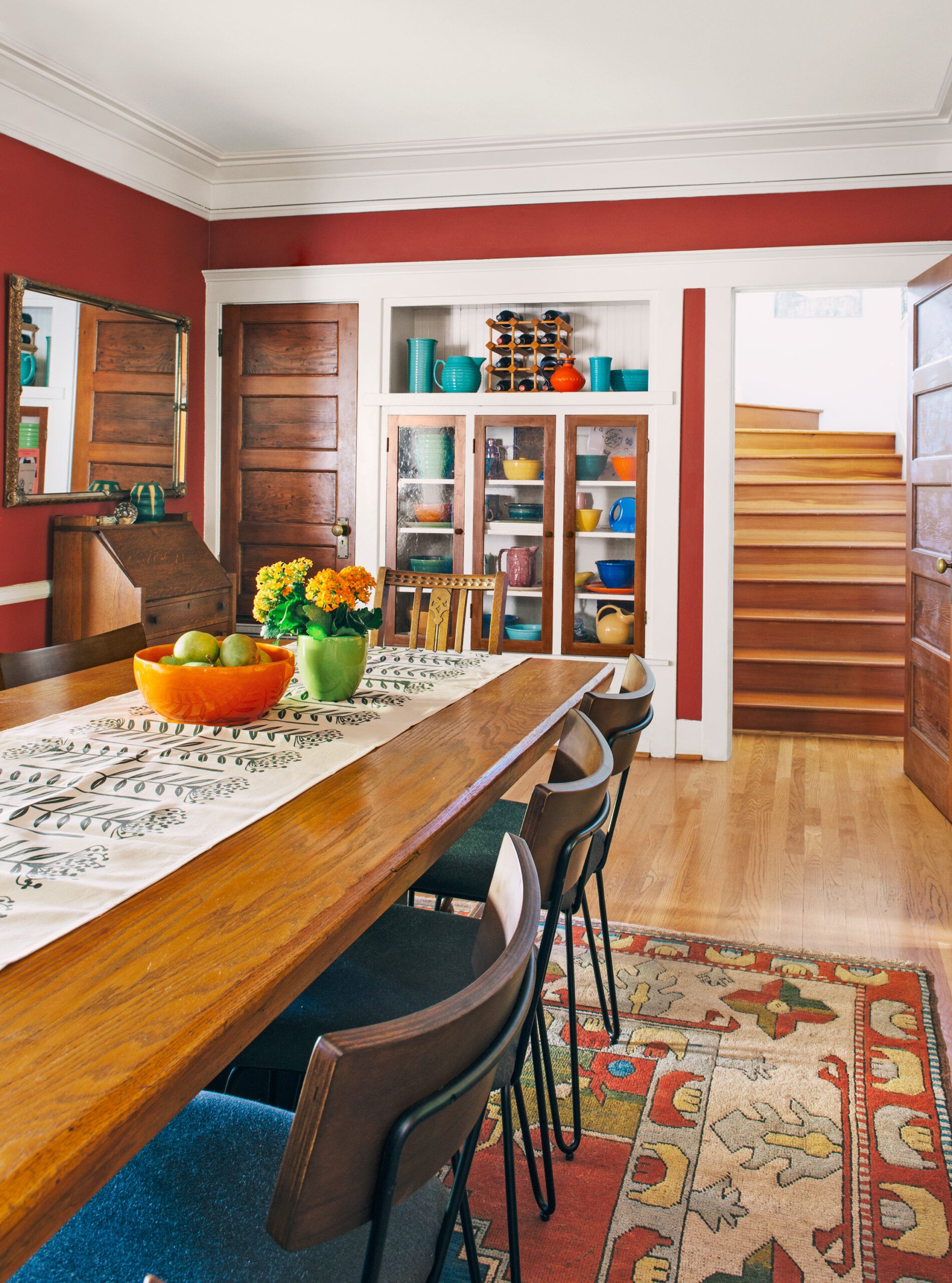 Having drawn up her plans for the ground floor, Annette asked an architect friend, Oscar Morales, to put them on paper. But aesthetic changes would have to wait. "The house was really more of a teardown," Morales says, citing the inadequate foundation and other structural defects.
Shown: An original built-in retains pride of place in the dining room, now painted a rich red.
Charming Checkerboard Kitchen Floor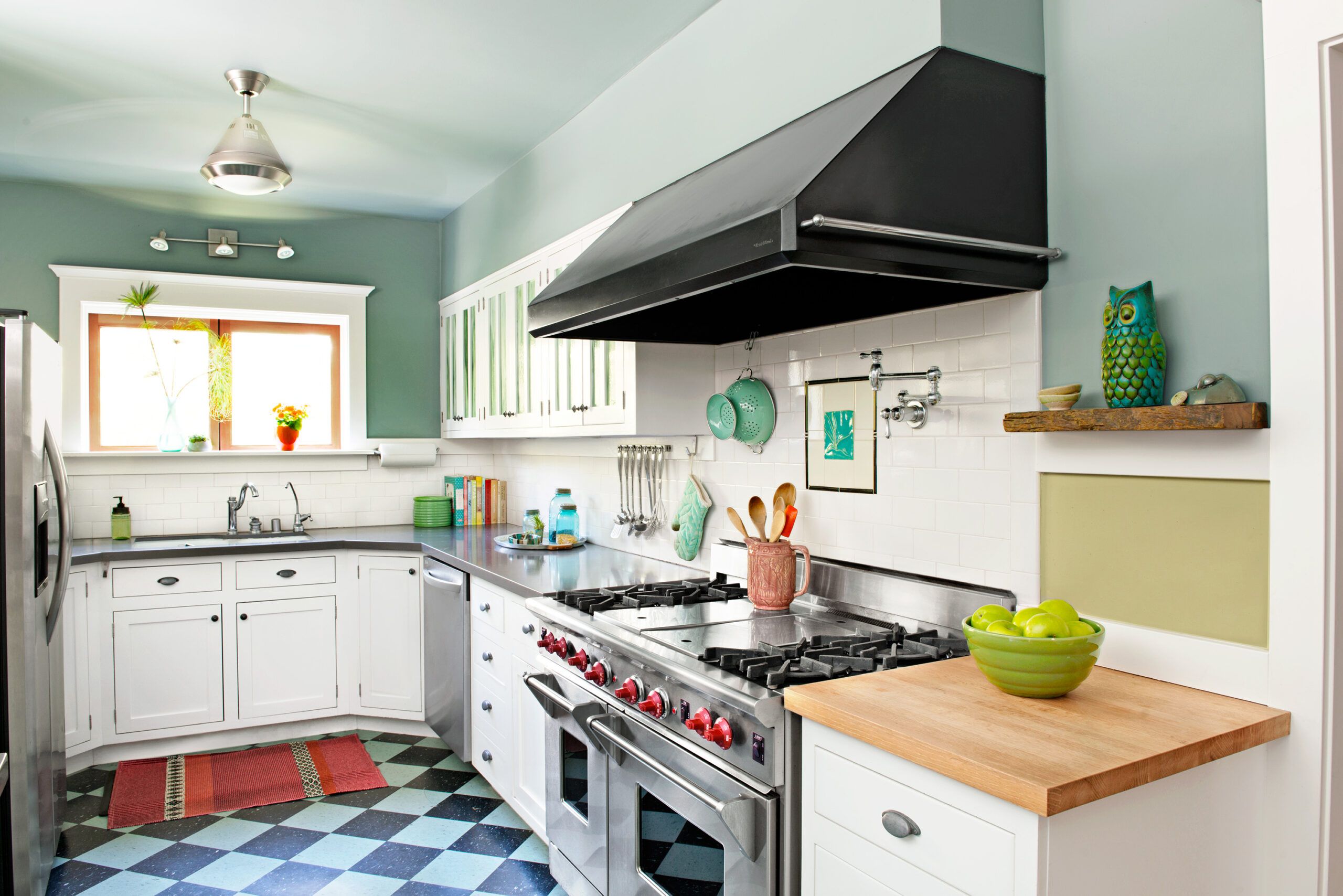 Old building permits revealed that the home's brick-and-concrete foundation wasn't what it should have been. Built with meager redwood mudsills atop quicksand-like soil, the original house had likely had a back porch and at least one upper balcony, both riskily enclosed long ago. "It was never designed to hold two full stories," Annette explains. Then there were the interior issues. Decades prior, when a furnace had been installed on the main level, a few key joists had been severed.
Shown: For the kitchen floor, the couple cut down blue and black linoleum tiles to create a custom checkerboard.
Range: Sub-Zero and Wolf
Hood: Vent-A-Hood
Refrigerator: Frigidaire
Dishwasher: LG
Sink and faucets: Kohler
Countertops: Caesarstone
Light fixtures and ceiling fan light: Lamps Plus
Two-Tone Paint Treatment for Kitchen Walls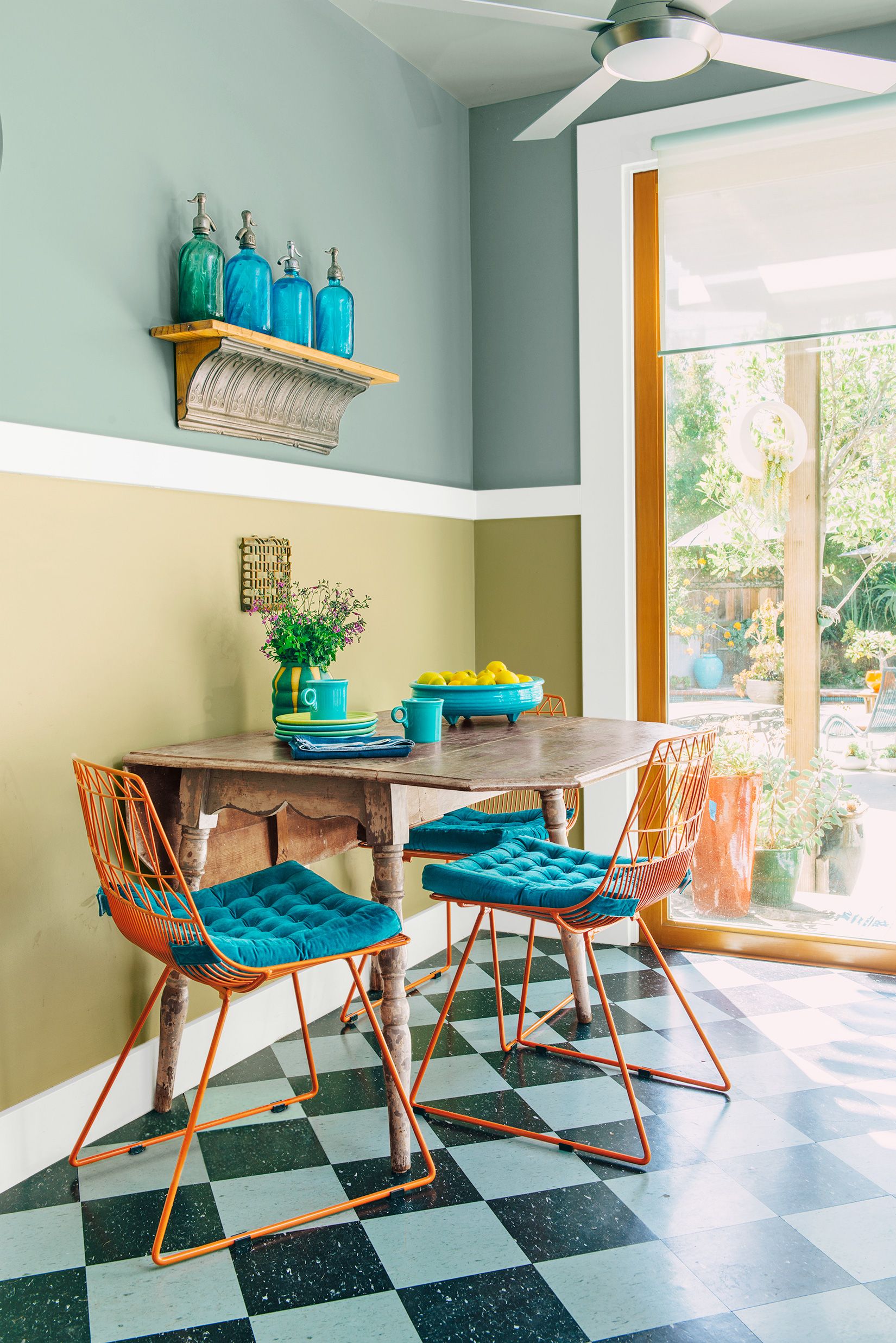 "Frankly, I thought the house was hopeless," says Jeff Board, the contractor hired for the renovation's first phase. "But I had worked on Annette's previous house—she can turn things into gold." So he agreed to give straightening the structure his best shot.
Shown: Walls washed in gray-blue and khaki green add more soft color, set off by white cabinets and trim.
Paint: Martha Stewart's Artemisia (upper walls) and Luminaria (lower walls)
Orange chairs: Potted
Seating Variety in the Kitchen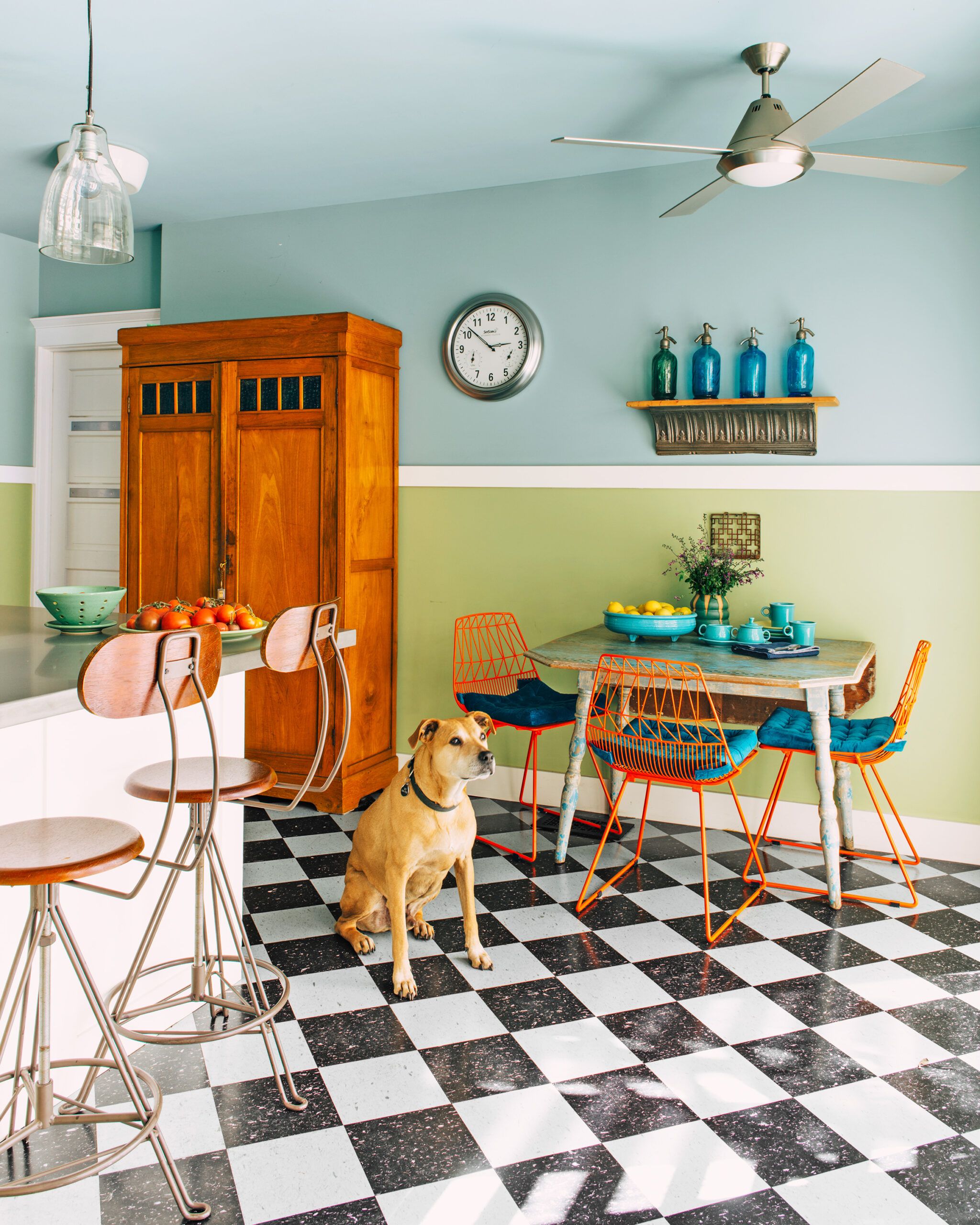 Using a series of bottle jacks, Board's team raised the original portion of the house by about 4 inches and went to work. The danger in a house this old, he says, is unreinforced masonry. So his crew replaced the crumbling foundation to meet California's earthquake code, fortifying the new poured concrete with steel rebar and deep footings. Then they repaired the joists and set the house back down, adding a new set of concrete piers for support.
Shown: The new kitchen annexed a separate breakfast room, so barstools at the peninsula and a small table with chairs still allow for sit-down meals.
Wall clock: SkyScan Atomic Clocks
Indoor/Outdoor Dining Space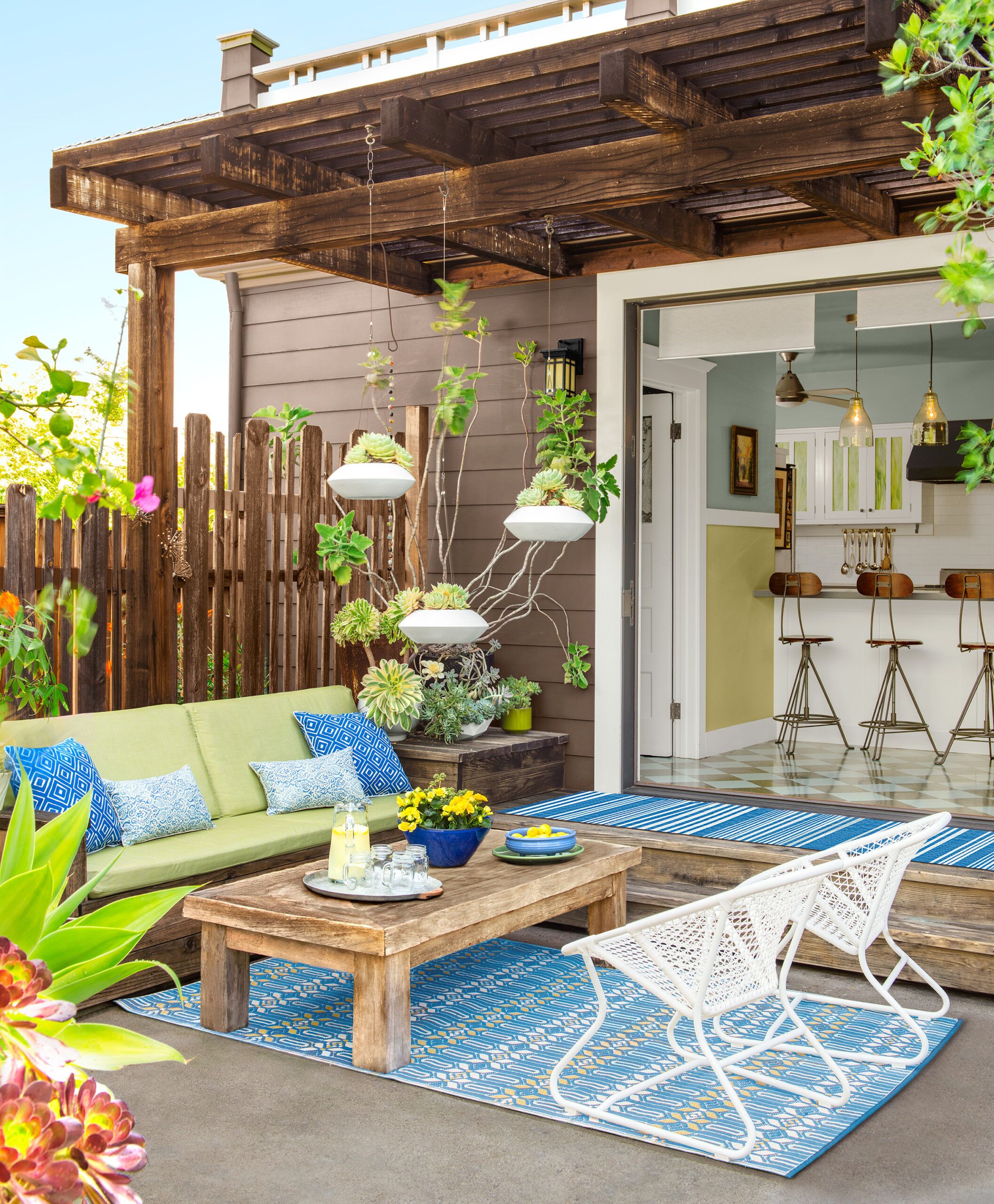 The shoring up was successful, but the aftermath was ugly. As the house straightened, the interior plaster walls buckled and cracked. The foundation could now survive a major tremor, but the inside of the home was badly shaken.
Shown: A wall of folding glass-panel doors opens the kitchen to a step-down patio for seamless indoor-outdoor living.
Sofa cushion fabric: Sunbrella
Blue pillows: Jiti Home
Small rug: Dash & Albert
Large rug: Mad Mats
White chairs, pots, and plants: Potted Store
Master Bedroom with a View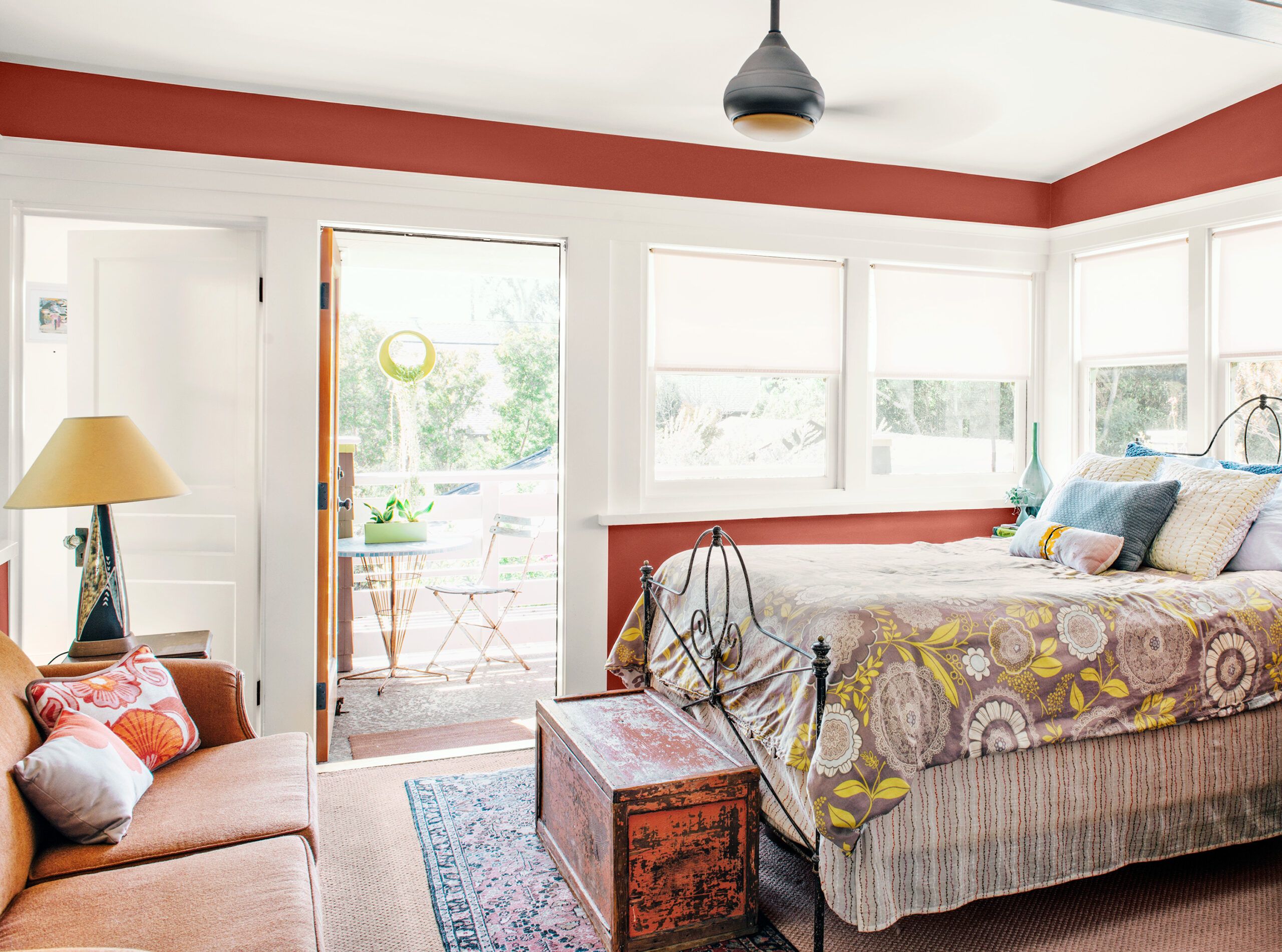 All the destruction did yield some finds. Masses of mortared brick, salvaged from the old foundation, were kept to use for garden pathways. Other saves included some existing floors and most of the doors, many of which had been pierced with multiple dead bolts—once security for students, now a cosmetic challenge for the crew. "We cut plugs from one door, plugged them into the holes, and blended them in with wood patch and lots of sanding," Annette says.
Shown: Annette's favorite place to unwind after a long day is the master bedroom deck, which affords a welcome view of the famed HOLLYWOOD sign.
Paint (walls): Benjamin Moore's Copper Clay
Bedding: Bed Bath & Beyond
Pendant: Lamps Plus
Salvaged Sink as Bath Centerpiece
The time-intensive door project took a toll on the budget, however. Halfway into the four-month redo, Annette says, she spent a day sobbing in an upstairs bathroom. She had straight walls, reasonably level floors, and a new roof over her head. The crew had installed ductless HVAC upstairs and down. She needed a renovation reprieve.
Shown: A salvaged jade-green pedestal sink was the inspiration for the newly enlarged master bath, which also features one of the couple's DIY linoleum floors.
New Deck off the Master Suite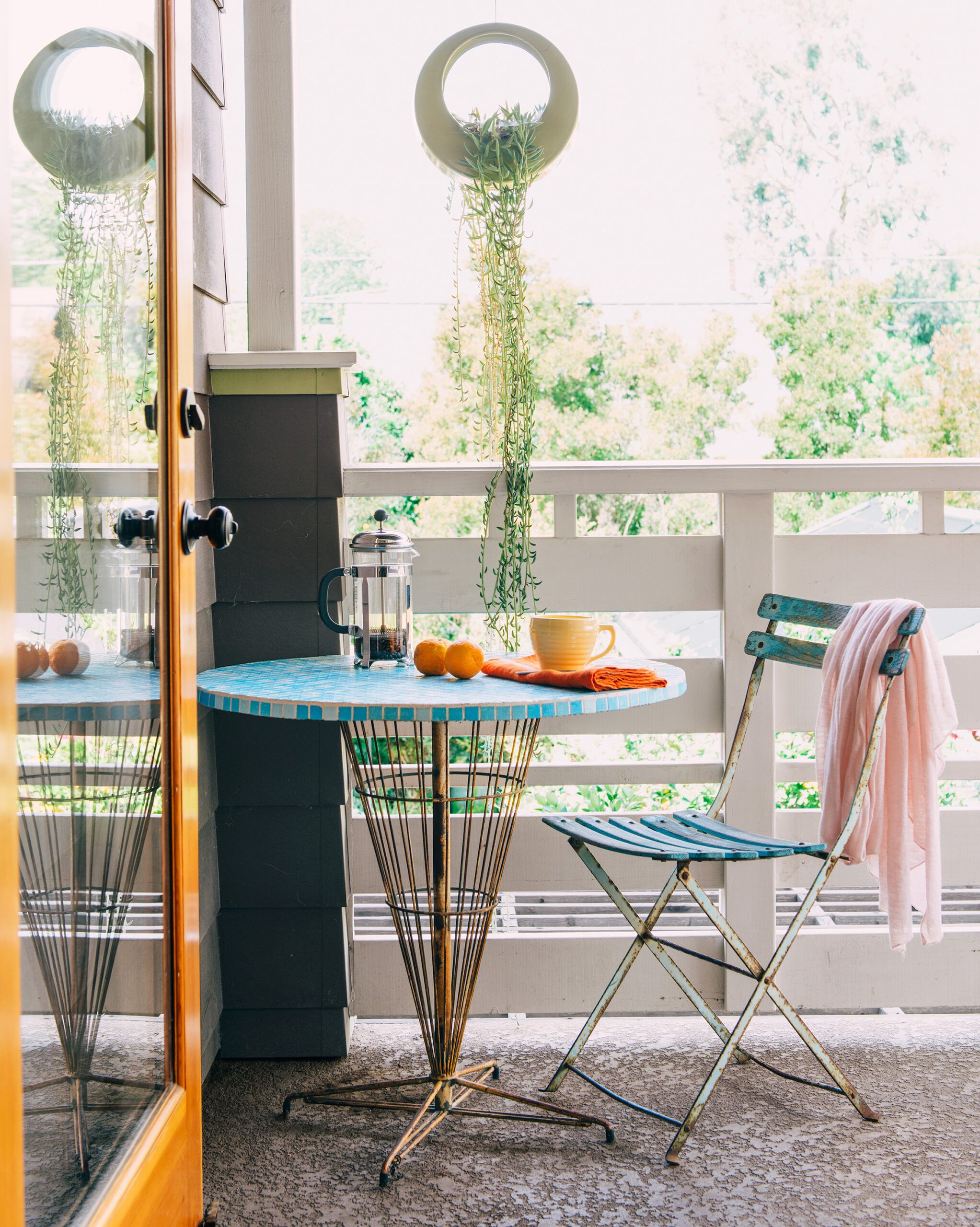 The break lasted eight years, save for her continuing work in the garden.
By the time Annette was ready to press on with rejiggering the interior, things looked different in the Gutierrez household. Gustavo's two older kids, who had often visited in earlier years, were out on their own, and the couple's daughter, Lola, was now 18 and heading to college. Instead of reconfiguring the whole ground floor, which Annette had painted, furnished, and ended up quite pleased with, she decided to leave it and focus on remodeling the house's chopped-up back side. Her priority: the kitchen.
Shown: The small first-floor expansion allowed for a new deck upstairs, off the master bedroom. It got a modern horizontal-slat railing.
Gracious Concrete Patio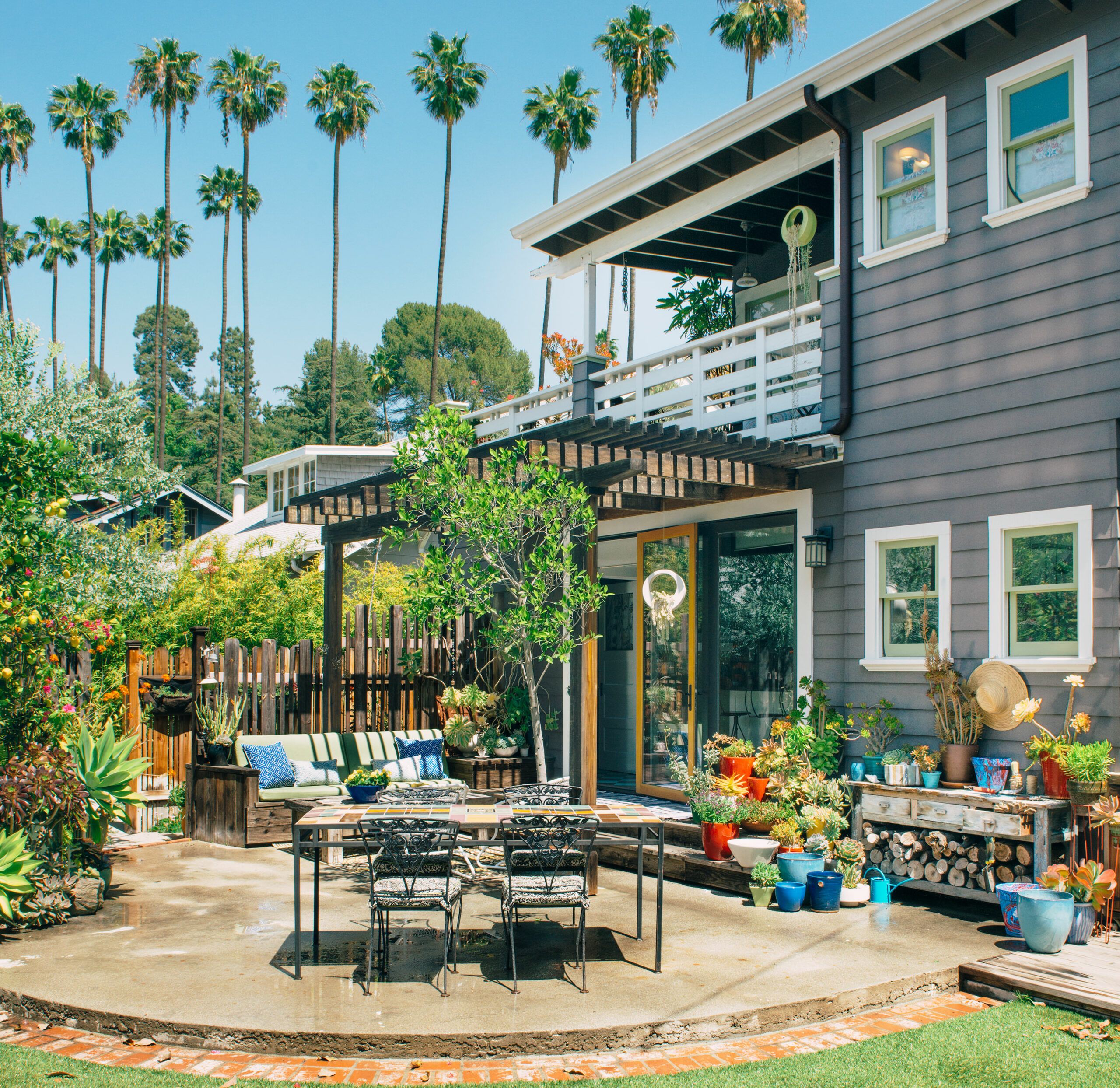 She'd already decided to combine it with the adjacent breakfast nook and laundry room. But it soon occurred to her that she could do even better. She would create her long-wanted great room and cleverly link the house's interior to the outside by literally opening the kitchen—cutting out its back wall and making a living space that spilled into the backyard. "I'd seen modern houses with a great indoor-outdoor feeling," she says, "and I wanted that."
Shown: The curved concrete patio off the kitchen features a lounge area, a dining table, and a potting bench flanked by masses of containers.
House-Hugging Container Garden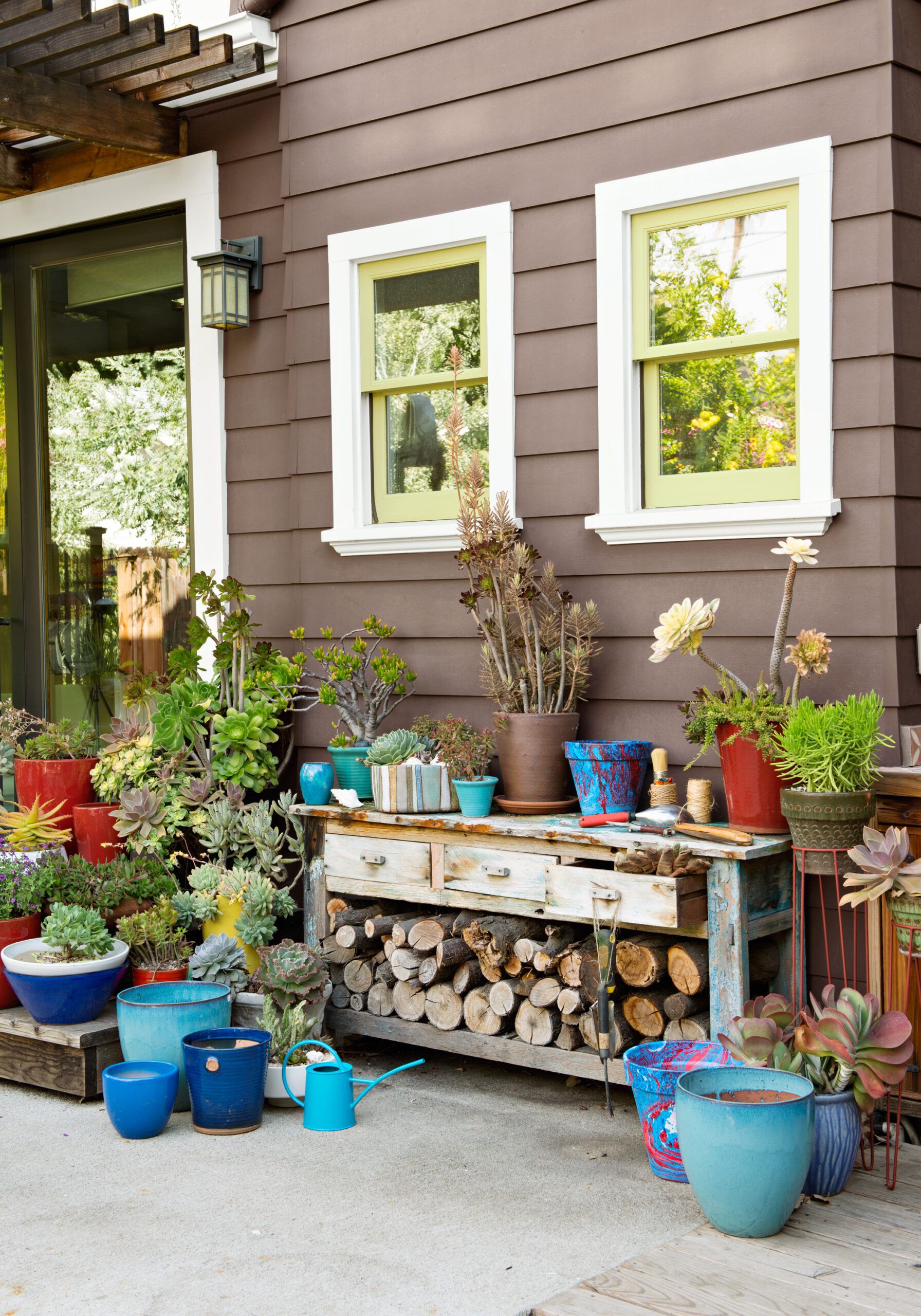 Ready for phase two, the homeowners demolished the old kitchen and ripped the breakfast area and laundry room down to the dirt. Bumping out a sidewall to add a minimal 80 square feet, they shifted the laundry to enlarge the kitchen. The existing spaces had been created by enclosing old porches, so of course, more foundation work ensued. "We had to dig down three feet to reach bedrock in order to stabilize the expansion," says James Orvis, the general contractor who oversaw the work. Finally, they swapped out the kitchen's rear wall for a 10-foot stretch of bifold glass-panel doors. These open to an exterior living room with a pergola-style slatted-wood roof and low "walls" made of fencing. A sleek sofa is built into the step-down patio. The house not only brightened-now it could breathe, too.
Shown: The container garden continues out back.
California-Cool Backyard Amenities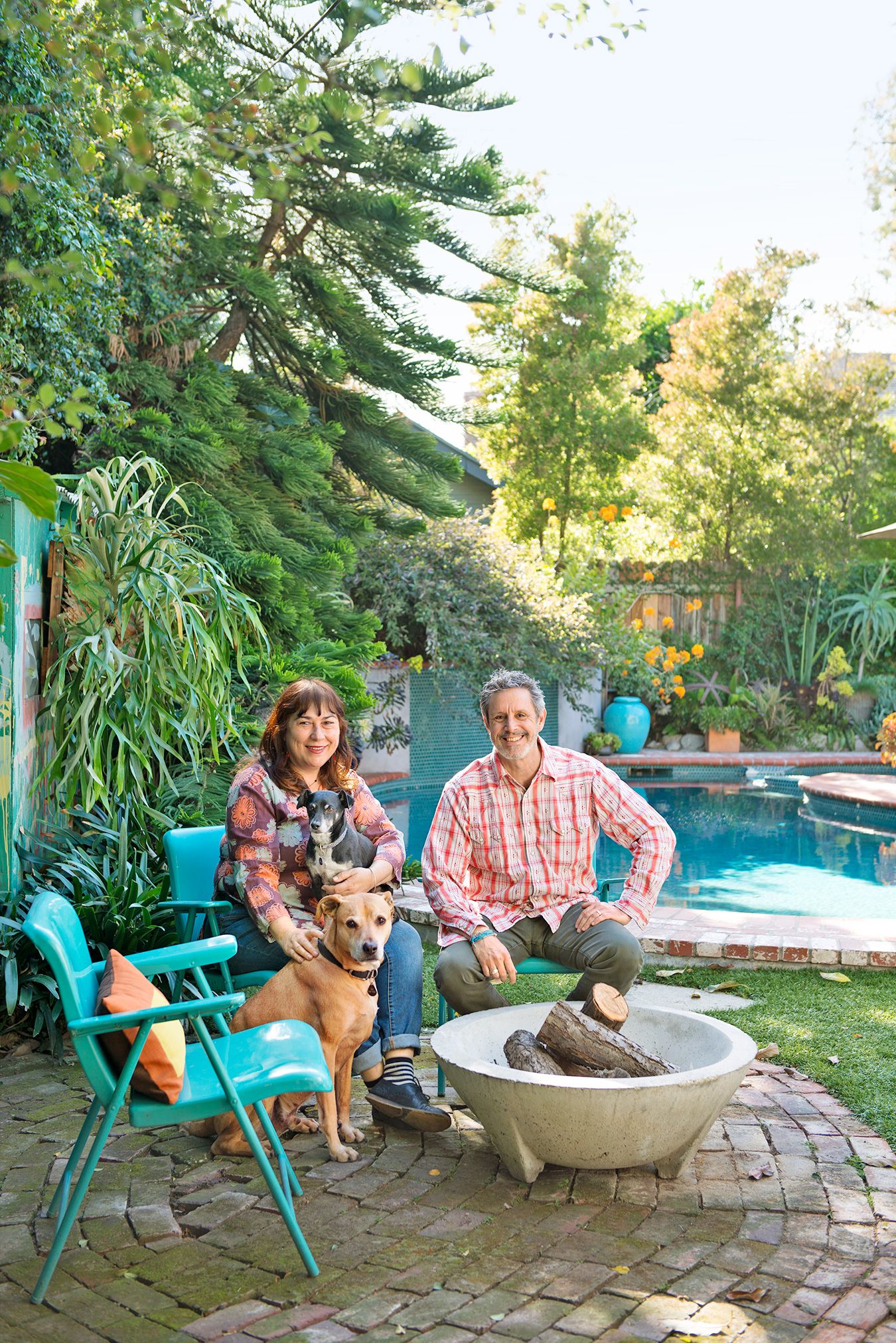 The new kitchen centers around a peninsula that serves as a prep area for the cook—Gustavo—as well as a buffet counter, leaving a thoroughfare for the dogs and grandkids who traipse through.
Shown: Backyard perks include a fire pit and a pool with a tiled outdoor shower nearby. "It's the only one we use in the summer," says Annette, seen here with husband Gustavo and their dogs Amos and Marley. Bricks salvaged from the foundation were repurposed for garden paths and this fire-pit patio.
Colorful Outdoor Shower by the Pool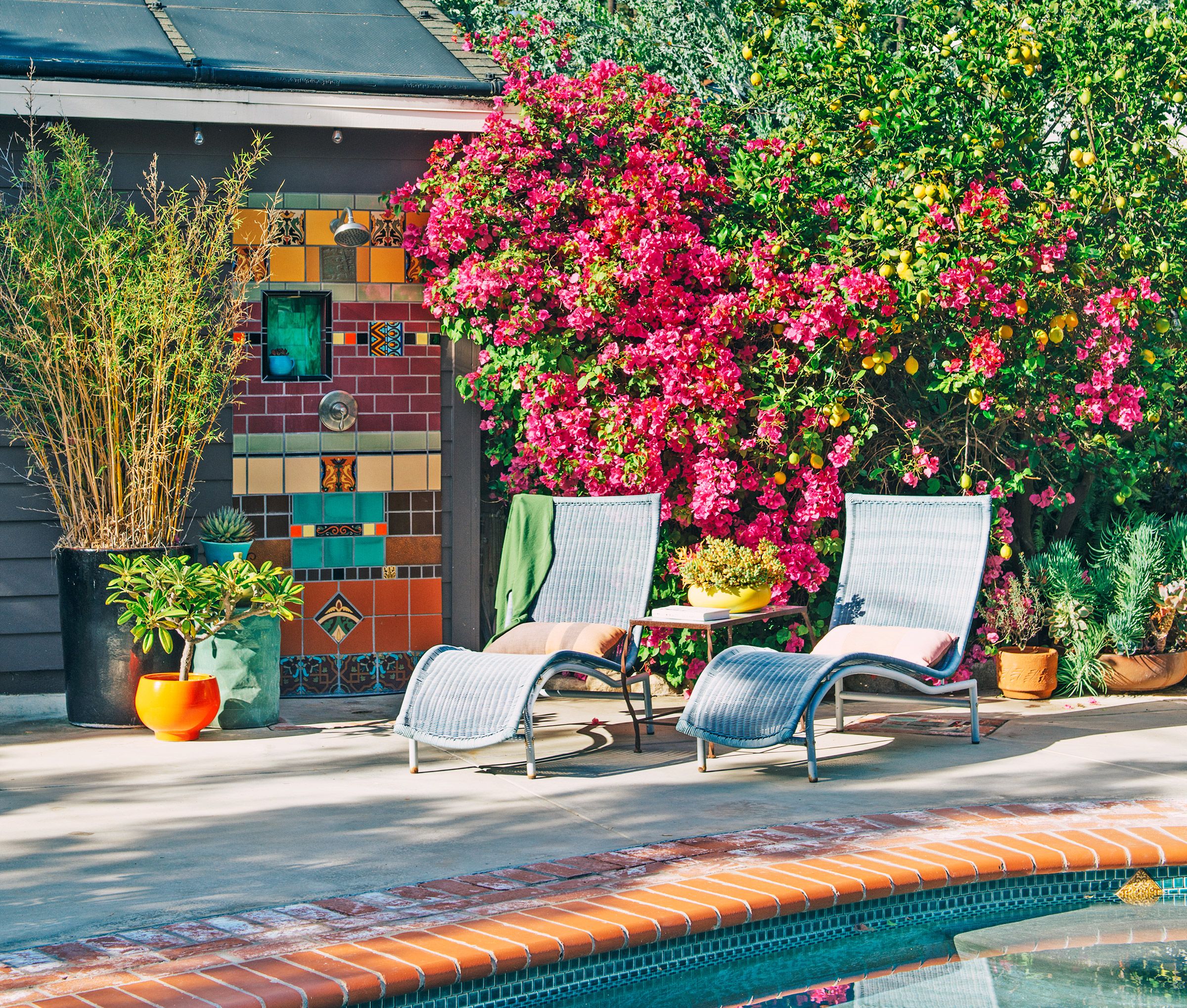 Expanding the kitchen brought space and light upstairs, as well. When the laundry room bumpout allowed for a wraparound second-story deck, the homeowners delighted in the spot to enjoy their view of the HOLLYWOOD sign. The sun's rays flow into the adjacent master bedroom and bath.
Shown: With an eye-catching display of colorful tile, the outdoor shower serves as a poolside mural.
Outdoor Shower Detail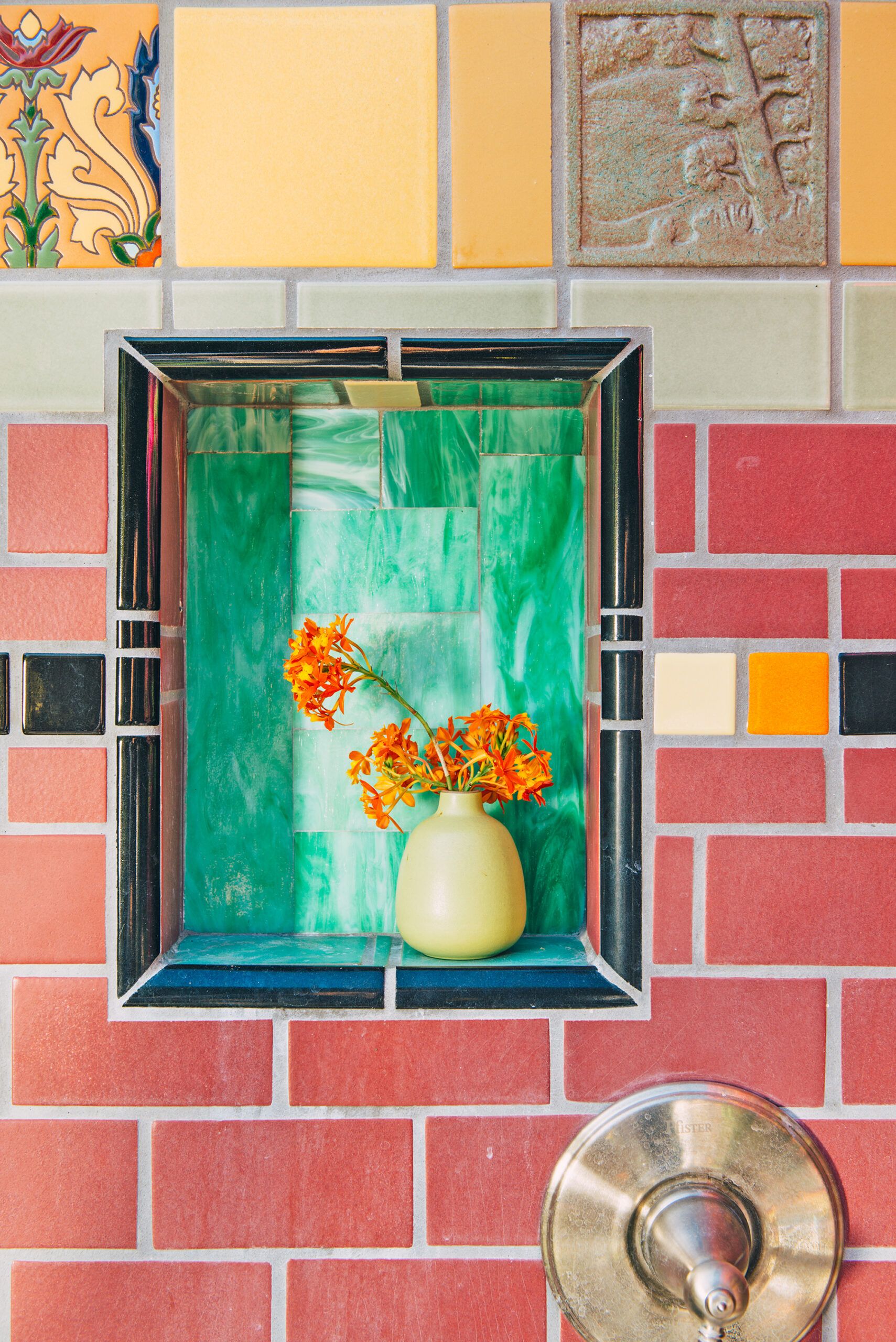 Outside, gray-brown paint marries the old wood clapboards with sections of new fiber-cement siding, and a new redwood gate hangs in place of the old one, swinging straight on its hinges—even if the house still has a certain sway. Put a marble on any of the floors, Annette says, and it will roll. But that's part of the funky old classic's charm.
Shown: A colorful detail from the outdoor shower.
Charming Garden Space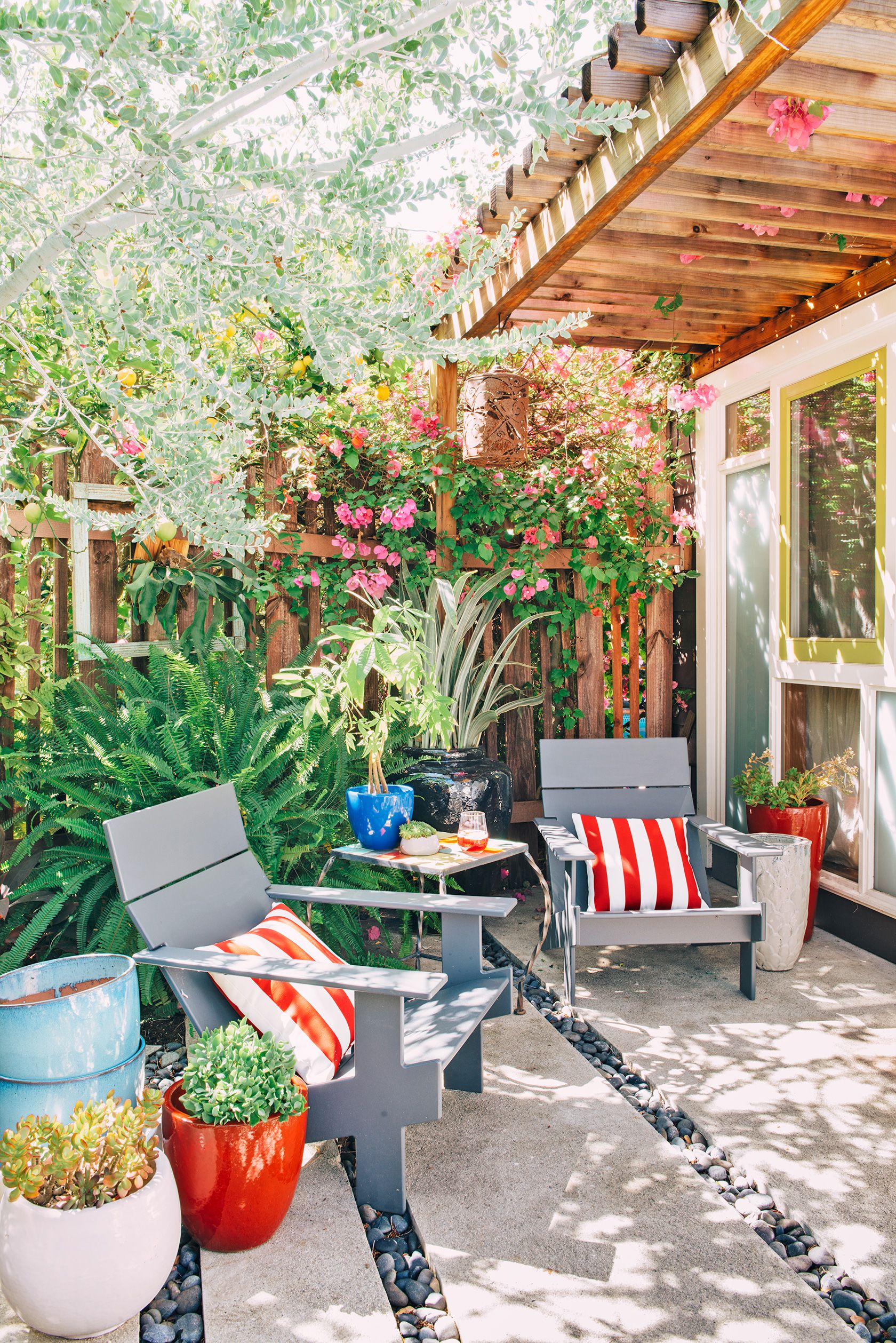 "When you take on an old house," she adds with a laugh, "it's good not to be a perfectionist."
Shown: Colorful planters from Annette's store, Potted, and peppy pillows from Kmart add style to a tiny garden area out back. Wide bands of concrete with Mexican beach stones in between form a handsome patio surface.
Adirondack chairs: Loll Designs
Floor Plan: First Floor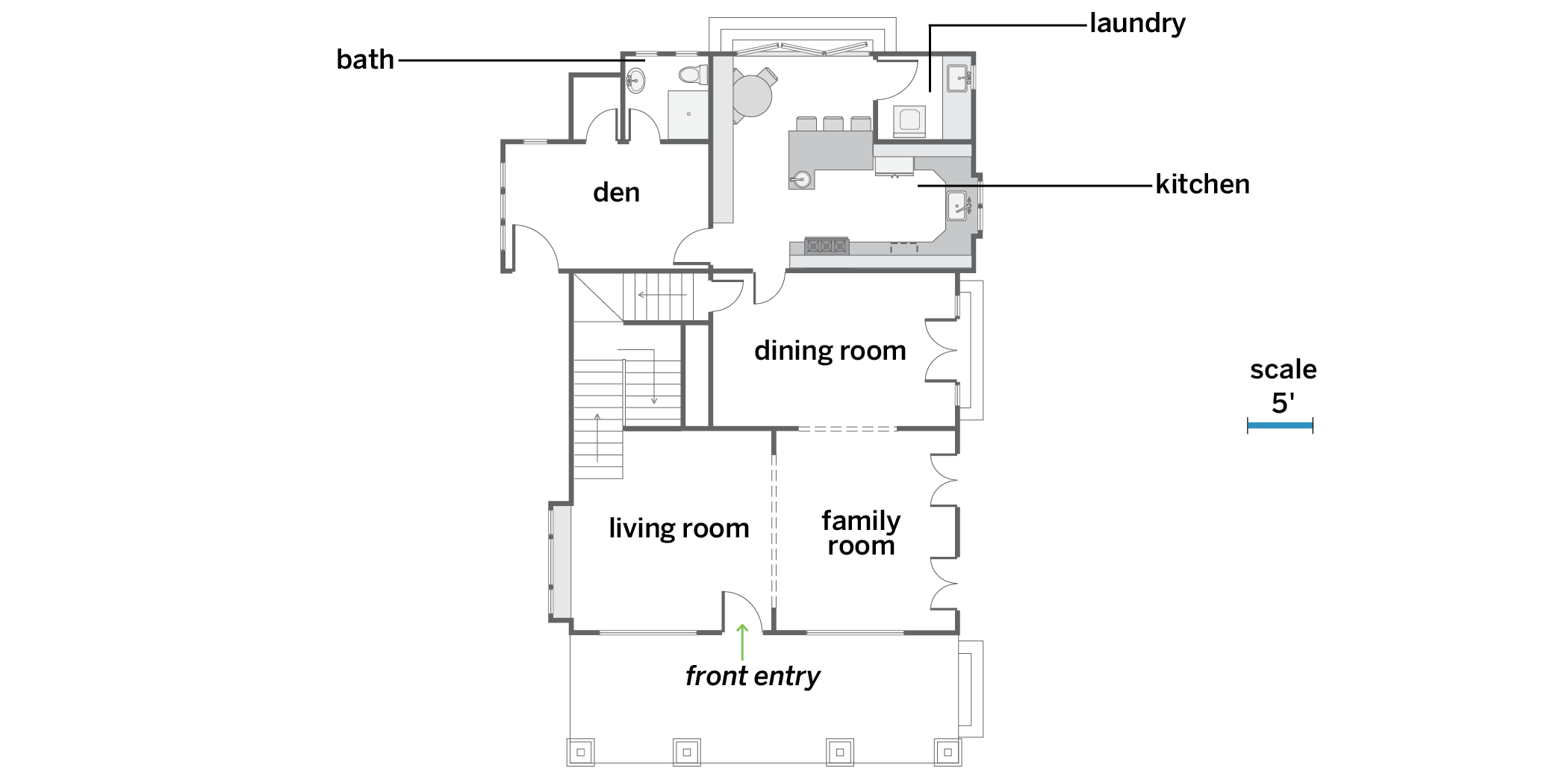 A bumpout holds the laundry so the kitchen could grow and open onto a patio.
Floor Plan: Second Floor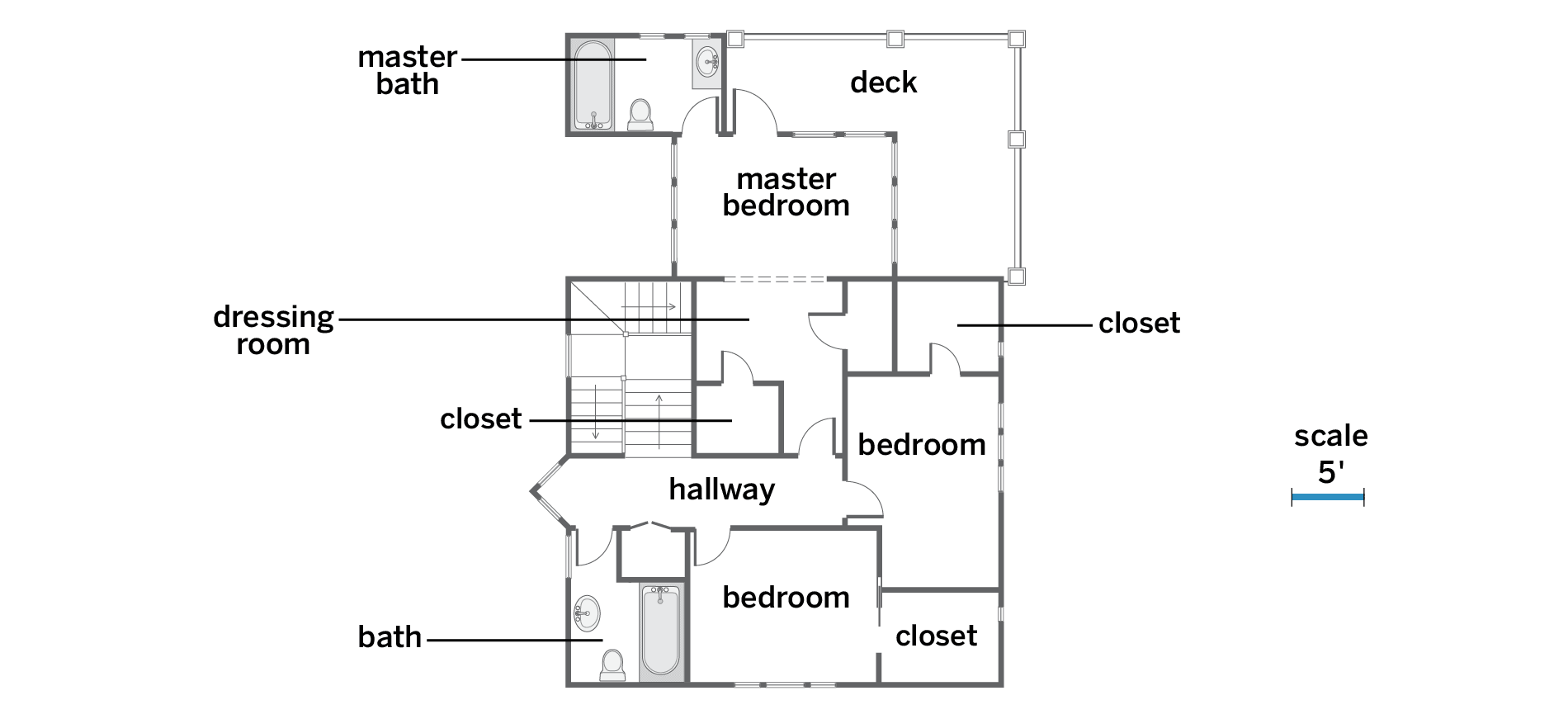 In the master suite, the bath gained 4 feet, and a new deck wraps the bedroom.