Heirloom in the Making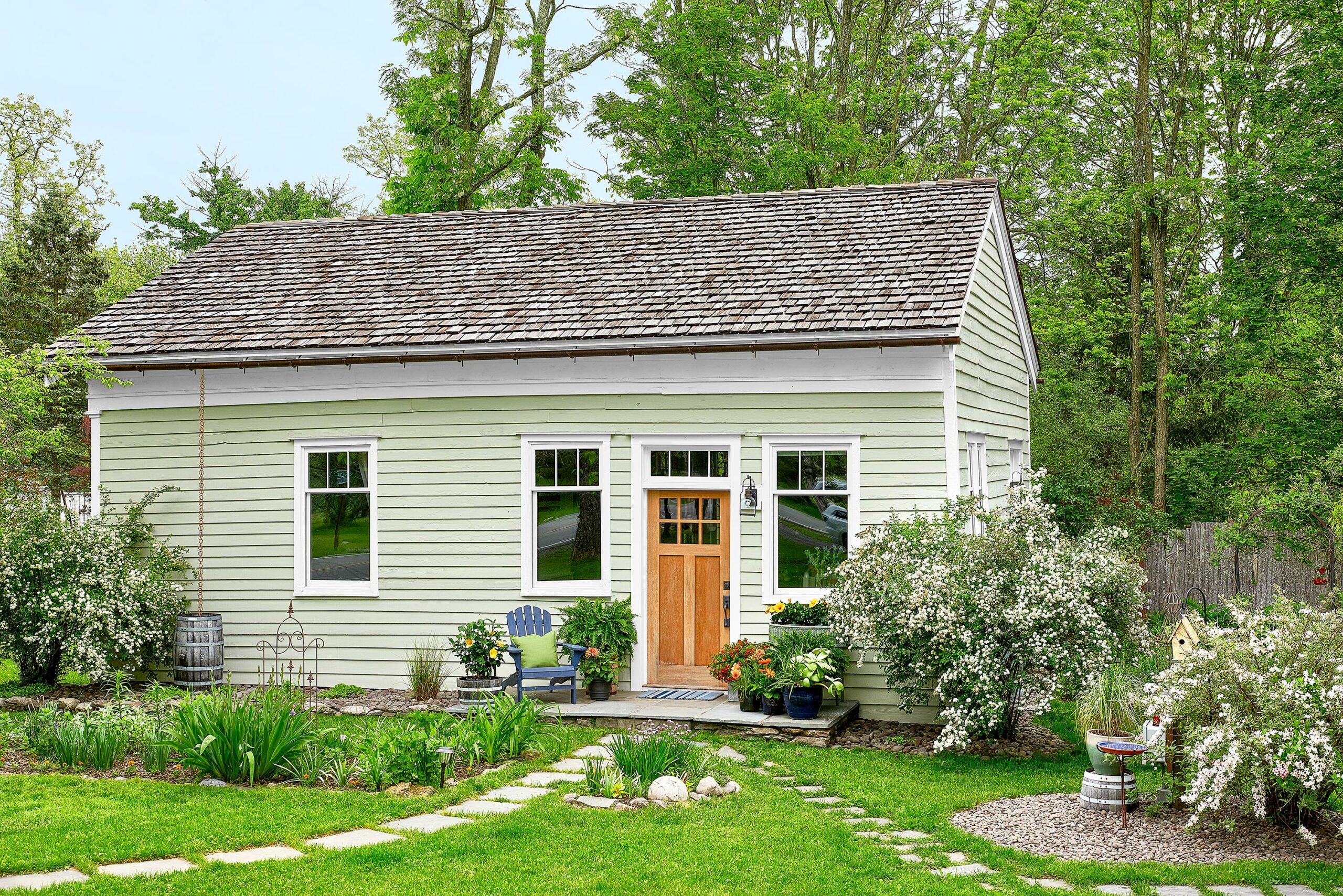 In the evenings after work and on weekends, from daybreak till well past dark, the little house latched onto Annette and Richard Andradez, nurturing their dueling passions: creating something new and honoring their town's history. Over the course of three years, Richard rebuilt and Annette redesigned the 704-square-foot cottage, an 1838 former schoolhouse in New Paltz, New York, repurposing original materials and giving it a modern aesthetic that suits its current inhabitant, the couple's 23-year-old daughter.
Shown: Richard closed up the original opening, on the left, where the master bedroom now sits, and put in a new door with a transom on the right, where a second entry had been added long ago.
Paint (exterior): Benjamin Moore's Soft Fern
Front Door: The Door Jamb
Roof: Williams Lumber & Home Centers
Windows: Jeld-Wen
Blue stone walkway and entry: Federal Block
Schoolhouse Circa 1838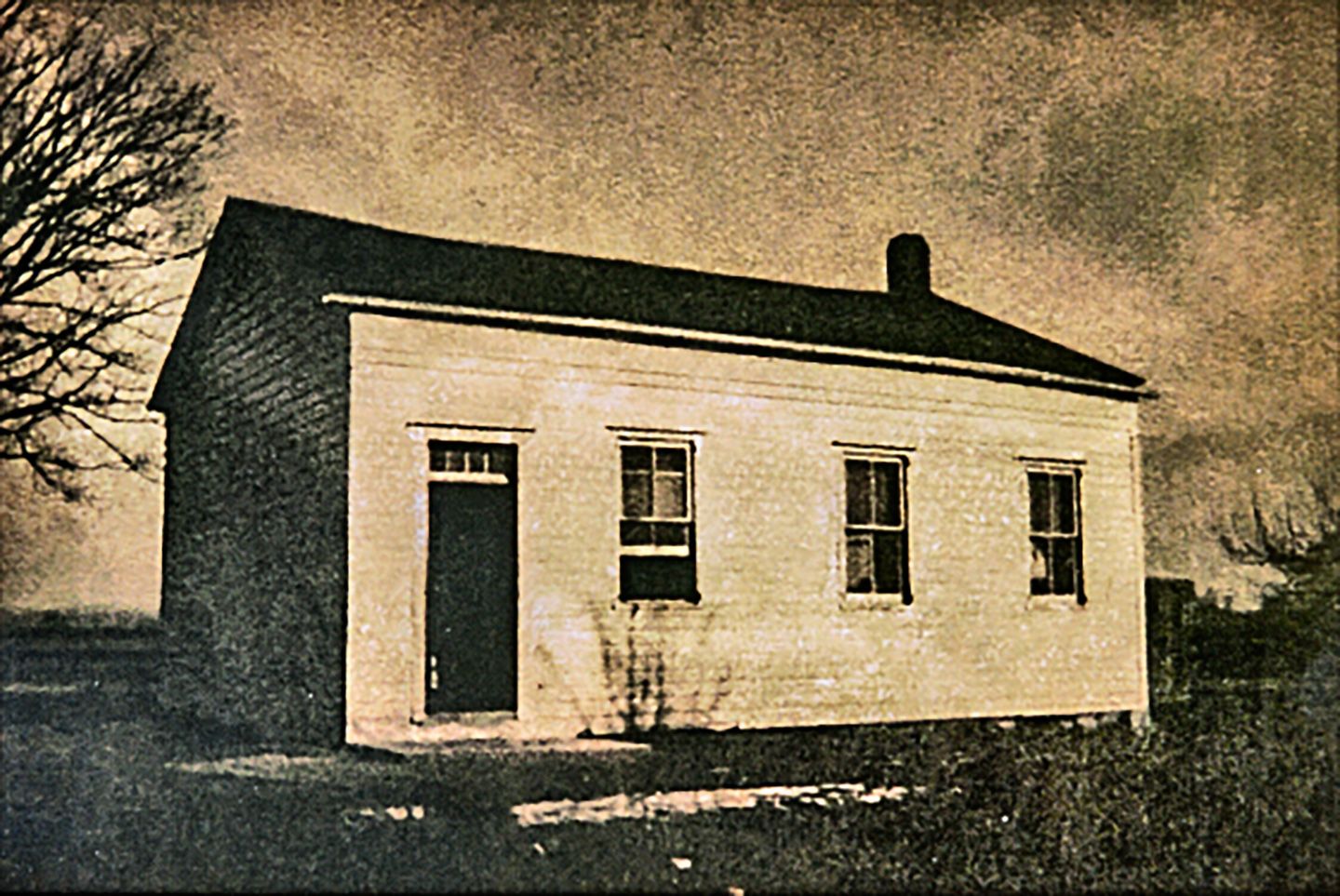 "To live in a house that my dad built, I feel really honored, and proud," says Jessica Andradez, a recent college graduate who works in nearby Rhinebeck.
Richard, a construction professional for nearly 40 years who had shifted into management roles, missed working with his hands. Annette, a registered nurse, had always had an eye for design. So the couple, who met 41 years ago at New Paltz High School, set about looking for a project where they could join forces. They first hunted for property upstate, but when the schoolhouse hit the market, a sense of history—their own and their hometown's—drew them in. A few months later, it was theirs.
Shown: A vintage photo of the original one-room schoolhouse, which was built in 1838.
Mother and Daughter at Breakfast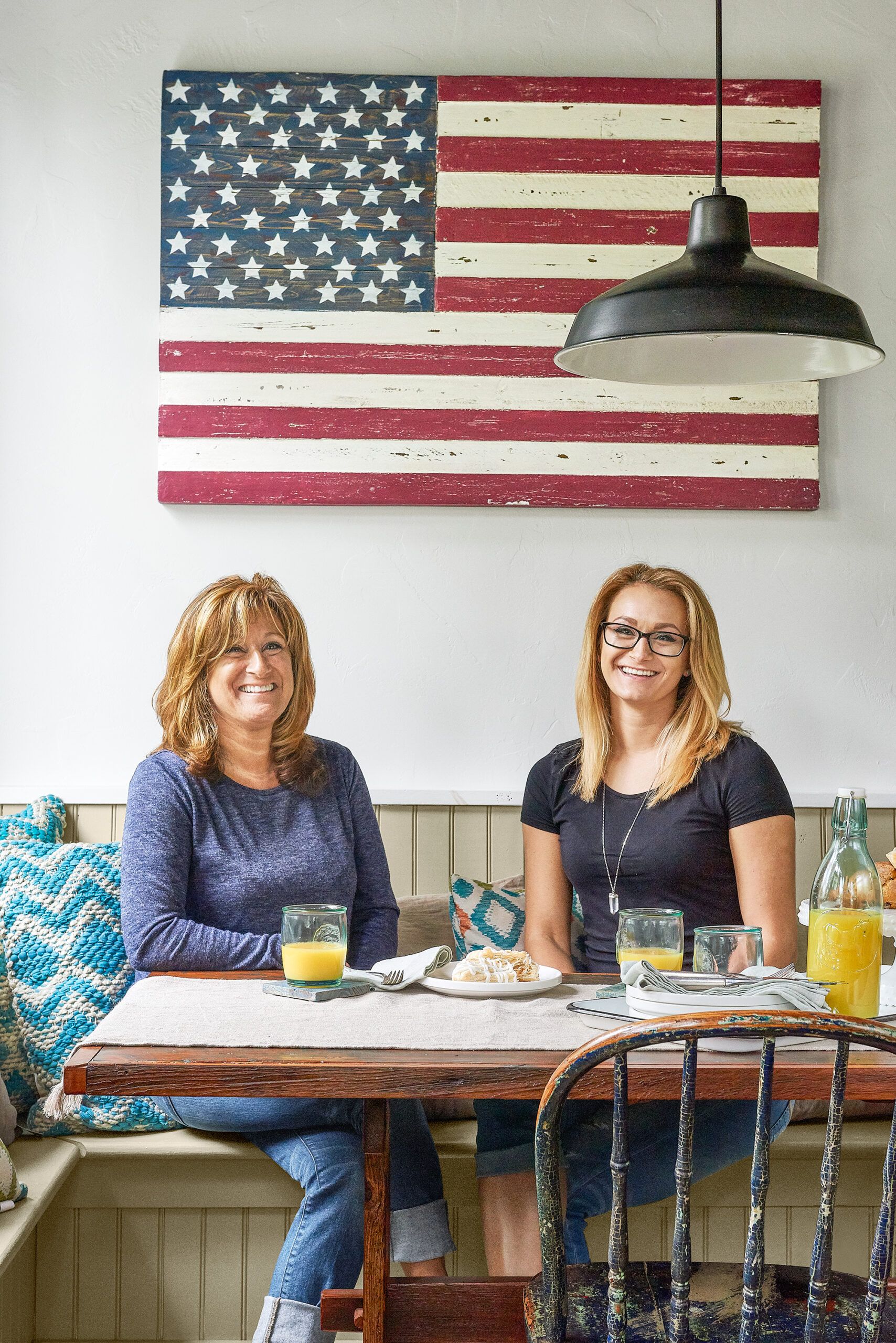 Though the house had been lived in prior to their purchase, it was in bad shape, with a front wall that bowed out 8 inches, for starters. All the systems needed upgrading. The interior was cramped and dark. To create the refined yet comfortable jewel box that they imagined, reusing as many original materials as possible, they would need to gut the place.
Shown: Annette and Jessica Andradez at the dining-area banquette.
Repurposed Beam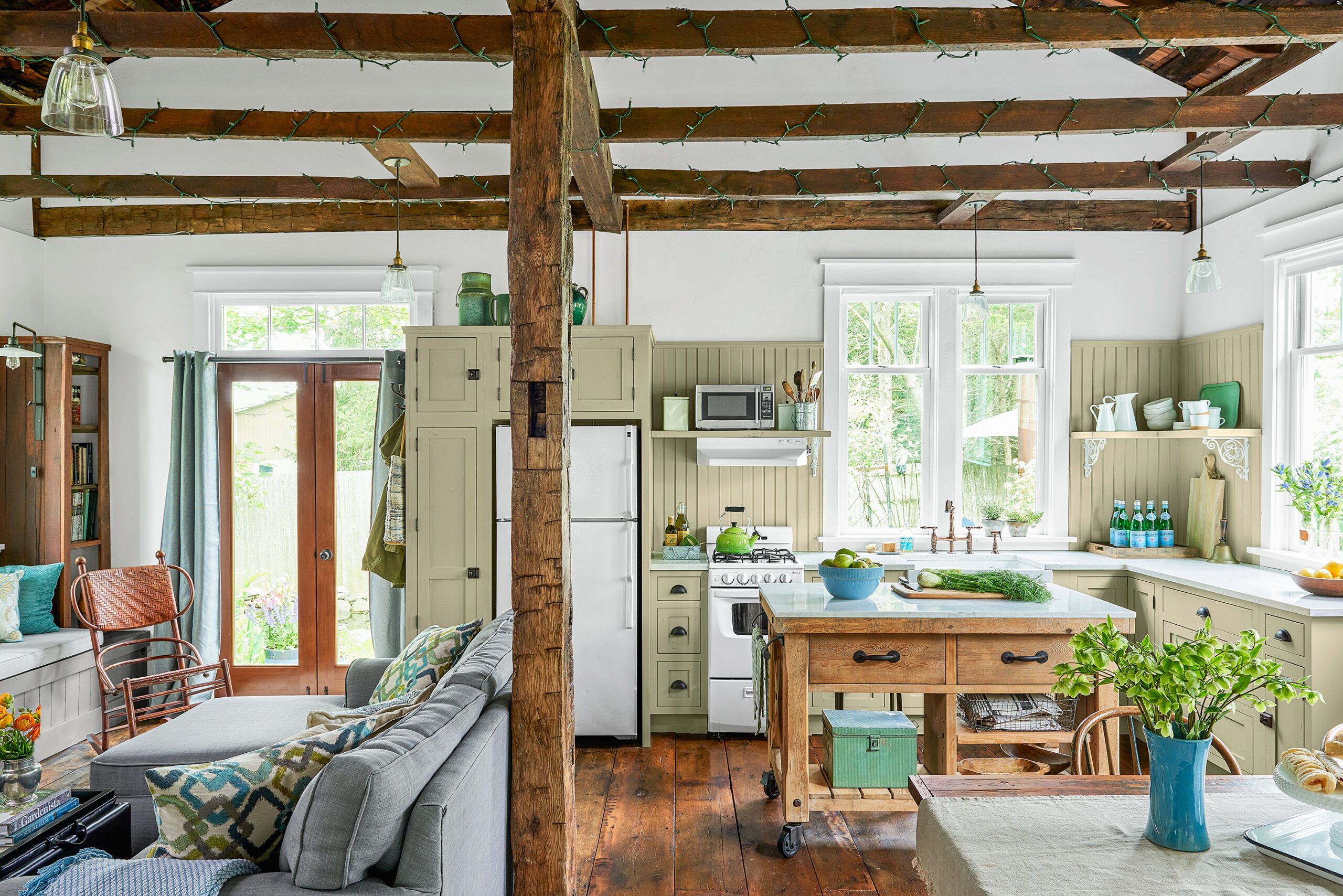 "As soon as we saw it, we had a grand plan for what we wanted to do, and I knew that we could do it," says Annette, who would commute an hour and 20 minutes to the house each night after work.
"And I knew exactly what we were in for," says Richard, who had renovated plenty of old houses. "The first year, it was all structural."
Shown: Richard Andradez repurposed a foundation beam as a center post in the open living space. He also added French doors and restored the sink-window openings to their original, larger size.
Paint: Sherwin-Williams's Snowbound (cabinets, beadboard)
Windows: Jeld-Wen
Pendant Lighting: Restoration Hardware
Drawer pulls: MyKnobs.com
Island: Pottery Barn (no longer available)
Refrigerator: Frigidaire
Banquette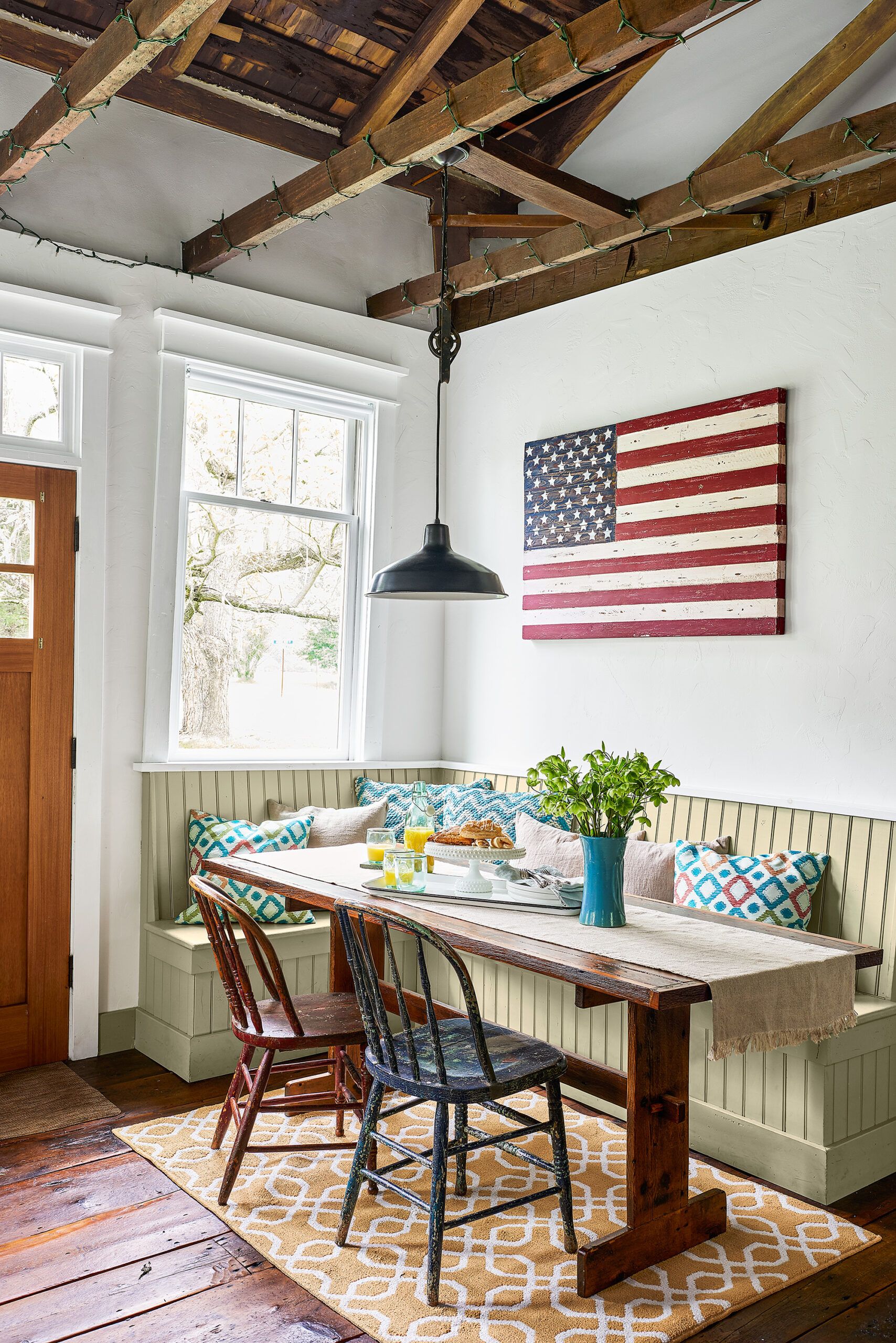 That meant addressing the foundation first. With interior walls demolished, flooring pried up, and exterior walls supported, he exposed the pioneer-style assembly of perimeter beams supported every few feet and at the corners by stacked-stone piers, with a main beam, or girder, running across the center between the gable ends. Working alone or with his friend George Borrello, Richard dug out around the beams by hand to insert hydraulic jacks to lift them so he could rebuild the piers one by one.
Shown: Richard built the dining area banquette to maximize space in the small house. He reused an old bedroom door for the tabletop.
Paint: Sherwin-Williams's Svelte Sage (banquette)
Smile, It's a Fireplace!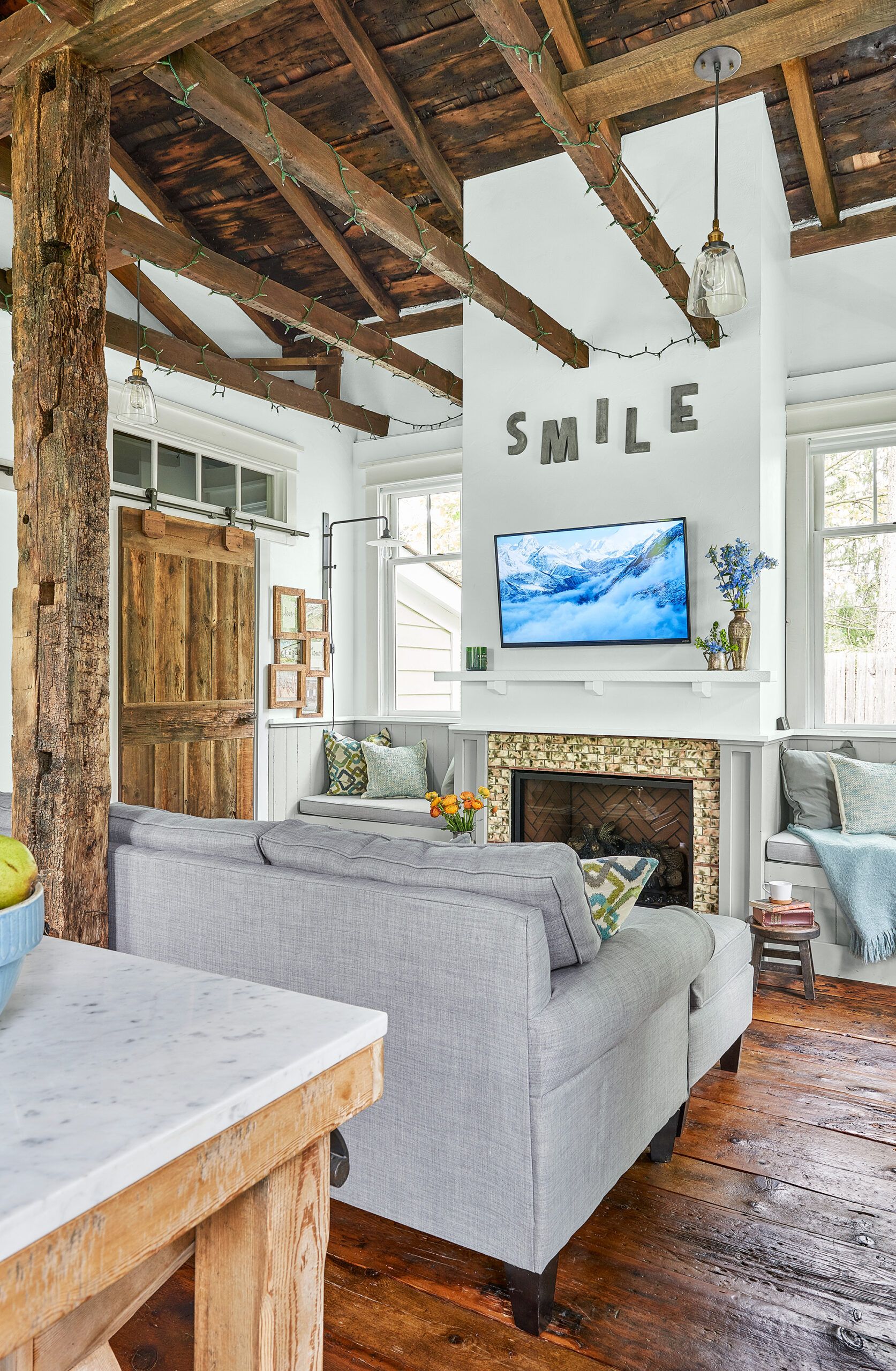 On the wall that runs along what is now the two bedrooms, the foundation beam had rotted and had to be replaced. The front foundation beam had fallen off its piers, causing the wall to bow. To straighten it, he drilled several holes in the front and back foundation beams, inserted ½-inch threaded steel rods, and secured them with large steel-plate washers and nuts on their outer faces. By methodically tightening the nuts, Richard was able to pull the front beam back in place and straighten the wall. Then he jacked it up to rebuild the piers underneath. He also added a few new ones—pressure-treated posts set in concrete—to support the girder, then filled the field with shale and sand, and covered it with 5-mil plastic sheeting to keep moisture at bay.
Shown: Richard built the gas-insert fireplace, as well as the storage benches that flank it.
Paint: Benjamin Moore's Coventry Gray (built-ins)
Fireplace insert: Northstar Energy Systems
Wall sconces: Restoration Hardware
Jessica's Bedroom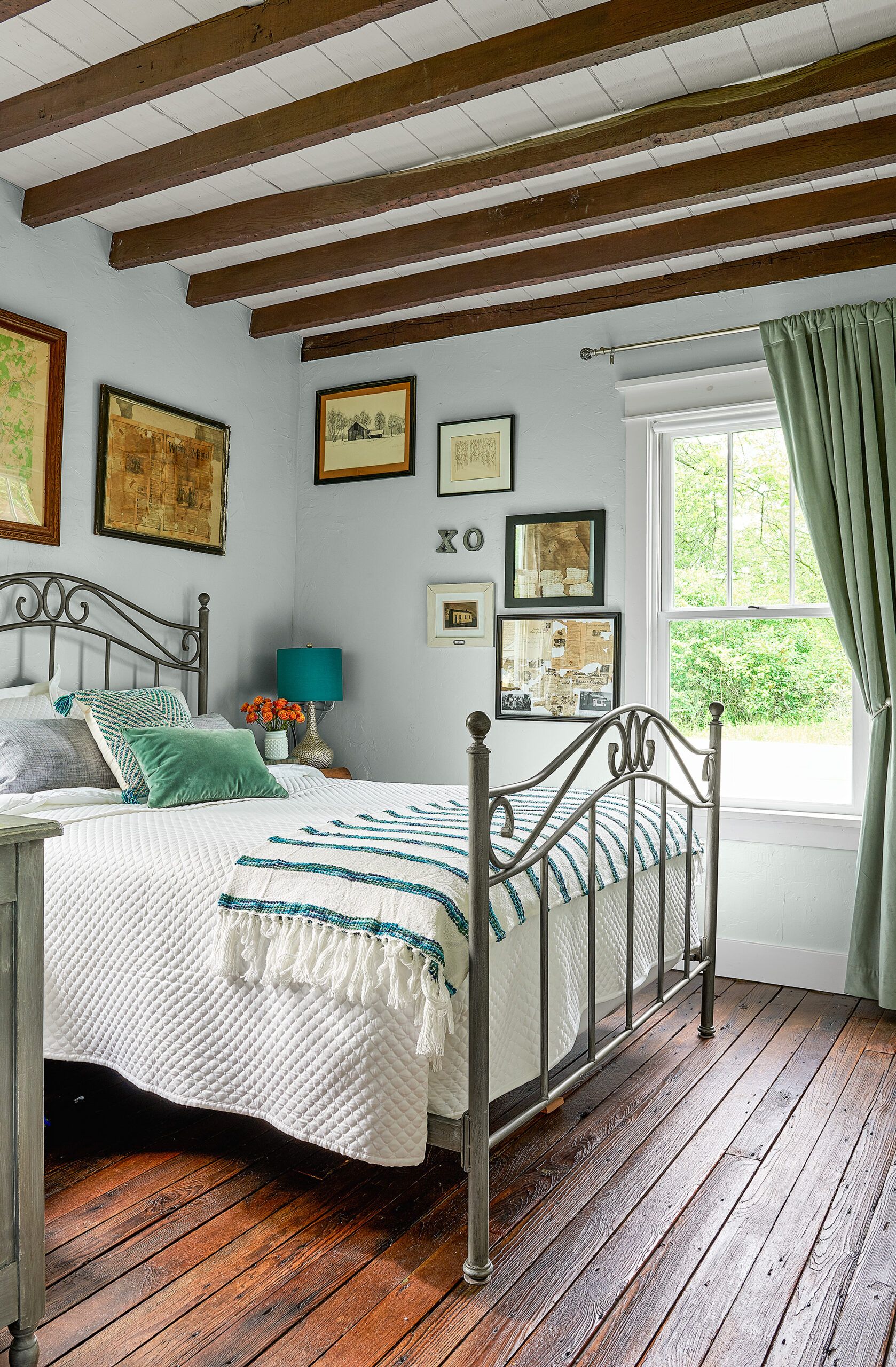 To reinstall the 5⁄4-inch random-width floorboards he'd found under a layer of strip oak, Richard installed rigid foam between new floor joists, nailed plywood on top, covered it with builder's felt, then installed hydronic radiant heat. After wire-brushing the old flooring by hand, he laid it on top.
Shown: Original joists and hand-routed beadboard line the ceiling in Jessica's bedroom; framed newspaper clippings, postcards, and class rosters unearthed inside the walls hang in frames.
Paint: Valspar's Morning Lake (walls)
Outdoor Room Additions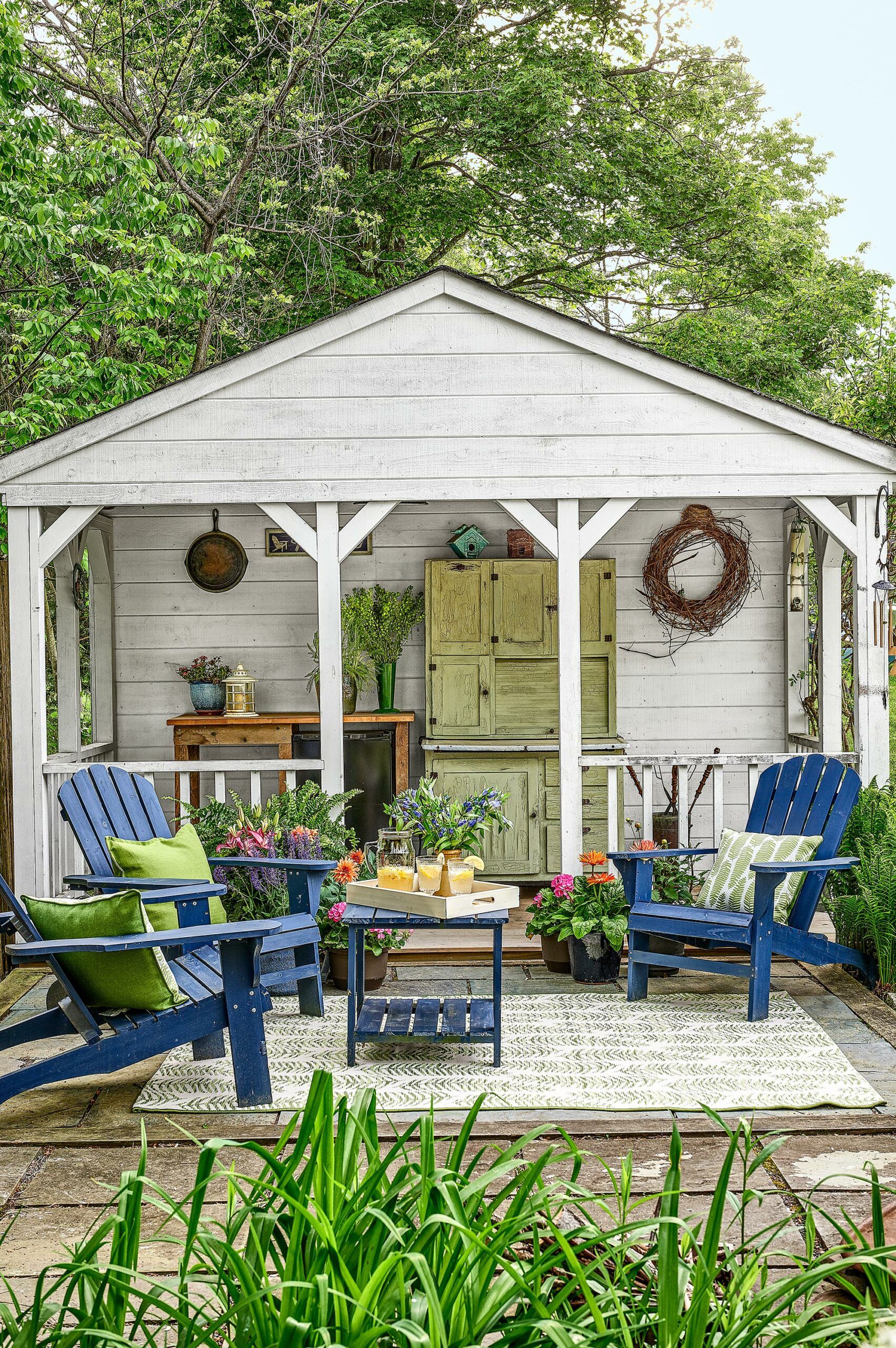 Overhead, Annette had the idea to expose the old roof structure—which Jessica later wrapped in string lights—opening up the space and forming a vault that rises to 16 feet. Richard cut a usable length from the foundation beam he had removed to reuse as a support post in the open plan.
Shown: Richard added a porch to one garden shed, connecting it to an existing patio. He also found and refurbished the vintage Hoosier cabinet.
Handmade Transom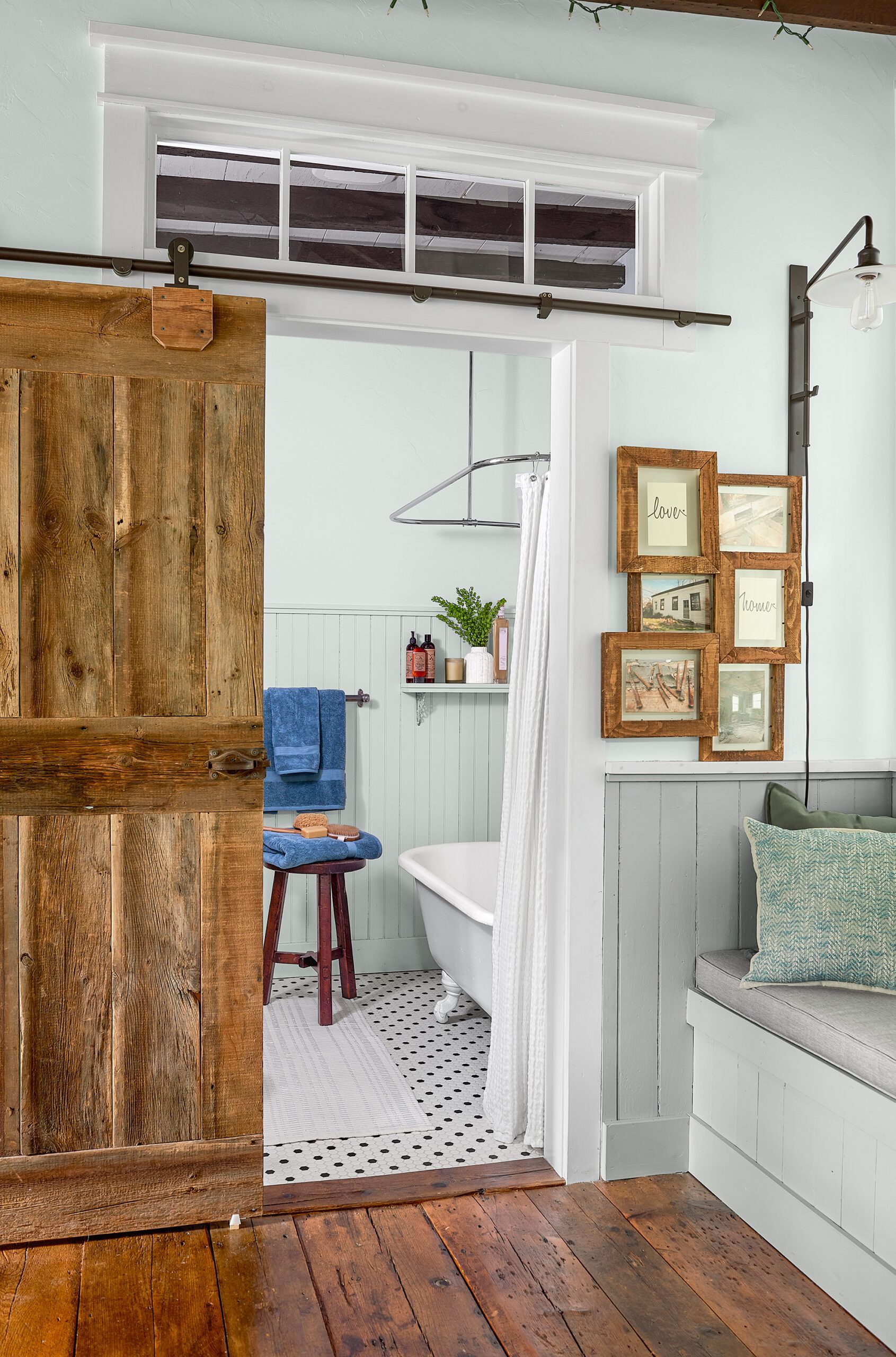 "Reuse and repurpose" was their credo. "Whatever lumber they were throwing out from demolition jobs at work, I took and piled under a tarp outside," says Richard. "It got wet, so he built his own kiln and re-dried it to get the bugs out," says Annette, who seems continually dazzled by her husband's talent. "If I have an idea in my mind, and I say, 'I want that,' Richard just makes it."
His handiwork is embedded throughout, from the structural to the decorative. He and Annette laid out the space to fully function as a comfortable home. The kitchen, dining, and living areas flow freely on one side; two bedrooms make up the other, with the bathroom in between. The high ceilings, tall cottage windows—all new, made possible when Richard removed blocks of wood that had reduced the original openings—built-ins, and subtle color palette lend the spaces a roomy feel throughout.
Shown: A transom window, handmade by Richard, adds light to the windowless bath. The original tub was replumbed and repainted to match the walls. Richard also made the sliding barn-style door, repurposing barn wood that had been used as wall cladding.
Paint: Benjamin Moore's Breath of Fresh Air (walls and tub)
Tile: Lowes
Lighting: Pottery Barn
Shelves: Pottery Barn
Marble Island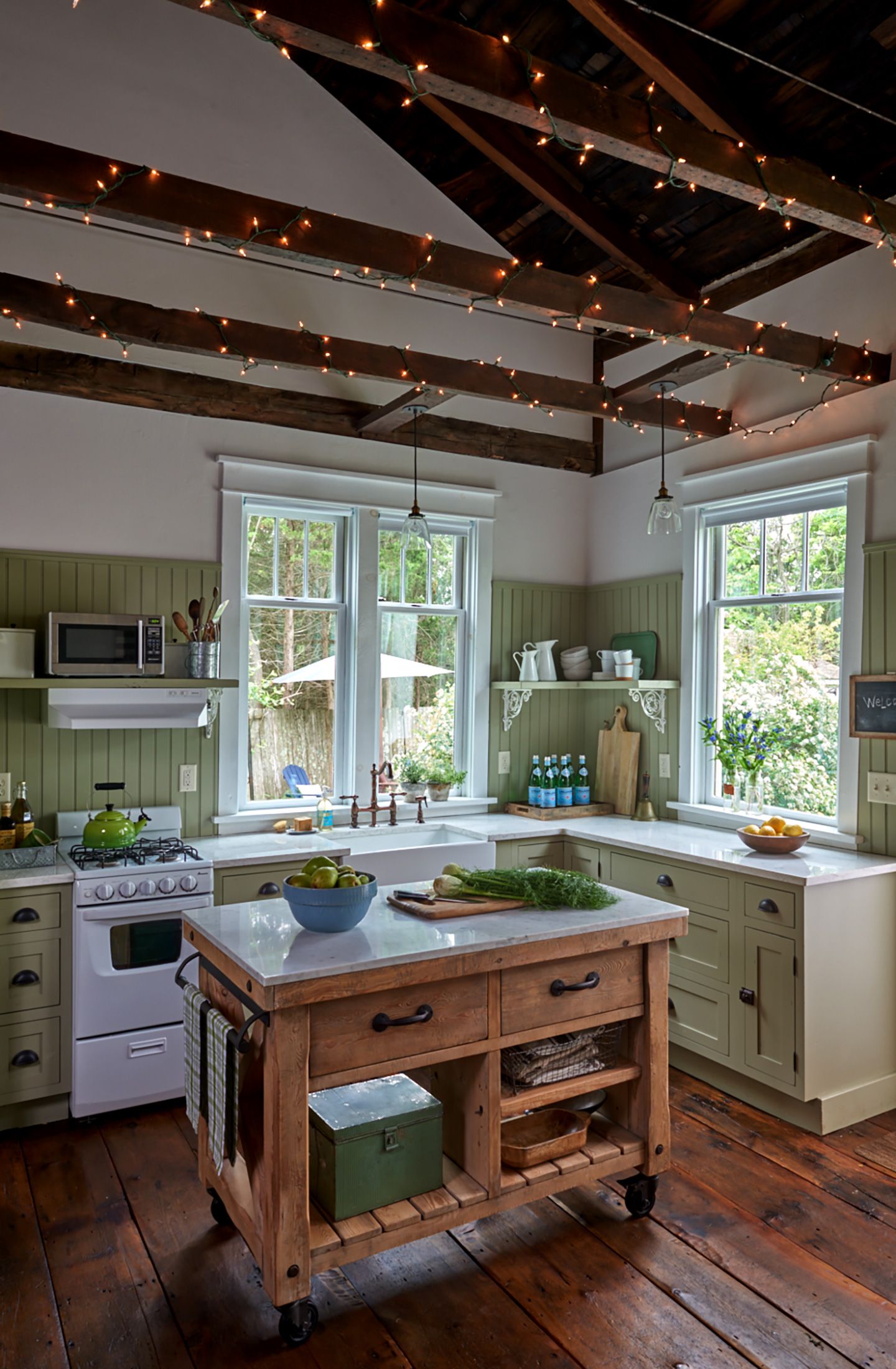 For the dining area, Richard transformed the old bathroom door into a table and Annette added mismatched chairs picked up around town. Jessica anchored the space with an American flag painting.
In the living area, Richard moved a wood-burning stove out to the garden and replaced it with a gas-insert fireplace; he surrounded the firebox with 1830s tile salvaged from a local demolition job. He reused barn siding that had covered a couple of walls to make a sliding barn door for the bathroom. He relocated the hot-water heater, which had stood in the bath, to an exterior mechanicals closet he made.
Shown: A marble-topped island—bought ready-made—anchors the kitchen area, which twinkles under string-light-wrapped ceiling joists at night.
Cabinets and countertops: The Cabinet Store
Range: Amana
Vent Hood: Sears
String Lights: Pottery Barn
Side Light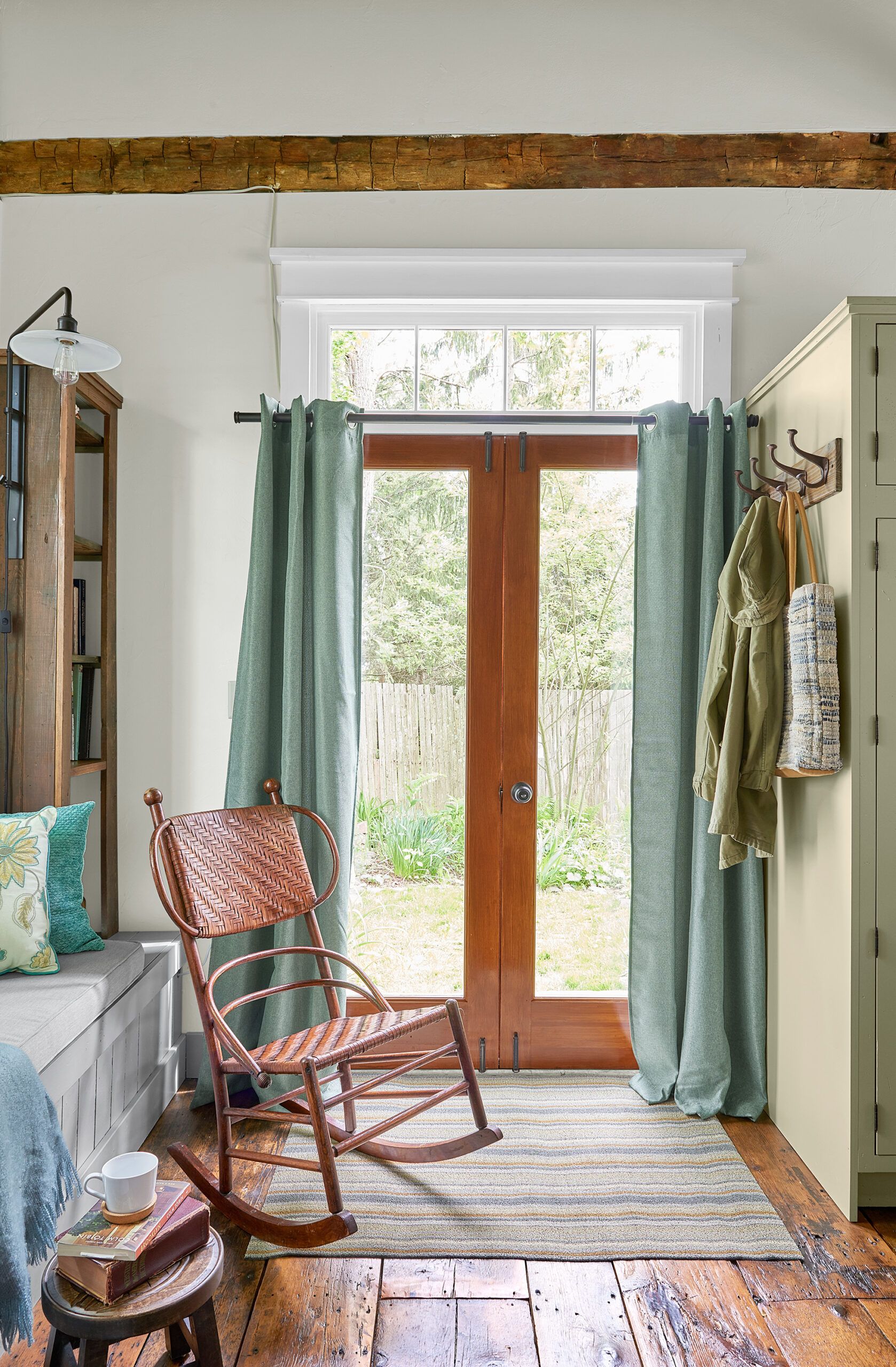 The bedrooms feature tall closets and "skip" plaster, which Annette and Jessica applied to approximate the original texture. Schoolhouse mementos found in the walls—attendance lists, handwriting assignments—hang in frames in Jessica's bedroom. Transoms above the bedroom and bathroom doors, built by Richard, channel light inside.
With the interior secure, Richard got to work on the roof. After removing a layer of metal, he built a new frame and deck over the old roof, insulating and preserving the shakes with spray foam, then added sheathing and new shakes. "It was difficult, as fragile as the old roof was, and brittle," he says. "I was careful so I wouldn't fall through, though I did poke a couple of holes."
Shown: A new opening with French doors leads to the side garden and brings in more natural light.
French Doors: The Door Jamb
Elegant Drainage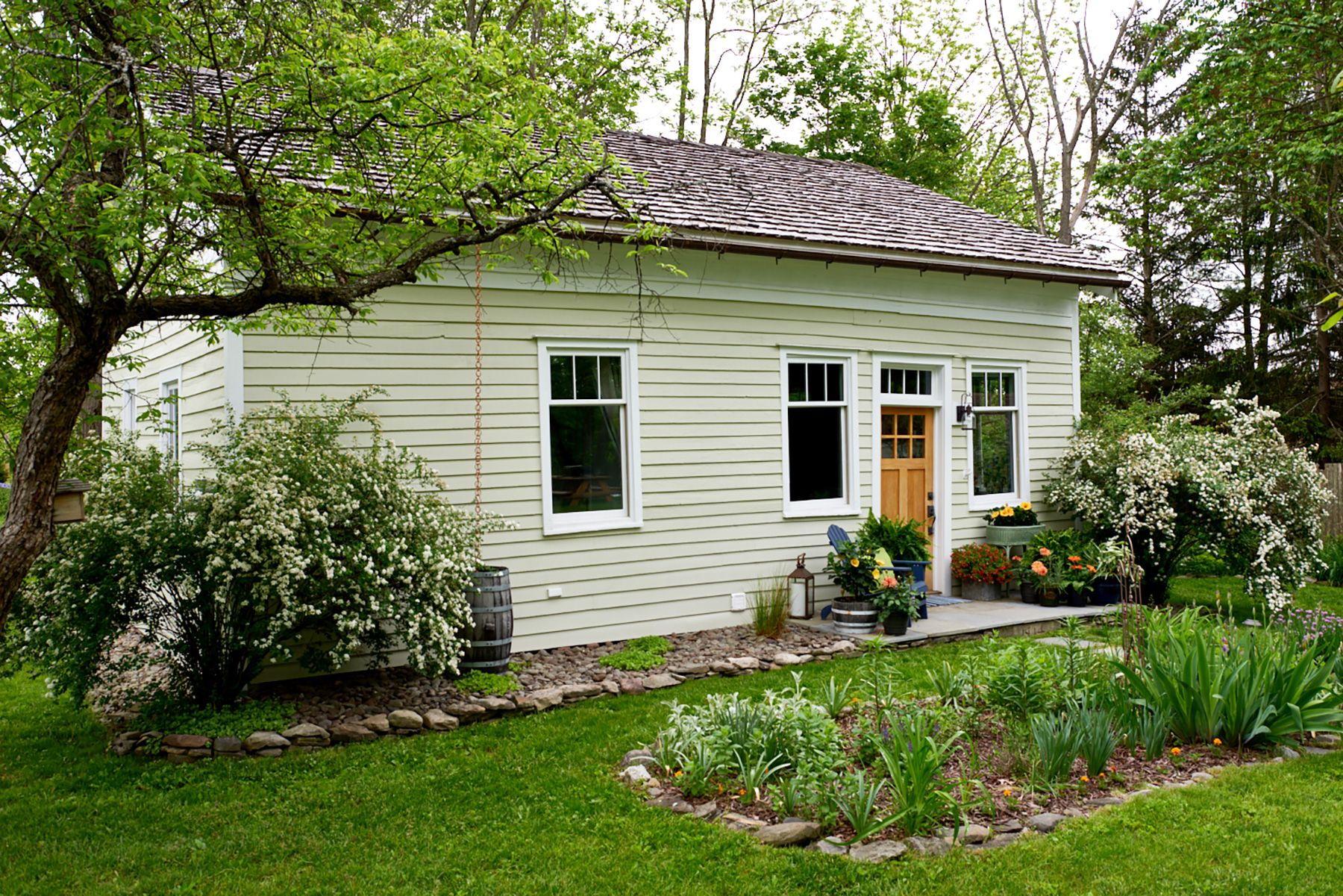 The home's previous owner was a master gardener, so the half-acre lot had good bones on which to build, including fruit trees, a patio, and two sheds, one of which got a new porch, courtesy of Richard. He added outdoor lighting and a driveway and, to keep water away from the restored foundation, installed a French drain on three sides of the house.
Shown: A bottomless barrel serves as a splash guard for the rain chain, which funnels water from new copper gutters to a French drain. The wide band of gravel over a rubber underlayment directs water away from the foundation.
Landscaping: Tantillo Landscape Supplies & Services, Inc.
Schoolhouse: 1915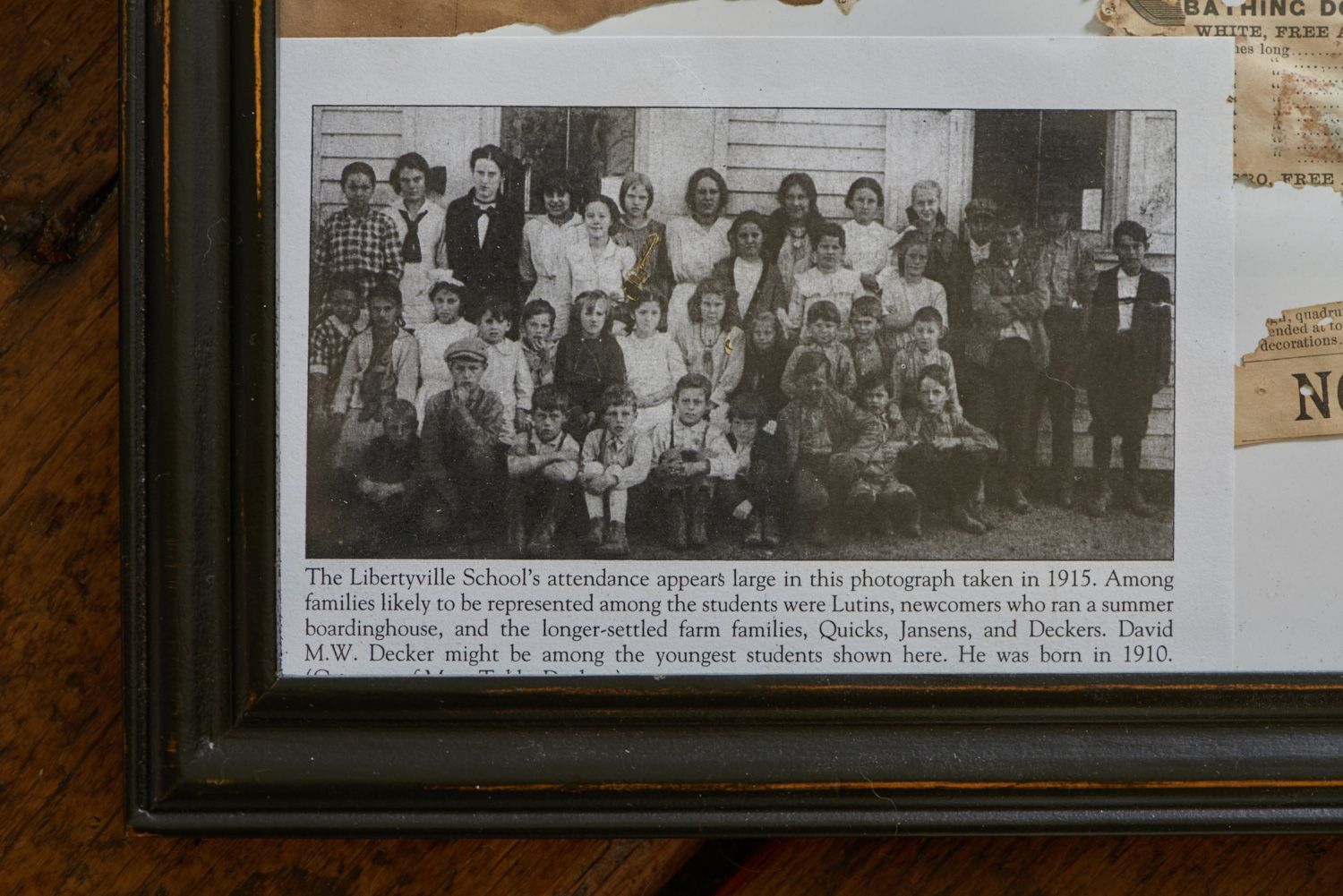 "Now my parents will pop over and work in the garden or barbecue, and we have the kind of relationship where they can do that," says Jessica happily, adding that they would have rented the house had she not returned home after school.
In the meantime, Annette and Richard have their eyes peeled for another house to renovate, having hit upon a creative partnership that they can't help but continue. "People would ride by on bicycles, shaking their heads and calling out, 'Do you ever stop?' " says Annette. "Around here, people hike and bike. This," she says, running a hand on the kitchen's white marble countertop, "is what we do."
Shown: A copy of a 1915 photograph shows children in front of the schoolhouse; it is framed alongside other remnants found in the walls during the renovation.
Floor Plan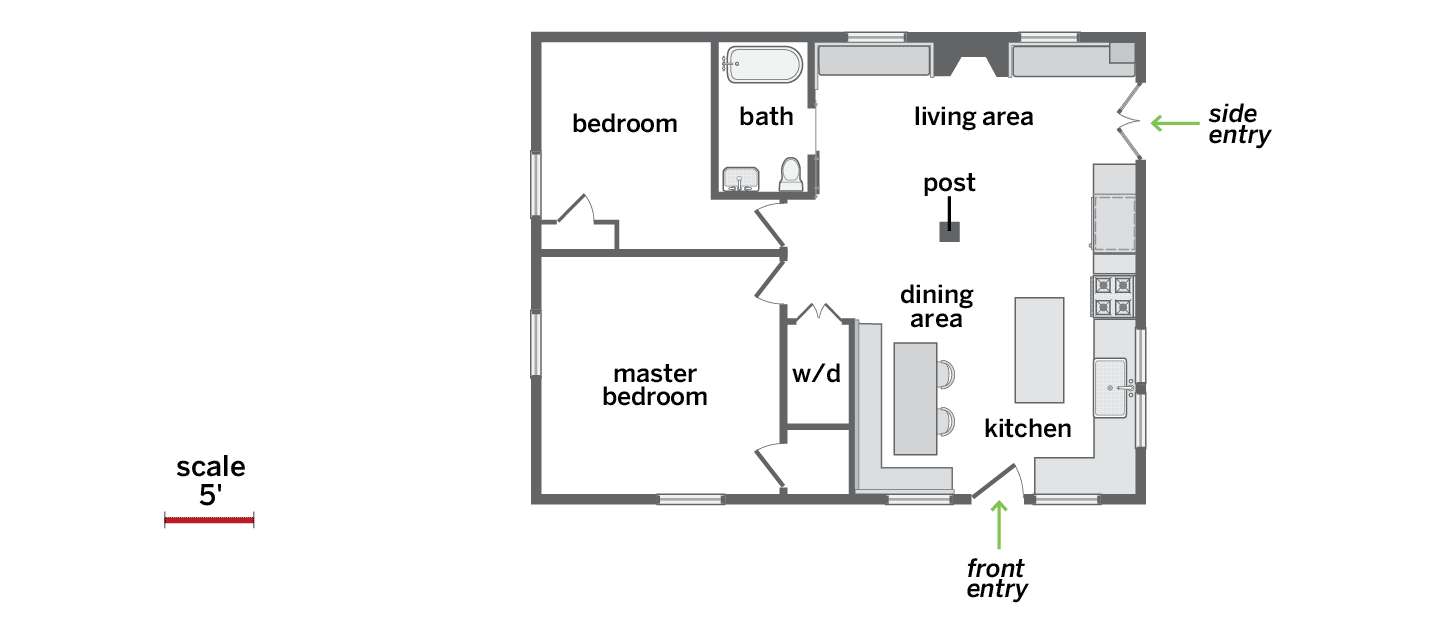 The original front-entry opening was closed up from what is now the master bedroom. Taking down walls created an open plan with designated living, dining, and kitchen spaces, and an original foundation beam was repurposed as a support post. A bath, two bedrooms, a laundry, and closets make up the rest of the 704-square-foot house.