Coral Portico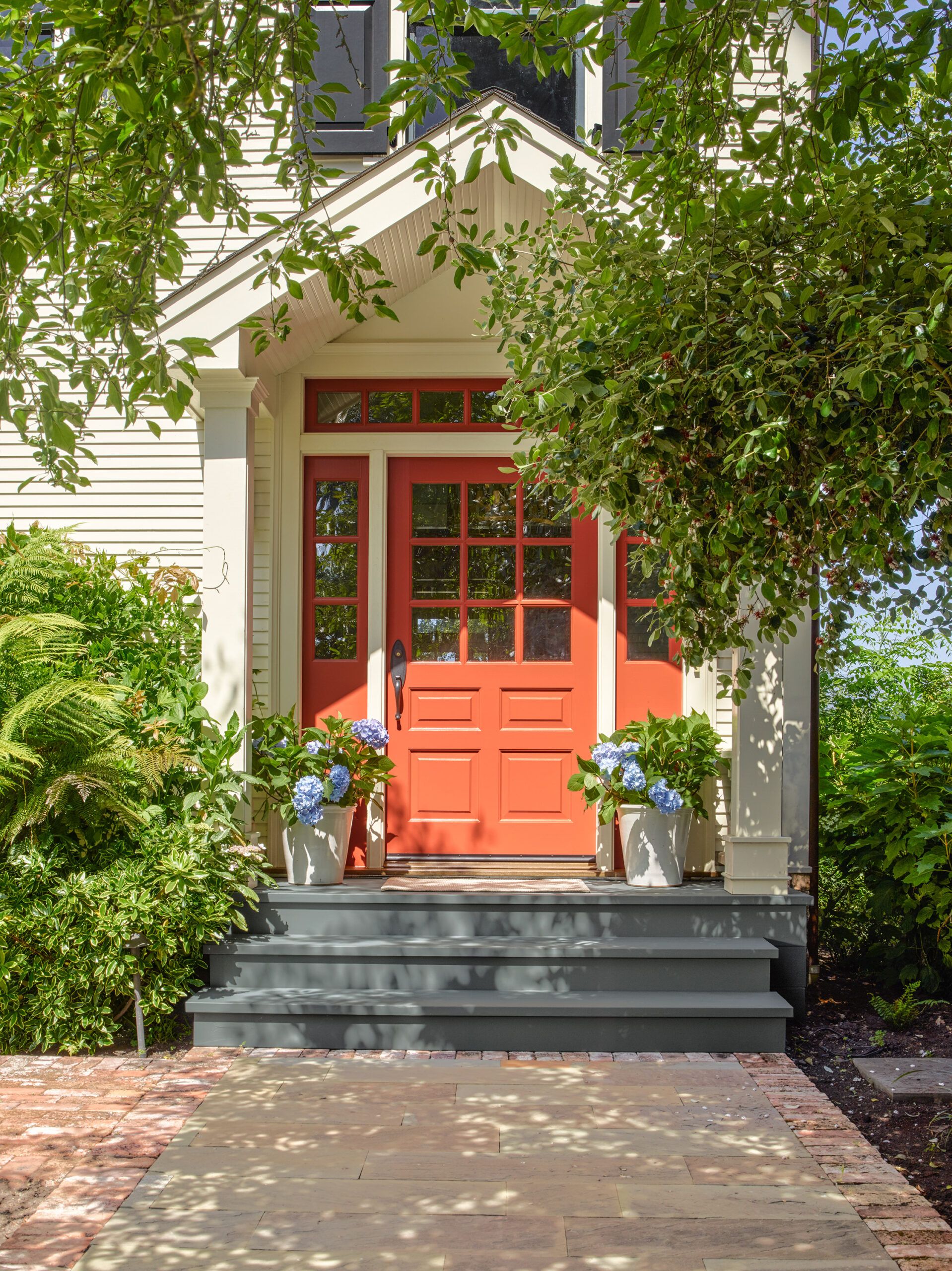 Don't take Selma Blanusa all that seriously when she tells you she almost passed up her Sonoma, California, farmhouse while zeroing in on a different house nearby. "I didn't anticipate I would fall in love with it," she says of the one whose deed she went home with. "It was pretty worn down." But Selma knows a find when she sees it. A compulsive renovator with a terrific eye and enviable resources, she was able to take one look at the frozen-in-time wallpaper, lace curtains, shag carpeting, and hulking range hood and see a stylish, light-filled forever house, its color scheme as smart and sunny as its manicured 4.6-acre lot.
Shown: a smart new portico enhances the facade of the 1907 house. Homeowner Selma Blanusa, who credits her "little-detail-orientedness," matched new elements to what was there, right down to the contours
of the beveled replacement siding.
Shutters: Timberlane
Paint: Benjamin Moore's Rich Coral (door), Royal Silk (siding), and Graphite (shutters)
Cabinet Colors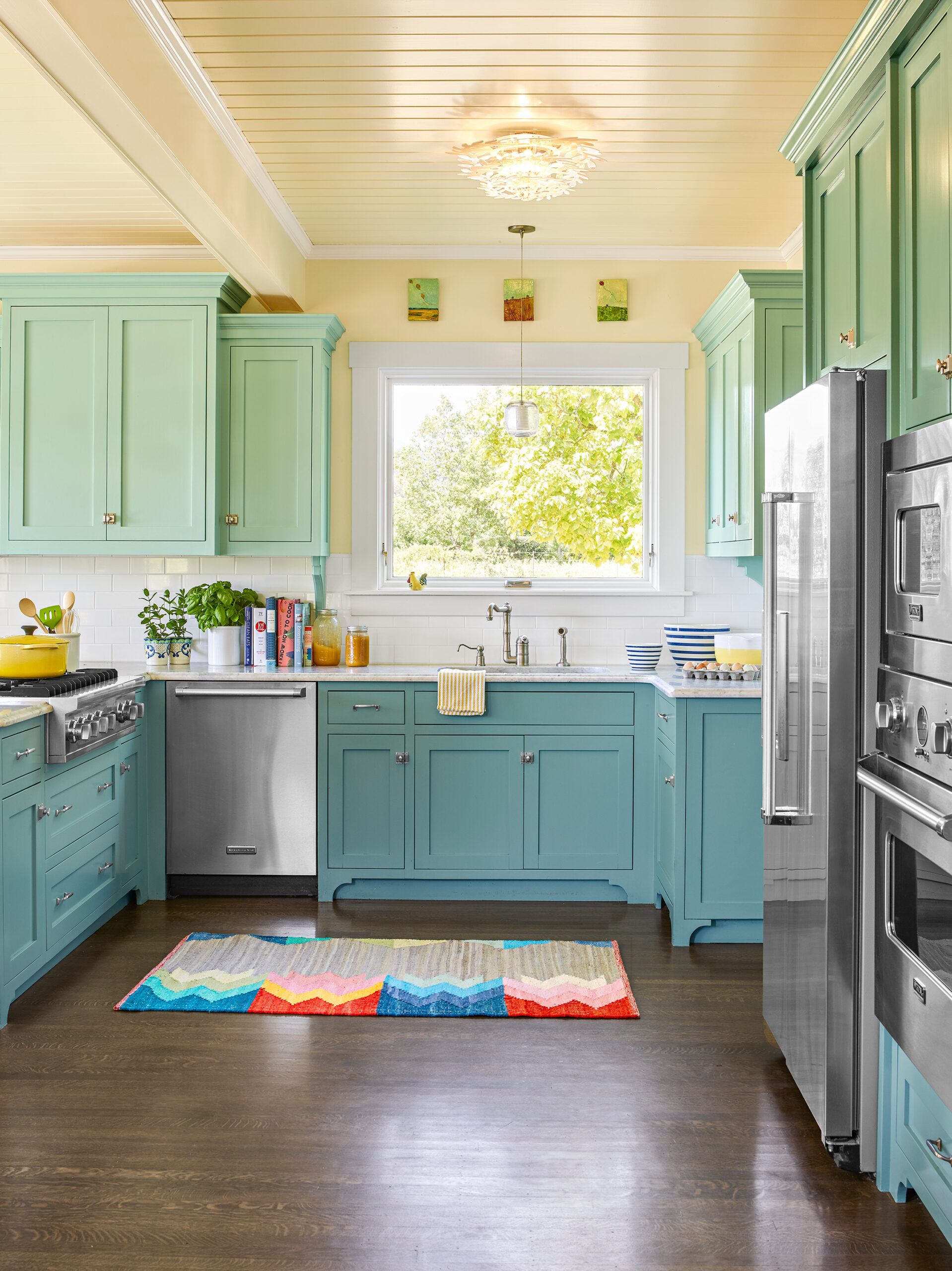 The four-bedroom, three-bath house had been painted an unfortunate peach. But inside, it boasted plaster walls, white oak floors, nine-foot ceilings, and 3,200 square feet. It also offered Selma, an ex-Seattleite, a piece of her adopted town's history. While Sonoma is famous these days for its tasting rooms and $400-a-night hotels, not all that long ago it was part of Mexico and populated by Native Americans. "The founder of Sonoma, General Vallejo, gave it to his son Paton," Selma says of her property, which, during its recent overhaul, coughed up a number of pre-Colonial artifacts. Vallejo built a plaza downtown, within walking distance of the property, but Sonoma was still pretty low-key when early-20th-century sunseekers settled in this area. Cash crops included prunes and walnuts. Selma's 1907 house most likely sat in the middle of an orchard.
Shown: staggered Shaker-style cabinets with latches evoke country kitchens; traditional colors are paired in a modern way.
Pulls and knobs: Rejuvenation
Paint (cabinets): Benjamin Moore's Let It Rain and Boca Raton Blue
Kitchen wall tile: Interceramic
Dishwasher: KitchenAid
Ceiling fixture over sink: Slamp
Citrus Kitchen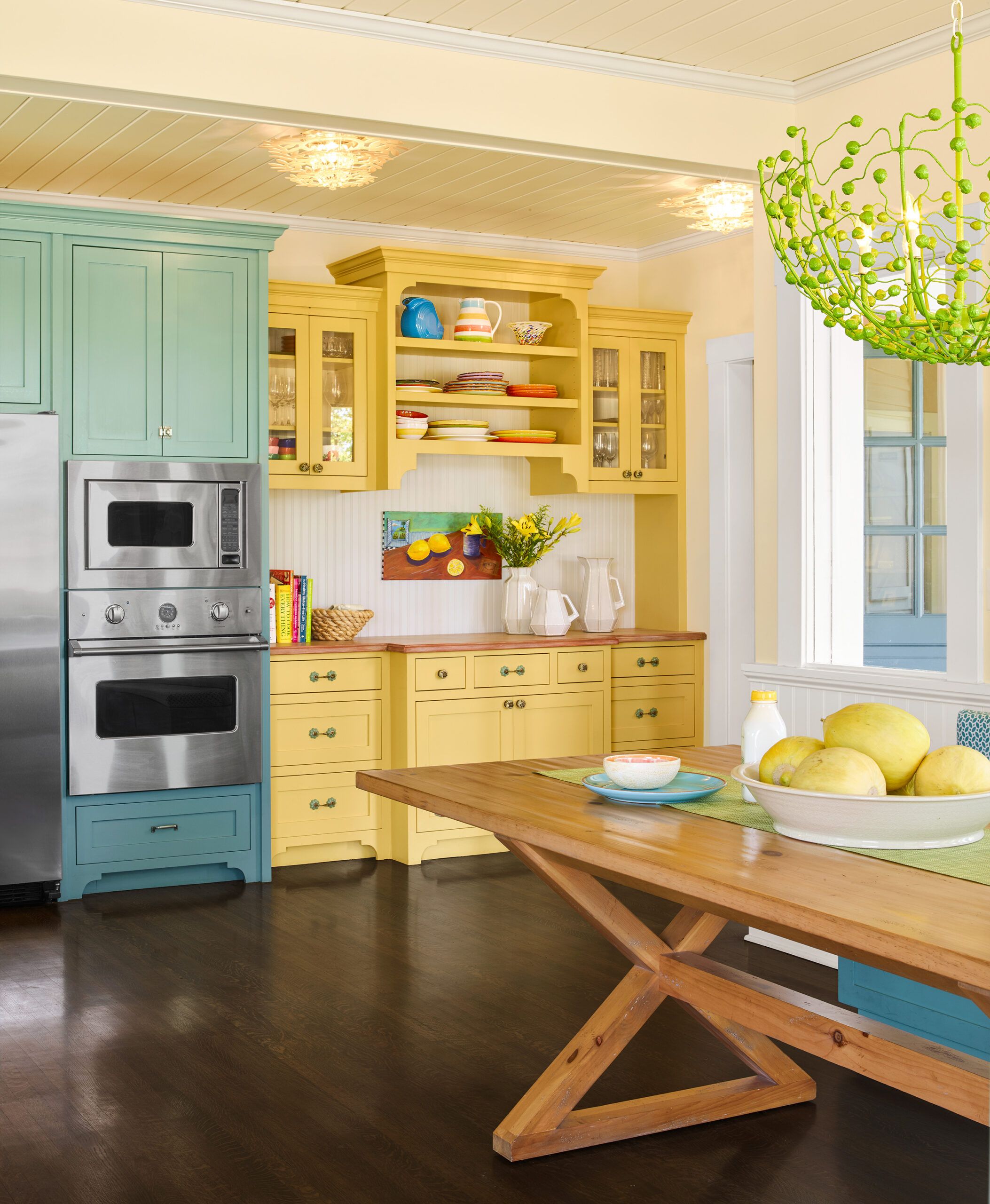 Dotted today with crab apple, palm, and pine-apple guava trees, the property came with an old barn and a stable, conjuring images of a gentlewoman's farm. Selma, a single mother of two, liked the idea of raising sheep. "It's flat, so you can get on your bike, skateboard—it really appealed to us," she said. "I knew it would require a ton of work."
Previous owners had cared for the place over many years while resisting any pressure to keep it up-to-date. At some point, the kitchen had moved into a larger space. Selma dated its most recent refresh to the 1960s.
Shown: a tongue-and-groove ceiling pays homage to the porch that long ago stood in the kitchen's spot. The ceiling and the period-style built-in are balanced by a fanciful lime-green chandelier.
Chandelier: Stray Dog Designs
Table: Ethan Allen
Hutch: Wood Touch
Hutch knobs and pulls: Anthropologie
Paint: Benjamin Moore's Freedom Trail (hutch)
Refrigerator, range, oven, and microwave: Viking
Selma Blanusa and Family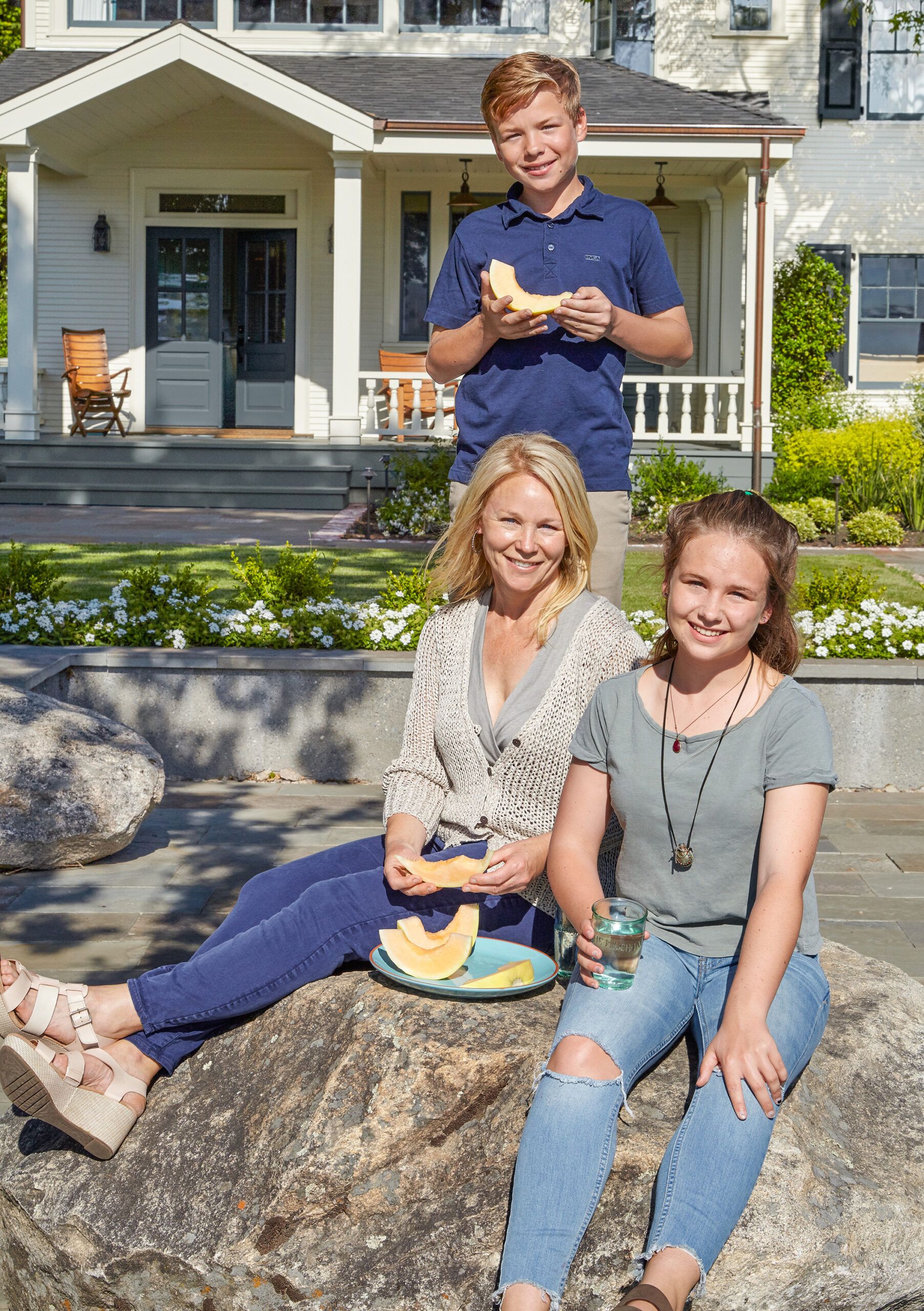 Though she speaks about having wanted to "restore the house to its original glory," that may not be the right word. Old photos show a white box with black shutters, originally built without indoor plumbing. Six years ago, when Selma bought the place, the plumbing still hadn't entirely moved inside: Cast-iron pipes festooned the exterior.
Shown: Selma relaxes with her children, Annika, 16, and Gavin, 14, in front of the new back porch.
Warm Blend Entry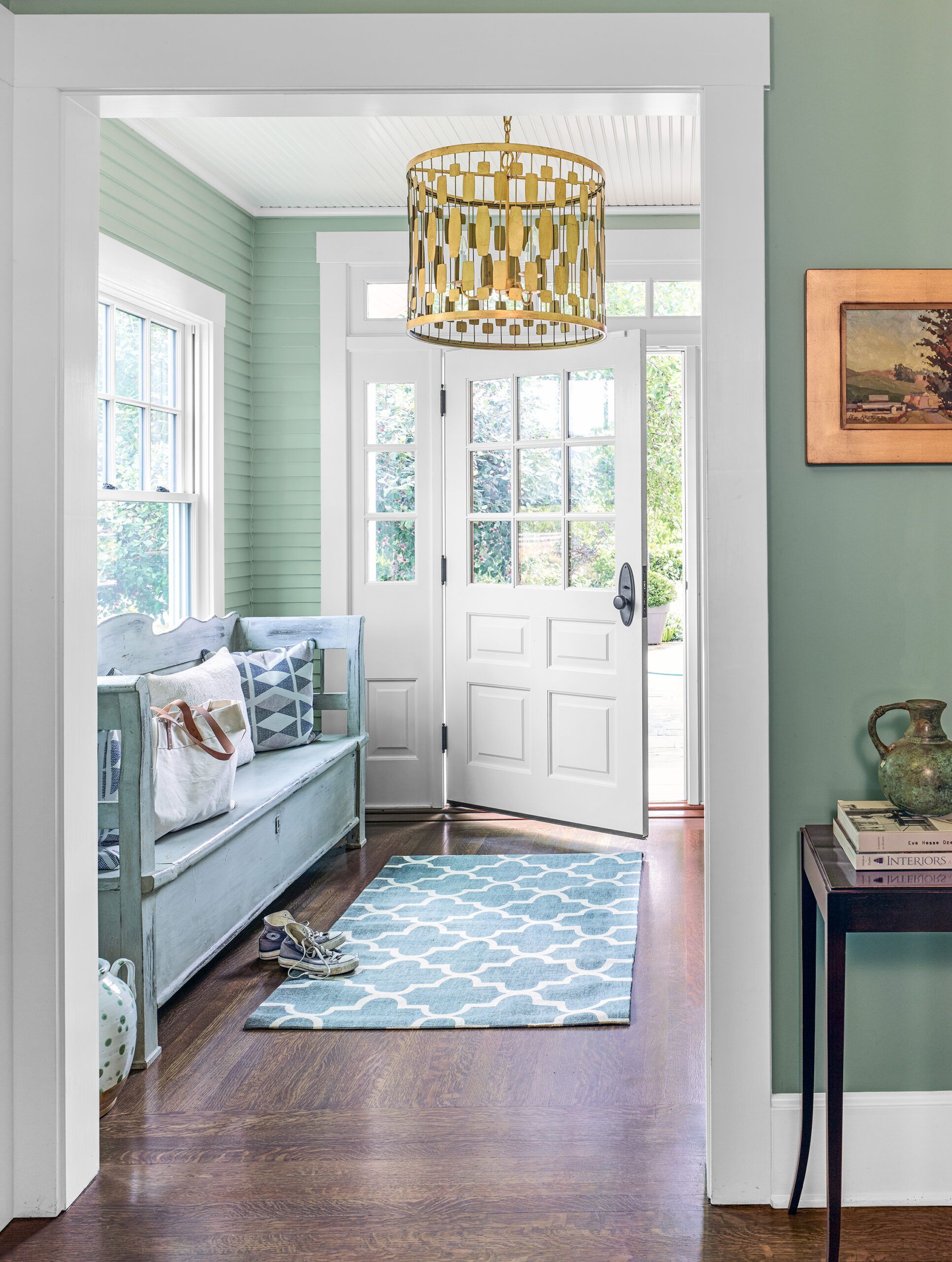 She was already a veteran renovator, with the gut remodel of a sprawling Queen Anne in Seattle behind her, and this job looked, at first at least, pretty straightforward: new plumbing and wiring, new baths and kitchen, better heating and cooling. The traditional layout—"one square room after another, cozy and consistent"—pleased her.
Shown: the front entry is a warm blend of old and new.
Pendant fixture: Horchow
Light-Filled Living Room
But if walls didn't have to come down, they did need shoring up. The house sits in earthquake territory and 75 mph winds aren't unheard of. The essential first stage involved stripping down two perpendicular interior walls to make them shear walls, anchored in concrete footings and strengthened to resist magnitude 7 tremors.
Shown: A new bay window opened up a cozy alcove in the narrow living room and brought in light, along with a built-in seat that's deep enough for lounging. Like others added during the reno, the window seat borrows details from existing woodwork, in this case echoing the fireplace surround.
Chandelier: Oly
Paint: Benjamin Moore's Wales Gray (walls)
Marble Hearth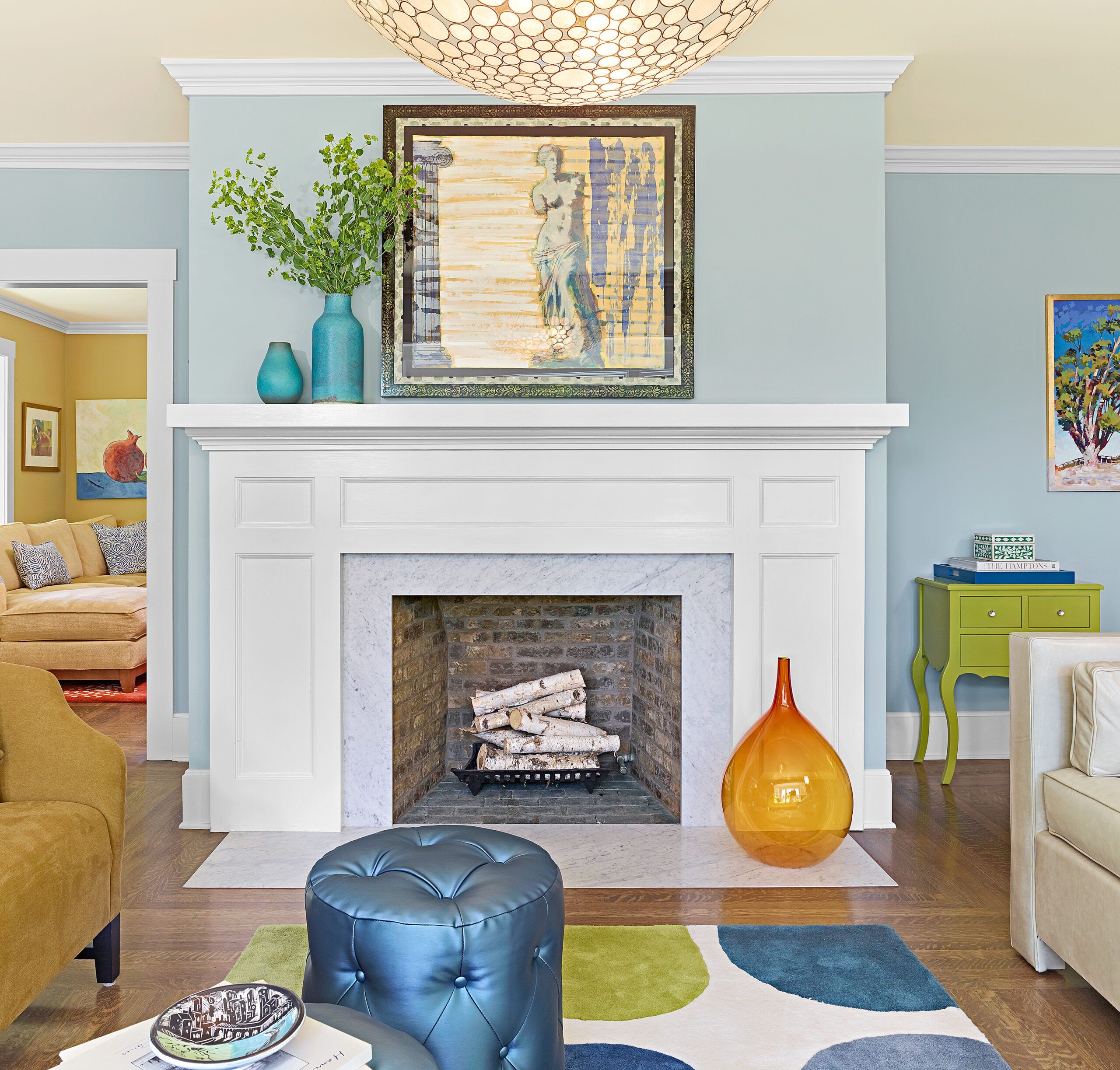 Despite Selma's many daytime achievements—eight years in Asia operations at Microsoft, currently a certified personal trainer and a financial adviser—she has a second, more moonlit career as a renovator and landlord whose portfolio swelled at one point to more than a dozen properties.
She started shedding them after the kids arrived and now focuses on her own nest, where she has brought to bear some hard-won life lessons. Among them: Don't take on a renovation without a seasoned pro, preferably one you know, whether you are building an addition or replacing broken tile.
Shown: the fireplace's marble frame ties the living room to the kitchen, where matching marble serves as countertops. The cased opening on the left leads to the former dining room, possibly a kitchen in 1907, now the family room.
Bedroom Panels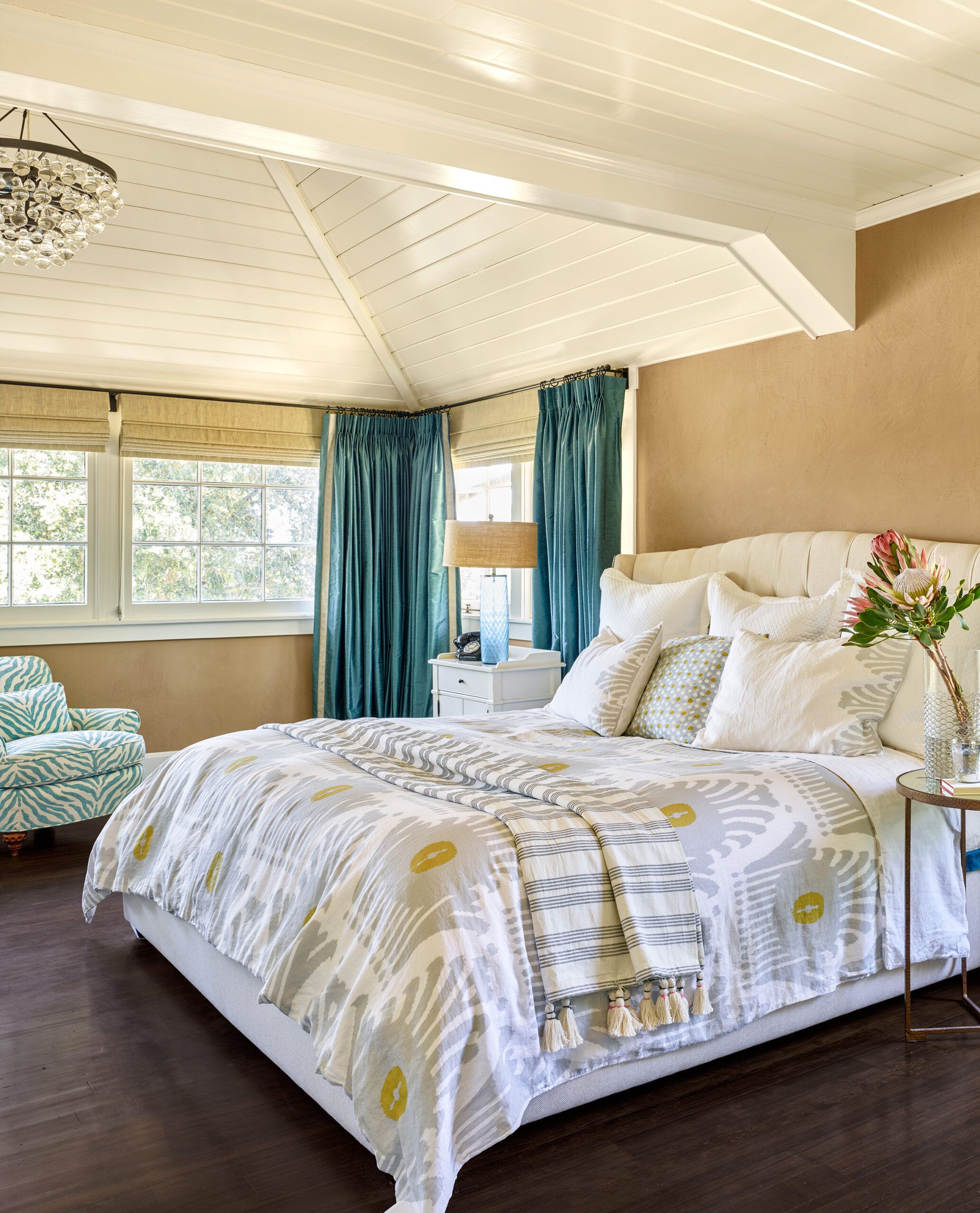 To buff up the Sonoma house, she brought in two local old-house experts, architect Robert Baumann and general contractor Chris Grippi. "Homeowners have a hard time judging scale and proportion, which is Robert's expertise," she says. "What I like about Chris is he doesn't sound the fire alarm when he finds something odd."
Shown: the master bedroom annexed a former sleeping porch. The vaulted ceiling, paneled to evoke the past, is new.
Ceiling light fixture: Shades of Light
Windows: Pella
Whimsical Stair Carpet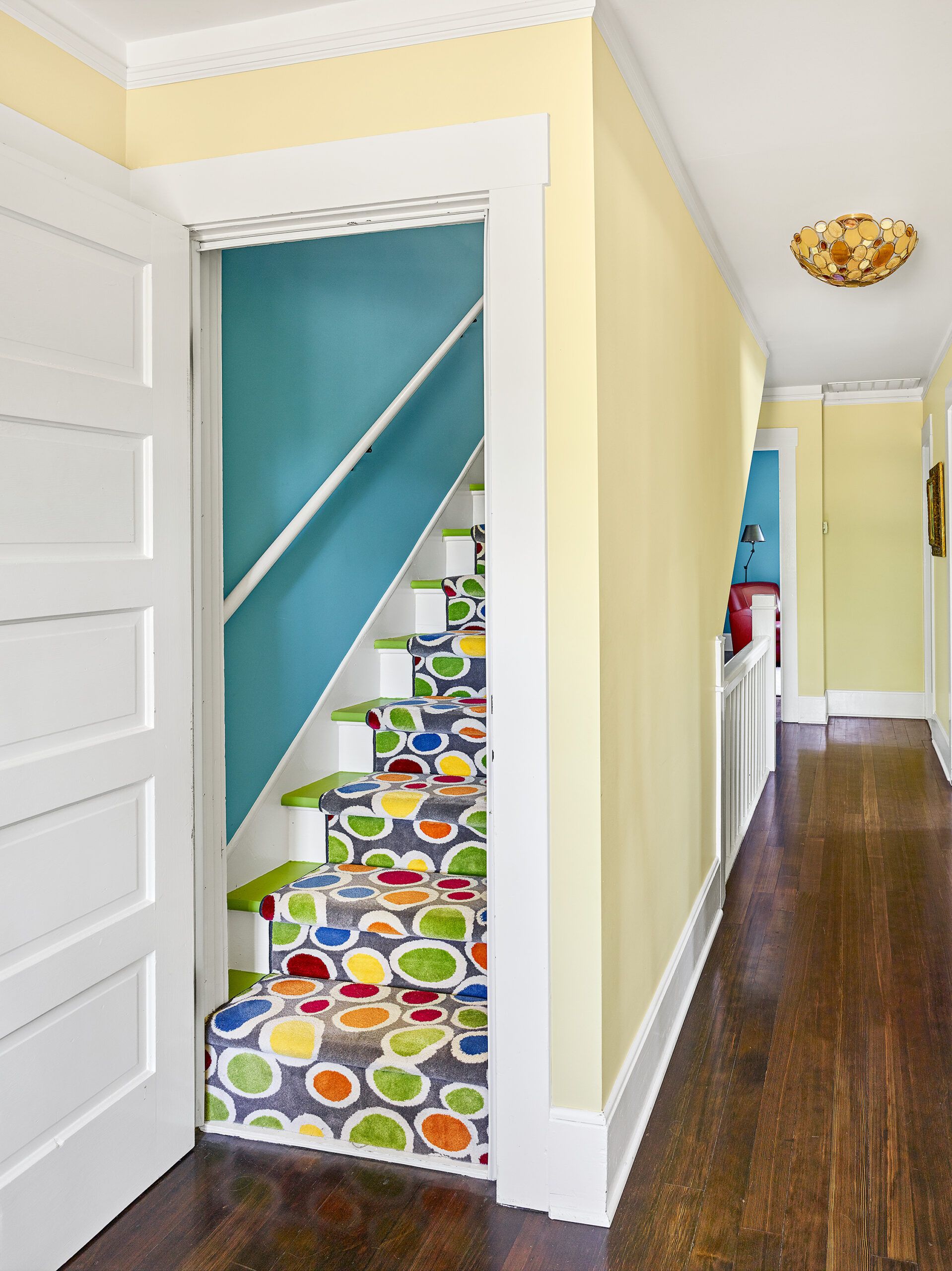 "Bath plumbing on the outside—you don't see that often," says Grippi, adding philosophically, "It's easier than going inside the walls"—something his crew of course had to do.
Grippi also found himself insulating many walls and, to his muted surprise, having to install missing headers over the windows and doors (restoration experts worked on the windows themselves). Grippi redid the kitchen top to bottom, with furniture-style custom cabinets, a breakfast nook, and quartersawn flooring to match what was there. During the reno's busy first year, Grippi's crew would also repair the chimney, finish the attic, and deftly insert a half bath in the master bedroom—an alternative to the major surgery a full bath would have required.
Shown: a whimsical carpet turns the attic stairs into a runway for a newly finished space.
Sun-Filled Playroom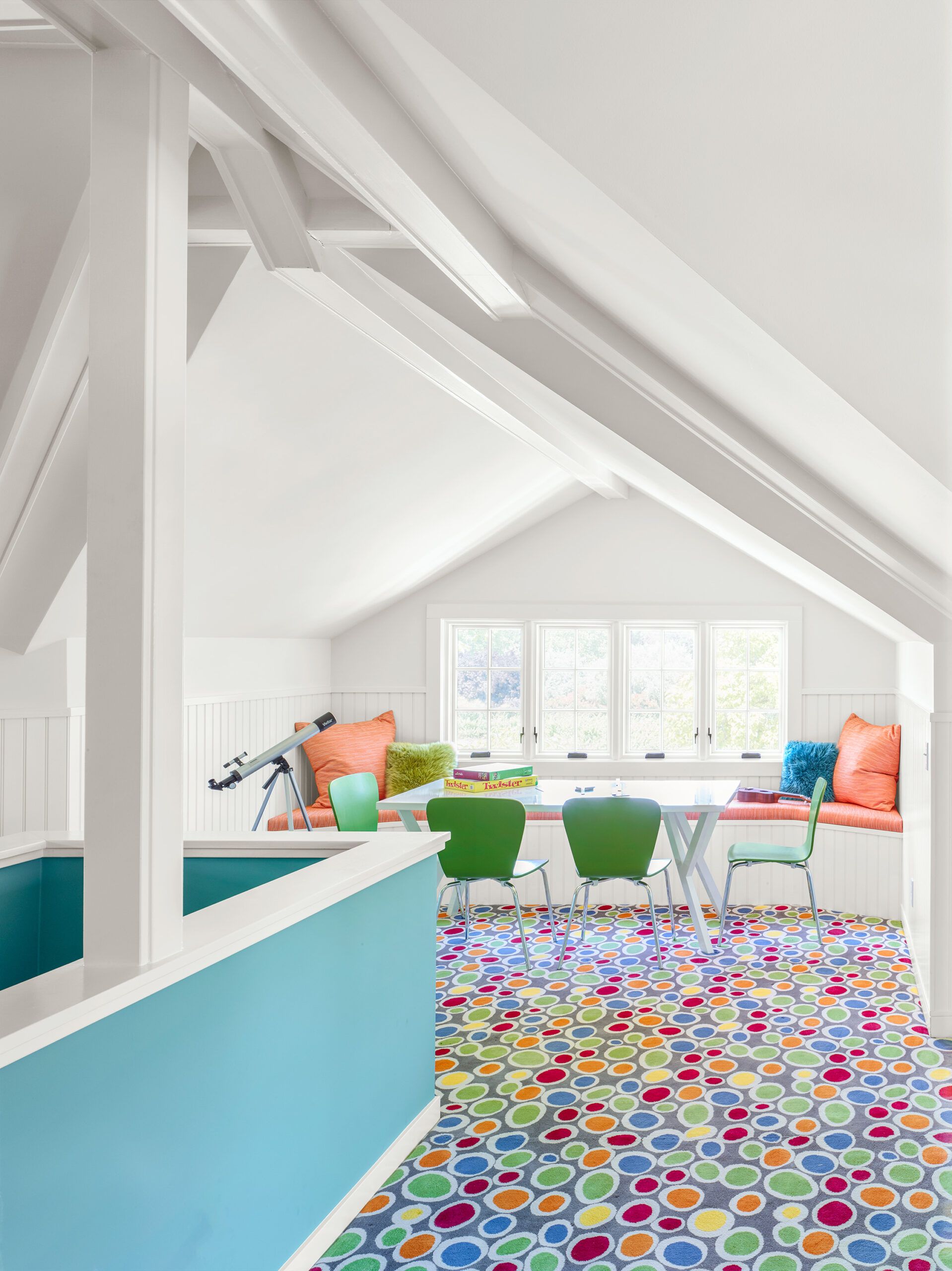 Generally, Grippi says, the house was sound, thanks partly to the quality of the 1907 lumber that went into it. "A lot of logging was going on," he says of that innocent and bountiful time. "Quartersawn fir was not expensive."
Baumann's architectural refinements included new porticos, bay windows, and dormers, which simultaneously added interest and dimension to the exterior and elbow room inside. "They create charm and warmth," Baumann says of the resulting alcoves and, in the case of the porticos, "human-scale transitions" between indoors and out.
Shown: A new sun-filled dormer holds a gathering spot for the kids and their entourages.
Paint: Benjamin Moore's Bayville Blue (pony walls)
Carpet: Kane Carpet
Window Nap Spot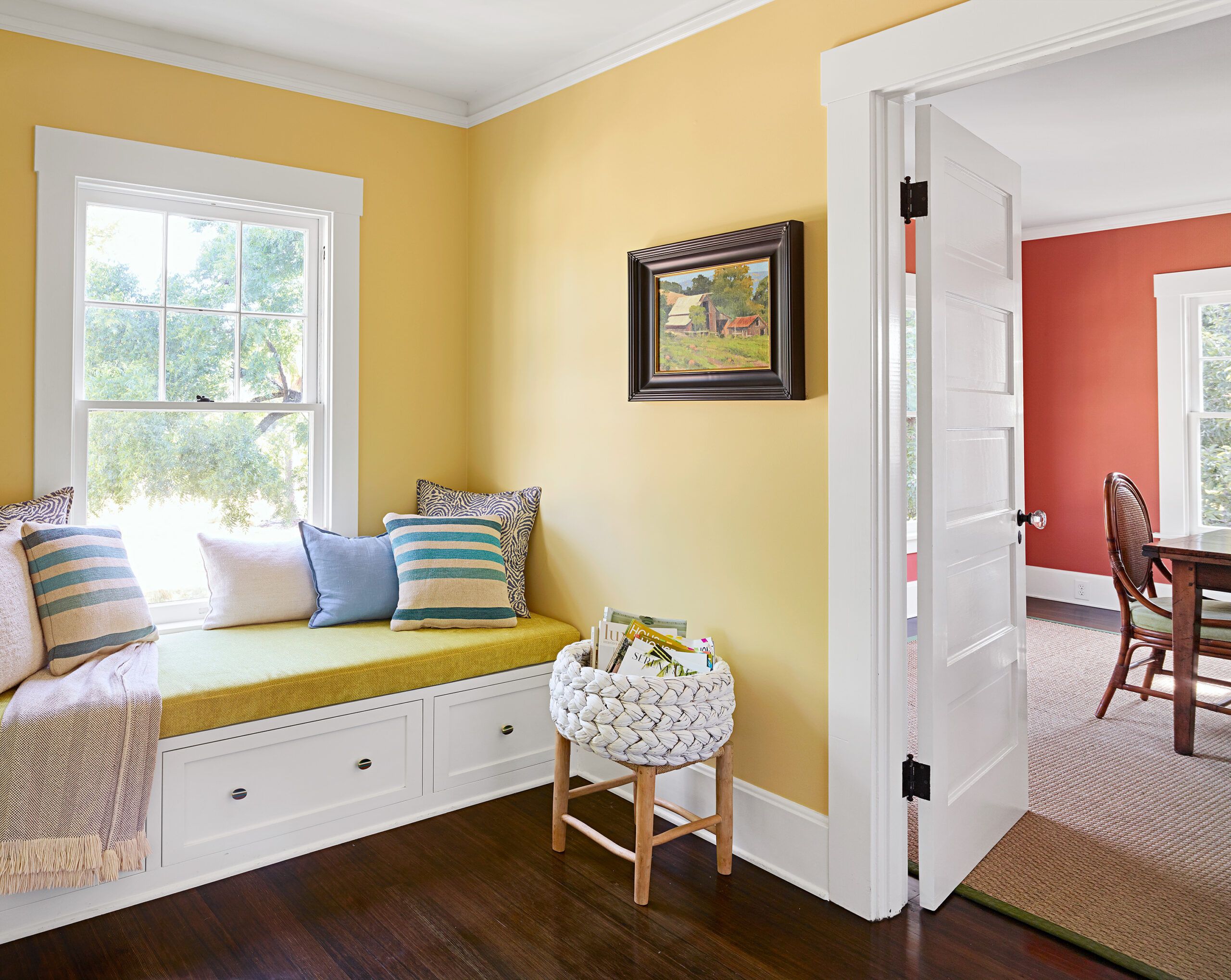 As a final touch, the team painted the exterior its original white and replaced the decorative shutters with ones that open and close, a reflection, Selma says with a smile, of "my little-detail-orientedness."
Could this polished gem possibly need anything more? Well, yes. It came two years later in the form of a two-gable wraparound porch, looking as neatly composed and time-tested as the living room trim.
Shown: a nap-worthy built-in draws the eye to the end of the hall on the second floor. The door to the right opens to a former bedroom, now a home office and homework station.
Upholstery fabric: Sunbrella
Paint: Benjamin Moore's Jasper Opal (hall walls), Coral Bronze (office walls), and Caribbean Mist (ceilings)
Improvements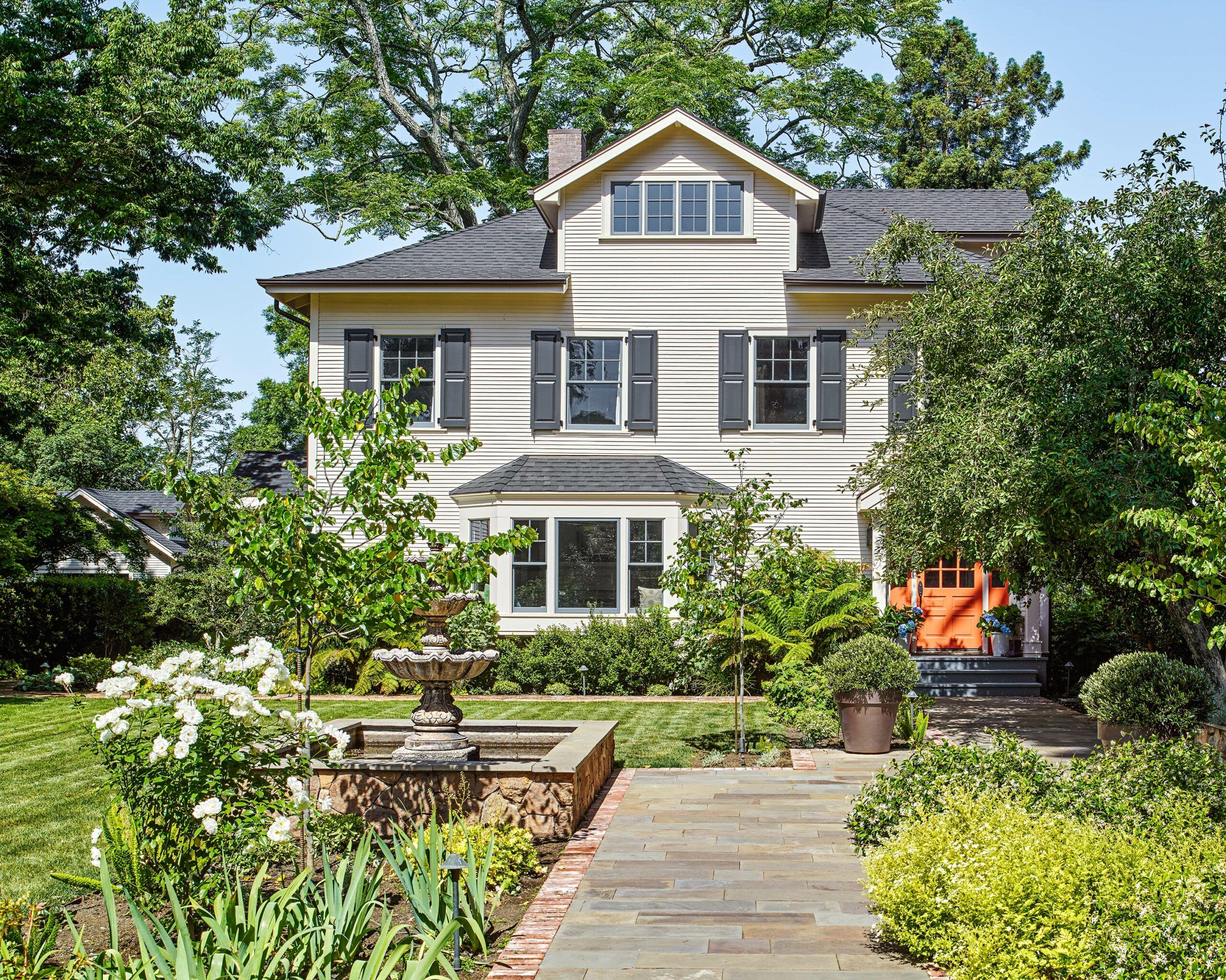 Property improvements didn't stop there, though maybe it's best not to get into the drove of sheep that now keeps the grass under control or the horses in the stable or the freestanding exercise studio. Just seeing what a little paint and attention to detail did inside the house is envy-inspiring enough.
Shown: they may look as if they've been there forever, but the front-facing dormer, bay window, and portico are all new. Updated landscaping includes manicured pathways and plantings; to keep the grass trim, the homeowner turns to her flock of sheep.
Landscape design: Magrane Associates
Bath Vanity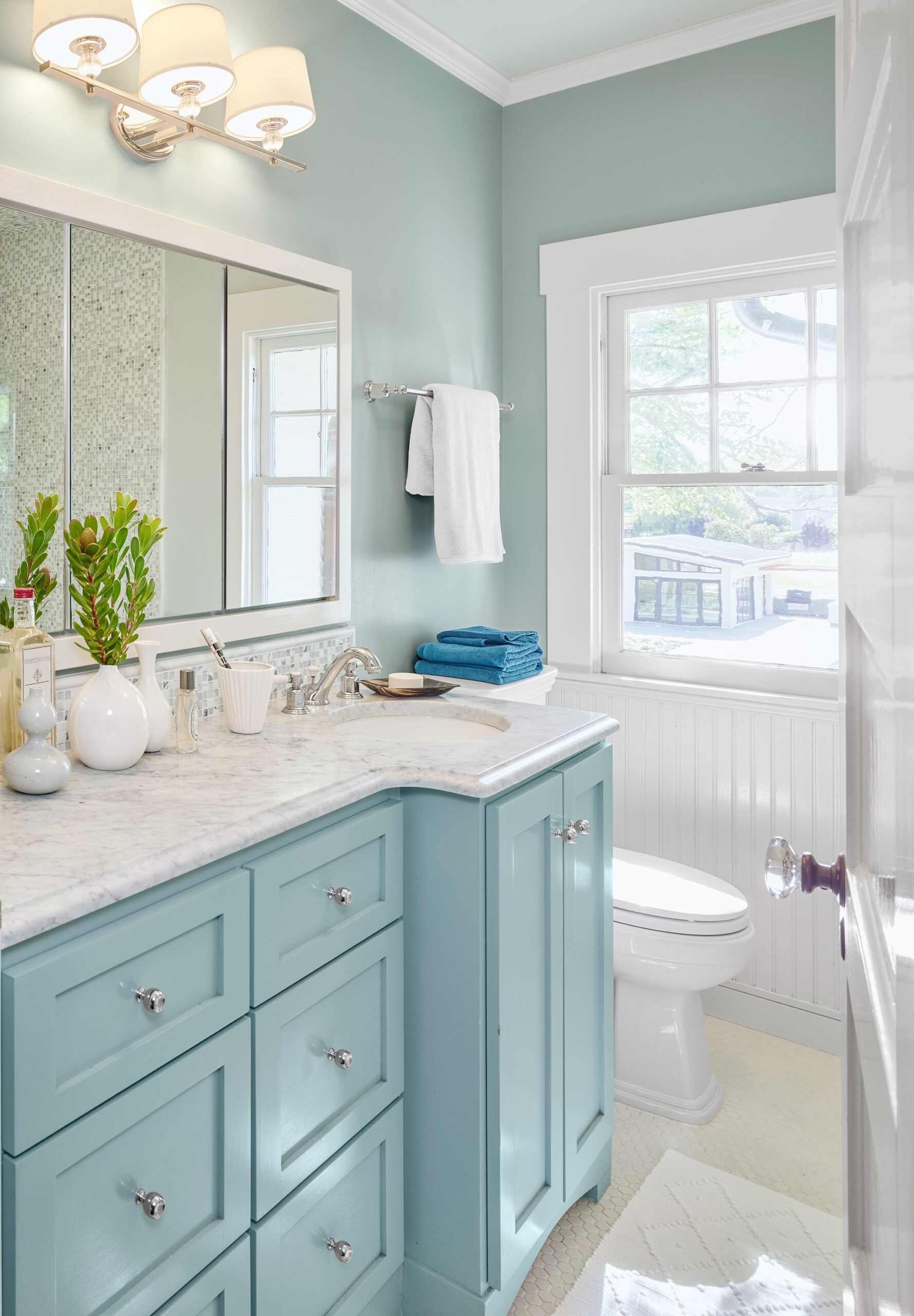 "The woodwork is key," Selma says. "The doors are all solid wood with five panels and glass knobs. The baseboards are a consistent eight inches or so. And we used a bright white throughout with two main colors, blue and yellow."
The takeaway for the rest of us? Before putting your money down, size up the character of a house and the quality of the materials that went into it. And when you're ready to remodel, go ahead and canvass people whom you trust—Selma invited interior designer Kim Browning and John Barnes, who runs the local paint store, to lend an eye—but "don't design for someone else," she admonishes. "Find out what your style is in terms of colors and furnishings, so you can express that."
Shown: a shared bath on the second floor mingles a traditional beadboard wainscot and a paneled door with polished finishes like a marble-topped vanity.
Toilet: Toto
Faucet: California Faucets
Paint: Benjamin Moore's Silver Crest (walls) and Silver Mink (vanity)
Striped Dresser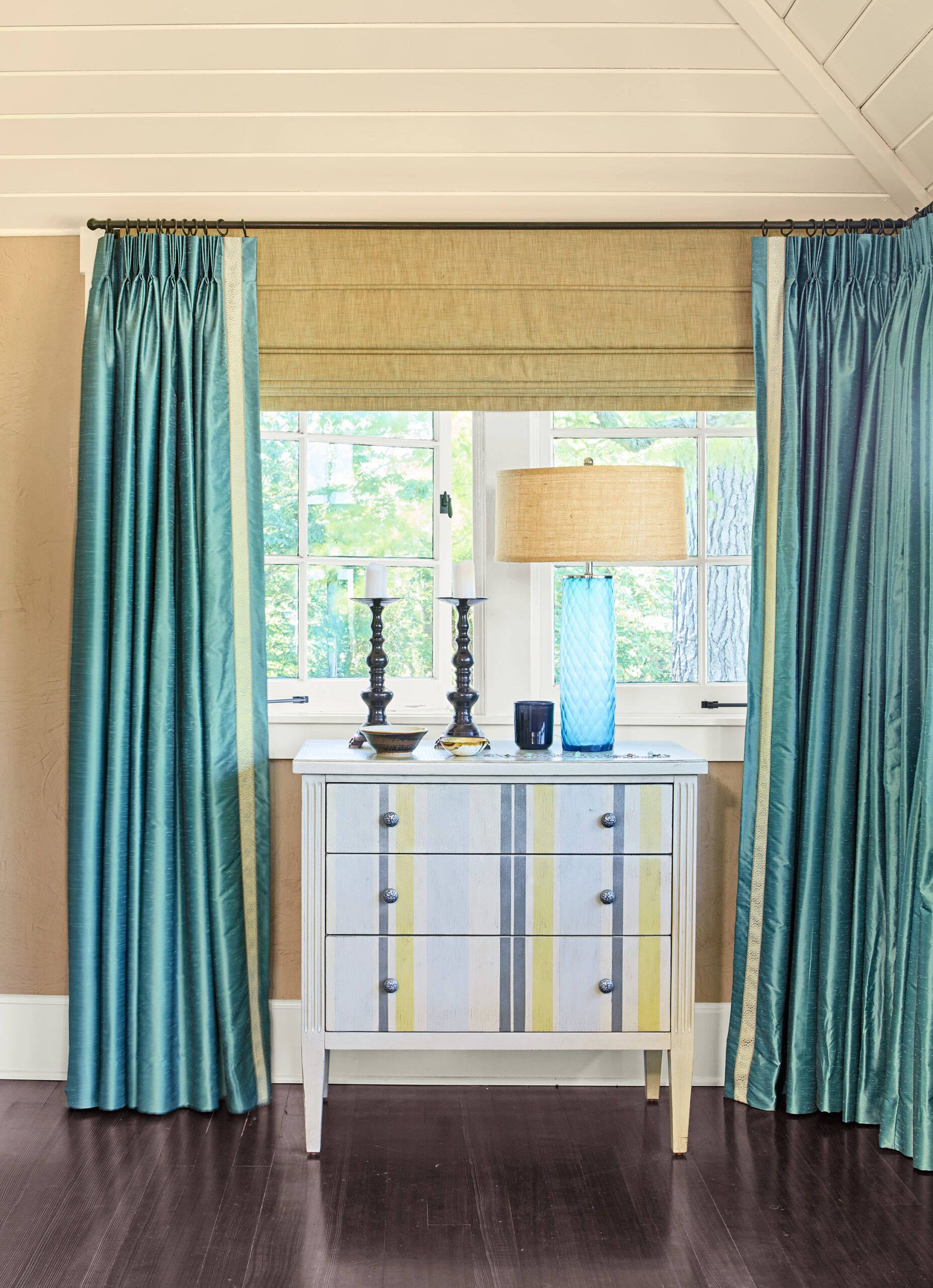 Selma credits two influences for her success as an old-house savior: her handy parents, who grew up during the Depression and taught her the importance of a nest egg, and a then-avant-garde 1987 book, Housewise: The Smart Woman's Guide to Buying and Renewing Real Estate for Profit, by Suzanne Brangham. (Small-world footnote: After renovating some 70 houses, Brangham is now a civic activist, hotelier, and restaurateur—in Sonoma—and her restaurant is in the former home of founder Vallejo's daughter.)
Shown: the master bedroom annexed a sleeping porch; its vaulted ceiling borrowed space from the attic. Stripes on the dresser tie the palette together.
Dresser: Joss & Main
Shades: The Shade Store
Curtain fabric: Calico Corners
Workspace Hutch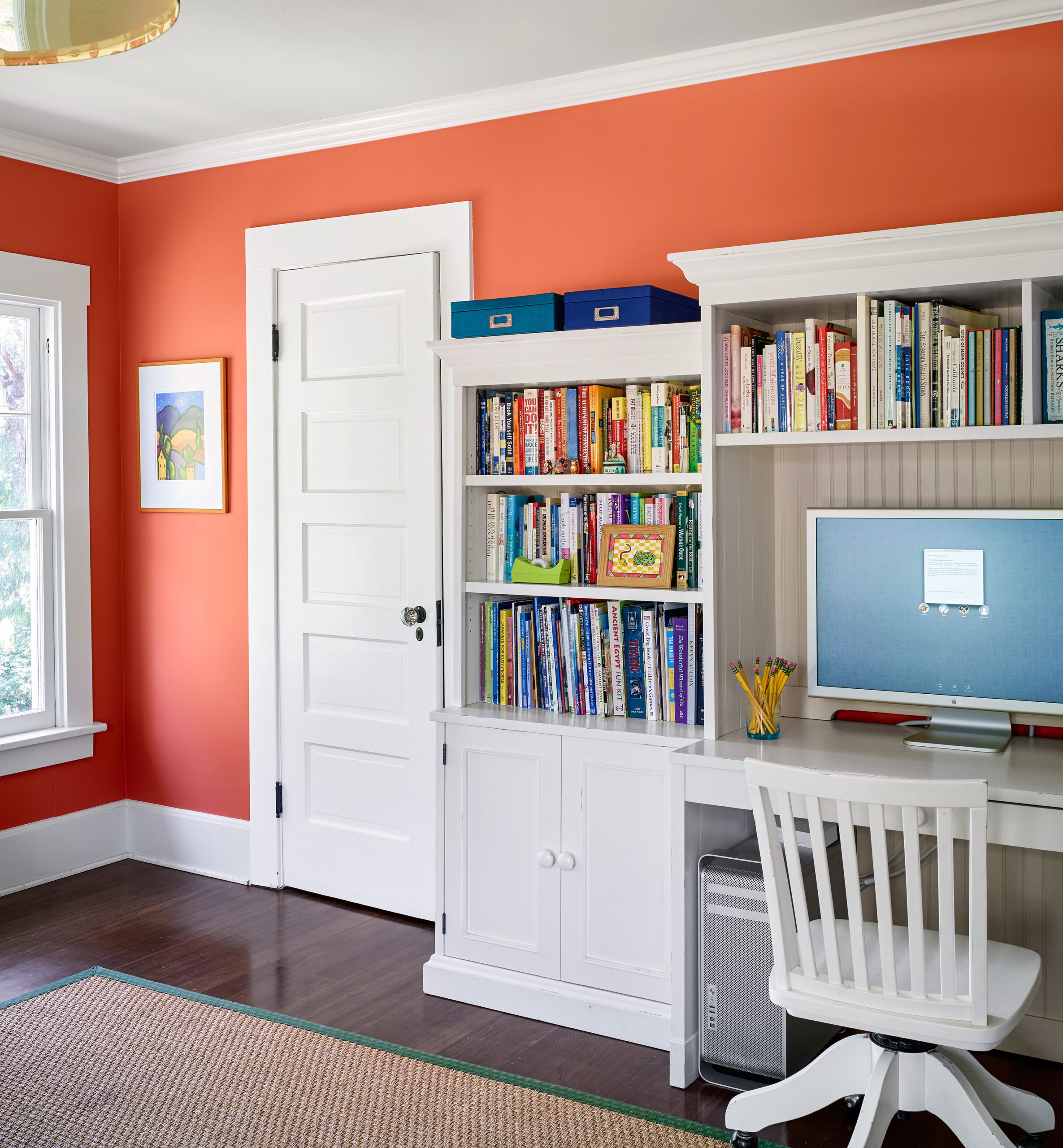 When she was just getting started, Selma says, "I would buy a house and fix it up with the intention of holding on to it and bringing back its charm. The more I did it, the more I was intrigued." But whether salvaging a house for profit or for oneself, there's a true payoff, she adds. "It ends up being equal parts honoring the past and breathing new life into a house you love."
That goes double for a house with period detail and proportions—and maybe the occasional window seat. "When people come in, they respond because it's traditional and expected," she says of her forever house. "They feel such a sweet calm."
Shown: a ready-made desk-with-hutch turned one bedroom into workspace.
Desk and chair: Pottery Barn
Paint: Benjamin Moore's Coral Bronze (walls) and Steam (trim)
Floor Plans: First Floor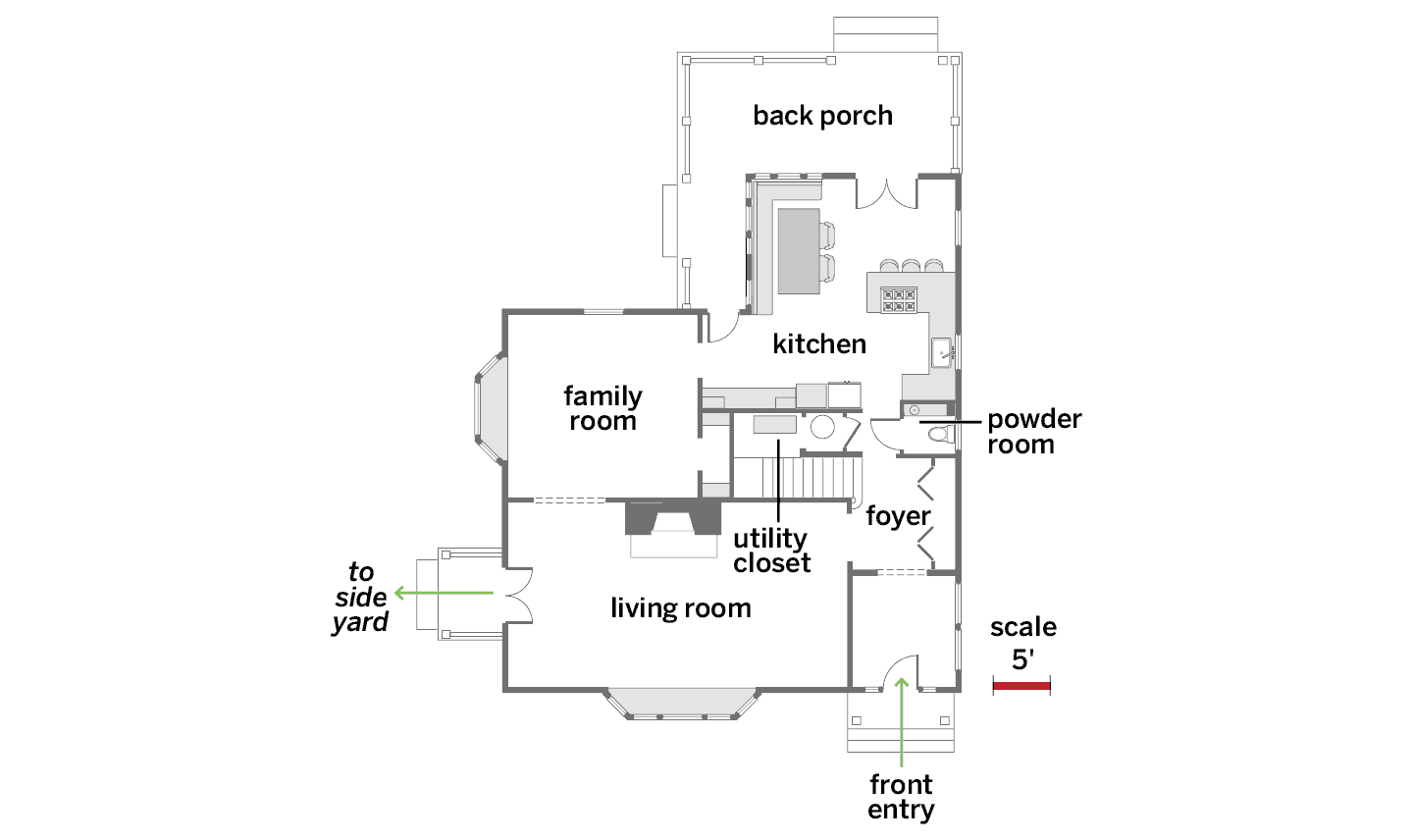 The house (above), originally 3,200 square feet, kept its existing layout while adding bay windows, porticos, a back porch, and three dormers, allowing much of the attic (plan not shown) to become living space.
Floor Plans: Second Floor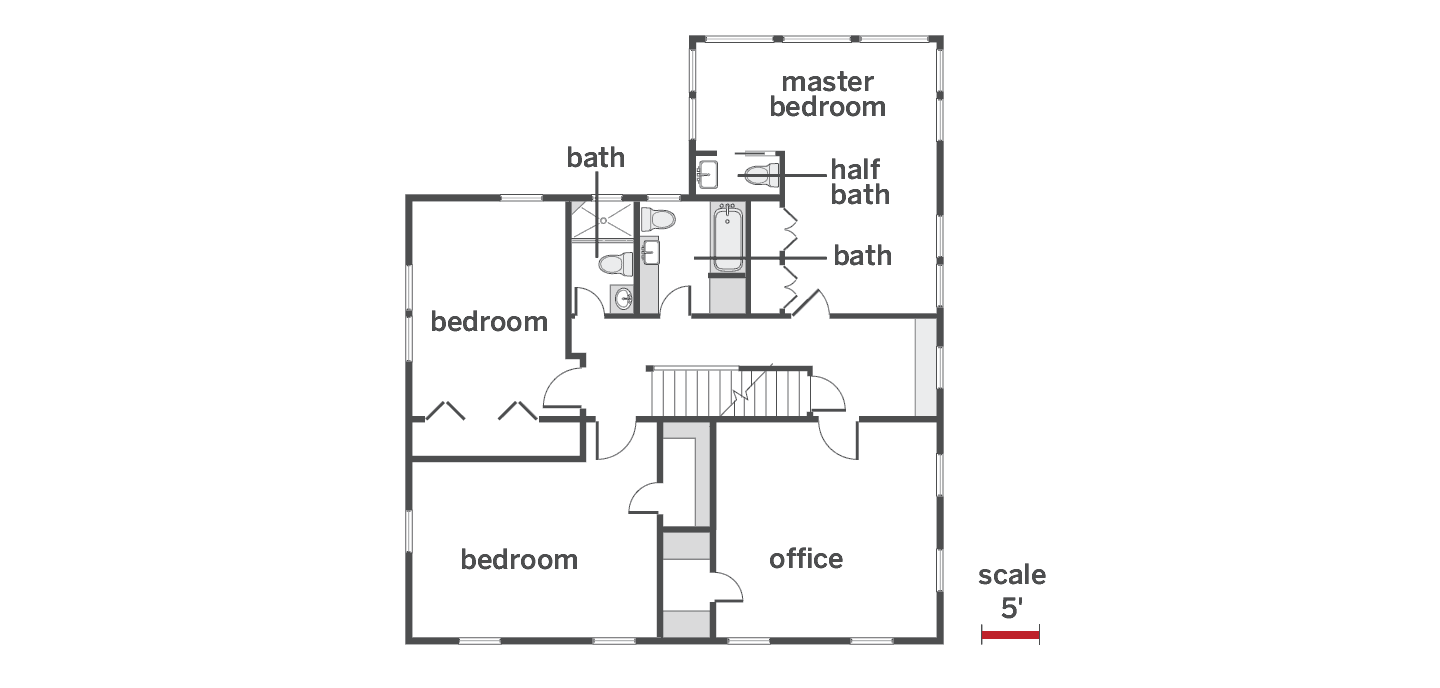 The baths and the kitchen were reworked, and the master bedroom annexed a sleeping porch. Because the house is in earthquake territory, two interior walls were rebuilt as shear walls.