Labor of Love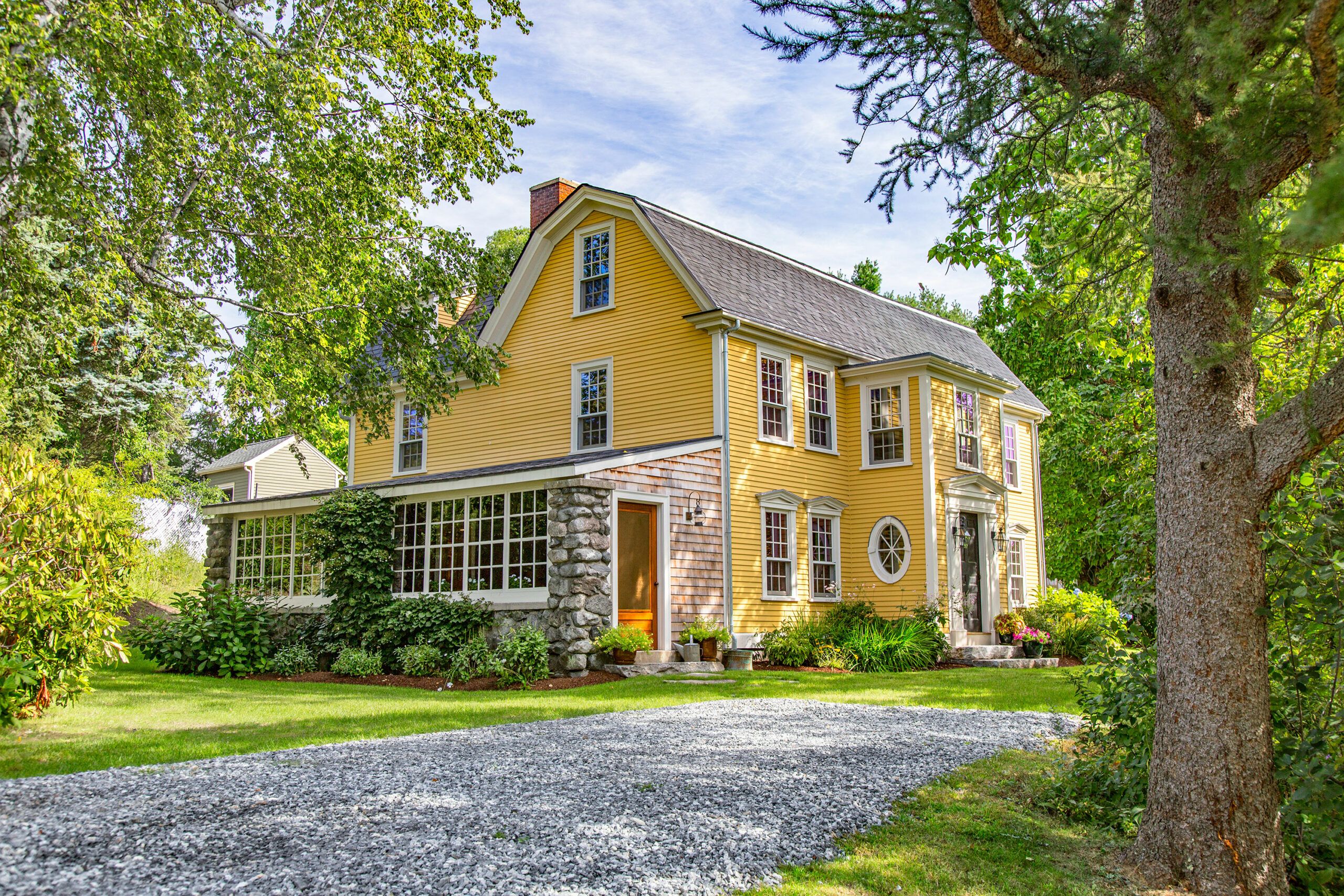 Buy the oldest house in a historical New England town, and you can expect some surprises.
When Craig Carswell closed on this 1750 Georgian in the idyllic Boston suburb of Winchester, he had visions of lounging in the backyard on warm summer afternoons surrounded by the mature fruit and flowering trees. The house's framing and foundation were sound; the wiring and plumbing had been updated. Craig figured he was avoiding any pressing problems. But when a brutal nor'easter blew through weeks later, leaving apples and pears littered on the ground, a frosty draft cut through the poorly insulated walls—and through any romantic notions he had about living in a house that was almost three centuries old.
Shown: The original circa 1750 Georgian-style house was restored with era-appropriate cedar clapboards painted a warm historical gold.
Paint: Benjamin Moore's Stuart Gold (siding) and White Sand (trim)
Front Entry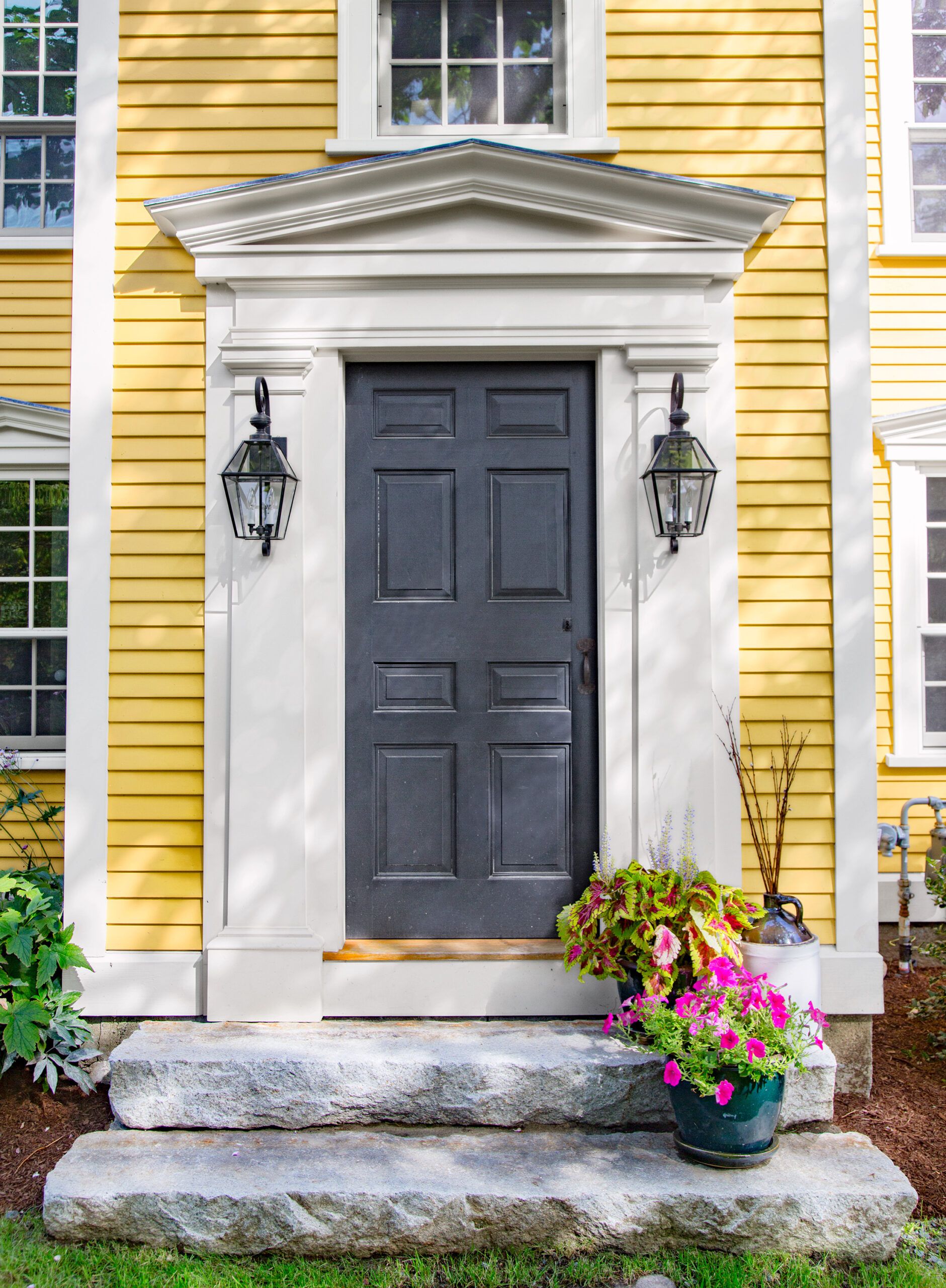 That was 10 years ago. "In some regards, it was a little unlivable from the beginning," Craig says now. "The laundry room had a door to the outside—the walls were crooked and the door was warped. One winter, during a snowstorm, I walked in and the wind was blowing snow into the house across the carpet."
Fast-forward six years, when the busy single dad to three boys married Katie Kissane, who moved in with her own son and daughter, thrusting the house's flaws into stark relief. "When Craig told me it was the oldest house in Winchester, I believed it!" she says with a laugh. Never mind the dried-out wood shingles, peeling paint, and plastic sheeting that covered some of the drafty windows. The layout was outdated, too. The three-story, five-bedroom house had space, but it lacked a place for the blended family of seven to spread out all together, and the kitchen was tiny. Then there was the issue of seven people sharing the house's one-and-a-half baths—or having to sprint across the lawn to the garage bath when the others were occupied.
So before too long, the couple enlisted Cummings Architects and Windhill Builders to rethink the rambling historical home. Rather than cut up the original floor plan, which was largely intact, the team envisioned an addition with a new kitchen, family room, and laundry, and a locker-lined mudroom in place of the old cook space. They also drew up a back staircase—typical in larger New England homes—along with an extra bedroom and three much-needed bathrooms upstairs.
Shown: A new eight-panel door welcomes visitors.
Door (custom): Matt Diana Housewright
Sconces: Lucia Lighting
Paint: Benjamin Moore's Stuart Gold (siding), White Sand (trim), and custom color (door)
Counter Dining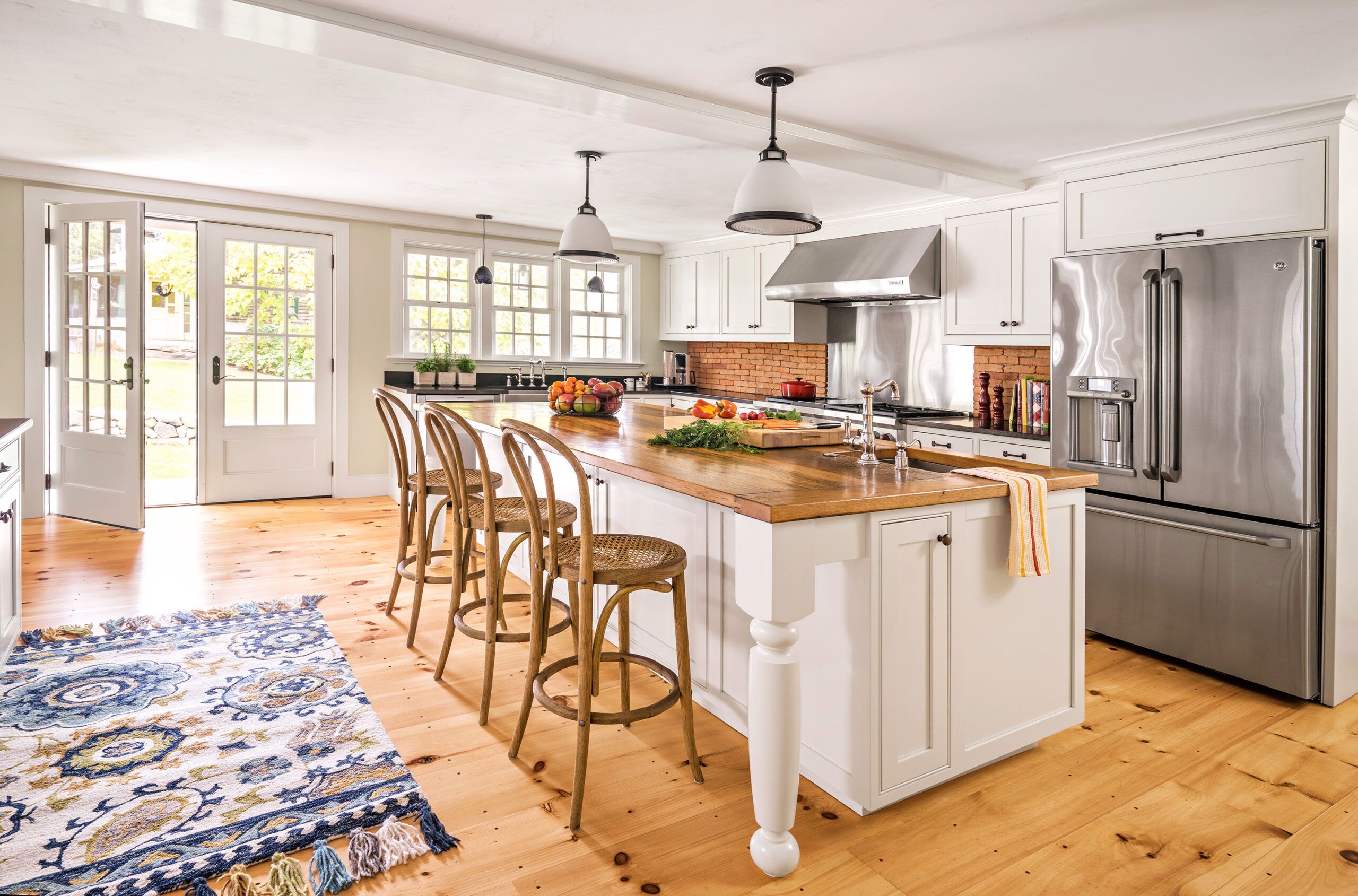 Shown: The farmhouse-style kitchen in the addition has two sinks, a pro-style range, a French-door refrigerator—and wide aisles for easy circulation. The island's salvaged yellow pine top warms up the granite and stainless steel that ring the room, as does the brick backsplash, which was salvaged from an upstairs bedroom.
Custom cabinets and island: Ipswich Cabinetry
Refrigerator: GE
Floors: Seacoast Floor Supply
Barstools: Restoration Hardware
Paint: Benjamin Moore's Dune White (cabinets), Manchester Tan (walls), and White Dove (trim)
Katie and Craig Carswell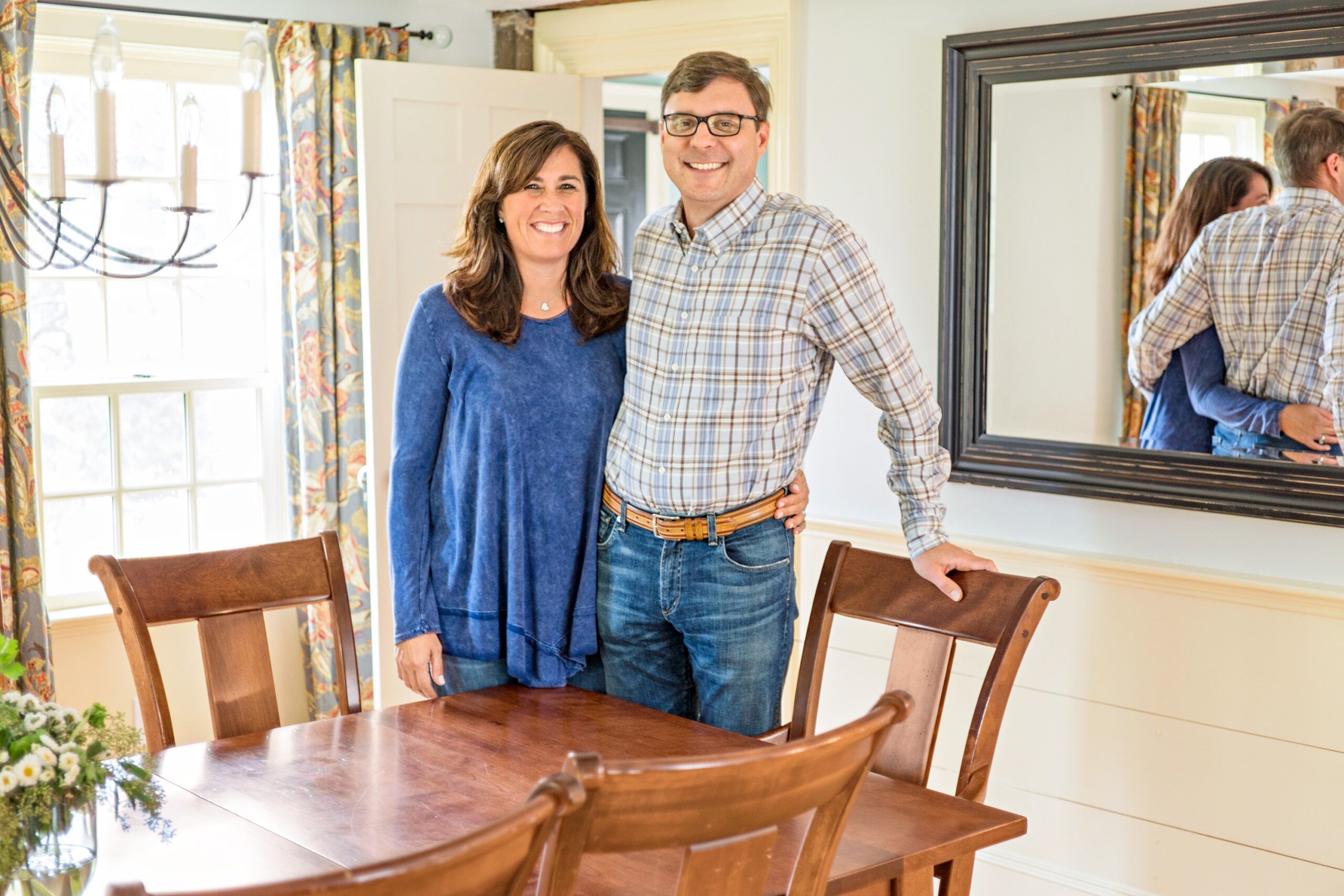 The new family moved into a small rental down the street, which helped knit them together even more. Katie says, "I like to joke, if we could blend five kids through the whole moving and construction process, we can do anything together!"
While the shingled house boasted plenty of history, inside much of its period charm had gone missing over the years. "We had to deal with the removal of the historical fabric of over 275 years," says lead architect Mat Cummings. Nearly all the finishes were gone, from the original clapboards to the flooring to the paint. Katie wanted particular period hues for the walls, so Cummings helped her decide which ones would work best together. Scraping layers of paint off the parlor mantel, they found fragments hinting at its true color. Outside, they replaced the weather-beaten shingles with traditional white cedar clapboards painted a welcoming gold. A new custom front door was fitted with salvaged hardware, including strap hinges, a box lock, and a skeleton key that looked so old, the architect says, "you'd think that it was 1747."
Shown: Katie and Craig Carswell in their home, which is listed in the National Register of Historic Places. The rest of the family includes Callie Lefebvre, 15, Calvin Carswell, 13, Jack Lefebvre, 12, Mitchell Carswell, 11, and Jasper Carswell, 8.
Wet Bar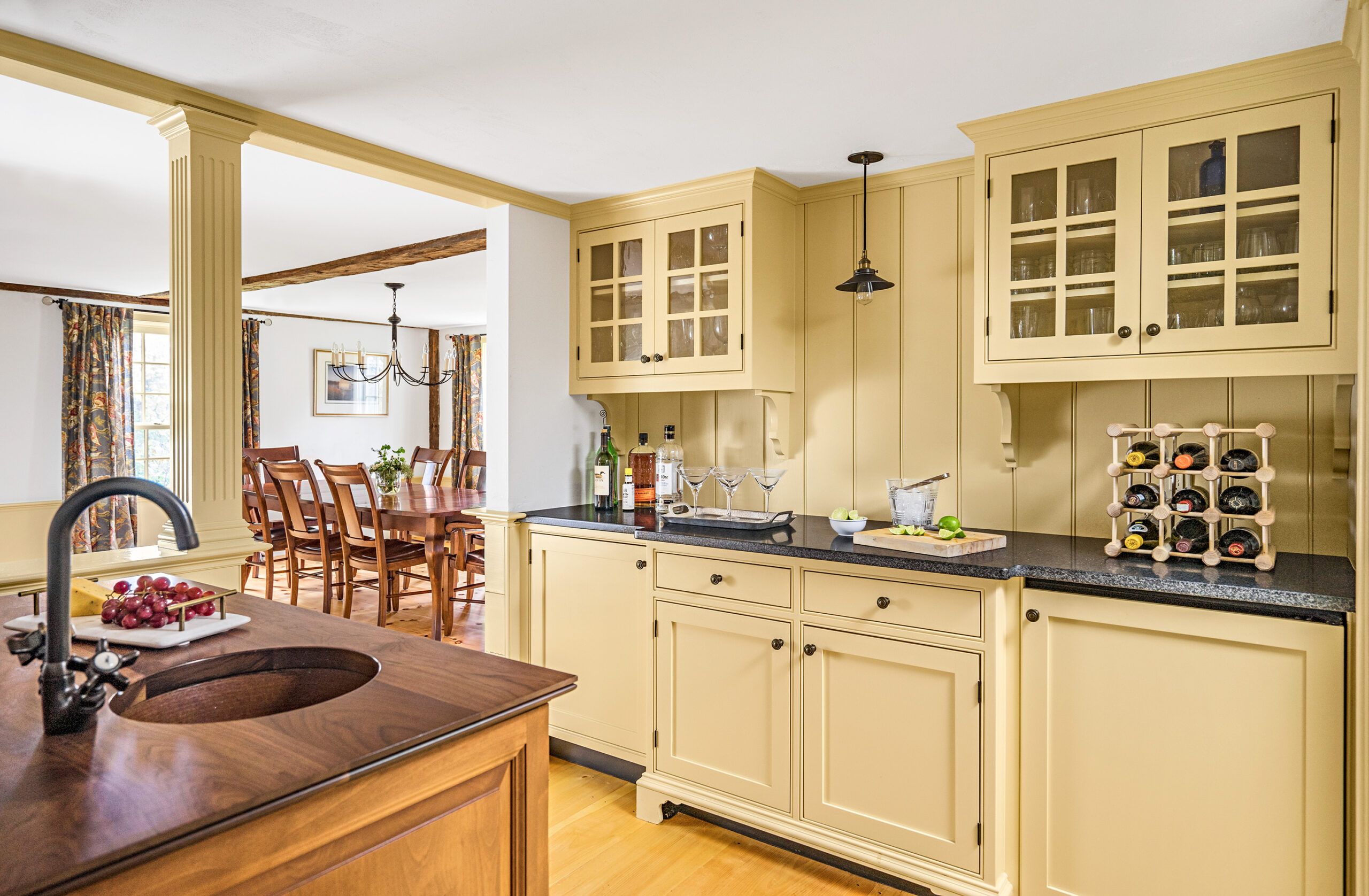 To lighten up the dark entry foyer, the team added era-appropriate oval windows on either side. "The house had lost what it once was—it wasn't a stately home, but it wasn't a working man's home either, it was something in between," Cummings says. "We tried to feel what it was in its heyday." They restored the original front staircase and returned the rooms on either side to their intended uses, with names to match: the "hall," for eating, and the "parlor," for sitting by the fire. In their simple details and spare furnishings, these renewed spaces have a modern simplicity. For each new and reworked room, they hung antique or hand-planed doors instead of new standard-issue ones, adjusting door frames as needed and sourcing vintage hardware. Decades back, two stories of original flooring had been ripped up and replaced with strip maple. For a more authentic look, the team chose what would have been used in a 1700s home: knotty eastern white pine. Planks in varying widths—10 to 16 inches downstairs and 10 to 14 inches upstairs—were face-nailed in place with old-school square-cut nails; the new boards will shrink, gap, and mellow with time.
Today, as guests walk from the wet bar, installed in a former bookshelf alcove off the front hall, to the kitchen, they see no visible sign that they are moving from the original house to the modern addition. But securing the footings necessary to build the new rooms proved a major challenge. As the team excavated in preparation for the new foundation, they ran into granite ledge. "Removing ledge is an expensive and time-consuming task for any construction project," says contractor Shawn Cayer. "But working within inches of an existing stone foundation nearly three centuries old required careful planning and a delicate approach."
Shown: A wet bar went into an alcove off the front hall where bookcases had stood.
Custom cabinets: Ipswich Cabinetry
Knobs and pulls: House of Antique Hardware
Paint: Benjamin Moore's Philadelphia Cream (cabinets and woodwork)
Brighter Foyer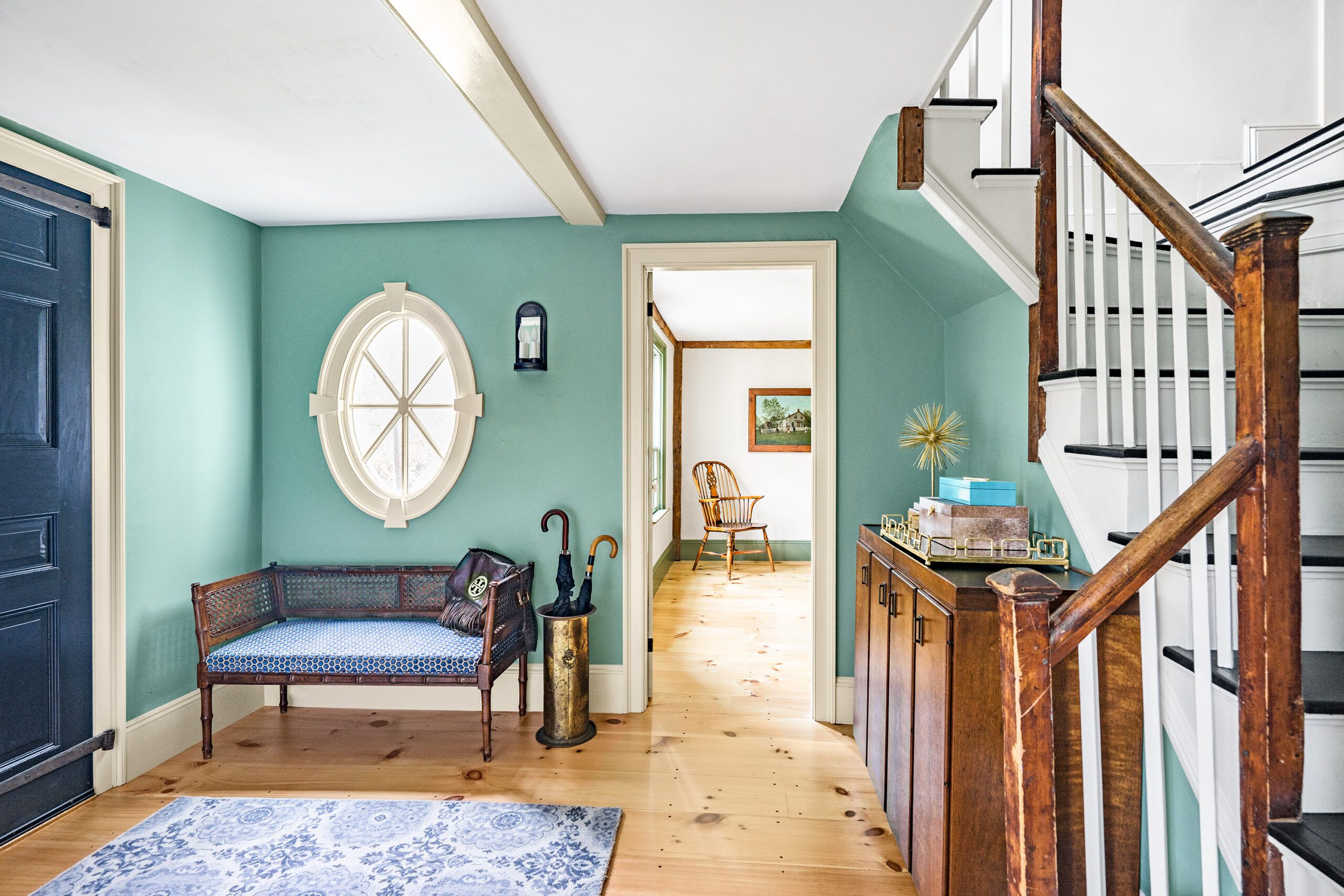 In order to not compromise the existing foundation, Cayer carefully broke down the rock over two days using a CAT excavator fitted with a hydraulic hammer. Once the ledge was low enough, he pinned the footing to it with rebar, successfully marrying the new foundation to the old.
The real star of the addition's first floor is the new farmhouse kitchen. White cabinets and honed black granite are warmed up by a backsplash of original handmade bricks that were used as insulation in a bedroom wall. For the island, the couple wanted a spill-proof, homework-proof surface and fell in love with a locally made top of reclaimed yellow pine. The kitchen connects to a casual living room, and French doors open up the space to a new patio and metal-roofed porch out back.
Shown: A lighter, brighter foyer features new oval windows on either side and a custom door with salvaged period hardware
Windows: Jeld-Wen
Salvaged door hardware: Williamsburg Blacksmiths
Bench: Bryant Park Designs
Paint: Benjamin Moore's Covington Blue (walls) and Cream Fleece (trim)
Parlor from the Past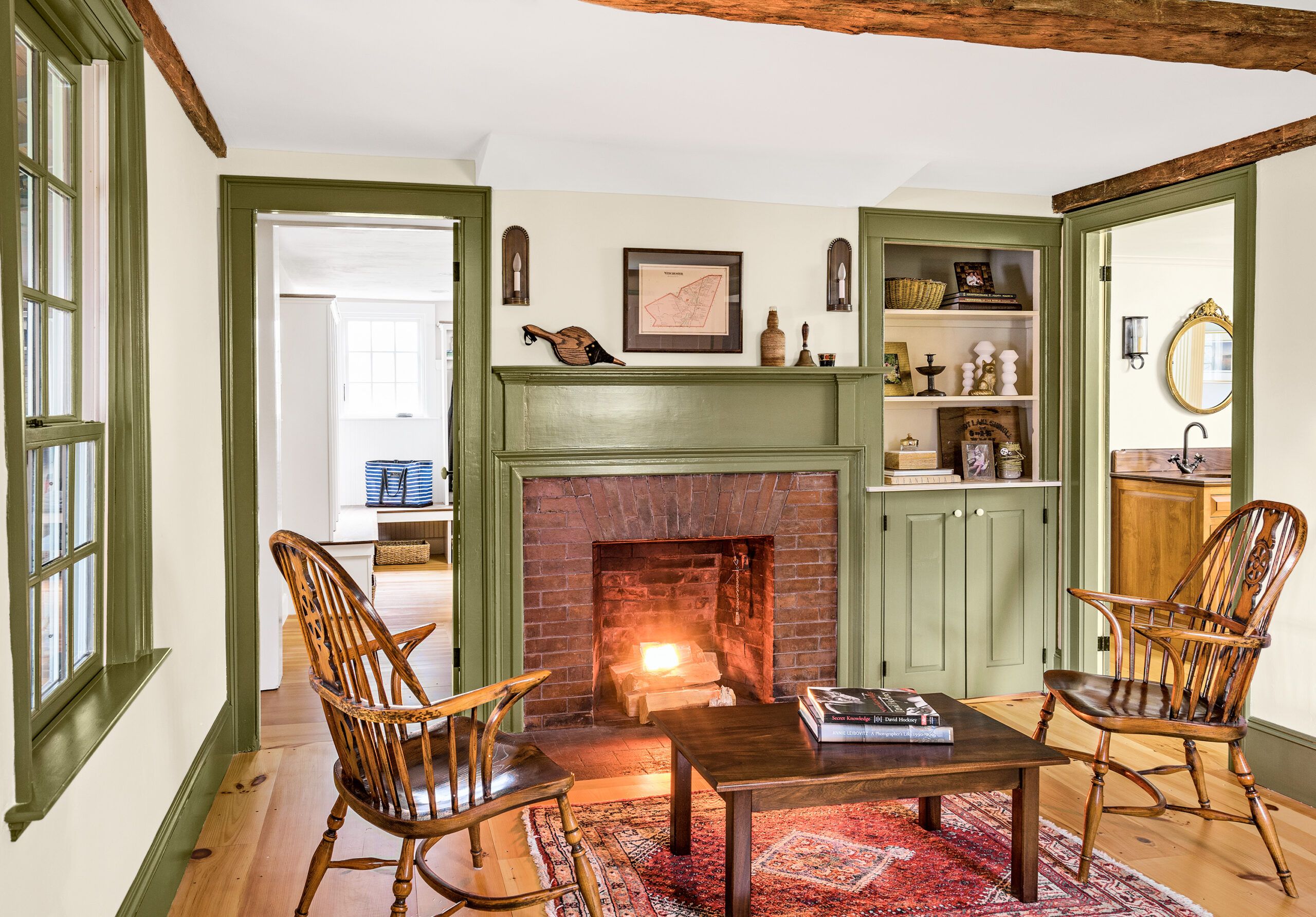 The rear addition is all about mixing historical details with modern finishes. Up the new back staircase there are now four bedrooms, including the original "bed chamber" (master bedroom), which is connected to a new double-height bath with clerestory windows. The marble vanity and claw-foot tub have a vintage feel, while the closet's barn door, made from wood salvaged during the construction, adds a rustic-contemporary contrast.
Shown: Retaining its original character, the "parlor" is furnished simply, as it would have been almost 300 years ago.
Chairs: Bryant Park Designs
Sconces: Lucia Lighting
Paint: Benjamin Moore's Sailcloth (walls) and Great Barrington Green (woodwork)
Master Bedroom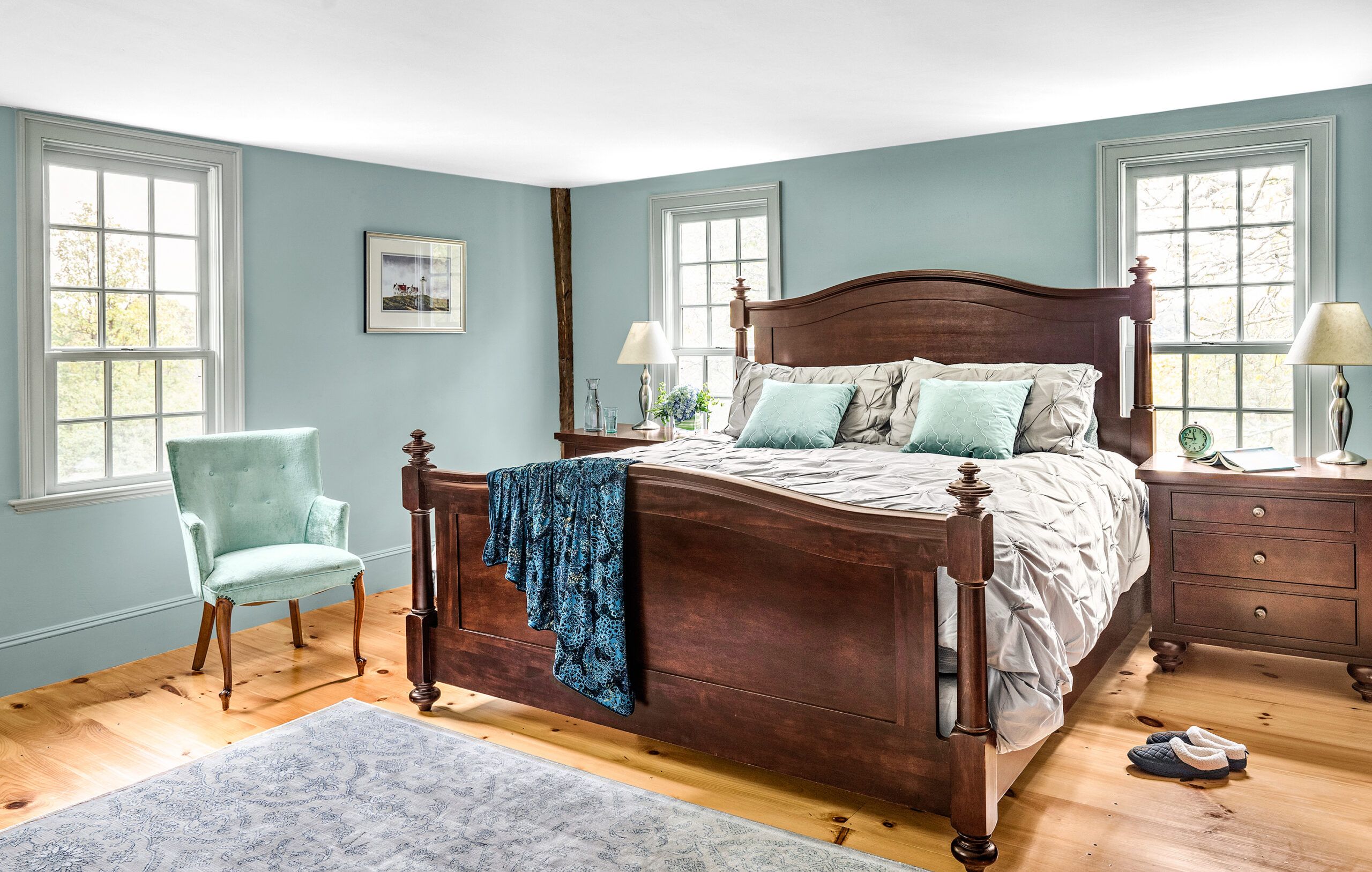 Today the reimagined house is a perfect place for the whole clan to gather, piling on the living room sofas for movie night or playing with their newest addition, Bailey, a golden retriever puppy.
Shown: The couple kept their original bedroom as it was, since it got the best natural light in the house. The update is the luxurious master bath adjacent to it.
Chair: Bryant Park Designs
Paint: Benjamin Moore's Wedgewood Gray (walls) and Coventry Gray (trim)
Spacious Master Bath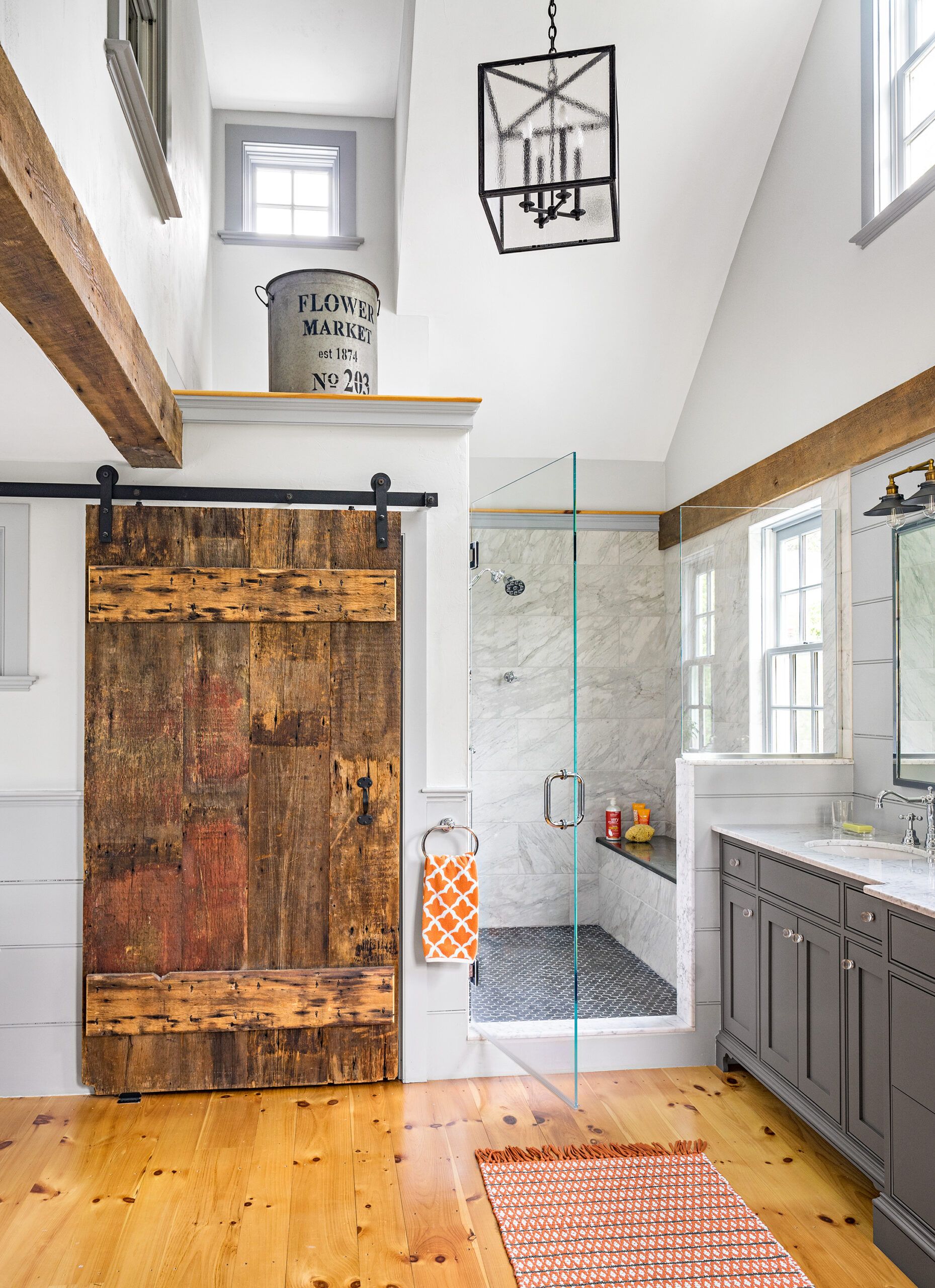 For Craig, the romance has returned, seeing the circa 1750 structure made weather tight and whole again, and watching the family come together in the new open spaces or spill out into the backyard.
Shown: Lofty ceilings are a welcome change in the double-height master bath. The closet's rustic barn door offers a striking contrast to the sleek glass-and-marble shower.
Sconces and mirrors: Restoration Hardware
Paint: Benjamin Moore's Wickham Gray (walls), Coventry Gray (woodwork), and Chelsea Gray (vanity)
Dining Room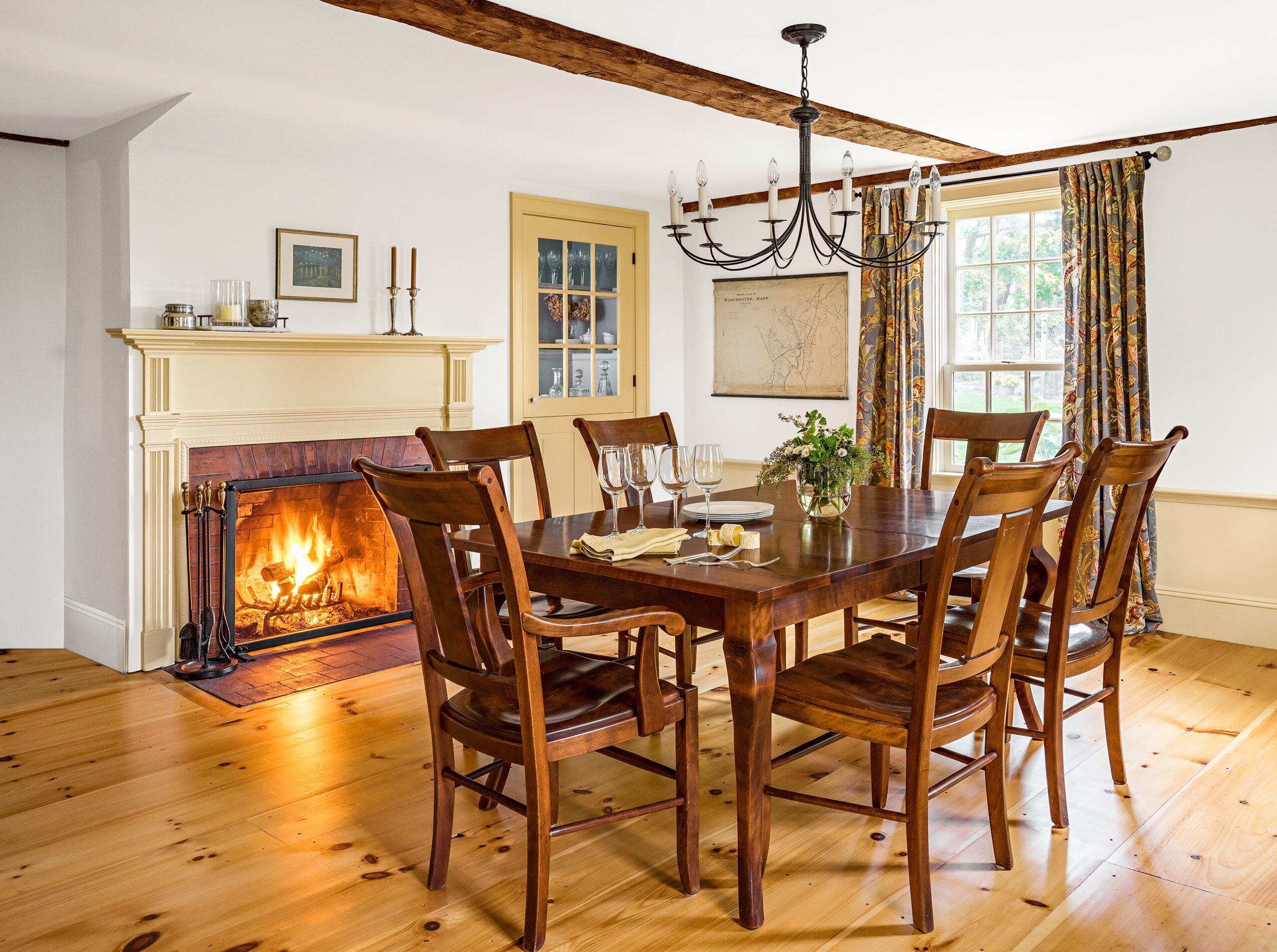 "It's hard to imagine that the work we did will be here in 200 years, but I'm sure the original owner felt the same way," Craig says. "In some respects, I feel more like the caretaker than the owner. This house has been around for a long time, but it still has a long time yet to go."
Shown: The "hall" was returned to its intended purpose, for dining, with new eastern white pine floors, period paint colors, and a Colonial-style chandelier.
Chandelier: Lucia Lighting
Paint: Benjamin Moore's Horizon (walls) and Philadelphia Cream (woodwork)
Vanity Pair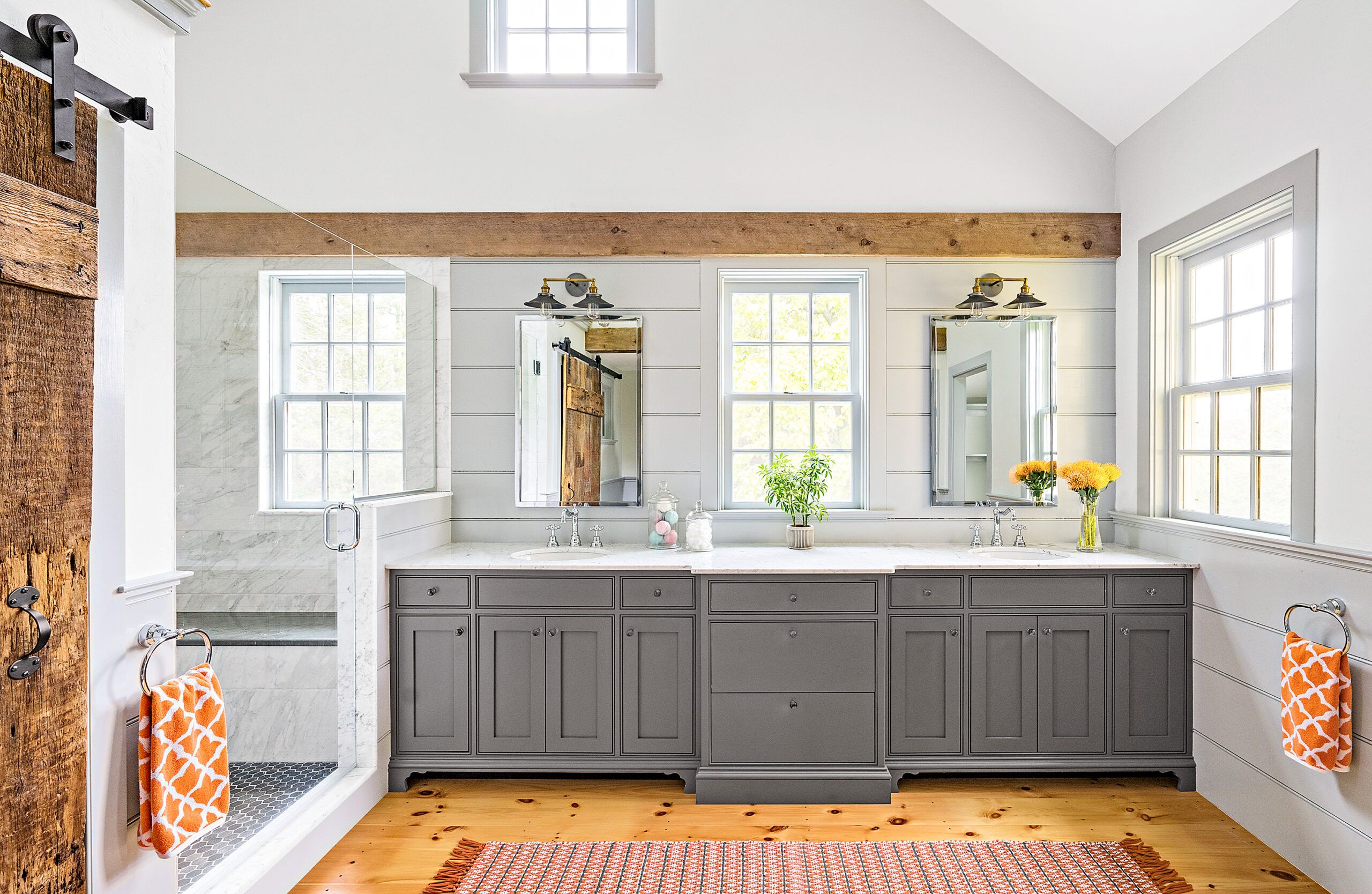 Rustic beams and a sliding barn door add farmhouse charm and texture to the master bath—the most luxurious (and modern) part of the addition.
Paint: Benjamin Moore's Wickham Gray (walls), Coventry Gray (woodwork), and Chelsea Gray (vanity)
Claw-Foot Tub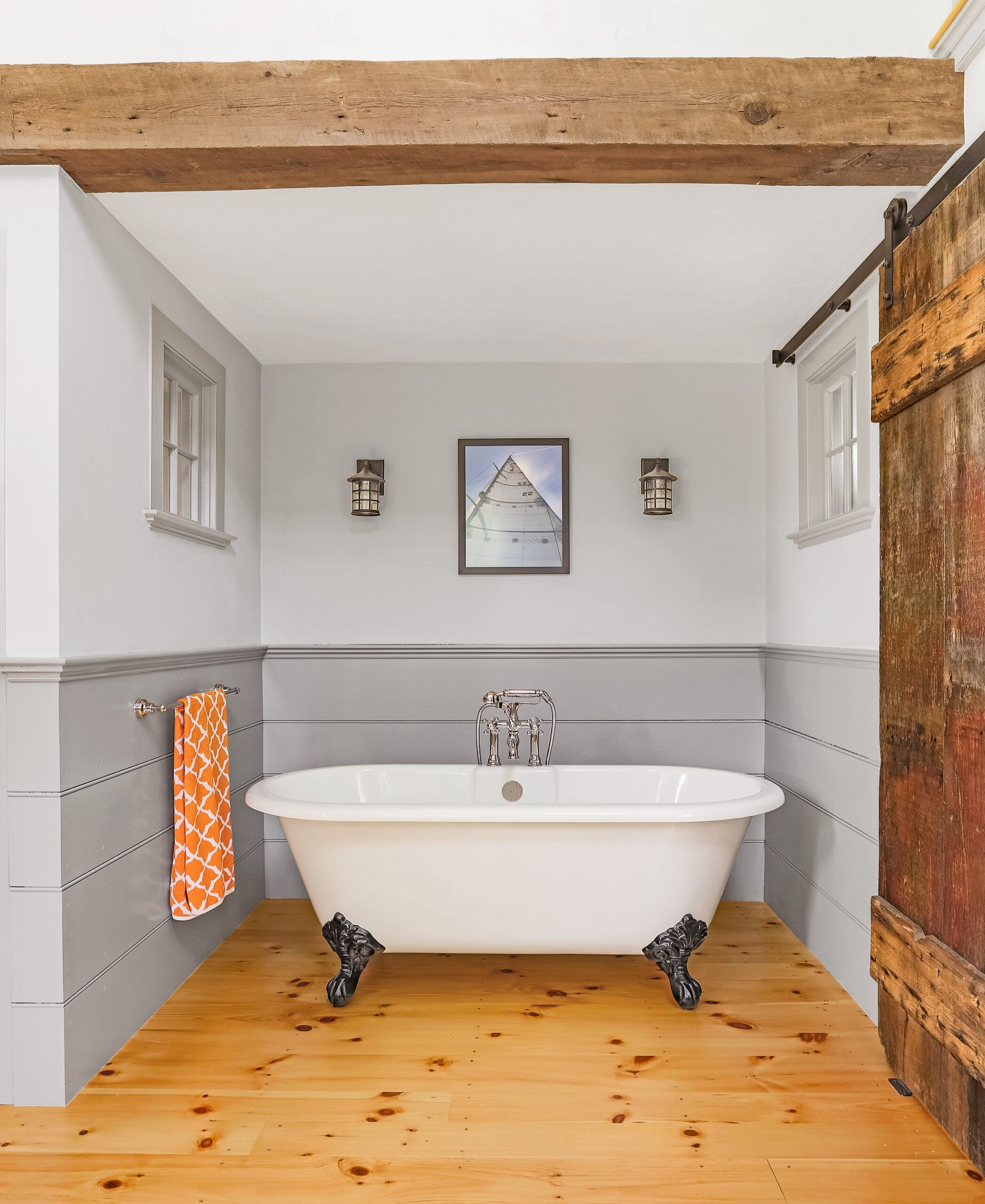 A claw-foot tub sits in an alcove in the master bath between the walk-in closet (behind the barn door) and the toilet room.
Paint: Benjamin Moore's Wickham Gray (upper walls) and Coventry Gray (woodwork)
Modern Laundry Room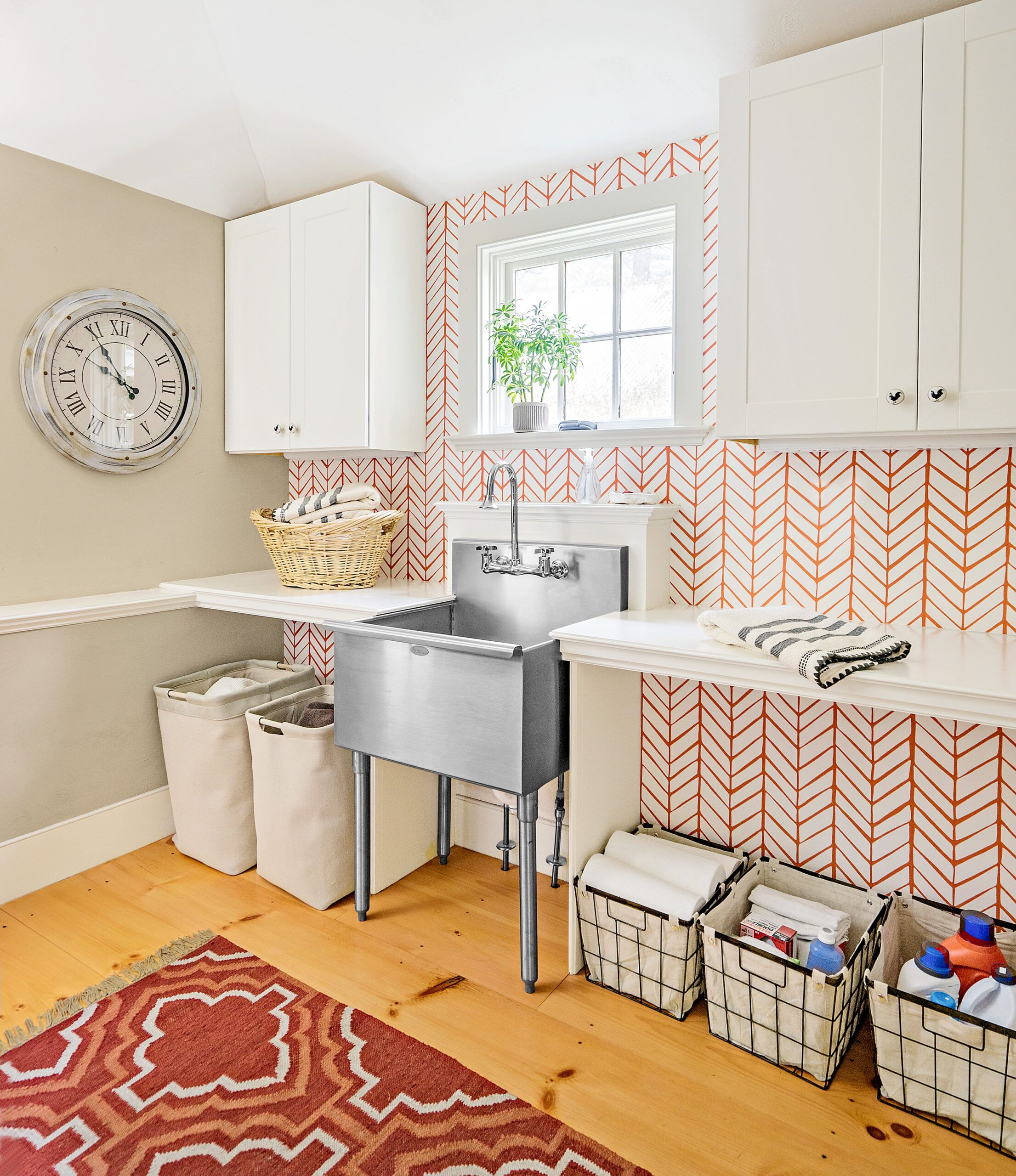 The laundry room gets modern-day cheer from chevron-patterned wallpaper and an industrial utility sink.
Sink: Advance Tabco
Cabinets: Home Depot
Feather wallpaper, in orange: Serena & Lily
Paint: Benjamin Moore's Revere Pewter (walls) and White Dove (trim)
Casual Living Room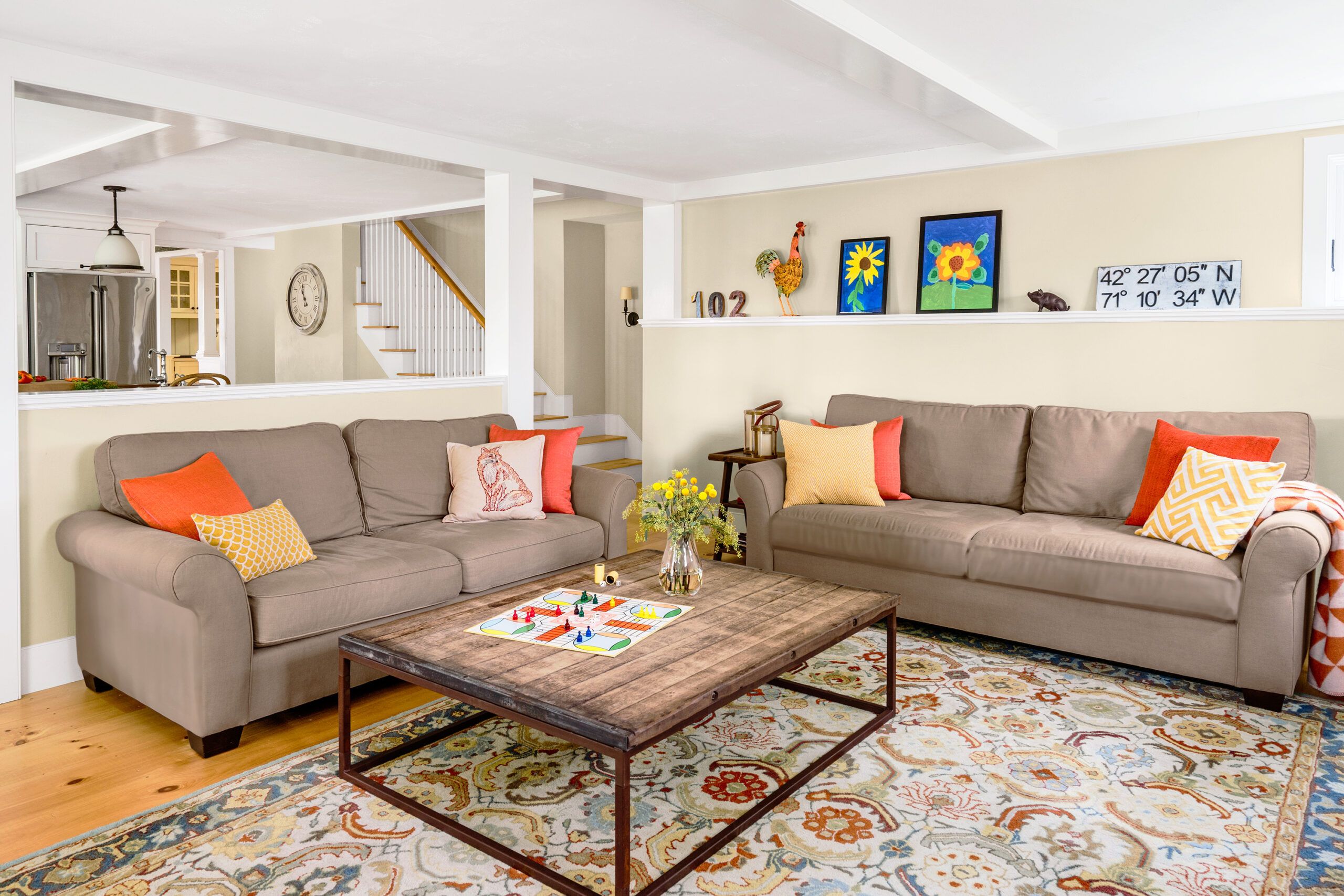 A new living room connected to the kitchen is a casual counterpoint to the original front rooms of the house.
Sofas: Pottery Barn
Paint: Benjamin Moore's Manchester Tan (walls) and White Dove (trim)
Bedroom With Fireplace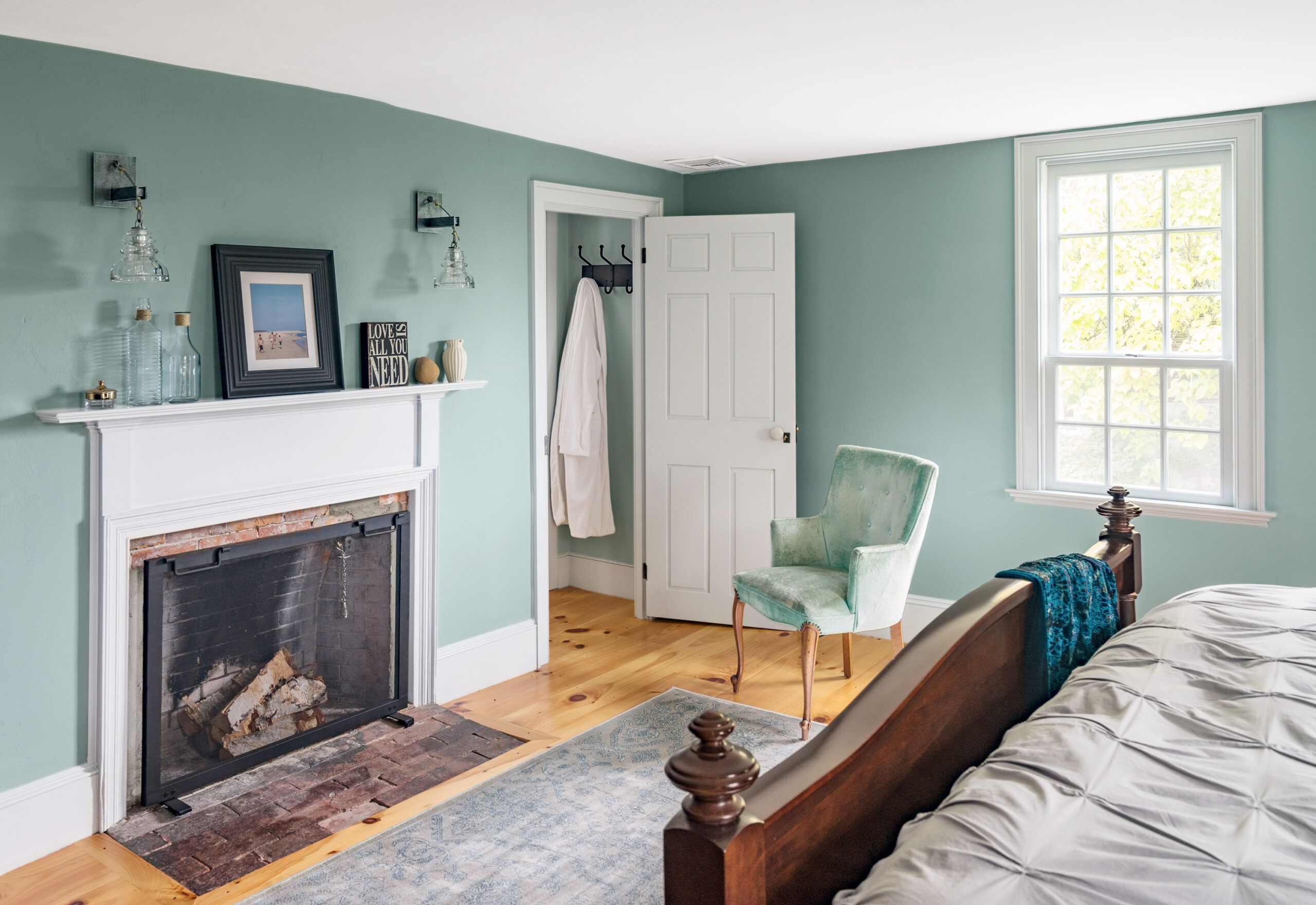 The master bedroom retains an original fireplace.
Paint: Benjamin Moore's Wedgewood Gray (walls) and Coventry Gray (woodwork)
Foyer Staircase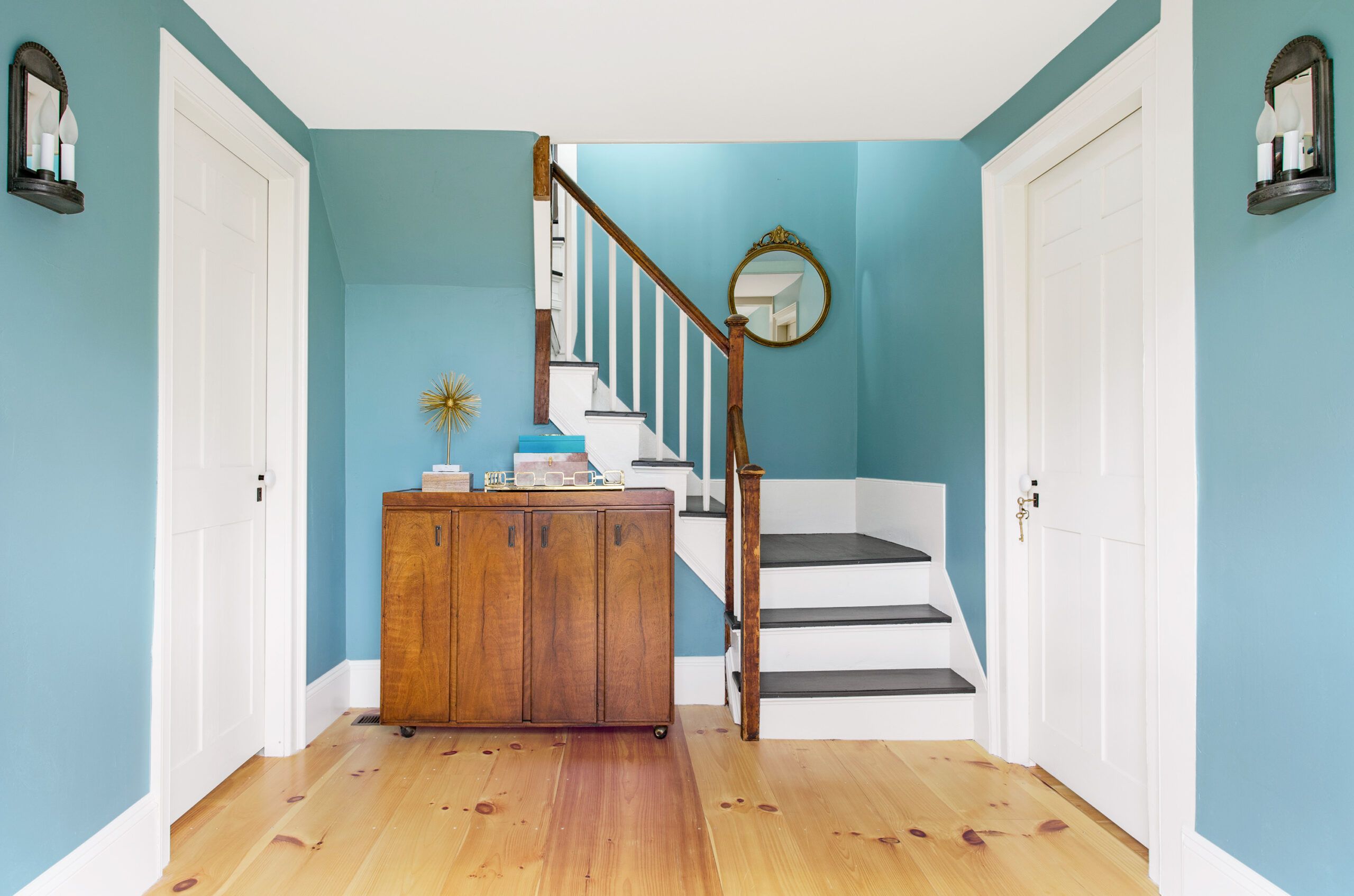 The foyer is painted a bright, welcoming blue. The restored staircase got black painted treads with white risers for contrast.
Paint: Benjamin Moore's Covington Blue (walls) and Cream Fleece (woodwork)
Mudroom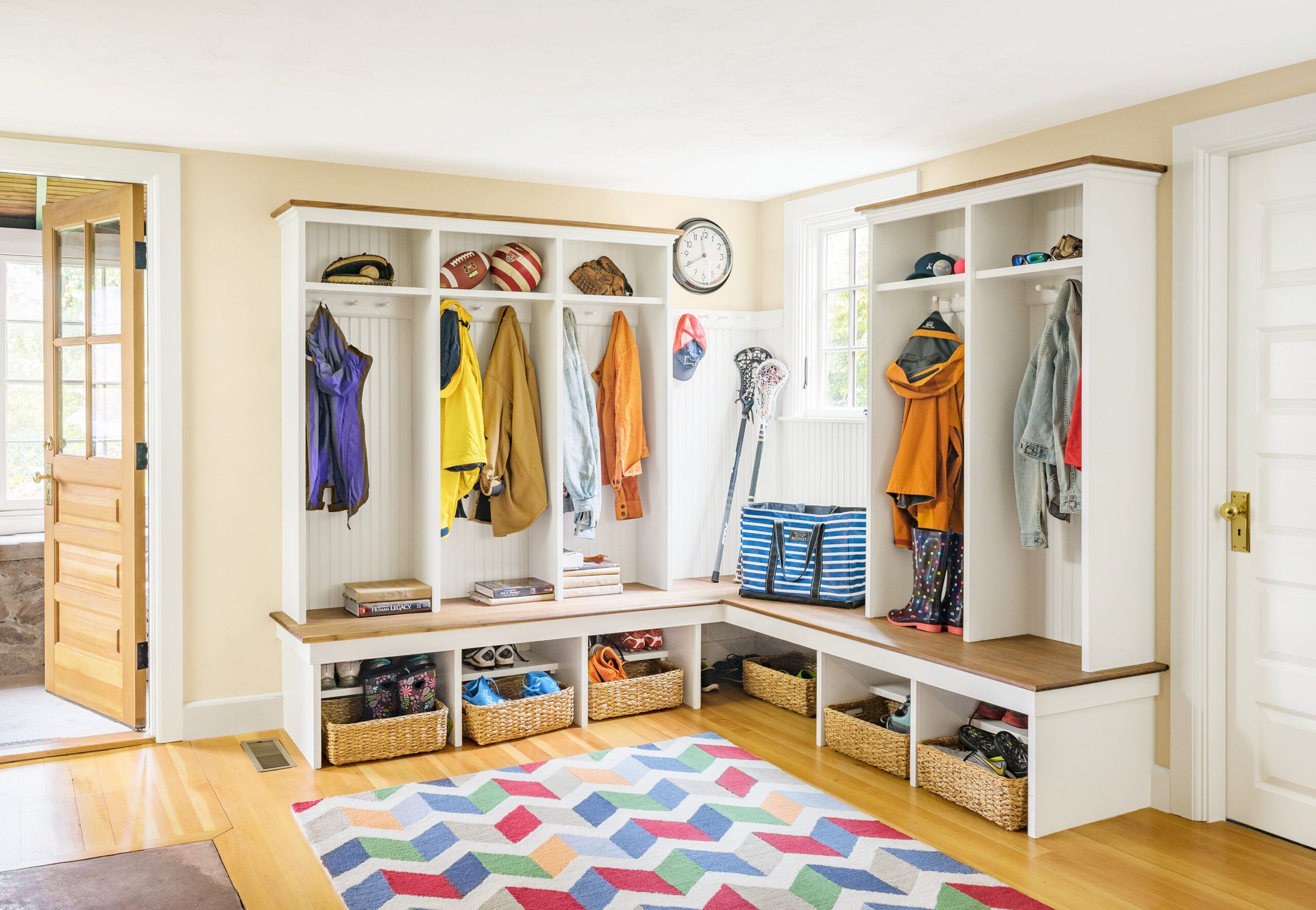 A mudroom was created where the former kitchen had stood, fitted with functional storage lockers for each child.
Paint: Benjamin Moore's Shaker Beige (walls) and Sailcloth (woodwork)
Old Meets New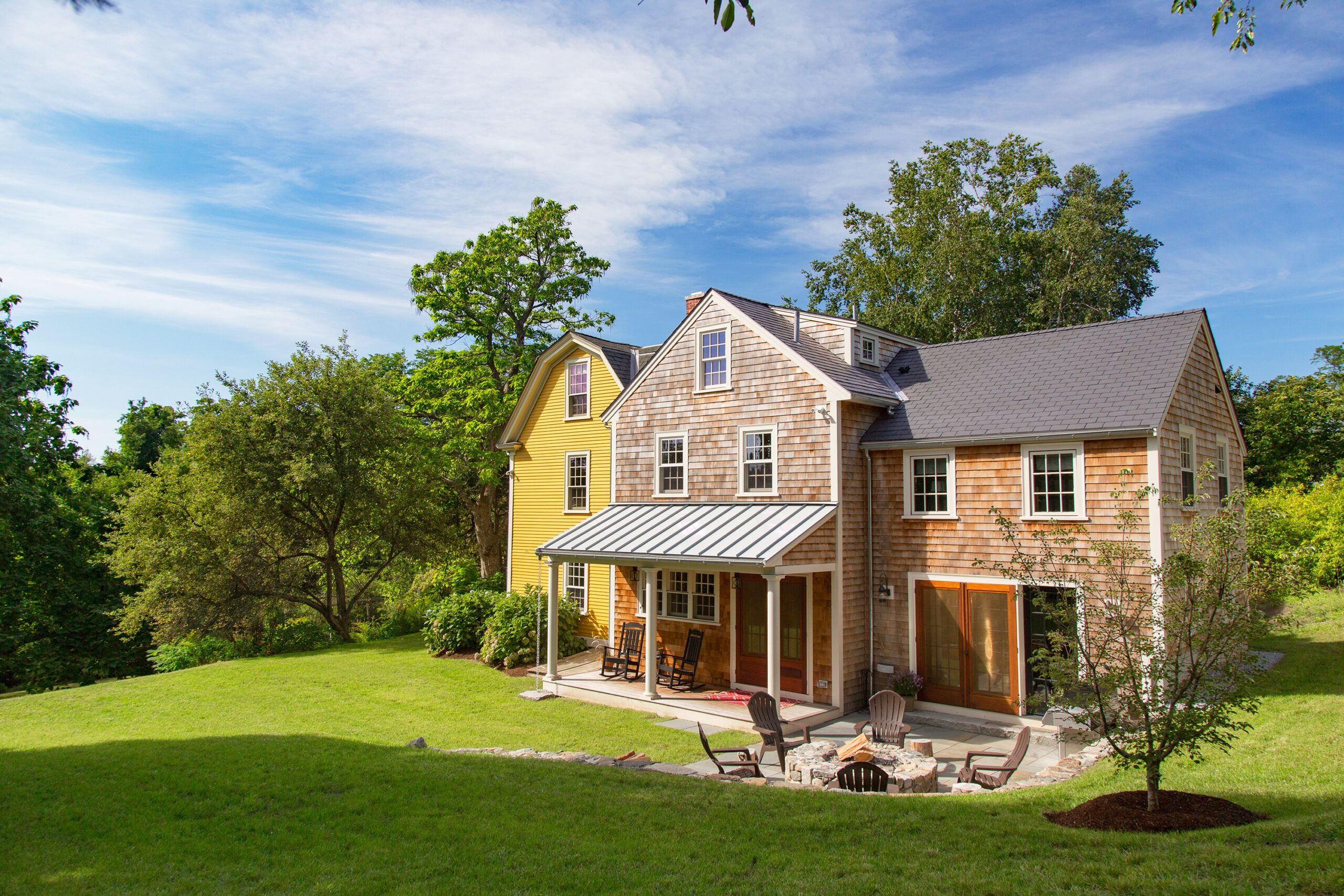 To clearly mark the transition from old to new, the rear addition is clad in unpainted white cedar shingles. A standing-seam metal roof shelters the side porch, and French doors open onto a stone patio.
Original Clay Bricks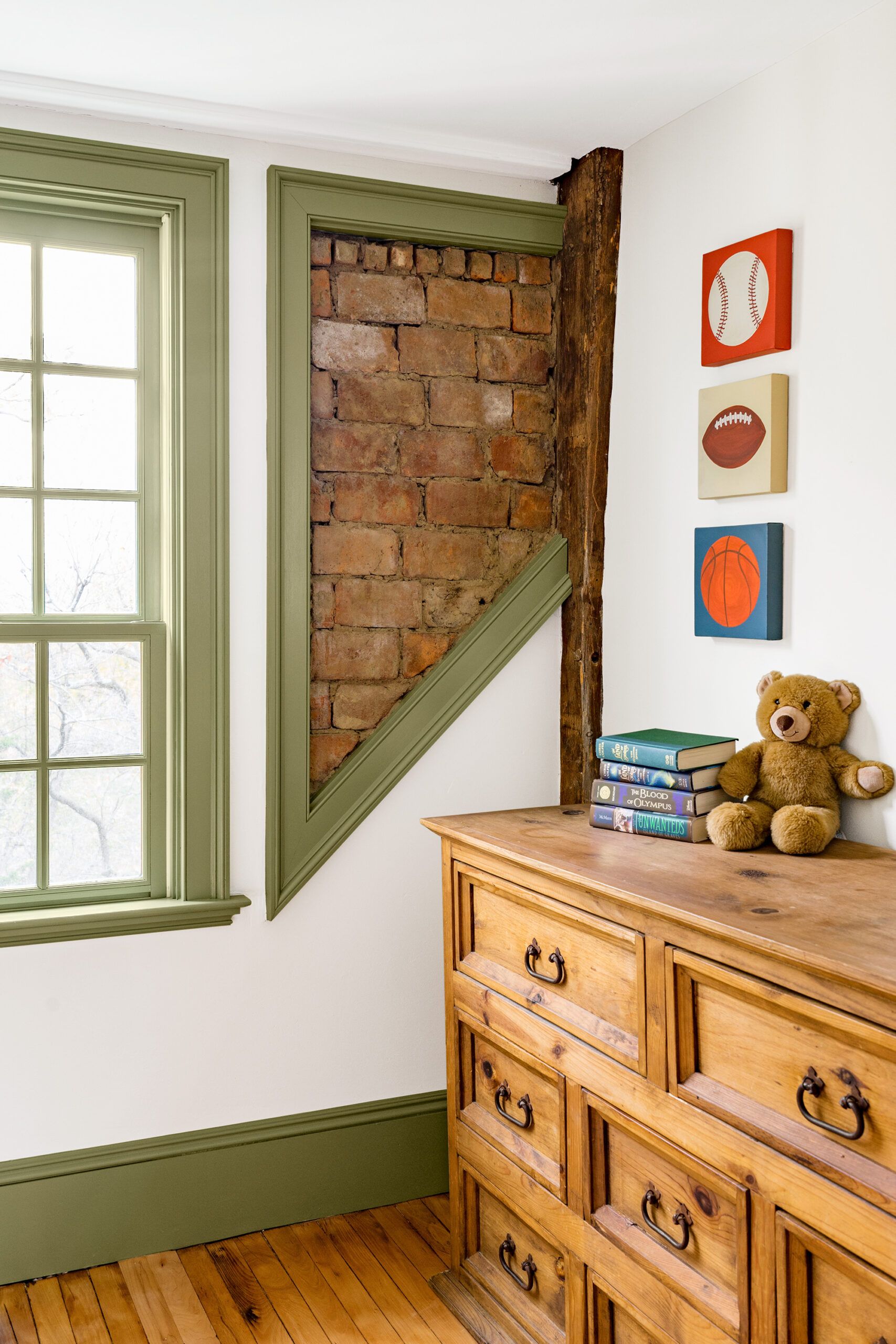 A section of original handmade clay bricks was framed out as an accent in 11-year-old Mitchell Carswell's bedroom.
Paint: Benjamin Moore's Lehigh Green (trim) and Sailcloth (walls)
Salvaging the Past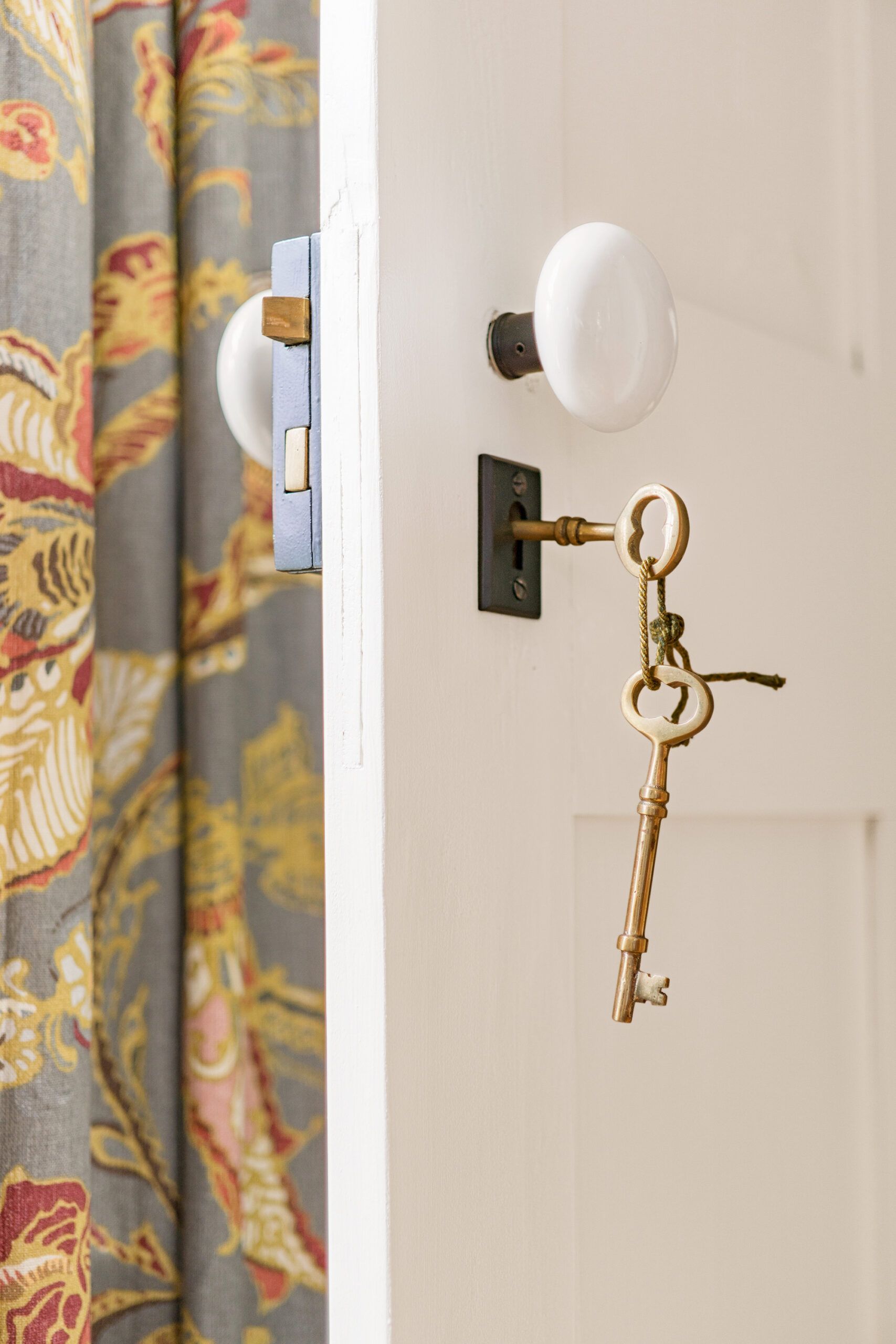 Salvaged hardware, including skeleton keys, gives new doors a foothold in the past.
Salvaged hardware: Williamsburg Blacksmiths
First Floor Plans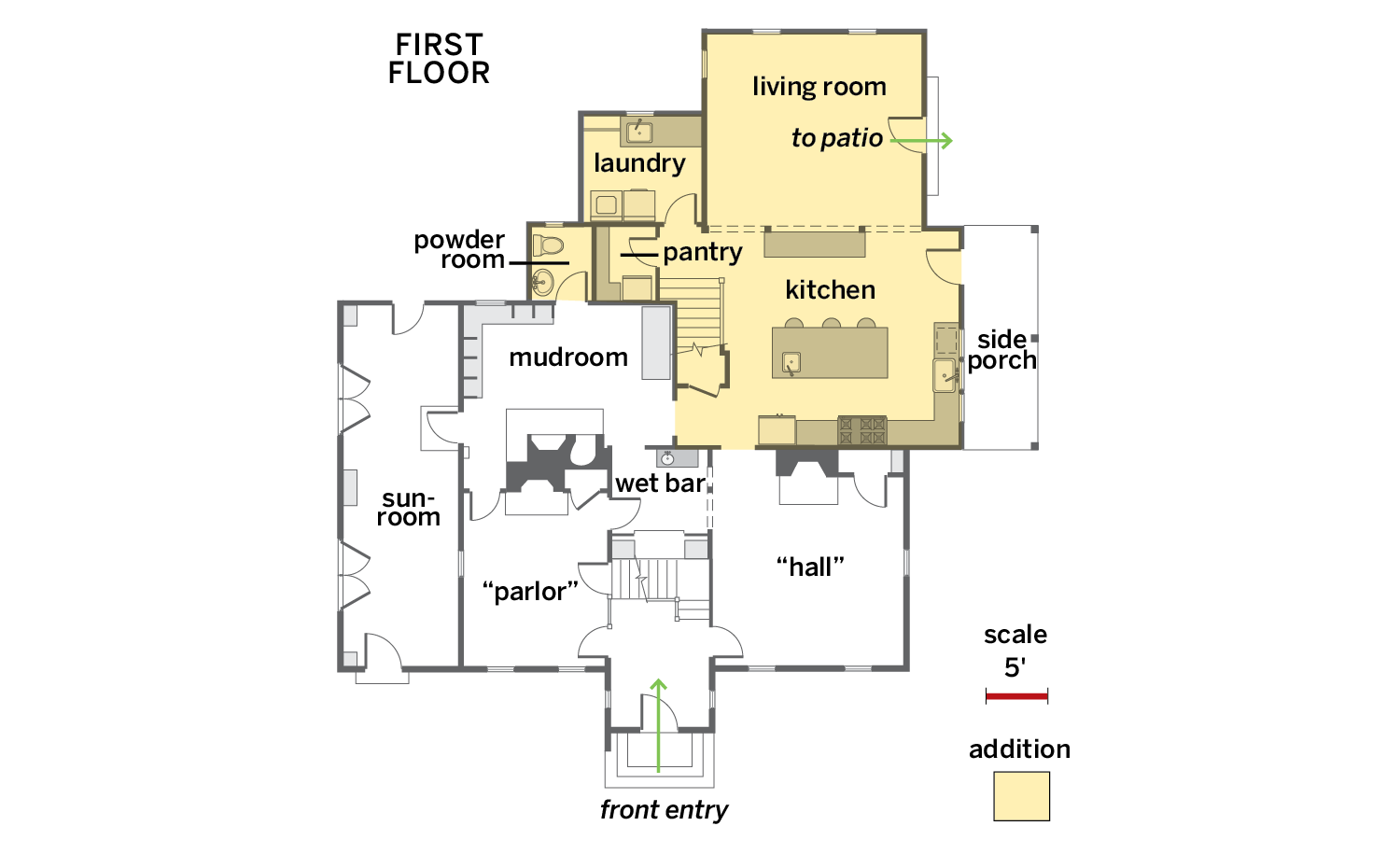 The renovation added a great-room kitchen, laundry, and half bath on the first floor
Second Floor Plans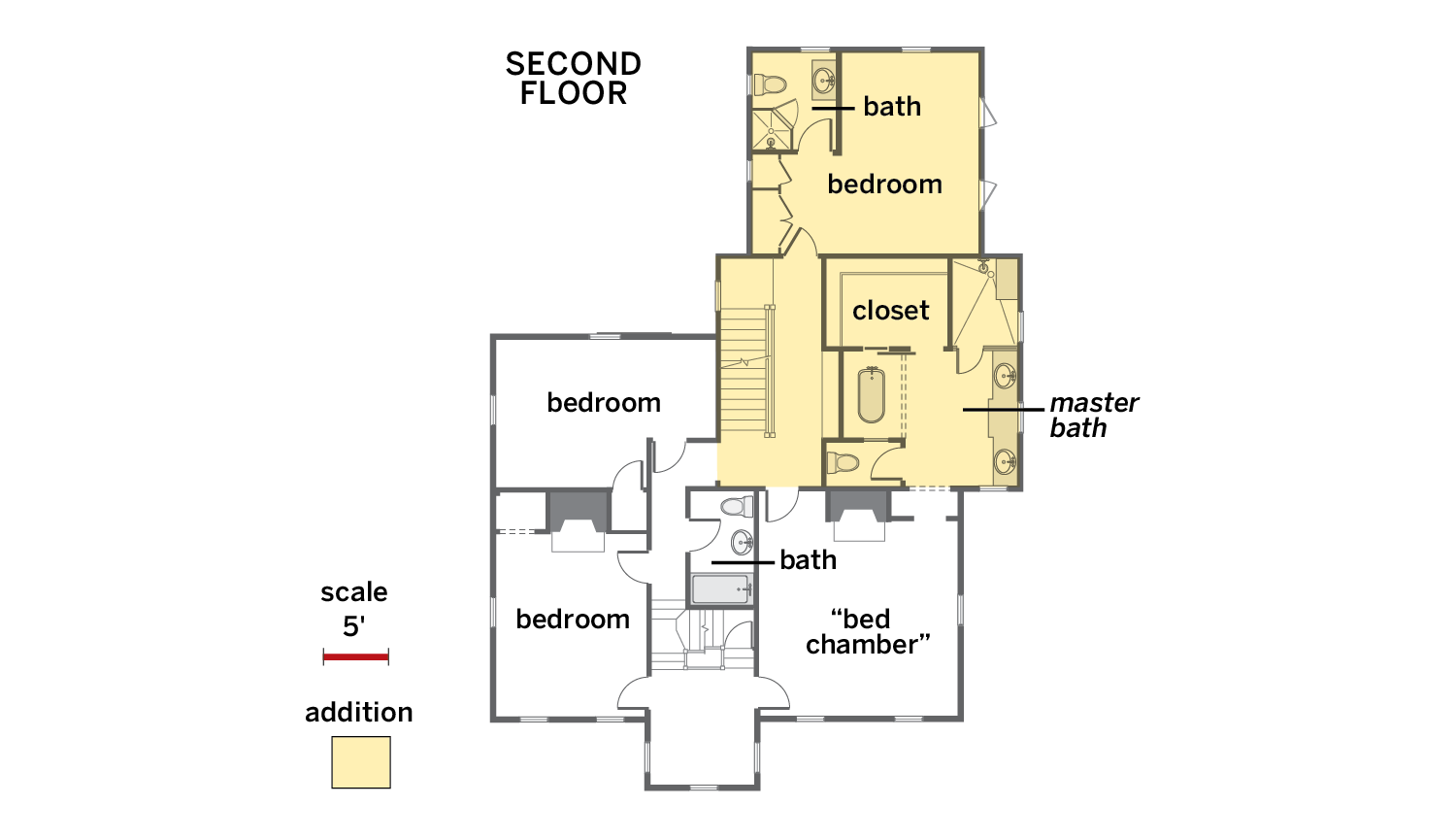 A master bath and an additional bedroom suite was added on the second floor; and another bath on the third floor, alongside two existing bedrooms and a playroom (not shown).