Staking Her Claim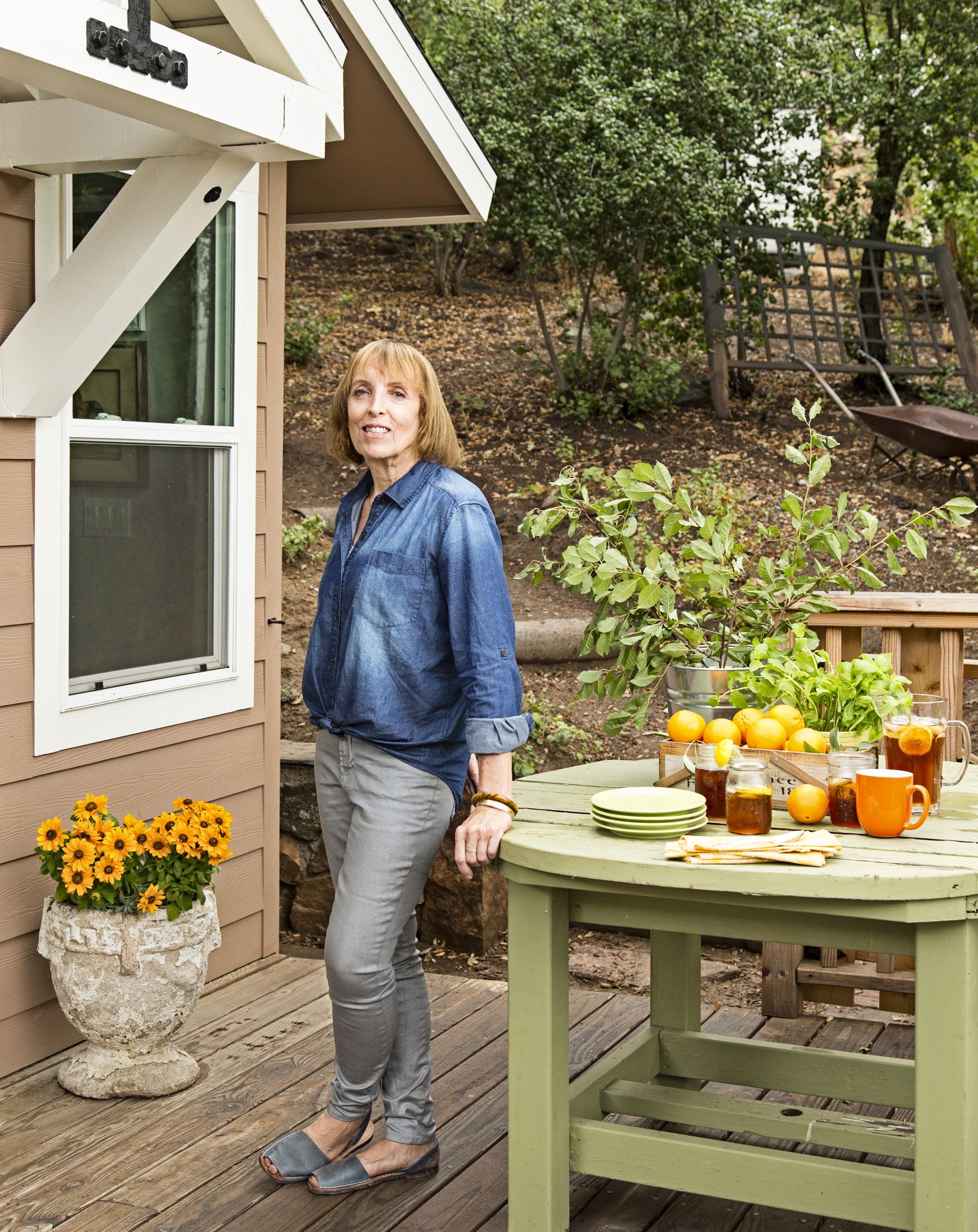 All the clues were there, for a best-selling true-crime author. She came upon the body lying some 4,100 feet up the Cuyamaca Mountains in San Diego County. By her estimate, the victim had been left unattended for more than 50 years, though its age could be traced from as far back as 1928. The body, in this case, was a 216-square-foot miner's cabin. Some of its parts—deck boards, shingles, fixtures—were scattered close by, and there was evidence of prior visitors, and even squatters, some of whom clearly had been up to no good.
Despite its battered condition the little house intrigued writer Cathy Scott. As she saw it, the cabin was still mostly intact, facing west and perched securely on its original stone foundation. "The moment I first saw the cabin, I stood in front and envisioned myself living in it," she recalls. "When I was growing up in San Diego, my dad brought us up to this area every year to pick grapes off the vines. I love this mountain and the trees." It was on her second visit months later that she put in an offer to buy it.
Shown: Cathy Scott in front of her renovated 1928 cabin in Julian, California.
Low-Impact Living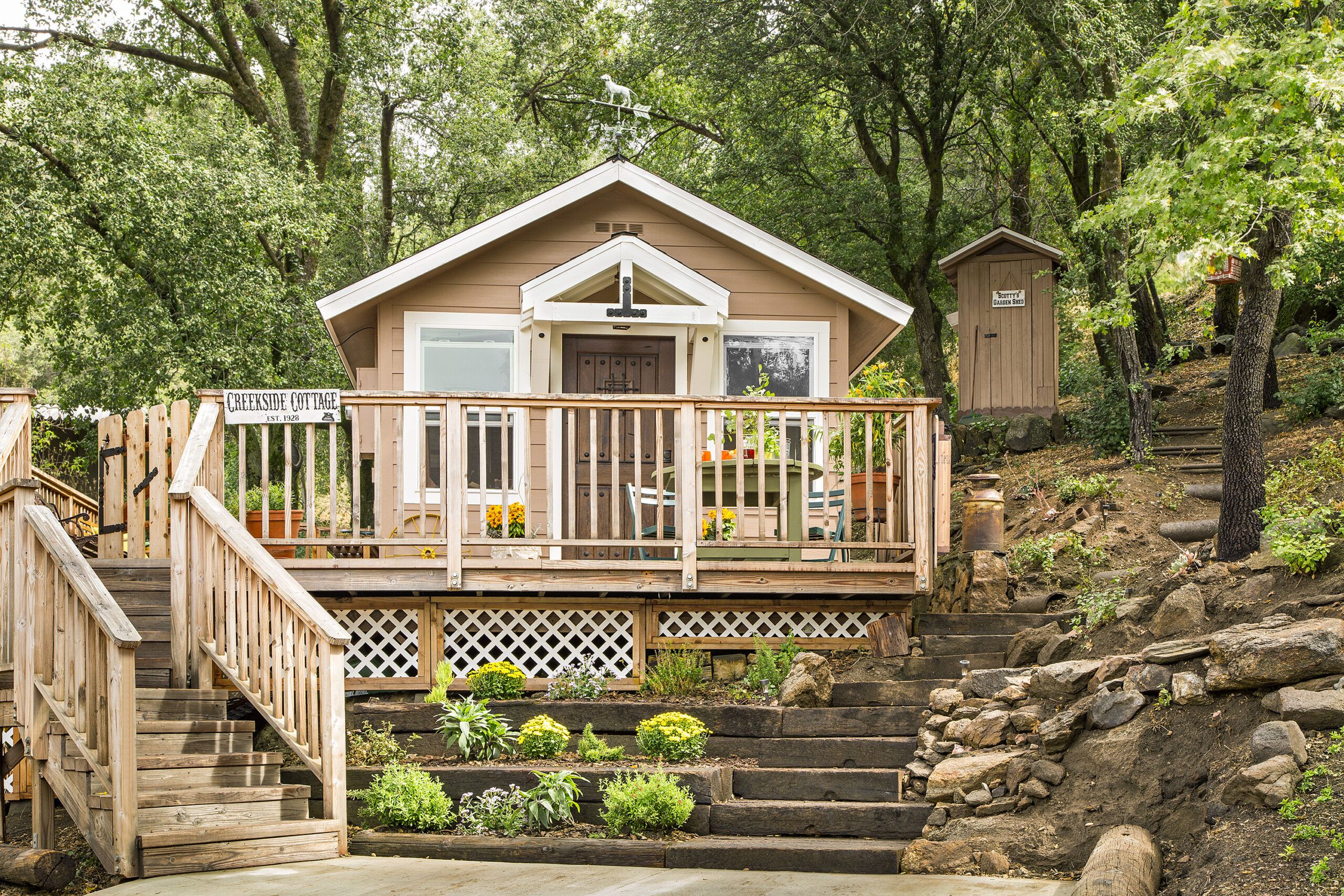 While the cozy cabin had an immediate appeal for Cathy, the nearly one-third-acre lot surrounding it was so dense with oak trees and tangles of vines, and strewn with trash that, as she recalls, "It looked like nighttime all the time. No sunshine came through." So one of her first tasks was to clear and trim trees, so light could shine on the little 12-by-18-foot house.
At the time, Cathy was living and working in Las Vegas, writing her popular books, which include Murder of a Mafia Daughter and The Killing of Tupac Shakur, as well as teaching journalism at the University of Nevada. She spent four months in New Orleans researching Pawprints of Katrina, which documents the rescue of animals following the hurricane, the largest such endeavor in American history. The sight of New Orleans's ruined residential neighborhoods made a lasting impression, changing Cathy's perspective on how to live and what to own. "I realized I didn't need a lot of things to live well," she says, "and I wanted to make as low an impact on the environment as I could."
Shown: The once derelict little house's welcoming new look includes an expanded fir deck and a canopy to shelter the front door. Salvaged railroad ties terrace the slope in front; latticework below the deck is both decorative and practical, keeping out unwanted critters.
Mail-Order House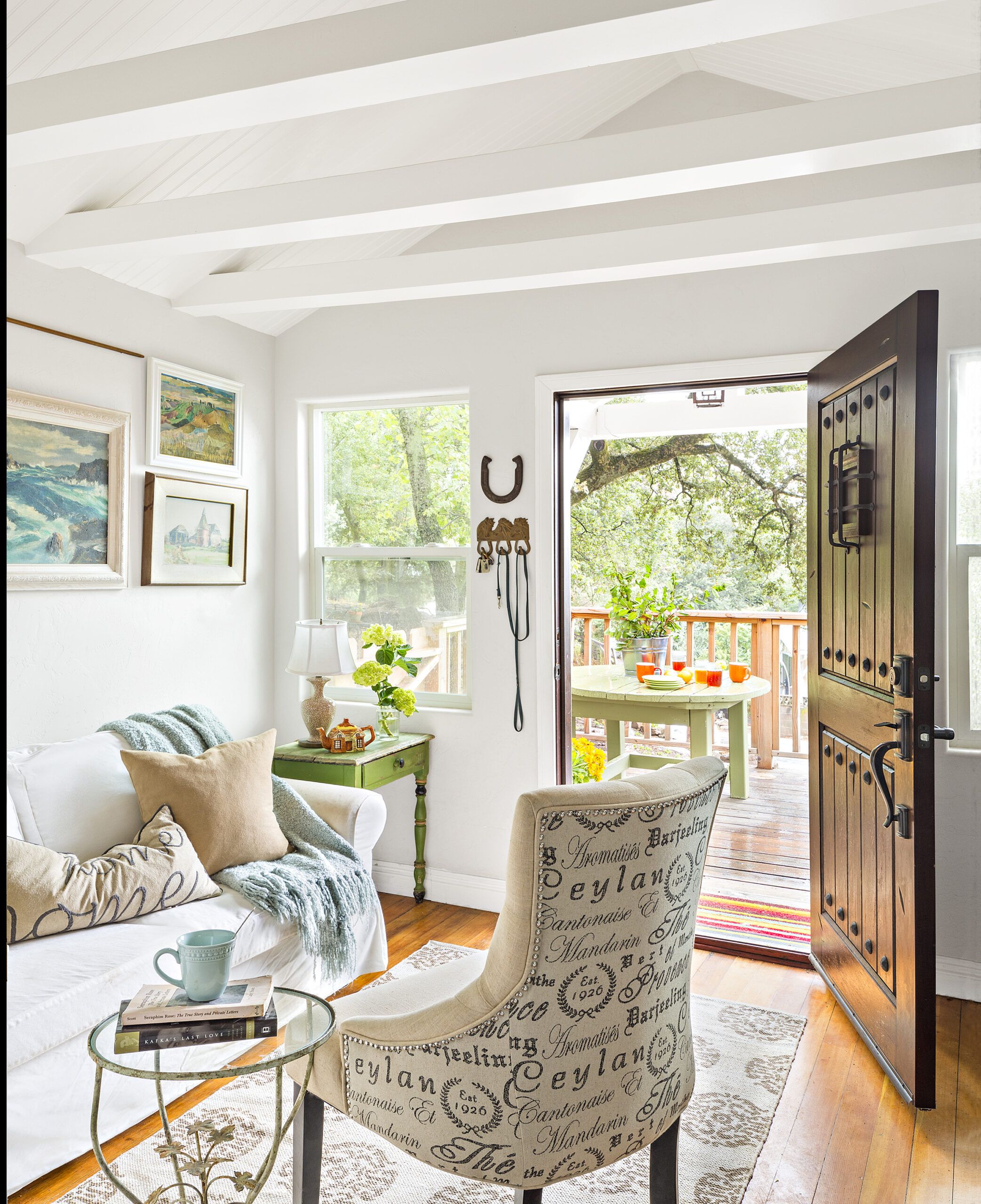 As a writer accustomed to untangling clues, Cathy discovered early on that the reason the cabin was sound was because it had been built from a kit produced by Sears, Roebuck and Co. back in the 1920s. Made from quality materials, those mail-order houses, when assembled correctly, remain strong today. Once it was finished, the cabin had likely served as a bunk house for local miners seeking gold and later, for miners in search of tourmaline when the colored mineral became a popular jewelry stone. After determining that it was structurally sound, she started in on the renovation.
With money from each new book advance from her publisher, Cathy would embark on the next round of work on the cabin, proceeding in stages. Her contractor, Larry Noble, proved as patient as she was during what became a nearly five-year-long process.
Shown: Inside, the vaulted ceiling and all-white paint palette add airiness and height to help the small space feel expansive. The new solid walnut front door has a rustic Spanish Colonial look. Tempered glass dual panes in fire-retardant vinyl frames bring the windows up to date.
Front door: Main Door. Windows: Milgard
Retaining the Footprint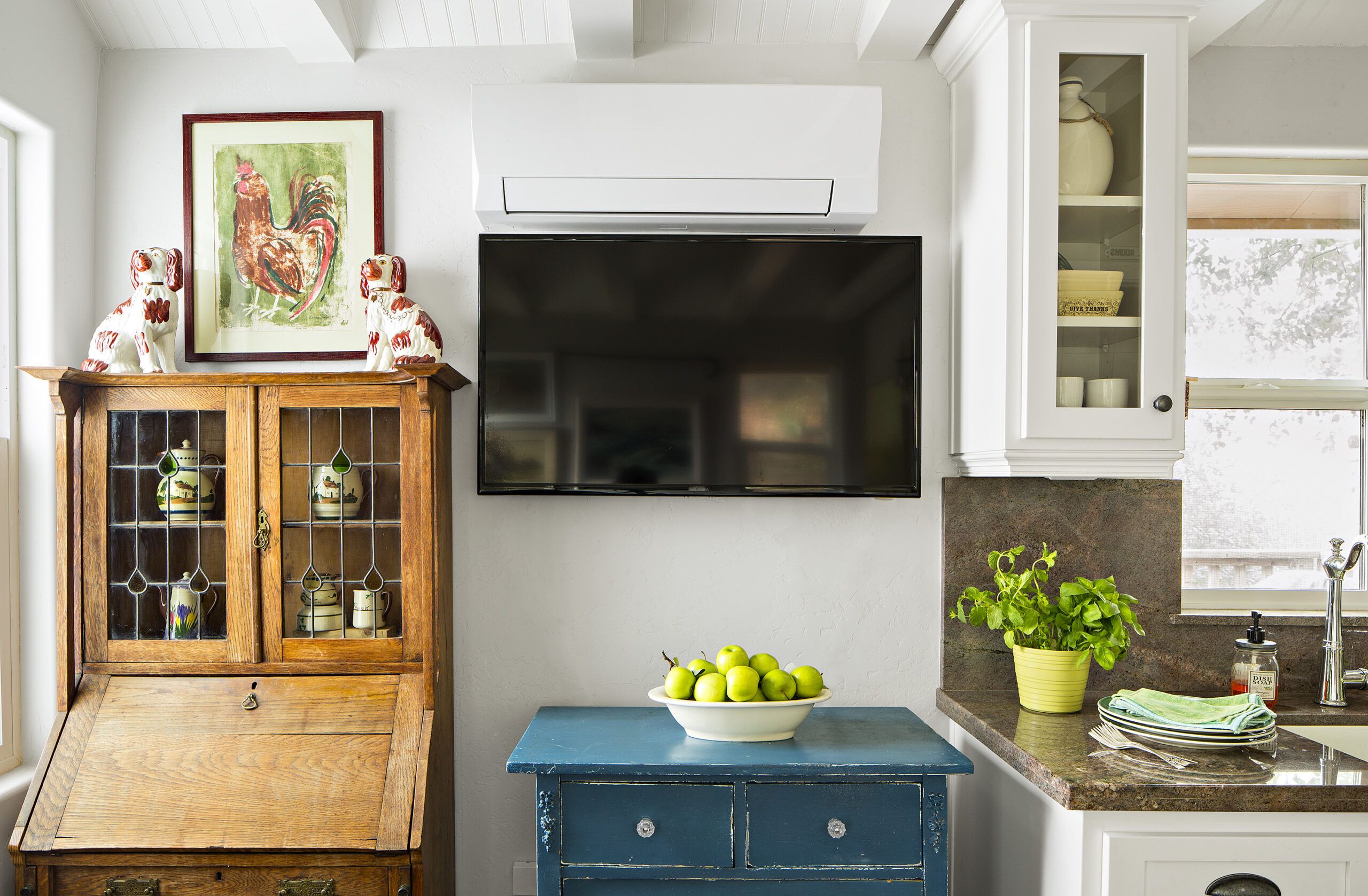 "As far as the structure itself went, not a whole lot needed to be done," says Noble. One of the more significant exterior issues involved removing two existing doors on the front of the cabin that were hinged like carriage doors. After taking them down, Noble rebuilt the whole wall, down to the framing, centering the new front door and flanking it with upgraded windows.
The footprint of the house remained the same, but Noble did replace the shake siding with clapboards, followed by the deck, the roof, and eventually the interior walls. "We removed some of the drywall and saw that the studs on the inside were fine, but we did fatten up the walls with double insulation," he says. There had been power to the cabin originally, but they had to take out all the original knob and tube, and put in a new standard electrical box and fuses.
Shown: Opposite the living area's sofa is a 40-inch flat-screen TV with a ductless HVAC unit above it. Beside it is an antique oak secretary where Cathy often writes; to the other side is the kitchen, whose glass-panel doors on white cabinets help keep the space light and bright.
Custom cabinets: Mill Brothers Fine Woodworking
Skinny Appliances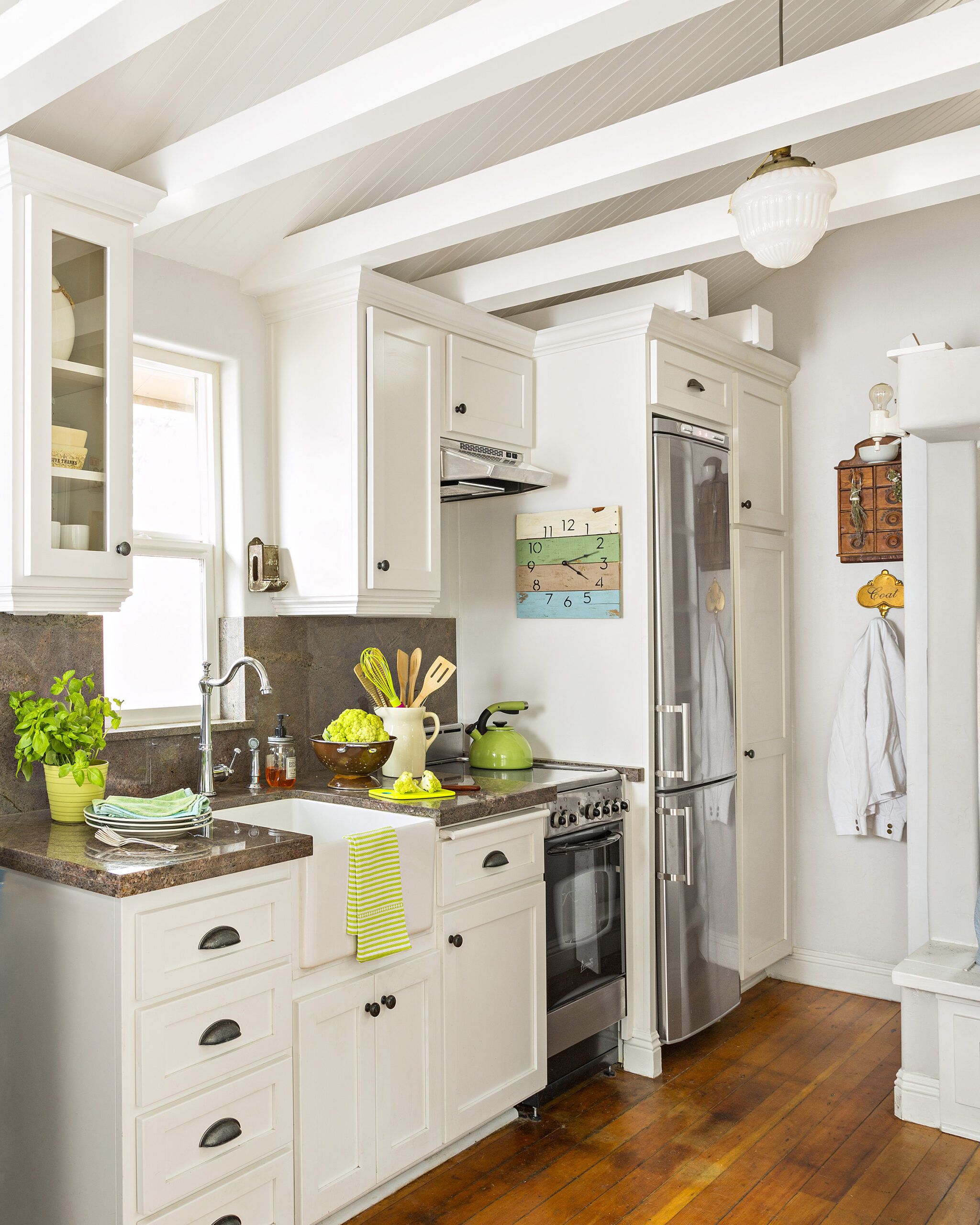 Once the rotted wood deck had been rebuilt, Cathy turned her attention to the interior. Concerned that the flooring beneath the original linoleum might not be sound, she popped the tiles off, and found the original Douglas fir floors there to be fine—though black with grime. Stripped and sanded, the boards now shine with a honey glow, as if new.
Removing existing drywall to vault the ceiling gave the small interior newfound airiness. In order to bring the narrow ceiling rafters, now exposed, up to code, Noble sistered them with additional wood, then wrapped them with a 2-inch-thick skin of spruce.
In a nod to the cabin's original beadboard kitchen cabinets, which were too worn to salvage, Cathy had Noble line the ceiling with beadboard. She also had him add crown molding to the cabinets to give them greater emphasis in the space.
Shown: Cathy found small-scale fixtures and appliances that would meet her needs. The 20-by-17½-inch farmhouse sink is large enough for bathing her three dogs. Just 20 inches wide, the electric stove holds four burners; the fridge is 25 inches from side to side.
Sink: Signature Hardware's Reinhard Collection. Range: Avanti. Vent hood and refrigerator: Summit. Faucet: Premier Faucet. Granite countertop: Amazon Stones. Knobs and pulls: Giagni, at Home Depot
Diminutive, Not Cramped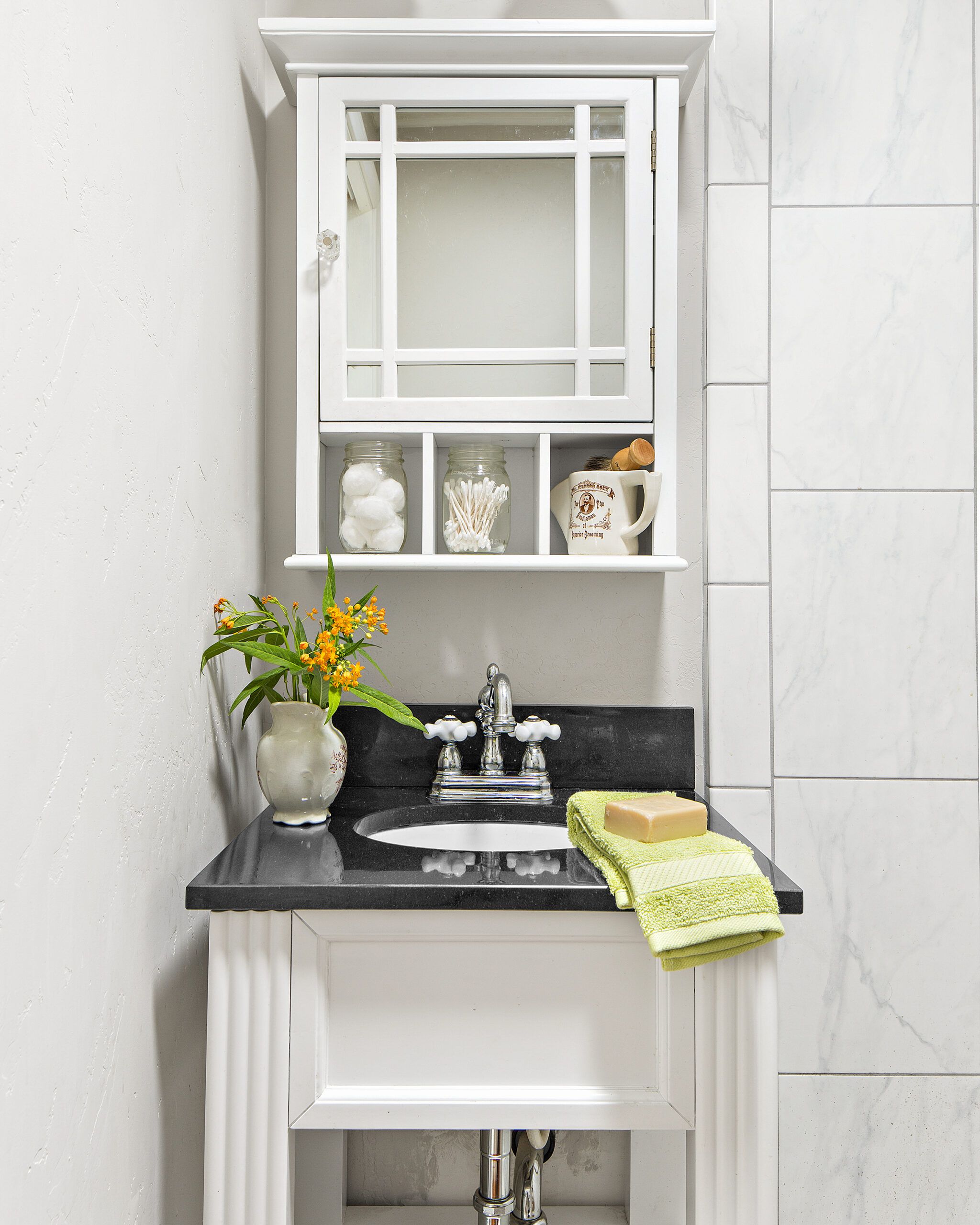 The final task was configuring the appliances and furnishings. "Cathy knew what she wanted and where she wanted everything to go," says Noble, "but I drew blue chalk lines on the floor to see what would fit." Cathy was adamant that few things be custom orders. "And I didn't want built-ins because that would make the place look like a prefabricated home," she says. She bought a "skinny" refrigerator, along with other smaller-than-standard-size appliances for her one-wall kitchen. In the bath, she had Noble install a tubular skylight, which allows natural light to spill into the rest of the cabin.
Shown: Tucked behind a pocket door, the bath includes a 20-inch vanity and a medicine cabinet. Across from them stand the shower and toilet (not shown).
Vanity: Signature Hardware's Milforde Collection. Medicine cabinet: Elegant Home Fashions, at Home Depot. Faucet: Kingston Brass.
Sleeping Alcove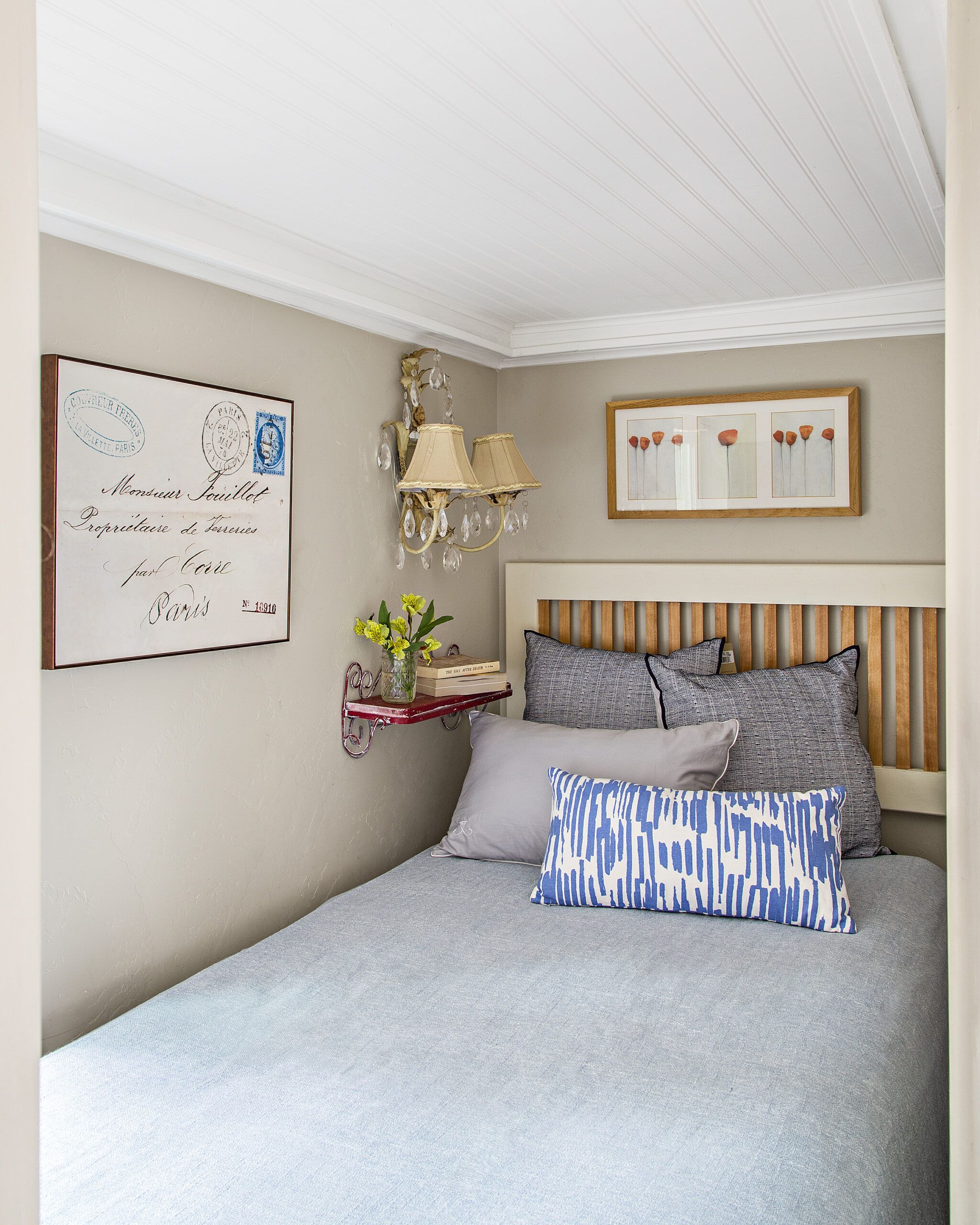 Cathy's bed is an oversize twin that neatly fills an alcove behind the bathroom; a storage loft above it now features a window instead of an unsightly vent. The bed's headboard is attached to the wall, and a tiny shelf, supported by brackets, serves as a bedside table.
Searching for History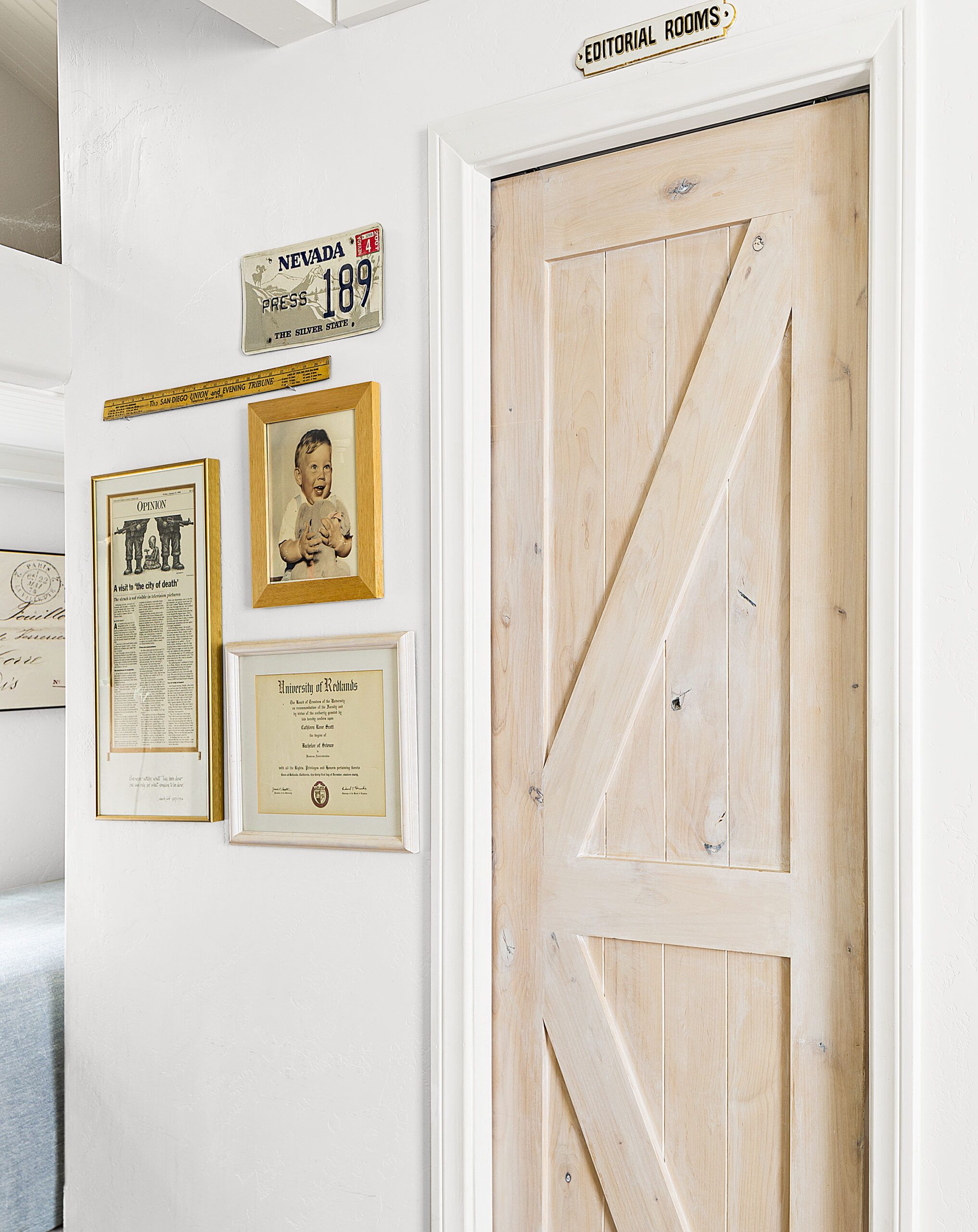 Cathy uncovered bits and pieces of the cabin's history along the way—a horseshoe, a green glass bottle, some pieces of cast-iron pipe—and repurposed them around the house. But the more she learned about the physical details of the cabin, the more she yearned to know about who had lived there. Even to a seasoned journalist used to digging up background, those details remained elusive. "I wished these walls could talk," she says.
Shown: A 20-inch knotty pine pocket door conceals the bath. The sign above, "Editorial Rooms," is from the 1930s and reflects Cathy's earlier career as a newspaper reporter. Other memorabilia lines the wall.
An Extra Room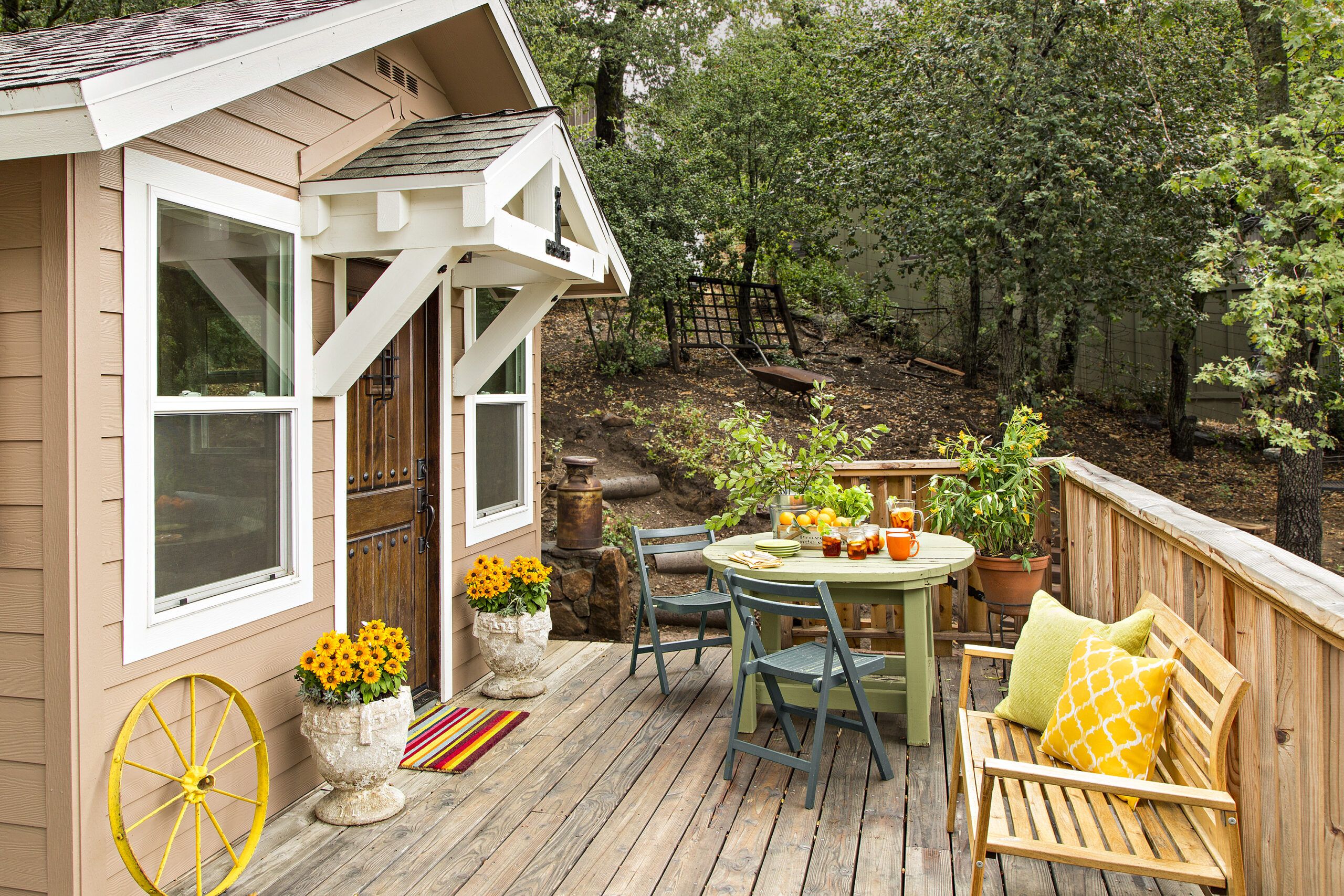 The cabin's old deck was just 6 feet deep and the width of the house. To extend her living area outdoors, Cathy had it rebuilt to 9 feet deep in front and 21 feet deep on one side. A door canopy, composed of beefy timbers, shields the front door from rain. The stone urns belonged to Cathy's late mother. On the slope to the right of the cabin, Cathy positioned old lattice that will eventually be covered with vines as a work of what she calls "yard art."
Cathy often writes at the green table on the deck. "It's an outdoor room for me, and larger than the entire house," she says. "I take my computer out there in the evening and listen to the birds and the rustle of the trees as I write."
Siding: James Hardie. Roof: Timberline Architectural Roofing Shingles.
Reuse and Repurpose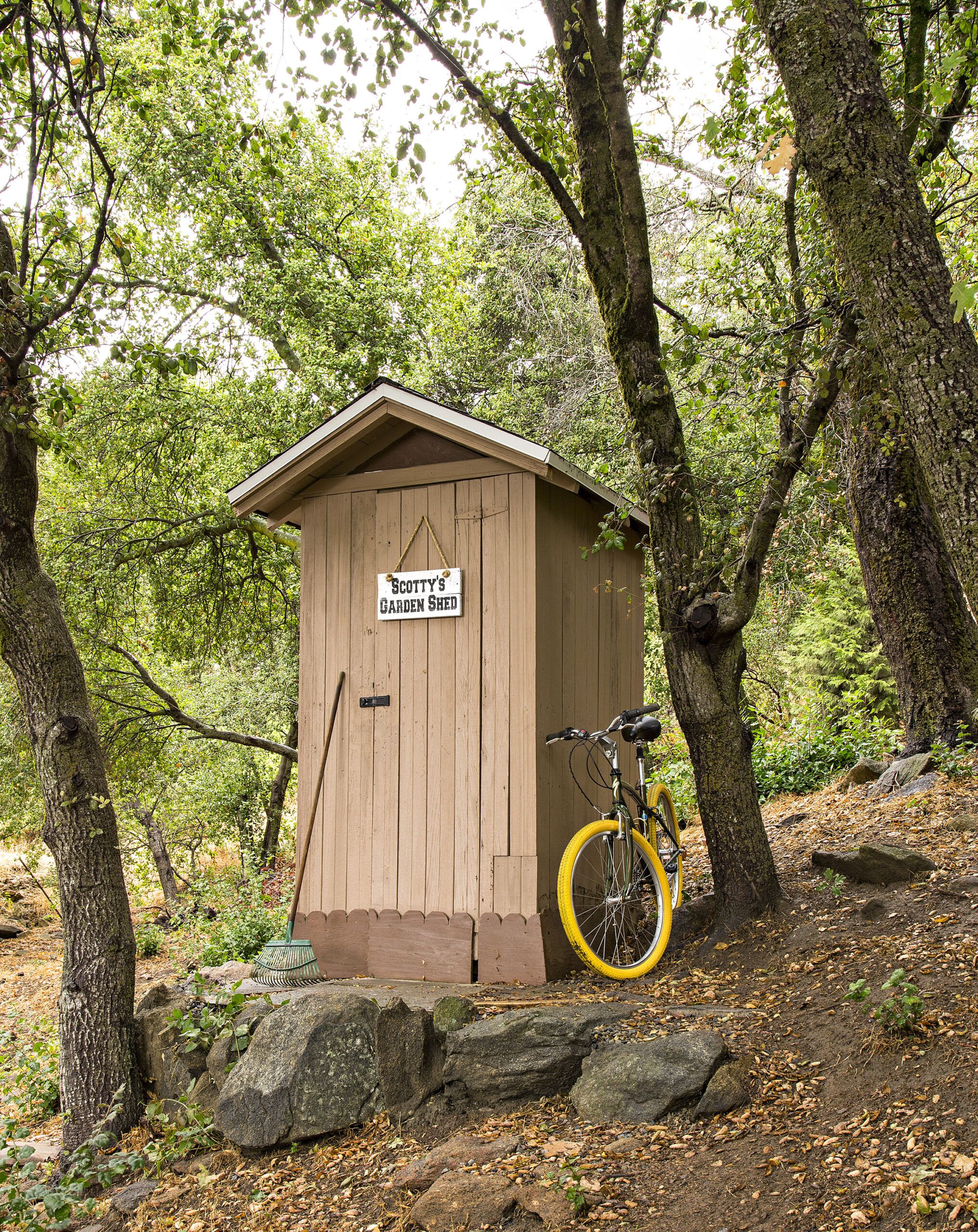 Cathy worked closely with Noble to adhere to her decision to repurpose materials whenever possible. She rebuilt the existing outhouse as a garden shed (shown) and moved it 10 feet closer to the cabin. Scalloped-edge wood trim, added at the outbuilding's base, helps it blend with its stone foundation.
She also had the 20-foot lengths of cast-iron pipe she found cut into risers for steps leading to the shed. Other salvage projects included rewiring 1940s-era wall sconces and installing them inside. Outside, she lined a dry creek bed with rocks from a neighboring wall that had fallen down.
Paint (shed and house exterior): Behr's Blanket Brown
Small Is Beautiful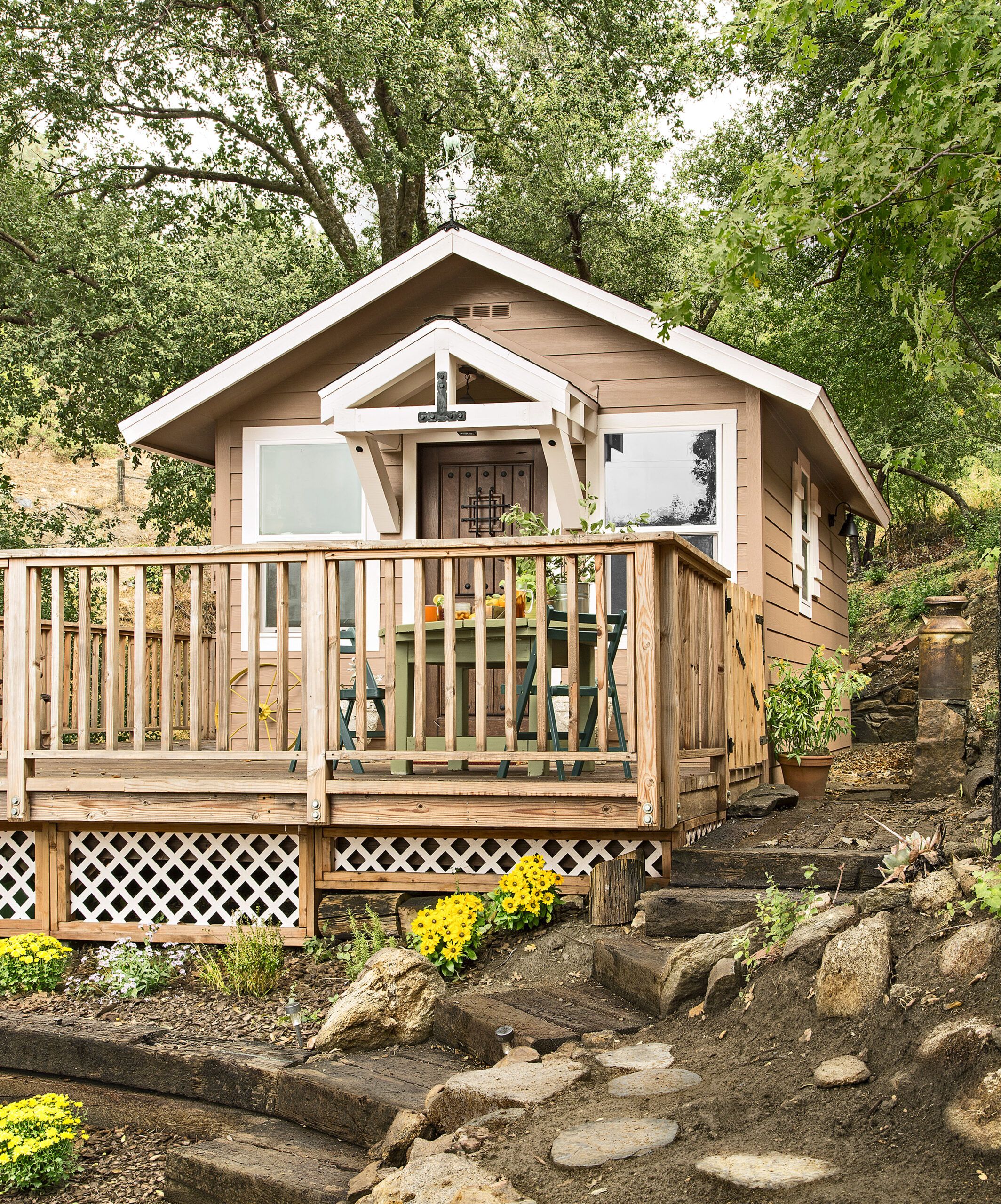 Despite its diminutive size, the cabin is comfortable for Cathy and her three long-haired chihuahua rescues, named for favorite characters and writers—(Nancy) Drew, Aggie (Christie), and (Eleanor) Rigby—who move easily between the spaces inside and out. "Larry and his crew kept referring to the project as 'The Dollhouse,' but now that it's done, there's such an openness here that it doesn't ever feel small," says Cathy. "I have all that I need."
Reflecting on Creekside Cottage, as she calls the place, in reference to a dry bed that runs parallel to the property, she adds that while it may once have fallen victim to the crime of neglect, "it has come alive again."
Floor Plan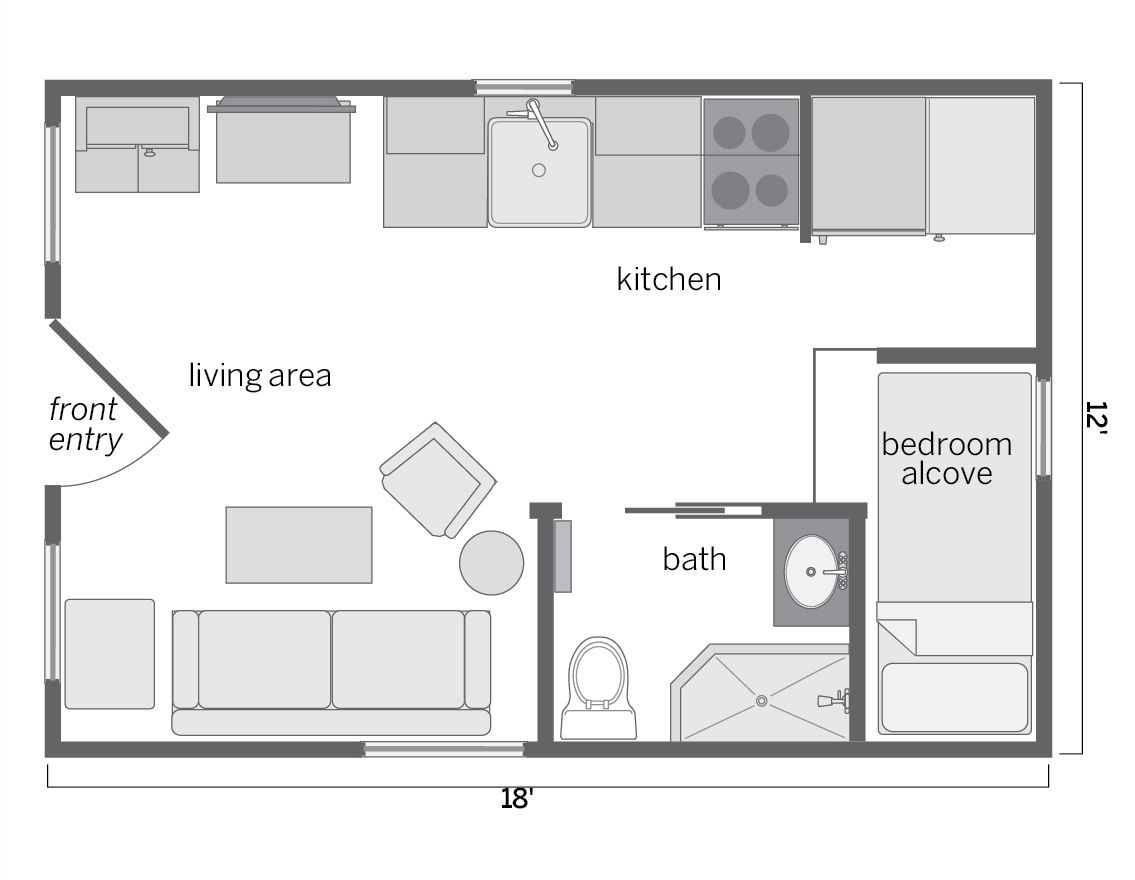 The 12-by-18-foot cabin has an open plan; the only interior room, the bath, is concealed behind a pocket door to eliminate a door swing. The bed is tucked into a cozy alcove formed by one of the bathroom walls.
General contractor: Larry Noble, Larry Noble Construction, Julian, CA; 760-765-2363