This Old House 2014 Home of the Year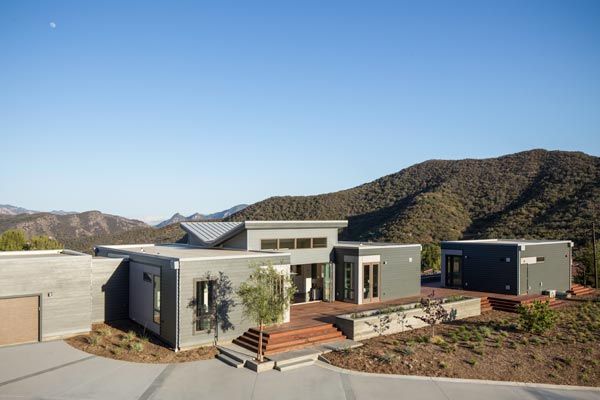 While they are still built in a factory and delivered in sections to a homesite, today's prefabricated homes have come a long, long way since the first component-built homes were introduced to America in 1908.
California-based builder Blu Homes is one pioneer of the new prefabricated home. Following a two-year research study at the Massachusetts Institute of Technology and the Rhode Island School of Design, the founders of Blu designed a factory-built prefab home that felt more like a traditional home—with higher ceilings, more open living spaces, and a more efficient building envelope— and could be built in a fraction of the time.
This Old House and Real Simple have chosen Blu's Breezehouse as their 2014 Home of the Year. Read on for more about the innovative and sustainable building process behind this home.
Why Fold?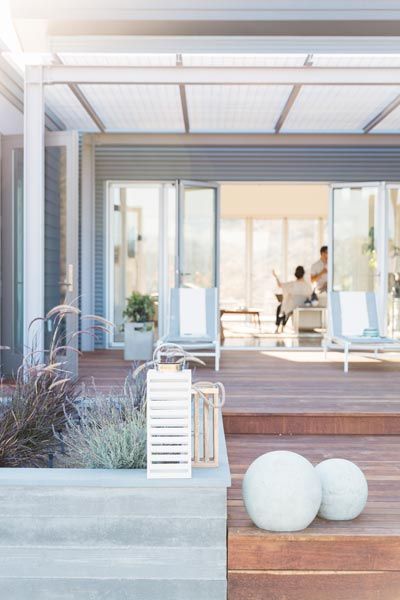 The Blu Homes Breezehouse (and many of Blu's other models) utilizes a patent-pending, folding-steel-frame technology, allowing for a home with soaring 16-foot ceilings to be folded as small as 8½ feet wide for easy transportation across the country. The homes are 95 percent complete when they leave the factory and can be completely finished on the homesite in a matter of weeks.
The Benefits of Steel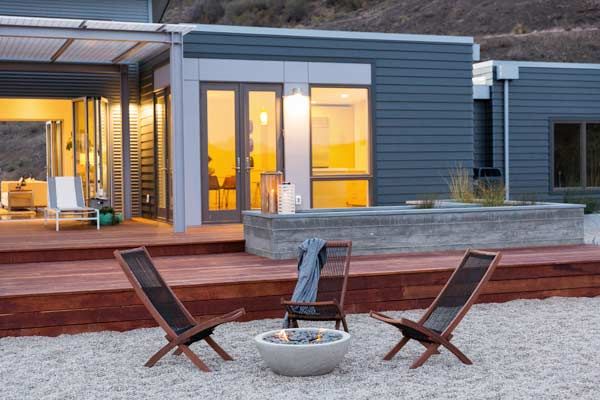 The combination of light- and heavy-gauge steel creates an incredibly strong yet easy-to-transport frame. The standard Breezehouse frame can withstand winds over 100 mph, and can be upgraded to meet stricter wind codes. The use of heavy-gauge steel means fewer load-bearing walls, more open living spaces, and more windows. As an added benefit, steel is not vulnerable to insect damage or rot.
A Room With a View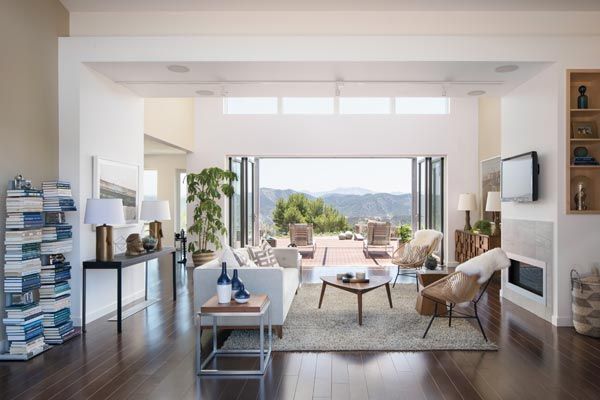 The Breezehouse's iconic design is centered around its stunning signature Breezespace™, a glass-enclosed living area situated under a distinctive "butterfly" roof. Dramatic sliding glass walls open to connect the Breezespace™ to the outdoors, creating an open-air living room that marries the home's interior to the natural world surrounding it.
Wide-Open Spaces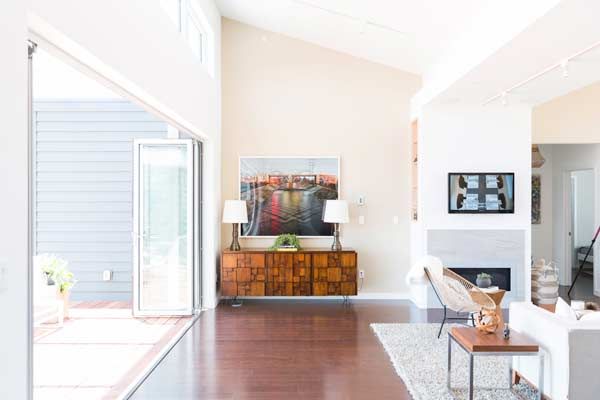 This 2,300-square-foot four-bedroom, four-bath Breezehouse is packed with luxurious features, including an open floor plan and soaring 16-feet ceilings, creating common living areas that that are more spacious and light-filled than traditional prefab spaces.
The Heart of the Home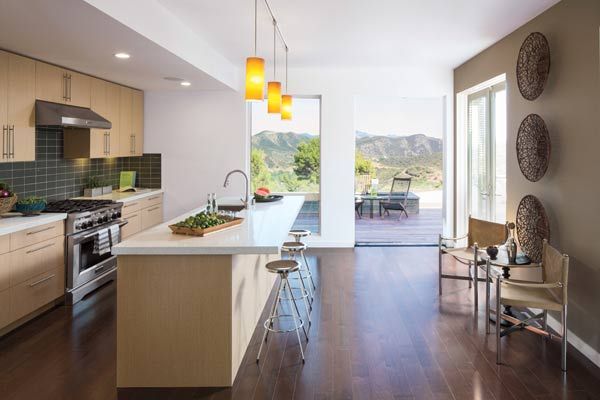 The home boasts a generous kitchen as well as an island for sharing meals with family and friends, and the open floor plan allows for an easy flow between the kitchen and living areas.
Bright and Bold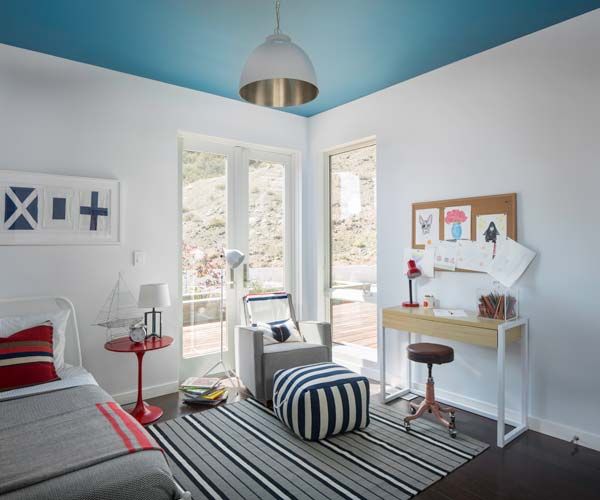 Each room in the home features oversize windows, allowing the maximum amount of natural light to shine in. The bold blue paint in this guest bedroom enhances the high ceiling.
Smart Features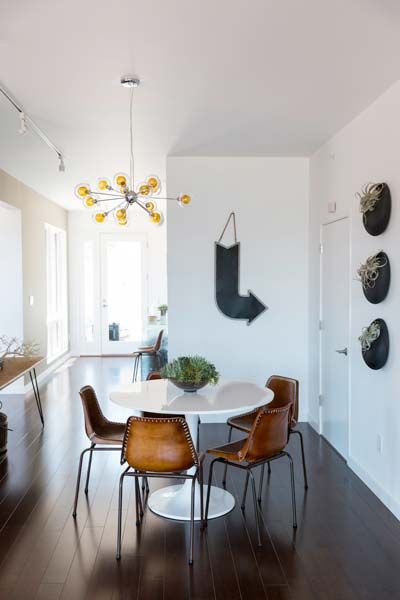 The home's "smart" features include home automation, iPhone-controlled lighting, a Sonos® sound system, and an outlet in the garage for re-charging an electric car. Additionally, a 460-square-foot casita on the property can be used as a guest house or as a home office.
Completely Customizable
Whether you need a simple studio or a sprawling five-bedroom home for your expanding family, prefab homes can be made to order—your preferences ultimately determine the design.
Take a Tour of the Dream Home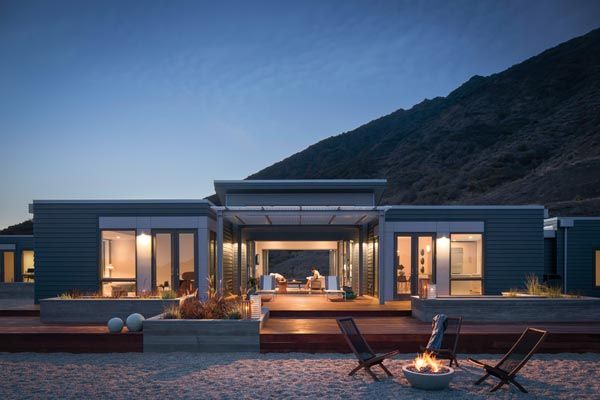 The This Old House and Real Simple 2014 Dream Home in Agoura Hills, California is open to the public on September 13-14, 20-21, and 27-28. To find out about tours of this or any other Blu home visit bluehomes.com/designsmart.
To learn more about the technology of Blu, and to watch a Breezehouse "unfold," visit bluhomes.com/projects/video