Welcoming Front Porch on a Classic Brick Craftsman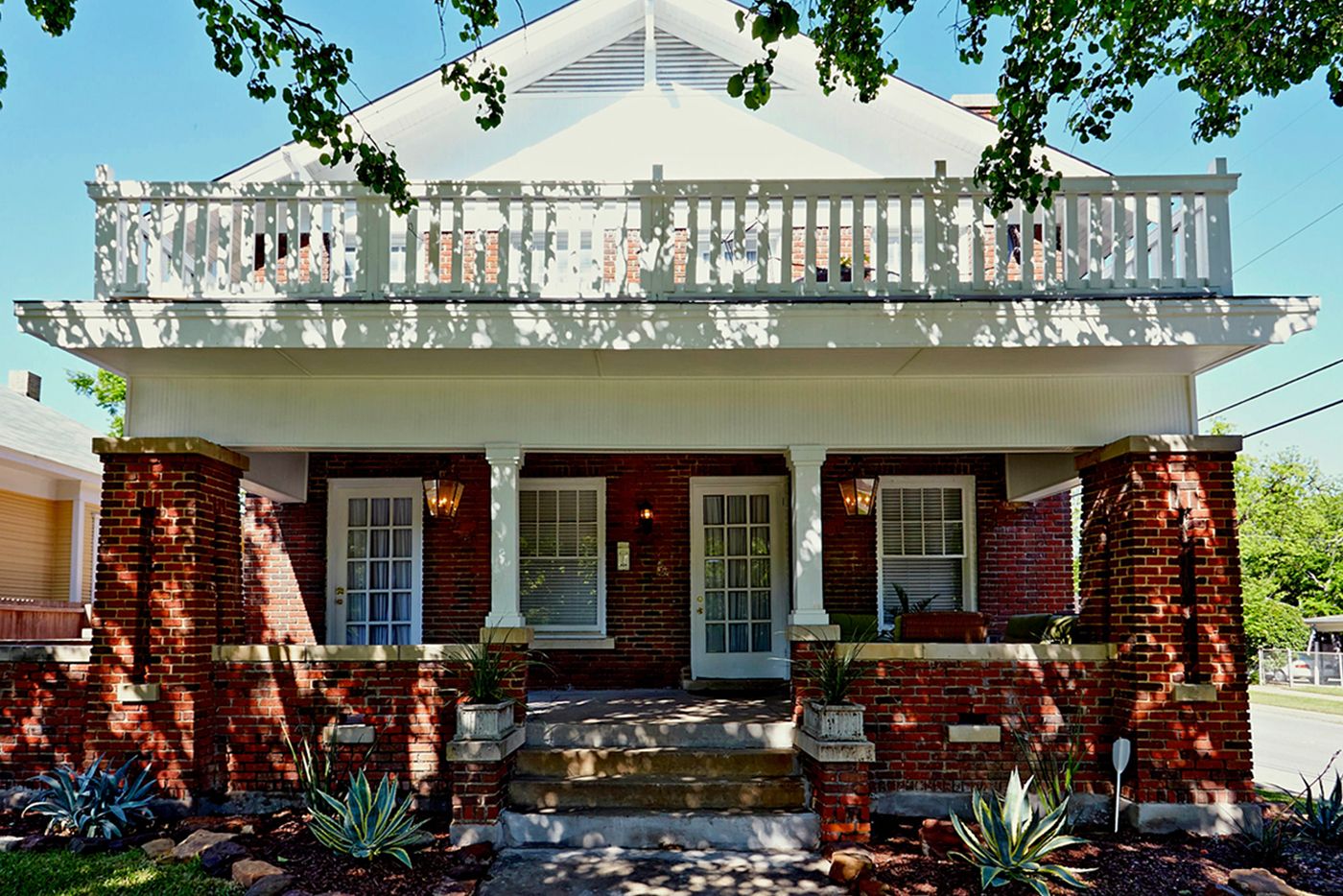 Jamey and Melissa Ice had been eyeing an abandoned 1920 brick house with Craftsman touches for years when it finally went to auction. At more than 4,000 square feet, it is one of the biggest homes in the Fairmount Historic District of Fort Worth, Texas, but it was in a state of total disrepair. Jamey made the only offer—just $1 above the asking price. With a major project on their hands, the couple tackled a complete overhaul on a skimpy budget—with Melissa taking on the design work and Jamey handling the building with some help from friends.
Shown: The rehabbed corner-lot house with its deep front porch is a welcome addition to the neighborhood. The redo included replacing the roof and several broken windows, rebuilding the second-floor balcony, repairing damaged bricks, and overhauling the landscaping.
Water-Damaged Living Room: Before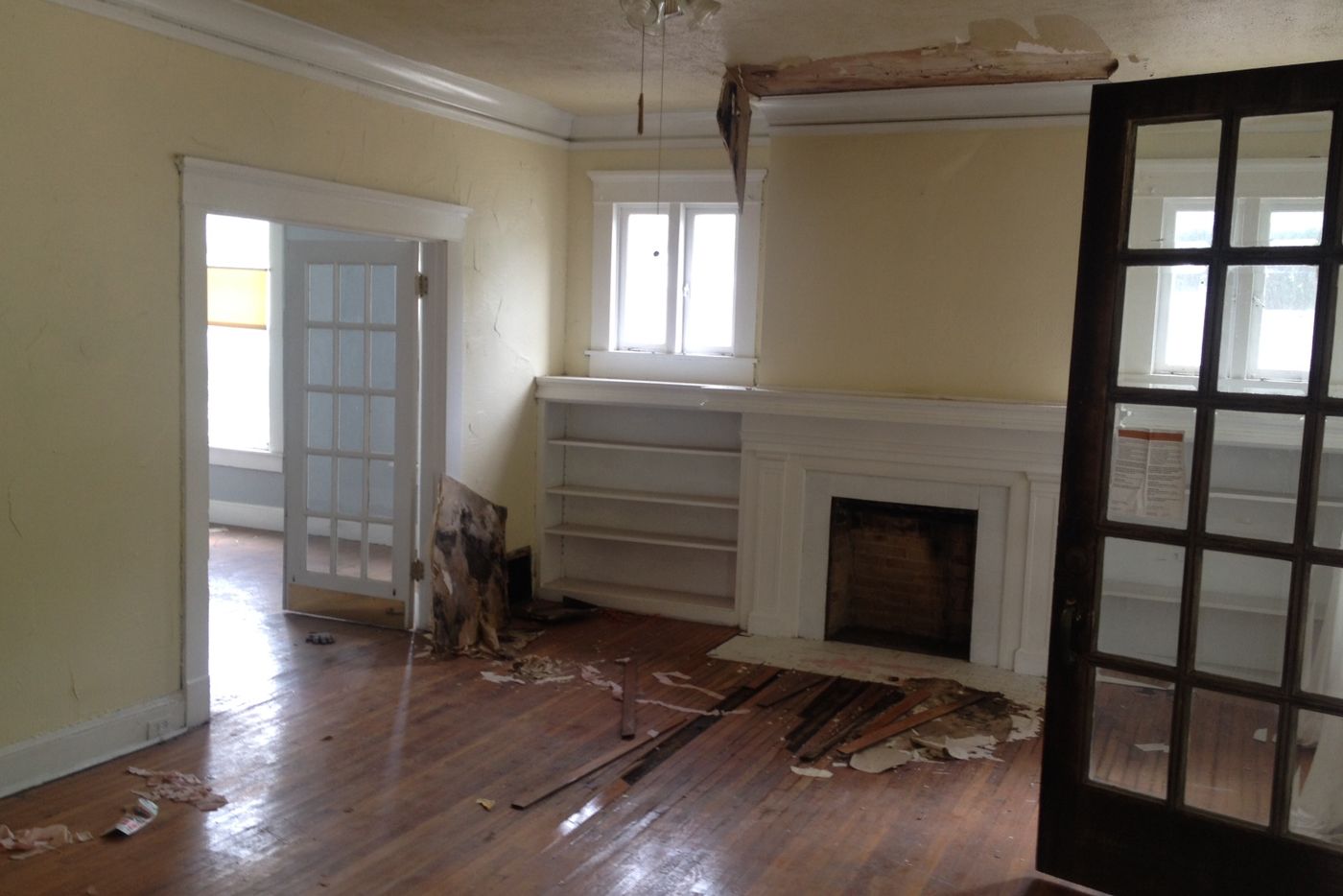 Jamey and Melissa discovered a leaky chimney in the living room. Water poured into the fireplace every time it rained, leading to plaster damage as well as rotted and warped hardwood floors. The leak needed to be addressed before remodeling could begin.
Eclectic Living Room Furniture that Pops: After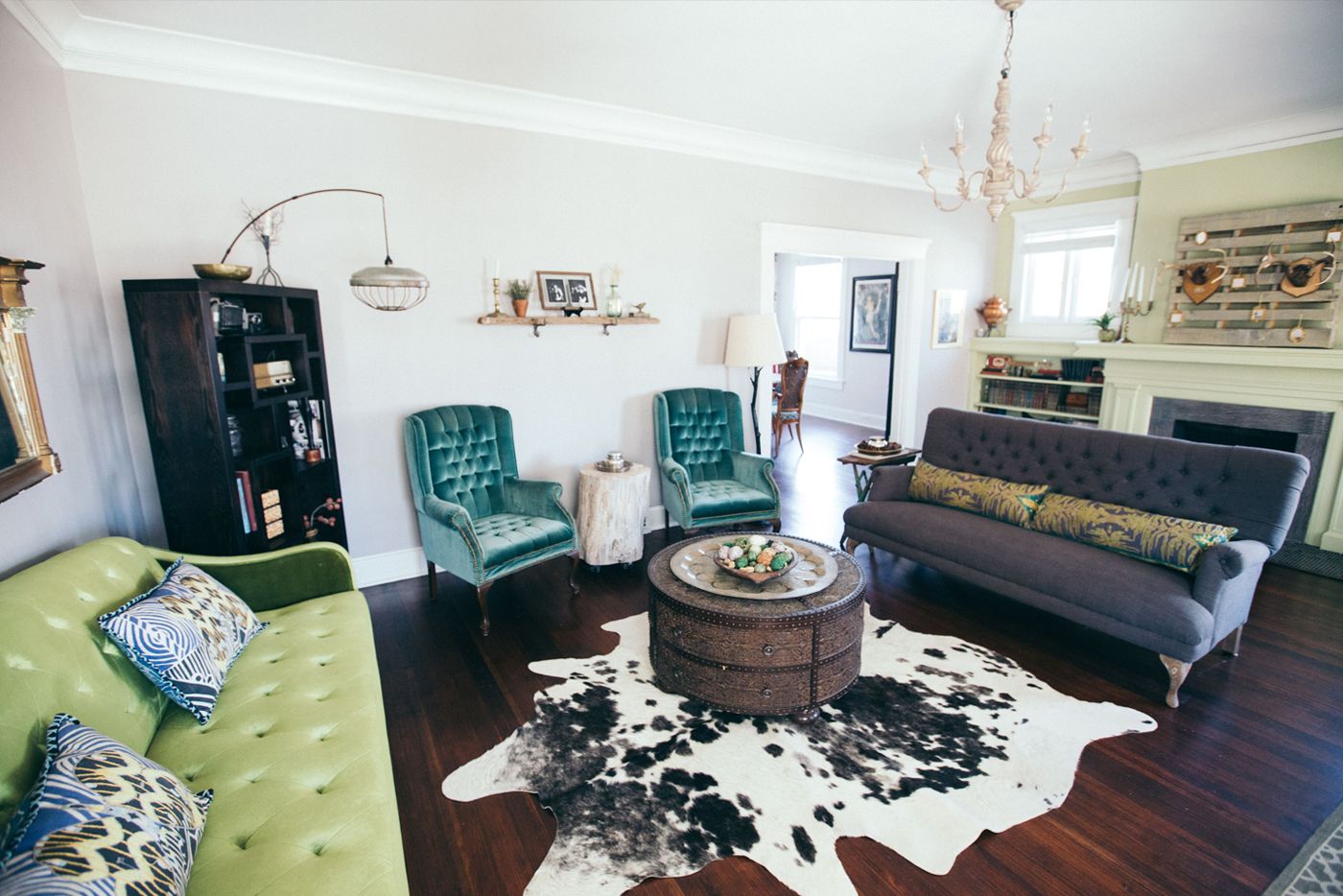 Melissa kept the focus on furniture with neutral gray paint and minimal wall art. Two easy chairs were picked up at a garage sale for $25. One couch was a surplus score from a local business; the other was purchased at full price. The fireplace wall was turned into an accent wall with a light-green coating on the plaster, bookcases, and mantel.
Paint: Sherwin-Williams's Essential Gray-6002 (walls), Shagreen-6422 (accent wall), and Brilliant White (trim)
Green couch: Ava Storage Sleeper Sofa, Urban Outfitters
Pallet Art for an Easy, Inexpensive DIY Solution: After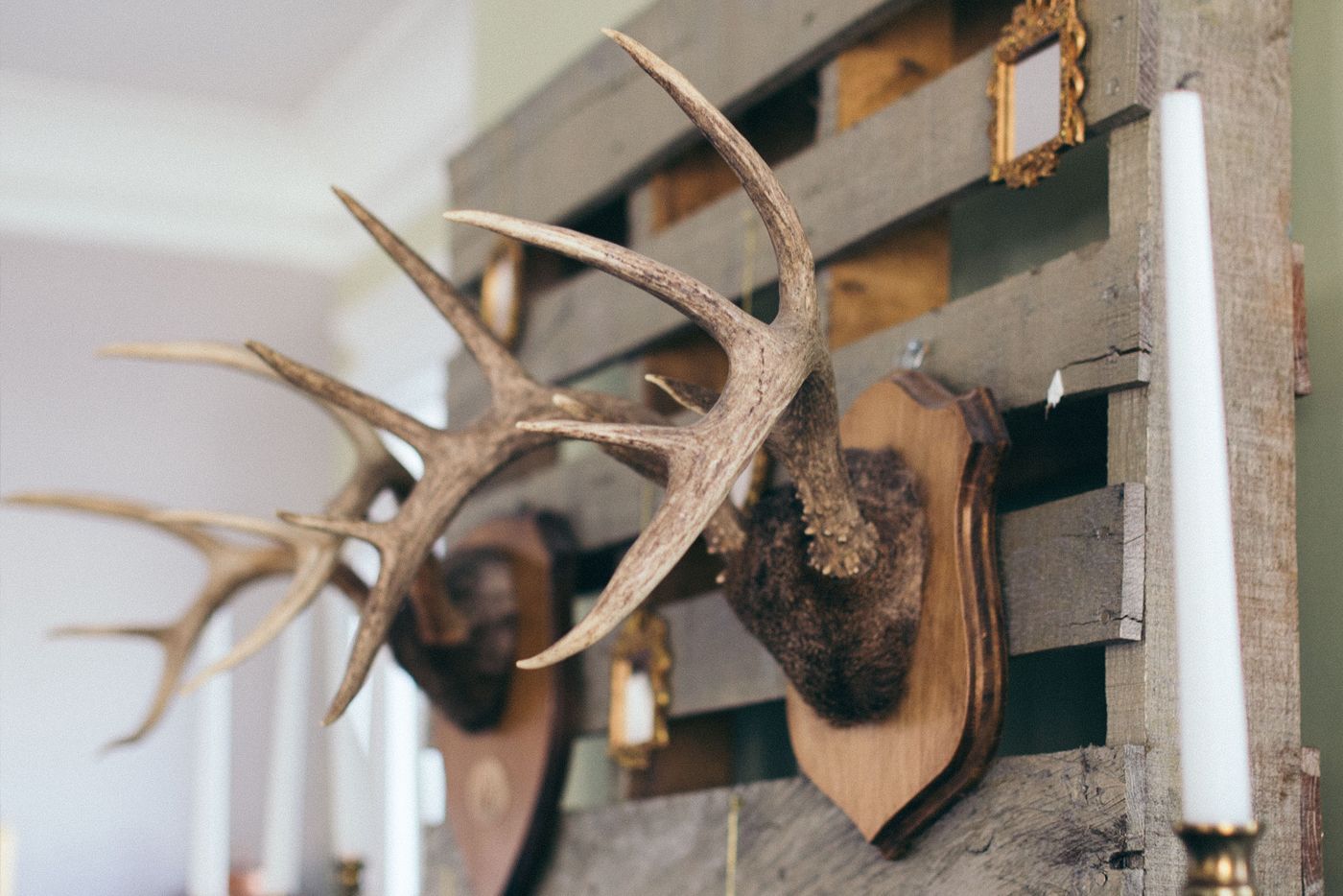 After envisioning a large piece of art above the mantel, Melissa settled on a budget-friendly solution—a free recycled pallet. She adorned it with Christmas ornaments spray-painted gold and deer antlers her husband acquired as a teenager.
Boarded-Up Dining Room: Before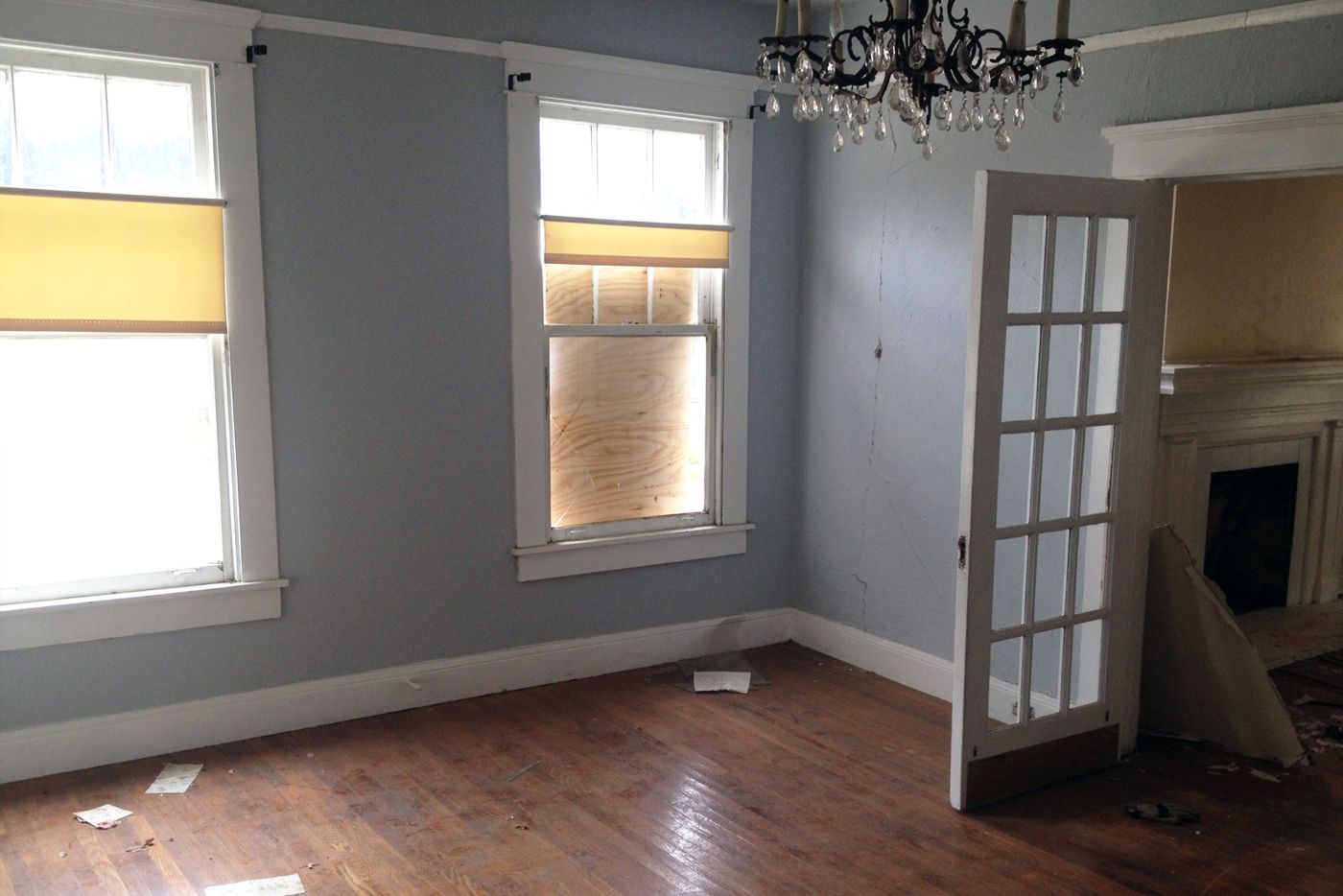 The dining room was especially neglected, with boarded-up windows, large cracks in the plaster, and even dead animals and animal feces.
Bright and Airy Entertaining Space: After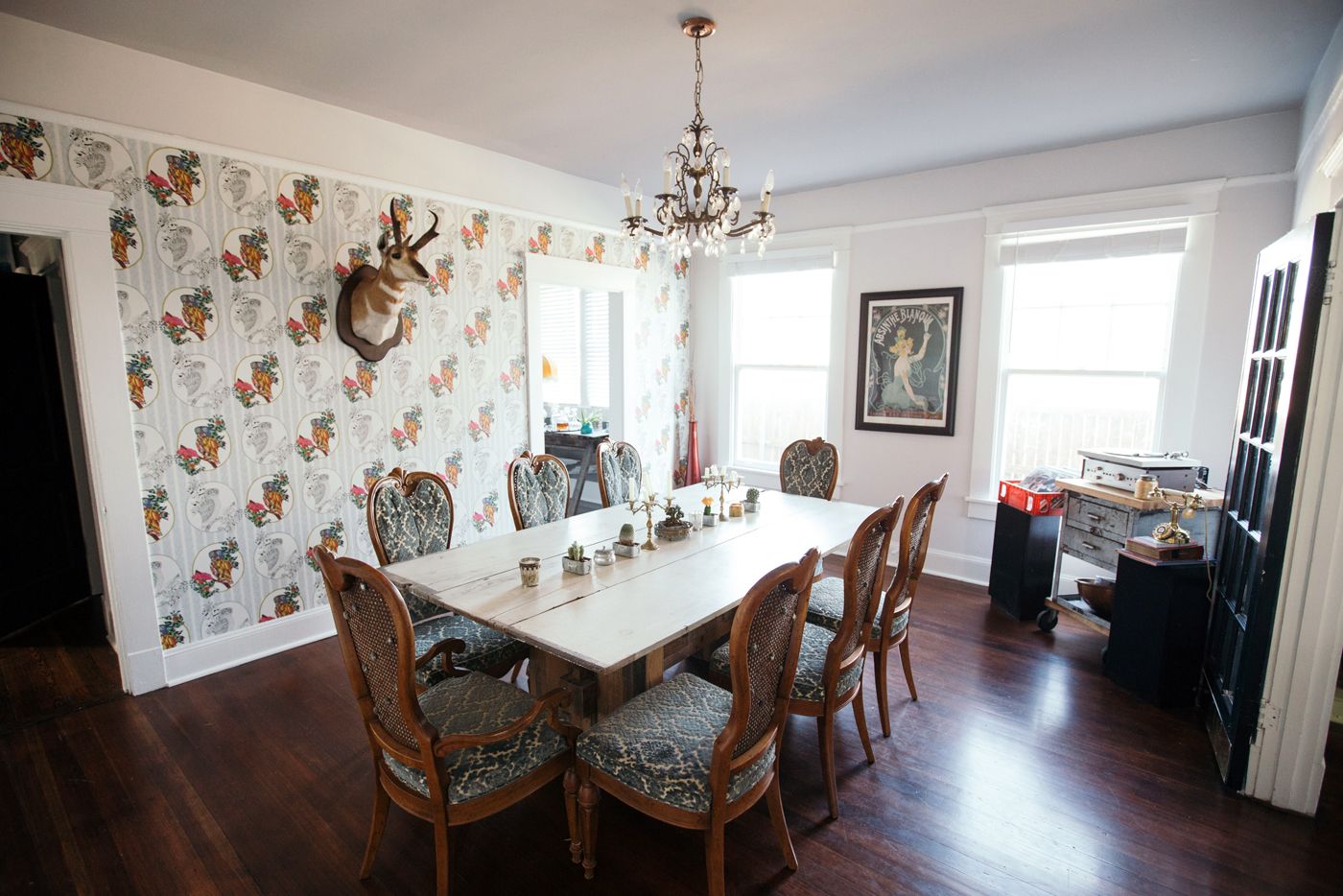 The dining room's new focal point is a table Jamey built, using reclaimed shiplap from a nearby renovation project for the top and pallet boards for the frame. The couple found the chairs at a garage sale and kept the upholstery intact. Mostly neutral wallpaper creates an accent wall. The existing light fixture was salvaged and complements the room's other antiques.
Paint: Sherwin-Williams's Snowfall-6000 (wall)
Recycled Construction Goods as Dining Accents: After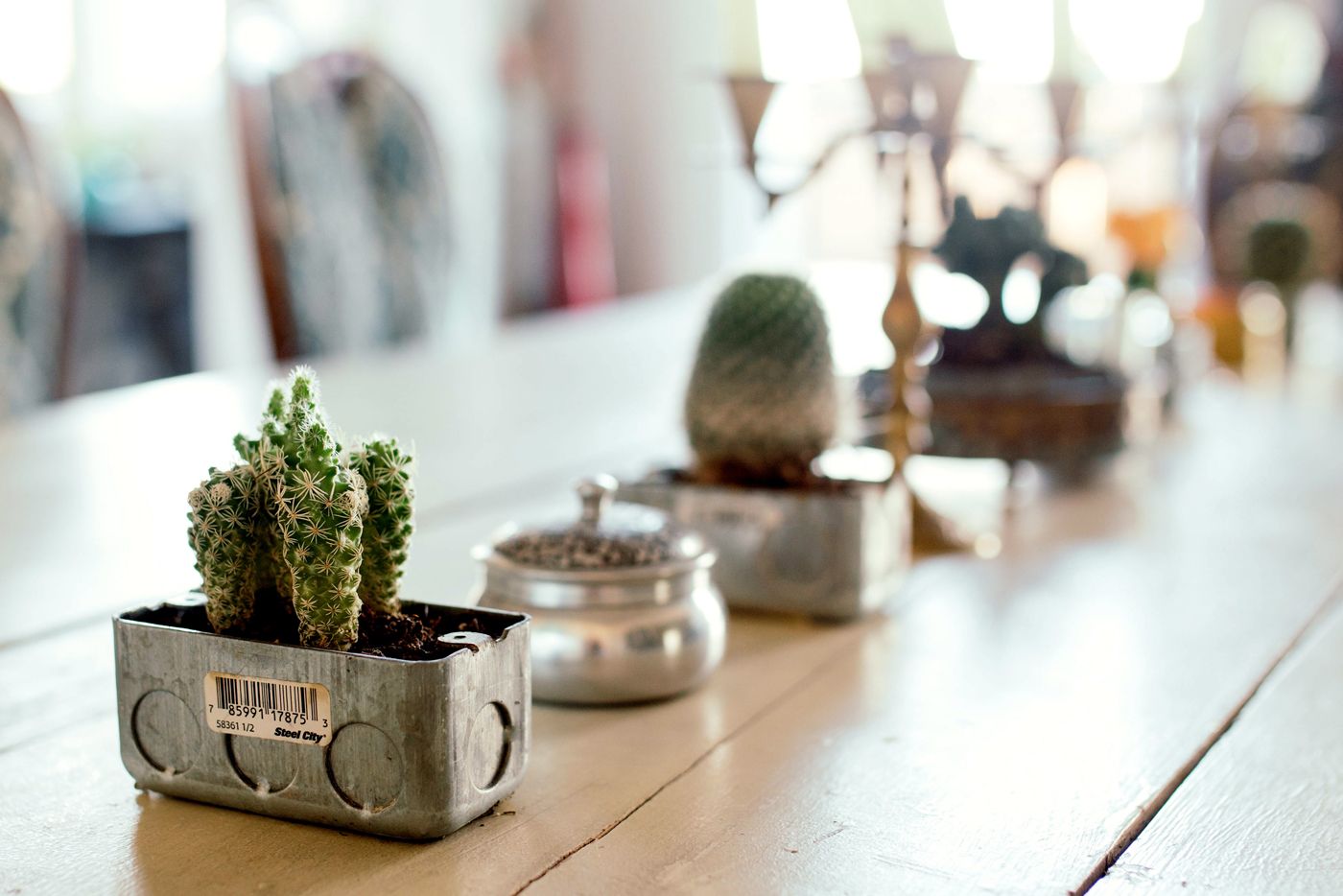 Electrical updates left a surplus of metal boxes that Melissa turned into planters. "They're the perfect size for a small cactus plant, and they already have drainage holes built in!" says Melissa.
Dated Kitchen: Before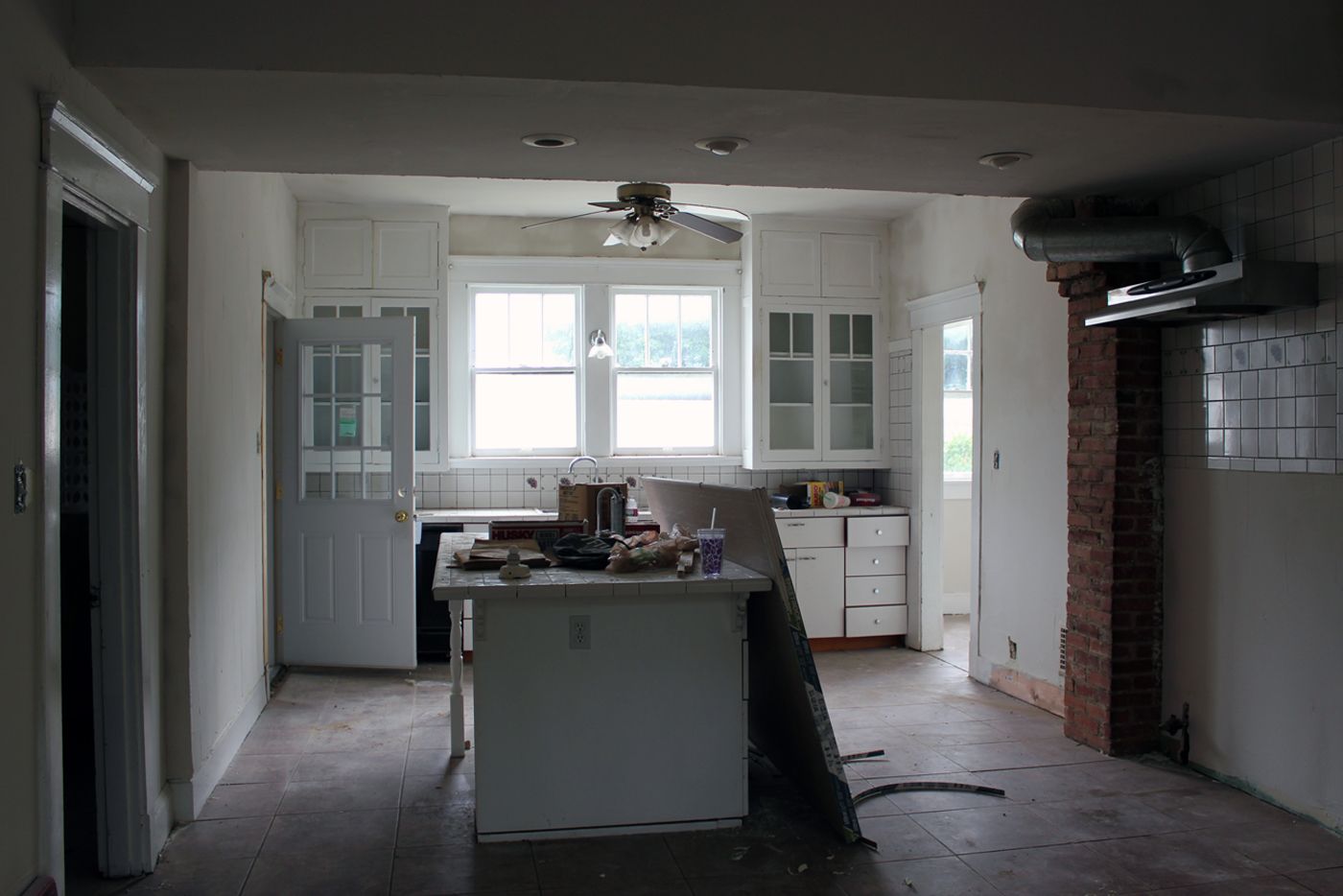 The kitchen had a good footprint but was in need of a face-lift. The countertops and backsplash were covered in 4×4 white tiles, and the cabinets were in poor shape. A center island helped define the space, but it had the same tired tile counters. Basic 12×12 floor tiles lacked character.
Classic Rustic Kitchen on a Budget: After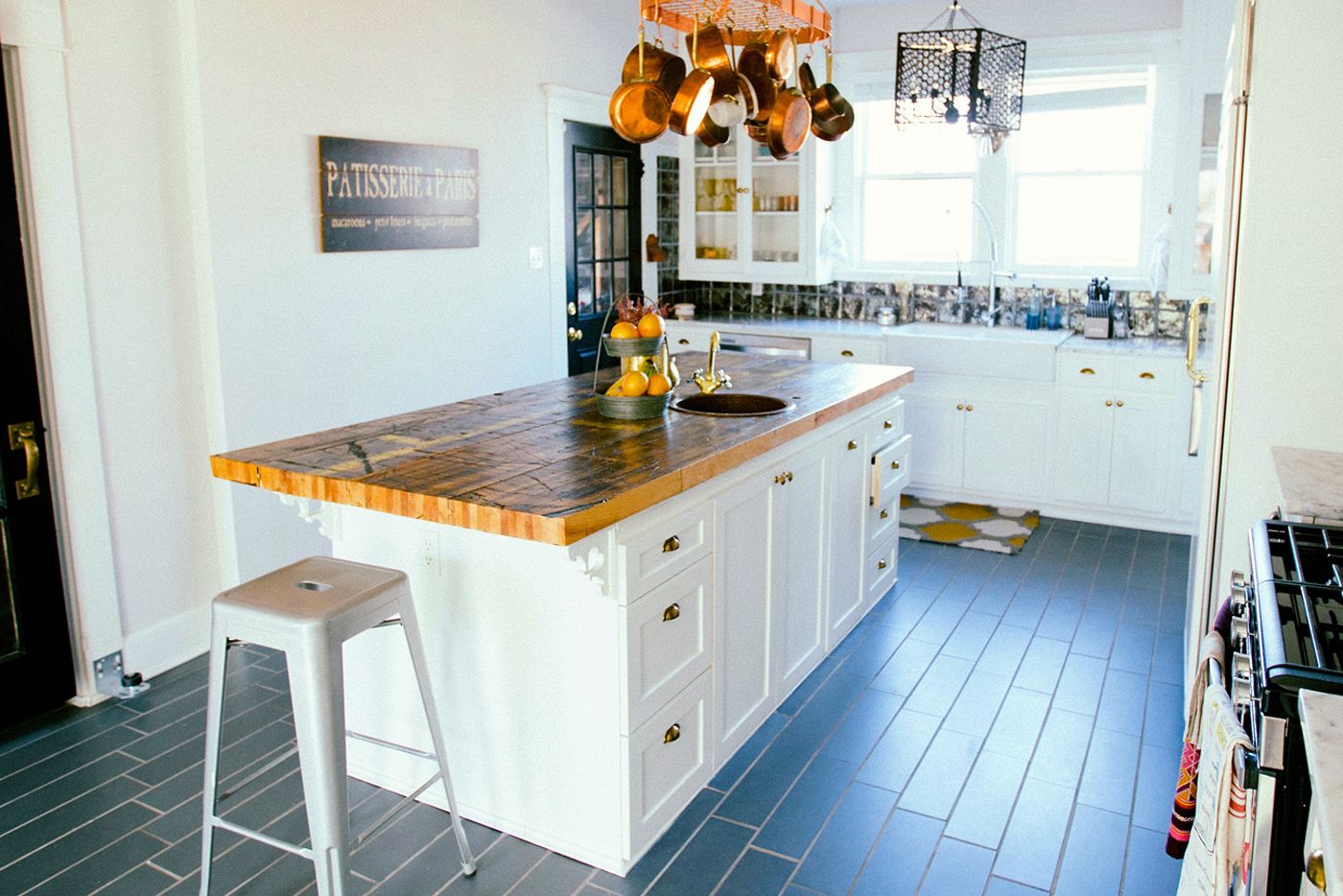 Melissa wanted a kitchen with a classic but lived-in look. Sticking with the existing floor plan and making cosmetic improvements yielded big impact for little money. The couple swapped in small pieces of Carrara marble for the tile counters. On the island, Jamey skipped manufactured butcher block and built a top from tongue-and-groove flooring salvaged from a 1950s boxcar. The hanging set of copper pans and wall art add some French flair. The dark blue plank-style tiles were leftovers from a hotel renovation and found at a surplus store.
Paint: Sherwin-Williams's Snowfall-6000 (wall)
Farmhouse Sink and New Kitchen Cabinets: After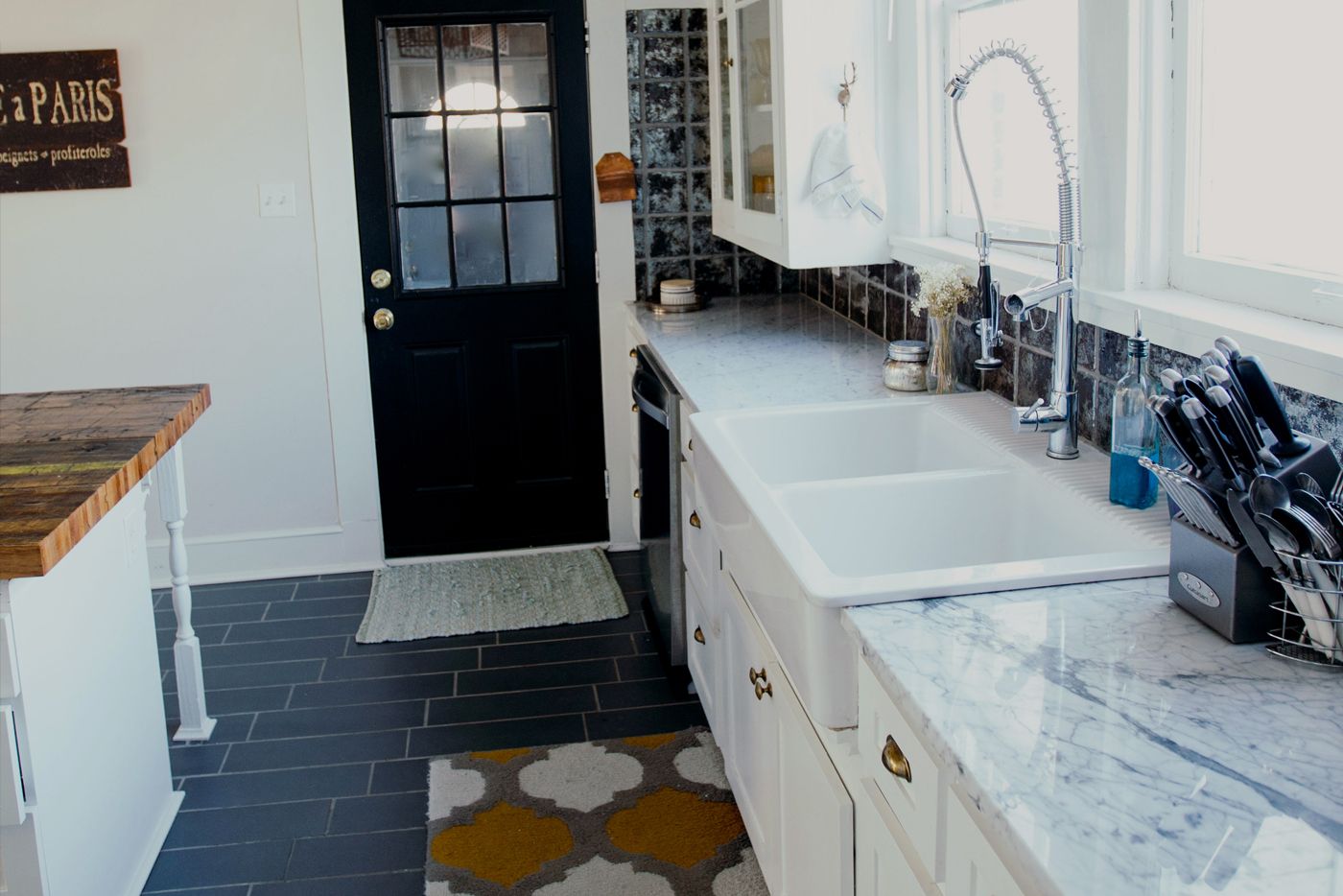 The existing upper cabinets were salvaged and the lower cabinets rebuilt with Shaker-style doors and brass hardware found on eBay. The industrial-style faucet adds function to a classic-look farmhouse sink.
Sink: Domsjö Double Bowl, IKEA
Dark and Damaged Family Room: Before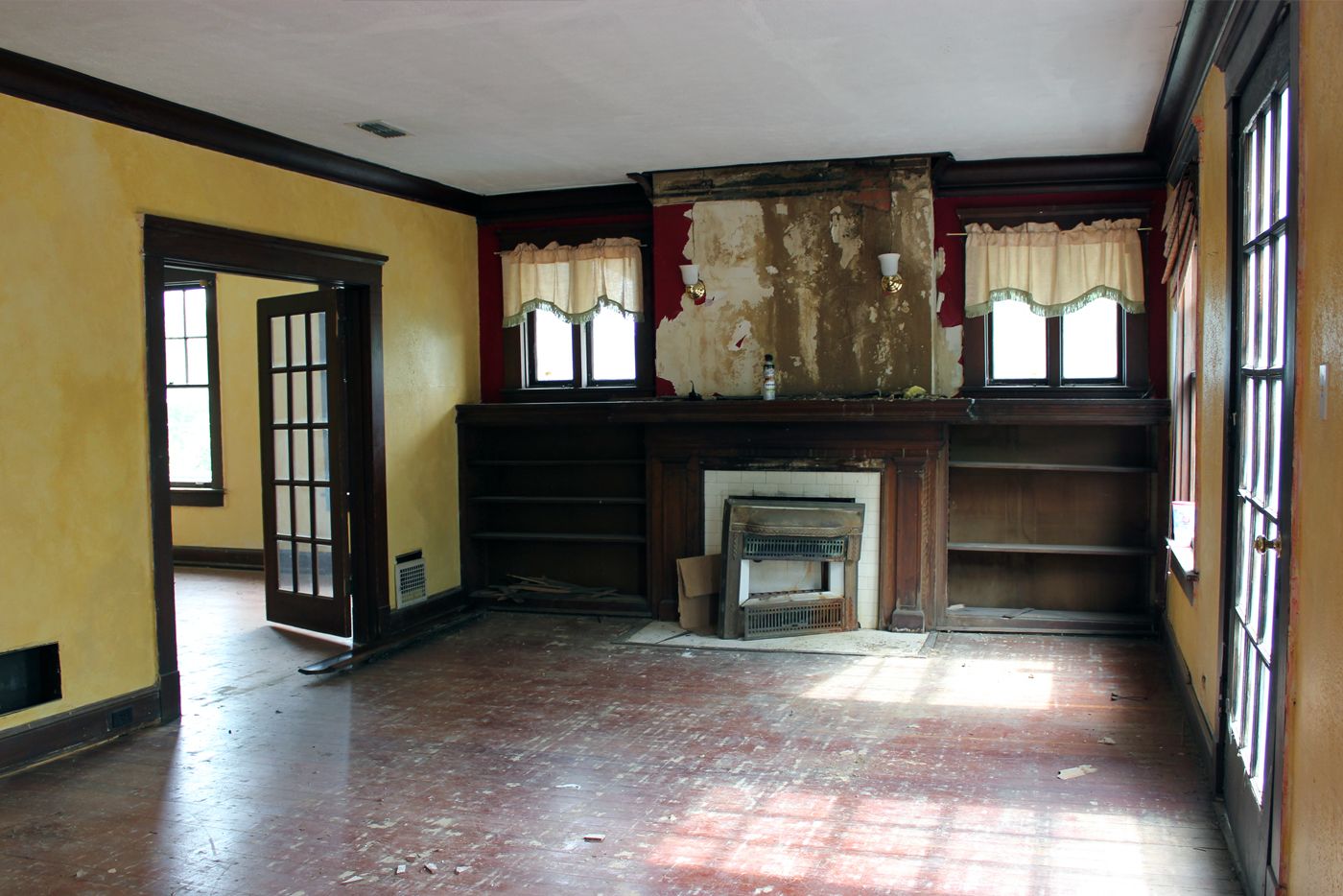 At one time, the home was a duplex, so there was a second living room upstairs. The upstairs fireplace suffered much of the same water damage as the one downstairs. The dark, stained bookshelves and woodwork made the room feel smaller, and the oak floorboards were warped and rotted.
Open and Airy Private Retreat: After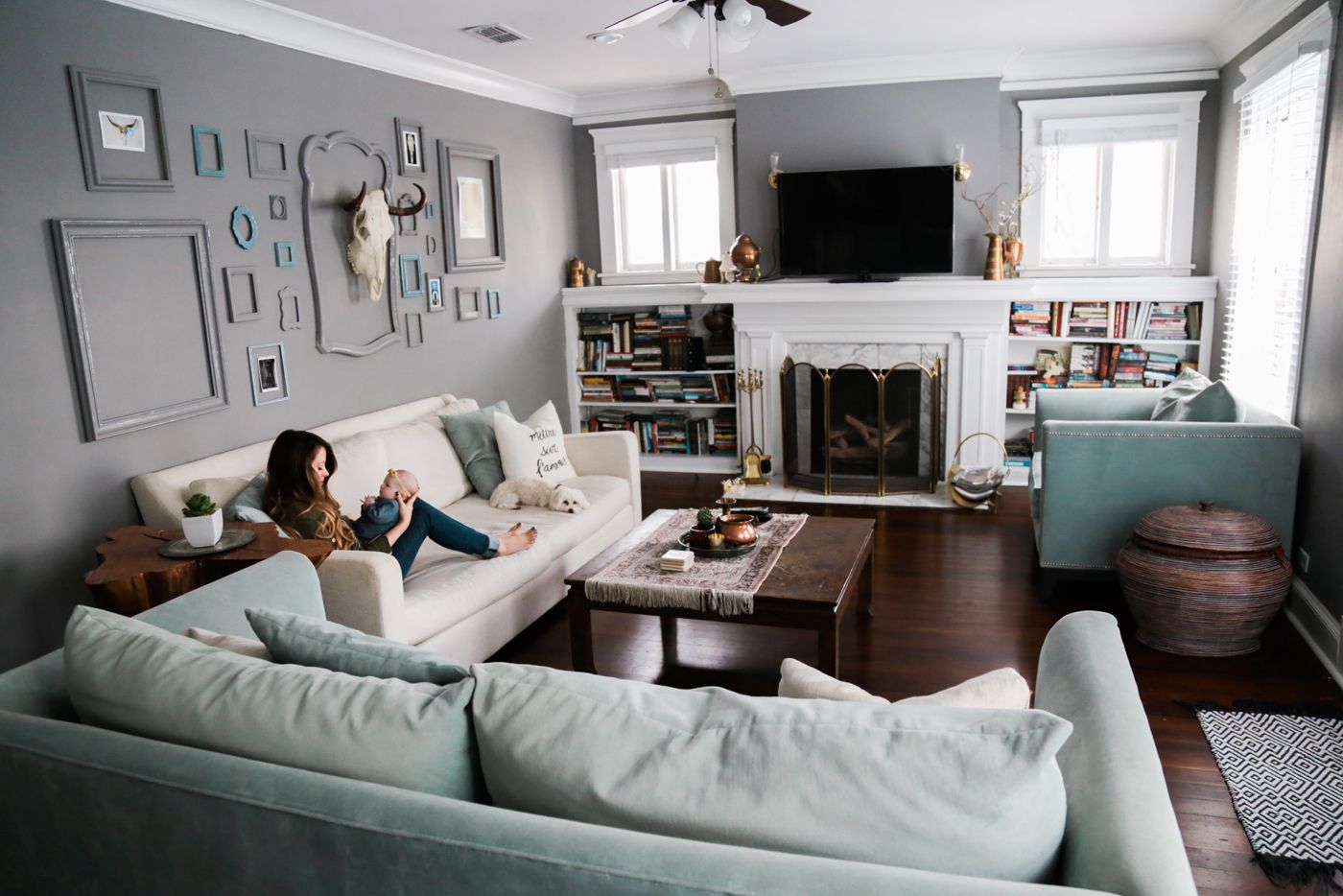 The family uses the downstairs living room for entertaining and the upstairs family room as a private space. Losing a redundant bedroom doorway made space for a larger loveseat. The dark, stained woodwork was painted white and the fireplace surround was reclad in marble to give the room a more airy feel. Again, artwork is minimal, with a mix of frames painted to match the wall and show off select photos and artifacts, including a very Texan cow skull.
Shown: Melissa, daughter Roosevelt, and dog Oliver enjoy the second floor family room.
Far Couch: Verano Sofa in Canvas Color, Crate & Barrel
Near couch and chair: Pauline Couch and Chair, ZGallerie
See More: Fireplace Restoration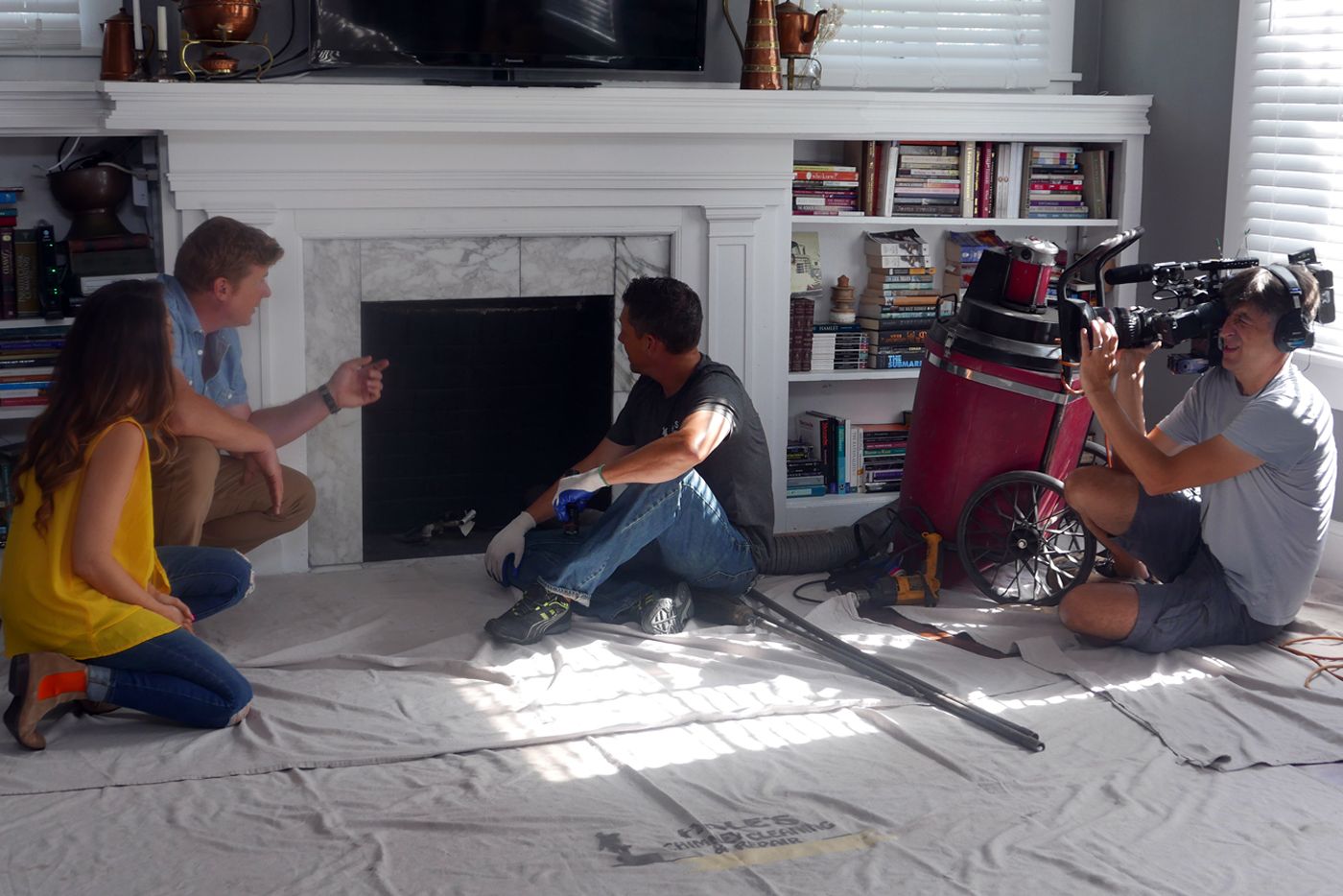 Kevin O'Connor visited Melissa on an episode of Ask This Old House to help wrap up a final piece of the renovation: getting the family room's old chimney back in shape and installing a gas log to add ambience and heat. Watch the full episode.
Shown: Melissa works with Kevin, chimney expert Clint Sanner of Hale's Chimney Service, and director of photography Jay Maurer during the Ask TOH taping.