The Homeowners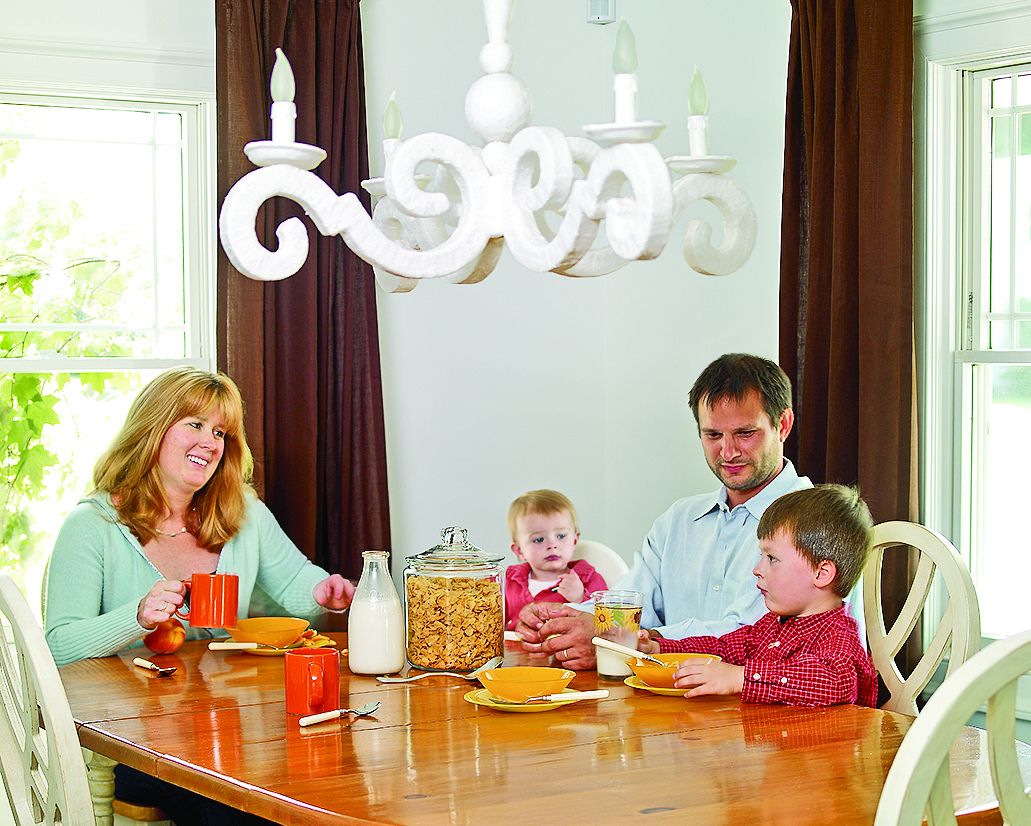 Jeff and Jennifer Kuryluk, who were eager to move their growing family from a two-bedroom house in Fairfield, Connecticut, to one with four bedrooms and a little character, did the math over and over. Eventually they realized they would be better off buying an older fixer-upper in a great neighborhood in the town they loved and enduring a gut renovation.
Operative word: endure.
With their son, Aiden, then 3 years old, and daughter, Mia, on the way, the Kuryluks knew they weren't taking the easy path. "I was scared we wouldn't find a house before we sold our old one, especially with a baby coming," Jennifer says. "Panic sets in, and you want to take anything."
Before: Exterior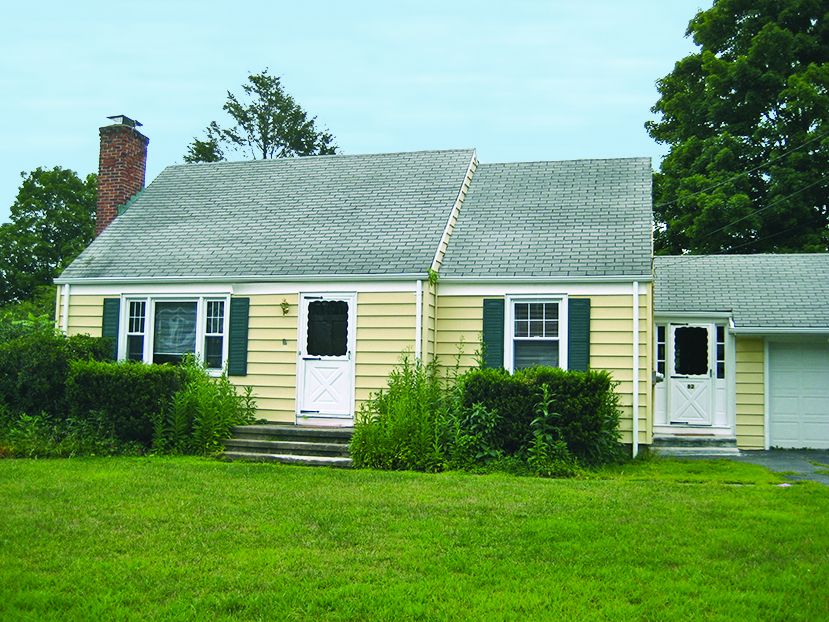 But in costly Fairfield, "We were seeing houses priced over $500,000 where you'd still get a 50-year-old kitchen and a bad water heater," Jeff recalls of their eight-month search. So to buy themselves more time to look—and maintain some order in their lives during the expected re-model—they sold their house and rented another one for $1,000 a month.
Almost immediately after selling their old house, they spotted their perfect wreck: a 1,400-square-foot 1953 Cape Cod, brimming with potential and boasting a "For Sale By Owner" sign out front. With its gloomy pine kitchen, one bedroom, and a bath downstairs and two attic bedrooms with a bath upstairs, the house would require significant work. "It needed everything except walls and a foundation," Jeff says, meaning all new systems, siding, insulation, and a raised roof. In other words, it was ideal.
Jeff, who worked as a carpenter in college and now runs his own custom concrete-counter business, started with altering the traditional Cape roof.
After: Exterior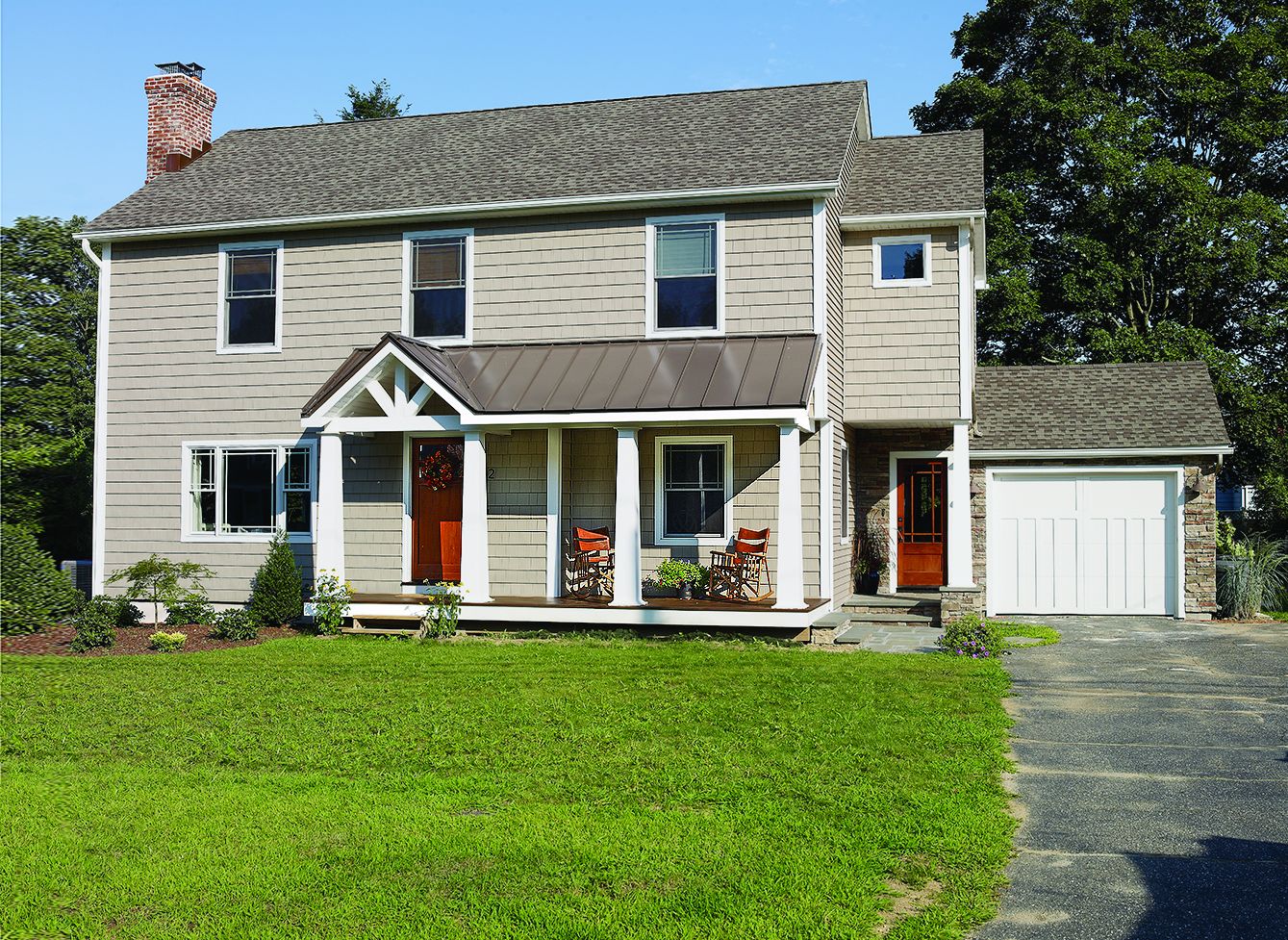 To fit four bedrooms and two baths upstairs, he raised the roof to increase the ceiling height from 6 to 9 feet. The Cape Cod second floor addition allowed them to turn what was crawl space under the eaves into living area and to install 5-foot-tall windows.
By raising the rafters and adding a 102-square-foot bumpout over the passageway to the garage, Jeff gained room for a walk-in master closet. Read on for more cape cod renovation ideas and to learn how they made their dream home a reality.
How They Saved
Jeff served as his own GC. This meant juggling subcontractors' bids and schedules, ordering and inventorying construction materials, visiting the site at least once a day, and staying on top of costs. But it also meant he could look for savings at each stage—and forgo a contractor's 20 to 30 percent markup on goods and services. Estimated savings: $100,000
Chose to have vinyl siding with a shingle pattern installed instead of painted cedar shingles. Estimated savings: $13,600 up front, plus at least $1,000 a year in upkeep (repainting every five years)
Went with faux-stone veneer made from cast concrete for the exterior walls of the new mudroom entry and on the front wall of the garage. It cost $5 a square foot less than Pennsylvania cut stone. Estimated savings: $750
Before: Kitchen
Moving downstairs with visions of a light-filled open layout, Jeff tackled more demolition, removing one interior wall and a closet in what was a bedroom, plus two walls that hemmed in the dark kitchen, which was filled with dated pine cabinets.
After: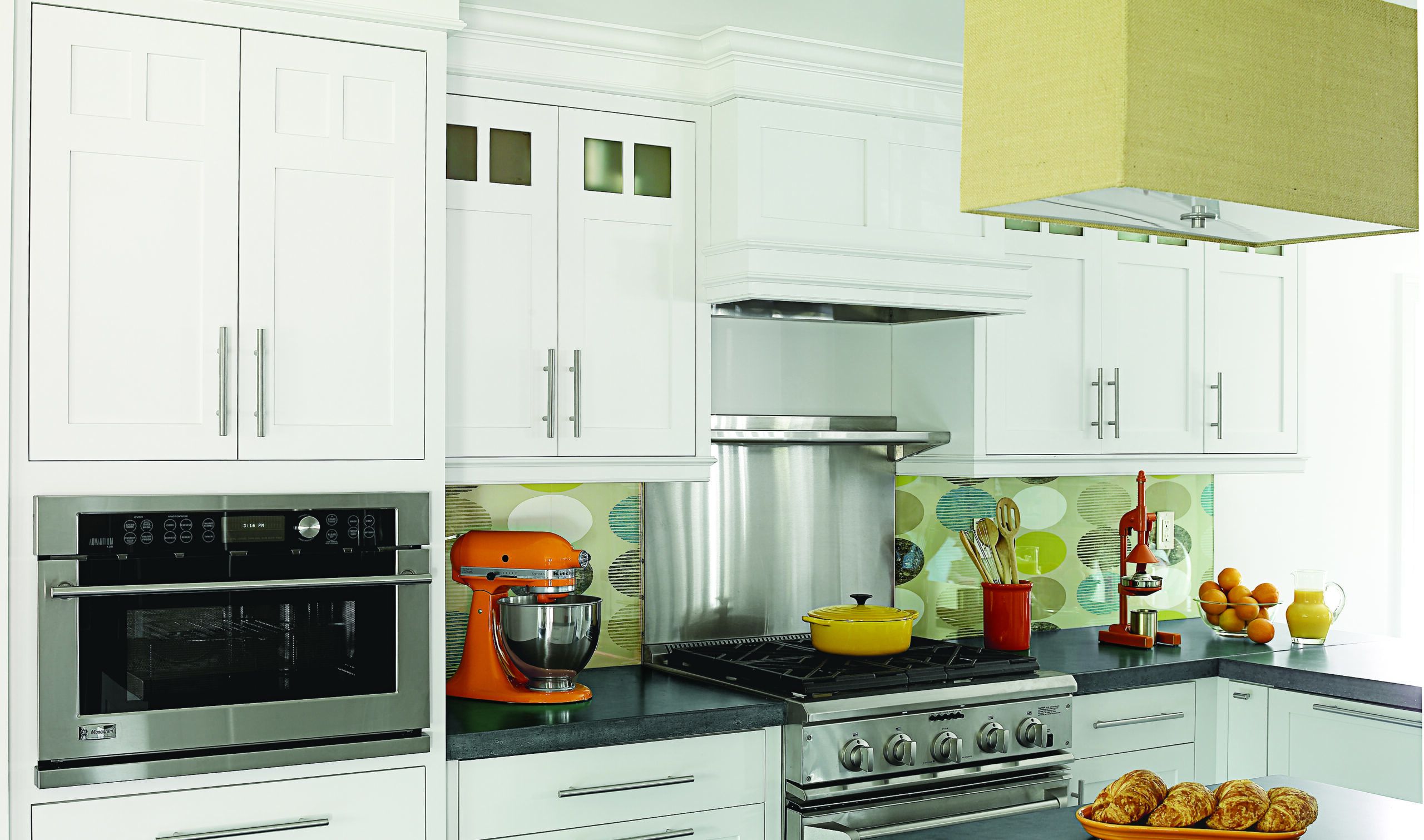 This created a front-to-back living room and an open-plan kitchen/dining/family room configuration. The open kitchen got an island and peninsula to define it, plus glossy white cabinets and stainless-steel appliances to reflect the available light even more. Concrete counters and a glass-over-wallpaper backsplash help update the space.
How They Saved
Put in an unconventional backsplash: The DIY kitchen backsplash is 1⁄4-inch-thick glass over wallpaper, instead of ceramic tile. Estimated savings: $450
Bought sale appliances and stored them: The couple opted for standard 30-inch-wide GE appliances over pricier pro-style models. They bought them piecemeal as the items went on sale, then kept them in the garage. Estimated savings: $8,000
Before: Living Room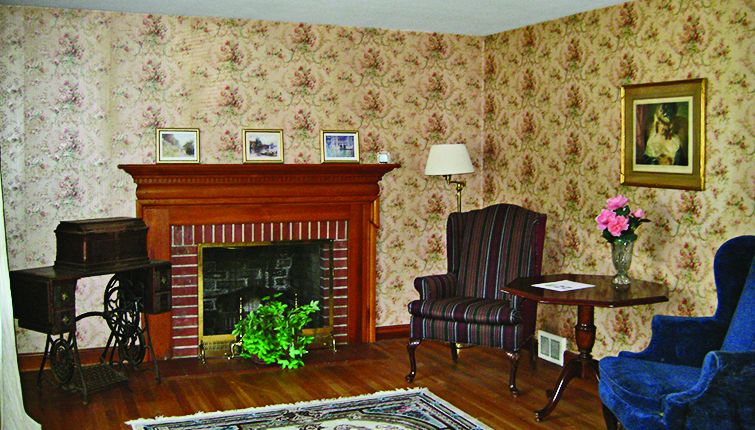 Busy wallpaper and worn oak floors made the walled-off living room feel even smaller.
After: Living Room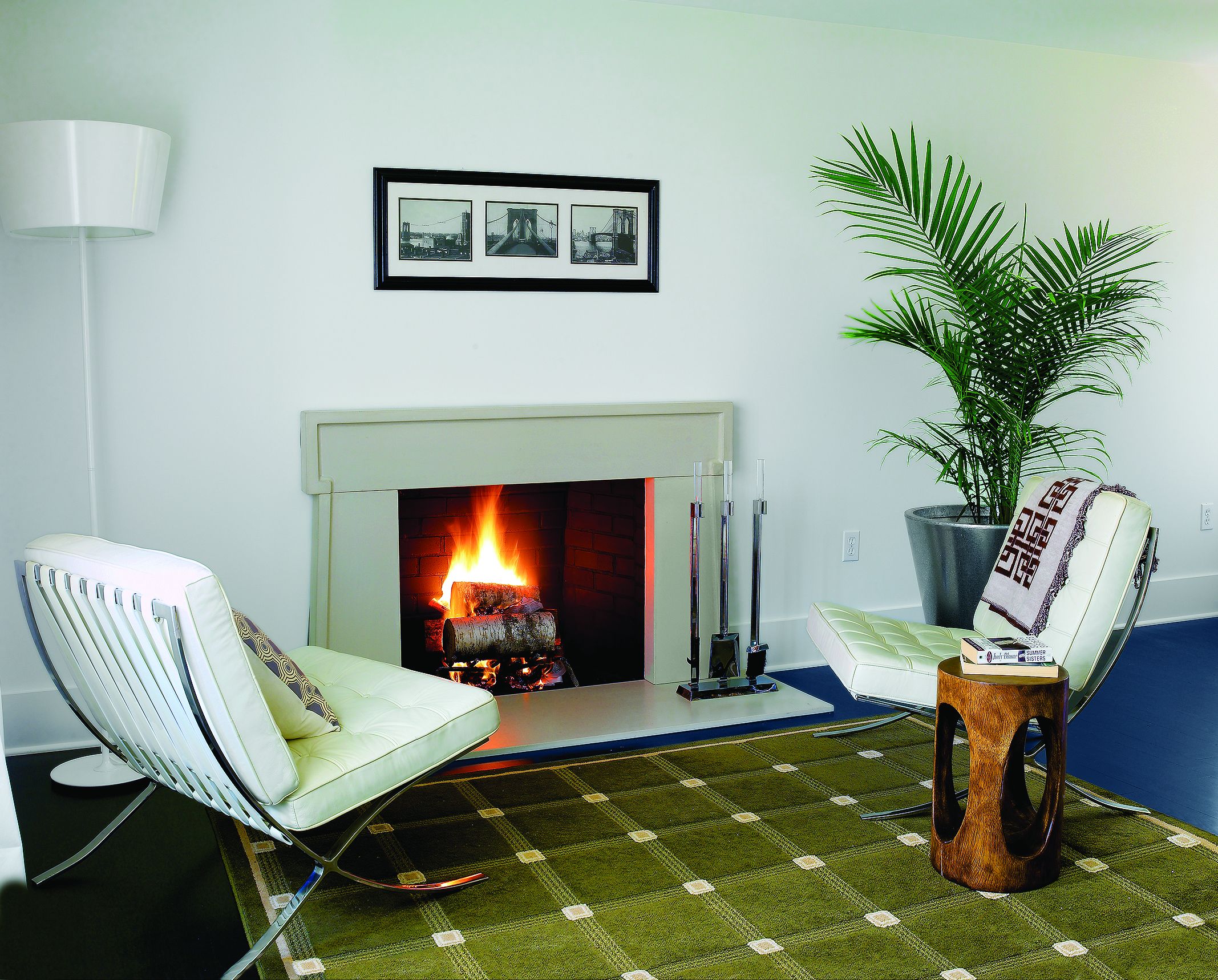 The expanded space is freshened up with white walls and new dark-stained oak flooring that unites the whole first floor. Jeff, who runs his own custom countertop business, Concrete Encounter, made the concrete fireplace surround.
How They Saved
Jeff did a lot of demolition himself. "It took me and another guy eight Saturdays to rip out all the old plumbing and wiring, as well as the plaster walls, which were under a layer of drywall," Jeff says. "But it was worth it." Estimated savings: $2,000
Before: Staircase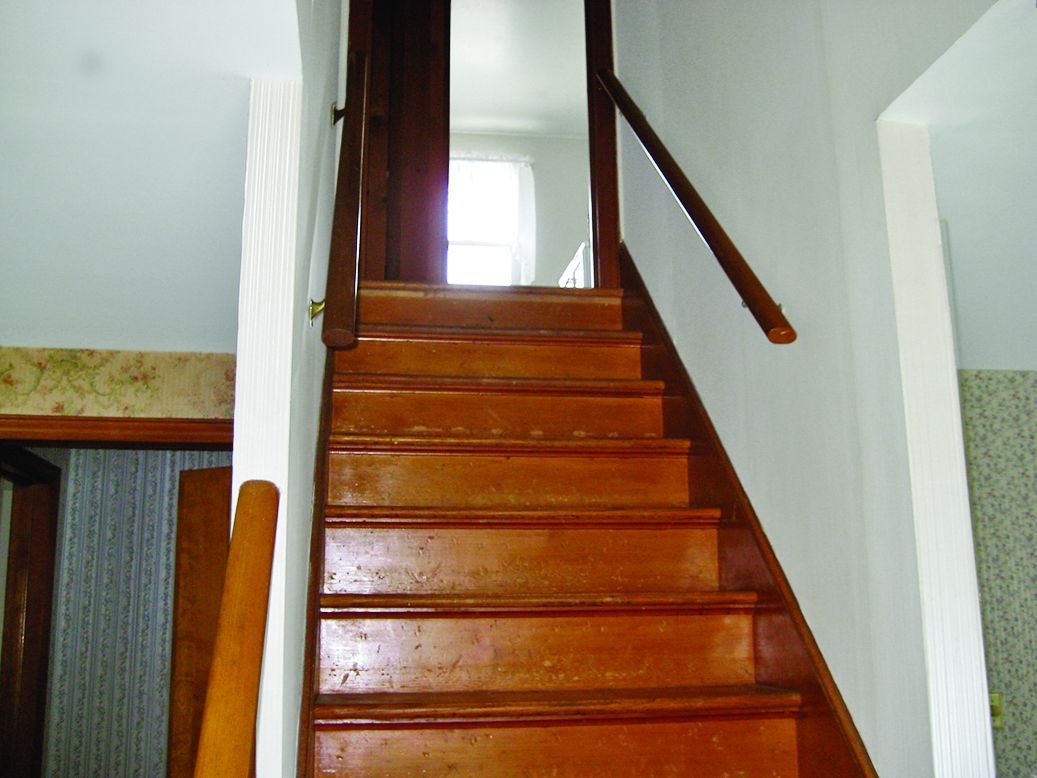 Of course, there were the inevitable unexpected dramas, like The Day They Decided to Move the Staircase. Jeff wanted it just three feet left of where it was—directly facing the front door—so that he could create a more gracious entry. He thought that taking down the old stairs and building new ones would be "the easy part," but that was before he studied the code and logistics. "Building stairs is an art," he says. "If they're not spaced correctly, they just aren't going to feel right."
After: Staircase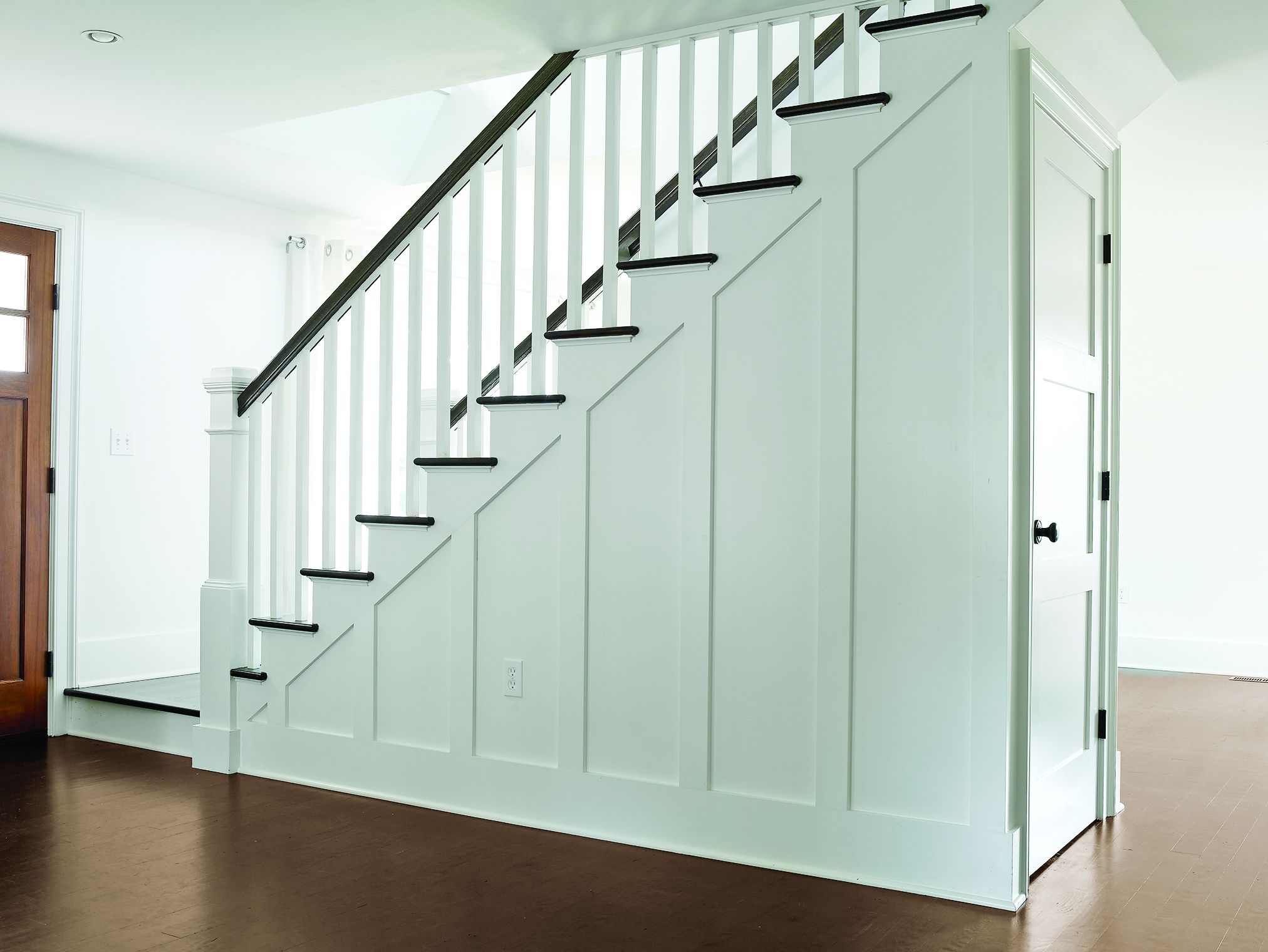 So he dug into his contingency fund and hired a sub to build an all-new staircase with oak treads and an oak-topped railing three feet to the left as you enter, creating a foyer. Jeff paneled the wall below with leftover MDF, a trick he learned in the pages of This Old House.
Before: Garage Passageway
The paneled passageway to the garage was a bare-bones tunnel.
After: Mudroom/Laundry Area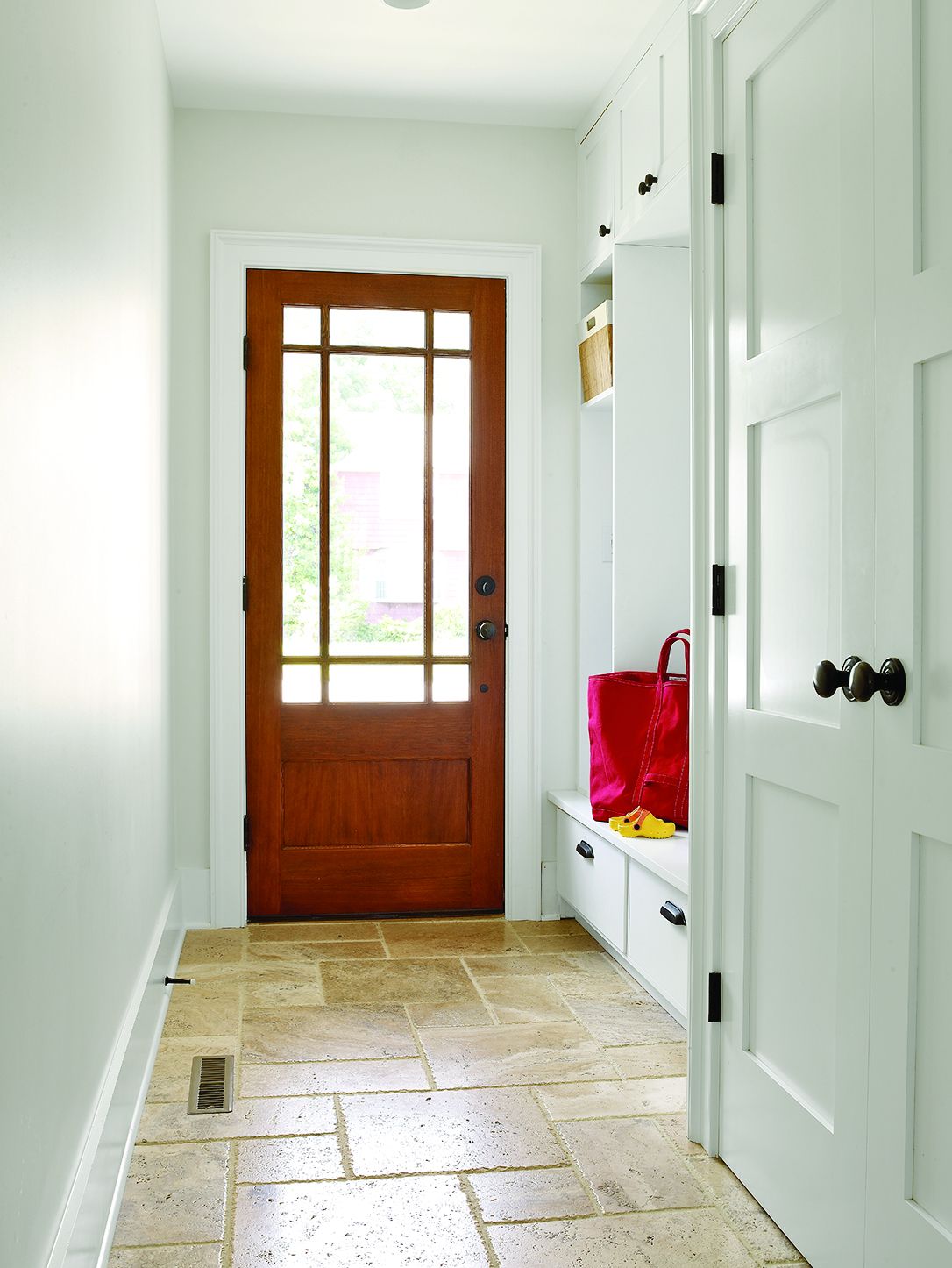 As part of his campaign to maximize the potential of every space, Jeff redid the dull passageway to the garage, converting it into a handsome mudroom/laundry area with custom storage built-ins and a travertine floor.
Before: Family Room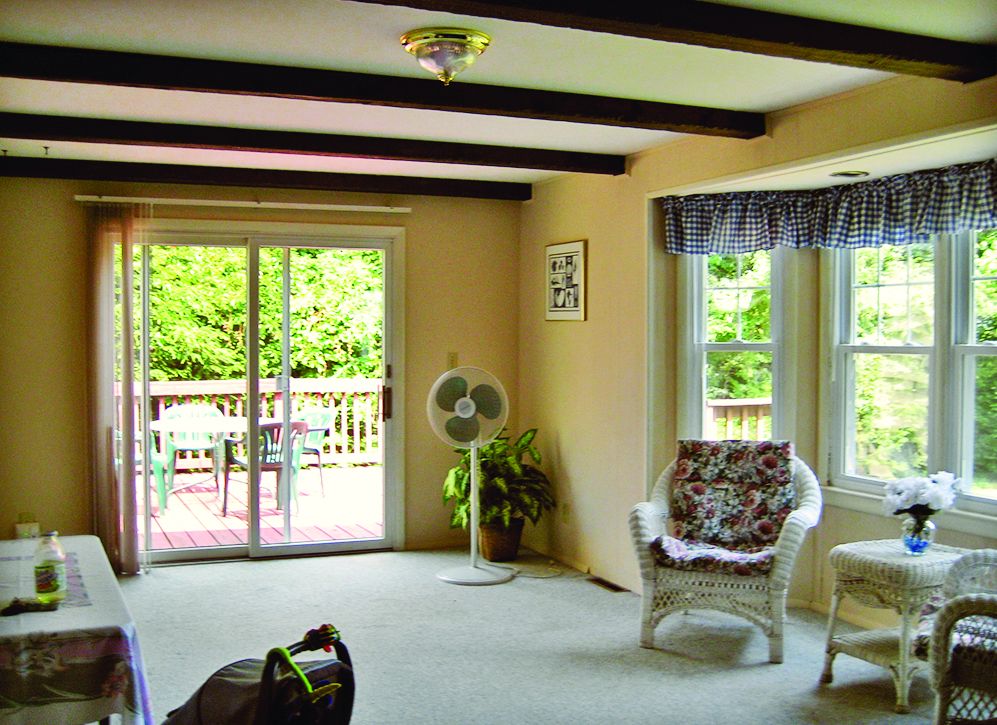 The tired family room was added during a previous renovation.
After: Family Room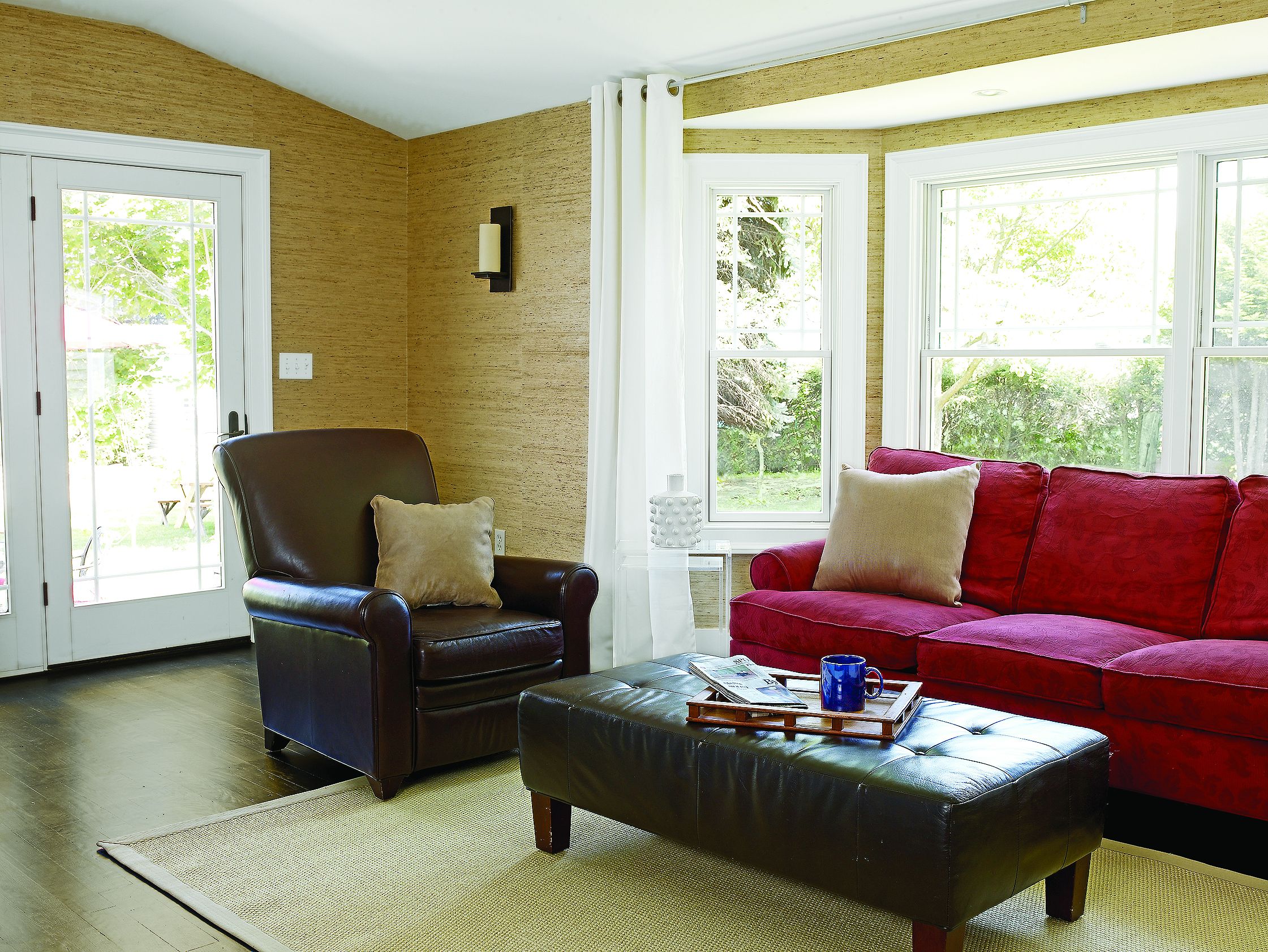 Now open to the kitchen, the room is warm and bright thanks to grass cloth–lined walls, new windows, and French doors. Jeff had a carpenter lay dark-stained oak flooring throughout the downstairs to tie the rooms together.
Before: Bathroom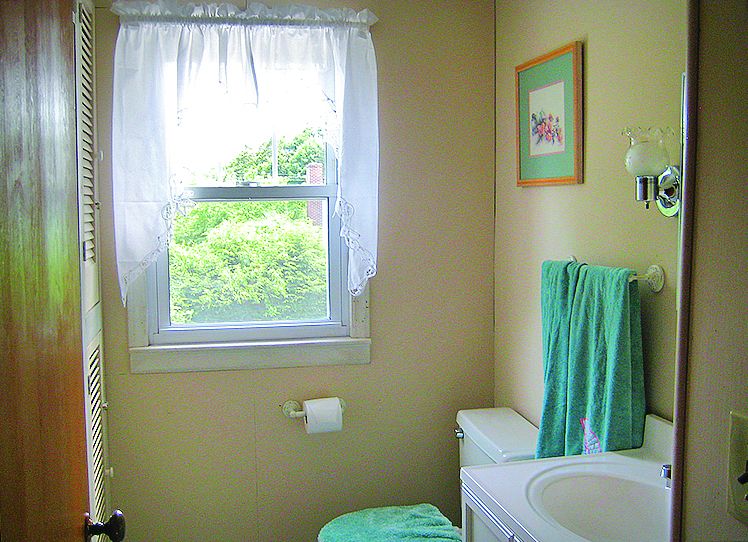 The lone upstairs bath was dark.
After: Bathroom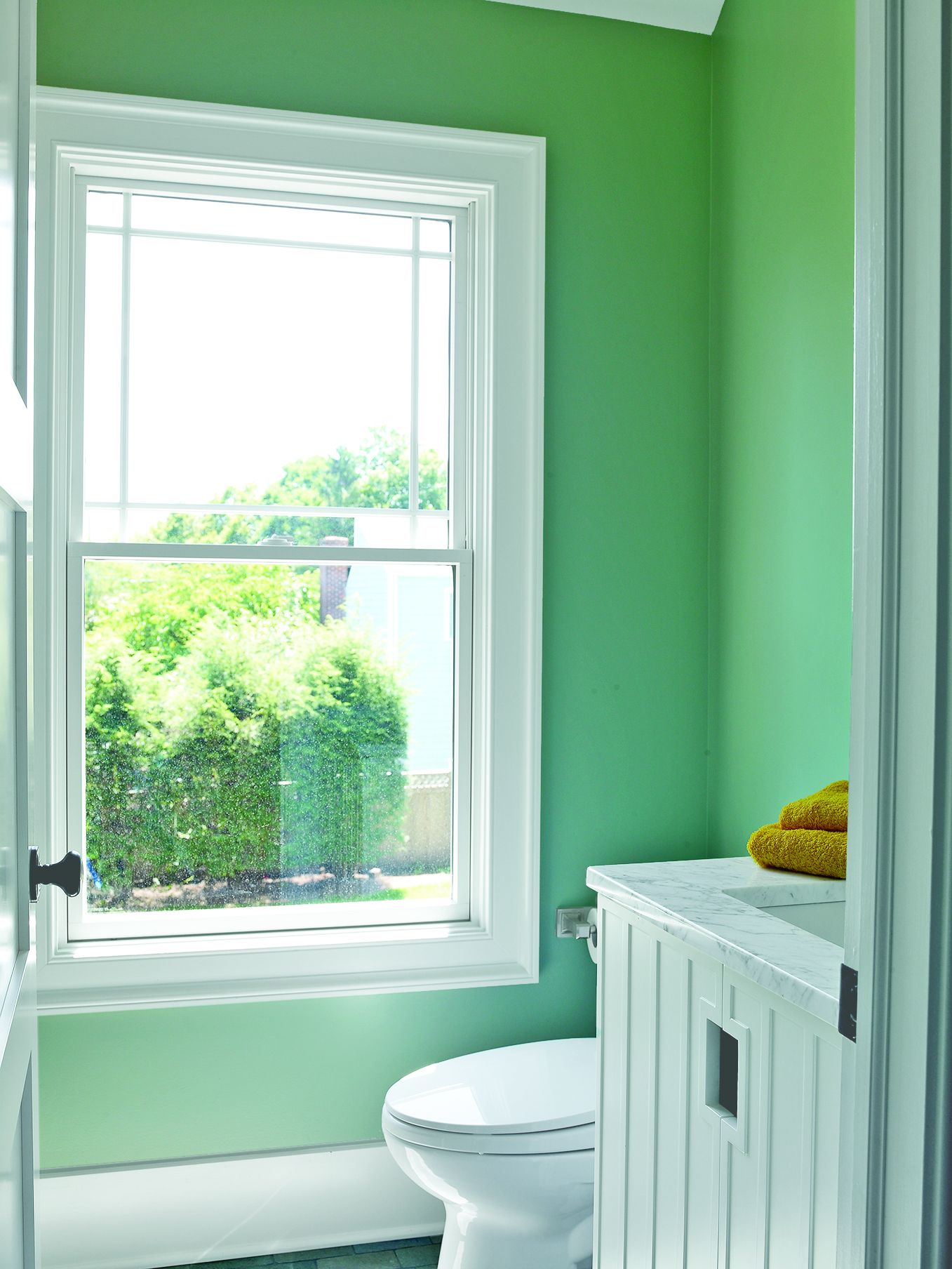 Raising the roof created 9-foot ceilings, allowing for a larger 3-by-5-foot window that brings more light into the bath.
Before: Bedroom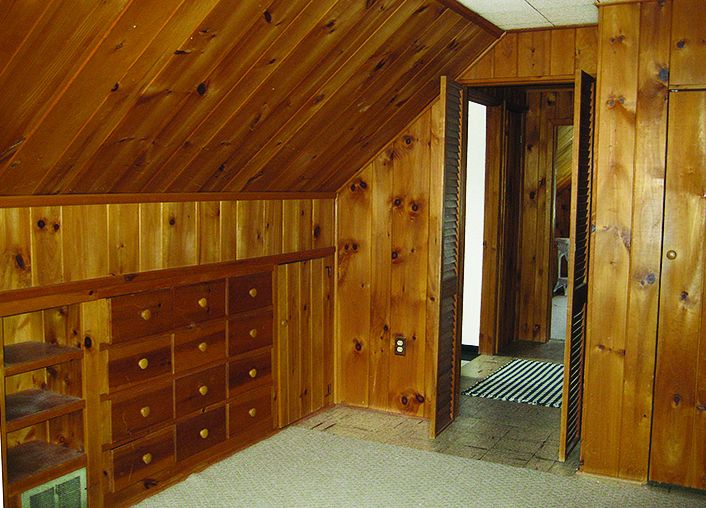 A funky knotty pine–paneled bedroom was one of two that fit upstairs.
After: Bedroom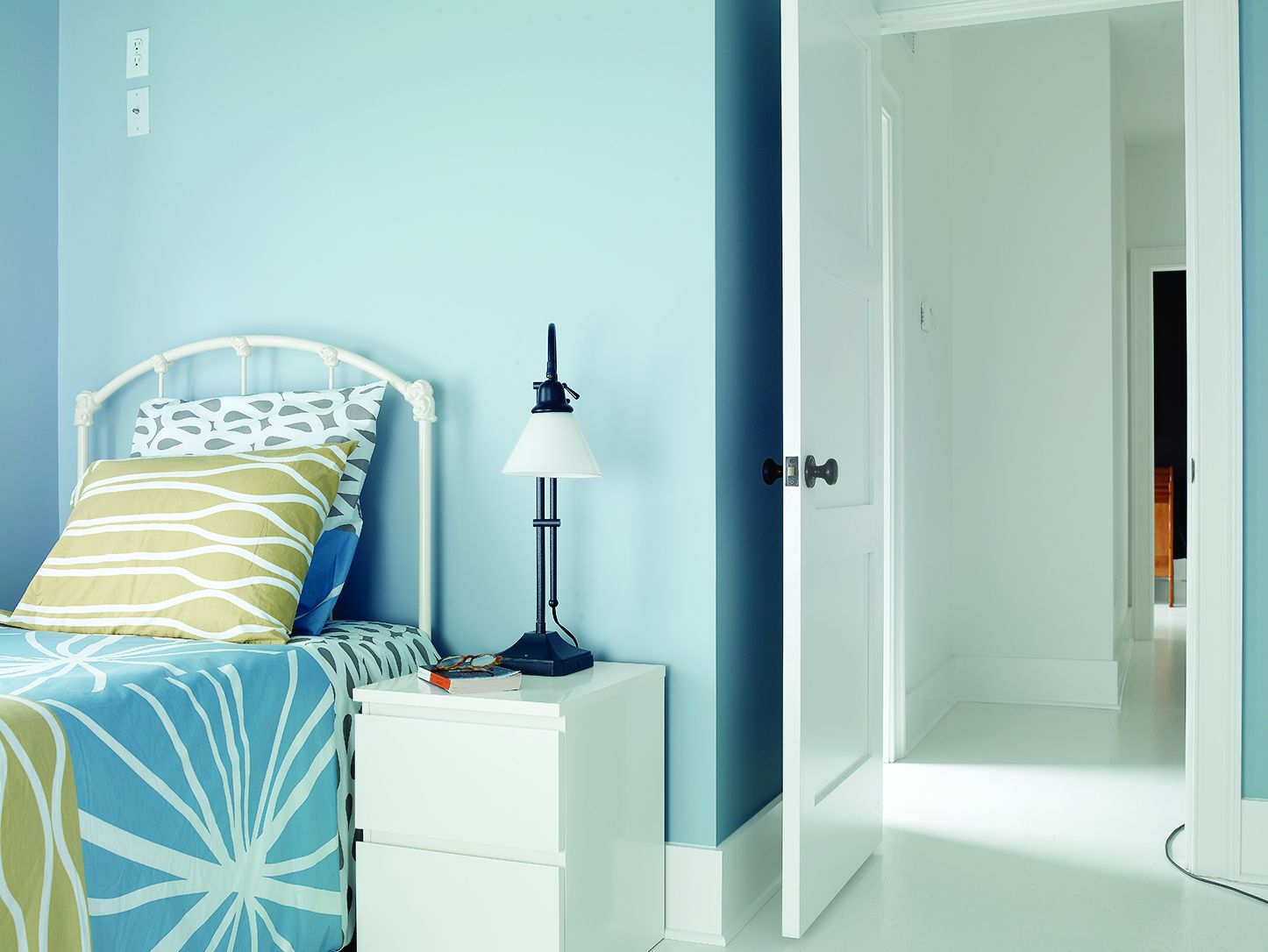 Four bedrooms, including this guest room, plus two baths now fit in the full-height remodeled second story.
How They Saved
Hired a draftsman instead of an architect to draw up the plans for the building department's approval. For the second-story 6-by-7-foot bumpout, he got free framing plans through his lumber supplier. Estimated savings: $10,500
First-Floor Plans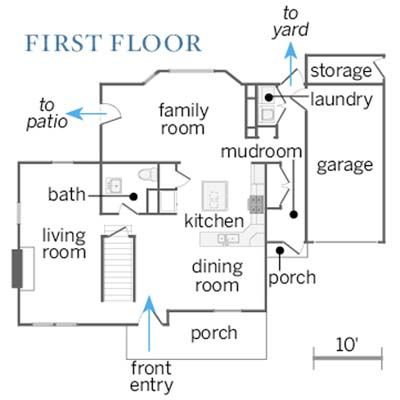 Downstairs, the Kuryluks removed three interior walls and a closet—and shifted the stairs away from the entry—creating an open plan. The changes yielded 2,280 square feet of living space.
Second-Floor Plans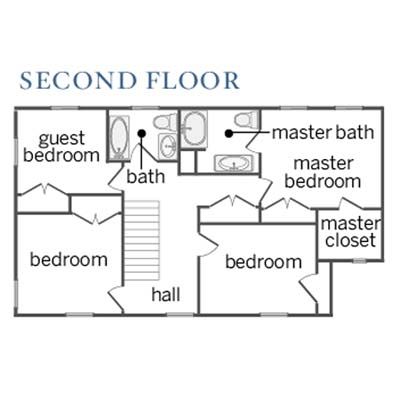 The Kuryluks lopped off the top floor, raising the roof to gain 9-foot ceilings and fit four bedrooms upstairs.
Jeff says he stayed on budget by being organized, shopping for
bargains, meeting his own deadlines—and building in a 20 percent cushion.
Sweat equity and strategizing, plus preserving
the Cape Cod's basic box, did the rest.