The Housing Gods Smiled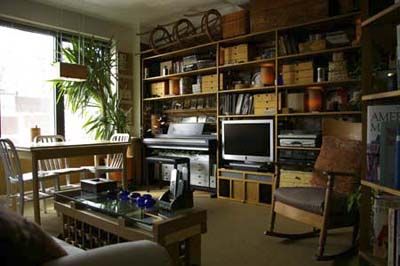 In my late twenties, I lucked into an apartment on a high floor, on the quiet courtyard side of a 1931 Greenwich Village high-rise, with doormen, lots of light, and a rent-stabilized price tag in the $600-a-month range. Sure, it was all of 450 square feet, but it wasn't for forever… right? Who knew then that the average price for a New York condo or co-op would skyrocket up more than 200 percent over the last decade? And so I find myself, in my early forties, still living in what was supposed to be my 'starter apartment.' How have I survived in such diminutive digs? By constantly, alright, obsessively reinventing my space.
But I Know What I Like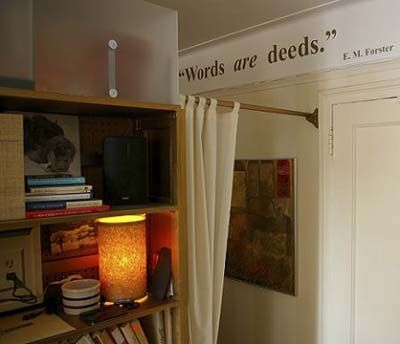 Years ago, I interviewed jeweler Alain Boucheron in his mansion overlooking Lake Geneva, the renovation of which he was overseeing. "I'm sure there are some mistakes," he told me. "But it's our taste. And if there are mistakes, they're our mistakes." I've had no formal training in design or carpentry—and some may say it shows—but that hasn't stopped me from diving headfirst into home improvement projects. Like many DIYers, I get satisfaction from handcrafting a living space that, for better or worse, is uniquely mine.
Reduce, Reuse, Recycle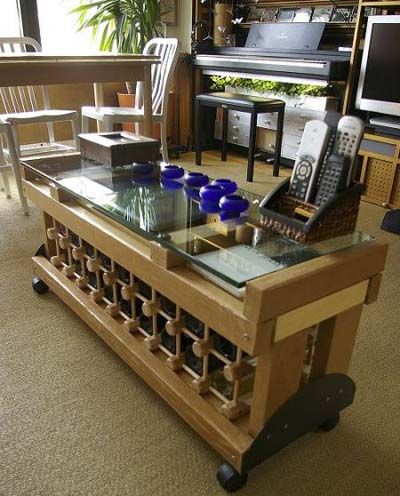 A significant part of my process involves pressing recycled or found objects into unexpected service, as with the coffee table I built from a hodgepodge of new and old: neighbors' discarded shelves and glass tabletop, left-over lumber, hardware, paper, wallpaper paste, and polyurethane, wine rack kits, and a CPU dolly I found on the street. Its wide-but-not-deep dimensions are tailored to the space, and its structure is functional, incorporating storage space for books, my laptop, and a case and a half of wine. Plus, the whole thing rolls out of the way when it's time to open the sofa bed for guests.
Up, Up, and Away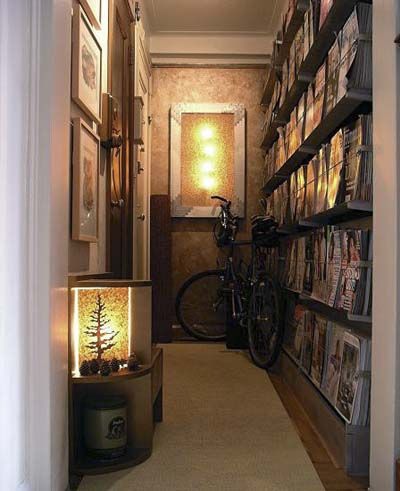 In small spaces, it pays to think vertically. For years, I underused my front hall's 80 square feet of uninterrupted wall for fear of encroaching on the narrow floor. Then one day I passed a magazine shop going out of business; the owner was happy to have someone cart away the metal shelves for free. I fashioned a 10-foot-by-7½-foot-by-7-inch floor-supported rack using plywood and my jigsaw. Braided wire taughtly suspended through a series of L-brackets runs the length of each shelf, holding the magazines in place.
Get To Work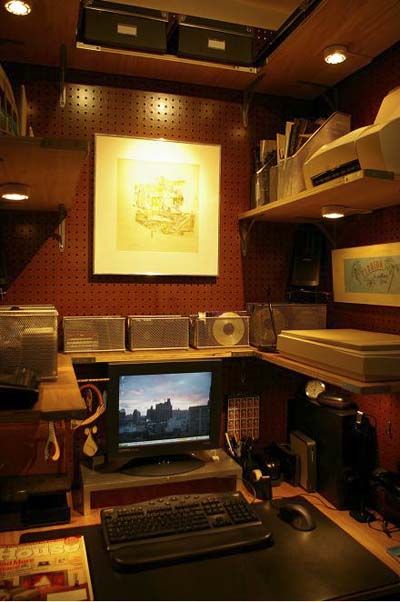 Another problematic area was the nook on the way to the bathroom, a postage-stamp space (less than 28 square feet) complicated by offset doorways on opposing sides. My solution was to tuck a floor-to-ceiling desk unit into the uninterrupted area. First, I anchored six 8-foot vertical 1-inch-by-2-inch studs, which I covered with brown pegboard finished with water-based polyurethane, for a burnished-leather look. The desktop and six shelves cut to order from a 8-foot-by-4-foot piece of 3/4-inch furniture-grade birch plywood, are suspended on metal brackets attached to the underlying studs. By floating the structure off the walls, I rested its weight on the floor rather than risking damage to the old plaster.
Smoke and Mirrors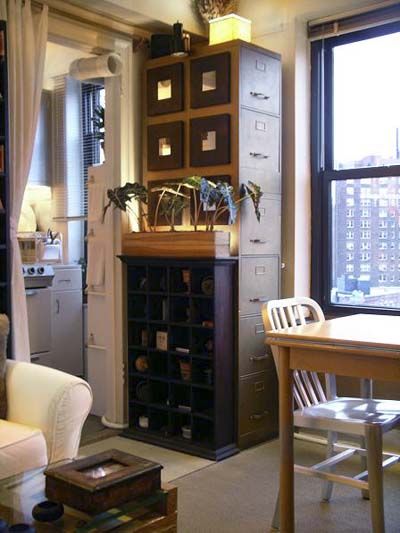 One thing I couldn't fit in the office was my second-hand filing cabinet. The corner near the kitchen suited its footprint, but I needed to camouflage its utilitarian exterior. Eventually I found its shorter mate abandoned on the street, joined the two with mending plates and self-tapping screws, painted the newer to match the older, hung a half-dozen mirrors bought on eBay, attached an old postman's cupboard, and topped that with a planter. Though admittedly strange, the finished product has an architectural quality that's evocative of the buildings beyond. Narrow shelves on the flip side provide hidden storage for four window screens.
Private Place
Probably the most vexing dilemma facing studio dwellers is the lack of a bedroom door; there's just something discomforting about not having a dedicated sleeping space. I started exploring room-dividing options, which culminated in the 24-foot shelf unit that wraps around my bed. About a third of the sweeping structure is made from eight short collapsible bookshelves, stacked in four columns, which I linked and augmented with custom shelving built to replicate their look as closely as possible. Rope light hidden along the top casts soft radiance on the ceiling.
Lofty Ambitions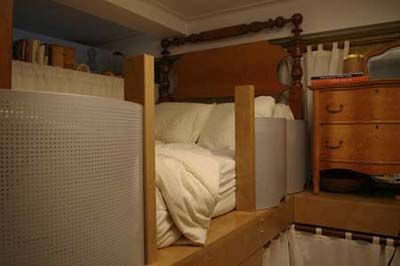 Interior designer Ronald Bricke once told me, as we toured a Frank Lloyd Wright home he'd renovated, that Wright believed bedrooms should be little more than caves. If that's true, Wright might have appreciated my loft bedroom, which rests on a freestanding L-shaped platform enclosed by, but not attached to, the surrounding shelf unit. A wraparound row of frosted Plexiglas transforms the top shelf into a bed-length credenza and affords privacy while still allowing in natural light. And the incorporation of antiques lifted from my parents' 1830s farmhouse—including remnants of an antique rope bed, as well as a chest of drawers and mirror from the bedroom suite my Great-Great-Grandmother Mohney "went to housekeeping with" in the 1880s—makes it feel like home.
No Monsters Under Here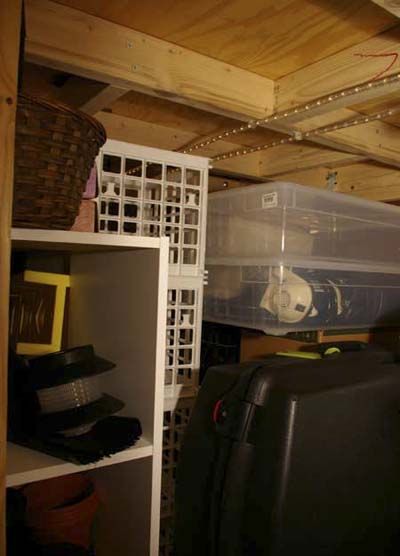 The impetus for the loft bedroom, however, was practical rather than aesthetic: Frustrated by years of shimmying under my bed with flashlight in mouth to retrieve stored items, I designed the structure to maximize otherwise wasted storage potential. It turned out to be a daunting task, since I built the main platform with attached legs upside down, in situ, and then had to single-handedly flip it into position. But after more than a week of working by day and sleeping on my sofa bed by night, I was rewarded with a nearly 140-cubic-foot storeroom.
…and Everything in Its Place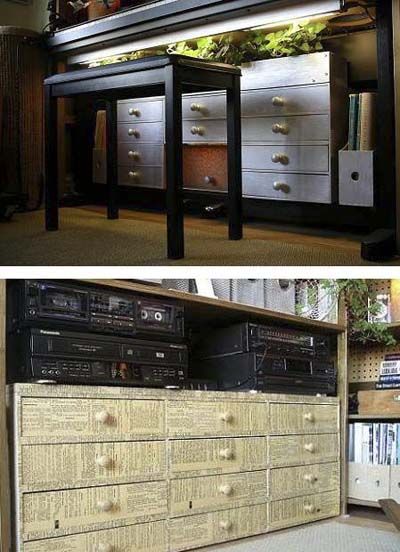 I've incorporated storage space anywhere and any way I can—so much so that I always have more than I'm using. Both of these drawer units were made by combining unfinished wooden mini-chests from Ikea. The piano unit is topped with a planter built from cheap lumber, lined with disposable aluminum loaf tins, and illuminated by concealed fluorescent lights; the freestanding stereo unit rests on Teflon-coated furniture coasters, for easy access to the wiring concealed behind, and is covered in lacquered pages from my first reference book, Webster's Encyclopedia of Dictionaries.
Custom Cat House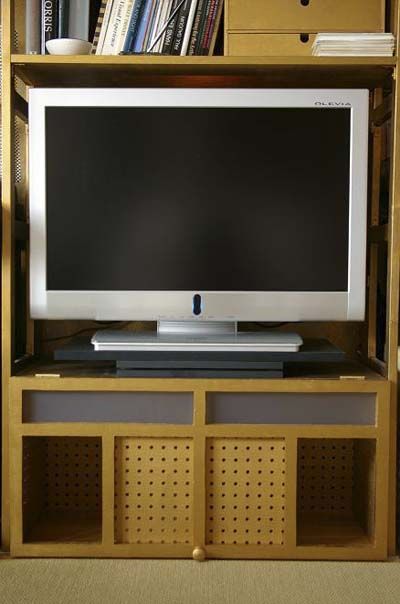 My dearly departed cat provided the inspiration for this latest project. I loathed his foam-and-polyester bed, so I decided to create an alternative before bringing home my next feline companions. I removed the shelf, sketched the design on its surface, used my drill and jigsaw to do the cut-outs, inset panels of pegboard and frosted Plexiglas, and hung the door with basic hinges. Inside, a central wall made from scrap plywood now adds support for the TV. Next, I'll install 1-inch pads covered with fabric left over from my rocking-chair reupholstery. And if the cats decline to use their duplex (or if I come to my senses about getting them), I'll just add two more pegboard panels and use it for storage.
Crafty Table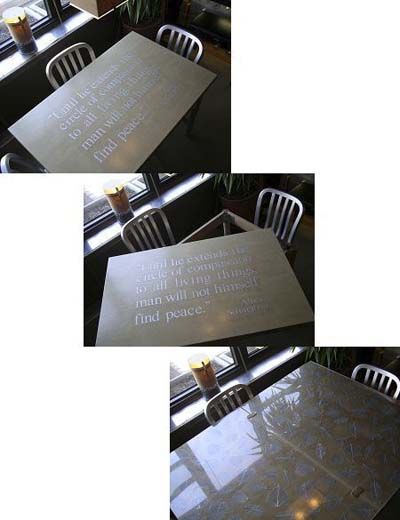 Entertaining in a studio apartment presents a unique set of challenges. An invaluable asset is a table that can double in size in five seconds flat. This one is the first piece of furniture I bought after college, a sturdy if prosaic workhorse whose finish took a beating over the years. To give it new life, I disassembled it, sanded it down, wrapped the components in Kraft paper, embellished the top with hand-cut and -painted lettering, and scattered skeleton leaves from Paper Presentation across the interior surface. If nothing else, it's a conversation piece that takes the focus off my cooking.
Take It All Off
Before I moved in, the landlord did a partial kitchen renovation, replacing the old sink, stove and refrigerator but leaving the original overhead cabinets. Stripping them proved to be the messiest job I've ever undertaken, but when it was done, I had bare-naked cabinets that I could finally fully close. A single thin coat of Aluminum Rust-Oleum protects them.
Be Cool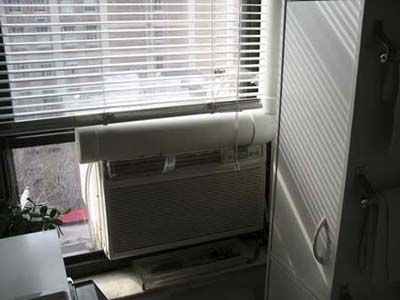 With all the windows on one side of the apartment, the lack of cross-ventilation makes an air conditioner a necessity. But placing the unit in a living/dining room window interrupted the skyline view, and when I first tucked it away in the kitchen window I ended up with a 5-foot-by-8-foot walk-in freezer attached to a sauna. My solution was to create an air delivery system that moves cooled air out into the apartment. Made from a clear plastic air deflector, silicone caulking, and about 10 feet of 4-inch PVC sewer piping, it's not my prettiest creation—but it does what I need it to do.
Breathe Easy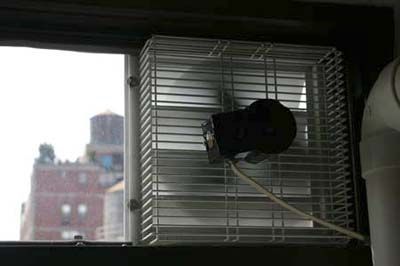 Cooking odors can quickly permeate a studio. I'd long lamented that my kitchen cabinetry afforded no space for a range hood, but then a story I wrote on chefs' gardens got me thinking outside the box, so to speak. I purchased a greenhouse fan, which snugly fits into the kitchen window above my air conditioner. A piece of ¼-inch clear Plexiglas fills the gap to the left, and both it and the fan are held in place using hardware attached to preexisting holes in the window frame. The only real downside is having to disassemble the whole contraption for cleaning.
Pleasing Privy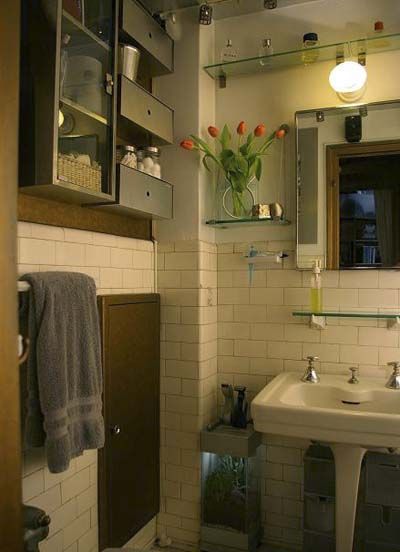 Fans also figure into my windowless bathroom—a larger one aimed at the tub to get the hot, humid air moving, and two smaller ones in the top of the door to vent the moisture. The bathroom had retained its original pedestal sink, medicine cabinet, shower fixtures, hexagonal mosaic floor, and subway-tiled walls. I've updated this classic look with storage units, cable-suspended glass shelving, a glass-front cabinet, patio lighting, and that ultimate bathroom luxury: small speakers hooked up to the living-room stereo.
Wall to Wall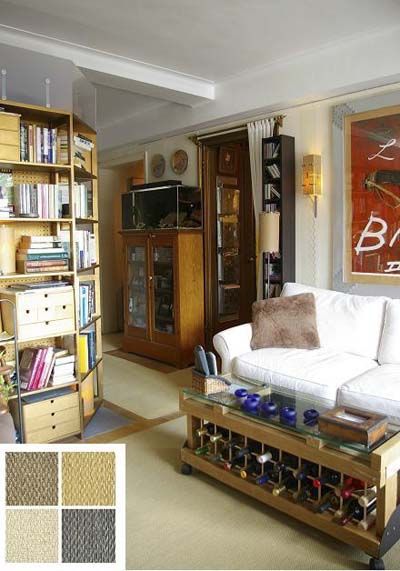 My floors had been partially refinished by the previous occupant but not properly sealed. That fact, coupled with some of my late cat's more unfortunate habits, necessitated a solution that would protect the wood without requiring major refinishing. The answer came from Sweden in the form of Bolon, a woven vinyl flooring. So far it's lived up to its billing: durable (aside from an occasional frayed strand along the edges), relatively easy to clean, and surprisingly natural in appearance for a synthetic product.
A Different Light
Successful small-space living demands tempering the practical with the poetic, and no single design element is more poetic than lighting. Inspired by childhood memories of the warm glow cast by rows of luminaria lining snow-covered walkways, I created a collection of accent lamps made from pieces of Plexiglas in varying shapes—tubes, cubes, rectangular boxes, flat panels—covered with plain brown Kraft paper and lit with compact fluorescent bulbs. In keeping with my reduce-reuse-recycle aesthetic, I made the sconce pictured here with leftovers from a stack of 4-inch-by-6-inch Plexi that once protected 80 black-and-white postcards covering my bathroom walls.
All in the Planning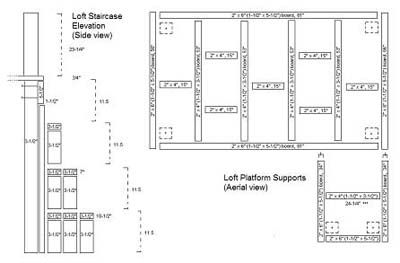 As any DIYer knows, the key to success is boldness; you have to be willing to risk totally screwing things up. But that doesn't mean you go in blind. Before I tackle a project beyond my expertise, I always do my homework—be it a search of the TOH website, a call to my parents, or a chat with my trusty local hardware store owner, Artie of Artie's Hardware Mart on West 14th Street. Every DIYer should find an Artie, someone who knows his stuff and is never too busy to help you translate your vision into reality. Once armed with the info I need, I sketch it out, in detail, in advance. We've all heard it before, but it bears repeating: Measure twice, cut once.
Good Bones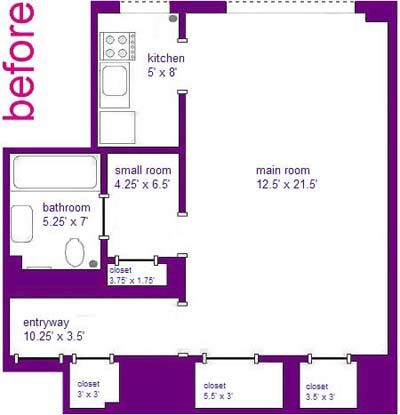 But I can't take all the credit for the livability of my little space. Much of that goes to the building's architect, Rosario Candela, who designed numerous Manhattan high-rises in the early 20th century. Candela's long front hallway and many nooks help to avoid that "boxy" feeling prevalent in so many studios; his prewar architectural details add visual interest; his higher-than-average ceilings are more commodious than the eight-foot standard common in the second half of the century—and when was the last time you saw a modern studio boasting four closets?
What I Did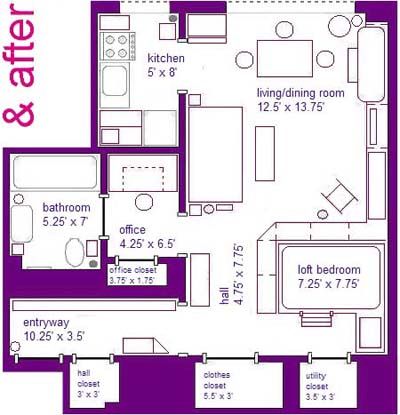 1. Built custom cabinetry in the kitchen to fill gaps in the floor plan and optimize functionality.
2. Converted what was presumably an old-fashioned dressing room into an office, putting this space to modern, productive use.
3. Tucked storage into every available nook to reduce clutter. Creating spaces for organizing exposed items helps make what clutter there is seem, well, less cluttered.
4. Separated the bedroom from the main space to increase privacy and comfort, as well as make the apartment seem larger.
5. Created multipurpose furniture to squeeze the most use out of the limited square footage.
In My Dreams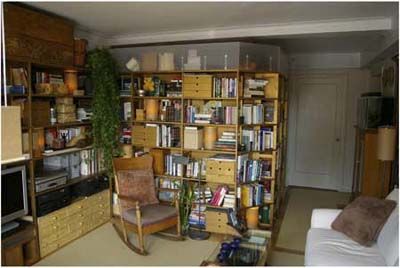 I admit, all this obsessive-compulsive effort hasn't prevented me from fantasizing about acquiring more room—and rooms. For years now my sleep has been haunted by one regularly recurring dream: in it, I happen upon a hidden doorway that miraculously leads to a previously undiscovered wing of my apartment, usually with cathedral ceilings, an ocean view, or some other variation on the theme of limitless space. Perhaps these dreams won't cease until I relocate, but until then I always have my jigsaw and my drill…