Craftsman Style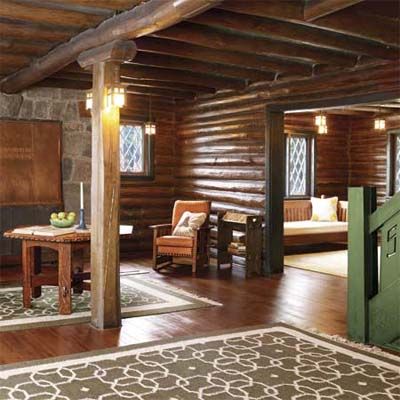 Craftsman houses are so named for their emphasis on hand­crafted features—roof beams that pierce the exterior and exaggerated eave overhangs. Most of you know the look so well that when we asked "What's your favorite house style?" you rushed online to vote for it over any other style. No doubt you were thinking of that tree-house feeling of low-pitched gables, the sturdy look of exposed rafters, and the woodsy warmth of cedar shakes.
Craftsman Style Interior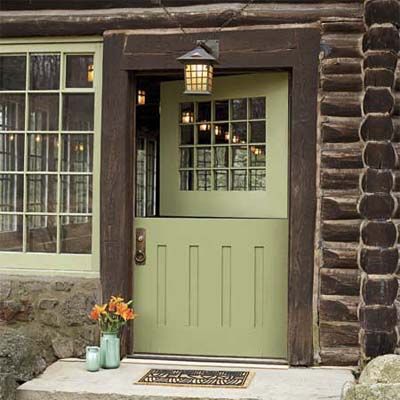 That's because from 1901 to 1916, Wisconsin-born furniture maker Gustav Stickley spread that image in his magazine The Craftsman, which offered house plans of the same name, along with the stained-oak chairs and tables, hammered-copper hardware, and homespun textiles to go in them. He was spreading the back-to-natural gospel of the English-born Arts and Crafts movement with an American twist. His designs—and new ones inspired by them—have kept their appeal. Here we show you how you can bring some of that handmade character into your own home, whether it's a bungalow or a condo.
Shown: New vases and doormat complement an original entry. Mat, $38; Fair Oak Workshops. Vases, $55, $99; Teco
A Central Hearth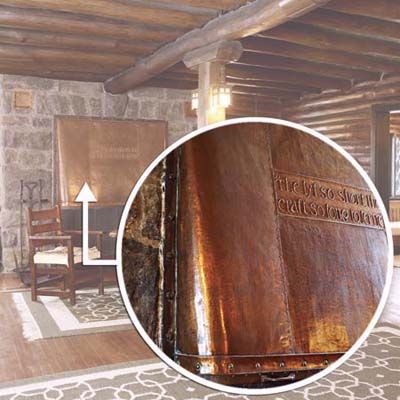 The fireplace is the star of a Craftsman living room. This hand-hammered copper hood at Craftsman Farms, Gustav Stickley's 1911 home, underscores its role with an inspired inscription. The line is from Chaucer: "The lyf so short, the craft so long to lerne."
Lanterns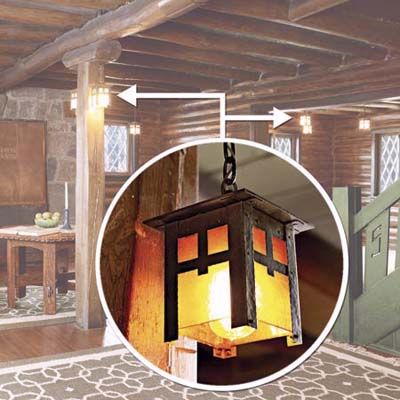 The simple shape of Japanese paper lanterns inspired these fixtures in Craftsman Farms' 50-foot-long, open-plan living room. Like his contemporaries the architects Charles and Henry Greene, Stickley used copper and art glass in place of bamboo and rice paper.
Exposed Joinery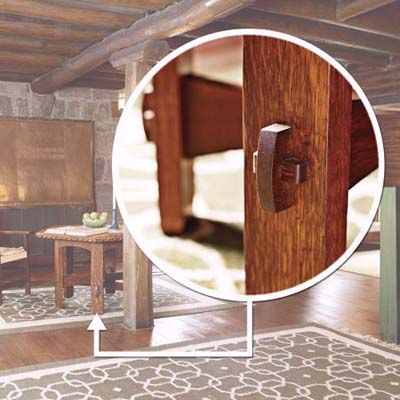 Elaborate displays of wood joinery on bookshelves, tables, and seating are the easiest way to identify the style. On this table, a horizontal "key" fastening the exposed tenons is a Gustav Stickley signature.
Upholstered Tables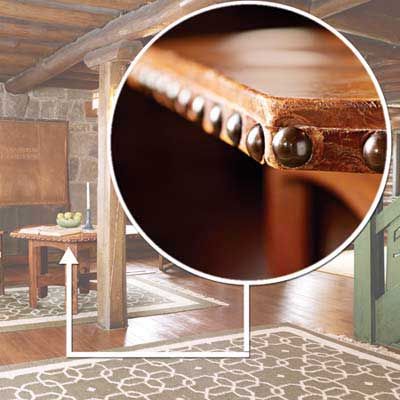 Oversized tacks, often the only hardware on Craftsman furniture, add detail that's also functional in securing leather upholstery and tabletops.
A Carved Balustrade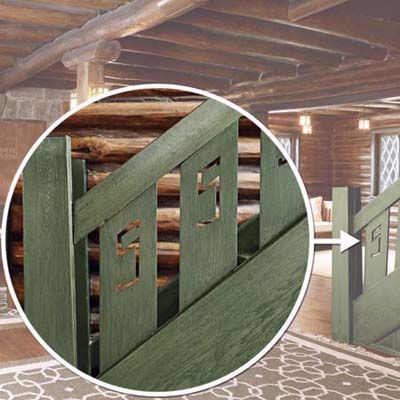 Tying the furniture to built-in architectural details, Stickley echoed the wide, flat wood supports of armrests and chair backs in the staircase balustrade.
Contemporary Craftsman-Style Products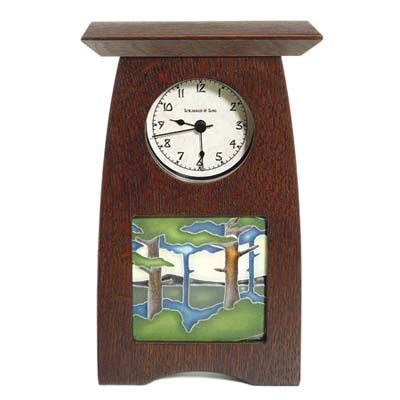 Add Stickley's style to your home with a few of these items:
Mantel Clock
Oak casing with a 4-by-4-inch Motawi tile insert evokes the idea of a hearth, even from a spot on your dresser. About $151; Motawi Tileworks
Needlepoint Pillow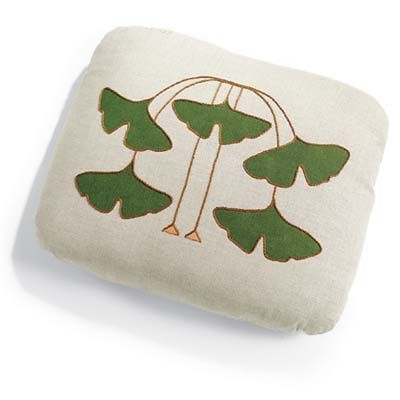 Hand-stitched textiles, like this linen ginkgo-leaf pillow, were treasured for their homespun looks. About $170; Arts & Crafts Period Textiles
Curtains
The sinuous Art Nouveau pattern on these printed linen panels would look equally at home in a country cottage or a turn-of-the-century Queen Anne Victorian, a style that persisted into the Arts and Crafts era. $235; The Stickley Museum
Mailbox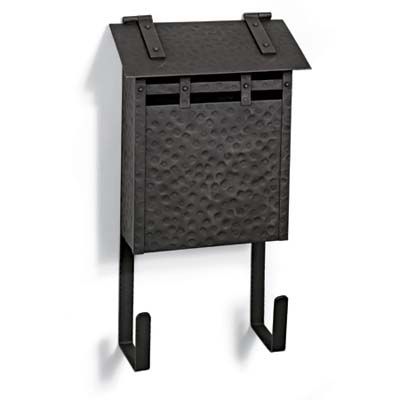 Receive your letters in Craftsman style with this mailbox in antique copper, $358; House of Antique Hardware
Porch Lantern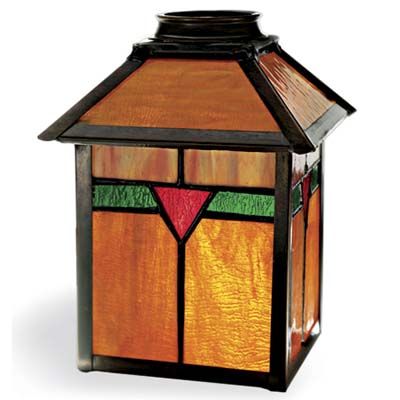 Add warmth outside any
door with a stained-glass lantern. Arts and Crafts shade, $36; House of Antique Hardware
Art Tile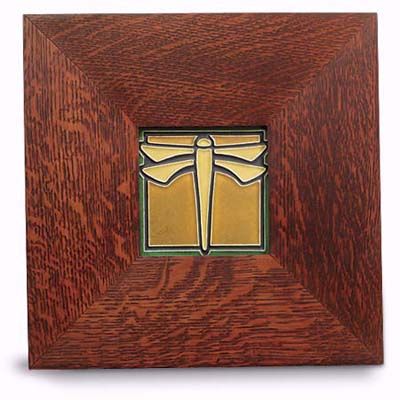 Framed ceramic tiles capture the movement's enthusiasm for the natural world, and for giving craft the status of art. $170; ShopWright: Frank Lloyd Wright Preservation Trust
Side Table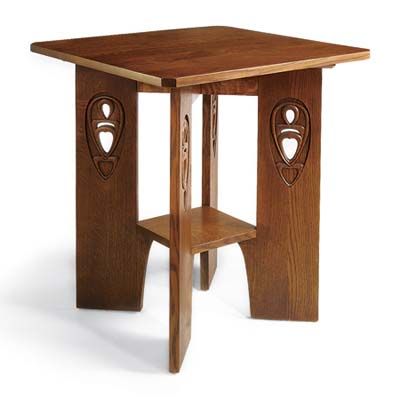 Rich-grained oak and plank legs with patterned cutouts give this reproduction end table a lot of visual interest. 26 by 24 inches, $1,192; Stickley
Hammered Hardware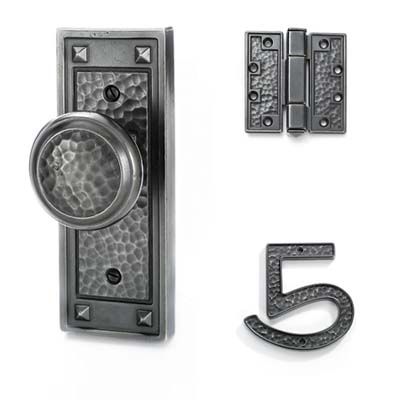 Any door instantly feels authentic with the addition of hand-hammered hardware in characteristic Craftsman shapes. House numerals, $90 each, and 41⁄2-inch bearing hinge, $235, both in dark bronze; passage doorknob, $580, in pewter bronze; Baldwin