Farm Fresh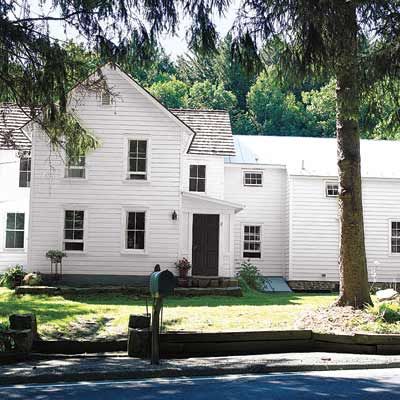 We were the first and only buyers brave—or maybe naive—enough to even look at the place. The yard was a tangle of scrub trees and prickers, and neither the main house nor the little carriage house beside it were livable.
I grew up in a town next to Randolph, New Jersey, where the farm is. My wife, Kelly, and I were looking for a house in the area and wanted an older home with land. When we first drove past the property, we said, "If that ever goes on the market…." The next time we went by, we saw a For Sale sign.
Shown: Today, an addition forms an ell with the freshened-up farmhouse.
Before: Ready for a Remodel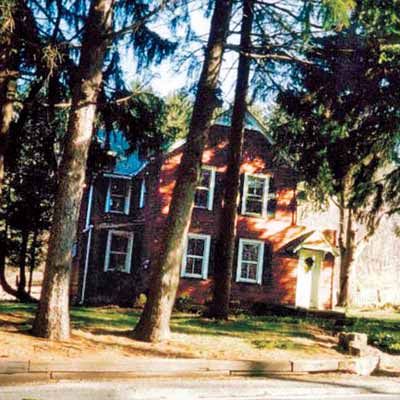 The original Pugsley Farm was 100-plus acres. It was subdivided long ago and designated mostly what New Jersey calls Green Acres—land preserved for public recreation. We bought the three-acre lot along the road, including the 1820 farmhouse, the circa 1780 carriage house, and several outbuildings, for $285,000.
A series of families had owned and lived in the houses, but the main one had been a ramshackle rental house for 20 years. The place was a mess but with some virtues intact. A classic farmhouse, it had a gabled roof, original wavy-glass windows, and a sprawling yard. The property layout, with farmhouse, carriage house, and outbuildings in a half-moon configuration, meant you couldn't see the road from the backyard. The Green Acres behind it sweetened the deal. I'd worked summer jobs as a groundskeeper and a furniture finisher, and had done construction. I knew renovating those houses would be a learning experience.
Shown: Battered barn-red aluminum siding and untended trees obscured the main home's facade.
The Game Plan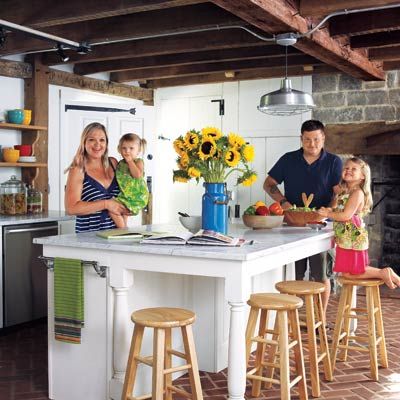 Kelly and I closed on the farm three months after we married. Everyone thought we were nuts, but we had a strategy. First, we'd renovate the carriage house, since it needed less work, and move in. Then we'd take on the big house. We wanted a large home because we planned to have kids—we just didn't expect to have two of them before the main house was move-in ready.
The first phase was an unexpected, tedious one. Because of municipal confusion, I spent nearly a year doing research and writing letters to prove that our property comprised two legal houses. This had to be resolved: Once we finished the big house's renovation, we wanted to rent out the carriage house for extra income. In the meantime, we were lucky to be able to live in a house nearby that my father owned.
Shown: Kelly and Todd Tuttle, with daughters Gretchen, 2, and Claudia, 4, use the kitchen island for dinner prep and casual meals.
Getting Started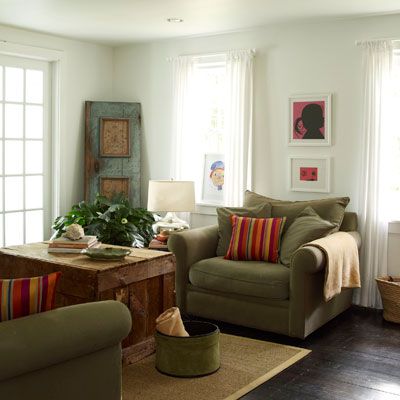 While we waited for that nagging legal problem to be resolved, and for the building permits to be issued, we did cleanup. The carriage house had a derelict attached barn where raccoons lived; I had to tear it down to get the house insured. When I asked local contractor Bob Fichter what we should do about the houses themselves, he said, "Bulldoze 'em." Instead, he and I, with help from my wife and my brothers, spent a year on demolition alone.
Some discoveries were treasures, others not so much. After tearing off battered aluminum siding from both houses and then stubborn asphalt shingle siding that was supposed to look like brick, we uncovered the original, pristinely preserved clapboards, ready to be scraped, sanded, and painted. We broke through interior walls in the main house and found crumbling columns of brick and mortar; the carriage house walls were packed with black-walnut shells, acorns, and mummified squirrels.
The Carriage House
The carriage house took three-and-a-half years. I did a lot myself, mostly in the evenings and on weekends, assisted by Bob and my family. We didn't change the layout, which had two bedrooms and one bath in about 1,000 square feet, but we did a top-to-bottom overhaul. I figured out a lot in the process. First, that I wasn't a roofer, a plumber, or an electrician; those jobs I contracted out. Also, that an older furnace that works efficiently may as well be left alone. (We did, however, install central air.) I learned that Bob was great at masonry—he built the carriage house's Rumford-style stone fireplace and chimney from scratch. And that I was a good kitchen guy, as I mixed up plaster to look vintage, built cupboard and pantry doors, and framed a wall in old barnwood. Kelly came up with ideas, tearing pages out of magazines, and I learned from books like Nigel Hutchins' Restoring Old Houses.
Shown: The homeowners restored the 1,000-square-foot carriage house first so that they could live in it as they tackled the main house. They rebuilt many of the original windows, rather than sacrifice the period glass, then fitted them with new wood storm units to increase their energy efficiency. Landscaping, still in progress, is the renovation's final phase.
Making the Move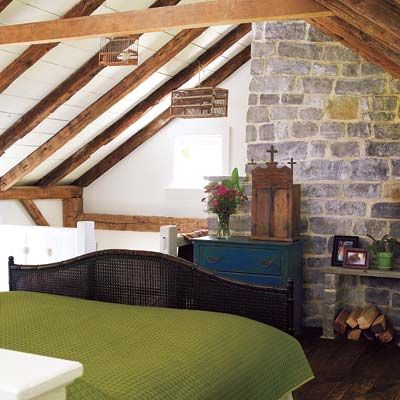 As we approached our four-year anniversary as the farm's owners, Kelly and I moved into the carriage house. Then we picked up our sledgehammers and dove into the demo on the main house.
Like the carriage house, it needed a new roof; the framing was good, so the contractors tore off the tattered asphalt and replaced the rotted cedar shakes underneath with new ones. New plumbing, electric, and AC were needed in this house, too. Here we found that high-velocity central air, with its CD-size ducts, was fairly easy to install and worth the expense. We were happy with the floor plan but didn't like the tight galley kitchen and wanted more space upstairs. I started looking at addition options that would allow us the large, open-plan kitchen we dreamed of, as well as a second-floor master suite.
Shown: Tulip cutouts in the stair surround in the master bedroom are the homeowner's design. A small woodstove warms the room in winter; it vents into a dedicated flue in the kitchen-fireplace chimney stack, as does the oil-burning furnace in the basement.
Salvage-Savvy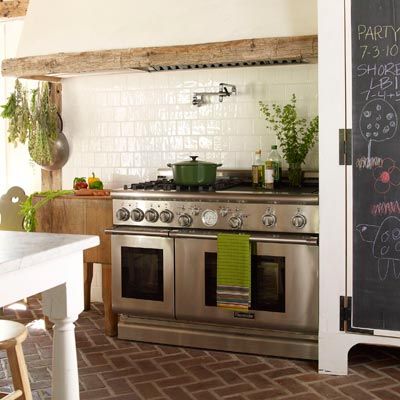 From the beginning, I'd sought out materials by trolling eBay and Craigslist, finding tile, old floorboards, and a professional Thermador dual-fuel range. One discovery would literally become the heart of our home. On an architectural salvage website, I found a 1780 two-story timber frame from a Pennsylvania Dutch summer kitchen in Phillipsburg, New Jersey, where my mom grew up. We bought it from Phil Kelley, a preservation expert, who also drew up plans for a foundation and its attachment to the house. We changed his plans as we went, but when we raised it, connecting it to the house with a 10-foot passageway and adding a metal roof, we knew it was a perfect fit. The new section added 900 square feet—soon to be our master bedroom, big kitchen, and connecting Jersey Winder staircase—to the house.
The Hub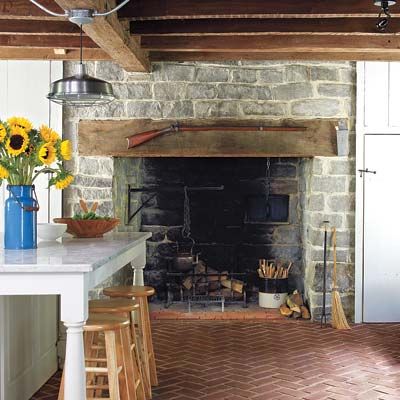 The kitchen was my pet project, and its focal point would be the hearth. Bob did the masonry on the large walk-in fireplace and built the chimney, too, with multiple flues to serve the new oil-burning furnace as well as a woodstove upstairs. We couldn't find kitchen floor tile we liked, so we considered salvaged brick. Problem was, full-size bricks raised the floor too high. We found a stoneyard that would cut the tops off for a ¾-inch thickness, and we laid the brick in a herringbone pattern.
Shown: The stone fireplace was built from scratch. The lintel was part of the salvaged summer kitchen that was used to frame out the addition; the antique Pennsylvania long rifle was once owned by Johnny Cash.
Combination Kitchen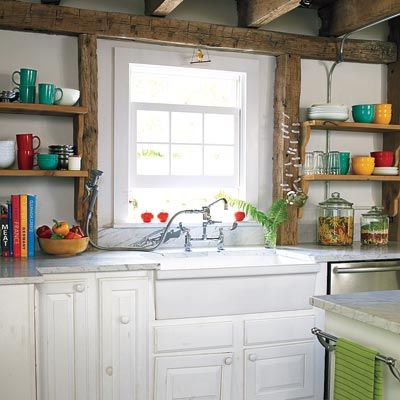 Kelly and I designed and built the open-shelved cabinets and the island, and my cousin's husband, a granite and marble fabricator, made the Carrara countertops. I found the sink, range, and restaurant hood on eBay. We kept the electrical exposed; it was easier and cheaper than running it through the beams, and we like the industrial look of it. For the pantry, I repurposed a sliding barn door.
Shown: The apron-front porcelain sink maintains the feel of a farmhouse kitchen, though the room's all-white palette and exposed framing also give it a modern aesthetic. A bridge faucet sourced from a surgical supply store has a hose that stretches to the floor for easy filling of a mop bucket.
Growing House and Family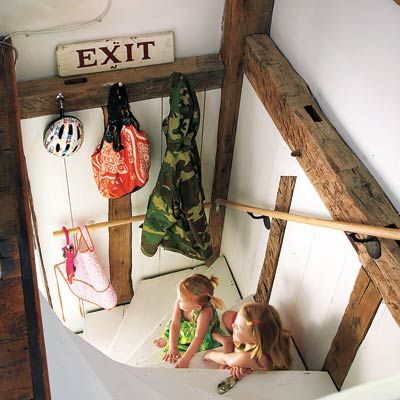 The back staircase directly links kitchen and master suite. The old house's three upstairs bedrooms are now a master bath, a kids' room, and a playroom. Our daughters, Claudia, 4, and Gretchen, 2, were both born during the renovation. When Claudia was tiny, she called the farmhouse "Papa's house." Evenings, her mom would bring her to say goodnight as I worked, so she thought I lived there.
Shown: A half-spiral staircase leads from the kitchen to the master suite and showcases the addition's hand-hewn timber frame, which came from a 1780 summer kitchen and was grafted onto the original house by the couple.
Room for Everyone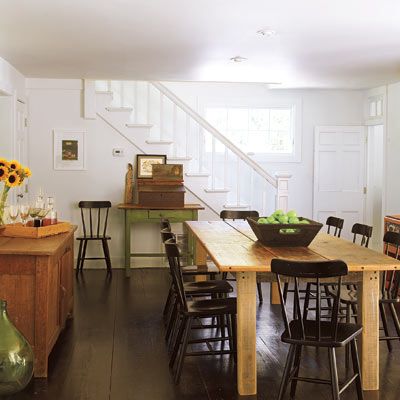 The home's original staircase, now reinforced, leads back down to the dining room and the adjacent living room. Our long table, which I built from leftover floor boards, has a full view of the hearth, thanks to the extra-wide doorless passage between house and addition. That spot-on idea was Kelly's and is appreciated every time we light the fireplace for a party.
Shown: The long, family-friendly table for 12 was constructed from surplus salvaged floorboards. A vintage Nesbitt's soda cooler serves as an extra sideboard.
A Place to Call Home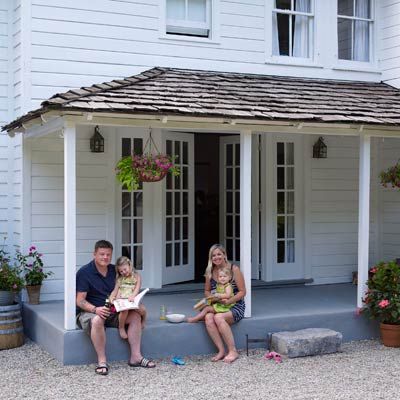 For two-plus years now, we've lived in the main house, with renters in the carriage house. This summer, our 10th as the farm's owners, will be devoted to the yard, my landscape-designer wife's specialty, with heavy lifting by me. I'm building retaining walls, and there's a lawn to green up, shrubs to plant, and a patio to finish.
Every time we walk outside, we can't believe what a perfect property we found. A decade of work, yes—but we'd do it all over again.
Floor Plan: 1st Floor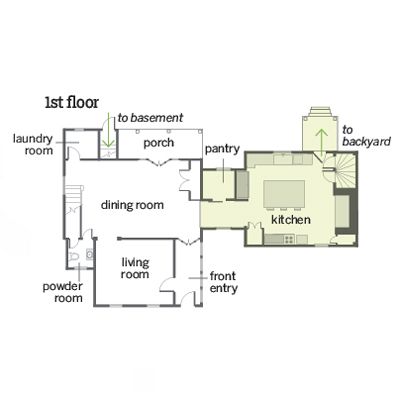 What we did: Renovated a circa 1780 carriage house, then the 1820 main house, back-to-back.
Remodeling cost: $400,000
Time frame: Nine years and counting
Where we saved: Scoured eBay, Craigslist, salvage yards, and contractor supply houses for low-cost castoffs that suited our new-old, vintage-modern style.
Where we splurged: Carrara marble countertops in the bathroom and kitchen, where they are 5 inches deeper than standard to accommodate the beams.
Floor Plan: 2nd Floor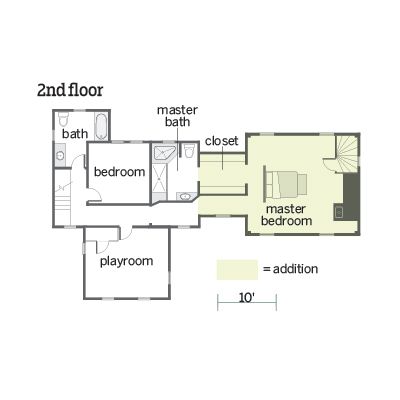 What we would do differently: Add radiant heat beneath the kitchen's brick floor—if only we had the money!
Biggest challenge: Convincing the municipality that we had two legal single-family homes on one lot; this task delayed the renovation for a year.
How we solved it: Researching, writing letters, and standing our ground.
Floor plans: A timber frame salvaged from a 1780 summer kitchen was added to expand the now 2,500-square-foot, three-bedroom, 2½-bath farmhouse.