One might be forgiven for assuming that a 1950 Modern house will be uninviting—all chilly steel, concrete, and glass. But take a walk down the front steps of George Mabry's newly renovated house, and those preconceptions start to unravel.
There, chocolate–colored redwood siding and thin slices of rustic stacked stone surround an entryway made even more welcoming by the soothing sound of a nearby fountain. The effect is more serene forest than sterile structure, and any visitor would be hard pressed to say the style holds no charms.
The allure of the house is largely the work of Todd Tsiang, an architectural designer who designated the materials, finishes, and details, working from plans by architect Will Ruhl. Tsiang's choices may be 21st-century, but the house still belongs in the class of high-style mid-20th-century Modern, with its floating staircase, streamlined fixtures and lighting, open-plan first floor, and a wall of glass along the back that makes inside and outside a matter of opinion. There's an emphasis on informal living—key for George, who likes to entertain—that hews to the philosophy of Modern design.
Combined with traditional, even antique materials, from recycled wood to handmade tiles to farmhouse slate counters, the house belies the notion that Modern homes are cold and soulless. That opinion is best expressed in the words of one particularly reluctant convert, TOH general contractor Tom Silva, who executed the transformation. "This house gave me a new appreciation for Modern homes," says Tom. "I've worked on them for decades—going way back with my dad—and I'd always thought them to be somewhat sterile. But this one has real charm."
The Cambridge House
Natural materials define the Frank Lloyd Wright—inspired facade right from the curb, with exterior cladding that mixes a stucco finish, real stone veneer, and the same reclaimed redwood found inside the house. Bluestone steps that seem to hover above a cascading water feature lead to an imposing front door of quartersawn oak. A steel frame hidden inside black-stained oak trim allows the door to "float" between oversized panels of textured glass.
Library Area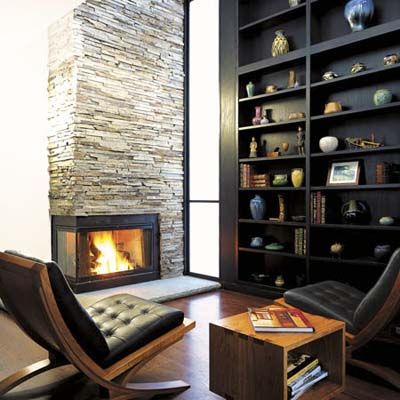 At one end of a long dining room at the finished Cambridge TV-show project house is a library area, where the ceiling soars to 13 1/2 feet. Tall shelves, a stone-veneer chimney, and windows masked from the street by shoji screens define the homey space, which homeowner George Mabry says he will u se every day. "I'll have dinner parties," he says. "But I didn't want the room gathering dust the rest of the time."
Show-stopping Staircase
Just inside the front door is a show-stopping staircase, floating before a stacked stone wall that echoes the exterior chimney and foundation. The 4-inch-thick stair treads, as well as the railings, are made of reclaimed teak from 100-year-old pole buildings in Southeast Asia. Curved bronze balusters, designed by Tsiang to look like tree branches, add a metallic contrast without looking industrial.
Bathroom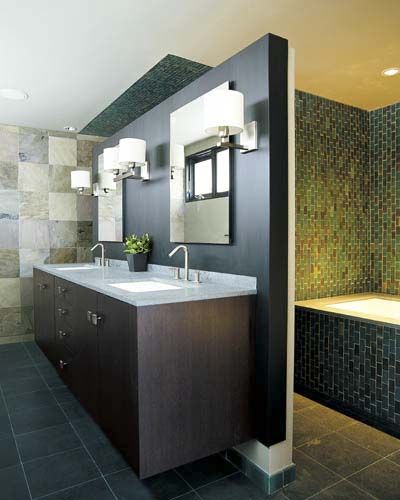 Handmade tiles surround the tub area of the master bath, running up the walls vertically and wrapping the space in earthy tones of blue, green, and brown. The dark wood of the window frames is repeated in the freestanding sink wall and cantilevered vanity, where speckled Jura green limestone softens the room's rectangular lines.
Bar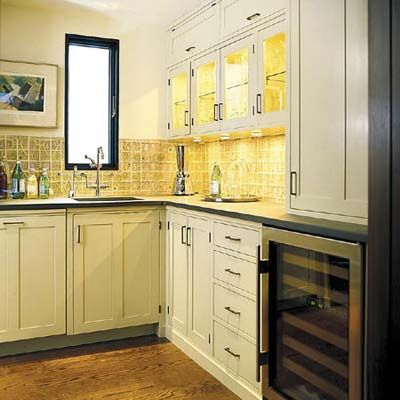 The bar combines stainless-steel appliances with natural surfaces, like a softly honed slate counter and handmade fused–glass backsplash tiles that give the room a warm, colorful glow.
Dining Room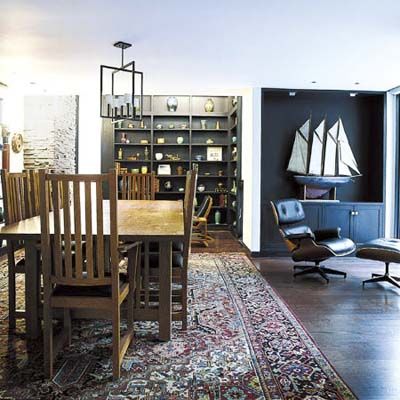 The dining room, where a large table fills the eating area, has a couple of cozy nooks where George can relax alone or with guests. Dark–stained wood shelves provide a dramatic backdrop for his art pottery collection.
Living Room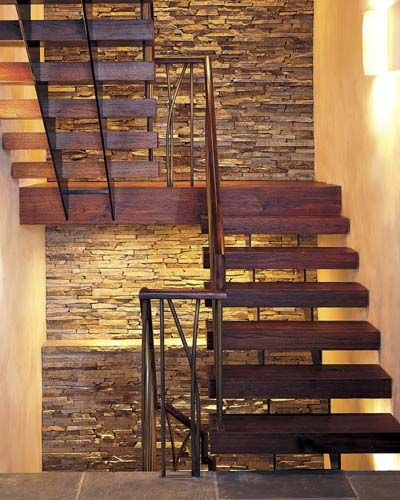 "I don't understand stuffy living rooms that get used once a year," says George. His retained most of its original elements: a windowed wall, a bluestone fireplace surround, and wood paneling—now redwood reclaimed from old olive curing tanks. The new plasma TV can be hidden behind a redwood panel that disappears into the floor.
Kitchen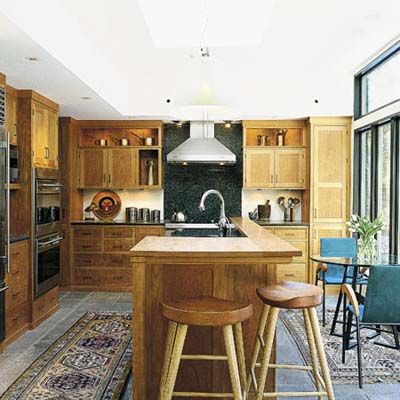 The new kitchen has updated cabinets and more room in front of the refrigerator wall. It also has casual seating at the island, perfect for party guests who migrate there.