Old House, Smart House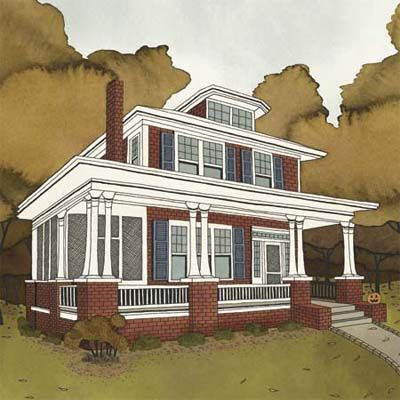 Some of the most resource-conserving houses are the oldest. Before central heat and air-conditioning, homes were constructed in concert with the climate and environment. "Otherwise, people would freeze to death in the winter and die of heatstroke in the summer," says architect Steve Mouzon.
Houses were smaller—they have more than doubled in size since the 1950s—requiring fewer materials and less energy. They were created with what was at hand: local wood, stone, earth. Materials weren't shipped halfway around the world, as they are today.
In addition to the fuel saved in transport, building with native materials also improved a home's energy efficiency. Factor in smart architectural features, and homes were even more sustainable.
The thriftiest thing about old houses is their staying power, says Marianne Cusato, an architectural designer and co-author of Get Your House Right. "We used materials that were meant to last forever so that the homes would last forever too," says Cusato.
Here, we take a look at some of the defining details that many old houses share, as well as regional styles that have stood the test of time.
Eaves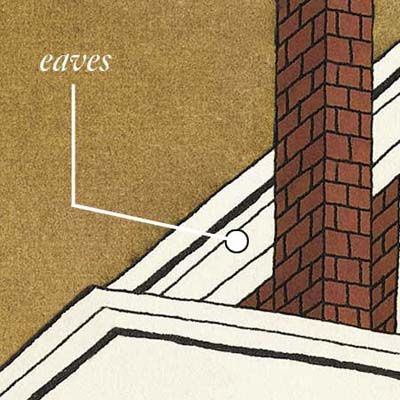 Water rolls off the tops of the eaves, into the gutter, and away from the house. But eaves also help control sun and shade exposure. In warm climates, deep overhangs cast a shadow on the house when the sun is high. In colder climates, shallower overhangs let the sun bathe the exterior in warmth.
Porch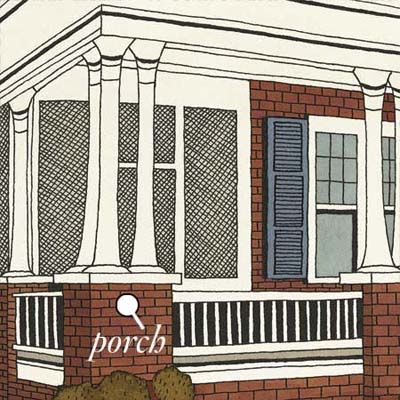 Like eaves, exterior porches and verandas shelter windows from direct sunlight and invite in cool breezes. When it's hot outside, porches offer relief from stuffy interiors. You might think about adding such an outdoor room for socializing and even sleeping.
Chimney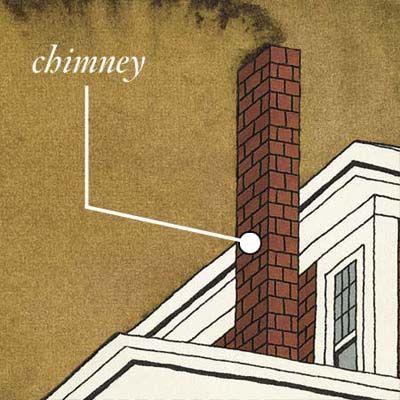 In milder climates, brick or stone chimneys typically line exterior walls, while ones in colder areas are often centrally located so that the heat can radiate out from the home's core. Add a terra-cotta chimney pot on top to help improve draft. That way, you'll use less wood to produce the same amount of heat and prevent smoke from billowing into rooms.
Dormer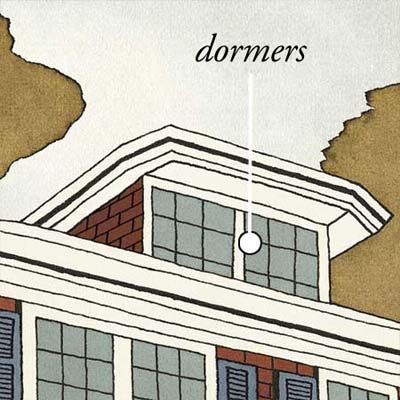 Windowed dormers, belvederes, and cupolas work as "thermal chimneys," pulling up the warm air that builds inside the house and exhausting it outdoors. So when the temperature rises, be sure to crack those rooftop windows.
Roof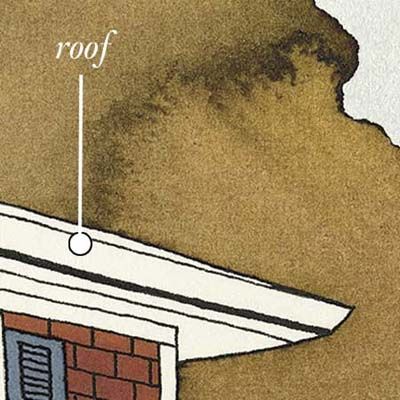 A hipped roof often extends over a home's exterior sides, forming deep eaves to create shade, while a steeply pitched gable roof easily sheds snow and rain. Roofing materials vary by region. In the Northeast, locally quarried slate lasts for generations and soaks up the sun's rays, radiating warmth inside. In contrast, standing-seam steel in the South deflects the sun's heat, keeping interiors cool. In colder climes nationwide, rot and insect-resistant wood shingles provide insulation and protection from the elements for many decades.
Windows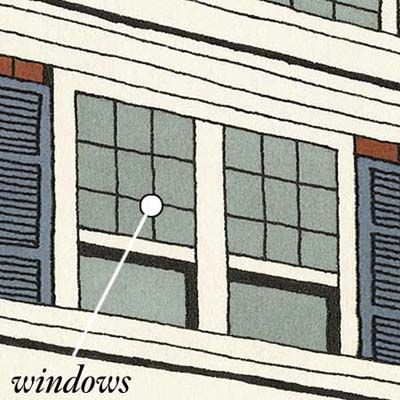 Tall double-hungs increase the amount of fresh air and sunlight entering rooms. When it's cooler outside than inside, open the top sash to vent air out of the house or the bottom one to bring breezes in.
Transoms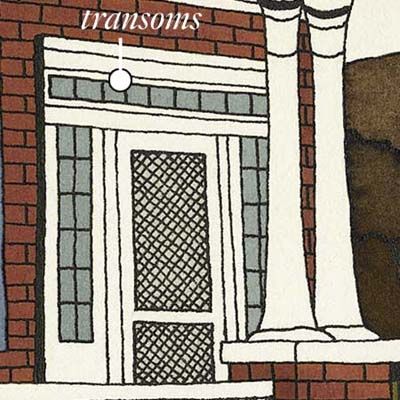 A windowed transom above the front door and sidelights flanking it bring natural light into the house, decreasing electricity demand. Prop open interior transoms so that air flows freely between rooms without having to open doors and sacrifice privacy.
Shutters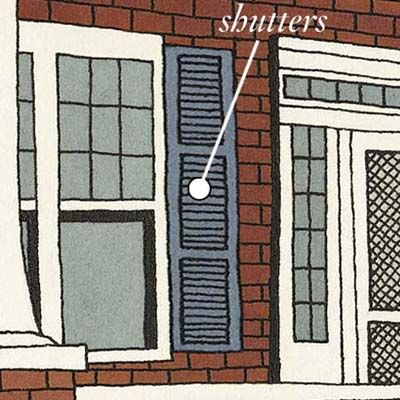 Solid paneled shutters provide optimal shade and insulation, while louvered ones are a better choice for blocking the sun while still allowing breezes to pass through.
Siding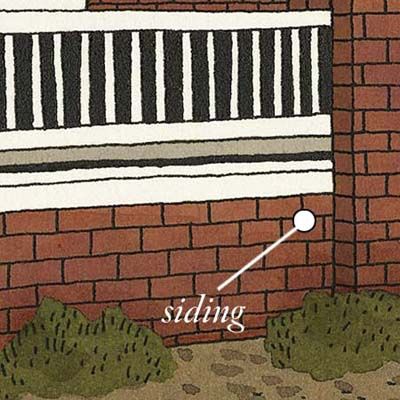 Brick, prevalent in the Midwest and East, can be fired locally, and its natural flame resistance makes it a top choice in cities where houses share exterior walls. Cut from redwoods on the West Coast or white cedars in New England, overlapping clapboards and shingles cast off rain and provide a seal against wind. Natural stucco coats adobe houses in the Southwest and wood-frame revival styles throughout the country, protecting the underlying structures from moisture.
Site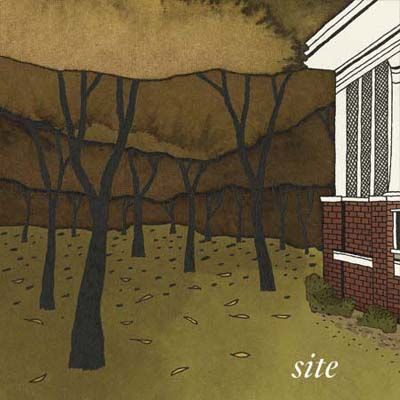 The way older houses, like this American Foursquare, were positioned on a lot allowed them to tap "passive solar" heat and light long before the term was coined. South-facing houses get maximum sun exposure, reducing energy demands. Nestled at the bottom of a ridge or behind a screen of trees, they are protected from wind.
Regional House Styles: Northeast Dutch Colonial Revival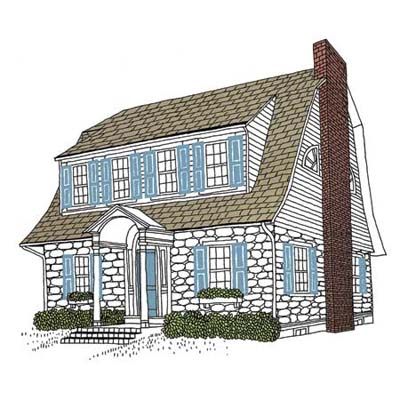 Far more than fetching facades, some of our nation's most enduring house
styles took root in particular areas due to the local weather, landscape, and materials at hand.
Based on originals built in the 1700s by European settlers primarily in Pennsylvania, New York, and New Jersey, the 20th-century Dutch Colonial Revival is a fixture of suburban East Coast neighborhoods today. The distinctive wood-shingled gambrel roof—typically associated with barn construction—maximizes second-story living space, especially when punctuated with windowed dormers, which also flood the interior with daylight. On some Dutch Colonial Revival examples, the roof's flared eaves extend over the front of the house, transitioning to a large porch supported by posts to shade the facade and protect it from rain and snow. Shutters flanking tall double-hung windows can be closed during a storm. Thick exterior walls made of either mortared fieldstone or timber framing and sheathed with overlapping wood clapboards help insulate interiors against cold winds.
Southeast Raised Plantation Cottage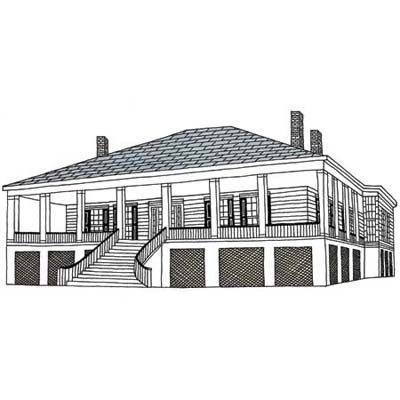 Designed for the heat and humidity of the deep South, raised plantation cottages date to the early 18th century, when French colonists settled in the Mississippi River Valley. Elevated on sturdy pier foundations, the style is ideally suited to staying dry in a landscape plagued by frequent flooding. The four sloped sides of a hipped roof extend far past the exterior walls, creating a wraparound porch that's accessible via French doors from nearly every room in the house. Protected by the porch overhang, doors and floor-to-ceiling double-hung windows can be opened wide, even in a rainstorm, to cool off interior rooms. But if the wind blows too hard, as it often does in this hurricane zone, full-height shutters can be closed and latched. Raised plantation cottages are typically sided in either cypress clapboard, a native swamp wood that resists warping and rot, or stucco over brick. Walls are then painted white, to deflect heat.
West Coast Row House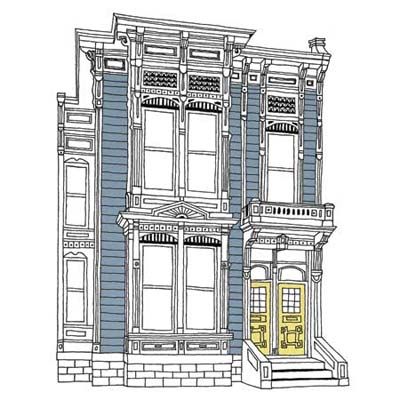 San Francisco's Victorian-era row houses are models of efficiency. With more than a dozen crammed onto a single block, they take up little of the landscape while maximizing living space by rising vertically. Row houses' shared side walls reduce both the amount of building materials used and the places where heated or cooled air can leak out; only the front and back walls are exposed to the elements. Framed and sheathed in rot- and insect-resistant redwood harvested from local forests, they hold up well in the foggy city. Instead of shady porches, San Francisco row houses have projecting bay windows that capture sunlight and brighten interiors. While some Queen Anne examples have pitched roofs, most have flat roofs for this snow-free zone. Their high ceilings and double-hung windows promote air circulation. And they are easily adapted for reuse; many have been transformed into apartments.
Midwest Bungalow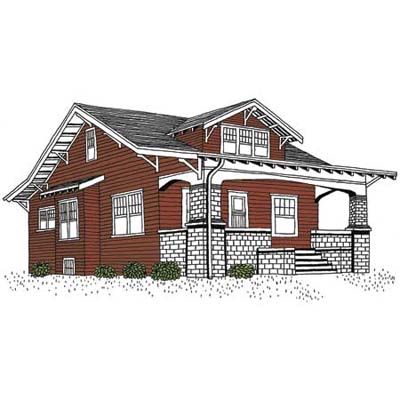 A cousin of small bangla houses in Bengal, India—hence the name—both Craftsman- and Prairie-style bungalows caught on in middle America in the early 20th century. Their overhanging eaves provide shade and protect windows from inclement weather. Low ceilings inside trap heat during harsh winters, while exterior porches catch cool breezes in the summer. Dormers protruding from the roof create extra living space in what might otherwise be an unused attic. Bungalows are often built around a common courtyard, preserving green space. They are typically sided with native wood species and have either locally fired brick or fieldstone porch piers.
Southwest Adobe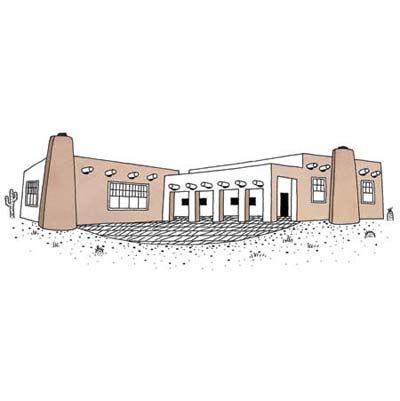 First used on these shores by Native Americans, adobe brick is a mixture of soil, water, and straw that's set in wooden frames and baked by the sun. When adopted by Spanish colonists, the adobe home as we know it sprouted: a low structure with flat roofs (in areas with little rain or snow), thick walls, and few windows, to keep the sun from shining in. Timbers, called vigas, pierce exterior walls, forming the framework for ceilings inside. Fireplaces in the corners of the house warm rooms on cool nights. During the heat of the day, a central courtyard serves as an open-air room for relaxing and socializing.