Nothing Could Have Prepared Us for This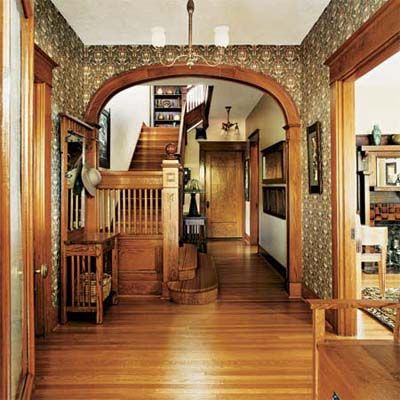 As I drove up to my house I began to worry. Through the windows I could see strangers swarming around inside. My anxiety level spiked as my husband, Tye, opened the car door and sat down next to me. "Elva, honey, there's something I have to tell you," he said nervously. "They flooded the house."
"They" were the otherwise amazing HVAC repair guys who had forgotten to close our radiators' bleed valves, filling our 1908 home with filthy water. The strangers were the cleanup crew that had been called in with wet/dry vacs and industrial blowers to try to dry out our quarter-sawn oak floors before they started to warp. In some ways I was lucky to come home when I did. Tye had walked in to find a lake forming in our kitchen.
Looking back, I'm amazed that we managed to keep it together at times. It was December 2006, and we had already been through two years of remodeling mayhem. What kept us going was our faith that the house was worth it—and that we were the right people to restore it.
Pictured: The original woodwork in the 1908 Victorian-Craftsman hybrid, which served as a boardinghouse during World War II, was a major draw for the homeowners. They spent hours refinishing the oak floors and trim.
Carpenter: Jim Kvidt, Built It Consulting and Management Services
Woodworker: Bill Storch, Storch's Custom Woodworking, Corvallis, OR; 541-757-8717.
Dining Room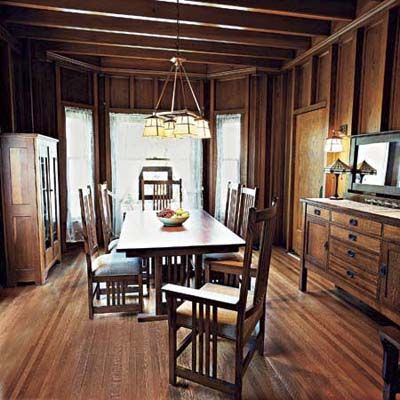 You see, when Tye and I first moved to Albany, Oregon, from our northeastern towns, we were disappointed to learn that anything built out here before the 1970s is considered old. It made the search for our first home pretty frustrating—until we came across this house, which blends Victorian and Craftsman-style features. Seems Oregon builders had a penchant for combining styles even then. The gorgeous dining room and the stately yet elegantly simple arched entry alone made me fall in love with this place when we saw it in 2003.
The good—and bad—was that little had been done to the house's interior. The plaster walls and many of the wavy glass windows had cracks, the plumbing was falling apart, and there was no insulation. To heat one of the upstairs bedrooms, a car radiator had been rigged up in place of an ornate Victorian one. But the house had good bones and a lot of original woodwork, glass, and other details worth saving. We were sure we could tackle the project.
Pictured: The dining room's recessed panel woodwork had to be refinished after the radiator incident flooded the room.
Before: Pantry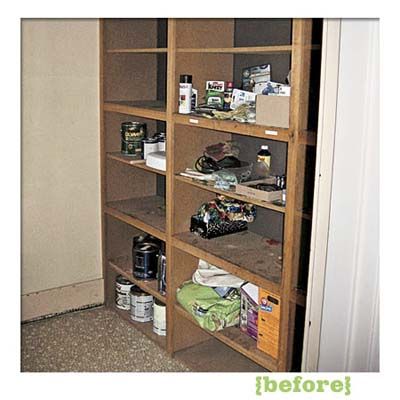 Though Tye's a chemist and I'm a pharmacy student, we both grew up among avid renovators. He helped his parents fix up their home, and I spent a lot of time in lumberyards and hardware stores as a youngster, tagging along after my busy mom, who was into home improvement long before it became a national pastime. She relied on her drill and jigsaw—and a blowtorch—to do most everything.
Pictured: The pantry was once a drab and bare utility room.
After: Laundry and Pantry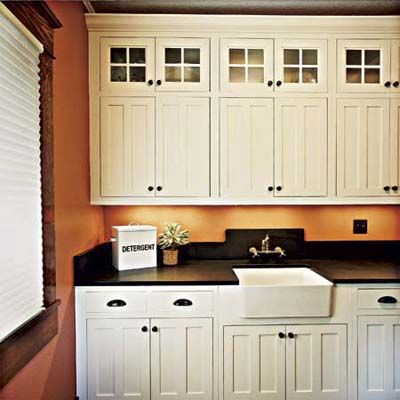 In an attempt to guarantee success, we took a scientific approach to our renovation and sketched out everything, from an itemized budget to a step-by-step plan of attack. From the start, the basement became a storage space for clearance-sale appliances and light fixtures that we wanted to use in the future. We knew we'd eventually gut the kitchen, so we renovated the pantry first to have a sink and some cabinet space when that time came. We redid the 1960s porch then, too, since the shared foundation for the two spaces was sinking and needed to be reinforced. For weeks we pulled down wood paneling, added insulation, and put in new plumbing, delighting in uncovering original details such as the beadboard ceiling. We also looked for places to add charm. With a This Old House magazine step-by-step in hand, we installed new crown molding in the pantry.
Pictured: A bright, functional laundry and pantry with a new farmhouse sink and a granite counter (a remnant nabbed for a bargain price).
After: Laundry Room Floor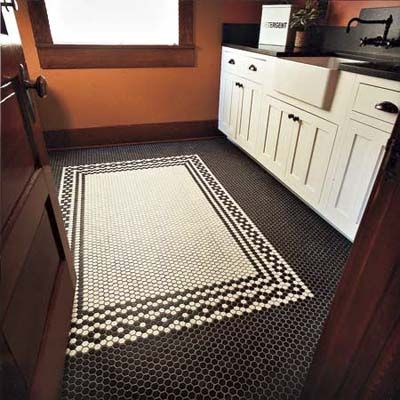 The homeowners designed and installed the black-and-white mosaic-patterned ceramic tile floor themselves.
Before: Enclosed Porch
In our second year we replaced some of the outdated systems. The blown-in attic insulation had been crushed when previous owners replaced the roof, making it pretty useless. To put in new fiberglass, Tye and I had to scoop out the old stuff with a dustpan and vacuum, filling over 40 large trash bags. Sadly, there were no cool treasures hidden up in the attic, but there were a few surprises in the walls when we replaced the knob-and-tube electrical: bare live wires. Poor Tye had to deal with those.
Pictured: The old enclosed porch had an asbestos ceiling covering over the original beadboard.
After: Enclosed Porch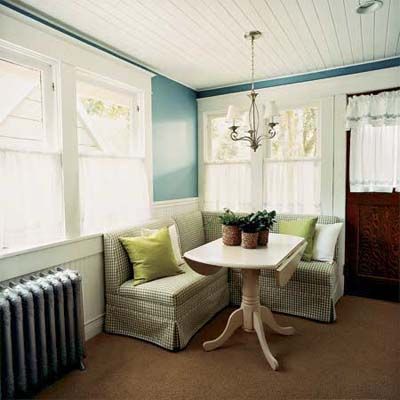 We were doing most of the work ourselves to save money and make sure that quality work was going into our home. There isn't a contractor we know of—except TOH TV's Tom Silva—who would fuss over making sure every tile was even and that the cabinetry was perfectly square the way we do. If we didn't know how to fix something, we paid someone to come in for an hour or two to show us how to do it. That's how we learned to connect wires and hook up radiators.
Pictured: Now heated by a salvaged radiator, the porch is a favorite lounge space all year round.
Cast Iron Radiators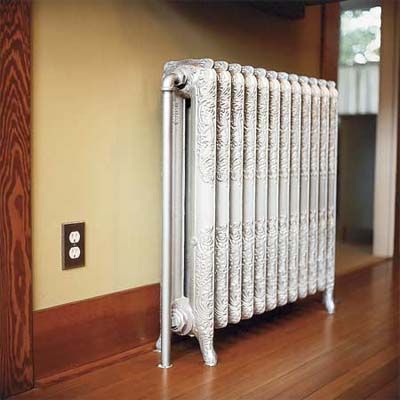 Even though restoring the home's hot-water radiators has been one of our biggest headaches, we love the heat they put out. We had to replace two that were broken and install two others. Since they're not the heating method of choice in this area, we drove all around Oregon's salvage yards to find replacements and hauled the 500-pound cast-iron monsters back home; you'd be amazed at what can fit in a little Saturn. Finding a contractor who didn't run away at the sight of them was even harder, which is why I really do appreciate the HVAC folks who accidently flooded our home. We had to live with noisy blowers for a month to ensure that mold didn't take hold, but the company took care of the $15,000 repair bill, and, almost more important, they finally gave us a reliable heating system. Remember, it was already our second December living in the house.
Pictured: One of six radiators in the house; each is powder-coated to prevent rusting.
Hardware and plumbing fixtures: Historic House Parts
Before: Kitchen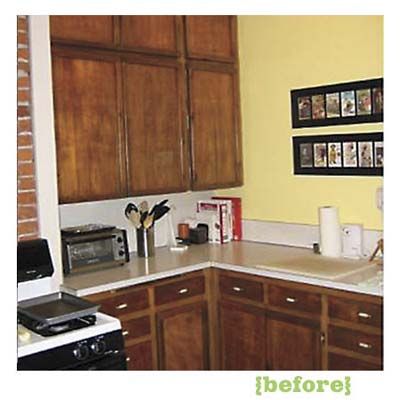 Three years in we finally began working on the kitchen. While we were at it, we decided to replace the plumbing and electrical since the room's ceiling had to come down to access everything. This, of course, prompted the upstairs bathroom remodel. I don't think I'll say "while we're at it" ever again.
Pictured: The old kitchen sported dark, wooden cabinets.
After: Kitchen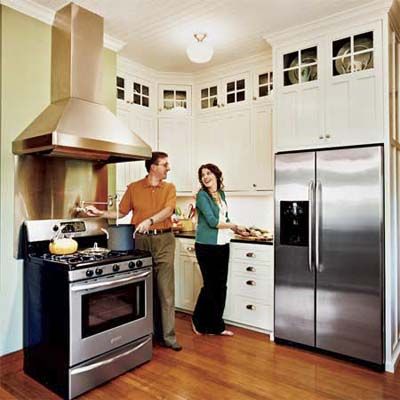 The next two years were filled with endless installations of tile, beadboard, and crown molding. Tye started joking that he went to work to relax because all our weekends and days off were spent on home-improvement projects.
Pictured: Homeowners Tye and Elva Van Devender replaced the upper cabinets a bank of white, light-reflecting ones fitted with salvaged wavy glass.
Before: Kitchen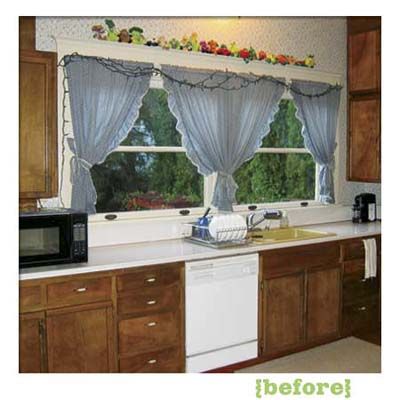 Pictured: To save money, the homeowners reused the lower kitchen cabinets' boxes and drawers.
After: Kitchen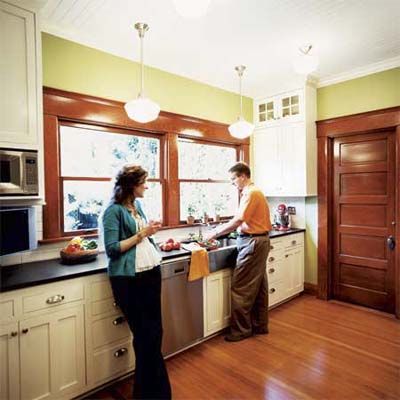 Downstairs, I finally got the kitchen of my dreams—complete with new stainless-steel appliances and honed granite counters. Tye and I spent hours stripping wood and using dental tools to pick out paint from the original baseboards, door, and window trim, but it's worth seeing the refinished wood gleam against the new white Shaker-style cabinets.
Pictured: The homeowners added Shaker-style doors on the lower cabinets to match the new upper cabinets.
Bathroom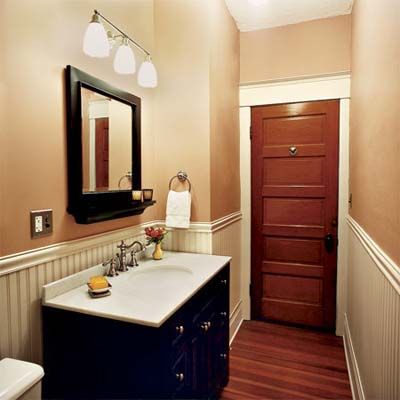 On the second floor, we upgraded the bath's powder-blue vanity with a more period-appropriate marble-topped one. I tried refinishing the wood that was underneath several layers of vinyl flooring. But 50 hours of hot, smelly work and several heat-gun burns later, I discovered the old fir floor couldn't be saved. There was so much water damage from the leaky cast-iron pipes and toilet that we ended up having to redo the floor and reinforce some of the supporting joists. Thankfully, we found some salvaged fir flooring to replace the original.
One day we'd like to turn the basement into a wine cellar and exercise room. For now, though, we're taking a little break to recuperate from the past six years—or trying to, at least. You know what they say: You're never done with projects until you move. And Tye and I plan on this first home being our last.
Pictured: Salvaged fir flooring replaced layers of linoleum and rotten wood, while vintage-style light fixtures and a marble-topped vanity add touches of luxury to the space.
Lighting fixtures: Rejuvenation
Salvaged house parts: Aurora Mills Architectural Salvage
Floor Plans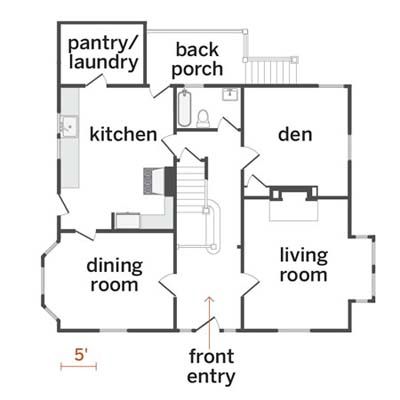 What They Did: Renovated a deteriorating 1908 Victorian-Craftsman hybrid.
Remodeling cost: $36,500
Time frame: Six years and counting.
Where we saved: Taking advantage of Internet deals and sales to buy appliances and other items.
Where we splurged: Period-style light fixtures and push-button switches for the house.
What we'd do differently: Run HVAC ducting for air-conditioning while the walls were open.
Biggest challenge: Finding historically appropriate radiators to heat the pantry/laundry
room and sun porch.
How we solved it: Scouring salvage yards across the state.
Pictured: Downstairs Floorplan
Floor Plans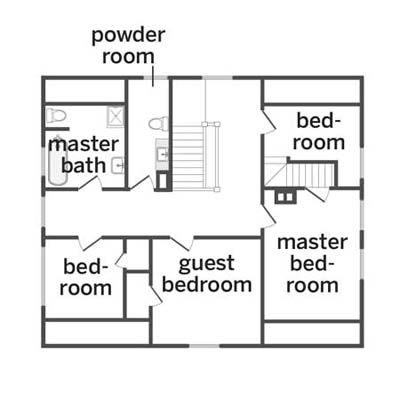 Second floor: Keeping the original layout mostly intact, the homeowners relocated plumbing in the upstairs bath to get a few more feet of space.