Inspired by The 1893 World's Fair
Published August 2014
Price: $39,900
Location: Brazil, Indiana
Contact: Veda Bussing, 812-208-2595
The History: When Thomas McCrea built this grand Mission Revival house, in 1910, it no doubt came as a surprise to his neighbors, most of whom favored the modest Folk Victorian cottages that peppered the main thoroughfares of their small farming town. But while attending the 1893 World's Fair in Chicago, McCrea had fallen in love with this style of architecture, which had been used to construct an elaborate booth for the state of California. By the time Thomas built his house, he'd had professional success as a bank vice president and the owner of the Brazil Hollow Brick and Tile Company. While he never married, he took in his widowed mother and two sisters, one of whom, Louise, occupied the master bedroom until her death in 1977, at the age of 99. The house has had just three owners since.
Shown: The five-bedroom, one-and-a-half-bath house has a handsome front porch and patterned brick chimneys.
Zillow, the real-estate marketplace, wants to see this home restored. As a Proud Preservation Partner of Save This Old House, Zillow is offering a $2,000 award to the buyer of this diamond in the rough. Contact toh_marketing@timeinc.com for details. And to explore more homes for sale, visit zillow.com. Offer expires 7/31/2015.
Glazed Ceramic Tile Roof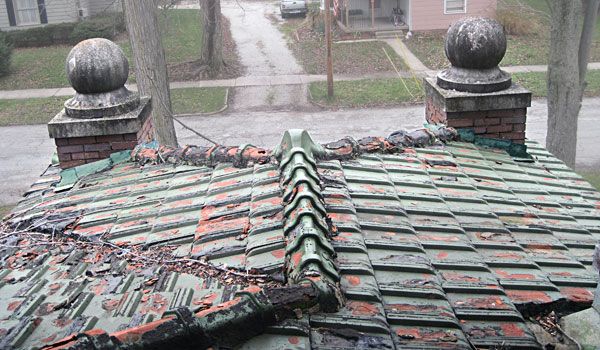 Why Save It? The exterior of the roughly 3,200-square-foot house is embellished with a large Spanish-style dormer and glazed-tile roof, both typical of the style. The interior boasts stained birch and oak millwork and built-ins with leaded-glass doors.
Shown: The roof was likely fitted with glazed ceramic tiles instead of traditional red clay to withstand the heavy rainfall in the Midwest.
Flatsawn Balustrade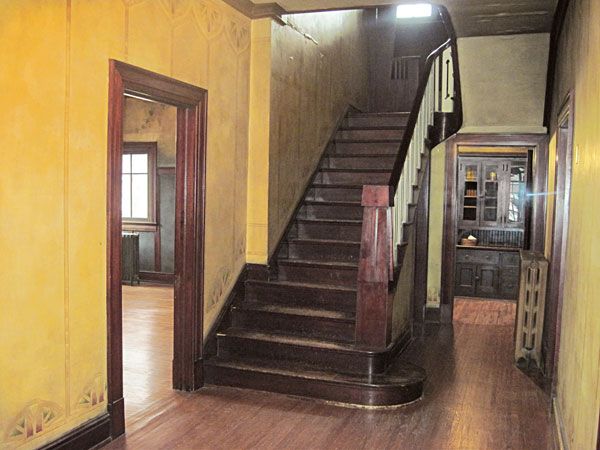 What It Needs: Despite sitting vacant for two years, the house is in good shape. It does need new radiators throughout and updates to some wiring. Outside, the porches should be rebuilt and the roof and chimneys need patching. Brazil is a town of 8,000 an hour west of Indianapolis. Restoring the house is a big job, but places like this don't come up for sale every day—it may be your only chance to own a Mission Revival home some 2,000 miles from the West Coast, where the style was born.
Shown: The stained-birch center staircase features a decorative flatsawn balustrade.
Glass Porcelain Tile Fireplace Surround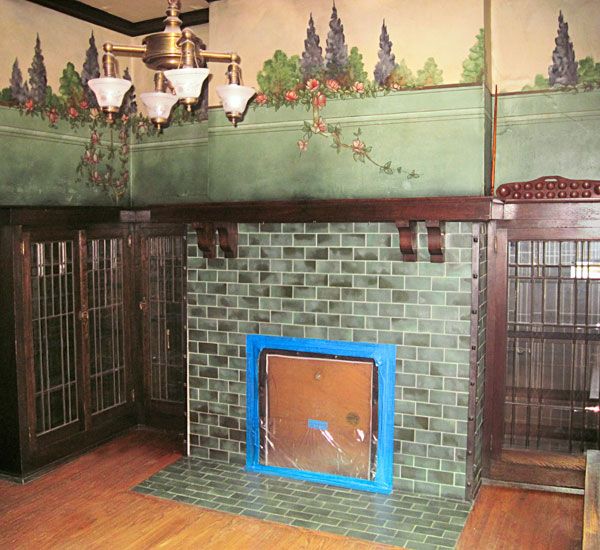 This first-floor fireplace is flanked with period cabinetry and finished in the original glazed porcelain tile. The walls throughout the first floor feature decorative painting.
Four Fireplaces Ready for Restoration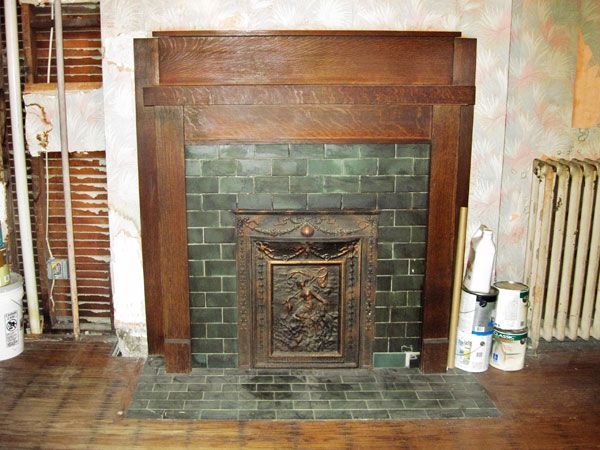 One of the home's four fireplaces. All were functional at one time and could be restored to work again.
Library With Pocket Door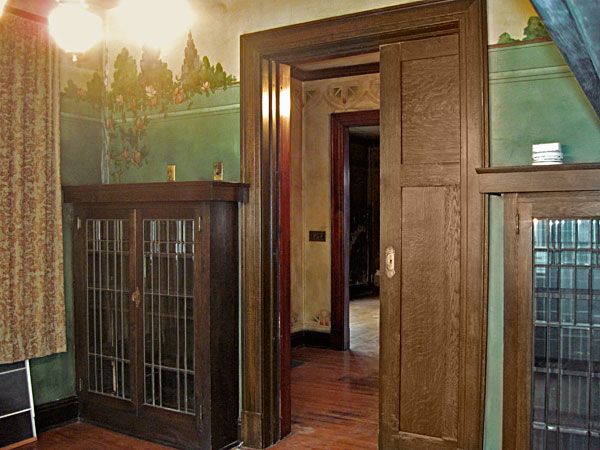 A 4-by-8-foot pocket door in the library is constructed from two woods: quartersawn oak on the library side and birch on the hallway side.
Library Reading Nook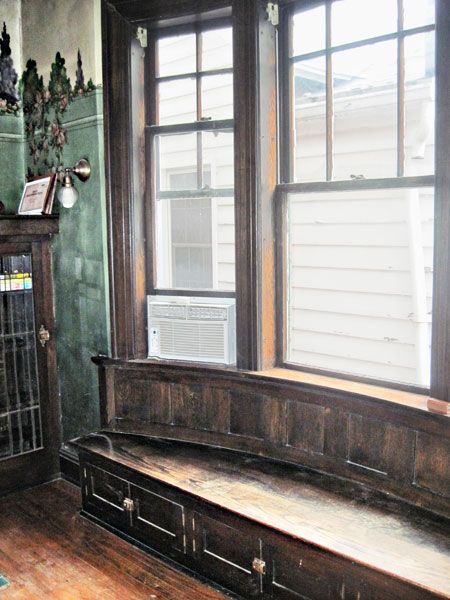 The library has bench seating built into a window bay.
Dining Room With Period Millwork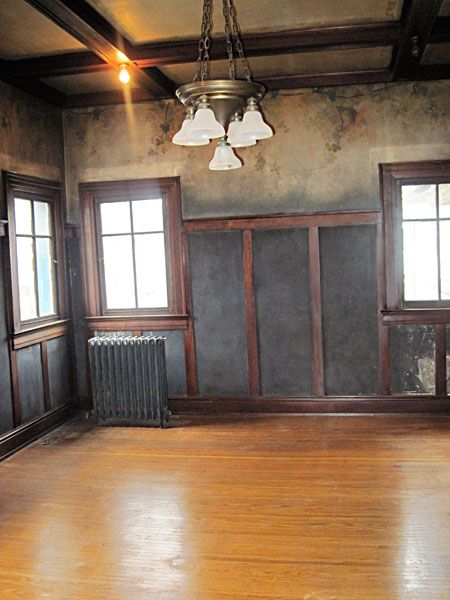 In addition to period millwork, the dining room has a door that opens onto a separate side porch.
Ornate, Bright Transoms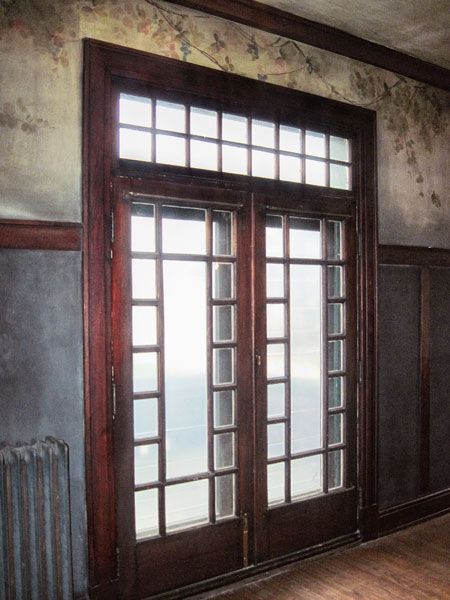 Multipane French doors and transoms draw light into the house.
Living Room With Painted-Canvas Coverings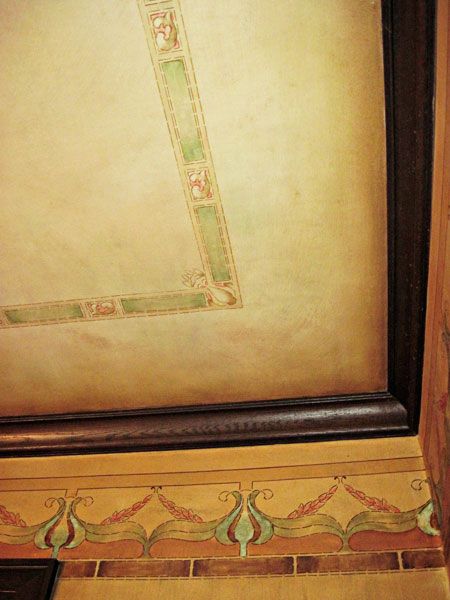 Painted-canvas wall coverings and oak crown molding dress up the living room.