Castle Connection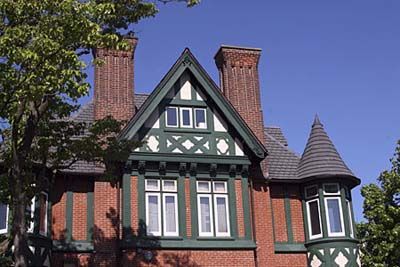 Because turrets developed as castle appendages, they look particularly good on houses with details that hearken back to earlier times. Half-timbered structures are a good fit because this style developed when medieval builders erected timber skeletons and then filled in the gaps with stone or wattle-and-daub, an early form of lath and plaster. This left some of the framing exposed, hence the term "half-timbered."
Circular View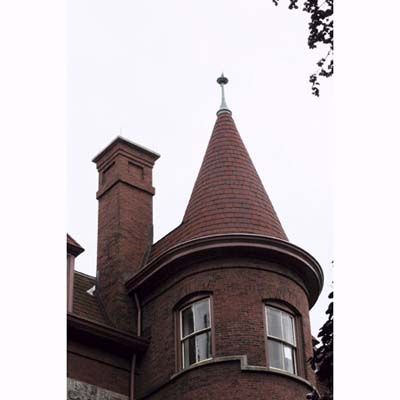 Turrets often look best when they reflect their origins as lookout posts. To give guards the best view of the surrounding countryside, medieval builders extended these rooms beyond the main castle walls and built them in a circular shape. Today, the space inside a circular turret provides a spectacular sweep-around view of a neighborhood or yard.
Ought-to-be Octagon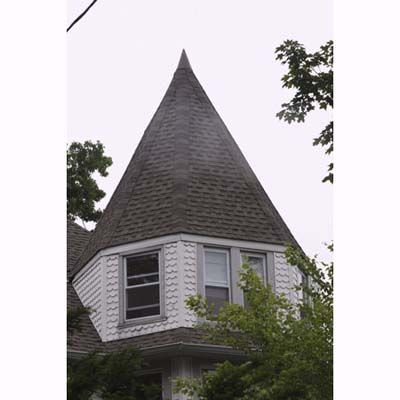 Building a circular turret from stone or other masonry material is fairly easy, but most homes in the United States have a wooden frame of 2-by-4s or 2-by-6s. To create truly circular walls with this type of construction is very complicated. There's a compromise approach that works well: Design and build the turret as if it were an octagon, except where it connects to the walls and roof of the house.
Multiplication Magic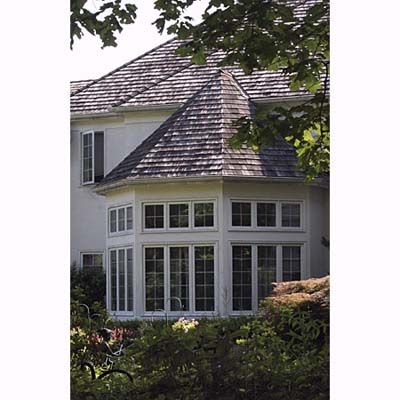 When turrets are based on an octagon shape, the standard approach is to place one window in each wall. Other options include flanking tall, narrow windows or arranging rectangular and square shapes into pleasing compositions. You can also divide individual windows into multiple panes, just as you might do with windows elsewhere in your house.
Corner View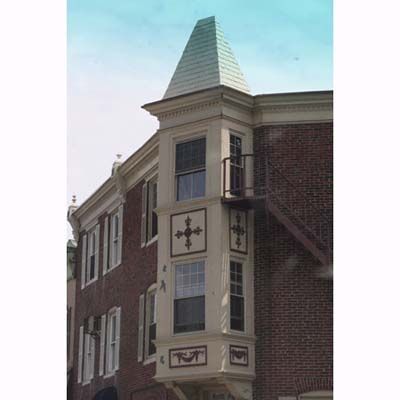 Rectangular turrets work especially well on the corners of buildings. Besides providing extra space, they help funnel light into interiors and provide vistas all the way down the block. And there's an additional benefit when turrets like this are found in neighborhoods with a mix of residential and commercial space: They double as a roof over the doorway to the store that's usually on the street corner below.
Sky's the Limit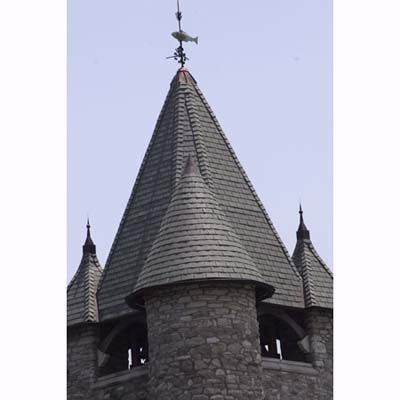 Turrets can be as elaborate as your imagination and budget allow. This circular tower is surrounded by a series of small turrets, each topped with a decorative finial. The turrets lack windows, but that's no great loss because people can still look out from the arched spaces in between. Groups of turrets make a grand statement, a look best reserved for houses built in a similarly grand scale, on imposing lots.
Owl's Eyes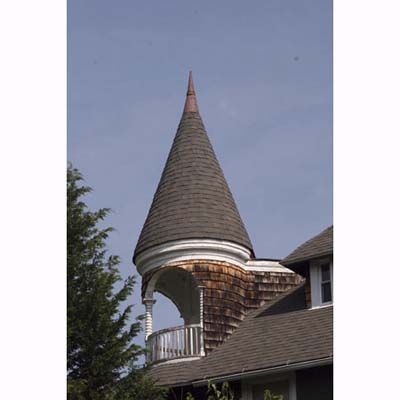 A tiny turret, just big enough to shelter a small lookout, lends a playful touch to a house. Adding to the sense of whimsy, the builder created two arched openings, separated by a single, ornately turned post. It takes only a little imagination to imagine that the openings are the eyes of an owl that has wisely perched in the perfect spot to oversee goings-on below.
Adding Shelter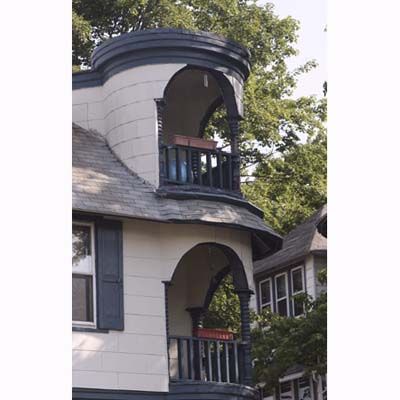 To keep rain and wind from blowing in onto this turret, the owner closed in the balustrade on one side but left it open on the other. Besides cutting down on weather-related damage, partially enclosing balconies often makes them more useful. Just as wood lasts longer when it's out of the weather, people usually prefer to linger where it's not too windy or wet.
Two's a Tower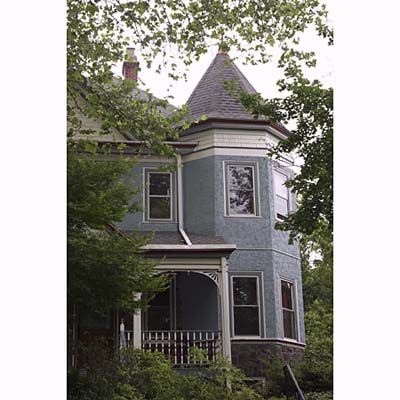 By stacking a turret over another room, you get twice as much dramatically beautiful space without doubling your building costs. Building from the ground up is easier than extending a room out from the side of a house, and the stacked approach means you can get by with a single roof. There's just one catch: If you're a purist, you can't call it a turret any more. When a turret touches the ground, it technically becomes a tower.
Refined Details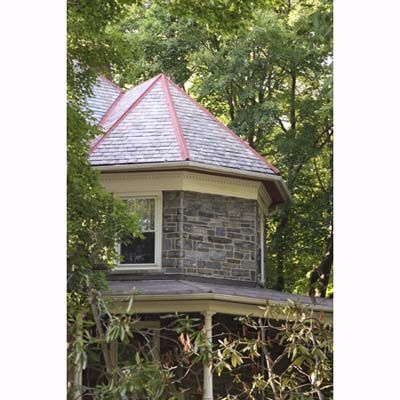 Because turrets are inherently rather flamboyant details, it's sometimes difficult to decide whether to keep them as plain as possible or to adorn them with molding, finials and other fancy details, as if they were belles dressing for a ball. The best compromise may be to go for simple details that are one step beyond ordinary, such as the colored ridge caps and valley flashing used on this roof.
Remember the Future
Like other building parts, turrets need regular maintenance. If you are thinking of adding one or more turrets to your house, plan ahead so you have good access. Choose materials that need as little ongoing upkeep as possible, and then follow through with the required steps. If it's difficult to get to a turret to clean out gutters or repaint, just think how much more difficult it will be to replace rotting wood or peeling paint.