Colorful Dream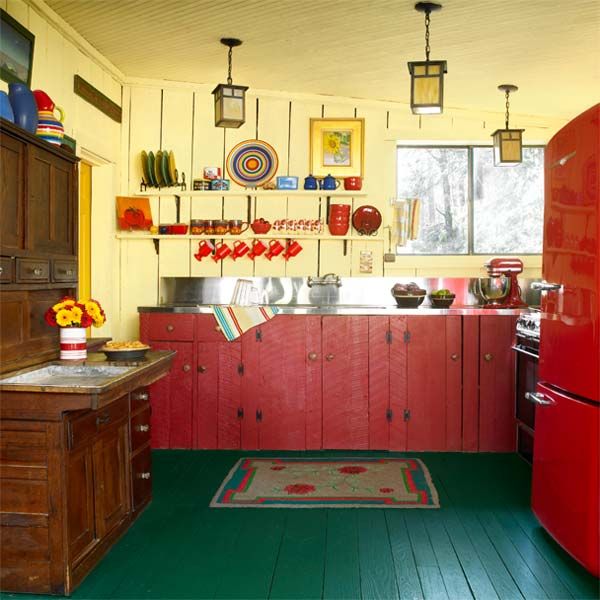 Imagine a novel that kicks off with its heroine roaming the Georgia woods with her dog and stumbling upon an old cabin whose owners seem to have been suddenly, mysteriously called away. Through its tall windows, she sees furniture around a massive stone fireplace, books lining shelves, and beds heaped with blankets. The house itself, built of chinked cedar logs, wrapped by an Adirondack-style stickwork porch, and surrounded by pines and hemlocks, overlooks a trout stream and is invisible from the road. It feels like a secret, a discovery that belongs to her alone.
If you were to read on, you'd find that our heroine, partial to history, mystery, and old houses, tracks down the family who'd owned the home since 1925, then buys the place to restore it—and you'd be holding Annie Westermann's story in your hands.
Shown: The existing kitchen's pine cupboards, stainless-steel sink, and vintage Hoosier cabinet were salvaged from a Georgia farmhouse. The homeowner lightened up the space with open shelves and snappy paint hues inspired by a retro-style refrigerator.
Room with a Colorful View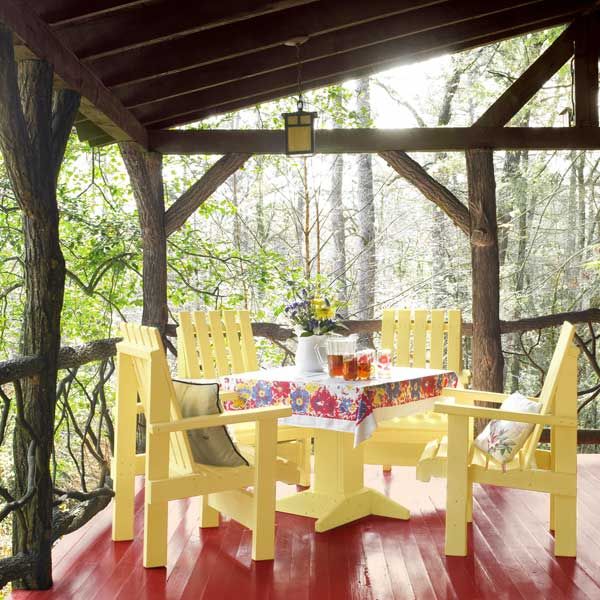 Like any good yarn, the true tale had its ups and downs. On the upside, the 1910 cabin, known as Pine Poles and built in the Georgia mountain town of Lakemont, 90 miles northeast of Atlanta, sat high on those bark-covered timbers "like a cozy nest in the trees," says Annie. Inside, its floors and most ceilings were constructed of heart pine, its walls were rough-cut pine planks, and its three fireplaces featured local quarry stone thickly grouted in an old-fashioned ribbon-work style she considers "a lost art." Actually two cabins linked by a catwalk, the home comprised a winterized three-bedroom, one-bath house and a one-bedroom, one-bath summer annex, for a total of 2,000 square feet on about an acre. On the minus side, the place had a tin roof that leaked "like a sub with the windows open," says Annie. Its wiring was shot, the catwalk was full of holes, bats were living in the eaves, and raccoons were nesting under the floors. Perhaps grimmest for the home's color-mad new owner, almost everything inside—floors, walls, and ceilings—was brown. "It felt like being trapped inside a giant brownie," she says.
Shown: The front porch doubles as an outdoor dining room 10 months a year. Its Adirondack-style stickwork is made from locust logs and mountain-laurel twigs.
Paint (furniture): Benjamin Moore's Bramblet Beige
Landscape Designer: Annie's Landscape Design, Lakemont, GA; 706-982-9733
Glossy Paint and Chinked Log Siding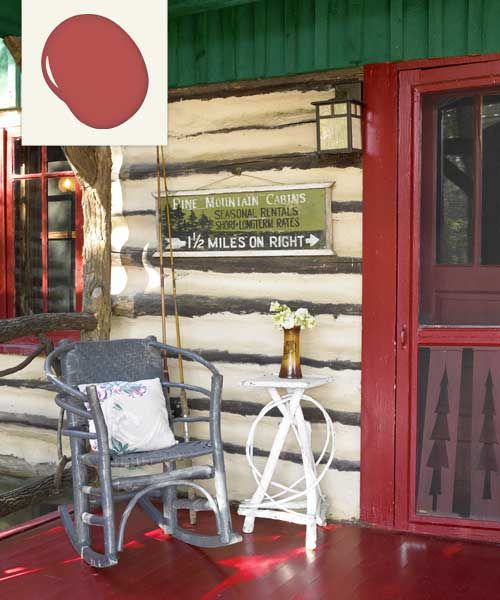 But the self-taught garden designer and avid preservationist, having already restored two vintage houses in Florida and a dilapidated hotel in Lakemont, wasn't daunted by the challenge. She approaches houses the way she does gardens: "I look for the bones—the lines and features that create structure and character—and I work with those." And she had neither the funds nor the inclination for major changes. "I've never lived in a place where things were square and plumb and the floor didn't slant!" Annie says. "I love taking what someone else might tear down and bringing it back, putting it right."
Shown: The porch floor, window trim, and original front door wear a high-gloss red that cheers up the chinked log siding. The homeowner added the screen door's pine-tree cutouts.
Paint (floors, windows, and door): PPG Porter Paints' Red Gumball. For a similar look, try: Ralph Lauren's Dressage Red.
Cozy Cabin Feel: After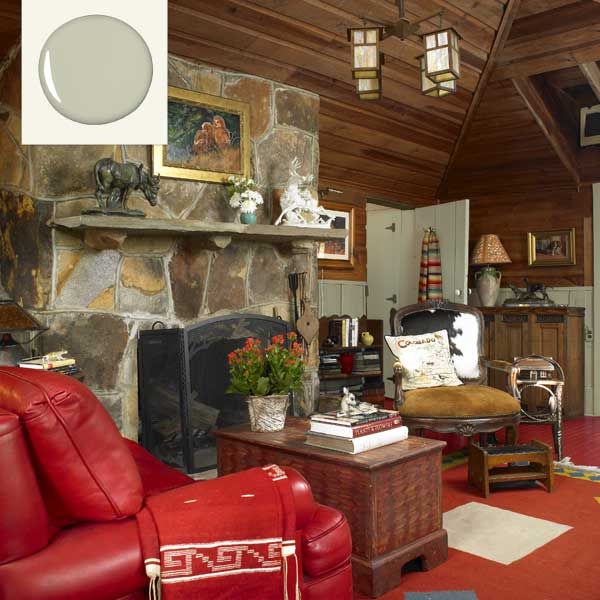 At Pine Poles, despite the ravages of time, those bones—the logs and sturdy ceiling beams, the fireplaces—were intact. The thrifty former owners had preserved them as they made useful improvements, such as enclosing sleeping porches for bedrooms and converting an outhouse into a second bathroom. And they left behind shingles and shelves that Annie could use as she coaxed the cabins back to life.
Shown: Eleven-foot heart-pine ceilings and a ribbon-work fireplace give the living room a cozy cabin feel, which Annie punched up with a custom red-leather loveseat and patterned camp blankets.
Paint (wainscoting and door): PPG Porter Paints' Whispering Pine. For a similar look, try: Sherwin-Williams' Liveable Green
Charming Woodsy Foundation: Before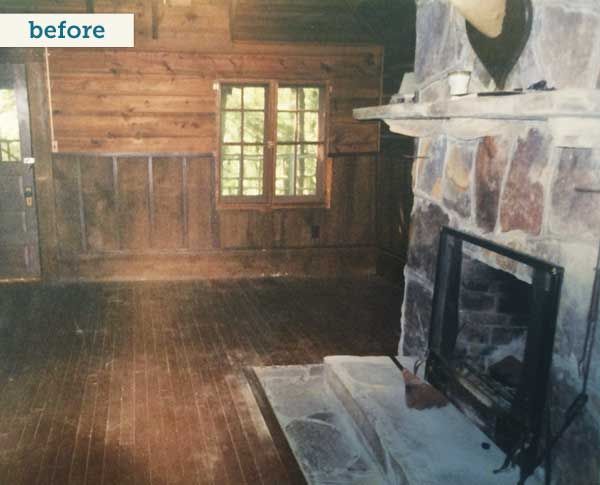 The job began with a new galvanized-metal roof and a major cleanout of debris. Luckily for Annie, given her tight budget, her brother Douglas hurried from Illinois to lend a hand. "He's a retired policeman," she says, as well as an experienced DIYer. "You can count on him." Douglas rewired the house, evicted resident animals, installed new insulation panels in the master bedroom, and covered the ceiling with tin cut from the cabin's previous roof. In the kitchen, Annie ripped out the upper cabinets that made the room feel closed in and cluttered, replacing them with shelves from the previous owners' materials stash. A handyman repaired the catwalk between the cabins, but upgrading the aged heating and cooling systems had to wait till she could save up the necessary cash, which took about two years.
Contrasting Kitchen Yellows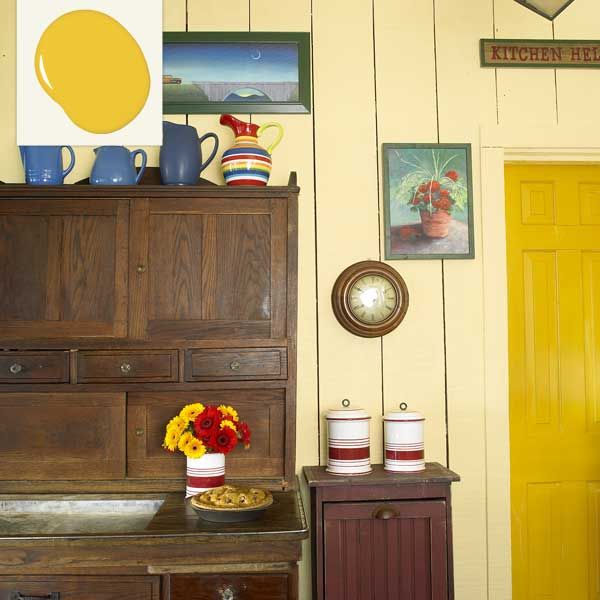 All this while she was working full-time running a garden center out of the former hotel she still owned nearby. So on nights and weekends, she started in on the most dramatic transformation: erasing the home's browns with a rainbow of paints. "I'm pretty adventurous when it comes to color," she says. "To me, when you walk in and see color, you know you're going to have fun."
Shown: After realizing that the original pick for the kitchen walls would overpower the room, the homeowner repainted with a softer shade but left the door in the richer color for contrast.
Paint (door): PPG Porter Paints' Be Daring. For a similar look, try: Olympic's Bumble Bee.
Adirondack-Style Paint Palette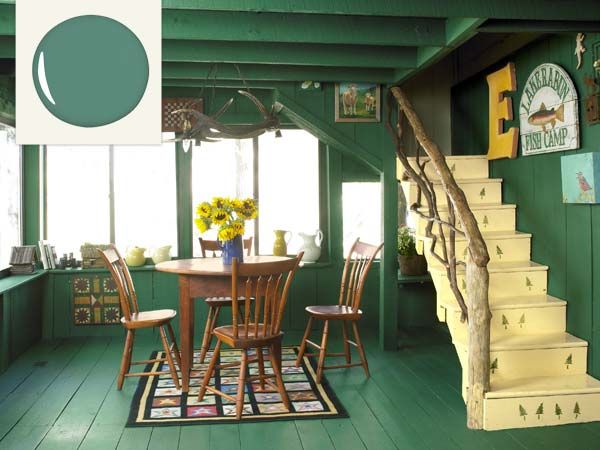 From the outset, Annie had a certain Adirondack-style palette in mind. Taking inspiration from the natural setting, her version of the classic color scheme includes forest greens, a red that glows like the living room's burnished heart pine, and the golds of local farm fields full of sunflowers and black-eyed Susans. But she had other inspirations, too. Driving a red Jeep at the time, she was particularly keen on its paint job, so keen, in fact, that she splurged on a matching fire-engine-red Elmira Stove Works refrigerator for the kitchen and a custom red-leather loveseat for the living room. Her favorite yellow cowboy boots sparked the vibrant gold that appears on the kitchen door; a paler shade colors the surrounding walls and those in the master bedroom, as well as the staircase. The living room's green wainscoting, which riffs off the tones of fireplace stone, is also on a bathroom wall, between ceiling beams, and opposite another wall of deep green that echoes the trees outside the house. That woodsy, deep green colors the dining room and also shows up on the kitchen floor. The shades work well together, she says, because they capture the cabin's sense of place and balance one another's moods—the warm amid the cool, the lighthearted with the contemplative.
Shown: In the dining room—a sleeping porch the previous owners had enclosed—a green inspired by the surrounding woods covers all surfaces. Stenciled pine trees add a whimsical touch on the risers of the yellow staircase.
Paint (ceiling, floor, and walls): PPG Porter Paints' Peacock Green. For a similar look, try: Ralph Lauren's British Racing Green.
Salvage-Decorated Master Bedroom: After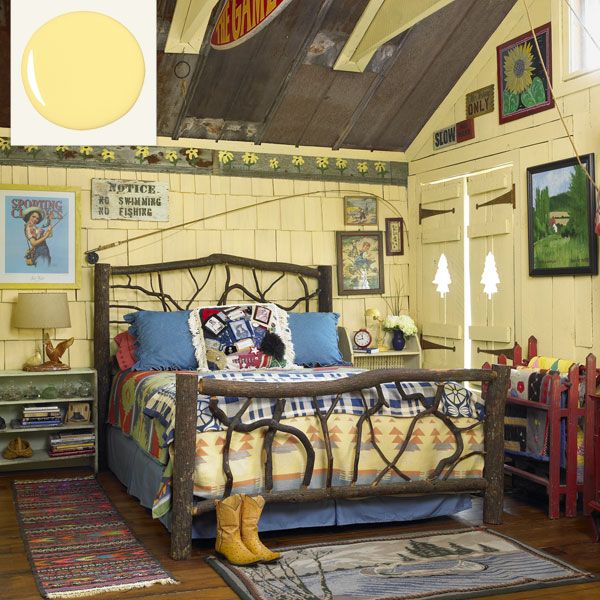 On walls and floors already covered with paint, she chose an oil-based formula, applying three coats of high-gloss to the floors, two coats of matte to the walls. On stained or unpainted floors and walls, she used a colored oil-based stain. "Oil-based paint eliminated prepping," Annie says, "and I'm lazy!" Not too lazy, though, to repaint the kitchen when she knew she'd made a mistake. Her first pick for the walls "turned out to be the yellow of a yield sign!" she recalls. "My dad was a housepainter. He'd say, 'Let the paint dry, see what it does; if you hate it, paint over it.'"
Shown: In the master bedroom, the ceiling is clad with tin from the cabin's original roof, and salvaged shingles are nailed to the wall. The board-and-batten shutters, with pine-tree cutouts, were custom-made by a local carpenter. The bed, which echoes the porch stickwork, was a gift.
Paint (walls): PPG Porter Paints' Lazy Daisy. For a similar look, try: Olympic's Sunbeam
Dim Sleep Space: Before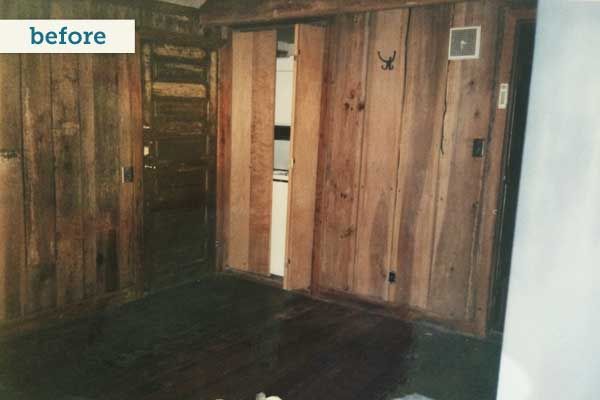 In certain spots, such as the heart-pine floor and ceiling in the living room, Annie skipped paint and applied matte polyurethane to bring out the natural luster of the wood. In the summer annex's bedroom, she simply whitewashed natural wood with a white pickling stain, bringing light to dark corners but letting the grain show. "Sometimes I have to force myself to use white," she says. Generally, she avoids it on ceilings, which she covers with the wall color, "to add personality and create a whole, encompassing environment."
Doing much of the work herself, it took Annie two years to transform Pine Poles into the house she wanted. But in a twist of fate that harks back to a fictional plot, she'd only been in the house another two years when a hurricane blew in and a 135-foot pine smashed her roof. Making a remembrance from her misfortune, she used the stump from the fallen tree as a pedestal for an old washtub that now serves as a bathroom sink.
Lighter-Look Wood Stain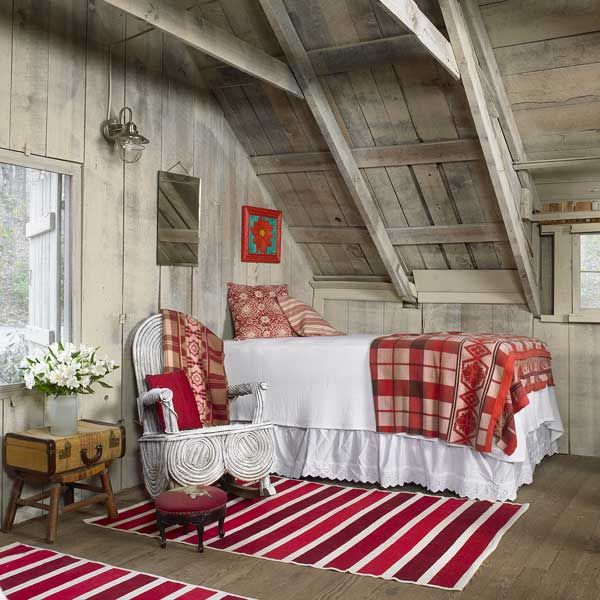 With the repairs done, she began to just enjoy her house. "I felt like I was waking up at camp every day," she says. Among her friends, Pine Poles became the party house, the spot for raucous fireside gatherings with a pot of chili, a glass of wine, and wonderful stories.
Shown: The annex's bedroom was lightened up with Olympic's Premium Wood Stain in Pickling White.
Rustic Bath Makeover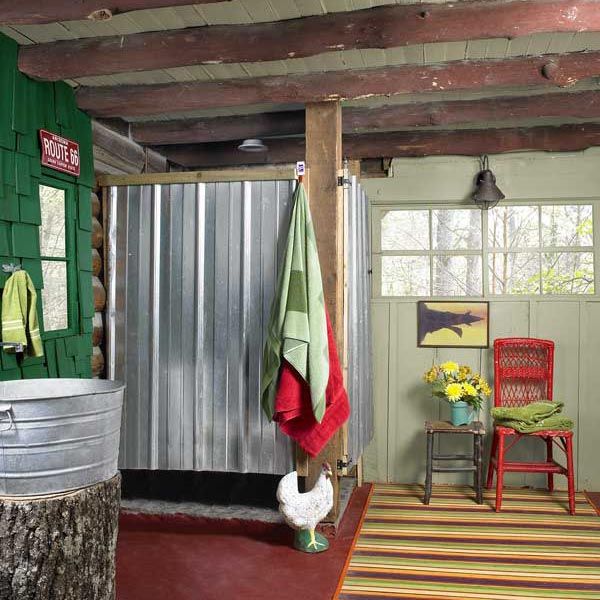 Annie had a simple vision for Pine Poles, one of Lakemont's "forgotten ghosts." She preserved its past, added upgrades for today, and then colored it in to make it hers. Reflecting happily on her part in the continuing story of her "little treehouse," she says, "I've left my mark, as in a time capsule, for the next generation."
Shown: This bath got a makeover with a galvanized-steel shower stall and a washtub sink atop a tree stump.
Looking Up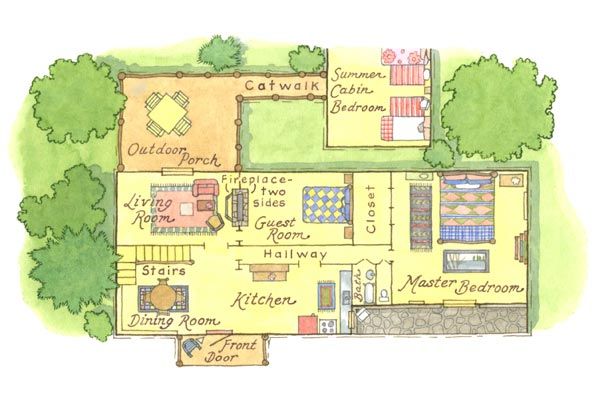 The previous owners linked two smaller buildings by a catwalk, creating about 2,000 square feet of living space. Under the "summer bedroom" is a bath, accessed by stairs.