From Starter Home to Starting Over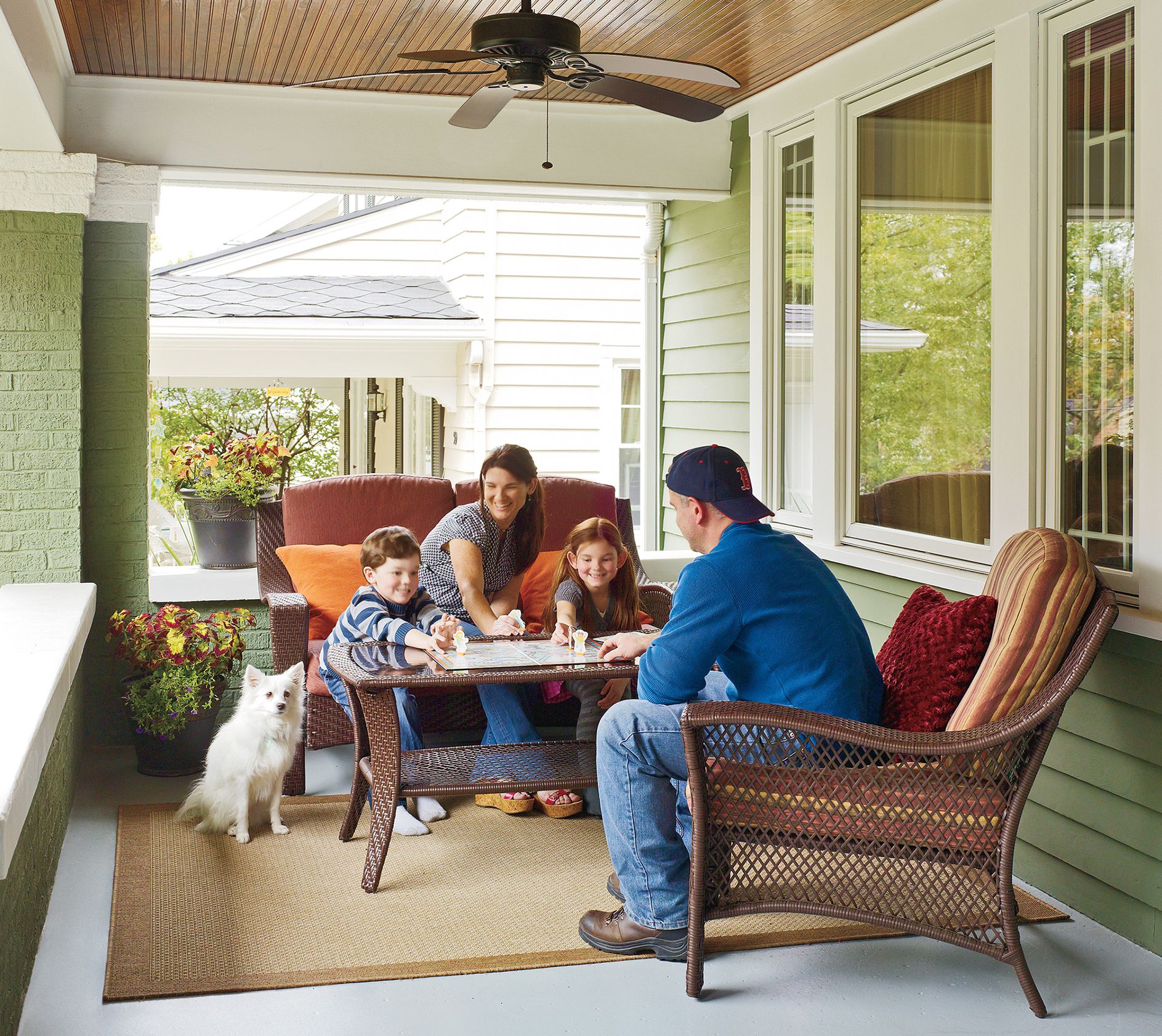 It's all This Old House's fault. In 2004, my wife, Candice, and I were nicely settled in a starter home with our two small children. We were beginning to outgrow the space and would have probably bought a new home eventually—but then I watched every episode of the show's 25th-anniversary season. It was the last straw. I was so jealous!
I always loved doing small projects here and there in our first home—refinishing floors, upgrading a bath—but I wanted something even more challenging, such as tackling an entire house like the one I saw on TV. I spent a year looking for just the right one.
Shown: Homeowners Candice and Matthew Manning relax on the restored front porch with son Sully, daughter Noël, and dog Crisco.
Before: Abandoned American Foursquare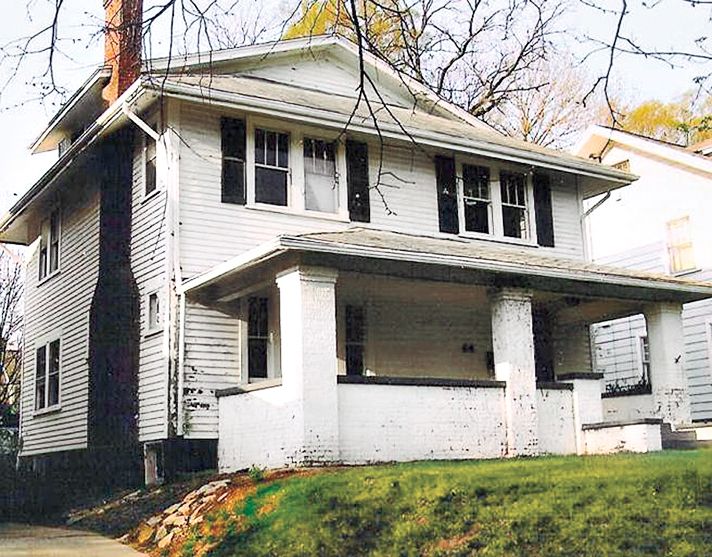 After seeing dozens of homes and driving past many more, I finally noticed this 1921 American Foursquare in Oakwood, Ohio, on my way to work. The outside was dirty and battered, but I could see the Prairie-style craftsmanship in its exterior. When my wife and I took our first look inside, chunks of plaster were falling down. But the original oak woodwork had never been painted, and the layout wasn't as cramped as many of the older homes we'd seen. I knew this house was the one. Against her better judgment, my wife agreed to take the plunge.
The home had been abandoned for over two years and bought by a bank as a foreclosure. But the bank decided the house was more than they cared to handle, especially with the city citing them for not meeting property codes. So they sold it to us for $13,100 less than they paid! That should have been a giant red flashing billboard that read, "You have no idea what you're in for." But hindsight is 20/20.
Shown: The American Foursquare sat abandoned for two winters, with many of its windows broken.
After: Exterior Makeover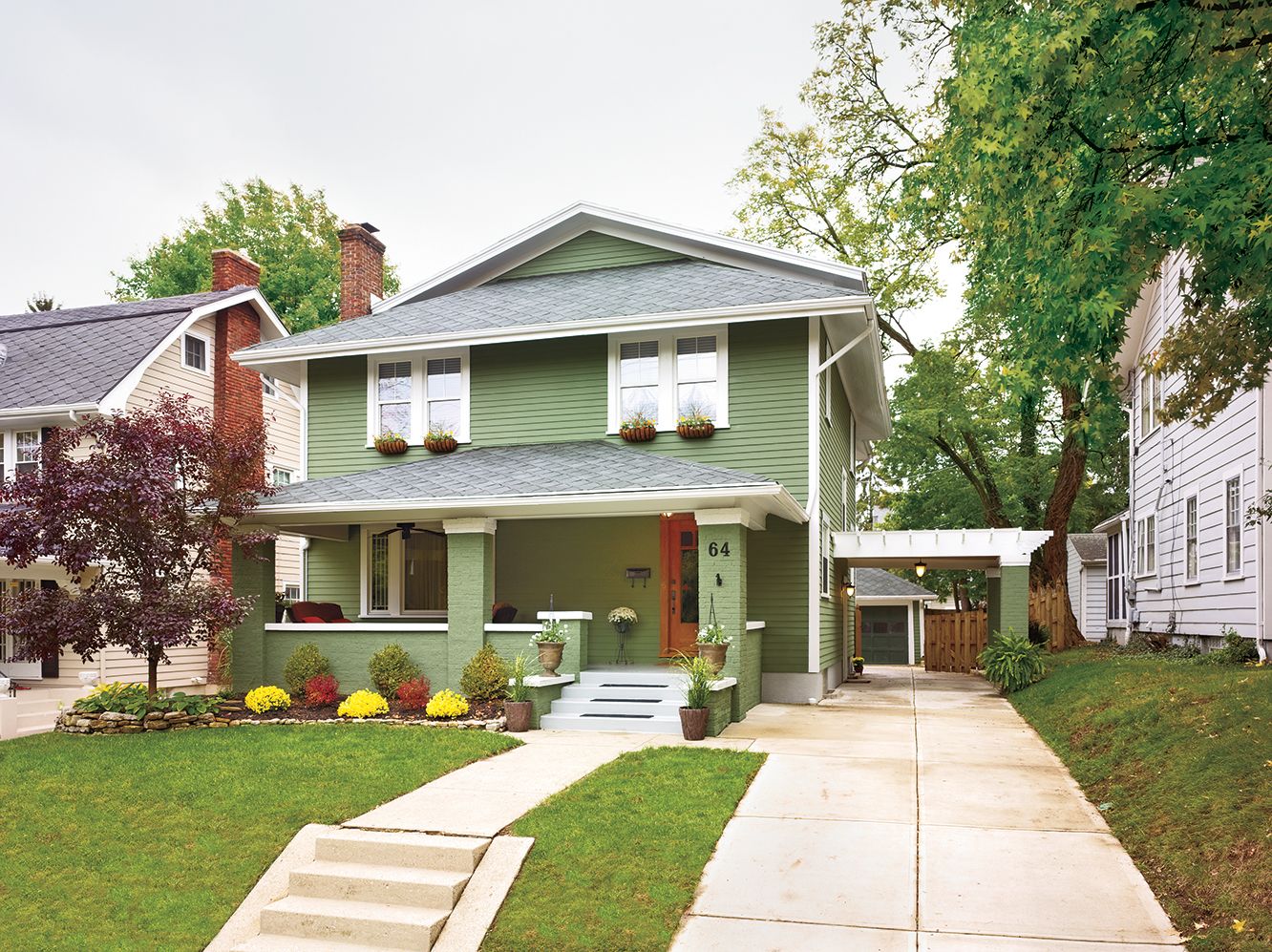 The craziest part is that I truly believed we could do this project for about $50,000 and have it done in four months while doing most of the work ourselves. It feels good to write that. I feel like I'm confessing to a room full of recovering renovators, "Hi, my name is Matt…"
With the city kindly requesting that we begin our renovations on the outside and work our way in, I got started. For the first few weeks, I patched siding and recreated some of the exterior's rotted trim with pressure-treated wood, trying to stay ahead of the painters I'd hired. Candice, meanwhile, began work on the neglected front yard, digging out stumps and building rock walls.
Shown: A fresh coat of paint, rebuilt portico, and new landscaping perk up the home's exterior.
Before: Cramped Kitchen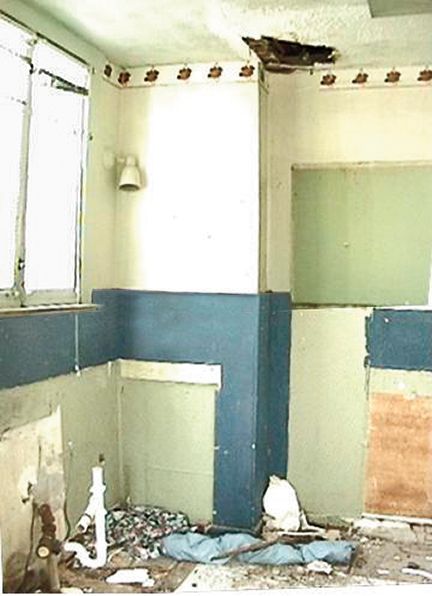 Once the exterior was in decent, one of the first big inside projects was taking out the load-bearing wall between the small kitchen and den. I had been given a quote of $900 for a ready-made laminated wood header beam, but that just seemed ridiculous to me. After seeing TOH general contractor Tom Silva veneer an I-beam, I decided to do something similar and got one for $179. It was pretty exciting to install and conceal it. I was really enjoying the work, but my original four-month deadline quickly came and went with no real progress toward making the house livable.
Shown: Before, the dated kitchen was cramped and poorly laid out.
After: Lighter, Brighter Kitchen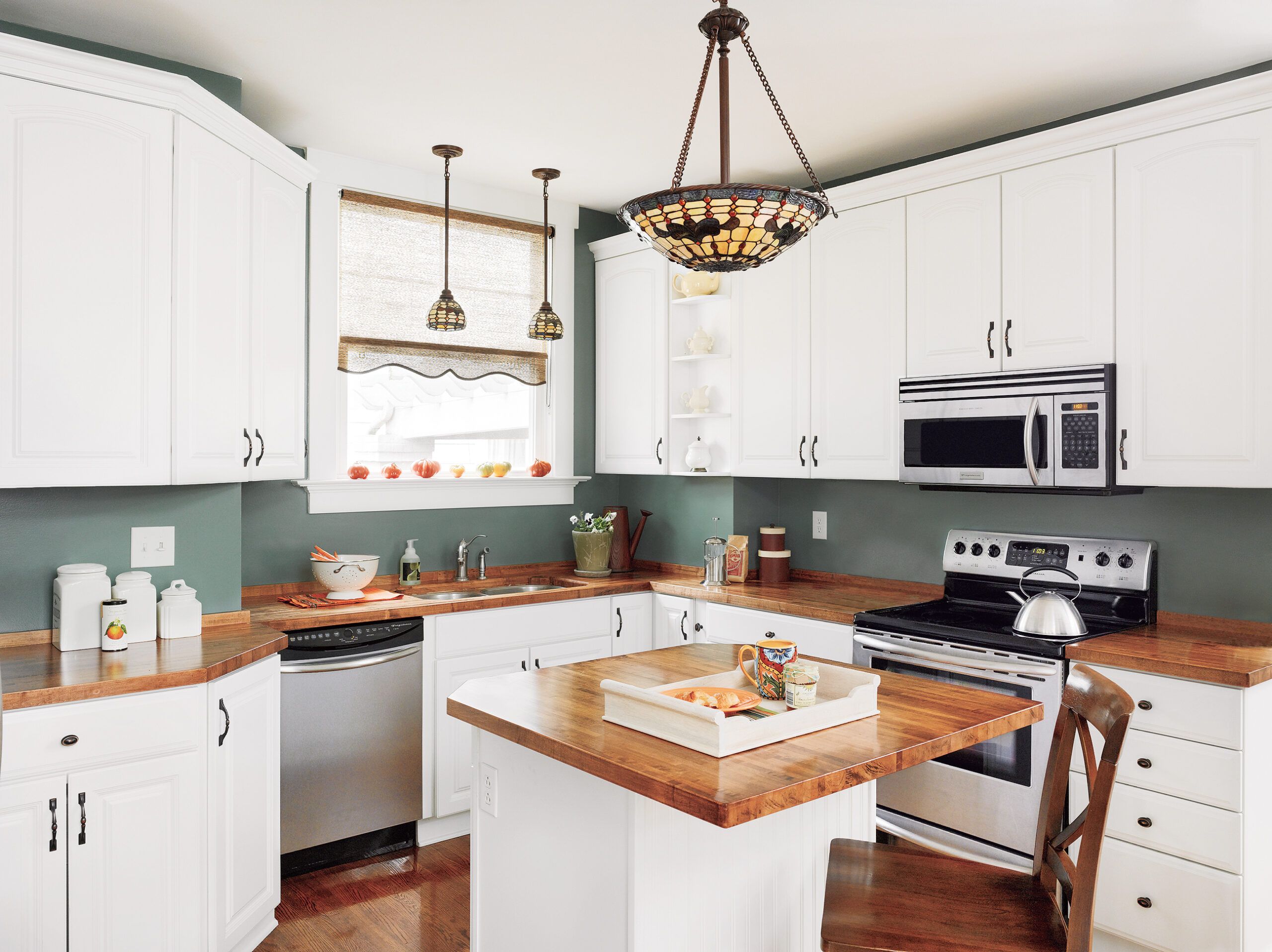 What really sent the timeline off track—in a fiery crash over a cliff—was my inexplicable compulsion to do every possible thing myself: demo, design, electrical, window installation, framing, finish carpentry, and so on. I seriously considered doing the HVAC myself. And my plan until about Month 11 was to do the rough plumbing, too, but I finally had to let that one go due to time. Honestly, I think the only reason I had contractors paint the exterior was that I'd lined them up before we closed on the house, i.e., before I lost my mind.
Shown: New white cabinets, mahogany-stained maple butcher-block counters, and stainless-steel appliances, all installed by the homeowner, help bring a lighter, brighter feel to the space.
After: Kitchen Built-Ins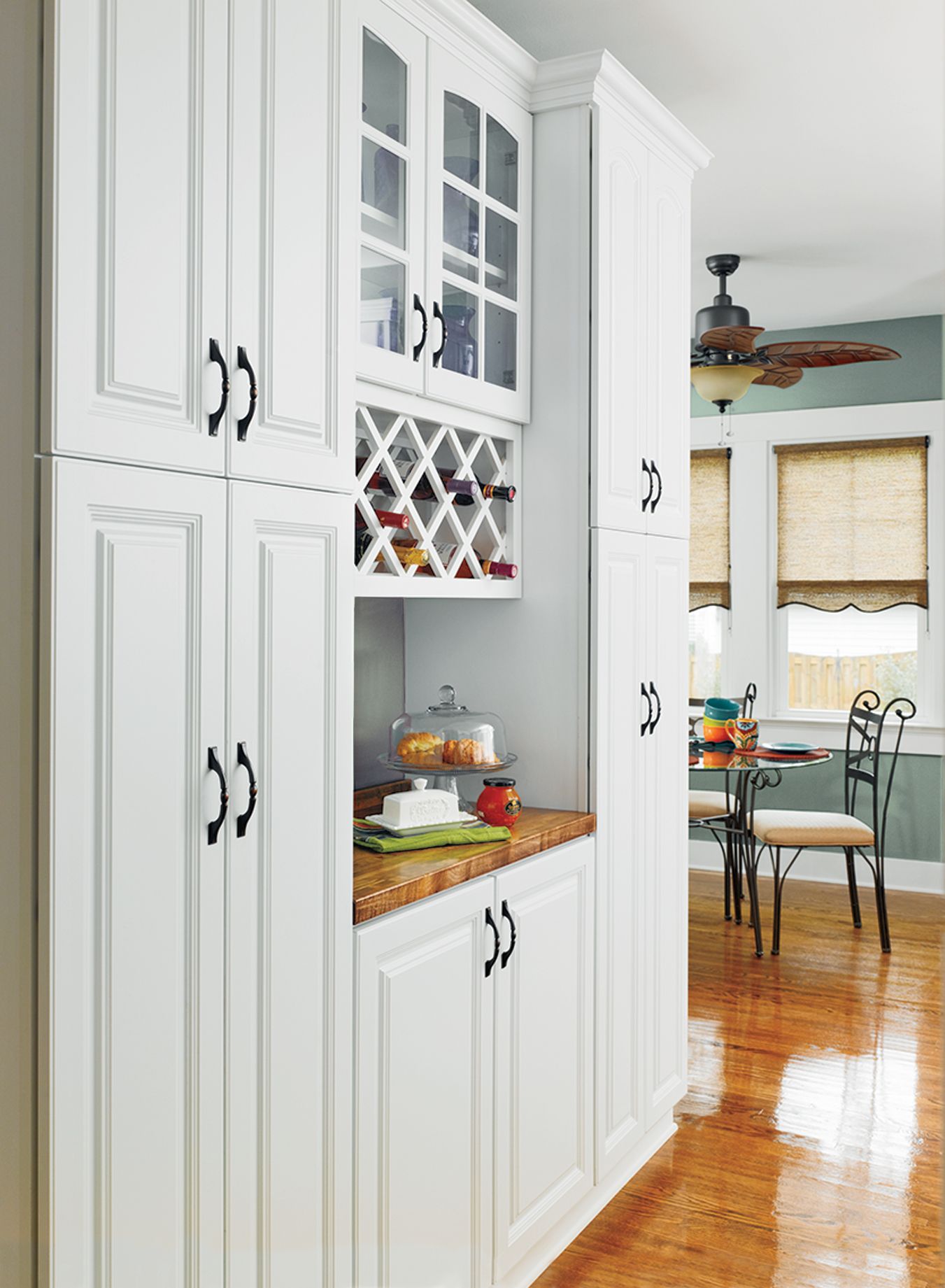 The hardest part was juggling the remodel with being a dad, husband, and employee. For that first year, I would go to my engineering job extra early so that I could leave early and spend a few hours with my family at our first house, where we were still living. Then I headed out to work on the new house until about 2 a.m. It was like I was pulling an all-nighter every single day—and it was wearing down my body.
Shown: A back door was relocated to gain wall space for this bank of built-ins.
After: From Den to Breakfast Nook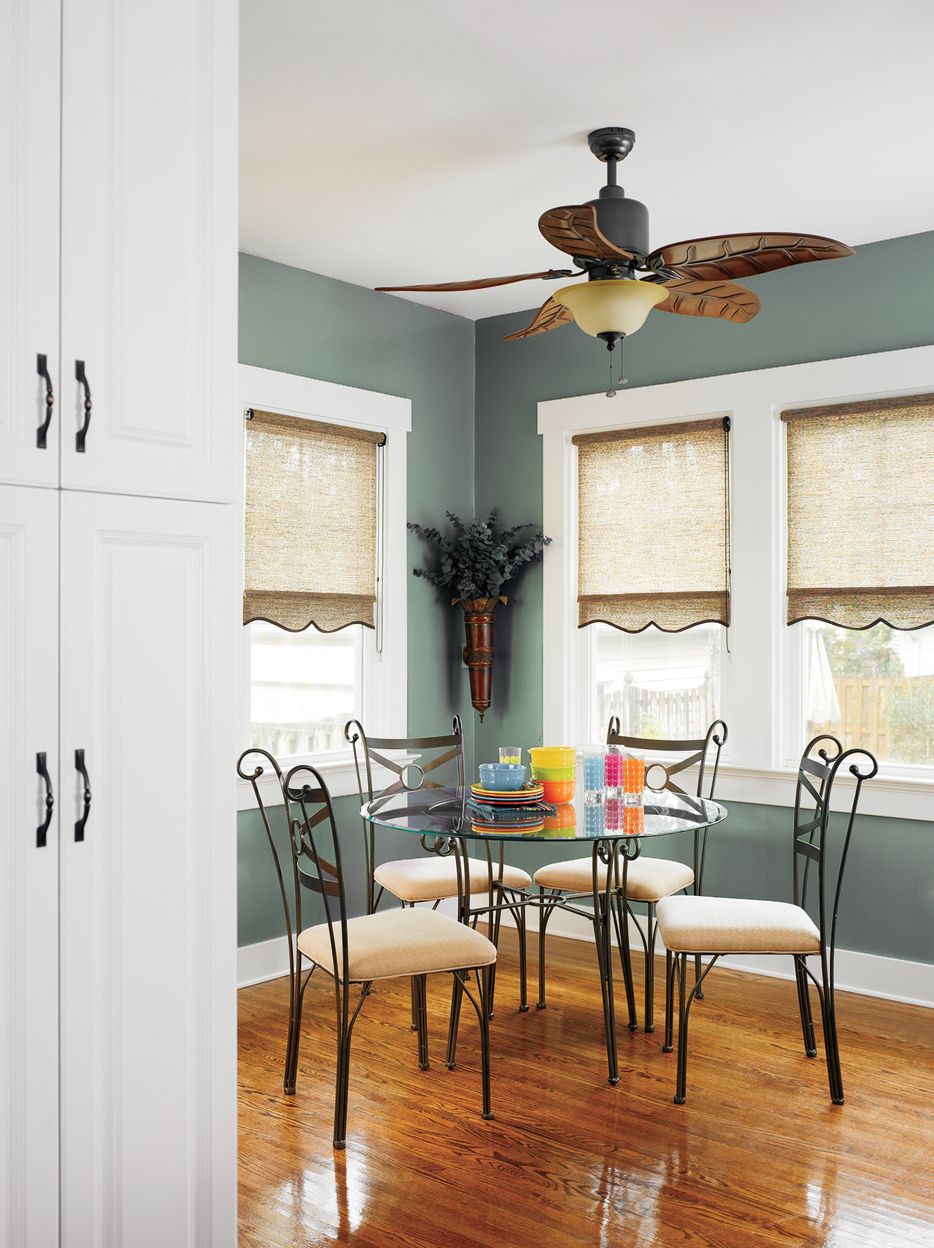 About a year in, it finally and spectacularly sunk in: I was over $200,000 in debt; I had sacrificed my health and time with my family; and after all that I was maybe, just maybe, 20 percent done. But I was so totally dedicated to doing this house myself, I asked for a four-month leave of absence from my job—and was ready to quit if my request was denied. Luckily, my supervisor grew up in a house his dad built, so he actually seemed to understand what had gotten into me.
Shown: Repurposing the old den gave the family a new breakfast nook. The space's five windows channel lots of natural light into the reconfigured kitchen.
Before: Wallpaper-Layered Living Room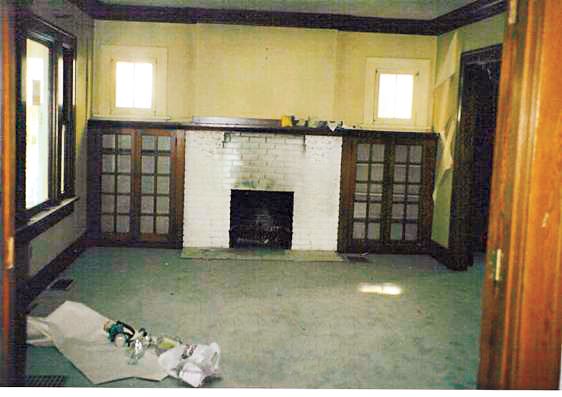 Starting my leave in June 2006, I spent two months roughing in electrical, installing insulation, and putting up drywall. The old studs were so uneven, every wall had to be shimmied to make the new drywall flush with window and door jambs. Finally, the place was starting to look like a home rather than a work zone.
For the first six months of 2007, I patched hardwood floors, filling in holes where massive cold-air returns had been and weaving the old kitchen and den floors together with boards salvaged from the foyer. Elsewhere, I removed wallpaper, patched plaster, and refinished hundreds of feet of original oak woodwork.
Shown: Layers of wallpaper hid the living room's plaster.
After: Finished Family Room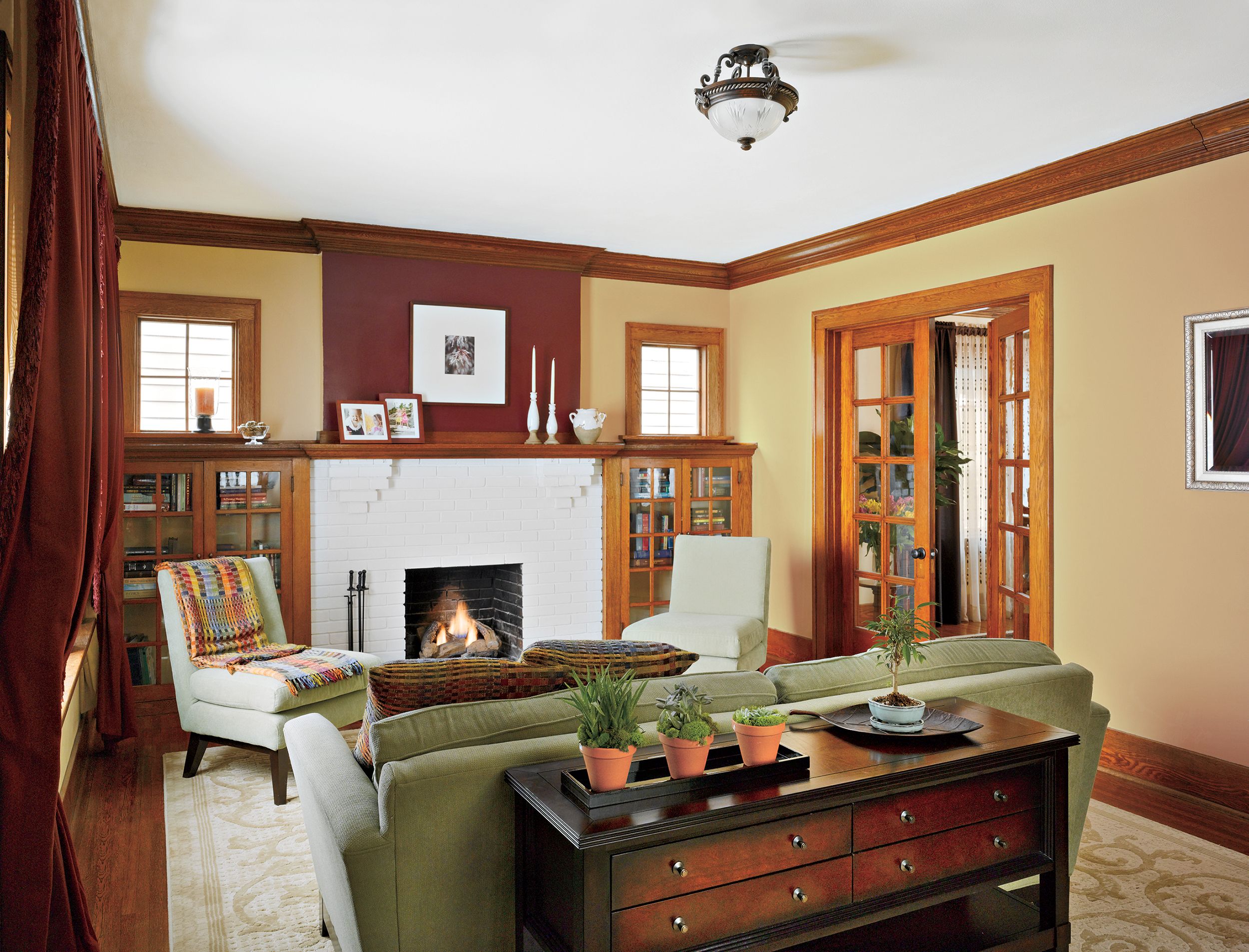 Things were going well until one of the 80-pound rocks from a waterfall and pond that Candice was installing rolled over her foot, breaking it. It was our second remodel-related trip to the emergency room (the first being my own trip for a large splinter a year before). After helping her recover and take care of the kids—thankfully, we were still living in the comforts of our first home—I got back on track with the remodel, and things kept progressing smoothly even after I returned to work in October. Candice and I decided it was finally time to put our first home on the market, assuming it would take a few months to sell.
Shown: The original oak trim was refinished, while a new marble and granite hearth was installed to match the adjoining foyer's new floors.
Before: From Porch to Master Bath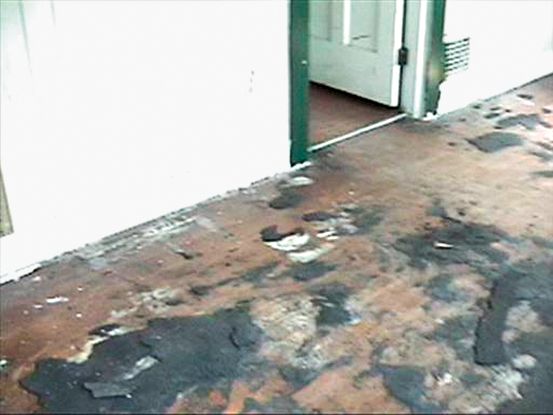 Our first house ended up selling in only five days! We had to move within a month. Gone was our refuge from the mess and the stress. We'd have nowhere to retreat to when things got ugly. Granted, we had electricity, brand-new appliances, and immaculate walls and floors. But after piling our possessions into the basement, we had to sleep on mattresses on the floor and dine on a blanket in the living room for several weeks.
With no working sinks, we washed our hands in the bathtub and improvised a curtain rod to use the doorless shower. Kitchen counters became a top priority. We ordered some very nice engineered stone ones, but the $4,500 price tag ate at us, and we decided to cancel them. Instead, we outfitted the whole kitchen for $800 using 8-foot slabs of maple butcher block. In the area shown here, shower doors, sinks, and window coverings slowly followed, and, by the end of the year, we were beginning to unpack our boxes from the basement.
Shown: A weather-damaged sleeping porch was sacrificed to create a spacious master bath.
After: Much-Needed Spa Retreat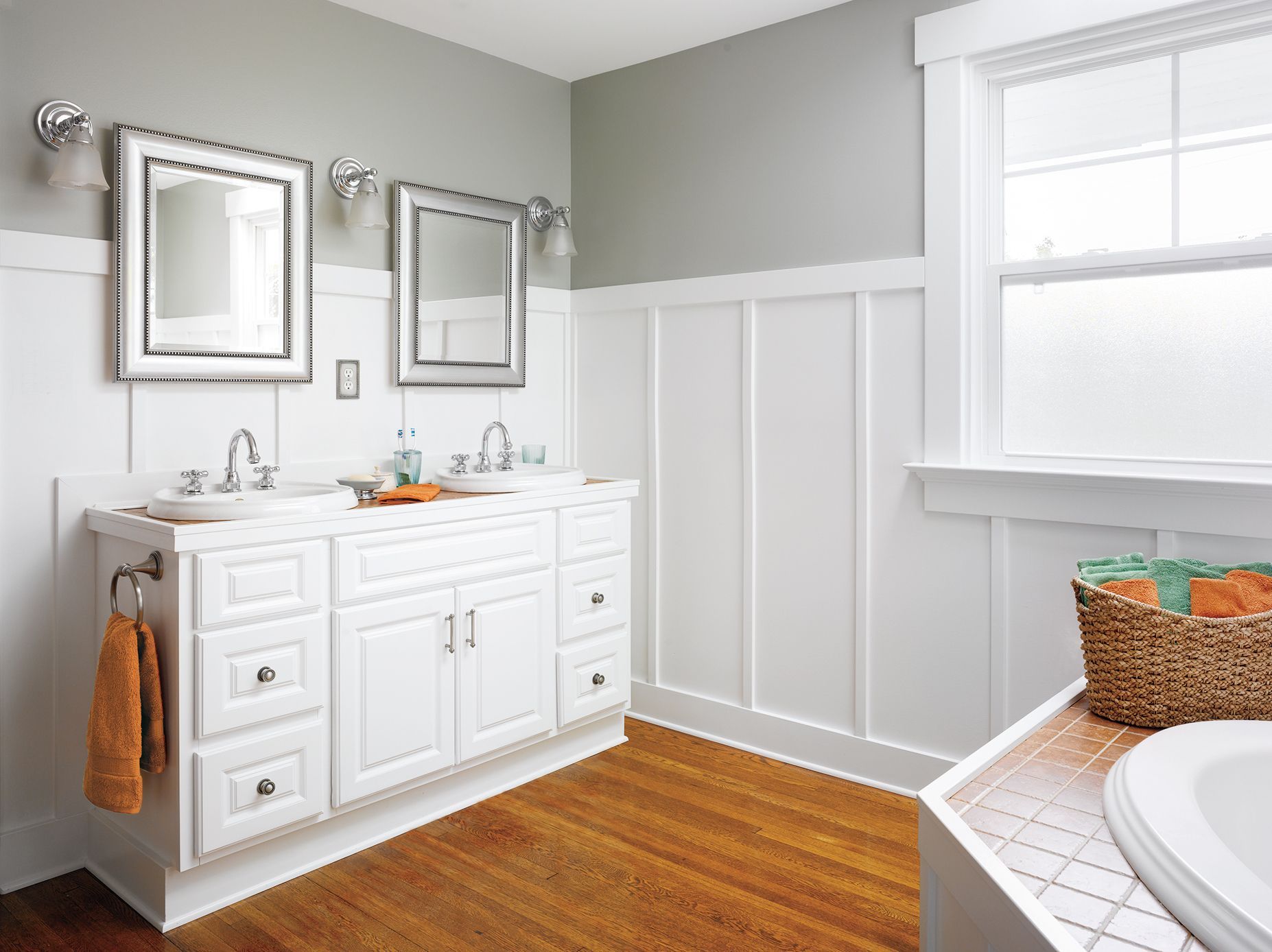 Of course, just as things started feeling less urgent, disaster struck. In the summer of 2008, we took a weeklong family trip to visit my parents. And when we returned, it felt like we were stepping into a rainforest. The new pipes I had installed a week before we left had sprung a leak, flooding the master bath, kitchen, and basement. My heart sank to see so many months of work ruined. The flood restoration company we called in had to bring dozens of fans and three industrial-size dehumidifiers to clean up the mess.
Paradoxically, repairing the damage from this small tragedy inspired me again, and I tackled a bunch of projects I had left hanging, such as installing baseboards and trimming out the basement fireplace surround with built-in shelves and a TV nook. And, last year, I finally finished the kid's bath.
Shown: The old porch area now holds a spa tub and a his-and-hers vanity. Regular mirrors were mounted on hinges over boxed-in wall recesses to create medicine cabinets.
Floor Plans: 1st Floor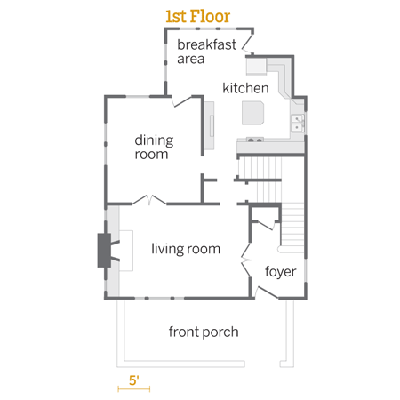 I'm really proud of all the work I've put into this house. There are still closet doors left to install, and maybe one day I'll get to putting pillars by the front walkway, but for now we're happy with our home. I don't think we'll be looking for a new remodeling challenge anytime soon. Here's the breakdown of what we learned the hard way, so you won't have to.
What we did: Remodeled a derelict 1921 American Foursquare
Remodeling cost: $100,000, plus the $156,900 cost of the home
Time frame: Four years
Where we saved: Using butcher block for the kitchen counters instead of having engineered stone installed
Where we splurged: Replaced the foyer's hardwood floors with marble and granite tile
Floor Plan: 2nd Floor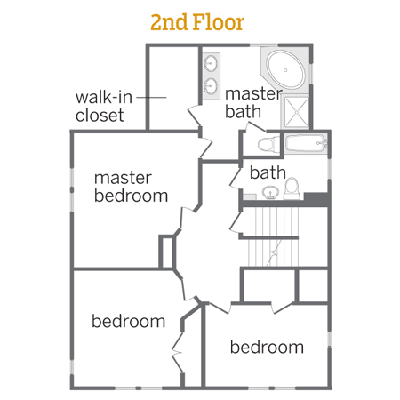 What we would do differently: Add a window seat on the stair landing for a cozy nook
Biggest challenge: Trying to juggle family and a full-time job while doing most of the work myself
How we solved it: Agreeing to choose people over the house as often as possible, making time for kids' soccer games and for dinners as a couple.