Fresh Facade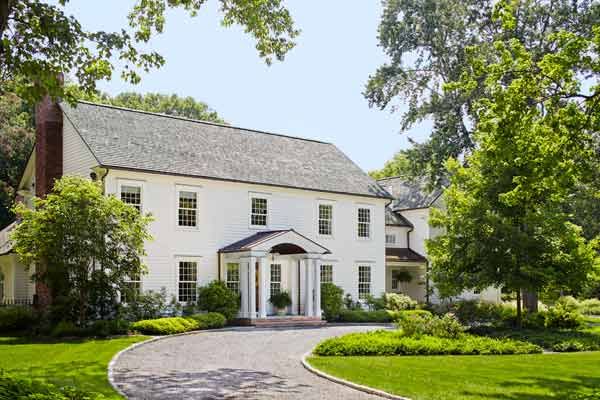 It's a rare first date that ends with a chorus of "Let's strip paint." But that's pretty much how things went when Christine Williams told her husband-to-be she'd always wanted to fix up an old house. "Me too," he said, adding, "I've been watching This Old House since I was 10." Two homes and 16 years later, the two still can't keep their hands off paint chips and lighting catalogs.
Asked what made them snatch up their current home, in New Jersey, right out of the hands of another buyer, Christine says fondly, "The place was a disaster."
A 1960s Neocolonial with squinty windows and wan interiors, the house sported a shallow-pitched roof and a cantilevered second floor—picture a facade with a beetle brow and an overbite. Plus aluminum siding.
Shown: The redo gave the house a more gracious look, with wood windows, siding, and roof shingles.
Architect: DeGraw & DeHaan Architects, Middletown, NY
General contractor: Built Tough Construction Co., East Rutherford, NJ
Custom cabinetry: Royal Cabinet Co., Hillsborough, NJ
Custom carpentry: Anthony Calandriello & Co., Fair Lawn, NJ; 973-427-6000
The Inspiration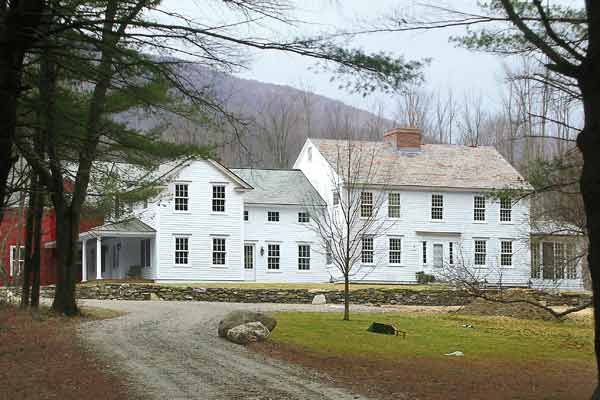 Christine, a fan of old-school Colonials, couldn't wait to flatten the front, sharpen the roof's pitch, and finish the rooms with Oriental carpets and traditional trim. Her husband, whose DIY skills are so developed that "he could be a builder," she says, was primed to bird-dog a construction crew and its choice of materials. As seasoned homeowners, both had a realistic idea of what was involved in updating the house and a willingness to invest in equally seasoned pros.
The goal: to make a washed-up 40-something look like a dignified centenarian, in a kind of reverse face-lift. The vision: a staunch Colonial Revival in Manchester, Vermont, the couple had zeroed in on during an open-ended search for their dream house, not only snapping its picture but knocking on its door. (They wanted to know if they could measure the width of its clapboards.)
They had already lined up their architect, Jeff DeGraw, after admiring work on a neighbor's house and tracking down the source. Turned out he had also helped design a house in Warwick, New York, so pleasing to Christine that she was using its photo as her screen saver.
Shown: The homeowners used this snapshot of a Colonial Revival in Manchester, Vermont, as a starting point.
Good Bones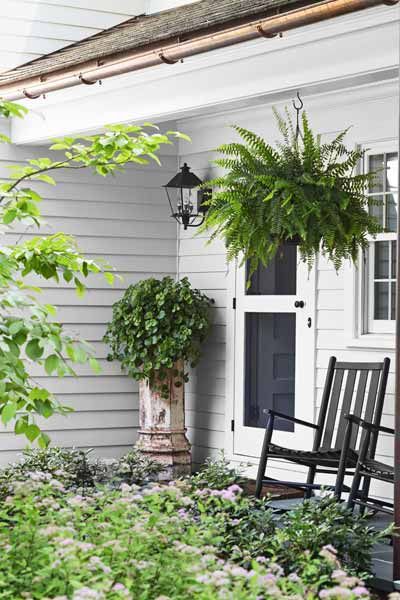 When DeGraw took a look at the five-bedroom, three-and-a-half-bath object of the couple's schemes, he shook his head at the small windows, dark rooms, and "ugh-ly" attached garage. "But the bones were good," he says. "The house also had a good relationship to the street. And it was on a perfectly flat lot with great afternoon light in back."
The house would need reworking outside and in, with a fresh layout to suit two busy people with a young daughter, an energetic dog, and a desire for equal parts warm family gathering spots, private getaways, and polished public spaces fit for entertaining. In other words, the owners wanted a gorgeous foyer, but just as important were a bill-paying sanctuary and a cozy breakfast nook with shoulder room for a Great Dane.
Shown: The stepped-back entry to the mudroom is finished with potted plants and an old-fashioned screen door.
Proportions Replicated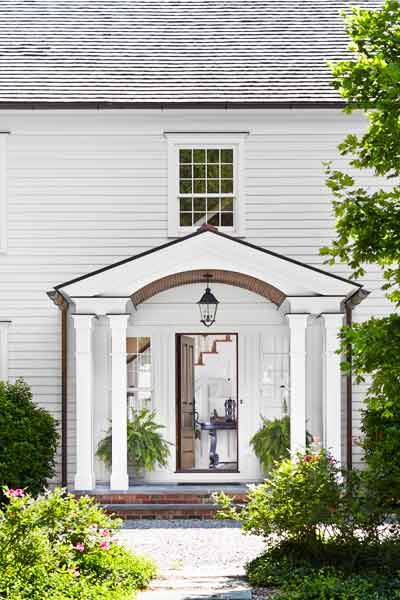 About the existing 8-foot ceilings, DeGraw was sanguine. "There's such a belief that taller and bigger is better," he says of trends in some suburbs. But by keeping the ceilings where they were and sizing new built-ins and woodwork correctly, he was able to replicate the proportions of older homes. He adds, "So many people are building big crazy palaces, and along comes this absolutely simple, quiet house."
Paint: 515-1 China White (exterior and trim); PPG Pittsburgh Paints
Exterior doors and windows: Lepage Millwork
Pendant light fixture: Troy Lighting
Boot Haven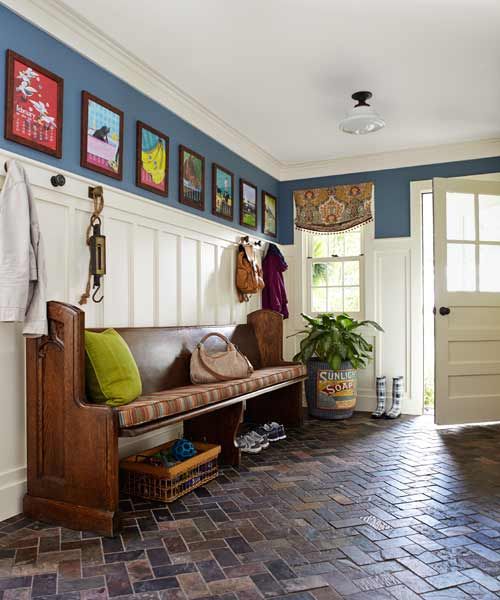 But don't get the idea that it started out with perfect proportions or that the trio, soon to be joined by a general contractor, lacked for big ideas. Along with simplifying the facade and tricking out the portico, they aimed to replace the McGarage, slip in a mudroom, and add on in back, with one wing holding a library-office, the other a new kitchen and family room. Two new fireplaces and a screened porch would also appear downstairs. Upstairs, the redo would eliminate one bedroom and create a 600-square-foot master suite edging into the space over the new garage.
Shown: The slate-tiled mudroom is tucked inside a stepped-back addition that opens to a gravel drive.
Slate floor tile: Artistic Tile
Ceiling light fixture: Krell Lighting
Pew: eBay.com
Paint: OC-95 Navajo White (interior trim throughout), HC-159 Phillipsburg Blue (mudroom walls), Benjamin Moore
Finished Foyer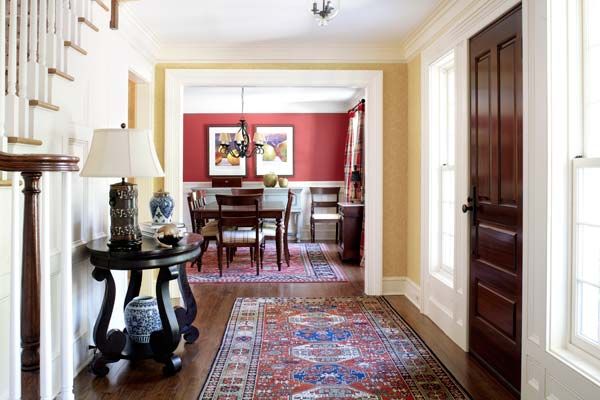 After the family moved into the home of relatives nearby, GCs Bill Siegenthaler and Tom Kubicka stripped the house down to its framing and hardwood floors and removed nearly half of the interior walls. Then they enlarged the footprint and began assembling the pieces. DeGraw concentrated cozy spots at the back and more formal rooms toward the front, where he replaced the straight-up stairs with a set that goes up two steps to a landing, then turns, making a longer, gentler climb.
Shown: A paneled staircase and traditional trim tie the foyer to the dining room.
Well Aged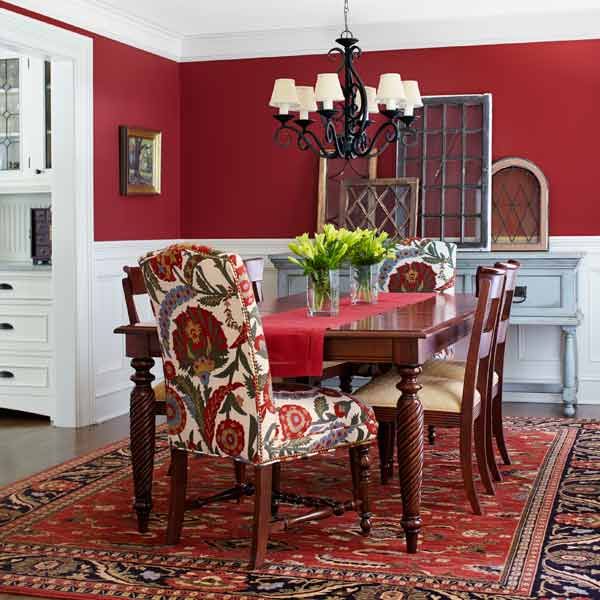 A period vibe flows, in DeGraw's words, from "the sum total of the parts." From the outside, the eye takes in all-wood windows with narrow muntins and traditional trim, roof shingles and siding made of cedar, copper gutters, and a step-back at the far end of the 24-foot-long garage that makes it look 4 feet shorter. Inside, solid doors, hefty trim, and deep window wells—a by-product of making the first floor flush with the second—partner with the 8-foot ceilings to evoke an earlier time.
An even bigger trick was getting all this done in 10 months. "I brag about it," says Siegenthaler.
Shown: Crown molding, wainscoting, and a collection of salvaged windows give the dining room a new-old look.
Table: Ethan Allen
Rug: Karastan
Paint: 2081-10 Burnt Peanut Red (dining room walls), Benjamin Moore
Smooth Flow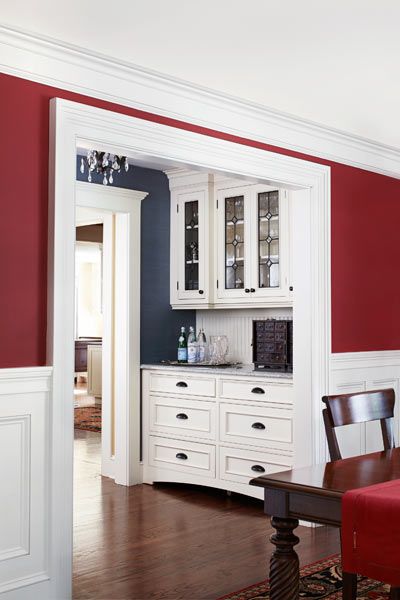 He and DeGraw both credit the homeowners for staying on top of the job and knowing exactly what they wanted, and when and where. Christine pinned up the snapshot of the Manchester house where all could see it and produced magazine clips and notes from house tours to help guide decisions about design and construction. "Call me a copycat," she declares cheerfully.
Shown: The butler's pantry provides storage space for dishes and glassware and a staging area for formal meals in the dining room.
Wallpaper: York Wall Coverings
Warmed Up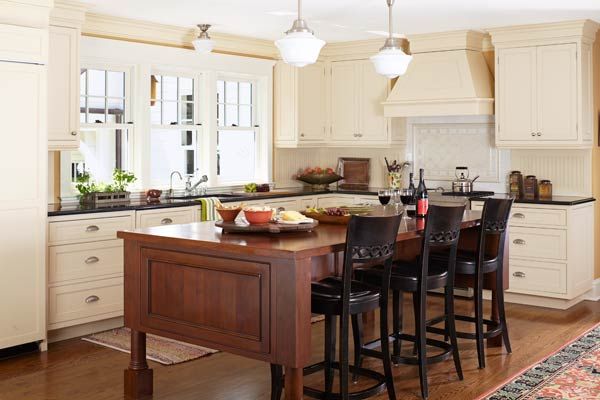 She also calls herself a Type A, who did not waste time second-guessing choices in appliances, backsplash materials, and the like. "If the tile was needed by the 7th," Christine says, "it was there by the 5th."
Shown: Ivory cabinets, framed beadboard backsplashes, quartersawn oak flooring, and a table-style island give the open kitchen an inviting period vibe.
Kitchen and bath design: Heart of the Home, Wyckoff, NJ; 201-447-1826
Ceiling light fixtures: Rejuvenation
Range: KitchenAid
Backsplash tile: Artistic Tile
Modern Family Space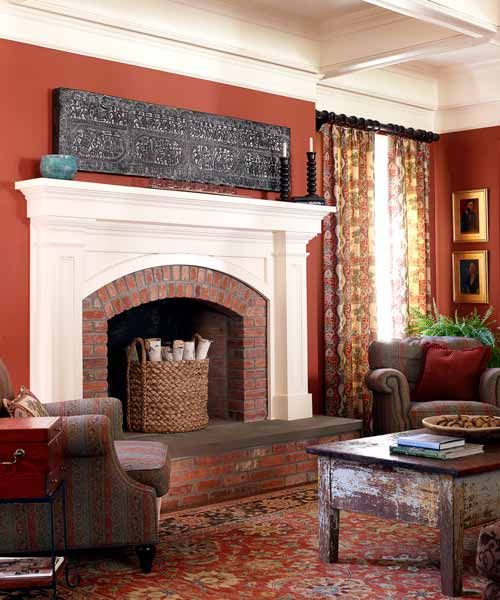 Work moved forward so smoothly, in fact, that the team realized they could make an unscheduled stop in the attic—which they turned into a generous crafts room—and still be done two months short of a year.
Shown: A red-hued palette warms up the family room.
Coffee table: Brimfield Antique Show
Chairs: Ralph Lauren Home
Wall art (above mantel): Wisteria
Paint: 035 Baked Clay (family room walls), Benjamin Moore
Supporting Role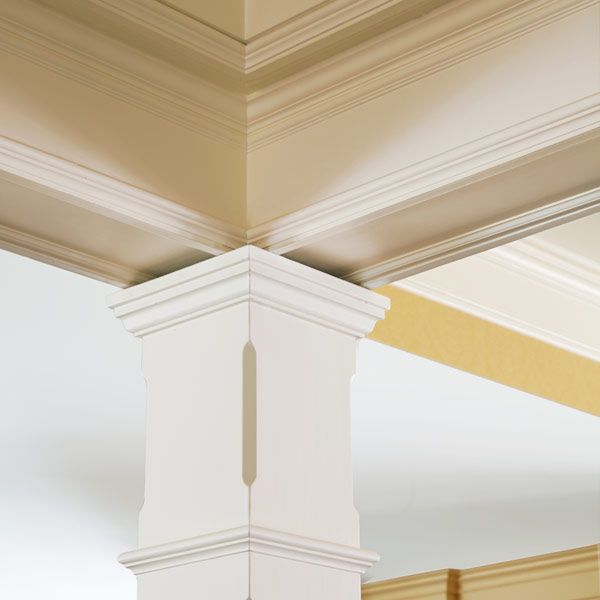 A traditional post with chamfered corners sets off the family room while reinforcing the detail in its coffered ceiling.
Generous Craft Room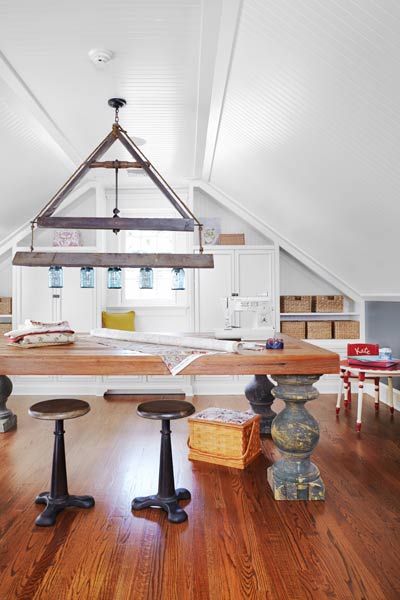 A vintage-style worktable found its way into the crafts room, where it extends an invitation to the daughter to work with clay and her parents to fiddle with floor plans. "We like projects!" Christine says. Indeed, next up is one part of the new-old house you haven't yet heard much about. Says Christine, who is already relishing the task, "We're about to do the basement."
Shown: The multitasking crafts room sits over a bedroom and under the new roofline.
Chandelier and table legs: Brimfield Antique Show
Stools: Restoration Hardware
Paint: Wharf (crafts room ceiling and built-ins); Serena & Lily
Open Plan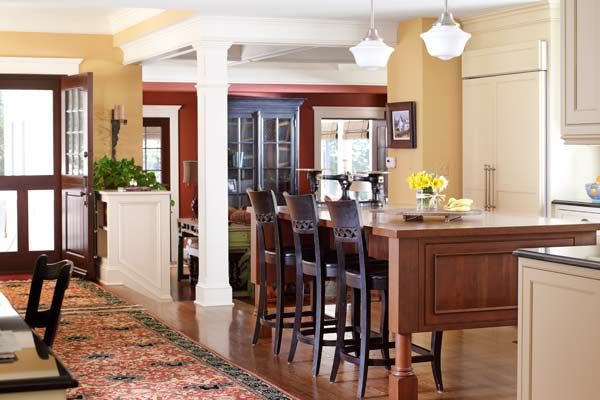 The kitchen steps down to the family-TV room. Paneling and other woodwork unify the distinct spaces.
Eating Nook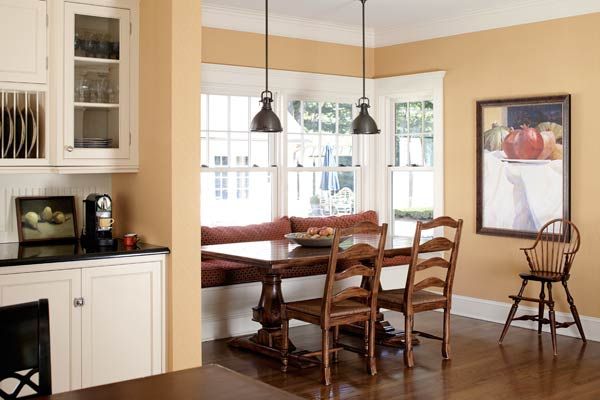 With its built-in banquette and sunny windows, this cozy spot is set apart from the cooking zone but still convenient to the fridge.
Master Suite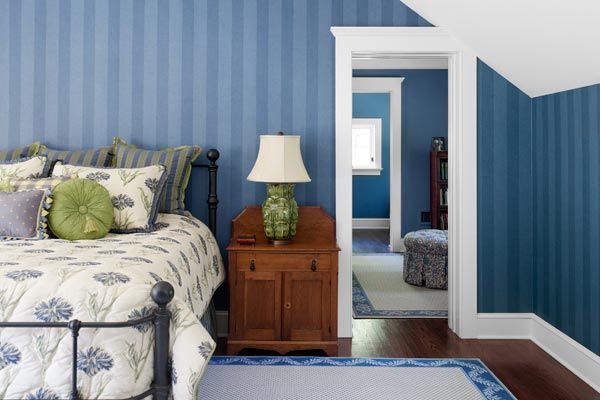 The bedroom opens to a sitting area, which opens to closets, echoing the warrens in many old houses.
Wallpaper: Cole & Son
Light-Filled Master Bath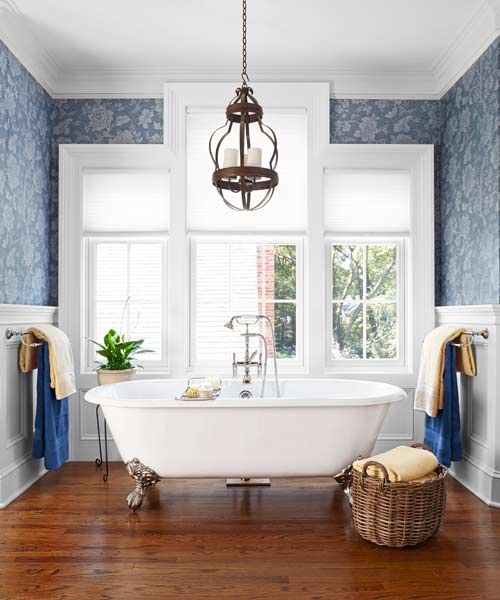 A window triptych pulls the eye upward in the master bath, the only room in the house with a 9-foot ceiling.
Wallpaper: Thibaut
Tub: Cheviot Products
Tub filler and sink faucets: Mico; qualitybath.com
Bath With Room for Two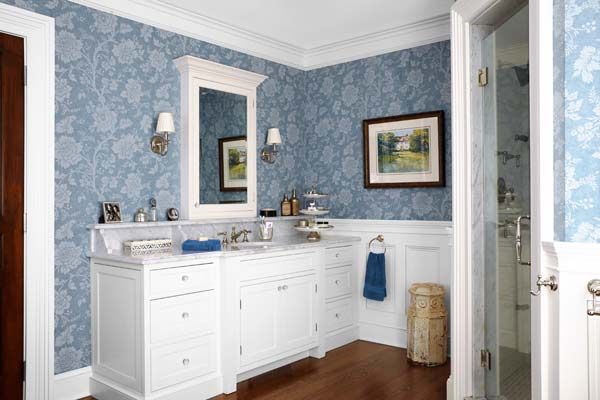 Wallpaper wraps the room, which also holds a shower and twin vanities with bracketed marble shelves.
Screened Porch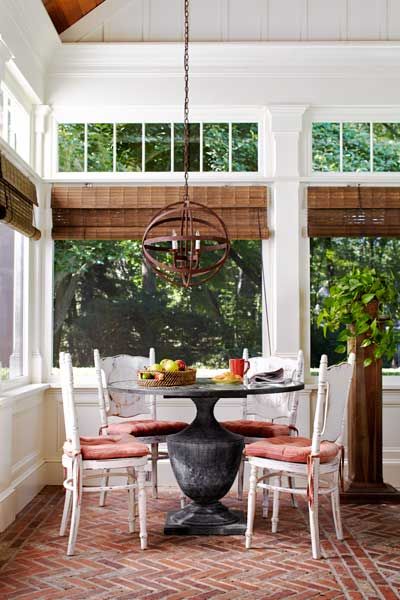 Layered trim and transom windows give this outdoor room its indoor ambiance.
Table: Sydelle & Jay Livingston
Chairs: Anthropologie
Outdoor Room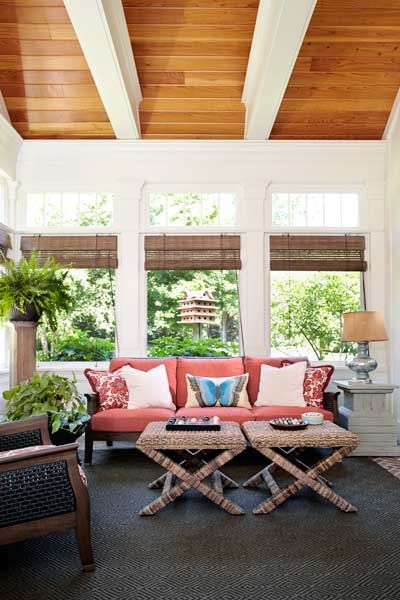 The screened porch noses into the backyard, in warm months serving as an extension of the family room.
Floor Plan After: First Floor
A well-composed portico with a wood-lined barrel-vault ceiling now graces the 1960s house.
Floor Plan After: Second Floor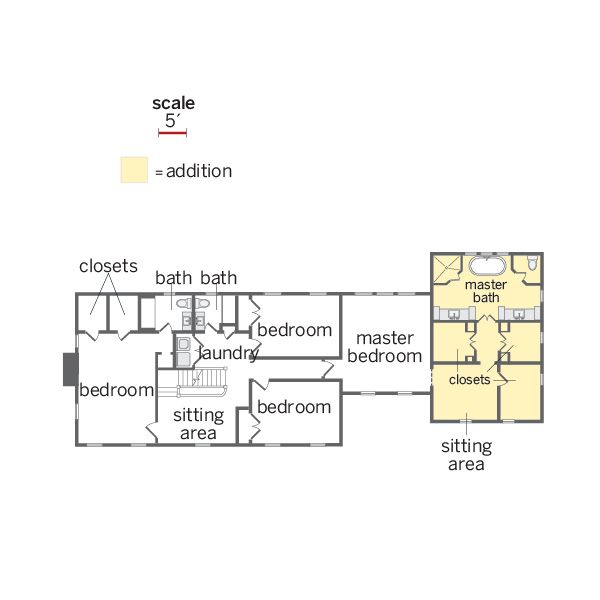 The rear additions, first- and second-floor layouts, and garage are also new.