This Old House's Norm Abram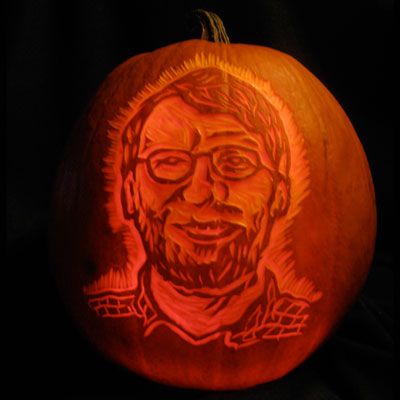 "I chose to honor the 30th anniversary of This Old House by carving an image of master carpenter Norm Abram. I used small V- and U-shaped chisels and an X-Acto knife to carve the details. I was thrilled to combine my love of TOH and Halloween."
Edward L.
Babylon, NY
This Old House's Tom Silva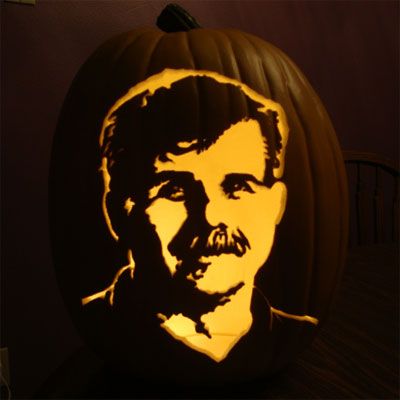 "This Tom Silva pumpkin was carved on a craft pumpkin using one of the small saw blades from a pumpkin carving kit. I saw the Norm pumpkin on the TOH website and thought Tom needed to be on a pumpkin too."
Jeffrey C.
Milwaukee, WI
Boris Karloff as the Mummy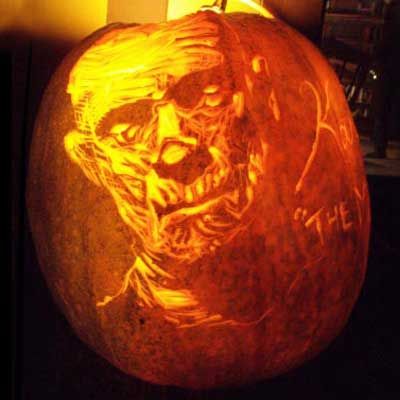 "I like to keep it simple, drawing on the pumpkin freehand while looking at a photo (as I did for Boris here). After cutting into the top and cleaning out the pumpkin, I then used a pushpin to mark the main figure outline in dots, then began to carve, using an X-Acto knife and some basic wood-carving tools—even a small tool used to carve linoleum blocks for the smaller areas. I don't want to 'break through'; the pumpkin flesh, just make it thin enough to create a 3D image of the character I'm carving. Boris took me about an hour and a half to carve, including cleaning."
Elaine W.
Kalamazoo, MI
Marilyn Monroe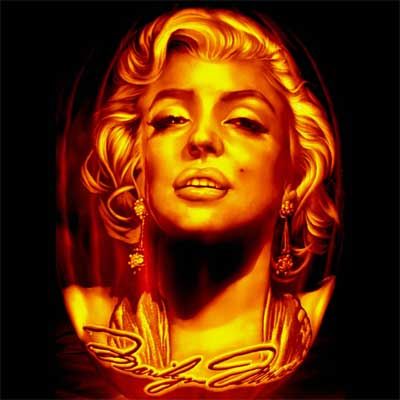 "This pumpkin is of one of my favorite movie stars Marilyn Monroe. She is carved onto a artificial pumpkin. I think she turned out great and I am proud to have her as part of my portfolio."
Dan S.
Milwaukee, WI
Edgar Allen Poe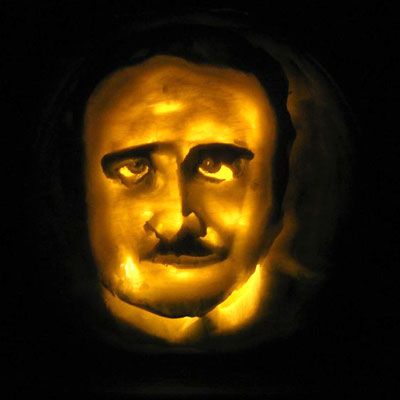 "I bought a white pumpkin at a local fruit stand, and carved this portrait of Edgar Allen Poe using tools from a clay kit."
Melody M.
Dallastown, PA
Ted Cassidy as Lurch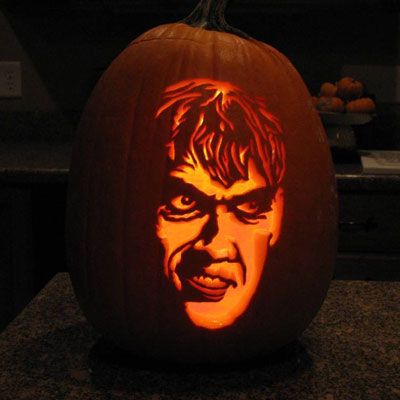 "I designed and carved this pumpkin of Lurch from The Addams Family for my pumpkin display this year. I used Warren Pro Pumpkin tools and an X-Acto knife to carve this pumpkin."
Blake A.
West Jordan, UT
Hugh Jackman as Wolverine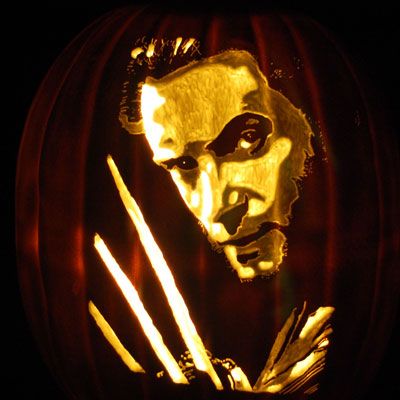 "I carved this as a tribute to one of my favorite movies, X-Men. I used a Dremel 300 variable speed and used various bits for carving and shading effects. I also modified the carving depth to enhance the lighting effects. Overall, the project took approximately 5 hours."
Jim L.
Wildomar, CA
Helena Bonham Carter as the Queen of Hearts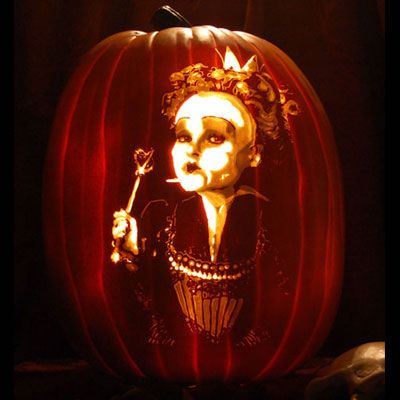 "I carved this as a tribute to one of my favorite movies of 2010, Alice in Wonderland. I used a Dremel 300 variable speed and used various bits for carving and shading effects. I also modified the carving depth to enhance the lighting effects. Overall, the project took approximately 6 hours."
Jim L.
Wildomar, CA
Heath Ledger as The Joker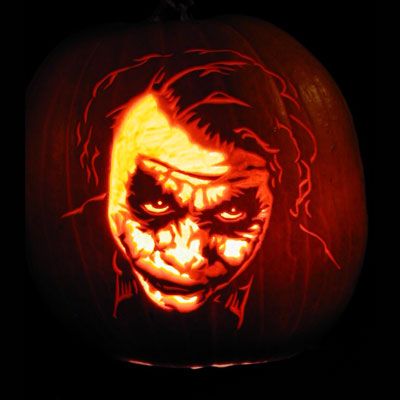 "Medium: live pumpkin. Tools: power drill with 'Pumpkin Gutter' attachement to clean it out, assorted precision pumpkin saws/wood gouge tools/X-Acto knives to cut it, air compressor to clean out the bits/pieces, and a refrigerator to keep it fresh for Halloween!"
Gene G.
Foothill Ranch, CA
Jeff Bridges as The Dude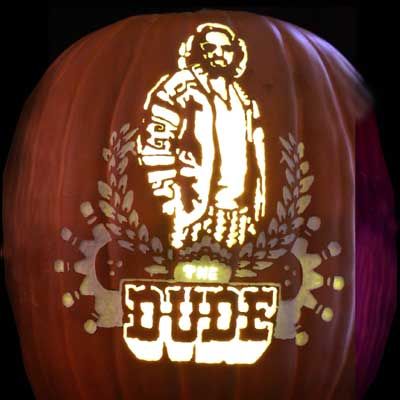 "The Dude Abides, a classic image from the Cohen Brothers comedy The Big Lebowski. Carved with X-Acto knife and Dremel over a period of about 15 days."
Gordon B.
Ogden, UT
Woody Harrelson as Tallahassee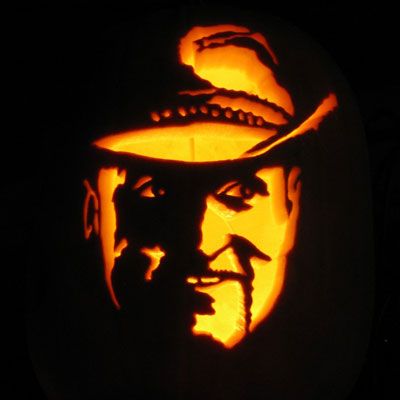 "I carved this image of Tallahassee from the movie Zombieland. I use a Warren Pro Pumpkin Carving tool set and an X-Acto knife to carve my pumpkins."
Blake A.
West Jordan, UT
Johnny Depp as Edward Scissorhands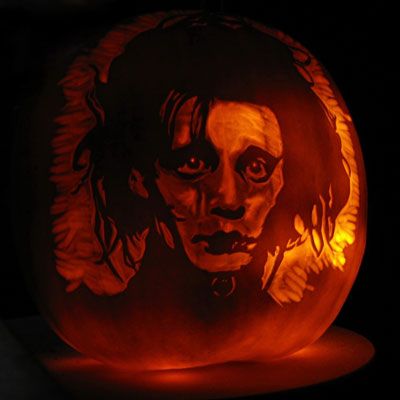 "I used linoleum block carving tools, and X-Acto knives to carve my pumpkin. It took me about 4 hours to clean and carve my pumpkin. I try to carve a different movie character every year. "
Mary C.
Virginia, MN
Bill Nighy as Davy Jones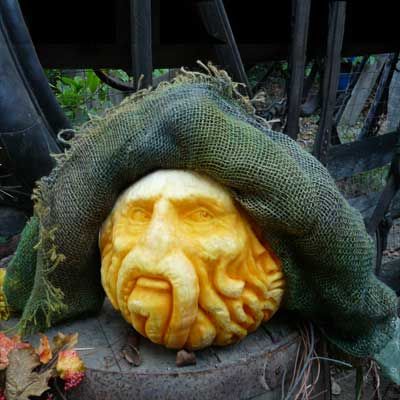 "This pumpkin of Davy Jones from Pirates of the Carribean was created in about 2 hours with clay sculpting tools and an X-Acto blade. This is one of my favorites that I carved in 2009."
Master Yoda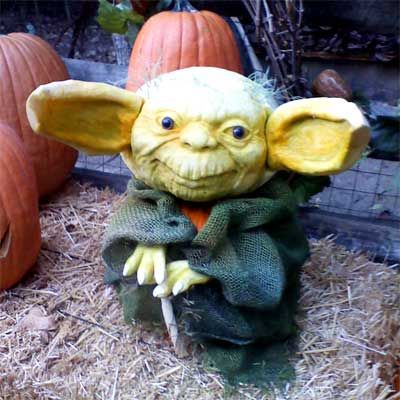 "I copied some photos of Yoda from Star Wars. Three pumpkins were used. One for the head, one for the body and one for the ears and hands. Attached parts with barbecue skewers and floral pins. Added plastic eyes and some old burlap for the robe. I used clay-sculpting tools and an X-Acto blade."
Joseph Y.
Norwalk, CA
Stephen Colbert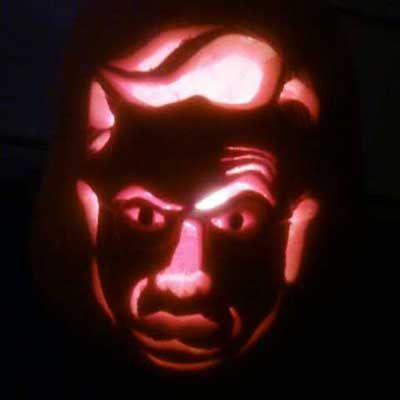 "It's Stephen Colbert! I used a kitchen knife."
Cheshire Cat from Alice in Wonderland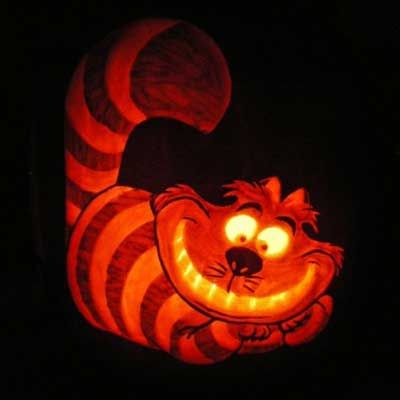 "Here is a pumpkin I designed and carved with my new carving set my parents got me for my birthday. This is of the Cheshire Cat from the original Alice in Wonderland. I had a lot of fun making it and hope you all enjoy it! Happy Halloween!"
Paul B.
Seattle, WA
Evil Hag from Snow White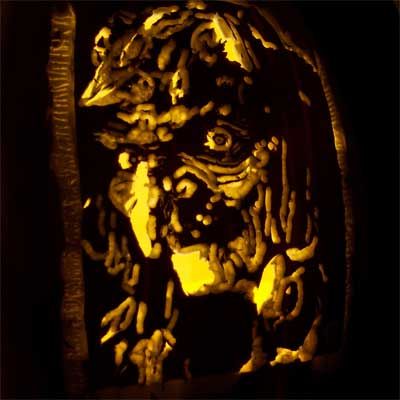 "14-inch pumpkin carved using Dremel 4000 and a pattern created by myself."
Arnold Schwarzenegger as The Terminator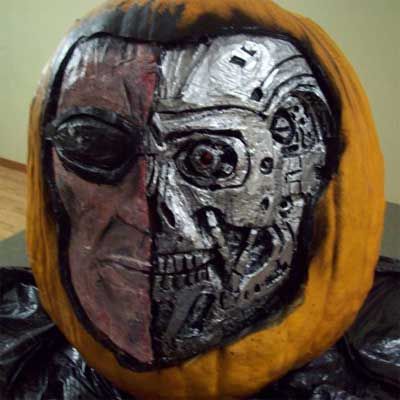 "The Terminator Pumpkin was created using some wood carving tools, tempera and spray paint. It took about 2½ hours (not including drying time). On one side we have Arnold, and the other, the Terminator!"
Mike S.
Battle Ground, WA
Alfred Hitchcock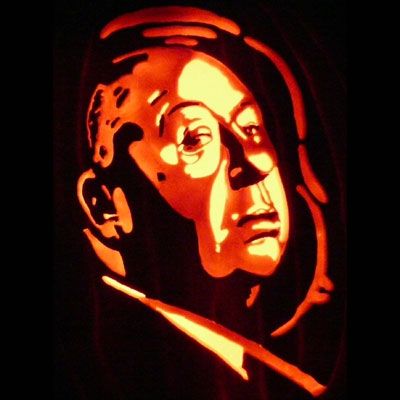 "One of my favorite patterns is Alfred Hitchcock….and this is what it looks like carved with a Dremel tool on a foam pumpkin. The pattern was found at stoneykins.com."
Ken K.
Farmington, UT
Johnny Depp as Sweeney Todd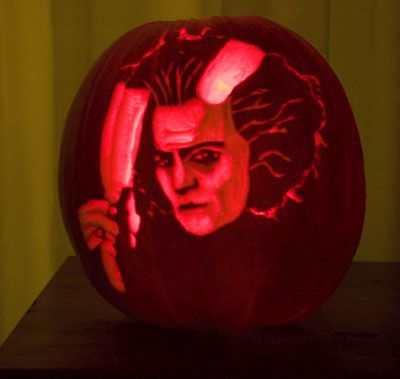 "After seeing an amazing live performance of Sweeney Todd last year, I knew I had to carve a Sweeney Todd pumpkin this year. After printing a few pictures of the Sweeney Todd movie poster from online, I sketched the face onto the pumpkin with magic marker. (I don't use patterns.) When I was satisfied with the sketch, I went over it with a Sharpie. As far as carving goes, I decided to go primal and use only hand tools. Although I've used a Dremel in the past, the flesh of my pumpkin was as tender as butter and I was afraid a Dremel would shred it. I used traditional sculpting tools (used for clay) and some not so traditional: an old X-Acto knife, a metal skewer and at one point, a dental pick!"
Autumn F.
Signal Mountain, TN
Jack The Pumpkin King from The Nightmare Before Christmas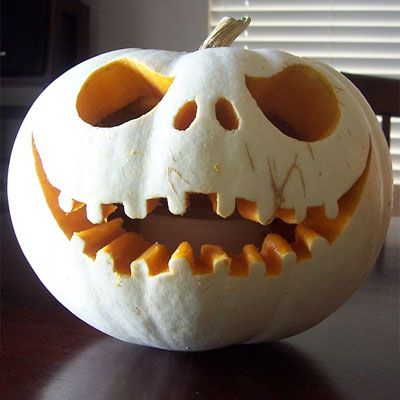 "I think this one is very simple but still one of my favorite carvings so far…I just used a Warren Pumpkin Carving Tool. The pumpkin is a white pumpkin, not spray painted…"
Carrie K.
El Mirage, AZ
Jack Earle Haley as Freddy Krueger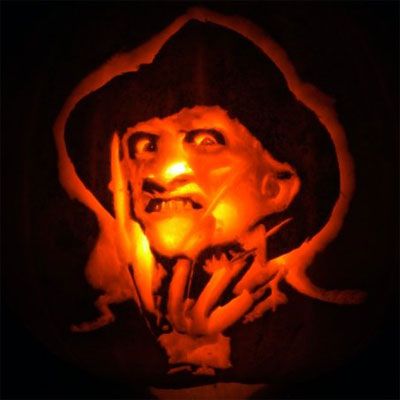 "This pumpkin was inspired by the movie Nightmare on Elm Street and was carved using an X-Acto knife and dental tools. The entire carving took about 8 hours to complete."
Evan B.
Rochester, NY
Where the Wilds Things Are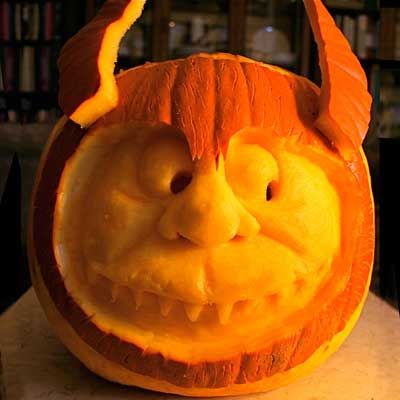 "In honor of the movie version of possibly the greatest children's books ever I decided to make a carving of one of the wild things from Where the Wild Things Are. I used an X-Acto knife, a rotary hand tool, and a few regular pumpkin carving kit tools. To clean out his guts I used the scooper that came in the kit. Not too high-tech but it works."
Tom K.
St. Louis, MO
Star Trek Cast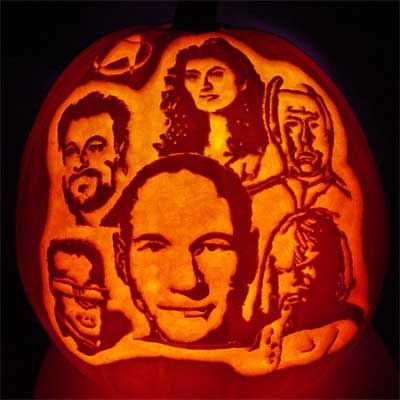 "My pumpkin displays the cast from Star Trek. My husband and I love to watch, we rent the TV series at the video store. I used dental tools I purchased at a flee market and a metal nail file."
Danyelle D.
Redford, MI
Angus Young from AC/DC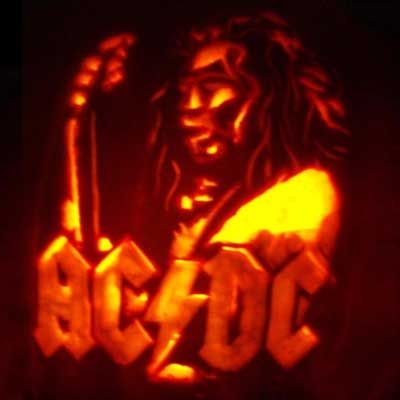 "This pumpkin carving is a tribute to AC/DC's Angus Young. I used a generic $5 pumpkin carving tool set and an X-Acto knife. These are the tools I use for all my carvings. Hope you like it!!"
Andrew A.
La Grande, OR
Lucille Ball and Desi Arnaz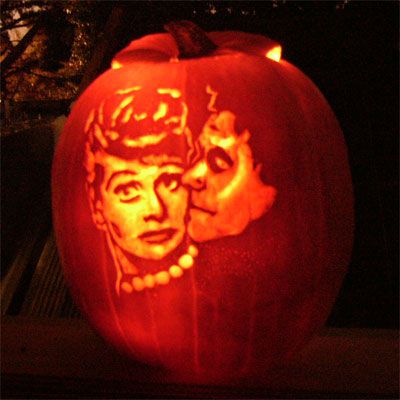 "The top of the pumpkin was cut with a standard pumpkin-carving knife. The inside was scooped/scraped out with a large spoon. The drawing was transferred onto the pumpkin using the tip of an embossing tool. The image was carved out using an X-Acto knife (with 3 different sized blades) and a small melon baller. A stress ball was used to ease the hand-cramping."
Laura E.
Concord, CA
Jack Nicholson as Jack Torrance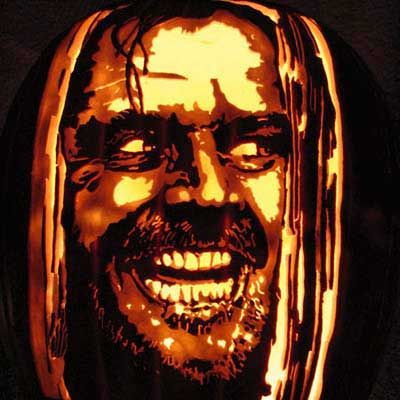 "From The Shining: Heeere's Johnny! I used Photoshop to convert the image to a pattern and carved with a Dremel. It took 6 hours to complete."
Robert P.
Wakeman, OH
President Obama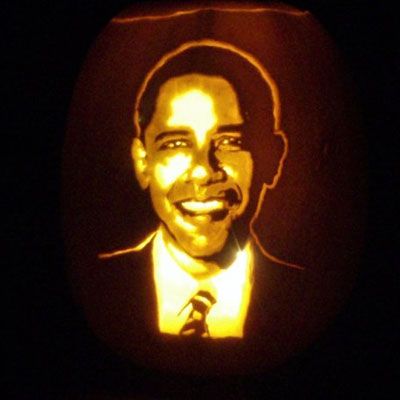 "Found this template on the web, and thought I'd give it a try. First time trying the multi-shaded technique. Used a carving kit that you get at the grocery store and a couple clay modeling wire tools to scape the outer skin off."
Keyvin P.
Sandy, UT
Michael Jackson in Thriller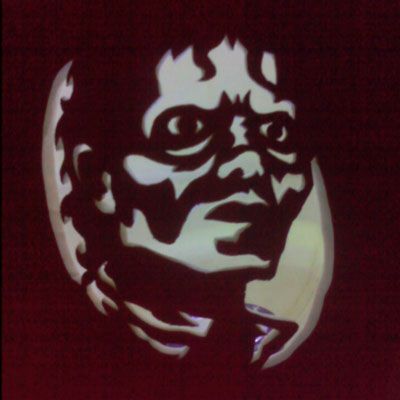 "I used a heated wood carving tool to carve this pattern from Zombiepumpkins.com."
Corie L.
Jackson, NJ
Albert Einstein
"I carved out the inside and thinned out the walls. Then I used an X-Acto knife to carve out the top layer of the pumpkin skin. It took about 2½ hours."
Renelita M.
Parsippany, NJ
Johnny Cash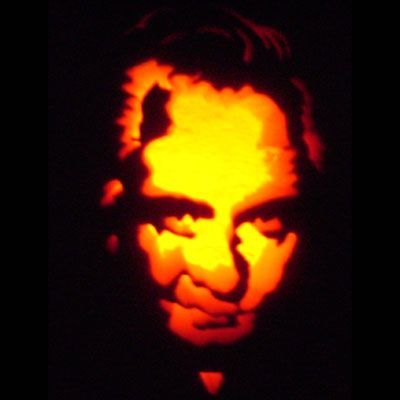 "I carved this pumpkin as a tribute to the late Johnny Cash. I used a pattern I found on the internet and the standard Pumpkin Masters carving tools."
Shane C.
Lockhart, TX
Vincent Price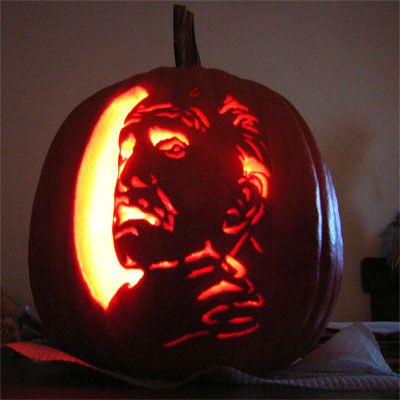 "I carved this ode to Vincent Price with nothing other than the small saws that come in a standard pumpkin carving kit."
Elizabeth M.
Chattanooga, TN
Mel Gibson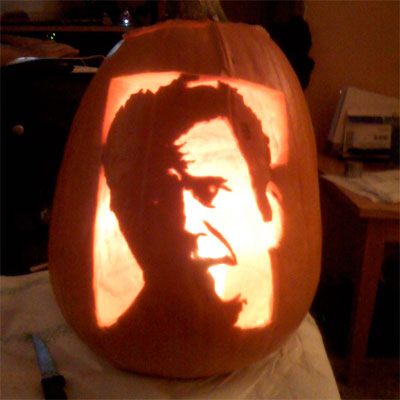 "I thought it would be funny to see Mel Gibson on a pumpkin!"
Herm L.
New York, NY
Gene Simmons
"My pumpkin carving is of Gene Simmons from Kiss. I used a stencil of his face then I used an ice pick to trace the outline, and finally I used a saw blade to carve."
Michelle D.
Sahuarita, AZ
Marty Feldman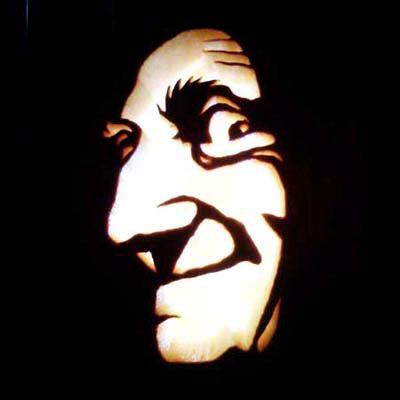 "I used an X-Acto knife and a monster scoop for this pumpkin of Igor in Young Frankenstein."
Patti S.
Boston, MA
Boris Karloff as Frankenstein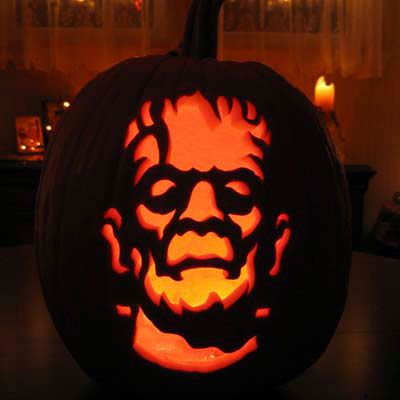 "It wasn't until 2001 that I realized I could combine my love of art and pumpkins by creating my own pumpkin patterns."
Ryan W.
New Haven, CT
Judy Garland and Friends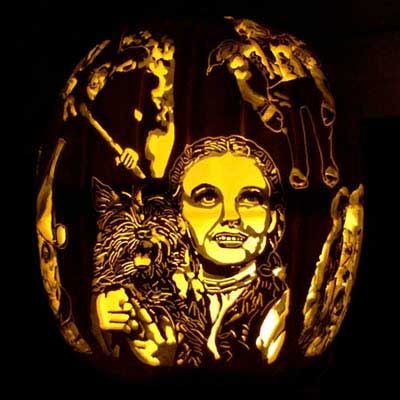 "This pumpkin was done as a theme tribute to The Wizard of Oz. This pumpkin has Dorothy, Toto, the Wicked Witch, the Tin Man, the Scarecrow, the Cowardly Lion, the Flying Monkey, and the Wizard all on the same pumpkin. I used a Dremel tool with the pen attachment and several tiny drill bits."
Johnny Depp as Captain Jack Sparrow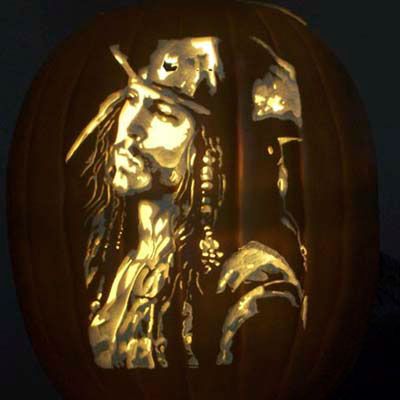 "Enjoy. A Dremel from Home Depot was used for this carve."
Alex W.
Elk Grove, CA
Inspired by Frida Kahlo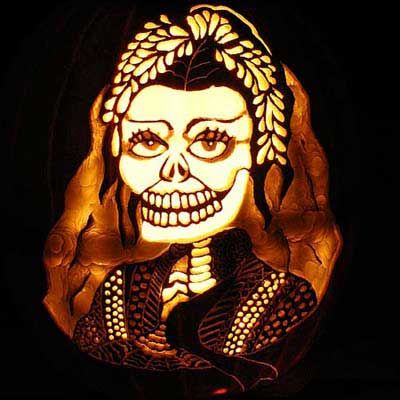 "I carved this into a fake pumpkin from Michael's craft store, using Dremel tools. This is my original design."
John M.
Walnut Creek, CA
READY TO ENTER THE 2018 TOH PUMPKIN CARVING CONTEST? Click here.