Snow People Sans Snow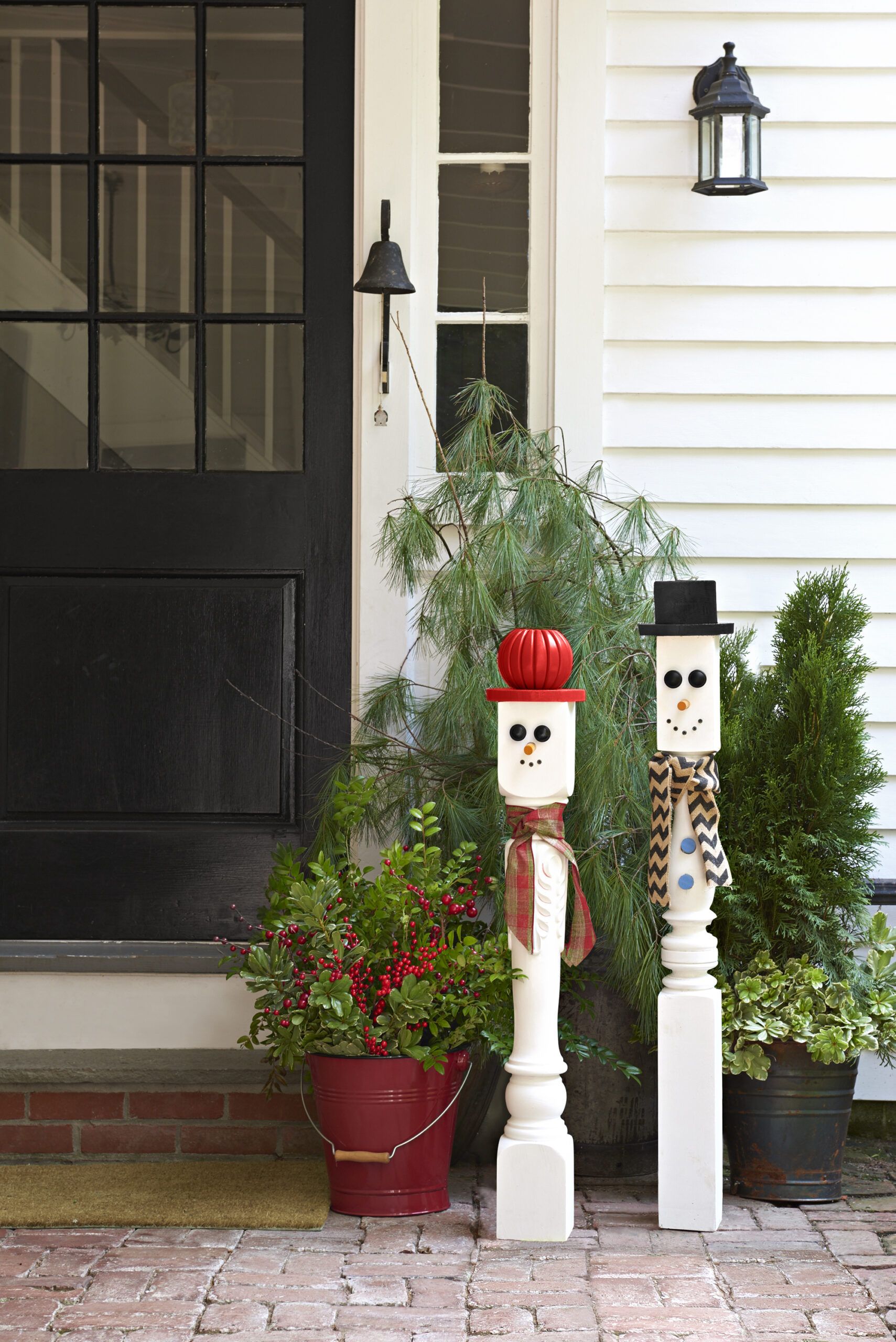 You don't need a thick blanket of the fluffy stuff to make this charming pair—just a couple of snow-white newel posts and some workshop odds and ends. Here, black knobs stand in for eyes of coal, small trim-head screws form the mouths, and a painted wood dowel makes a perfect carrot nose, when you cut one end at 45-degrees. To make the hat brims, we traced the bottom of a large paint can on a 1×8 and cut it out with a jigsaw. Stacked rounds cut from 2×6 cedar form his hat's crown. Buttons are 1-inch dowels set in recesses made with a paddle bit. The finishing touch: bundling them up in ribbon scarves so they look as ready for the big chill as Frosty and company. But unlike that beloved snowman, these two won't melt when the mercury rises.
Tip: A furniture bun foot makes the perfect bonnet top for our snow lady.
Wood-Block Luminaries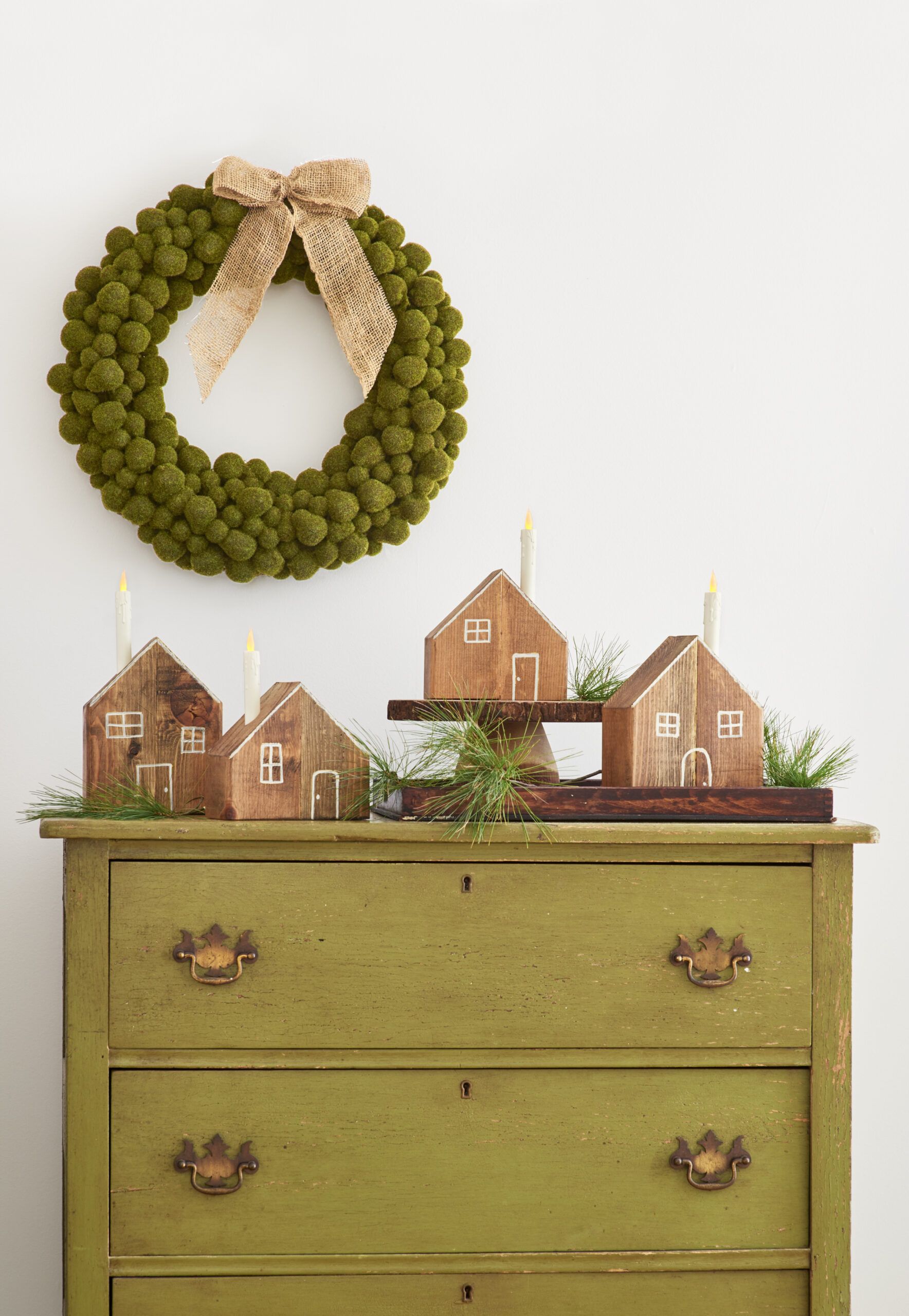 Create a festive village scene with house-shaped candleholders made from 4×4 scraps. We cut 6-inch and 8-inch lengths with a miter saw set to a 45-degree angle and glued two blocks together to form each house. For a "chimney" base, we drilled straight into the mitered cut with a Forstner bit before angling the drill and boring the hole downward into the roof. A coat of stain and architectural details hand-drawn with a metallic paint pen add rustic charm. The finishing touch: LED candles that ensure the homes stay safely lit.
Tip: A coat of stain (we used Minwax's Early American) highlights the natural grain of the wood.
Tabletop Tannenbaum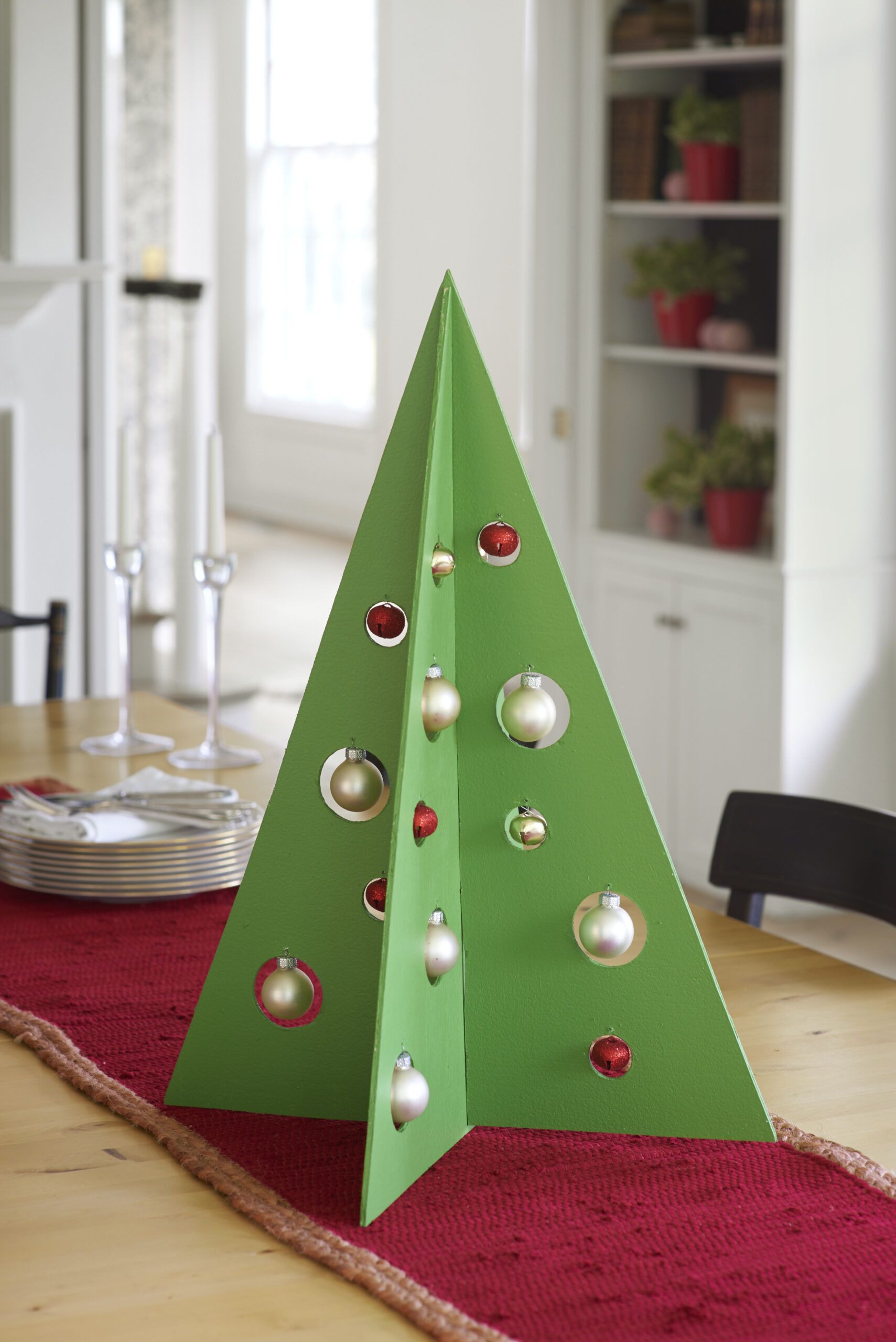 Here's a truly evergreen centerpiece: This modern take on a festive fir won't wilt, doesn't need watering, and can be stored flat, then hauled out season after season. For this 24-inch-high tree, we cut two sheets of lauan into full-size triangles. Using a jigsaw, we made slots 12 inches long from the top of one triangle and the bottom of the other; this allows the two tree pieces to interlock. We used 1¼-inch and 2-inch Forstner bits to make holes for the ornaments, then drilled tiny holes for threading their wires. A coat of lively green paint and small glass balls provide the trimmings. Now that's what we call a perfect spruce-up for the table.
Tip: Cheery green paint (Behr's Lucky Clover) makes this tree stand out.
Front-Porch Fir
Spruce up your exterior with a stand-up tree made from salvaged pallet wood. To get the pitch of the tree, stack two lengths of pallet boards and pivot them open, keeping their opposite corners aligned. Mark the line where the points of both boards intersect. Using a circular saw or a jigsaw, cut along the line on the marked board. Using this board as a template, cut the inside edge of all the tree boards. Set the two boards together so their cut ends meet. Measure 12 inches down from the point, and with a square, extend the line horizontally on each board. Cut with a jigsaw or a circular saw. Repeat with other boards, adding increments of 6 inches.
Tin-Tile Wreath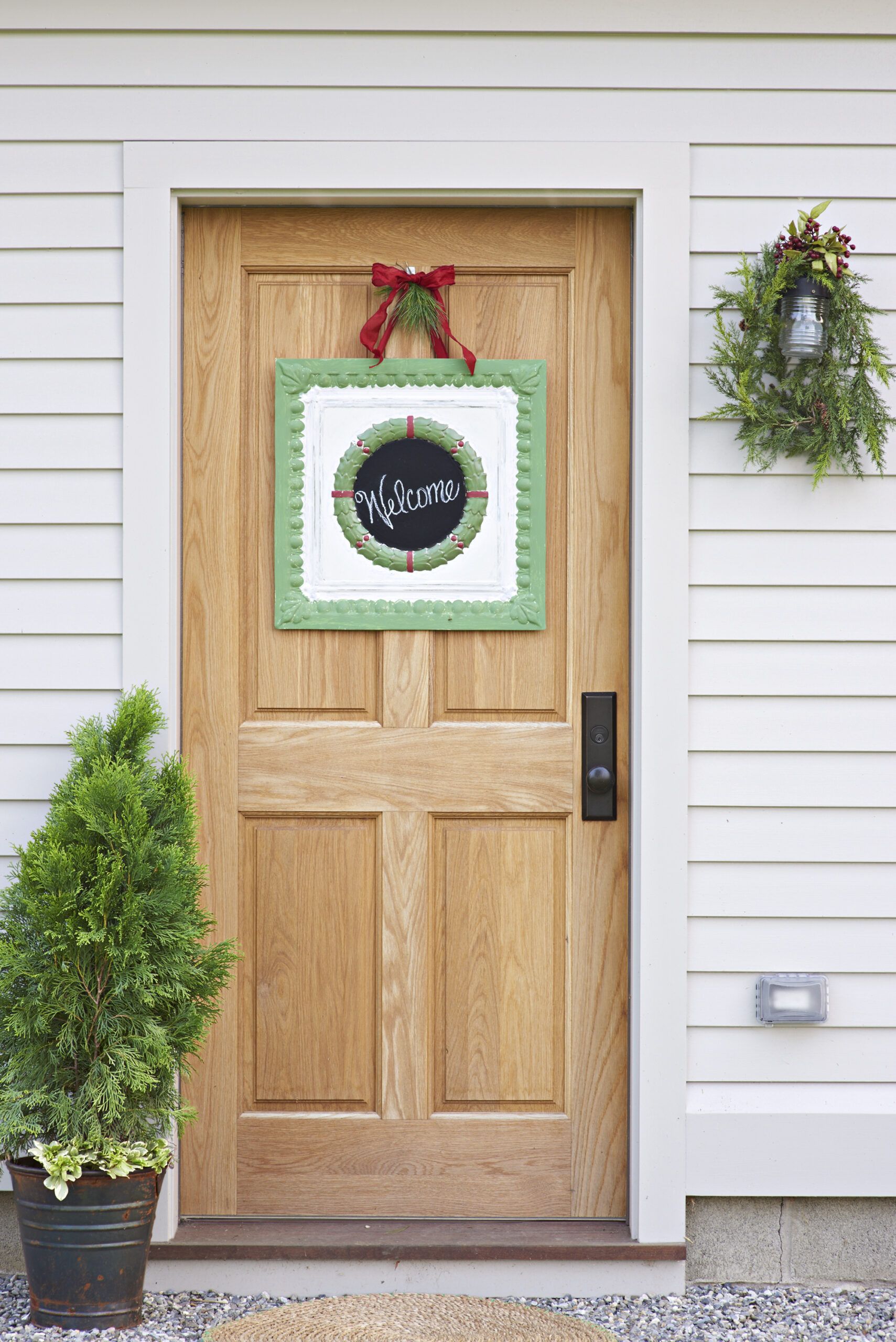 For a door decoration with tons of old-house character, try using a leftover embossed metal tile as a stand-in for a traditional wreath. First we smoothed the sharp edges with a metal file. To get the paint to adhere to the metal, we roughed it up with fine-grit sandpaper. A coat of white paint provides a primer for green accents and a blackboard center.