1909 Craftsman: Before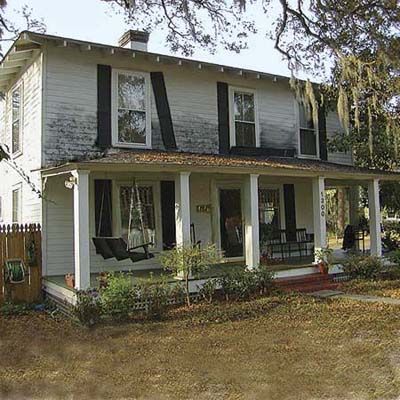 The 1909 Craftsman sat on a corner lot, near restaurants and shops in the historic downtown district of Conway, South Carolina, just blocks from the ranch house where we lived. It had a wraparound porch and leaded-glass windows and was surrounded by moss-draped live oaks. But more than anything, it looked like a home my grandmother had lived in. For five years I had walked by it, each time imagining it had a big claw-foot tub and the same wood-polish smell inside.
Then there was the fact that the house bore the number 1300, and we could get it for $135,000. Thirteen, of course, is our lucky number.
We had learned a lot while working on our ranch house, and we liked the looks of this project, figuring we could throw ourselves into it for a few years. Before we knew it, we had sold our old place and moved into our "new" house—on our lucky day, July 13, 2000.
Remodeled 1909 Craftsman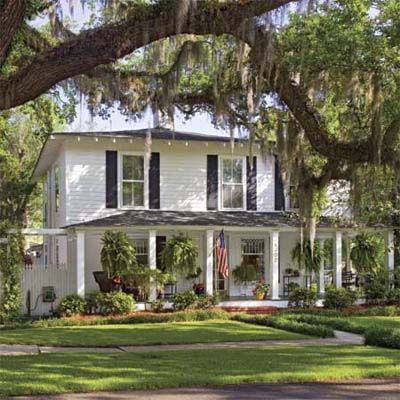 With all the potential I saw, I scarcely noticed the oil cans and tires strewn around the bushes, the dilapidated pink shed in the back, and the peeling paint.
Inside, the wallpaper was falling off; we counted nine broken windows. In the living room, we removed an area rug to discover a plywood-covered hole where a radiator had been. And when I started the washer full of filthy work clothes, I found it did not get hot water.
Upstairs, all the doorknobs were gone and the master bedroom carpet had a curious, iron-shaped burn. We quit looking behind mirrors and cabinets in questionable places because, sure enough, they hid holes, rot, or bubbled paint.
Still, I remained calm. It wasn't until we returned home from a night out, flipped on the lights, and saw roaches crawling on the walls and on the box spring still propped up in the living room that I dissolved into tears. I called the exterminator the next morning.
Dining Room
Next, we had to deal with a 10-foot-long salvaged display cabinet that sat out on the porch, since it wouldn't fit through any door. We had bought it before closing on the house, enchanted by its glass doors and unusual history. So my husband, John, cut it in half lengthwise, dragged the pieces inside, and reassembled them in the dining room as a built-in. It was originally a local florist's display cabinet but now keeps plates, cups, and bowls within easy reach.
Sunroom Under Construction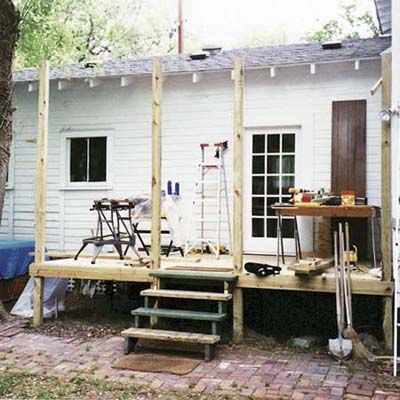 When spring came, we tore off the rotting back deck to add a sunroom with skylights and a screened porch with a hot tub.
New Sunroom
When we finished, we realized we had done things backward since the hardwood floors in the living room, dining room, and our daughter, Kelly's, bedroom were an eyesore compared with our recent renovations. So we hired professional refinishers to fix them up.
Tub Before Bathroom Remodel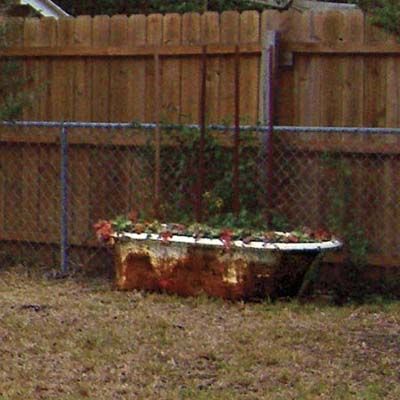 When we finally turned our attention to the downstairs bath, which connected Kelly's, and our son, Rusty's, rooms, we found yet another surprise. Underneath the seven layers of flooring—some of it "leveled" with old asphalt roof shingles—were rotted joists. John ended up having to raise the whole house using a 30-ton hydraulic jack. Over time, some of the home's footings had settled deeper into the ground, leaving badly sloped and sagging floors.
Jacking up the house sounded simple enough, until we heard the baseboards in Kelly's bedroom pulling away from the walls. Turns out any time you raise a house as little as three-quarters of an inch you have to wait a week to allow the structure to adjust. We slowed down, raising it just that much at intervals over three weeks.
The downstairs bath did have a claw-foot tub, though its enamel was chipped—and it was missing one claw. We used it as a planter before a match was found for its missing leg.
Master Bathroom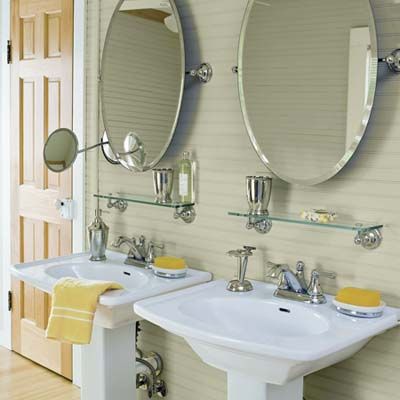 Almost two years in, and we hadn't yet gotten to the upstairs master bath or the kitchen! Still, we needed a break from studs, trusses, and planks. So we settled on drawing up a list of small tasks, like "replace carpet" and "add crown molding to bedrooms." It ended up being 80 items long.
It took three years to get to the bottom of that list, so we could finally tackle the the kitchen and the master bath. We knew it would be cheaper and easier to put down a hardwood floor in the bath and refinish the one underneath the linoleum in the kitchen at the same time, so we gutted both rooms right away. For an entire month, we hauled particleboard kitchen cabinets, sinks, countertops, and more to the road for trash pickup.
We salvaged the original beadboard walls and installed a heart-pine floor in the new master bath, which comfortably fits his-and-hers sinks.
Refinished Claw-foot Tub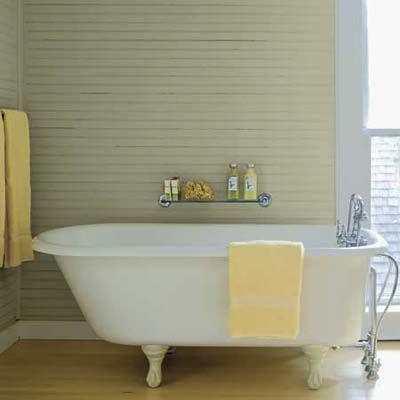 We had decided to split the huge master bathroom, which had been carved out of an extra bedroom years before, in two. We wanted to add a second bath for guests and to carve out space in our own for a walk-in closet, a laundry area, and that claw-foot tub. For days I rearranged brooms to show where I wanted the walls and a bucket for where I wanted a toilet. I had John measure several times, because inches mattered. I outlined the tub's space on the floor with chalk. A local refinisher was fixing its enamel. The missing leg was replaced by a guy in Chicago who salvages old tubs and found a match by fishing around in his barrels of spare parts.
The shower we bought for the guest bath didn't fit, so we found a place for it in the master bath. That was after John put down the heart-pine flooring he handpicked from an old lumber mill. Unfortunately, he had to reset each staple with a hammer and steel bar after he made the mistake of trying to nail the boards down with a mechanical stapler—on the wrong (groove) side.
Kitchen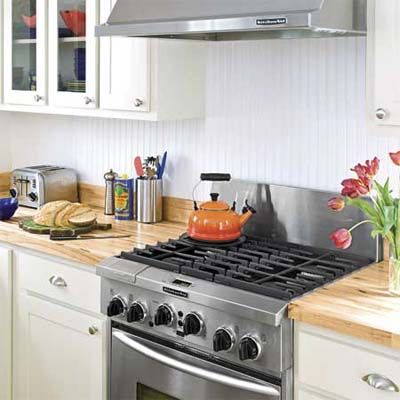 When we encountered delays upstairs, we would turn our attention to the kitchen. We covered the walls with beadboard, then finished the room with painted maple cabinets from a local shop, stainless-steel appliances, and custom butcher-block counters.
Kitchen Island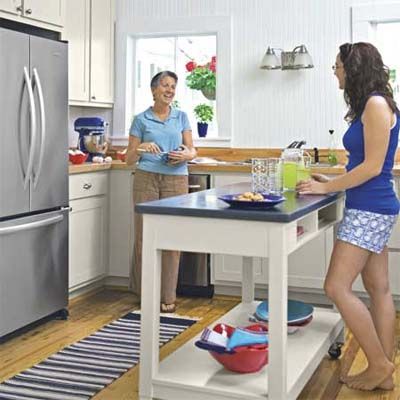 A slate-top lab table salvaged from an abandoned school became a kitchen island. It has cubbies for cookbooks and an open shelf below for mixing bowls. Set atop locking wheels, it can be moved around to the kitchen's various workspaces as needed.
Floor Plans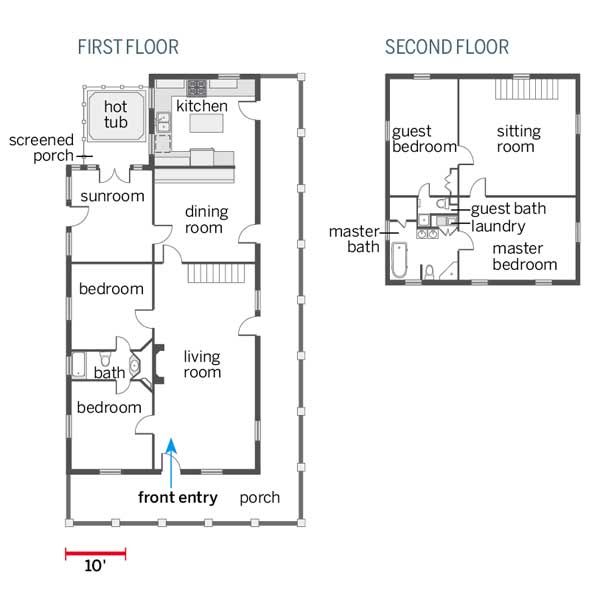 The layout of the house stayed largely the same. Downstairs, a sunroom and screened porch occupy space that had been in part taken up by a deck. Upstairs, a guest bath, laundry, and walk-in closet were carved out of the master bath.
The Homeowners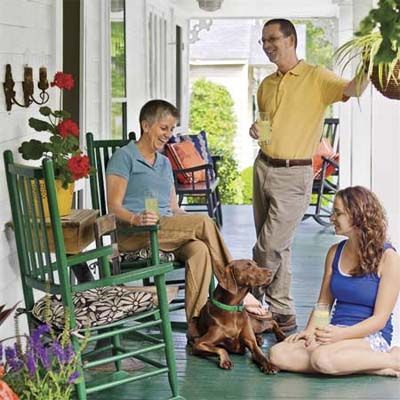 After seven and a half years of remodeling every room—and adding a couple extra ones—John and Kim Henson revived the charm of this 1909 home in South Carolina. They are shown with daughter Kelly on the wraparound front porch.