A Labor of Love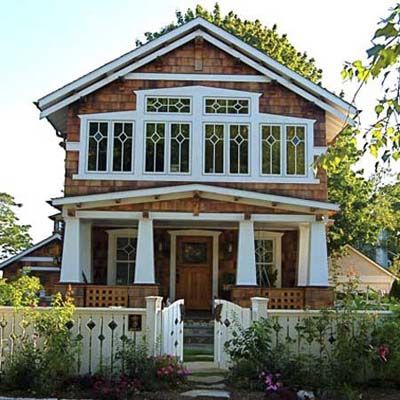 According to homeowners Dan Kahn and Betsy Phillips, it was fate that brought them to the sandy beaches of Honduras in 2004, where the two first met while on vacation, and where the symbolism of the heart was born for the couple. One night, not long after they met, Betsy went back to her bungalow to find that Dan had drawn a heart in the sand at the foot of her steps and placed a conch shell in the middle.
A year later, it was fate that led them to their new house, a 1930s Craftsman cottage steps from the shores of the Long Island Sound in Westport, Connecticut. Tired with their long-distance relationship, Betsy, an interior designer who was then based in North Carolina, decided to join Dan, an electrical contractor, and his two children in his home state. But both wanted a fresh start in a home that they could call their own, so they embarked on a remodel project that could either make or break their bond. Turned out that their first home together would also be one of their relationship's first big tests. "I thought we'd get divorced and we weren't even married yet," says Betsy.
Still, they managed to pass the test. Hearts, already a major theme for the couple, began appearing all around the house. Through the hard work they put into the renovation—and the details they built into the home itself—their house is now a symbol, in all senses of the word, of their love and devotion to it, and to each other.
Pictured: Cedar shingles, stained glass windows and other Arts-and-Crafts details adorn the transformed beach cottage. New double-paned, argon-filled windows and doors replaced the drafty old ones.
Before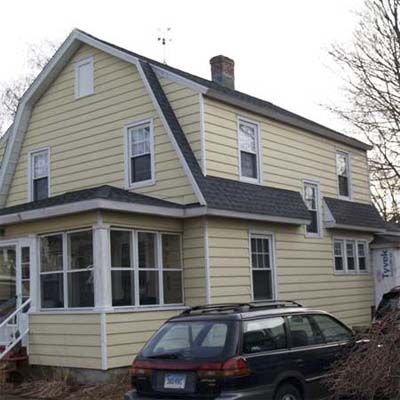 The dingy exterior of the architecturally hodge-podged "Dutch Barn Colonial" gave no justice to the home's prime location. Yellow vinyl siding and asphalt shingles covered the home when the couple bought it. The enclosed front porch, which had been built with no foundation, was chained to the back of a pickup truck and ripped off during remodeling.
Inside, the HVAC, electrical and plumbing systems were outdated and highly inefficient."I don't think I would have picked this house in the beginning," says Betsy. But Dan, in love with the location, convinced Betsy to take a chance on the shabby, but structurally sound house.
Staying True to the Footprint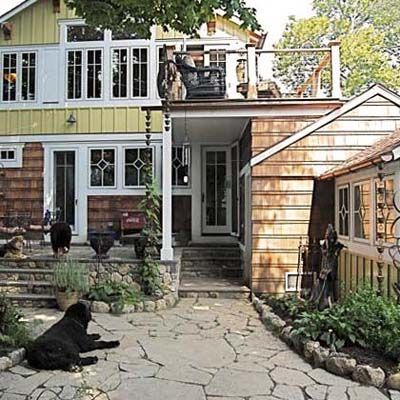 The first hurdle proved the most time-consuming: Drawing up plans that the town would approve took nearly six months. The home sat on a tenth of an acre, and strict zoning codes confined all new work to the existing footprint. So to add extra square footage, the couple decided to build up.
They had to get creative. "There was this ugly little tool shed attached to the house that didn't quite line up, so we decided to make it into the space that holds up the balcony," says Betsy.
Working from a rental home, the couple approached the project with a tag-team mentality. Betsy sketched out the plans at the kitchen table and Dan worked on making them a reality, either with his own hands or by supervising sub-contractors.
Pictured: The new, stepped-down backyard features stone paving, plants given as gifts from friends, and a second-story balcony.
A Special Valentine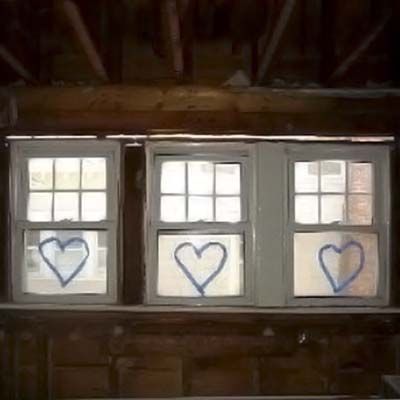 "Once we got over the hump of meeting the codes, it was a lot smoother sailing," says Betsy. The couple focused on acquiring materials and adding personal touches to their new home. In homage to where they first met, they added seashells to the face of the newly poured foundation.
They also worked on making the remodel as eco-friendly as possible, using vegetable-based foam insulation, energy-efficient argon-filled windows, and salvaged materials. Betsy found 10 pallets worth of heart pine boards while driving by a 150-year old cotton mill in North Carolina that was being torn down. "I'm literally standing in a construction site, screaming into my cell phone 'Dan, you've got to trust me on this," recalls Betsy. Dan was later able to find a place that would mill the wide-plank boards into their home's new flooring, doors and more.
Pictured: Betsy's DIY Valentine's Day message to Dan in 2006, midway through their remodel.
Vintage Glass Panels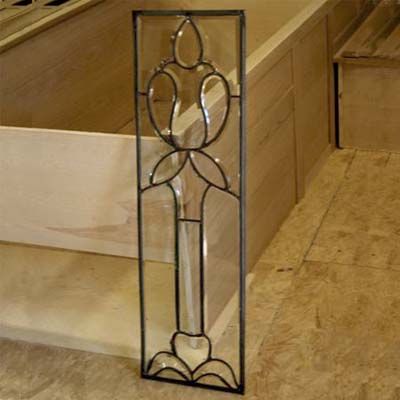 It was also important for the couple that the home reflect the Craftsman spirit in more than just style. So while they saved money by looking for vintage finds, such as stained glass windows, on eBay, they splurged on having expert craftsmen build special pieces, such as their new kitchen cabinets.
The couple also spent hours poring over historical books and websites to make sure they got the designs right.
Pictured: Hundred-year-old wavy glass in a newly designed pane awaits installation in a kitchen cabinet door.
A Colorful Upgrade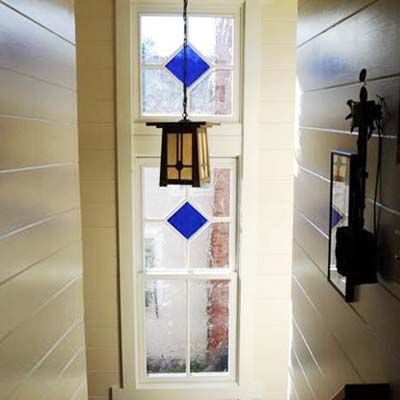 Rather than upgrade to expensive colored glass windows, the homeowners had cobalt blue diamonds of silicone cut and adhered to fit their home's windows.
A Craftsman Kitchen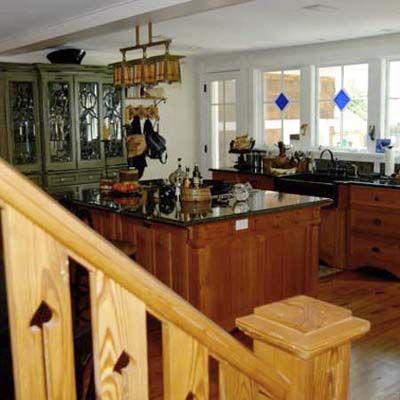 The couple enlisted Dan's children in the remodel, making it a family project. "Everyone in the house has their own pry bar," says Betsy, who got the whole gang to help her put in the over two dozen plants she received as going-away presents when she left North Carolina. "Dan's son is 13, and thankfully he liked digging into the ground."
As a gift to the kids, Betsy stenciled the walls with song lyrics and sayings that were special to them to help personalize their spaces.
Pictured: Custom-made cabinetry, salvaged heart pine flooring and wavy glass fill the kitchen, which is one of the home's main hang-out spots.
Melding Hearts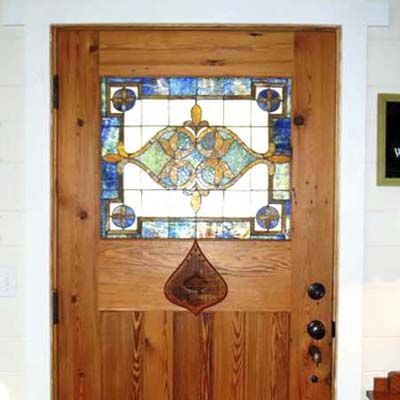 Some projects, though, were kept secret until their unveiling. After Betsy gave Dan a stained glass window entitled "Melding Hearts" as a gift, he managed to whisk it off to the carpenter to make their reproduction front door.
Handmade Tiles Hand-Delivered
Betsy and Dan sourced materials from all over in an effort to find the right craftsmen and materials for the project. The cabinets and flooring came from North Carolina, millwork was turned in Texas and Pennsylvania, and wavy glass came from Vermont and other eBay-found locations. Working with artisans and smaller business owners who could offer more attention often worked out for the couple. The man who handmade the clay tiles around the fireplace is based in Santa Fe, but he offered to install the tiles himself since he was coming up by their way to visit family.
Arts and Crafts Bath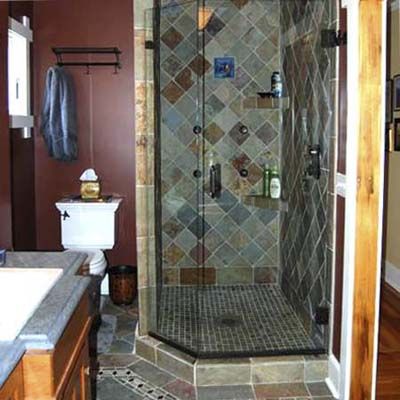 The Arts-and-Crafts theme is carried through the whole house, including this richly colored bathroom with slate tiles, custom cabinetry, and reproduction lighting.
A Reminder of the Good Things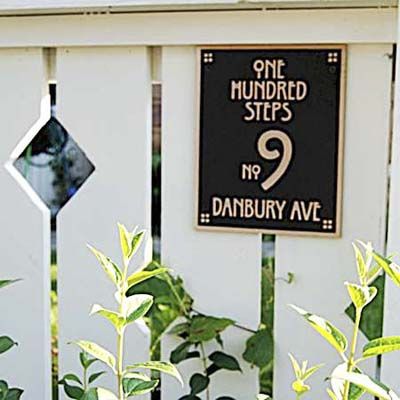 Whenever the couple hit a rough spot in the remodel, Dan would always remind her that it was 100 steps from the ocean. So before they moved in, Betsy had a street address plaque made for the front gate with a reminder of their motivations: the location and their relationship. "I realized that true love is when finding a compromise is the most important thing," says Betsy, who is glad she listened to Dan and stuck through the remodel.
Porch Beauty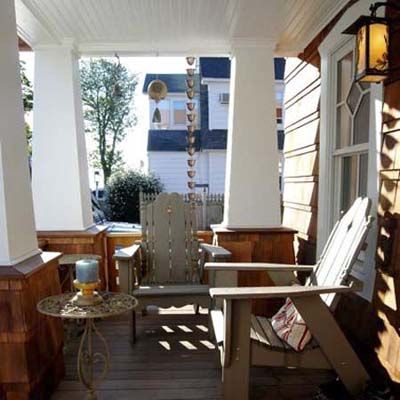 Materials such as cedar shingles and copper rain chains add a warm, earthy tone to the welcoming front porch.
Backyard Getaway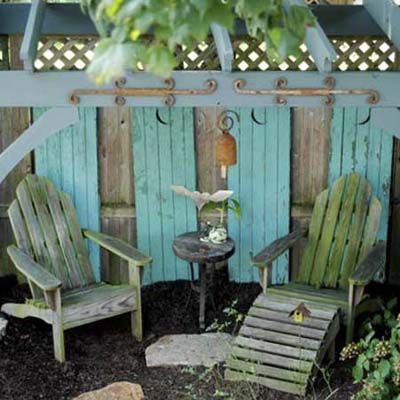 Betsy and Dan don't need to walk those hundred steps, though, to find a restful refuge. They've turned their own backyard into a getaway spot with a deck, lush foliage, and several defined seating areas.
Heart Step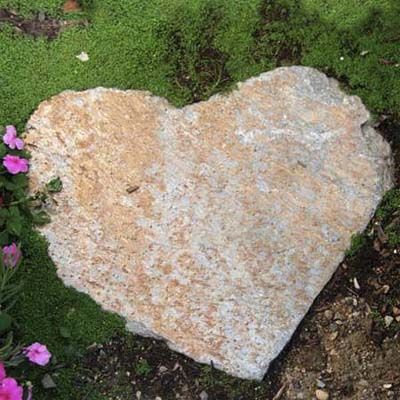 A final house-related gift between the couple included a large rock that was found on the property. Closely resembling a heart already, Dan had a local rock mason make a few chips and finish the transformation. Now a stepping stone to the house, it was the last piece to be laid in the year-and-a-half remodel.