Remodels One Room at a Time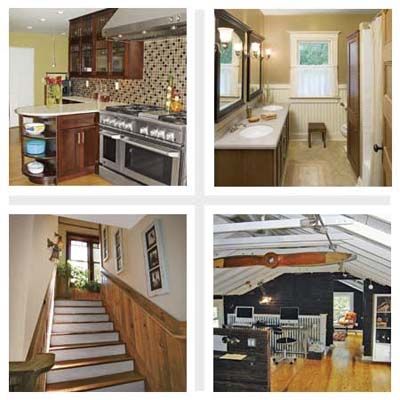 These six smart makeovers reveal the pains and payoffs of renovating a single space.
Kicked-up Kitchen: Before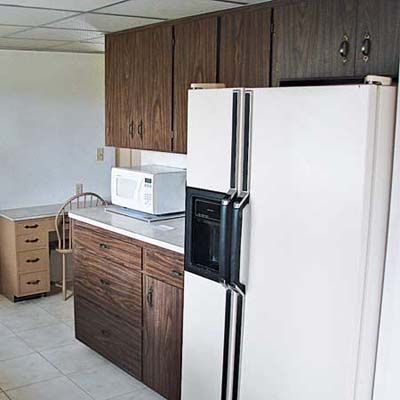 The setup: Architect Manny Occhiogrosso loved cooking for his extended family in his Craftsman house but craved more space to prepare his pasta. Plus, with its dropped ceiling, fake-wood cabinets, linoleum floor, and bare-bones look, the Lake Worth, Florida, kitchen was less than inviting.
Kicked-up Kitchen: After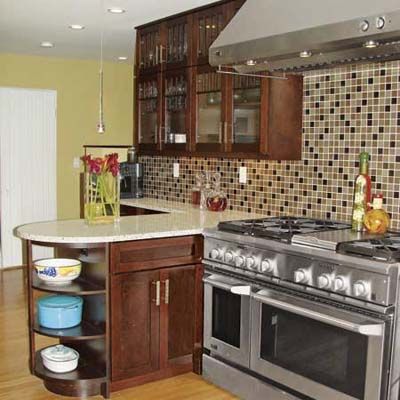 What he did: To build in more breathing space, Manny expanded the room from 108 to 154 square feet by removing the desk wall, which was shared with a hallway, and moving the fridge wall to borrow some of the space used for a mechanicals closet. This created room for a granite-topped peninsula and 48-inch dual-fuel range. Removing the dropped ceiling raised the room's height to 8 feet. In went recessed light fixtures and an ­engineered-oak floor. Cherry cabinets and an earth-toned ­ceramic-tile backsplash give the kitchen needed warmth and color. Having the door to the former hall bath in the new space was a small price to pay for the kitchen's improved feel and function.
Toughest part: Repositioning the supporting wall, where the range now sits, while preserving enough space in the mechanicals closet.
Favorite finishing touch: Open shelves at the end of the peninsula add a nice vintage detail.
Timetable: Six months
Final budget: $35,000
Vintage-Look Master Bath: Before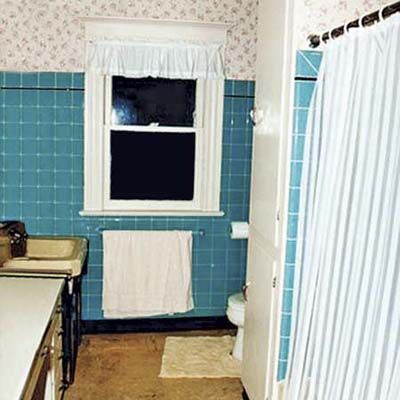 The setup: When Barb and Andy Reese bought their 1905 Colonial Revival house, it had a 7-by-10-foot master bath with dark blue tile and pink floral wallpaper, plus some other less-than-desirable remnants of previous remodeling. For one, the light switch was improperly grounded and situated over the tub. The owners of the Seneca Falls, New York, home wanted to upgrade the systems and give the room a more period-appropriate look without changing plumbing lines.
Vintage-Look Master Bath: After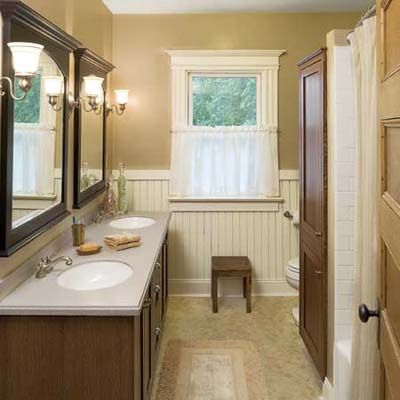 What they did: Andy, with a hand from his father, gutted the bath ex­­cept for the tub. They replaced a closet with a tall oak cabinet, installed radiant floor heating with hexagonal ceramic tile over it, added wainscoting made from salvaged beadboard they had found stored in the basement, and laid subway tile above the tub. The satin-nickel sconces over the ­solid-oak double ­vanity match the original sconces in the bedrooms.
Toughest part: Making decisions! The Reeses spent nine months poring over mirror and vanity options and hesitated over the placement of fixtures. "I kept moving the sconces to make sure they wouldn't cast shadows," Barb confesses.
Favorite finishing touch: A satin-nickel towel warmer by Myson took the place of a cast-iron radiator. It was pricey—$2,000—but just the sybaritic touch they needed after months of showering in the basement.
Timetable: 18 months
Final budget: $10,000
Basement Theater: Before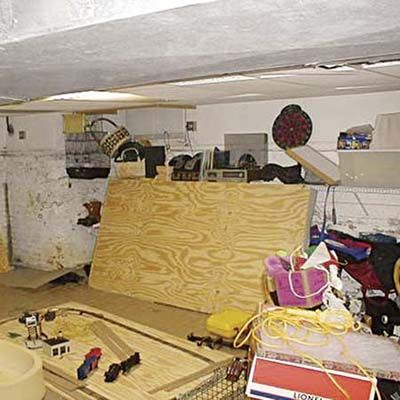 The setup: When Cathy and Bob Cerone decided to expand their 1912 Wilmette, Illinois, home with an addition to ­accommodate visits from their four grown kids, their ­design-build team saw potential in the damp basement. By building it out and finishing it, they could gain space for a media/game room big enough for family get-togethers.
Basement Theater: After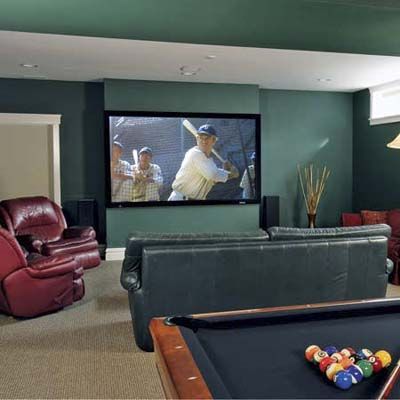 What they did: Orren Pickell Designers & Builders dug a foundation and basement for the addition, then took down part of the wall between the old and new below-grade spaces. The new basement level added 915 square feet of living area and solved the moisture problem with perimeter drains and sump pumps. The space holds a projection screen TV and pool table under a 9-foot ceiling. "When those ­Chicago Bears are on—holy cow—the whole family's here," Cathy says.
Toughest part: Shoring up the house after removing most of the basement's back wall.
Favorite finishing touch: The home theater's hidden wiring.
Timetable: The whole-house renovation took 10 months.
Final budget: About $150,000, including finishing the existing lower level and adding a bathroom.
Upgraded Staircase: Before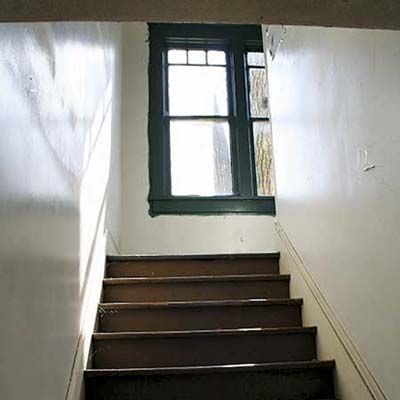 The setup: Atlanta-based Kara O'Brien renovates houses for a living, so when it came time to rescue the sagging staircase in her own 1911 Arts and Crafts home, she knew just what to do: strip off the brown paint and refinish the heart pine underneath. What wasn't so clear was how to solve the problems of no railing and lots of fingerprints. "My 5-year-old and her friends loved to put their hands all over the walls."
Upgraded Staircase: After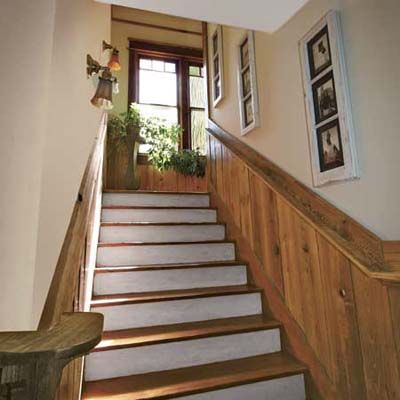 What she did: First, Kara rebuilt a rotten stringer from underneath and added support beneath the landing. Then ­inspiration struck one day as she was removing vintage ¾-inch southern-pine roof sheathing from another old house. Rather than toss it, she planed, sanded, and shellacked it to use as wainscoting and a handrail.
Toughest part: Cutting the planks for the wainscoting at the correct angle, while they were already in place. Kara snapped a chalk line down the boards, then cut them with a circular saw.
Favorite finishing touch: The three sconces that run up the stairs, with three different carnival glass shades.
Timetable: Three weeks
Final budget: About $750. "The wood and my labor were free," Kara says. "But I paid a pro to refinish the treads."
Light-Filled Laundry Room: Before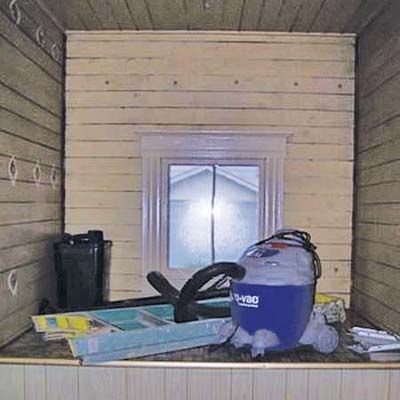 The setup: Along with a circa-1945 master bath, the Reese family's house came with a laundry area inconveniently ­located on an enclosed back porch. So they wanted to move the washer and ­dryer, and a 6-foot passageway linking the garage to the kitchen offered just the place.
Light-Filled Laundry Room: After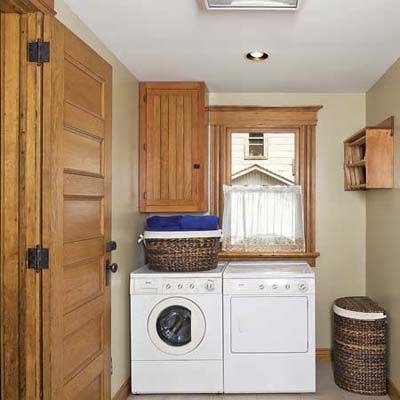 What they did: Borrowing a bit of space from the adjacent porch yielded a 128-square-foot L-shaped room big enough for a washer and dryer at one end and a landing for wet boots and dog supplies at the other. They built a new exterior wall and installed a laminate floor and new windows trimmed to match others in the house. A cabinet made by Barb and her dad holds laundry supplies.
Toughest part: "Envisioning what it would look like when it was done," says Barb. "We had to do it step-by-step. That took time."
Favorite finishing touch: Barb faced the cabinet door with some of the same beadboard they used for wainscotting in the ­master bath.
Timetable: Two years. "We do not work fast," says Barb.
Final budget: $3,000, plus plenty of sweat equity.
Lofty Attic Office: Before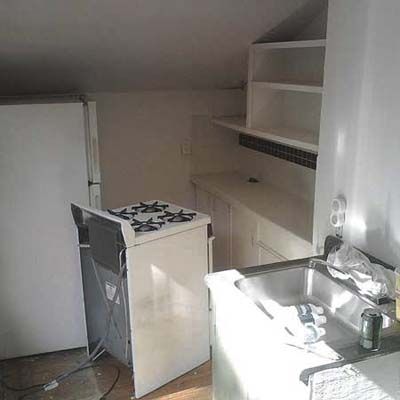 The setup: When the lease on Beth Krauklis's office expired last year (she runs her own branding agency in Orlando, Florida), she cast an eye up to the attic apartment in her Queen Anne house. At 700 square feet, it could be a seven-person ­office, she figured, but "I wanted it to feel open, like a loft, with lots of light," says Beth. Her husband, John, who was already planning to replace the roof and siding, took up the challenge.
Lofty Attic Office: After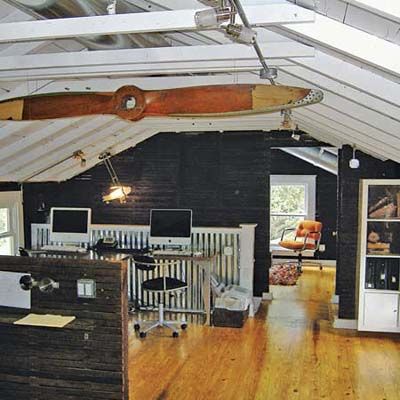 What he did: John gutted the apartment, cut holes for three new windows, stripped the plaster off the walls, and finished the ­exposed lath inside with a dark stain and polyurethane. He ­refinished the heart-pine floors and gave the exposed rafters five coats of white paint. Then, to complete the loft look, John hung an AC duct nearly the length of the attic, track lighting—and a vintage wooden airplane propeller.
Toughest part: Keeping the floors dry when the roof was open—in May, Florida's rainy season. "We were always running upstairs when it rained to make sure they were okay," says Beth. "We used big tarps, but they failed us a lot."
Favorite finishing touch: John made seven slide-out keyboard trays with beadboard that he ­salvaged while working on the house's porch.
Timetable: Eight months
Final budget: $35,000, including seven wired workstations.