We were instantly taken with Ulster County when we visited friends there one weekend in 1990. Just two hours north of our apartment in New York City, it was still small-town rural, punctuated with 18th-century limestone houses. So Marilu and I started looking for a weekend retreat, but there were no rentals to be had. Could we afford to buy?
We returned every weekend and looked at about 25 homes. The real estate agent was very patient.
Finally we pulled up to a little house that had been shuttered for three years. The late owner, a curator who lectured at the Metropolitan Museum of Art, had spent summers there into her 80s.
It was dark and musty inside, and there was mold everywhere. An enormous catalpa tree, just two feet from the front of the house, towered over it, blotting out the sun.
The listing said the place was more than 100 years old. There had been some renovations, but nobody had destroyed its basic charm. I could see there was a bit of work to do—we couldn't just move in. In 1991, we bought the house and the surrounding nine acres for $120,000.
Renovation
To start, there were major things that needed to be addressed, like removing the catalpa tree, and so began the general cleanup we did on weekends. A lot of it was cosmetic, and I knew I could deal with it.
I'm a bit of a draftsman, architectural detailer, construction project manager, and cabinetmaker all in one. Years ago I learned this very specialized skill called shop drawing, which means making blueprints used for building; it would be crucial to our renovation. But because of our full-time city jobs, we soon realized we couldn't do it all ourselves.
Among the first things we did was have new oil and septic tanks, a boiler, insulation, and a new well pump and filtration system put in. I also found a contractor, Neal Mitton, who did precision work. He turned out to be a great partner.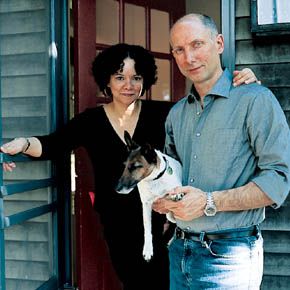 Many of the ­double-hung windows needed restoring, so my brother and I pulled off all the siding around them to get them ready for Neal. In just two months of that first year, our joint efforts resulted in ­removing and replacing the house's 1950s prefinished cedar shingles—which sat on top of a layer of asphalt shingles—with beveled cedar clapboards; putting on a cedar shingle roof; excavating the crawl space; ­repairing the chimney; regrading around the foundation; and reseeding the lawn.
Then we started on the inside. The baseboard tube heating wasn't efficient, so we re-piped with cast iron down­stairs.
Marilu was straight with the plumber: "I want New York City tenement heat, where you have to throw open the windows to cool off."
Much of the interior had been subjected to "Colonial" style. I wanted to remove those layers and put things back as they might have been. But that was the question: How old was the house?
The front room suggested it was a lot older than the listing said: There's a full basement under it while the rest of the house has only a crawl space; and the frame is hand-hewn post-and-beam, not mill-sawn. From down ­below I could see that there were nice original wide-plank floorboards, so I pulled up the oak strip flooring on top. Later we found an 1835 nickel wedged in the staircase.
The kitchen floor wasn't as easy: Three layers of linoleum covered it. Each one I pulled up was identical, except for the last one, which was secured with hundreds of tiny nails.
Two days of much cursing followed.
Then I had to shore up the old floor with thick beams under the center span to eliminate any bounce before putting down ceramic tile.
That was just the beginning of renovations in the kitchen. We wanted to reconfigure the space to seat six, so we had to make some sacrifices: The washer and dryer were exiled to the vestibule outside the downstairs bath, and I ripped out the wall oven. In its place went a small apartment refrigerator that fit right into the cabinet space. I think it cost $89. We did splurge on a Miele oven and GE cooktop but saved with laminate countertops. Marilu focused on returning the walls of the home to their early roots. Her ­secret weapon was milk paint in vibrant, historically correct colors.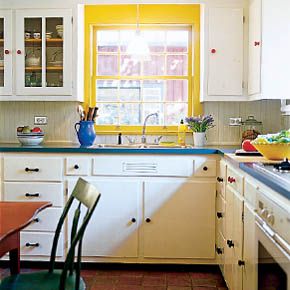 Woodworking
I think that sometimes you have to live in a place for a good while before you make major decisions. Just proceed at a measured pace. That was my approach to some of the woodwork features that needed redoing in the house.
My shop-drawing skills turned out to be intensive training for the carpentry projects that were to come. I believe in very careful planning and drawing before I ever touch a piece of wood. That's what I did when I decided to attack one of the "masterpieces" that ruined the soul of the house.
Another challenge was the staircase. It was dark and scary, with doors at the top and sheetrock on both sides. Getting rid of it was easy, but finding one that fit the period of the house was not. Old staircases have high risers and short treads—they're practically ladders. I decided to build a daunting staircase, and deliberations ensued. We lived with a ladder. I drew multiple versions, built a plywood mockup and stared at that for awhile before I finally built the thing. The shop drawings bear witness to this saga: The first one is dated 1992. The last, 1997. Poor Marilu.
There's always another project. Right now, I'm finishing the upstairs bookcase. For a long time the to-do list would nag at me, and I couldn't relax. Now I can let it go because I realized it's not going anywhere. Manhattan might be where we sleep, but this, after all, is our home.
What We Did:
Returned a 200-year-old house
to its roots.
Remodeling cost: $47,185
Time frame: 15 years and counting.
where we saved: Installing the new boiler. We signed a two-year fuel oil agreement with the oil company to get 0% financing.
Where we splurged: The new cedar shingle roof.
What we would do differently: Put metal roofing on the south side of the house. No sun hits that side, so snow and ice accumulate in winter and moss grows in the summer.
Biggest challenge: Deciding on the staircase design and getting the house "finished."
How we solved it: By building a mock-up of the stair winder out of plywood. And facing the fact that the house will never be "finished."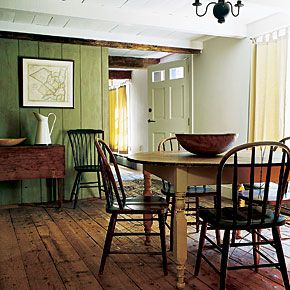 The Floorplan
Downstairs, the homeowners widened the front hall with a new staircase. Upstairs, they removed walls to create a hallway to the guest bedroom and a bookcase niche in the master bedroom.
The Evolution of a Mantelpiece
It seemed simple enough when
I started: Remove the existing fireplace, with its 1950s prefab metal firebox and convection gadget, and all the unattractive wainscoting surrounding it, and build a new one. But what should the new one look like? That's where my troubles began.
Then it was time to build it.
I got some old brick and native bluestone—there were tons of quarries in this area—to use for the top part. Then I hit the workshop, where I just followed my shop drawings. I wanted a glass door for the side cabinet,
so I took a restoration class at New York's Fashion Institute of Technology. The instructor lent me a pair of matching sash planes. Start to finish, it only took five years!