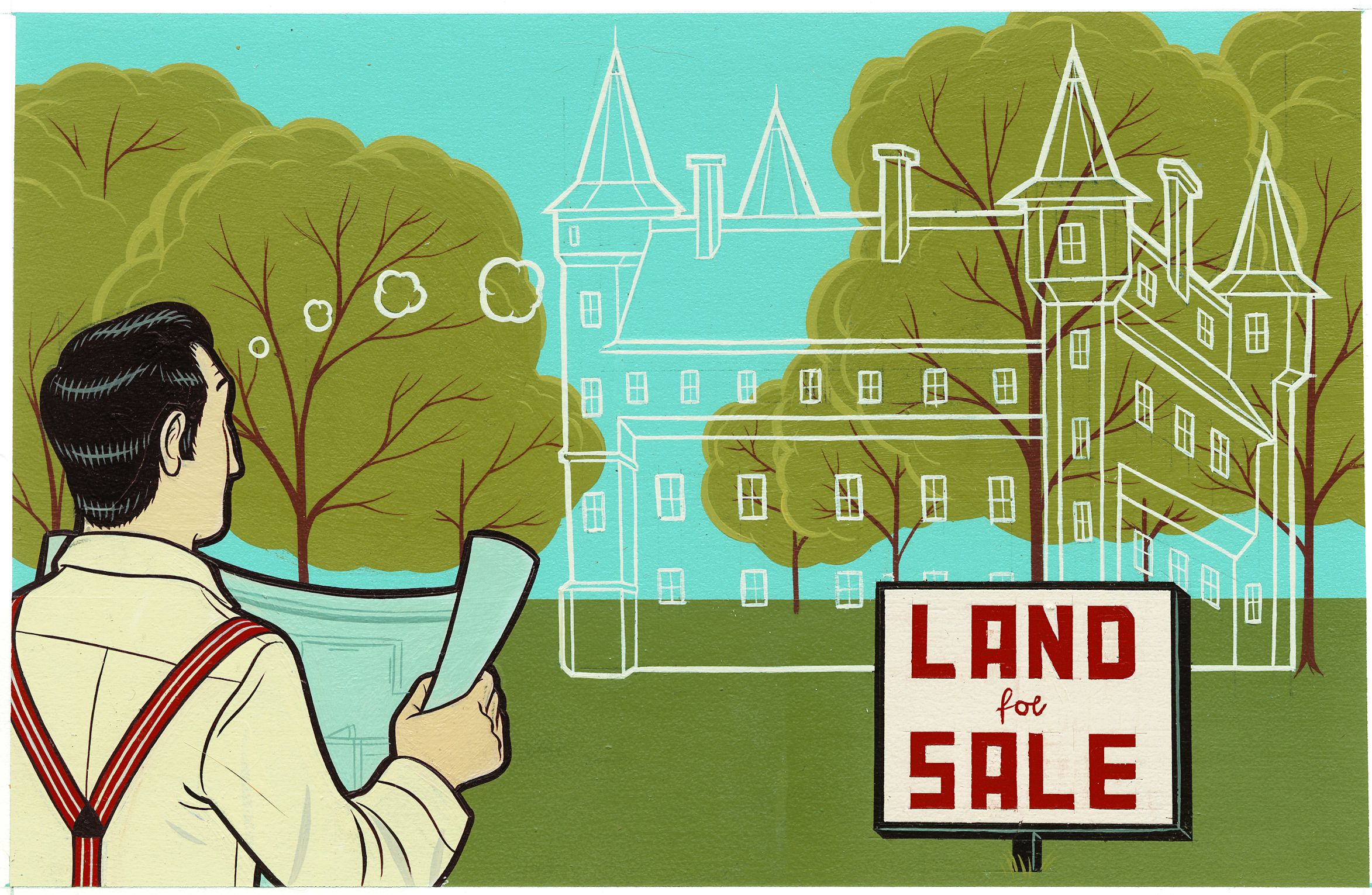 Paulette and John Downs are avid gardeners who dreamed of having the space to spread out and enjoy their plants. So in the fall of 2003, they plunked down $125,000 for 6 acres in West Woodstock, Connecticut. The land, an old dairy farm, was already cleared, and it bordered a state forest, guaranteeing lifelong privacy. Over the next nine months, the Downses built their dream home, a contemporary version of an 18th-century saltbox. "I had a hard time envisioning what it would look like at first," Paulette says. "But now I would never trade it for a house on a small lot in a suburb."
Acquiring a parcel on which to build is as American as it gets, a birthright dating back to the days of land rushes and "Go west, young man!" The practice has clear advantages: Custom building means having total control over every aspect of a house, from the foundation to the flooring to the views. And fall is an especially good time to look at a parcel of land. With the leaves off the trees, you can easily see its contours and how close the neighbors are, lessening the anxiety of a sometimes nail-biting process. "You take a little more risk when you build your own home," says Gary Naeser, a custom-home builder in Washington, Pennsylvania, "but you end up with a lot more independence."
Still, fewer and fewer homeowners are taking that chance. Thirty years ago, one out of every three homes was owner-built; by 2004, the number had dropped to one in five. That's partly because the strong real estate market has gobbled up available property. But it's also because land today is subject to more regulations than ever, from wetlands restrictions to energy-efficient building standards, all of which add to the cost of doing it from scratch.
But don't despair. If you have the pioneer spirit coursing through your veins, you've probably already got some sketches stashed away in a drawer. You just need to make sure you do your homework before you stake that claim.
Survey Your Kingdom
When you find property you like, thoroughly inspect it in person by getting a survey of the land from the seller and walking the entire property. That will give you a sense of the lot's suitability for building—say, whether trees will need to be cleared or hills graded, or whether you're far enough off the beaten path that you'll need to dig a well, install a septic tank, or create new power, phone, and cable hookups.
You should also take a drive with a local, who can give you insider info—like whether your quiet forest paths are winter snowmobile routes, or which neighbors give out tomatoes in summer.
Follow The Paper Trail
Once you've picked out that dream lot, the next stop is city hall. Even though 29 states require full disclosure of potential problems with the property, many sellers don't have all the information at their disposal. So the health department can tell you about local water and sewer codes, while the planning commission will have details on zoning restrictions. If you're looking to build in a landmarked district, the preservation office will tell you if you need to conform to rules about building size, style, or materials. The town clerk can even show you the chain of title, if you're curious about what the previous owner paid.
But it's the assessor's office where you will learn the most pertinent details. There you'll find tax information as well as records about flood-zone boundaries and wetlands proximities, both of which will affect where you can build. The assessor can also clue you in to the existence of restrictive covenants imposed by a previous owner, which can stipulate how much frontage there needs to be between your house and the road or if there's a minimum allowable square footage. This is also where you'll find out whether you'll need an easement from a neighbor to get access to any part of your property or if anyone else has an existing easement on your land.
Add It Up
Unless you plan to build your house yourself, chances are you're going to spend more money than if you bought an existing residence. So you need to be prepared financially. "There's no question that most people underestimate costs, so it's better to factor a little reserve into your budget," says Richard Girouard, a builder in New Canaan, Connecticut. According to the U.S. Census Bureau, in 2000 it cost around $82 per square foot to build your own house.
That's not including the cost of buying the land and preparing it, which shouldn't take up more than a fourth of a home's total construction budget. And keep in mind that starting from scratch typically takes about nine months from the first tree-felling to the last paint stroke, so time becomes a factor.
To finance the purchase, you need to find a land-buying mortgage program (search for "land loan" online). Your best bet is a local bank or credit union that knows the area. But since lenders see raw land as a very risky purchase, they typically require a down payment of 50 percent—compared with 10 or 20 percent for an existing home—and the term of the loan is usually less than 15 years. Also, the interest rate on a land mortgage—anywhere between 6 and 8.5 percent—is higher than on a regular home loan (about 5.3 percent for a 30-year fixed, as of press time). Even so, you'll need a separate construction loan.
Despite all the added hassles, real estate experts say buying land will never go out of style. Ann Morgan of Lost River Real Estate in Lost River, West Virginia, estimates a third of her business is selling land. She's seen the market get hotter than ever as choice parcels become increasingly scarce. "I tell my clients, 'Buy as much as you can afford," Morgan says, "because they aren't making any more of it.'"
Where to Find It:
Real estate professionals:
Dennis Duga
Northeast Realty
Union, CT
860-684-4455
Heart of Montana Realty
Bozeman, MT
888-284-9557
Ingrid Greene
StreetScape Real Estate
Jacksonville, FL
904-237-0735
Ann Morgan
Lost River Real Estate
Lost River, WV
304-897-6971
Builders:
Gary Naeser
Good Intent Custom Builders
Washington, PA
724-663-4200
Richard Girouard
Girouard Associates, Inc.
New Canaan, CT
203-972-6580