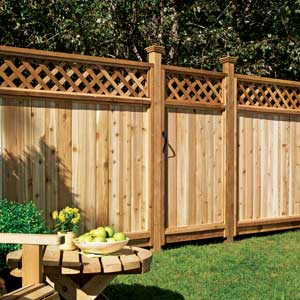 Q: We recently installed 170 feet of red cedar fence around our yard. Now we'd like to finish it with something clear to show the wood's natural beauty. Is there any finish we can spray, rather than brush or roll on?

—Greg Herrell, St. Louis, MO.

A: Kevin O'Connor replies: According to Sam Williams, a researcher at the USDA's Forest Products Lab in Madison, Wisconsin, you need a product that blocks ultraviolet radi­ation, contains a mildewcide and a water repellent, and penetrates deeply into the wood. Any finish that forms a surface film—such as a varnish—is ­going to be a headache to maintain.

Many finishes claim to penetrate wood, Williams says, but not all do it effectively. "A true penetrating finish goes into the cell walls and stabilizes the wood surface," he says. Oil-based coatings can do this; water-based acrylics generally do not, although some acrylics are modified with oil to increase their penetration.

So the best product for your fence would be an oil-based, semitransparent stain. Semitransparent means it contains some pigment to protect wood from UV rays but not enough to conceal its natural beauty. This kind of stain should be reapplied every three to five years, depending on the wood's texture and how much sun it gets. Williams says that rough, saw-textured wood accepts more finish, so therefore the finish lasts about twice as long as it does on smooth wood. Also, he says that the stain on the shady side of a fence will survive about twice as long as the stain on the unshaded side.

You should be able to apply an oil-based, semitransparent stain with a pump sprayer. Just go over the surface immediately with a dry brush or roller to distribute the finish evenly. Otherwise, your fence will end up looking blotchy. Williams also recommends putting ­finish on the end grain of all boards, which will greatly improve the wood's longevity.