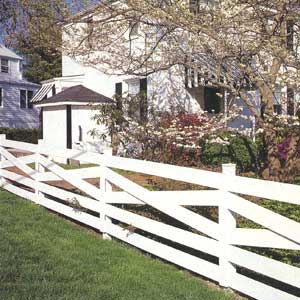 If you're thinking about putting up a fence this summer, the first challenge is finding one that appeals to you. Although it's easy to fall into a rut and put up the same stodgy stockade or plain picket your neighbors have, there's no reason to compromise.

Start with the four distinctive fences we detail here—you can find even more when you're out for a drive or browsing through books and catalogs. Look for a design that works with the style of your home and deals with the practical issues of neighbors, privacy, pets, sound, wind, landscaping and the very real need to stake out your boundaries.

Whichever one you decide on, keep these fence-building basics keep in mind:
•All fences use the same basic components: vertical posts set into the ground and horizontal rails that support either pickets, fence boards or lattice panels. They are spaced between 6 and 8 feet apart, depending on fence height and design.

•Fences must withstand year-round exposure to the elements. So, you should use redwood, cedar or pressure-treated pine. These woods offer the best protection against damage from rot and insects. Be sure to assemble the parts with weather-resistant fasteners, such as hot-dipped galvanized or stainless-steel nails and screws.

•You can buy prefabricated fencing sections at most lumberyards and home centers to save you some sawing and assembling. But, ready-made panels are available in a limited number of styles, and often are made of untreated pine, which won't survive outdoors for long. If you choose prefab fencing make sure it's made of redwood, cedar or pressure-treated pine.

•Most fences are painted or stained, but paint is a mixed blessing. There are few things as pretty as a freshly painted fence—or as ugly as a peeling one. If you plan to paint your fence, expect to invest lots of time scraping, sanding, priming and repainting every five to seven years. Always prime the bare wood first, then apply the best-quality exterior paint you can afford.

•A labor-saving alternative is exterior semitransparent stain. It's the most durable, and when it fades, you can usually brush more on top without any sanding or scraping. You can also leave redwood or cedar unfinished and allow it to weather naturally to a soft, silvery gray. If so, apply a clear wood preservative every year to keep the fence from splitting and cracking.

•Never apply a clear topcoat finish, such as polyurethane varnish or shellac, to an outdoor project. Sun and rain will eventually blister the finish, leaving you no choice but to sand the entire surface and start from scratch.
•A building permit usually is not required to build a fence, but check with your local building department to be sure. Also ask about any requirements for materials, picket spacing, setback distances from property lines and posthole footings. The depth of the footings depends on the frost line in your area, which you can find out from the local building inspector.