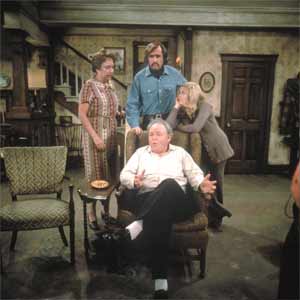 For an easy chair, this one sure had it rough. Not only did the threadbare wing-back have to endure Archie Bunker's ample figure and spilt Schlitz, but it had to do so week after week, in front of a live studio audience.

The chair was first discovered by a talent scout—okay, someone from the CBS prop department—at a southern California Goodwill store and signed for less than $8. Almost overnight, it landed a recurring role as one of the blue-collar bigot's supporting players on the groundbreaking 1971 sitcom All in the Family. By the show's seventh season, the chair had scored its own story line. The episode "Archie's Chair" revolves around son-in-law Mike "Meathead" Stivic's repeatedly thwarted attempts to repair the chair after accidentally breaking it.

The chair became such an icon that after the television show finished filming its presumed final season in 1978, producer Norman Lear retired it to the Smithsonian Institution's National Museum of American History. When the show was unexpectedly renewed for a ninth season, he was forced to spend thousands of dollars fashioning a suitable stand-in.