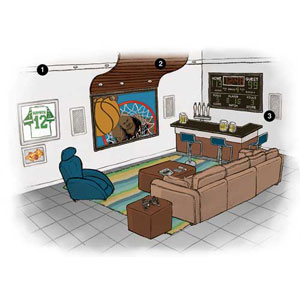 Every guy needs a getaway, a place where he can go to hang out, by himself or with his buddies. Batman had his secret cave, Superman his remote Fortress of Solitude. Well, you're not going to tunnel underground or fly off to the Arctic for your special sanctuary. But you can create the perfect hideaway within your own home. All it takes is a spare bedroom, a corner of the basement, or even an attic to carve out a manly escape—especially if your idea of escaping is locking yourself in a room to listen to Miles Davis albums at floor-shaking levels, shouting encouragement to your alma mater's football team, or tinkering in the privacy of your workshop.

Here we present three fantasy spaces for the modern man, complete with all the gadgets and gear a guy could want (especially if money is no object). So come on in—just don't give away the secret handshake.

The Sports Den

The Guy: You haven't quite outgrown your love for hoops or video games, and Sundays are holy to you because of pro football. Whether it's March Madness or the latest action-movie DVD, everyone wants to watch it on your big screen.

The Getaway: Your basement home theater has to be big enough to accommodate a crowd, but you don't want to sacrifice anything in the way of sound or video quality. That means a high-definition digital projector, 75-inch (or larger) screen, and at least 5.1-channel surround-sound speakers. For comfort, you need ample plush seating, and for convenience, a built-in bar complete with taps for your favorite suds.

Setting It Up Right

Today's high-quality projectors have excellent "off-angle" viewing, which means you don't need to be sitting directly in front of the screen to get a sharp image. Marc Leidig, owner of Ambiance Systems in Clifton Park, New York, suggests mounting the projector against the back wall or in the wall cavity to avoid the distraction of a machine hanging overhead. An acoustically transparent screen, with thousands of tiny holes that allow sound to pass through, lets you install the center channel speaker of your surround system behind it, further reducing visual clutter. Leidig recommends a fixed screen over a retractable one. "It saves money that you can spend on other features in the room, and it performs better because it can't move around and affect video quality."