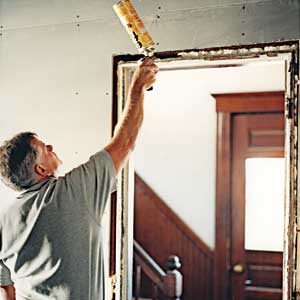 In a region where January temperatures consistently hover below freezing, you really don't want to be living in a house with no insulation. But Christine Flynn and Liz Bagley, aunt-and-niece owners of the 1916 two-family house that is the current This Old House TV project, were facing just that—until TOH general contractor Tom Silva came along. "People in houses built before WWII think there's nothing they can do to protect against the cold," says Tom. "Or they just don't realize how much more comfortable their house can be."

If a house's attic (or roof) is already fully insulated, adding insulation to the walls may be the single best way to reduce heating and cooling costs. As is the case with most remodeling projects, many of this house's walls were going to remain intact, so Tom had to consider how best to retrofit the energy-saving material without gutting the entire building—a job that would have blown the $250,000 renovation budget. Where the walls were open—in the revamped kitchens and bathrooms, for example, and in the attic stud bays that had never been covered—he went with his top insulation choice: polyicynene, a cream-colored liquid polyurethane that foams up and stiffens after pros spray it in place. However, finessing the fluffy stuff behind old walls is a lot tougher. In the living rooms and some of the bedrooms, Tom chose a slow-pour version of the foam, which goes in through holes drilled into the walls and takes longer to expand, minimizing the threat of cracking the existing plaster.

A homeowner looking to similarly take advantage of a renovation to retrofit new or additional insulation has many choices—plastics, fiberglass, shredded paper, even denim scraps and wool—in several forms. Of course, the cost, efficiency (expressed as an R-value that measures resistance to heat transfer), and skill level needed for installation of each type varies. So which is best? "That's the e-mail I get every day, and there's no simple answer," says Andre Desjarlais, director of a program at Oak Ridge National Laboratory in Tennessee that focuses on how to build better buildings. But factoring in site conditions and budget, one kind of insulation will work better or may be easier to install. To understand which material would best suit your renovation, read on.