WEBER BLUE PERFORMER DELUXE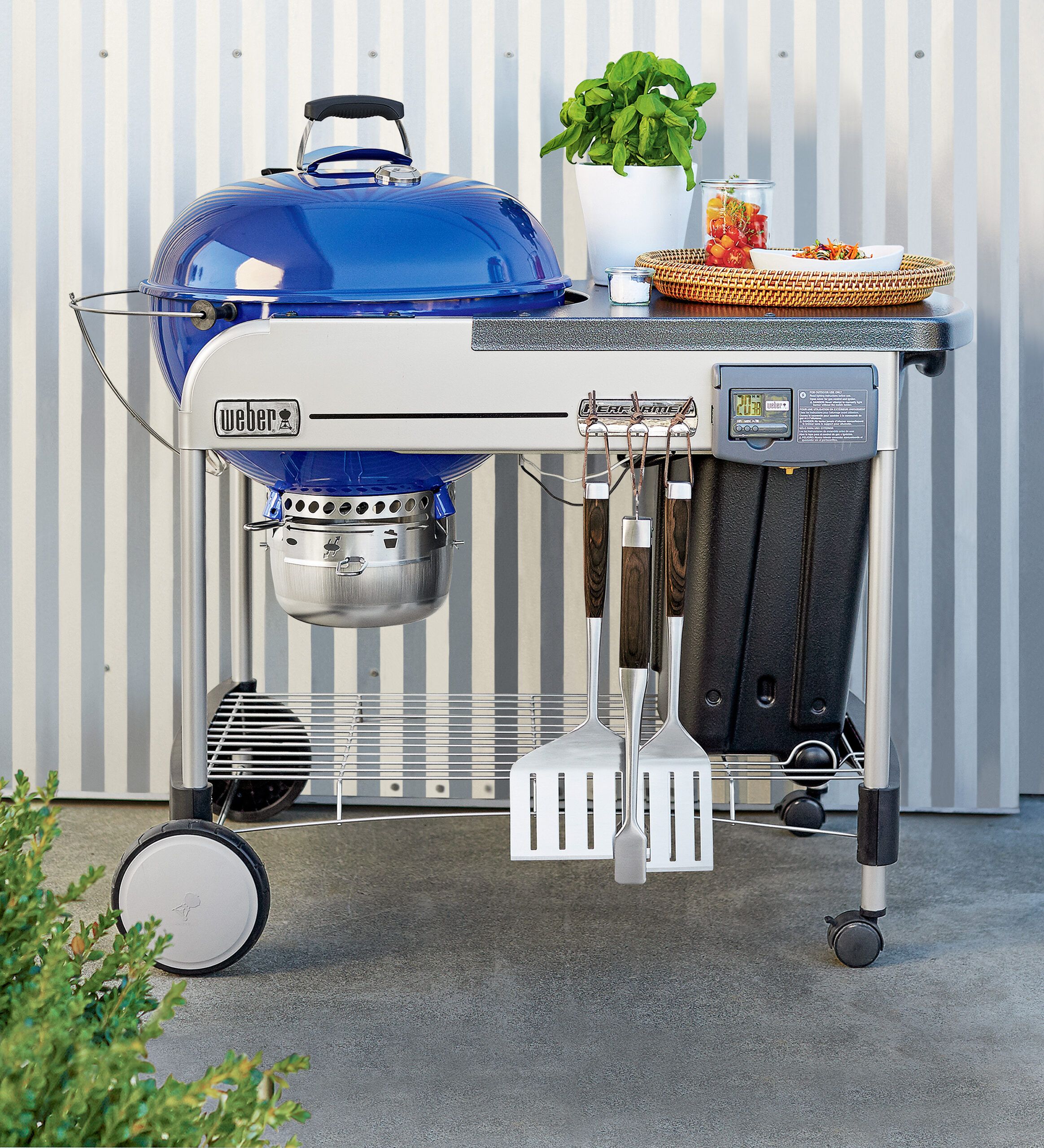 Size: 44″W x 26″D x 40″H
Features: For cooking over charcoal, it doesn't get much simpler. This version tricks out the classic kettle grill with an exclusive color and an upgraded cart that not only provides a good-size work surface but also has a built-in thermometer and gas-fueled ignition. You'll still be looking at about 20 minutes till your coals are gray and ashy—as in, ready—but not having to hunt up some matches is a nice plus.
Price: $399; Crate & Barrel
CHAR-BROIL SMARTCHEF TRU-INFRARED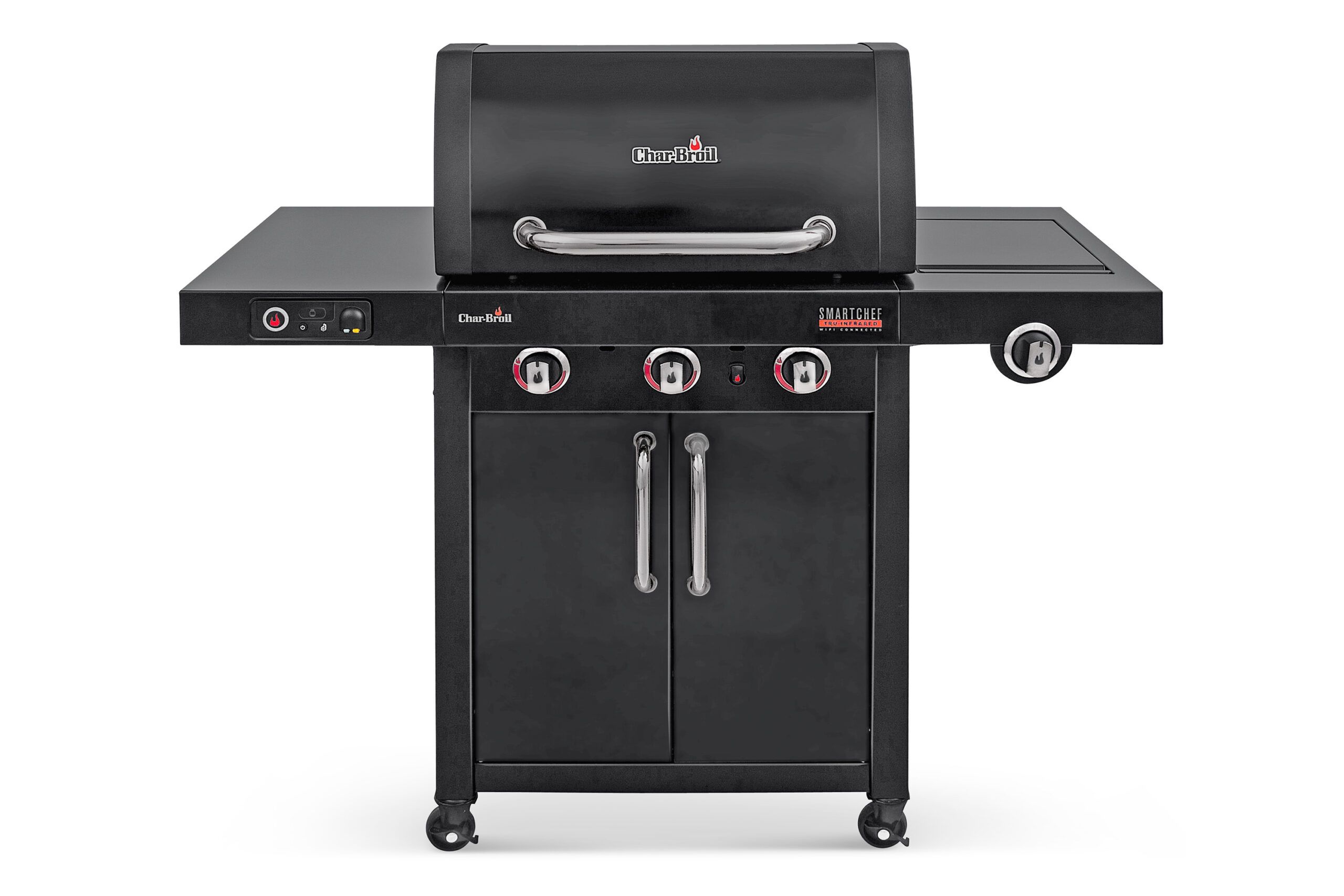 Size: 51″W x 23 ½"D x 47″H
Features: This three-burner gas grill is now Wi-Fi enabled, allowing you to track everything from grill temperature to how much fuel is left in your tank via your smart device. Newbies will appreciate the guided mode: Select a food type and get step-by-step notifications as it's cooking so you know exactly when to turn over those T-bones. Another big plus is the TRU-Infrared cooking technology, which delivers even heat across the entire 420-square-inch cooking surface.
Price: $599; Char-Broil
KENYON CITY GRILL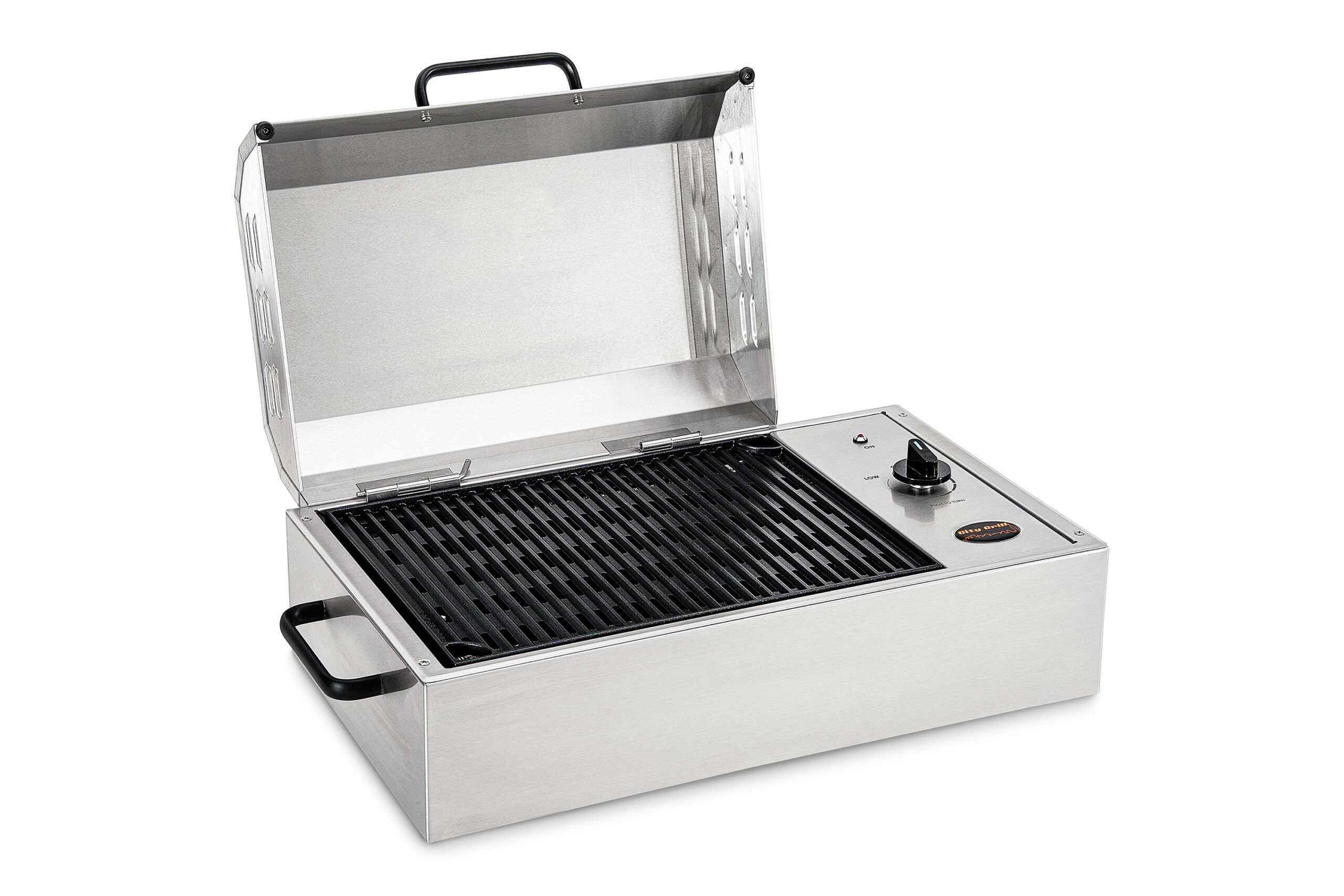 Size: 21″W x 12″D x 8 5⁄8″H
Features: This portable plug-in grill creates no smoke or flames, so it can even be used indoors. The concealed electric heating element prevents flare-ups while helping the 155-square-inch cooking area reach temperatures as high as 600°F in just 7 minutes. That's plenty of heat to make those telltale grill marks, plus you can remove the nonstick grate and toss it in the dishwasher when you're done.
Price: $475; Kenyon
WHEREVER DUAL FUEL GRILL + SMOKER UPGRADE KIT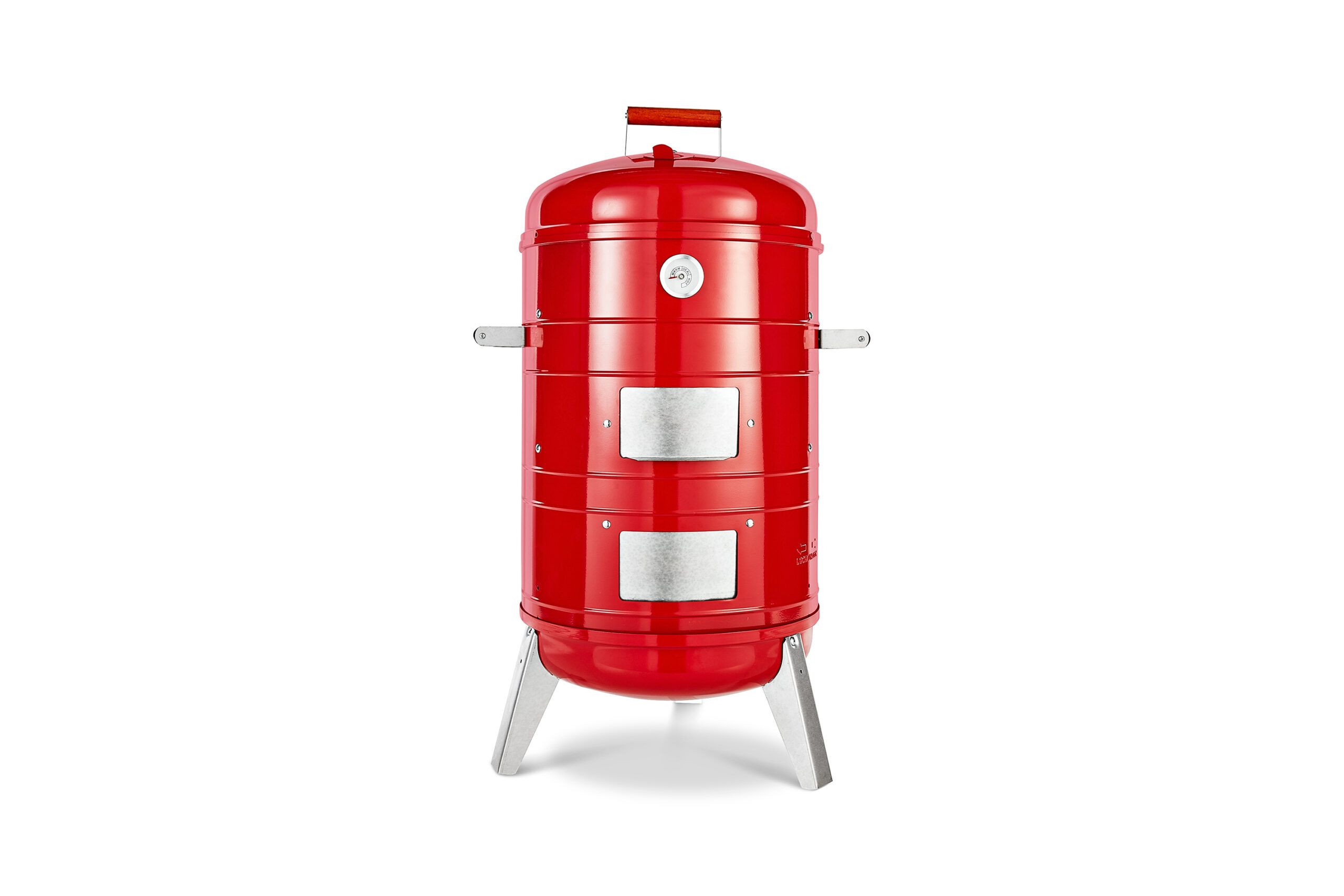 Size: 20″W x 17 ½"D x 35 1⁄4″H
Features: It may resemble a classic, albeit tastefully redesigned, tailgate grill. But look again! This grill boasts separate charcoal and electric inserts, so if you're in a spot where burning briquettes isn't an option, you can just plug it in. The simple smoker stack may not be smart—you have to keep track of time and exact temperature on your own—but it's an easy, fully functional add-on to a grill that's already quite handy.
Price: $80 (grill), $55 (smoker kit); Crate&Barrel
NAPOLEON ROGUE 525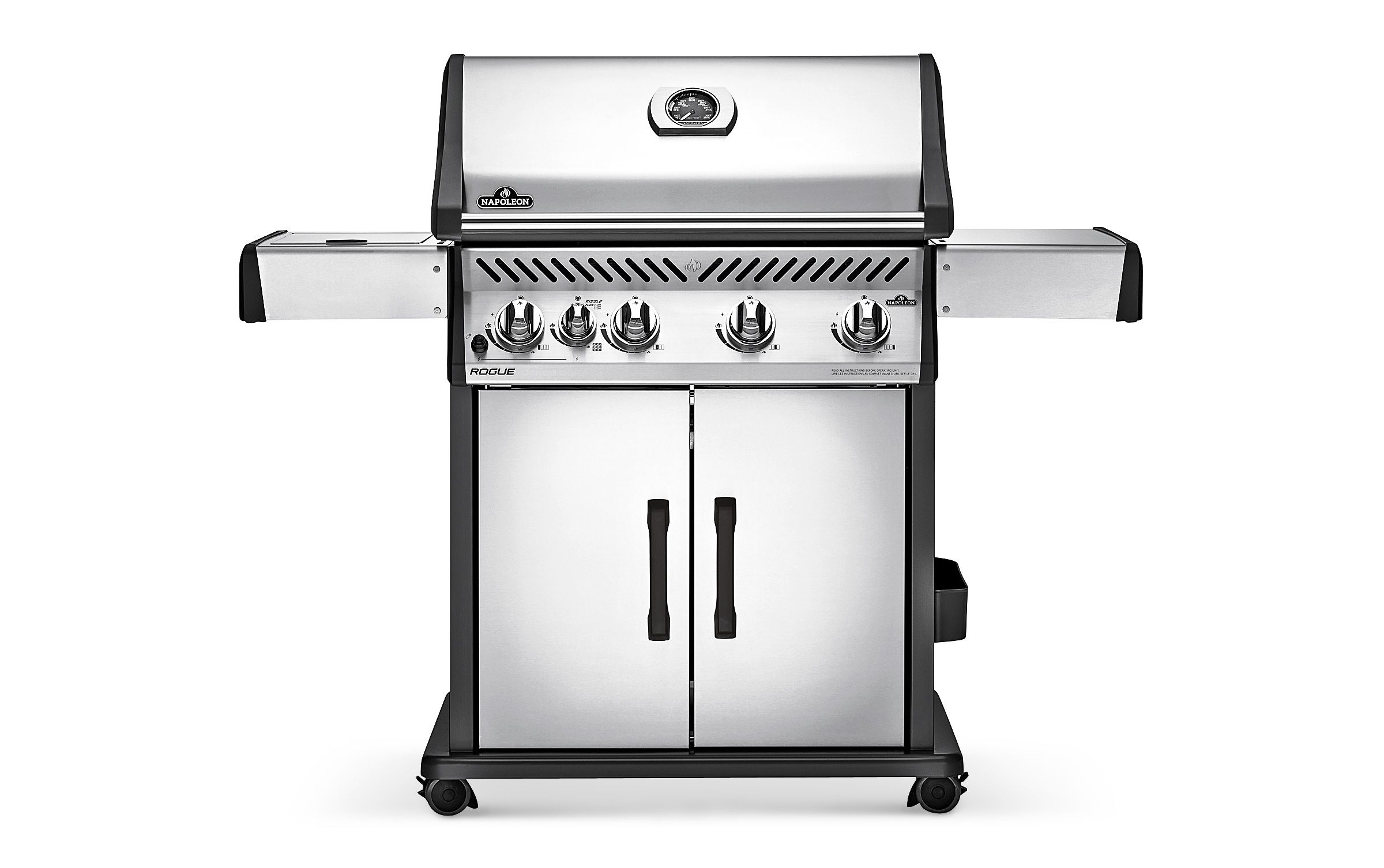 Size: 56 ½"W x 24 ½"D x 47 ½"H
Features: Ready to move up to the BBQ big leagues, but don't have the room—or the budget—for a full-on outdoor kitchen? With four propane burners plus an infrared side burner, this grill packs plenty of power (57,000 Btus) and cooking area (a whopping 745 square inches) into a remarkably tidy package. Fold down both side trays and it gets even more compact—and the wheeled cart is easily rolled out of the way—but you still get all the upside of a serious grill.
Price: $1,099; Napoleon on Amazon
WEBER SPIRIT II E-310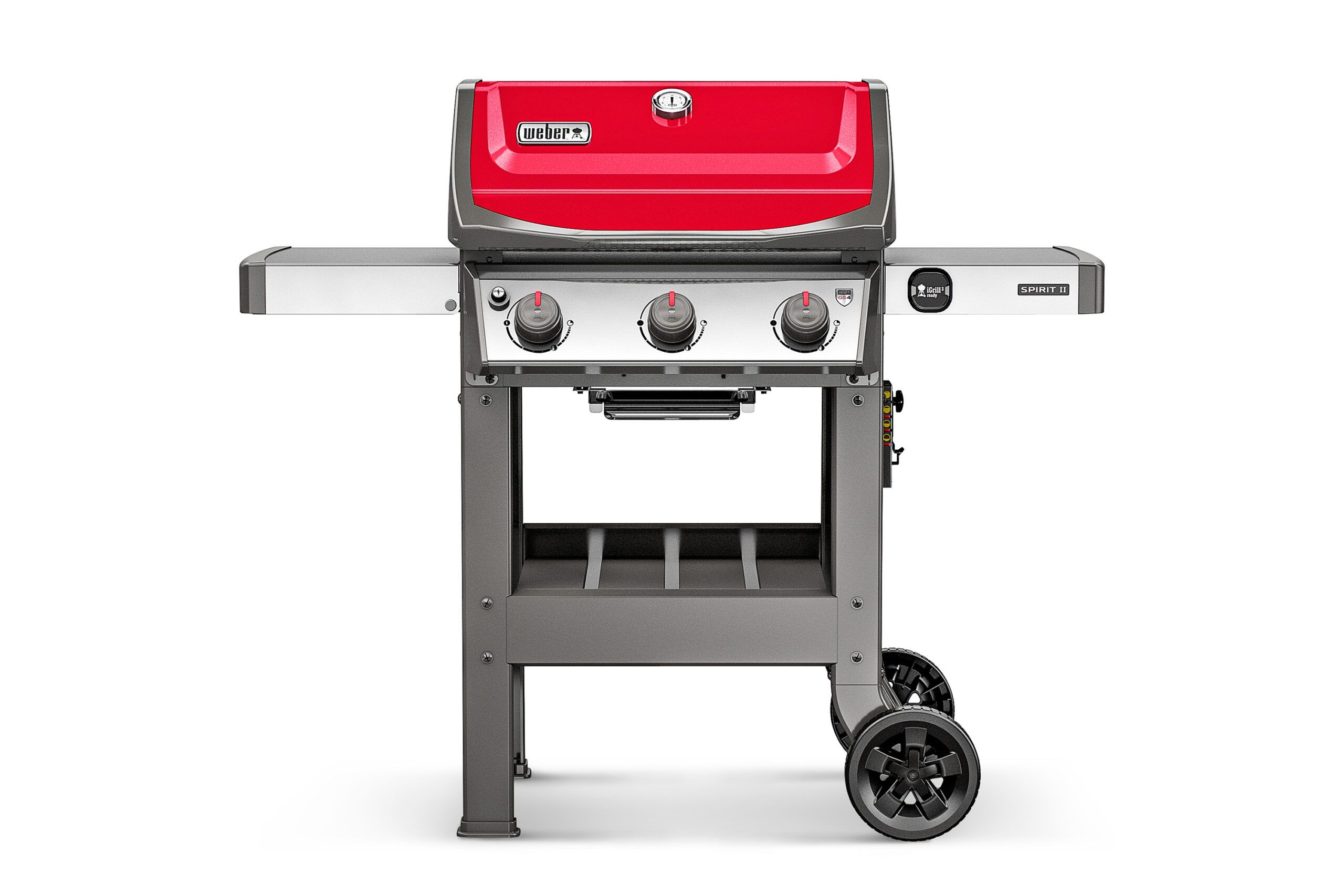 Size: 52″W 26″D 57″H
Features: A good fit for small outdoor spaces, this revamped three-burner propane (or natural gas) grill offers a slew of upgrades—including four color options, among them this fiery red. The burners have a redesigned shape for more consistent heating; the open cart provides convenient space for the fuel tank, as well as a docking station for Weber's smart thermometer (must be purchased separately). Plus, a new 10-year warranty has got you covered.
Price: $499; Weber on Amazon
DCS 36″ SERIES 9 GRILL + CAD1-36E CART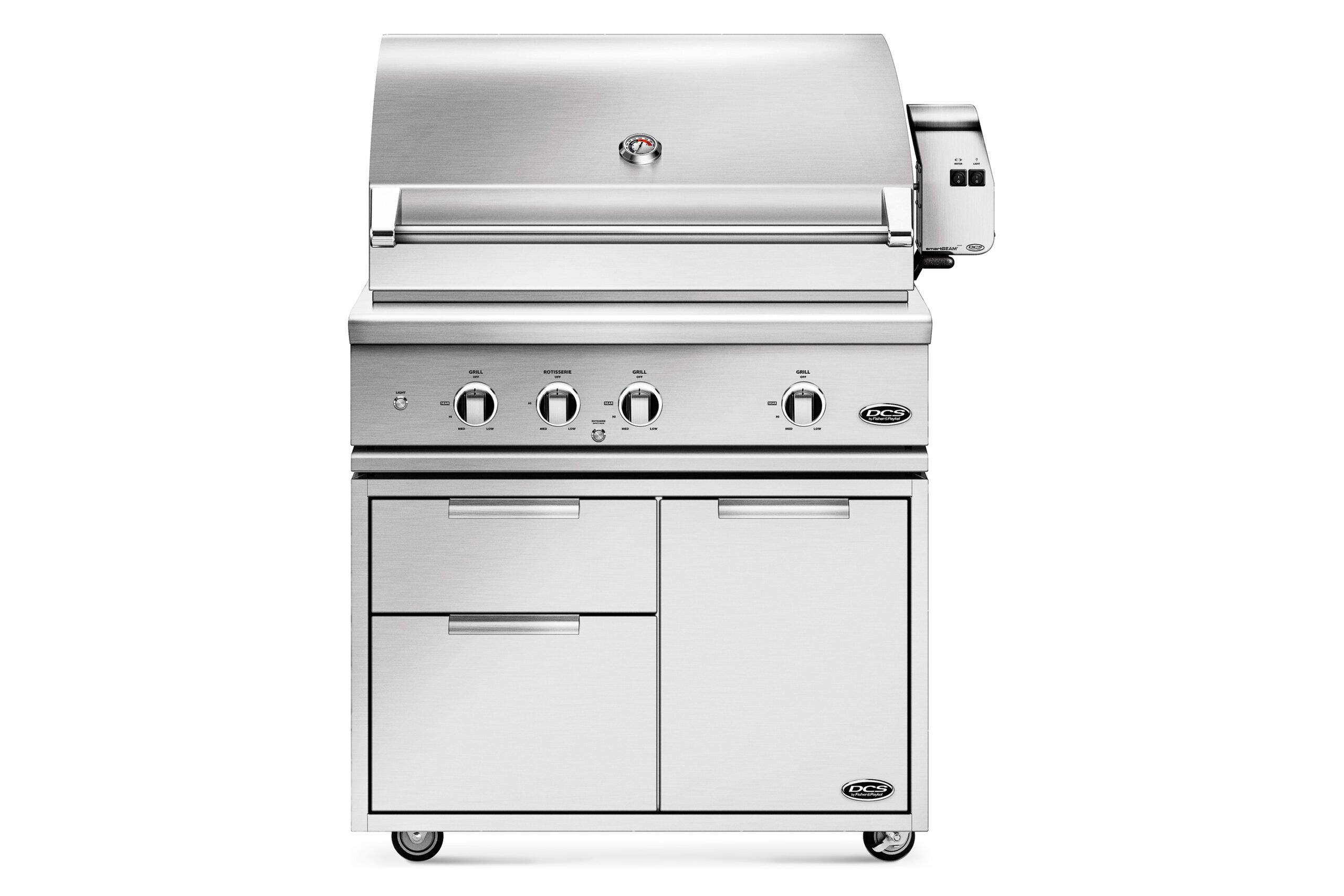 Size: 36″W x 27″D x 53″H
Features: Cooking with gas, charcoal, wood—this versatile grill offers it all. A smoker box insert handles wood chunks or pellets, covering one of the three propane (or natural gas) burners to give you other fuel options. Movable shelves, a rotisserie, and a lid that opens a full 90 degrees allow for culinary multitasking in up to four separate areas. Interior lighting illuminates the grill, while each backlit dial glows orange when in use. No custom surround? A two-drawer stainless-steel cart makes a sleek companion, with a pull-out compartment to hold a tank.
Price: $4,599 (grill via DCS at Amazon), $1,999 (36″ cart via DCS)
MONOLITH BBQ GURU EDITION CLASSIC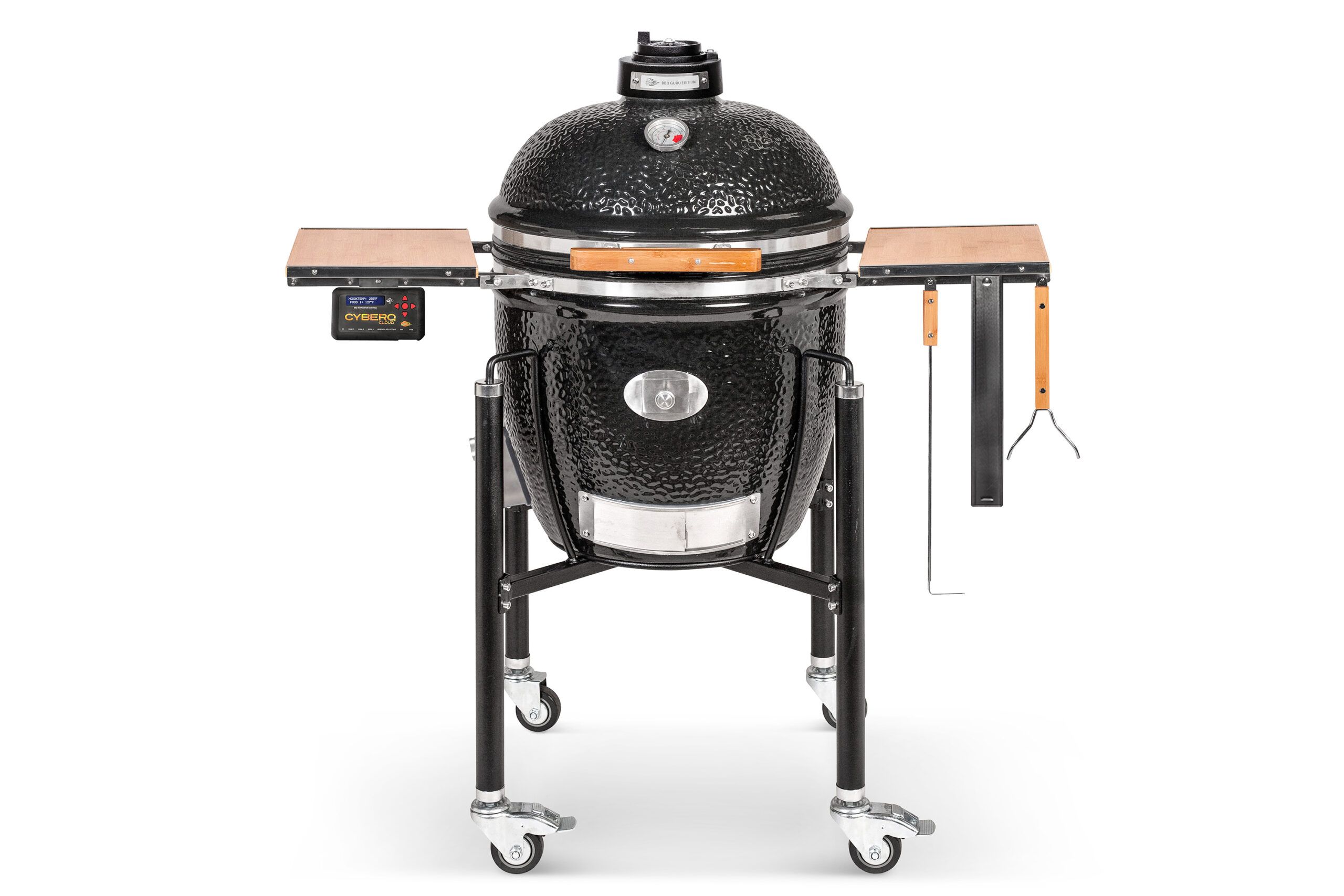 Size: 47″W x 28″D x 47″H
Features: This Wi-Fi-enabled kamado grill boasts precision temperature control courtesy of a built-in, specially calibrated draft fan synced to a digital thermometer. Keep tabs on dinner via your smart device, or ask Alexa to give you status updates. And if you're new to charcoal grilling with a thick-walled ceramic kettle, here's an all-in-one starter setup: Everything's included, from the stand with bamboo side tables to the ash hook and grate-lifter—there's even a pizza stone.
Price: $1,599; Monolith on Amazon
TRAEGER PRO SERIES 34 PELLET GRILL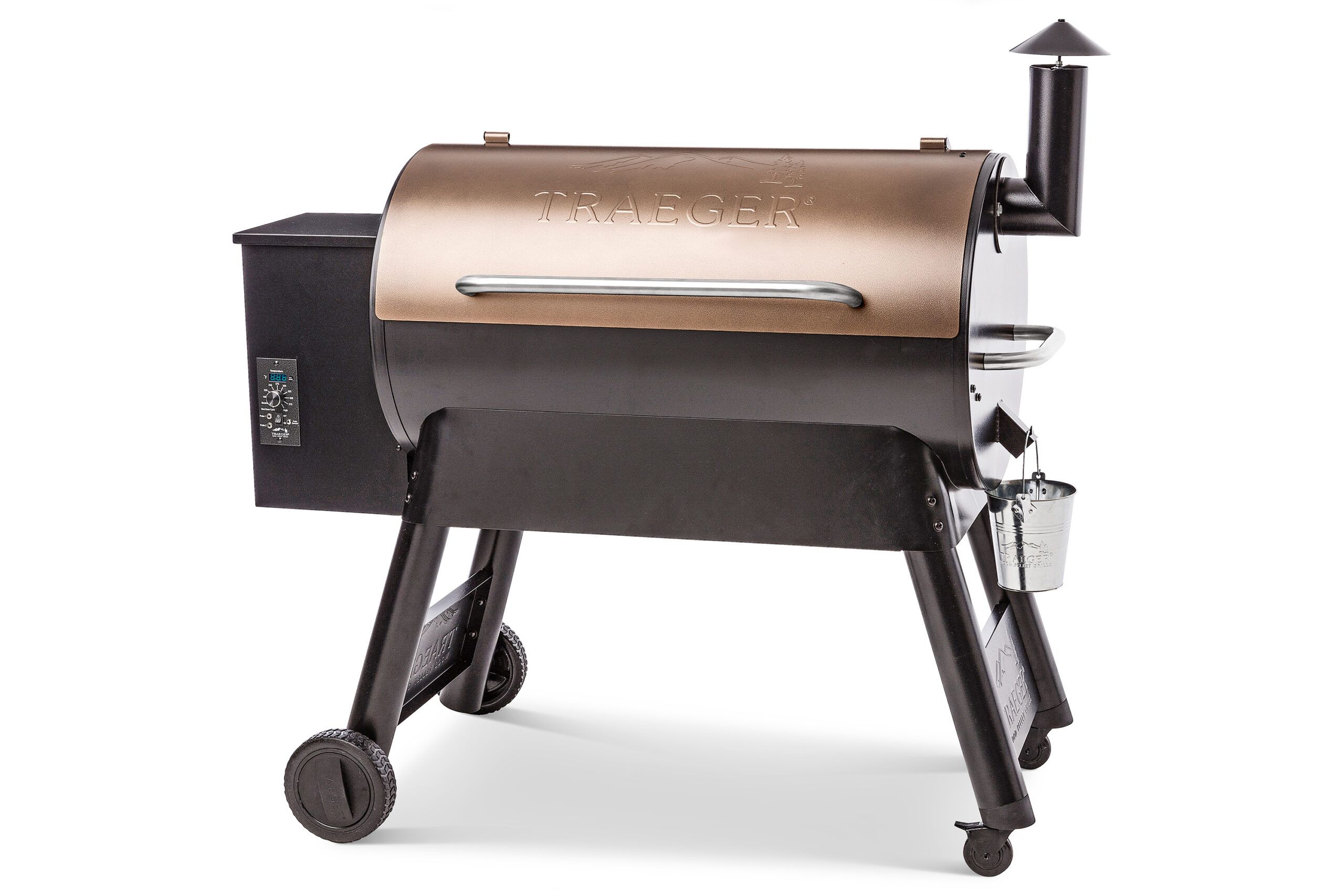 Size: 53″W x 27″D x 49″H
Features: Flavor-imparting hardwood isn't just for smoking anymore: You can use this wood-fueled grill's 884-square-inch cook space to grill, roast, sear, smoke, or braise. It has a rotating auger to feed hardwood pellets from hopper to fire pot, where they are lit by an electric igniter rod. A fan stokes the fire and distributes the heat and smoke. The built-in digital controller lets you track the temperature; dual meat probes allow you to cook two cuts of meat to different degrees of doneness without lifting the lid.
Price: $899.99; Traeger