Secure and Elegant
Karen over at The Art of Doing Stuff was gifted a box of baby chicks. Naturally, an impressive DIY chicken coop was on the horizon.
This elegant design was constructed with built-in storage. All the doors have "double security features" to keep wildlife out. Affordable lanterns are the perfect finishing touch.
Read more about this chicken coop at The Art of Doing Stuff. You can read about the building process and you can even see The Coop at Christmas.
A Spacious Coop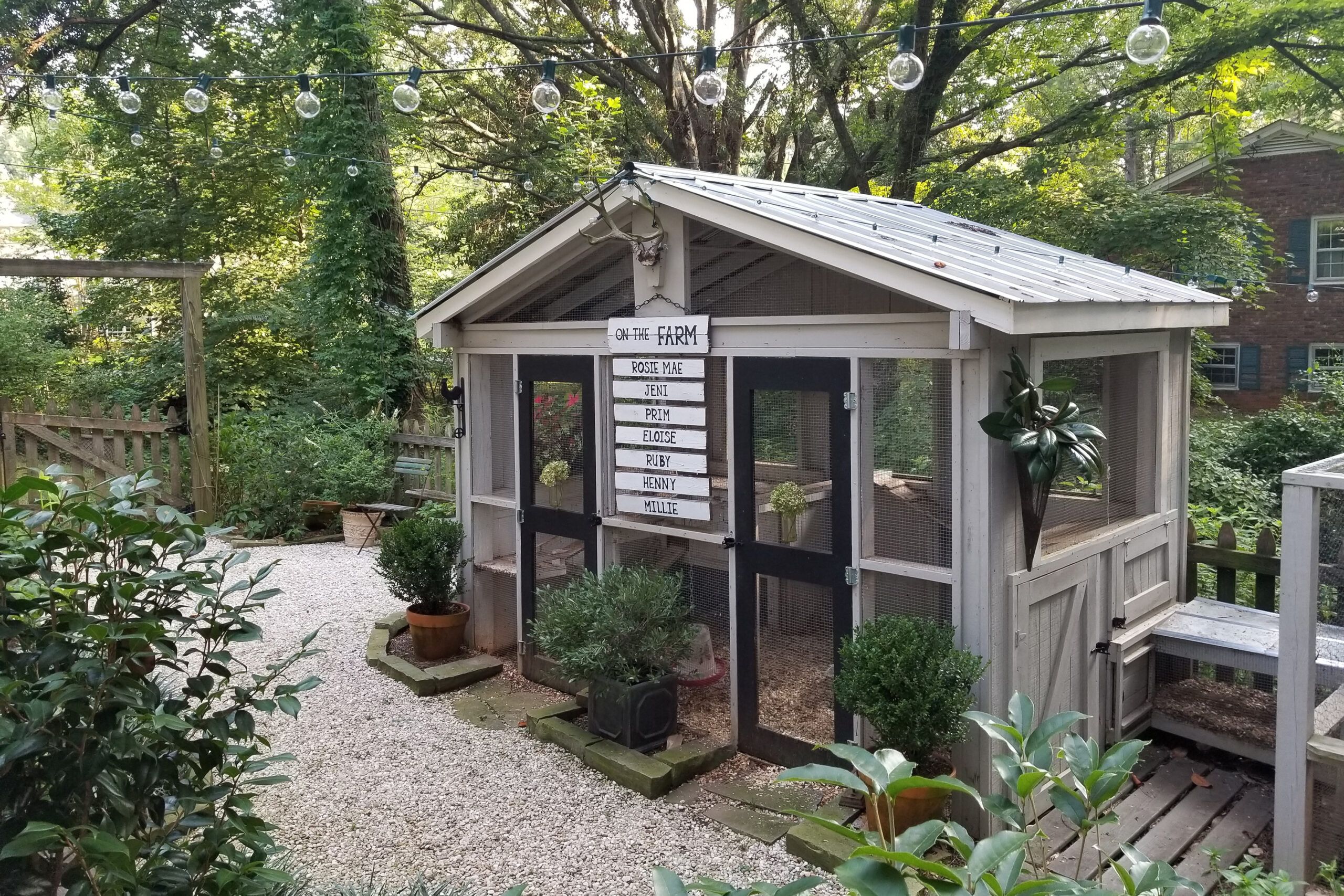 The Scott Family built this coop with plenty of space for their "ladies" to perch and play. The design includes a 6'x6′ chicken run with hardware cloth along the bottom to keep critters out.
You'll find floorplans, materials, and other details about this project in a 3-post series over at Redeem Your Ground. For more information about the DIY "On the Farm" sign shown here, check out "Why, Yes…Our Backyard Chickens Do Have Names."
An Eco-Friendly Wonder
This eco-friendly coop was built of repurposed wood. The bold pop of color makes the structure a fun addition to this California yard.
"In case you were worried that the run is not very large," blogger Carla writes, "please know that my beloved chickens are free-range birds, spending most of their time with full access to our large (for California) suburban lot." Lucky chickens!
Learn more about this "predator-proof" project at Small + Friendly.
A French Palace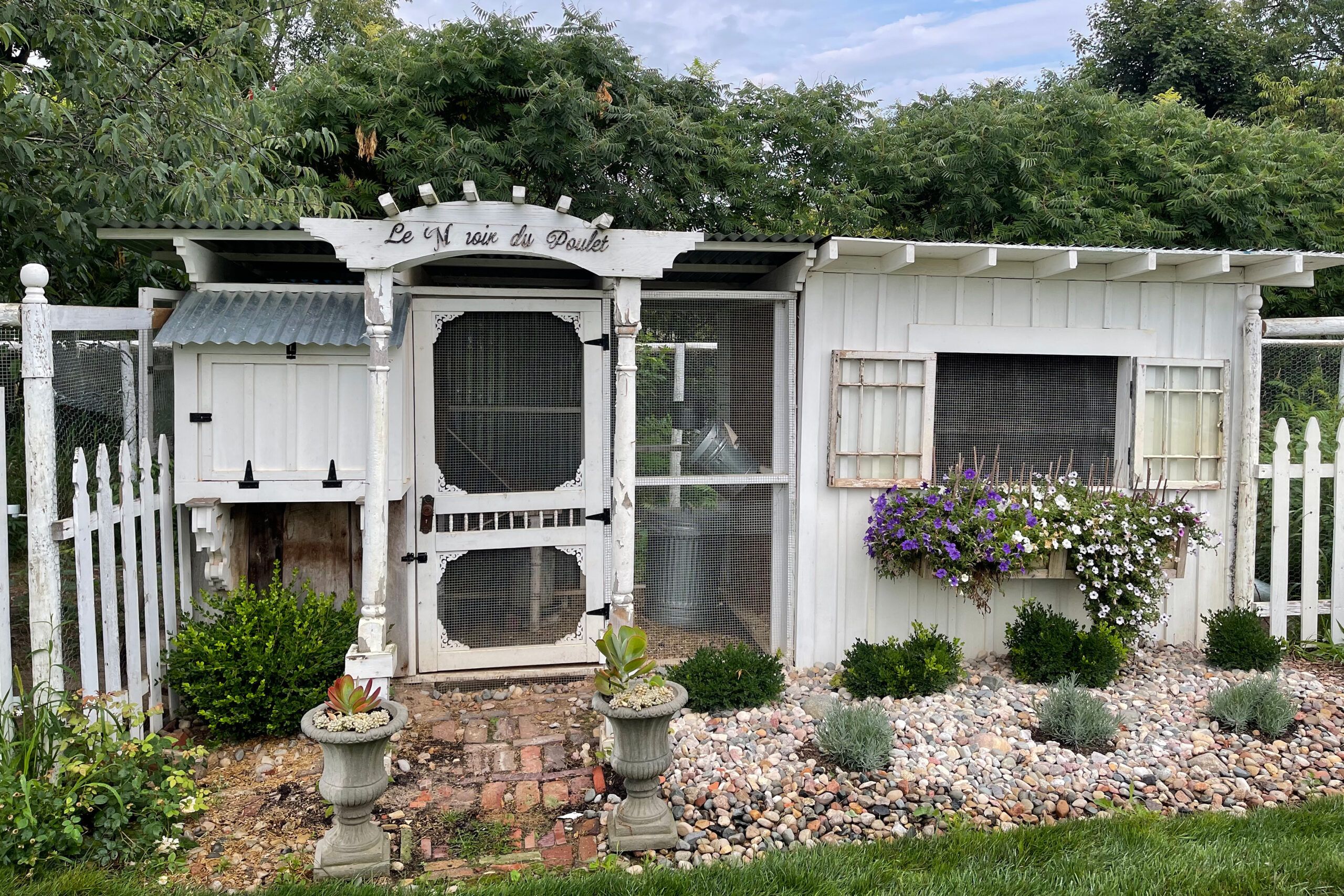 In all of our years of trendspotting in the blogosphere, Liz Marie Blog has always been one of our favorite stops.
We can understand why this chicken coop, built by Liz's friend, Holly, is known as "The Chicken Palace." With beautiful design details like contrasting hardware and painted wood corbels, this project proves that a chicken coop can be as decorative as a garden shed.
See more photos of Le Manoir du Poulet over at Liz Marie Blog. You can also check out another one of Holly's projects by clicking DIY Rustic Window Greenhouse.
Upcycled Chic
Why build when you can upcycle? Back in 2014, Inhabitat covered Ton Matton's "Chicken Cabinet. " Built to EU free-range specs, the repurposed cupboard was part of Matton's line of Free Range Furniture.
Drawers in this unit keep soil, straw, and feed handy for up to three chickens. There are even "tiny curtains for the hens, since they prefer to lay eggs in the dark."
Read more about this project over at Inhabitat.
An Urban Nest
This 6'x3′ raised coop utilizes the space underneath as an enclosed, shaded play area. Don't worry; there's also a built-in chicken run.
Our favorite details? The 10″ overhang of the roof, which protects the coop's interior from Seattle rain. Back in 2010, when this coop was built, there was also a wooden crate where blogger Lyanda Haupt's daughter, Claire, sat and read Charlotte's Web with the chickens.
The Urban Chicken Coop Plan over at The Tangled Nest blog is one of our favorites. Check out their fun infographic version of the plans, too.
The Country Cottage
Yeah, those are cedar shingles covering the exterior of this Internet-famous chicken coop by Trevor over at TrevorMade. This project goes from a plain-old coop to charming country cottage with the help of shutters and white picket fence.
You can get plans, tools list, and materials list over at TrevorMade. And check out the comments under their post for cost, time, and difficulty information, too.
Want to see our official TOH Chicken-Coop Plans?
Check out How to Build a Chicken Coop for Tommy Silva's very-own project plans.