Delve into the history of landscape design, and you see certain ideas over and over: strong geometric forms, energetic use of contrasting colors, a balance between managed and wild. There's good reason for the repetition—these ideas work.
Designer: Janet Lohman Design; 310-471-3955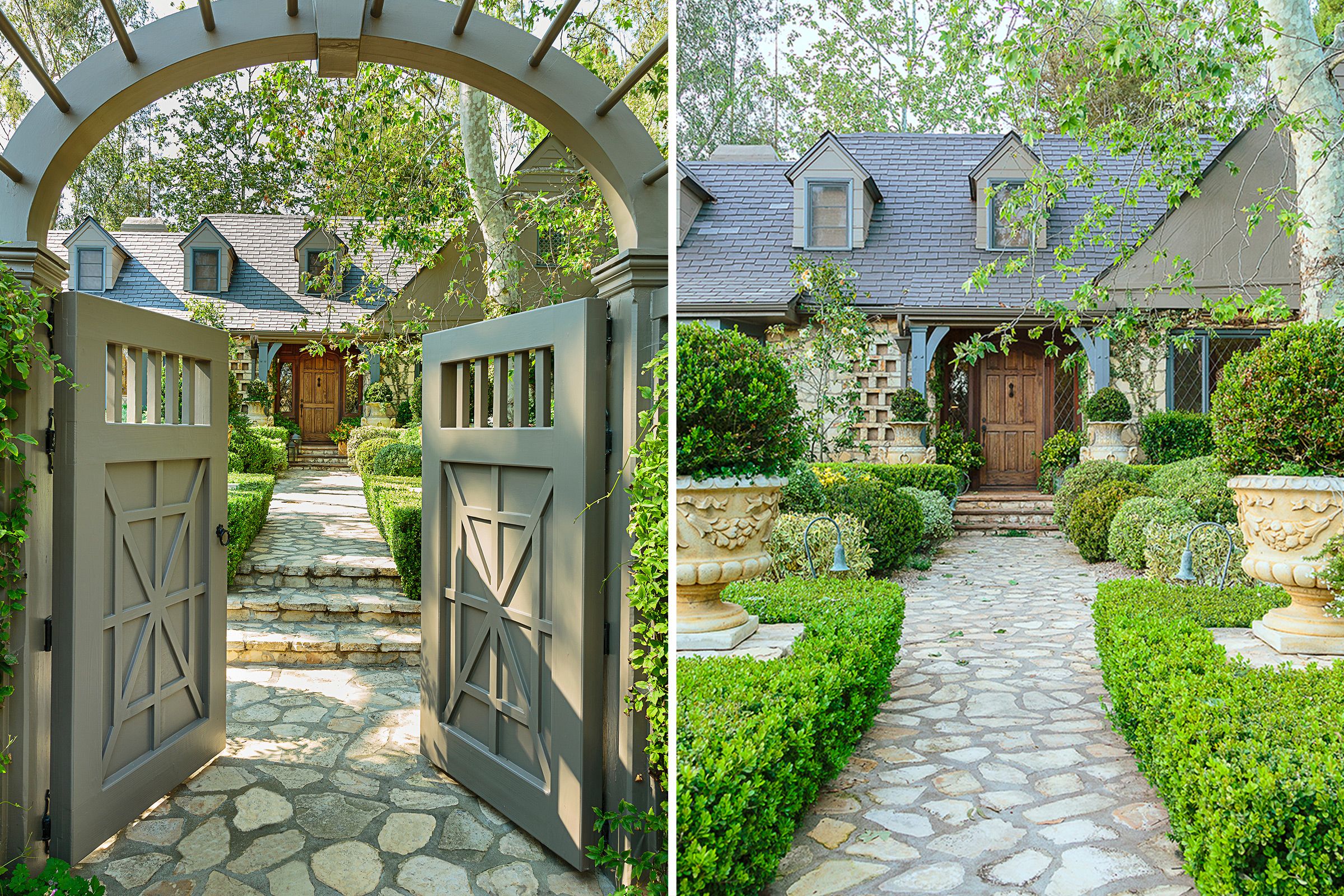 Studying pictures of classic gardens while taking landscape-design courses at the University of California, Los Angeles, about 10 years ago, interior designer Janet Lohman found herself especially drawn to tidy, globe-shaped shrubs. She saw them in gardens in France, England, Italy, Spain, Portugal—all of Europe, it seemed, and dating back to medieval times. There were even references to their use at the beginning of the Roman Empire.
Dreamy Landscape Behind a Handsome Gate
"Some things are just right," Janet concluded. "They stand the test of time." She thought that globe shapes, with their strong structure, would look good almost anywhere: modern gardens, traditional gardens, rustic gardens. And she had the perfect canvas for testing her theory—the 1948 Tudor-style house she shared with her photographer husband, Mark, in Los Angeles.
Structured Landscaping to Match the Tudor-Style Facade
Back then, the front yard was just a blank lawn, fully exposed to the street. The only plants with any heft on the half-acre lot were two mature sycamores, one pepper tree, several eucalyptus, and a large camellia by the front door. The backyard held a kidney-shaped swimming pool. The west-facing side yard, with its lovely evening light and its view into the canyon below, had only a narrow concrete path hugging the house. Below that, the yard dropped off, too steep to use.
Memorable Front Yard
During their early years in the house, the couple added a deck cantilevered out over the hillside and a stone path from the street to the front door. Then, just as Janet was working to expand her design business into gardens, there was a pressing need to build at least a fence to separate the front lawn from the street. Mark and Janet had twin boys, then toddlers, plus two Lab puppies. And they all loved to run.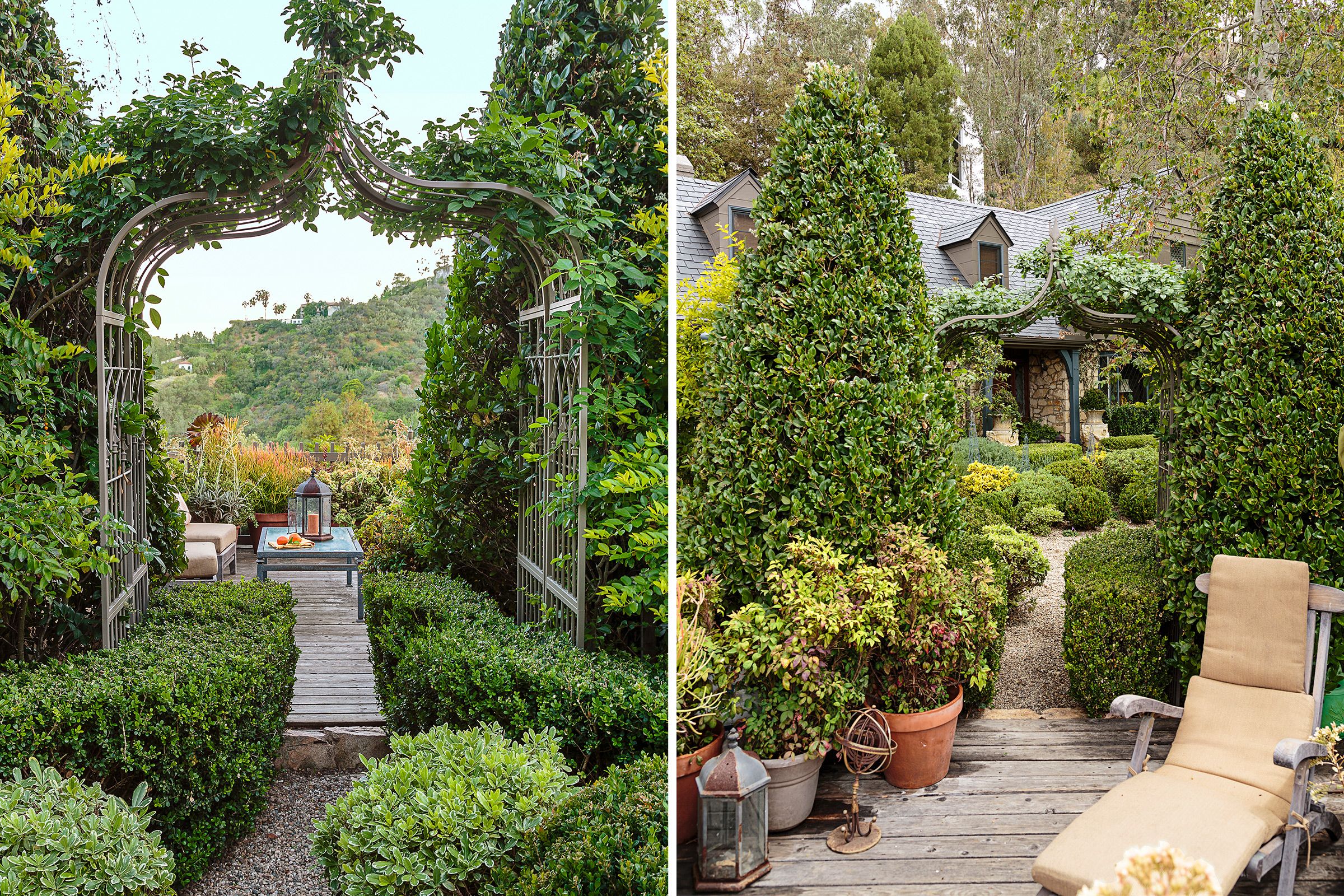 Romantic Arches Put to Work as Useful Trellis
Seizing the opportunity to experiment with some of her landscape design ideas, Janet set about creating a plan that would enhance the look of the house, which has hefty timbers, a steep slate roof, and leaded-glass windows that remind her of an English country house.
She wasn't interested in planting a traditional English cottage garden, however—too much dividing and deadheading, and besides, foliage colors and textures enchant her more than flowers do. The canyon by the house is blanketed in oaks, ceanothus shrubs, and other native plants. "These are the dry, scrubby hills of L.A.," Janet says. "When I look across the canyon, I see mostly gray-green, with the bright green of new growth."
When a record drought triggered water rationing, the lawn's time was finally up. Janet took it out and installed a gravel mix in shades of yellow, gray, and brown that blend into a medium gray that mimics the color of the mortar in the flagstone front path. Overhead tower drought-hardy sycamore and eucalyptus trees, which block the worst of the heat and leave the garden dappled in sunlight, creating a dreamy, relaxed feeling.
Small, Private Deck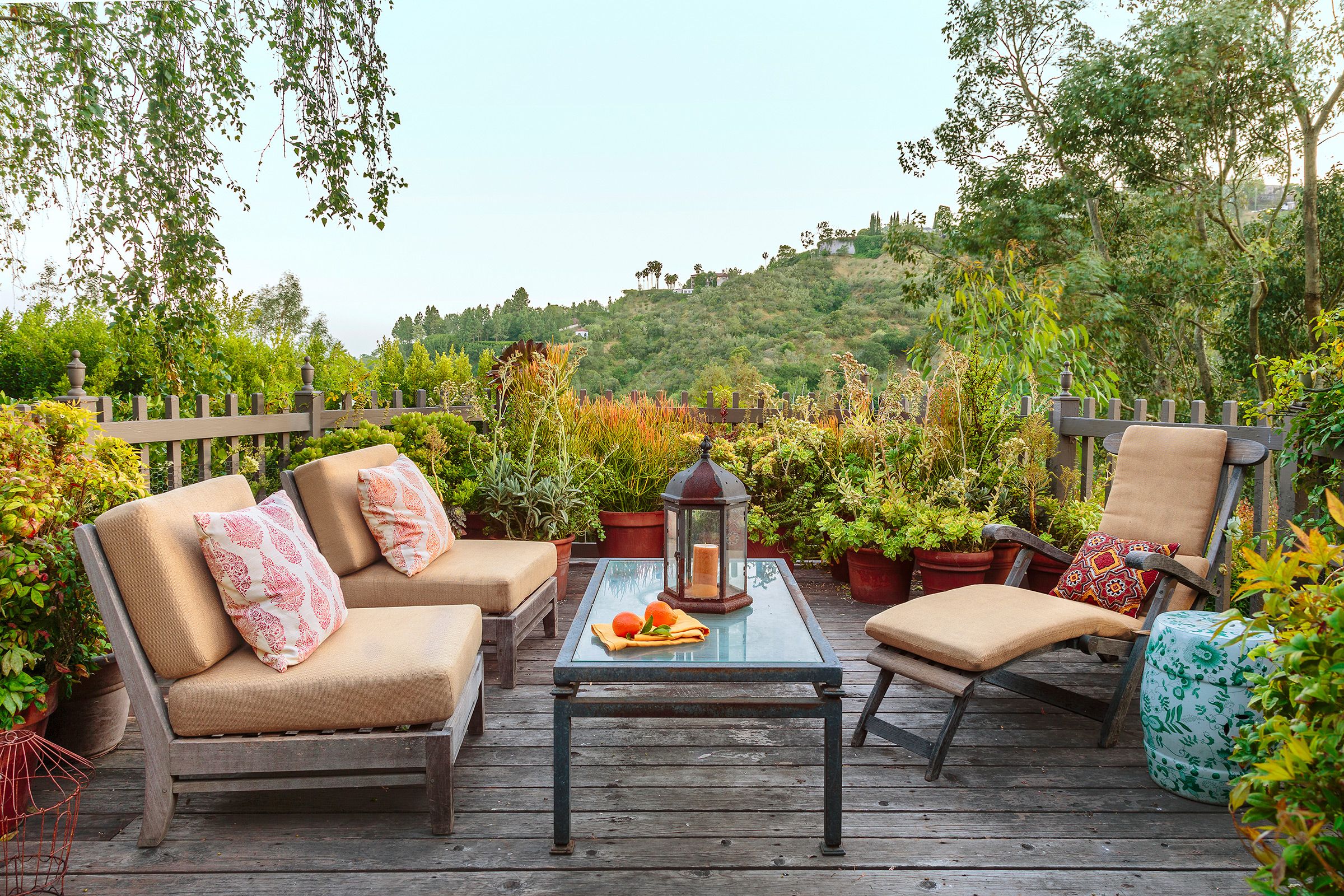 Inspired by that color palette, but wanting a more structured look, she dug into the perimeter of the lawn and planted privet around the edges, then boxwood inside that, and added westringia and other tough, drought-tolerant shrubs. She also put in several maples, sword ferns, and hardy geranium groundcovers with pink, purple, and magenta blossoms so tiny they almost get lost in the foliage.
Janet added only a few plants with showy flowers: 'Iceberg' roses, 'Richmondensis' begonias, and 'Alaska' azaleas, all with white blooms. Gradually the lawn grew smaller as the beds expanded with plants that caught Janet's eye, mostly easy-care shrubs that grow naturally in dense mounds, such as 'Golf Ball' kohuhu.
Roomier Main Deck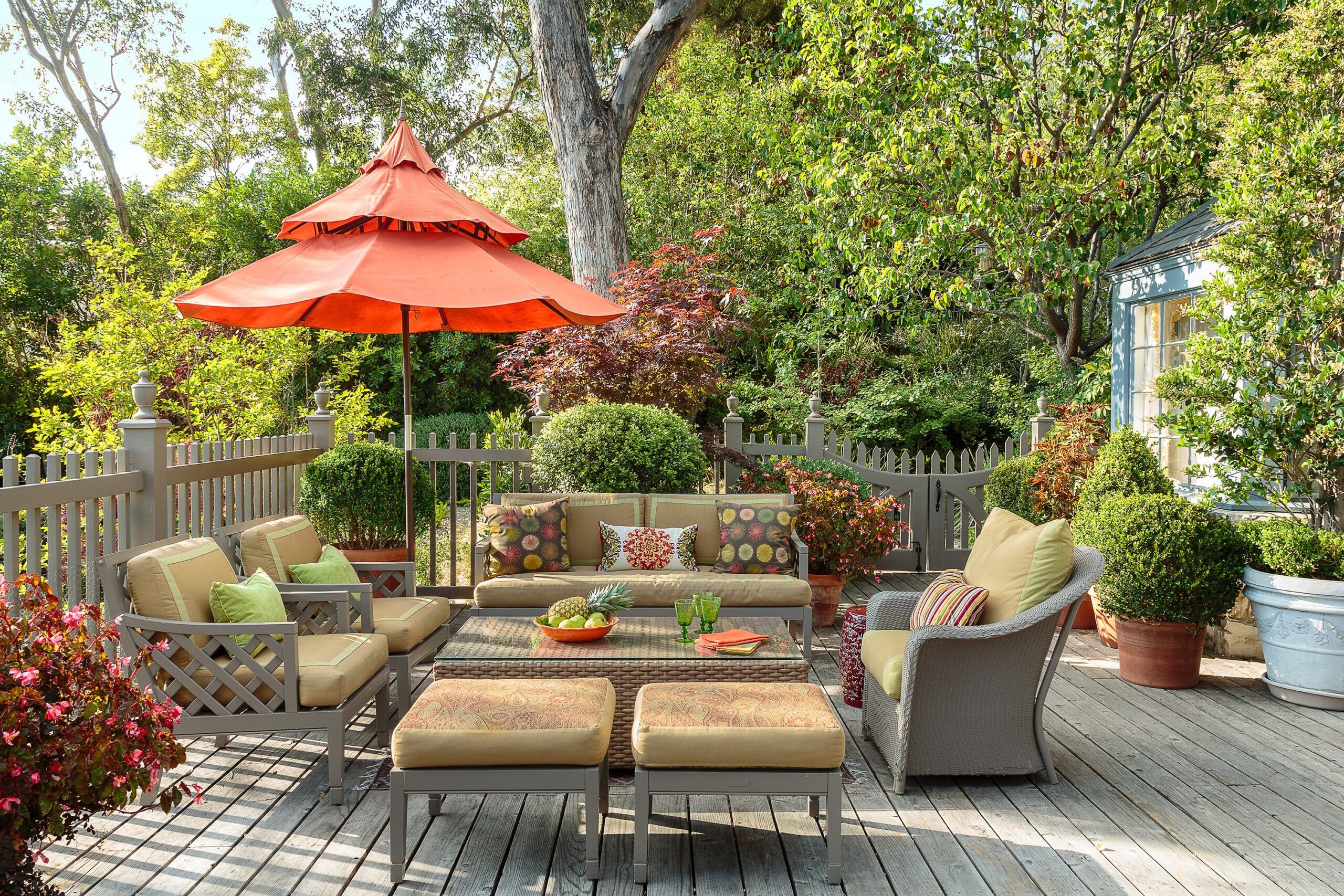 On the west side of the house, the gravel becomes a path leading to a small deck entered through a double arch. It's just big enough for a couple of people to sit and talk or read. "It was the ugliest part of the yard," Mark says. "Now it's the cutest spot."
Tranquil Perch for Canyon Views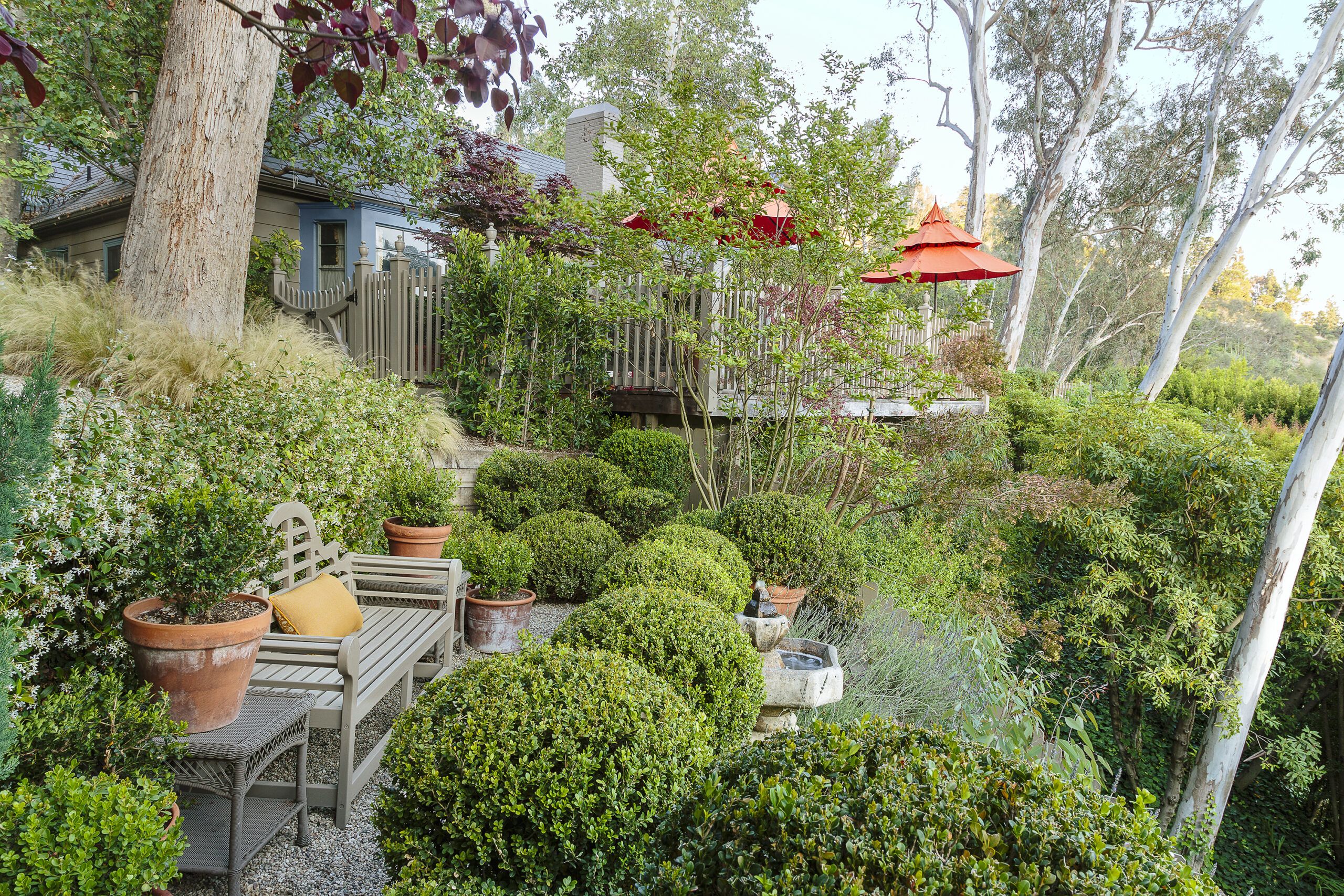 Beyond that is the 34-foot-long main deck, which guests generally access from inside the house. The Lohmans rebuilt it a few years ago, adding 6 feet to the original 16-foot depth. Like the old deck, it has horizontal supports anchored to the home's foundation and vertical supports of reinforced concrete sunk into the hillside.
Foliage-Flanked Swimming Pool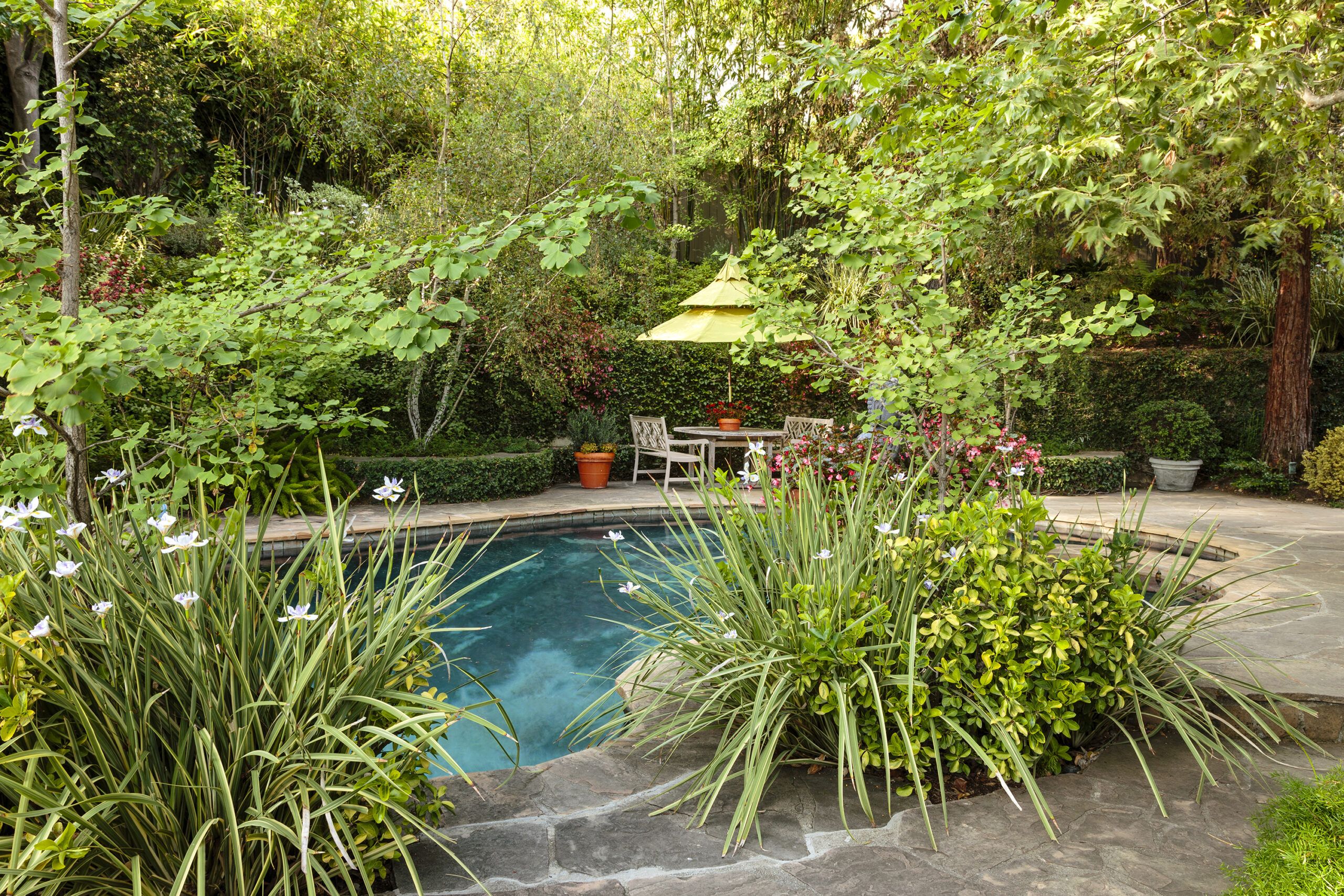 Over time, the backyard gained a lot of usable space. By excavating for a 95-foot-long retaining wall, the Lohmans pushed the hillside back about 10 feet around the pool, creating a level area in which to plant. Janet added 30 trees, many of them there. She also created a seating area shaded by birches, where one can look out over the canyon, breathe in the scent of lavender, and listen to the hum of bees.
The most recent change solved a drainage problem that plagued a flagstone patio behind the garage and turned that area from a catchall for old barbecues, ladders, and bags of potting soil into a gravel garden lined with water-thrifty plants.
Gravel Area Stocked with Herbs and Veggies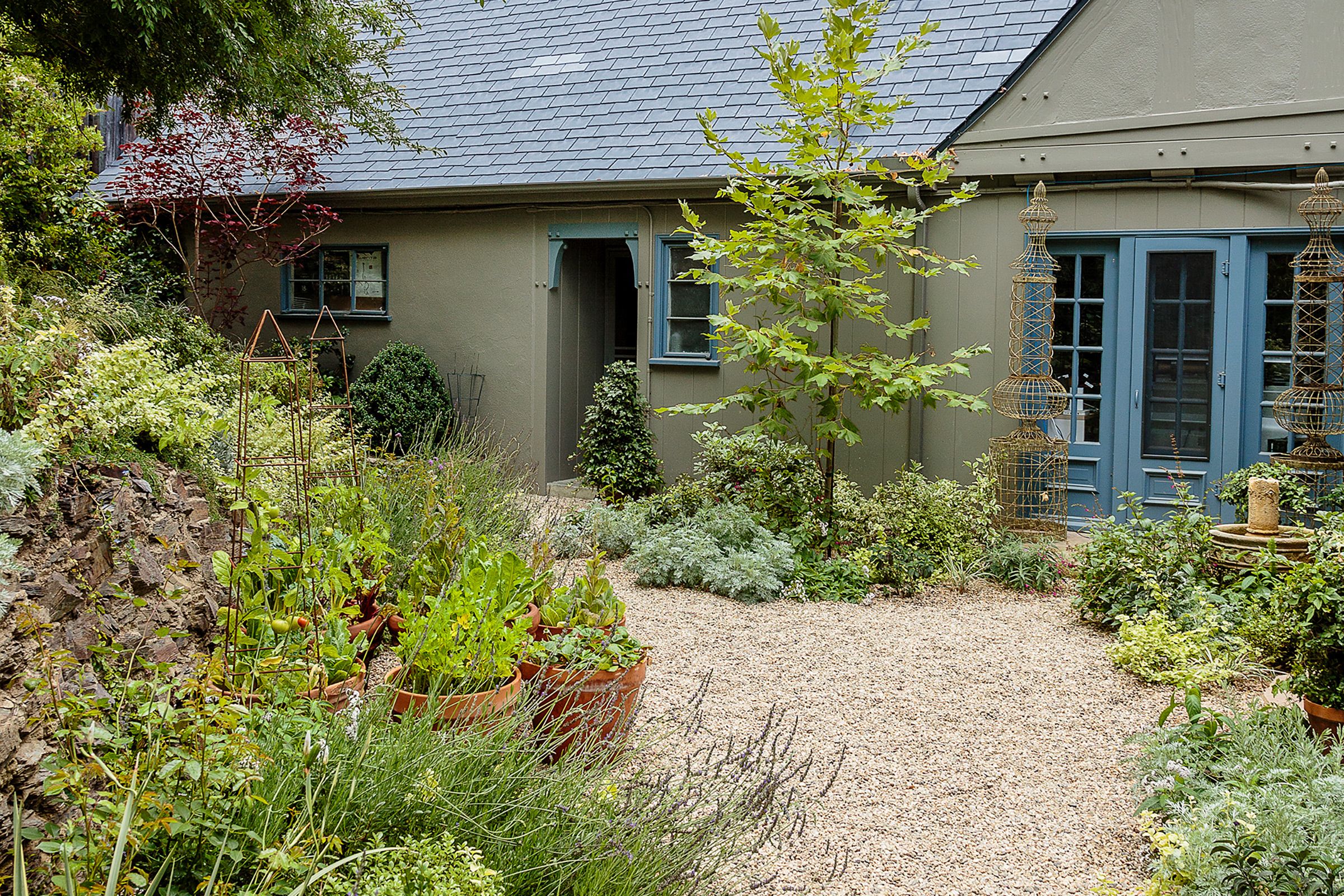 Mark had wanted a yard that made it easy to entertain; Janet "one that felt enclosed and private, one that felt safe and secluded and lush." Now, it's abundantly clear, they have both gotten their wish.
The Garden Plan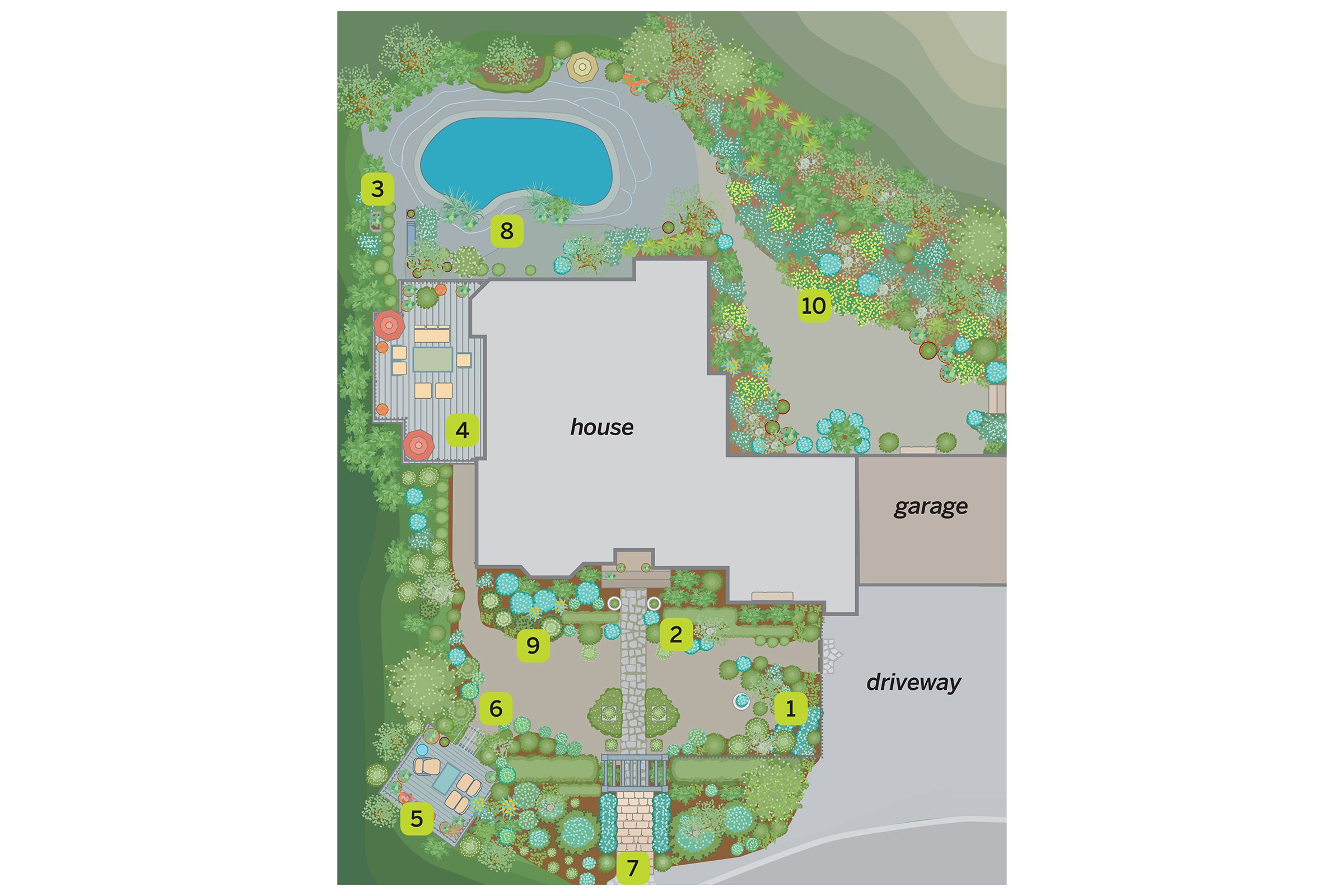 The property includes a formal front garden, a large deck for entertaining that looks out over the canyon, another smaller deck, a hillside garden and a pool in the back, as well as a new gravel garden behind the garage.
Memorable Front Yard
Structured Landscaping to Match the Tudor-Style Facade
Tranquil Perch for Canyon Views
Roomier Main Deck
Small, Private Deck
Romantic Arches Put to Work as Useful Trellis
Steps and Westringia Set the Stage
Foliage-Flanked Swimming Pool
(Small) Deck View of the House
Gravel Area Stocked with Herbs and Veggies