It all started simply enough, with her son's request for a playhouse. Before that, Ellen Lathi was busy with her neurology practice and hadn't given a thought to exploring the two suburban acres around their home, in Needham, Massachusetts. Of course, young Jonathan didn't see the point of a playhouse sitting primly on the lawn; he wanted an adventurous hideaway far from the prying eyes of grown-ups.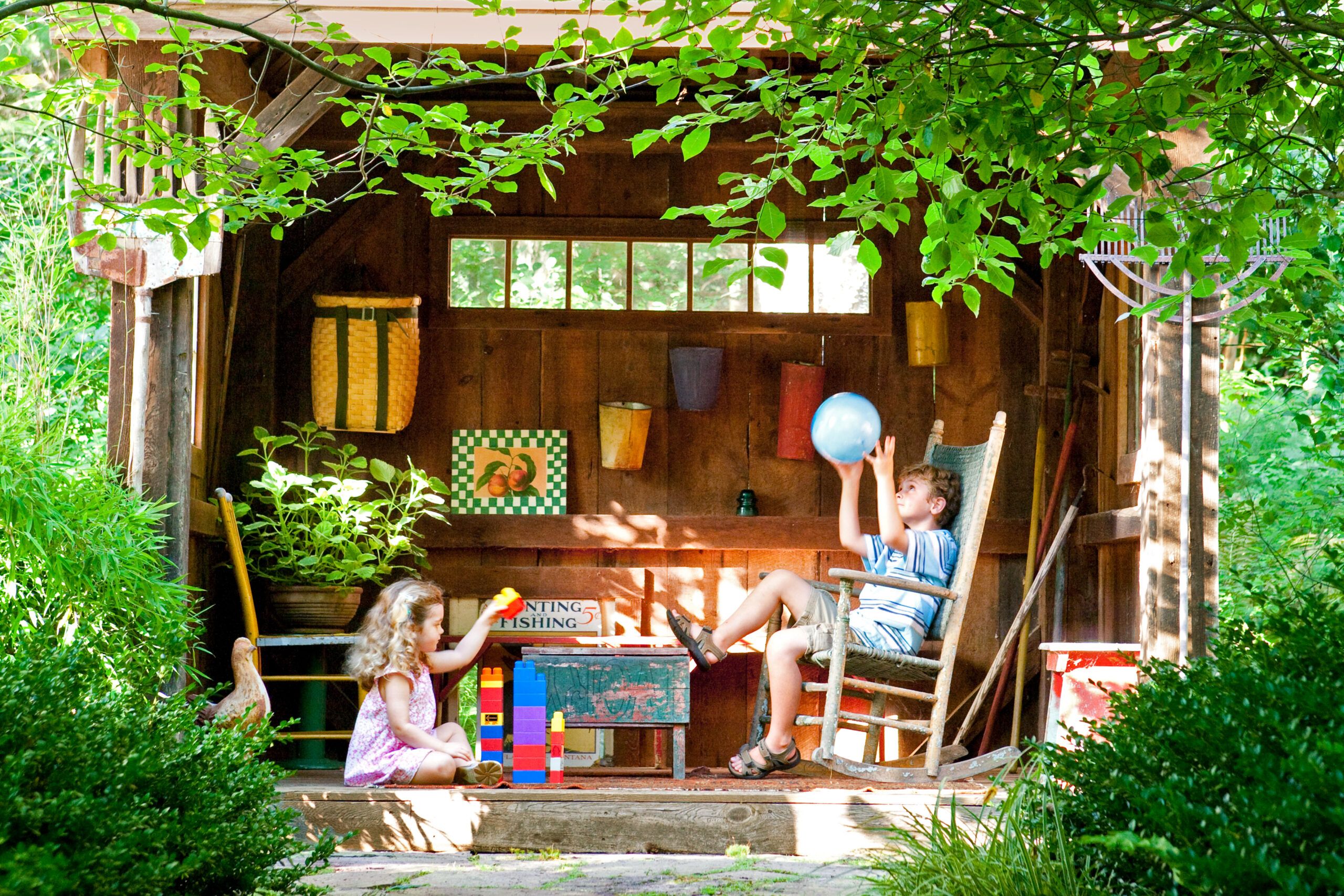 Searching for a suitable getaway that wasn't plastic or prefab, Ellen happened upon a cedar playhouse built by Bill McKenny, a farmer and carpenter in Maine. "A wonderful, Paul Bunyan type of fellow," as Ellen describes him, McKenny made the trip to deliver the perfect rustic hideaway.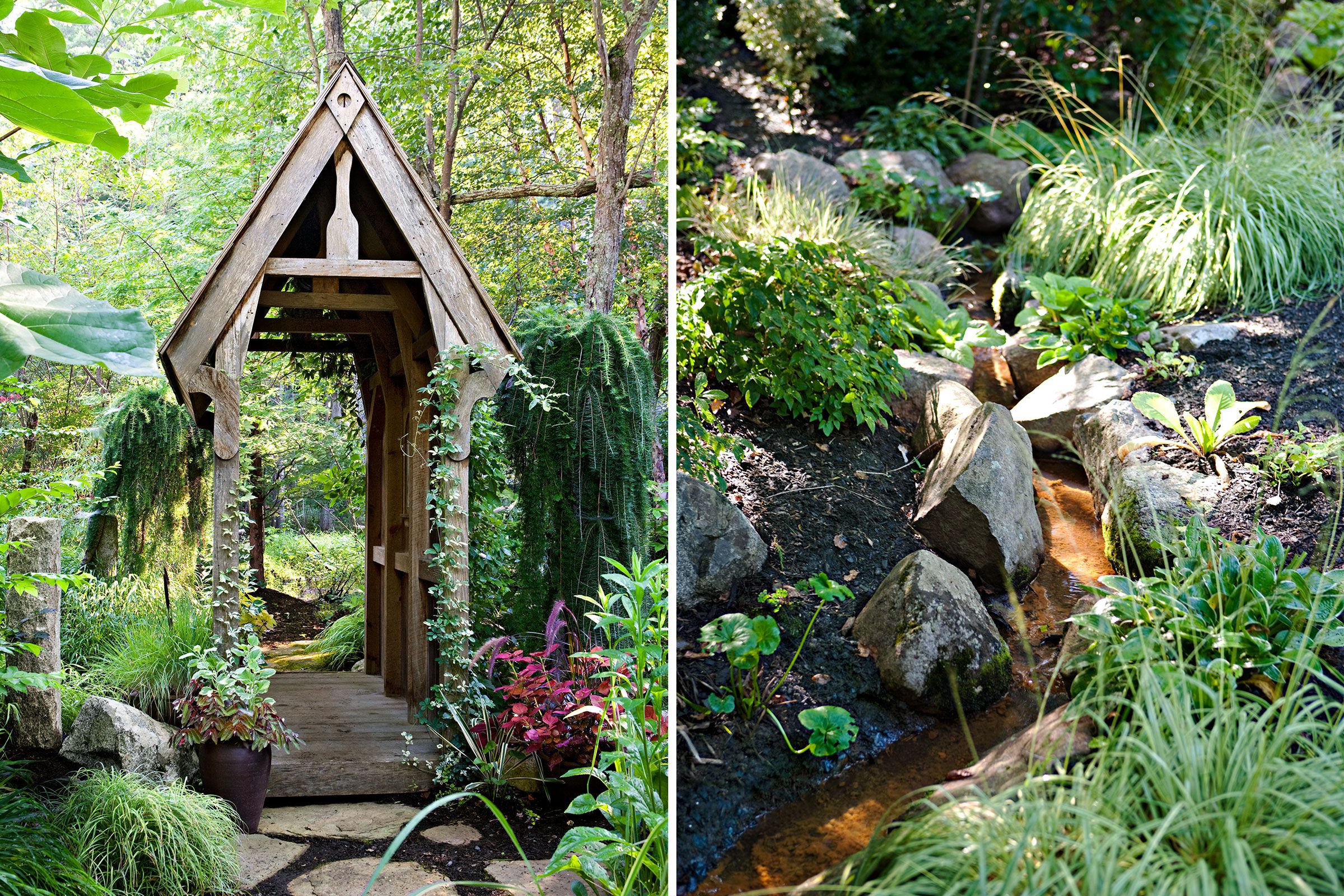 Bridges Led the Way for More
To forge a path to it from the house, an exercise that unearthed a swamp, meant McKenny would add a bridge. Farther out, the path hit a stream. Could he add two more bridges to the agenda? But flat ones didn't add anything to the landscape; they needed to be vertical structures, Ellen realized. And the fanciful bridges that McKenny crafted warranted appropriate plantings to grace their lines, she saw. They deserved evergreens arching around their walls, and the view out their open sides needed to frame something beautiful and botanical.
Meanwhile, Jonathan had another request—how about some roundabout paths leading to his playhouse so he could make expeditions through the outback? Of course, more paths would mean more plantings, and before she knew it, Ellen was enrolled in landscaping courses.
Fanciful Plantings for Accents
Early in Ellen's education as a gardener, a friend gave her a birthday present that proved providential: four seasonal visits to Boston designer Kevin Doyle's garden, Cairn Croft, which is divided into outdoor "rooms," each accented with sculpture and clay pots. His landscape also features open lawns, woodlands, and wetlands. She soon engaged Doyle to help her develop her ideas, including ways to give the land welcome contours without the need for earthmovers. The eventual result was a perimeter of boulders that swoops around from the side yard to hem in shrubs on the front walkway path.
More immediately, they discussed a gathering spot after the first bridge that would be designed with the whole family in mind, and which took form as a circular area with granite seating and a monolithic rock table surrounded by Japanese maples. That successful space was followed by a simple "folly," a three-sided building covered by a roof—where Ellen heads with her morning coffee, even when it rains—and, later, the addition of an allée of native black gum trees leading to it.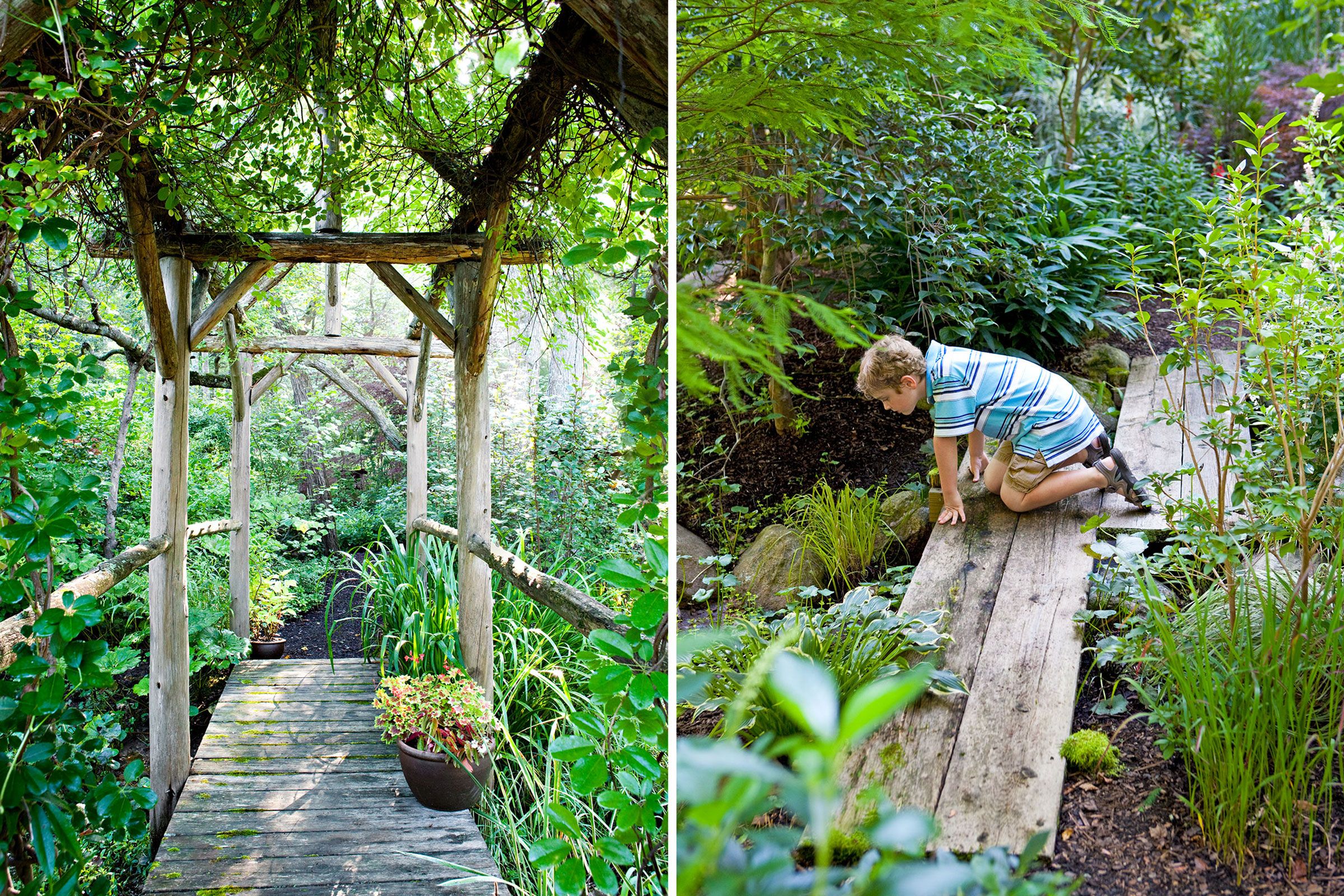 Rustic Cedar Bridge
As any novice would, Ellen learned valuable lessons as the garden took shape. "Jonathan wanted a 'moat' around his playhouse, so I planted a sweep of immense-leaved 'Sum and Substance' hosta. The next morning it was gone—totally eaten by deer," recalls Ellen.
Japanese-Inspired Stream Bridge
With the garden forming a panorama spreading out from the back of the house, Ellen renovated the brick terrace to better admire the view. When she wants shade, she settles into a chair beneath a pergola near the driveway, surrounded by a noninvasive clumping bamboo. To screen out the neighbors, she planted a hedge of variegated western arborvitae along that side of the house.
Dog Run with a View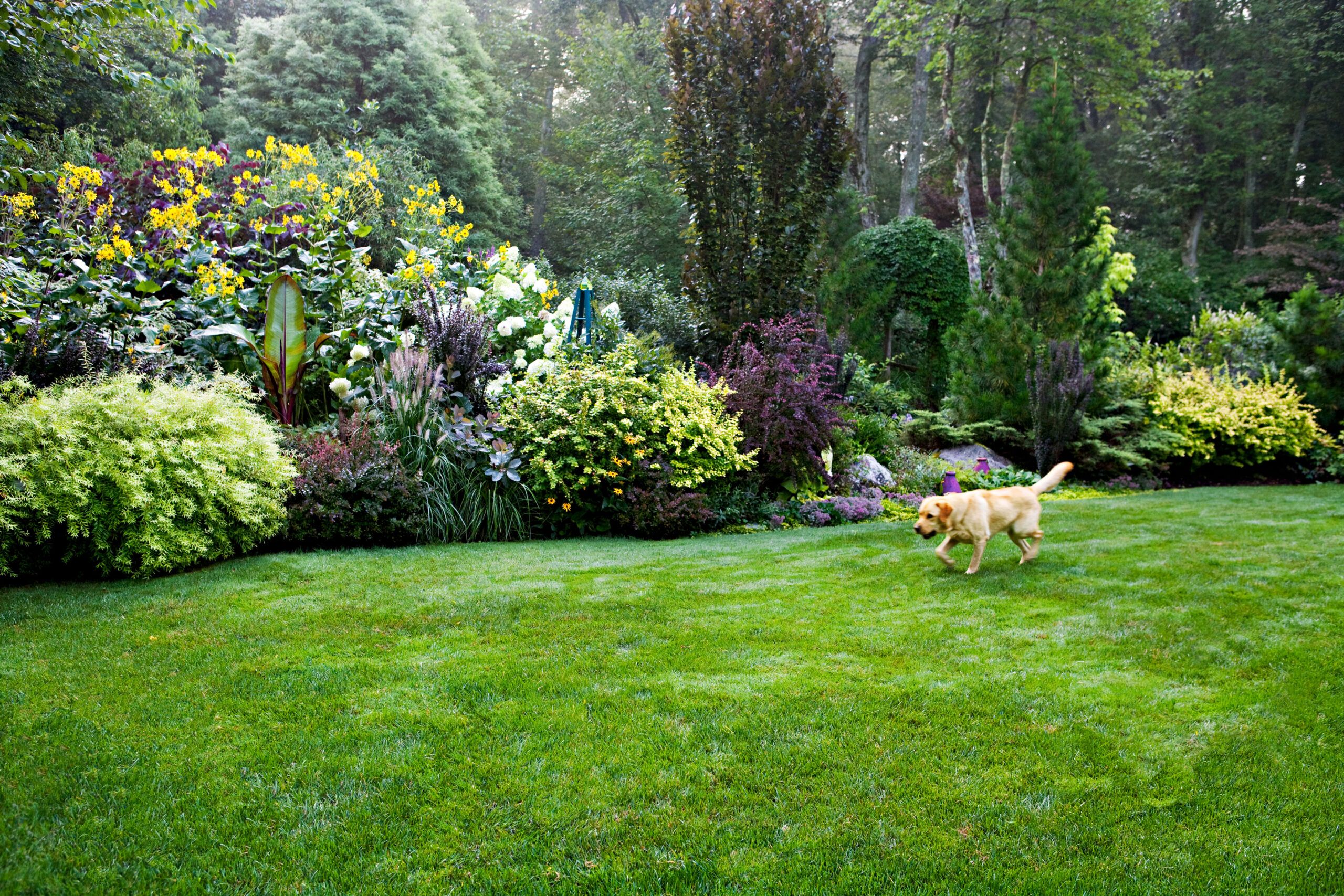 As a network of paths, beyond the initial trail to the playhouse, was installed, plants went in to make the journeys more interesting. In the swampy areas, moisture-loving primroses, ferns, primulas, astilbes, ligularias, and clethras love the soggy soil. With the backyard full of purpose and plants, the front yard was due for a face-lift.
To screen the street, Ellen added a hedge of American beech underplanted with boxwood and 'Ice Dance' carex at its feet. So much privacy resulted from the hedge that Ellen was able to insert a meditation circle with a fountain and stone seating just footsteps from the road.
A low fieldstone wall defines the front yard and leads foot traffic around from the side of the house to a gated dog run, her most recent installation. That low wall continues in front of the house, forming a raised bed for weeping Japanese maples along the walk to the door.
Gate from Salvaged Gears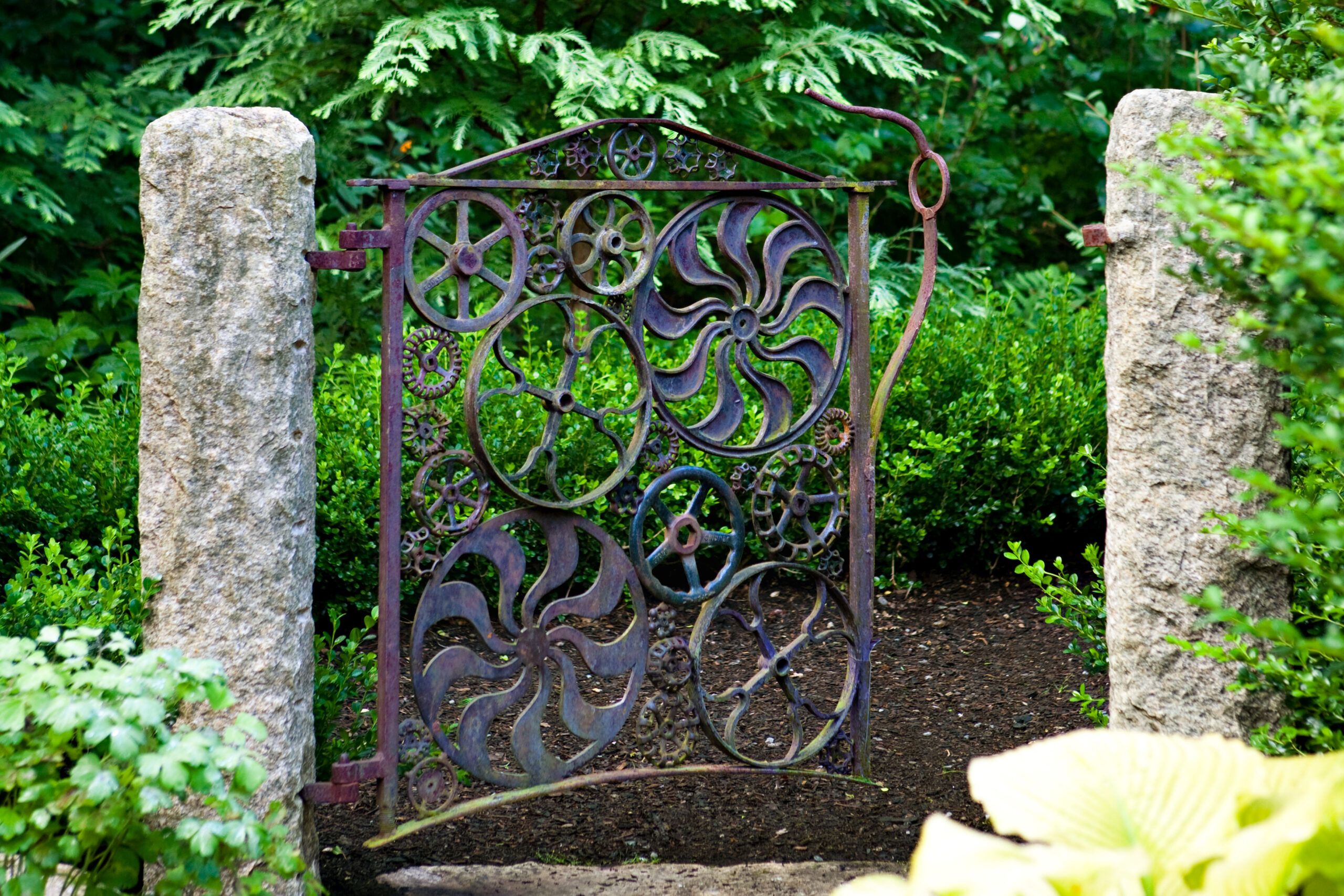 Early in the process, she opted for a DIY approach. "I decided that part of the fun was doing it myself rather than hiring someone to design my landscape," she explains. "I wanted to be responsible for my own mistakes and successes." Along the way, she learned that plants are what really excite her. But aside from some clematis and hydrangeas, flowers are not critical players in her garden.
To preserve Jonathan's wild domain, she kept buffering areas semiuntouched, and against that backdrop, she found, fascinating foliage stands out. She mastered the art of filling space with maximum impact from a class taught by mentor-turned-friend Gary Koller. "He suggested taking black-and-white photos of the garden throughout the year," she says. "Only strong statements work in black and white. I could see what was missing."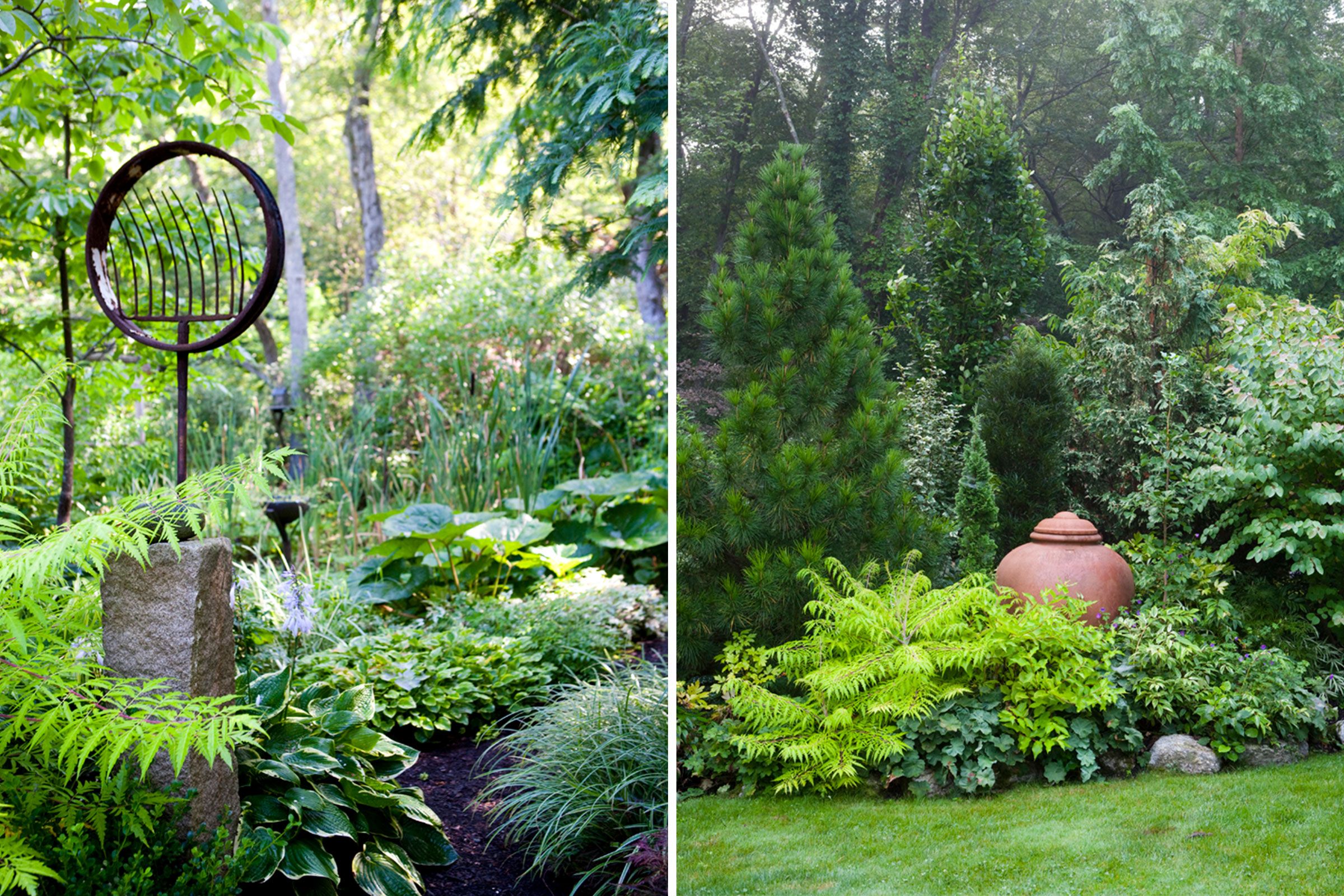 Sculpture Made from Agricultural Tools
That realization led to an emphasis on form. From there, Ellen worked on color. One of her favorite combinations is the gold and chartreuse leaves of shrubs such as Thunberg's meadowsweet, Tiger Eyes sumac, and golden dwarf barberry with the burgundy foliage of plants such as bronze dwarf barberry, ligularia, pennisetum, and a banana that she houses indoors in winter. And ornamental grasses sprinkled in add fountain-like shapes and late-season plumes.
To add more strong structural elements, she brought in works by artist and friend Jill Nooney, including gates crafted from farm salvage that honor the agrarian roots of the region. Granite posts were stationed beside walkways, and local fieldstone was used for paths. Frost-tolerant concrete urns serve as focal points throughout the year.
Frost-Proof Ornamental Urn
The plant list has evolved, of course. As trees such as the golden metasequoia, magnolias, umbrella pines, and stewartias gained size over the first 10 years, they shaded out the large grasses. The garden features fewer perennials today and more shrubs and trees. All tolerate the slightly damp soil in residence.
Terrace Built for Taking in the Scenery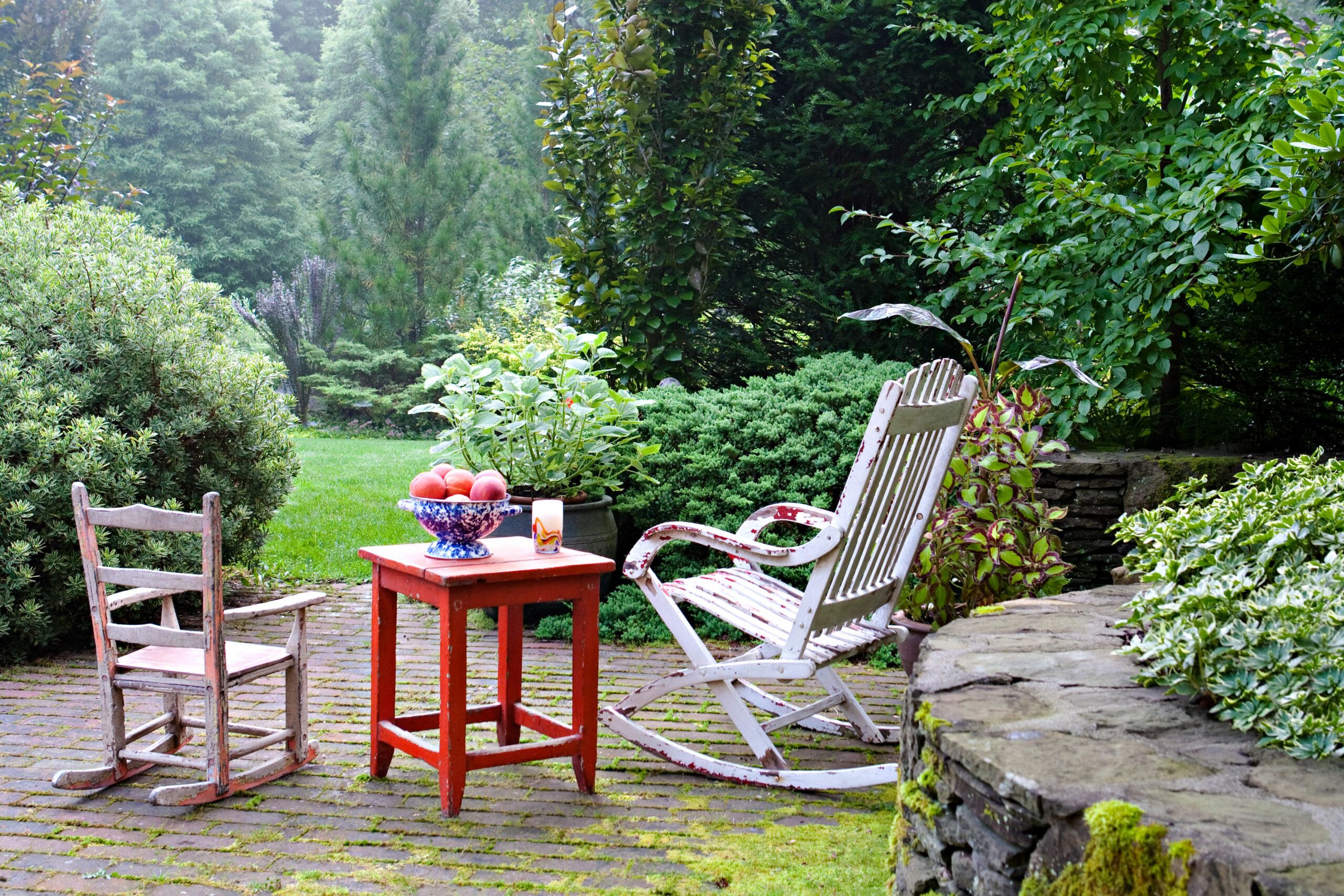 While Jonathan and his sister, Stephanie, are now grown and on their own, visiting children and grandchildren still enjoy exploring the garden's fanciful destinations, including the furnished folly.
For Ellen, the rewards of her passion for plants extend way beyond the visual feast that she has orchestrated. "I am so connected to the land now—I know where the dragonflies hang out and where the worms congregate," she explains. "It's such a powerful thing."
Hosta Path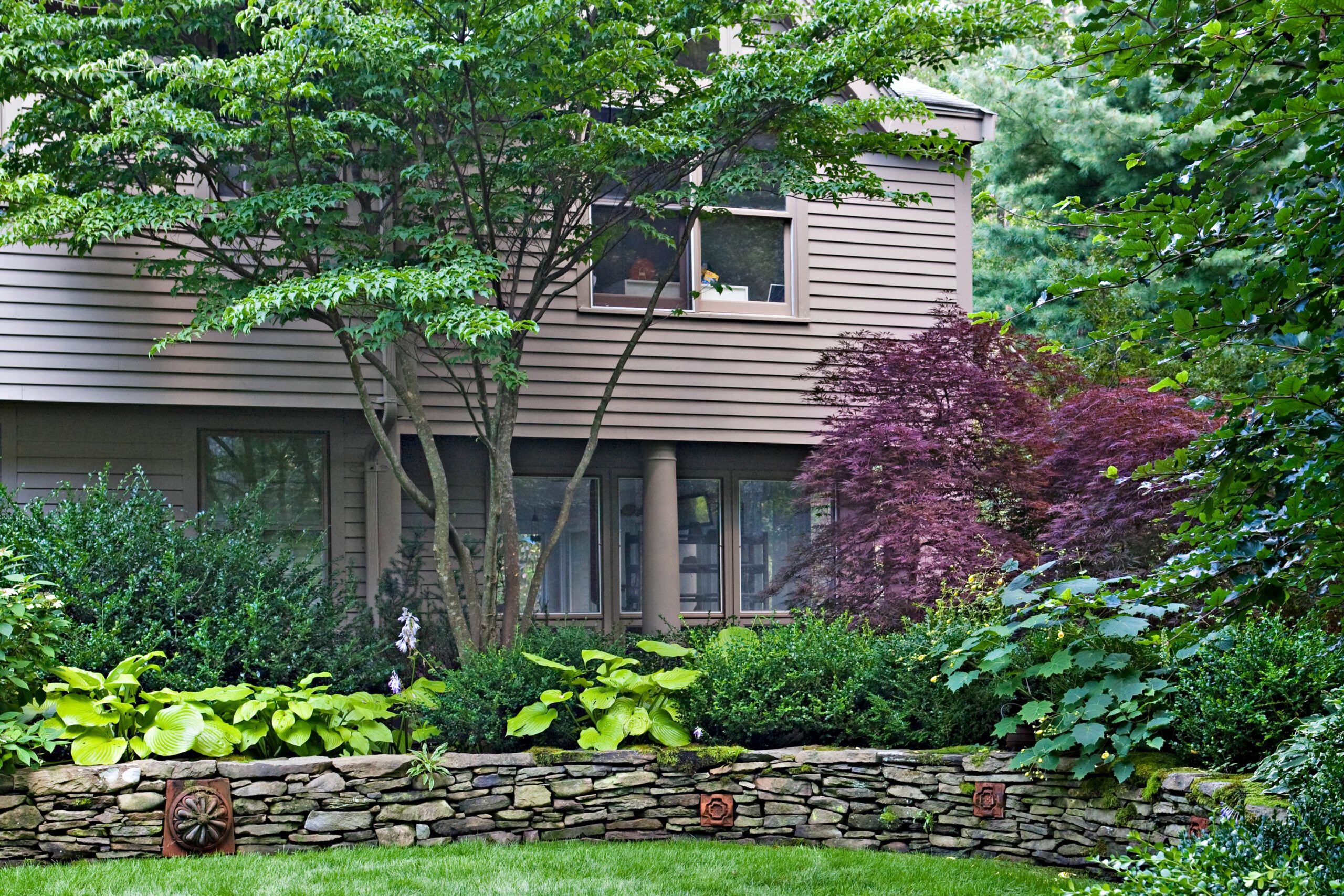 A woodland garden leads into the front yard with a low wall bordering a raised bed of hostas, which also line the path to the door.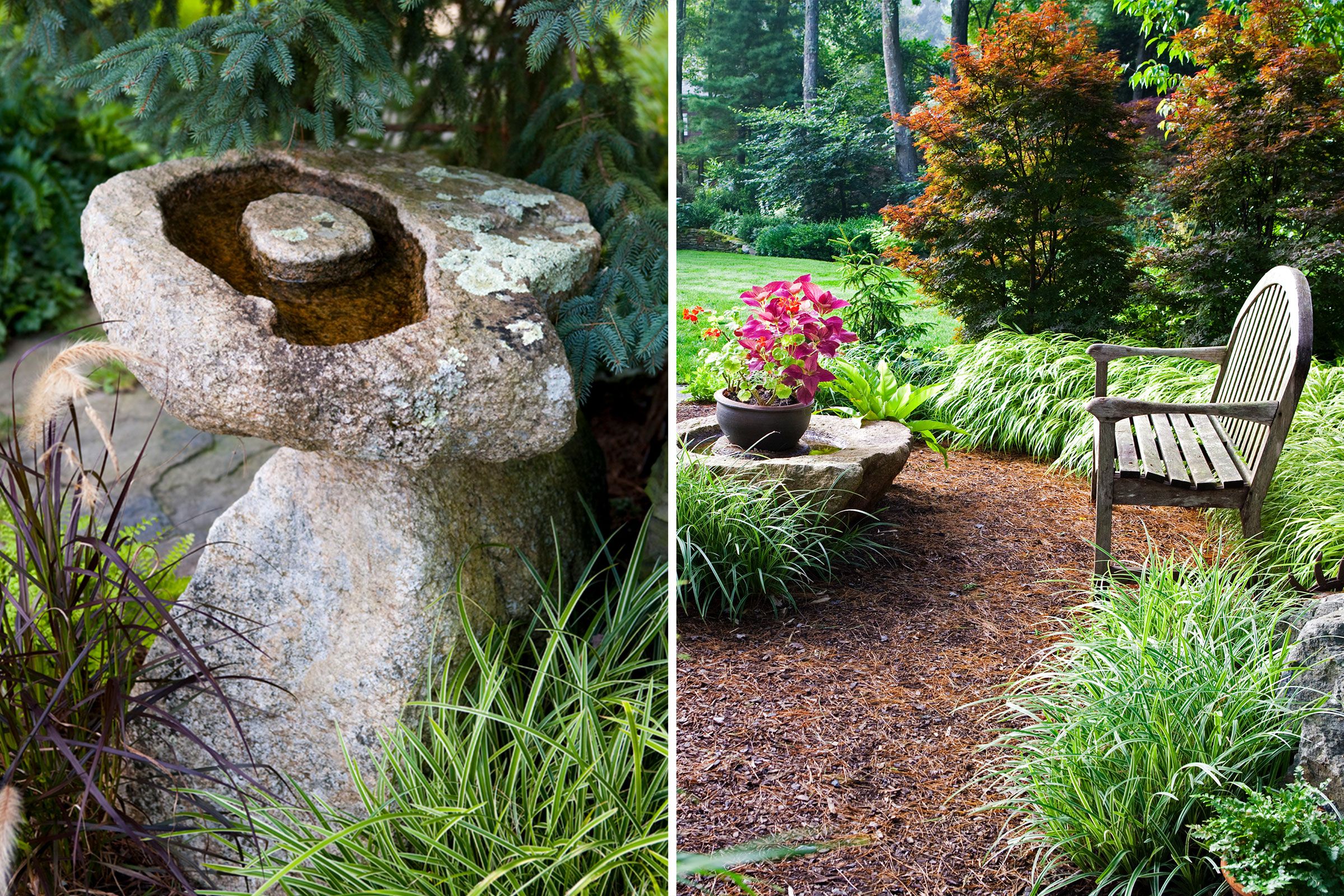 Serene Water Fountain
A fountain in the corner of the front garden leading into the meditation circle provides a water feature to set the stage for serenity.
Secluded Meditation Circle
The "meditation circle" is a quiet spot in front of the house, not far from the street but sheltered by an American beech hedge. Japanese forest grass thrives in the shady environment.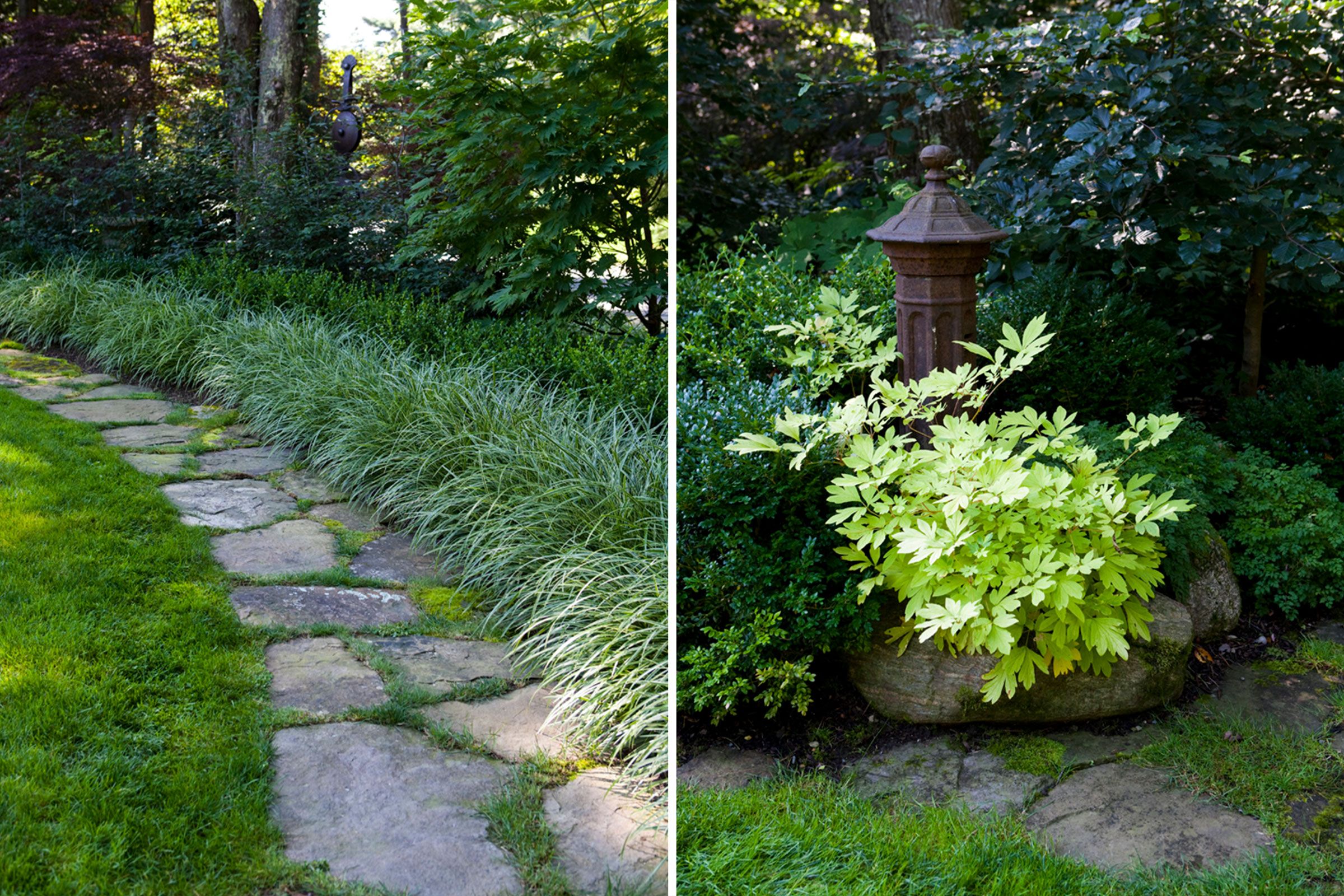 Road-Blocking Privacy Hedge
Edging the front lawn beside the street is a fieldstone path with carex, boxwood, and American beech forming a privacy hedge to hide the road.
Japanese Pillar with a Purpose
Golden bleeding heart has chartreuse leaves that brighten the scene around a Japanese pillar placed at the juncture where the side path leads to the front yard.
The Garden Plan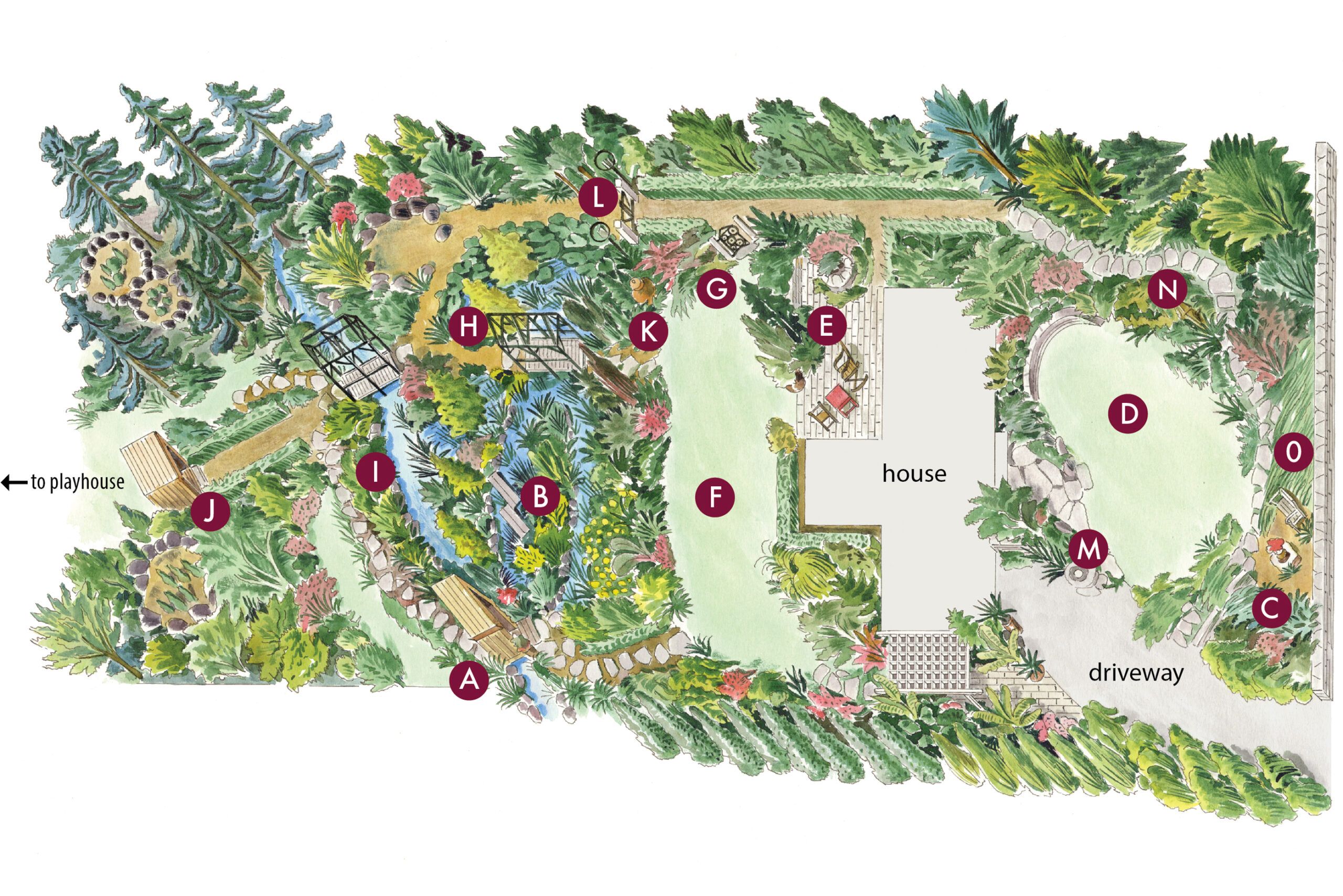 Before homeowner Ellen Lathi got bitten by the gardening bug, the two-acre suburban lot held a larger front lawn, a few token evergreens around the foundation, and no landscaping in back.
Over the course of almost two decades, she added rustic pathways to a playhouse on the edge of the property, several bridges, a three-sided folly, and a wood pergola. Massive stone features include a Goshen-stone front walkway, fountains, a bench, a table, and planters that mark gathering spots. Given the swamp and the stream, all the plants tolerate moist conditions.
A: Bridges Led the Way for More
B: Japanese-Inspired Stream Bridge
C: Secluded Meditation Circle
D: Hosta Path
E: Terrace Built for Taking in the Scenery
F: Dog Run with a View
G: Gate from Salvaged Gears
H: Rustic Cedar Bridge
I: Fanciful Plantings for Accents
J: Playhouse Dream for a Suburban Lawn
K: Frost-Proof Ornamental Urn
L: Sculpture Made from Agricultural Tools
M: Serene Water Fountain
N: Japanese Pillar with a Purpose
O: Road-Blocking Privacy Hedge