Add comfort and charm to existing outdoor spaces like porches, patios, and decks—it can be like hanging out inside but with a breeze and a better view.
Decor Ideas for Patios, Porches, and Decks
1. Add a Porch Swing
Architect and homeowner Erica Broberg Smith, left, says she's got the best seat not in the house. A cushion and throw pillows encourage lingering.
2. Try a Stone Floor
Irregular bluestone creates a grounded look that ties in with the landscape. For this new porch, stones were mortared on top of concrete. Make sure you have clearance at the door and on stair treads.
Shown: Flagstones, about $4-$7.50 per square foot; at stone yards
3. Punch Up With Paint
A vibrant accent color on wood trim or the front door makes a porch feel cheery and inviting. The green on these columns and windows echoes the leafy surroundings.
Similar to shown: Aura exterior semigloss in Killala Green, about $70 per gallon; benjaminmoore.com for stores
4. Keep It Casual
Rustic touches, such as this painted wicker furniture, wrought-iron hanging lantern, and wall-hung elk antler, add a sense of laid-back luxury.
5. Set Out a Sofa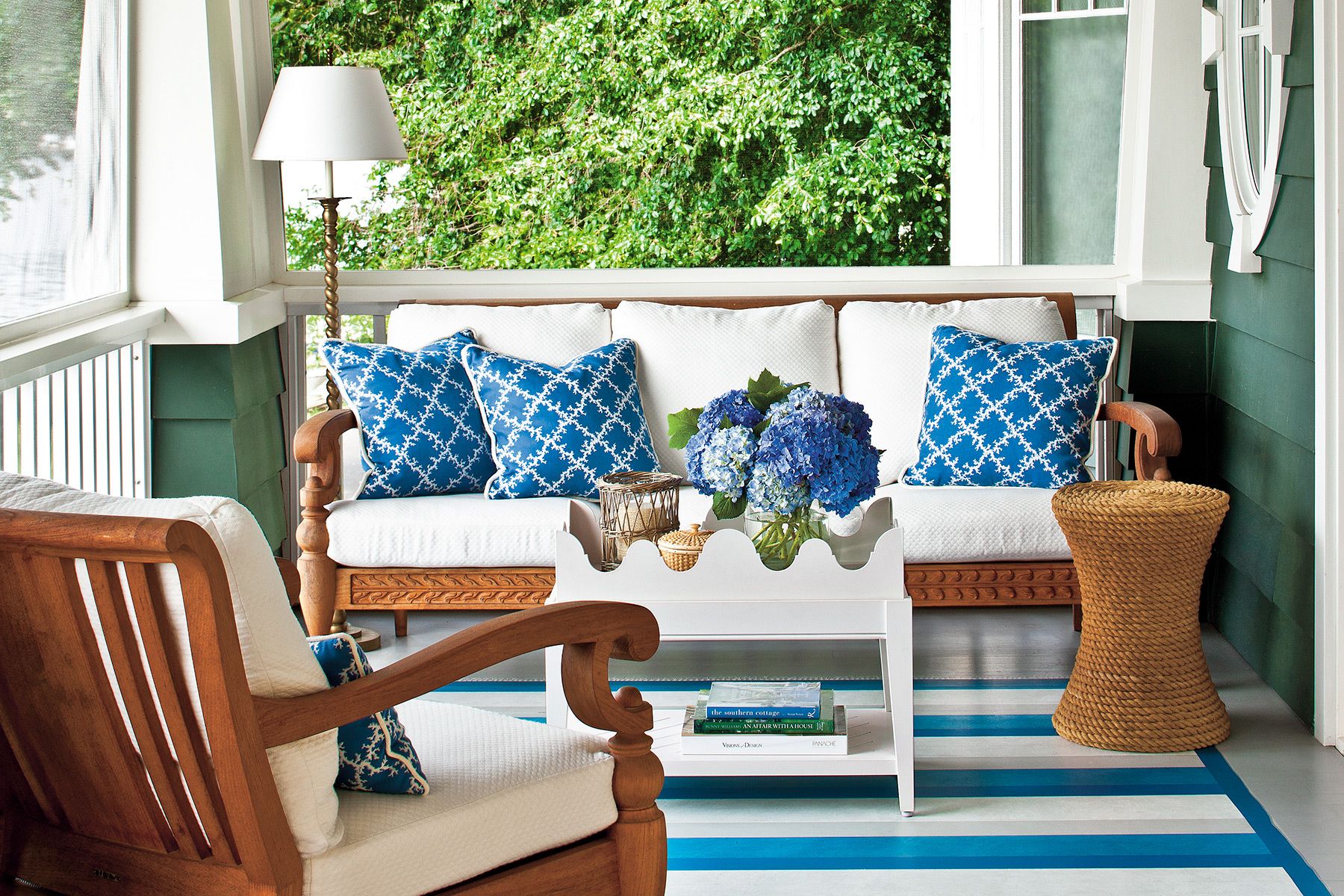 Generous seating can transform a porch into a living room—with nature taking center stage instead of a flat screen. For this blue-and-white-themed space, interior designer Kelley Proxmire chose a three-seater made with all-weather wood.
6. Add a Breeze
A ceiling fan helps get the air moving. Choose one made for outdoor use.
7. Plug in a Floor Lamp
An all-weather fixture provides mood-setting illumination and reinforces the living room feel.
8. Paint a Permanent Rug
Rather than unfurling a carpet, define a porch's dining or seating area with a painted version; it's easier to clean, and you can leave it out year-round.
9. Frame The View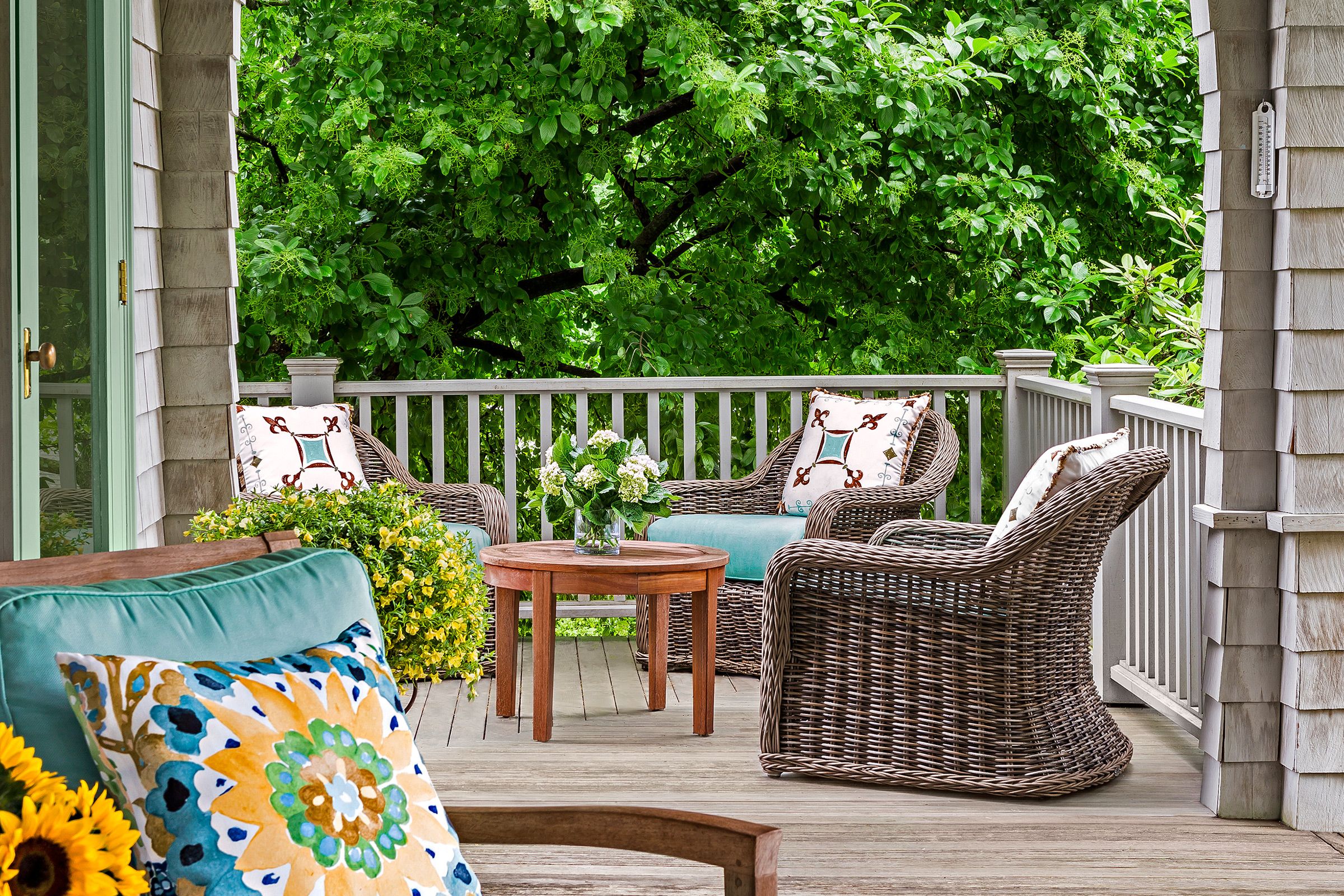 Here, a shapely shingled arch creates an elegant transition between the existing porch and a deck extension along one side. Simply adding prefab corner brackets between porch posts and ceiling can produce a similar effect.
10. Try Classic, All-Weather Furniture
his deck addition creates the illusion of a wraparound porch while providing a fully open-air experience. Outdoor furniture open to sun and rain takes a beating, so interior designer Jennifer Palumbo chose wicker chairs with a traditional rolled-arm look in fade-resistant resin.
11. Add a Nautical Accent
Styled after work lights used on fishing boats in the 1800s, bulbous onion lights offer casual coastal charm—and a welcome glow—to any porch. They come with or without a protective cage and as sconces and post lights as well as ceiling-mount fixtures.
12. Set Up a Daybed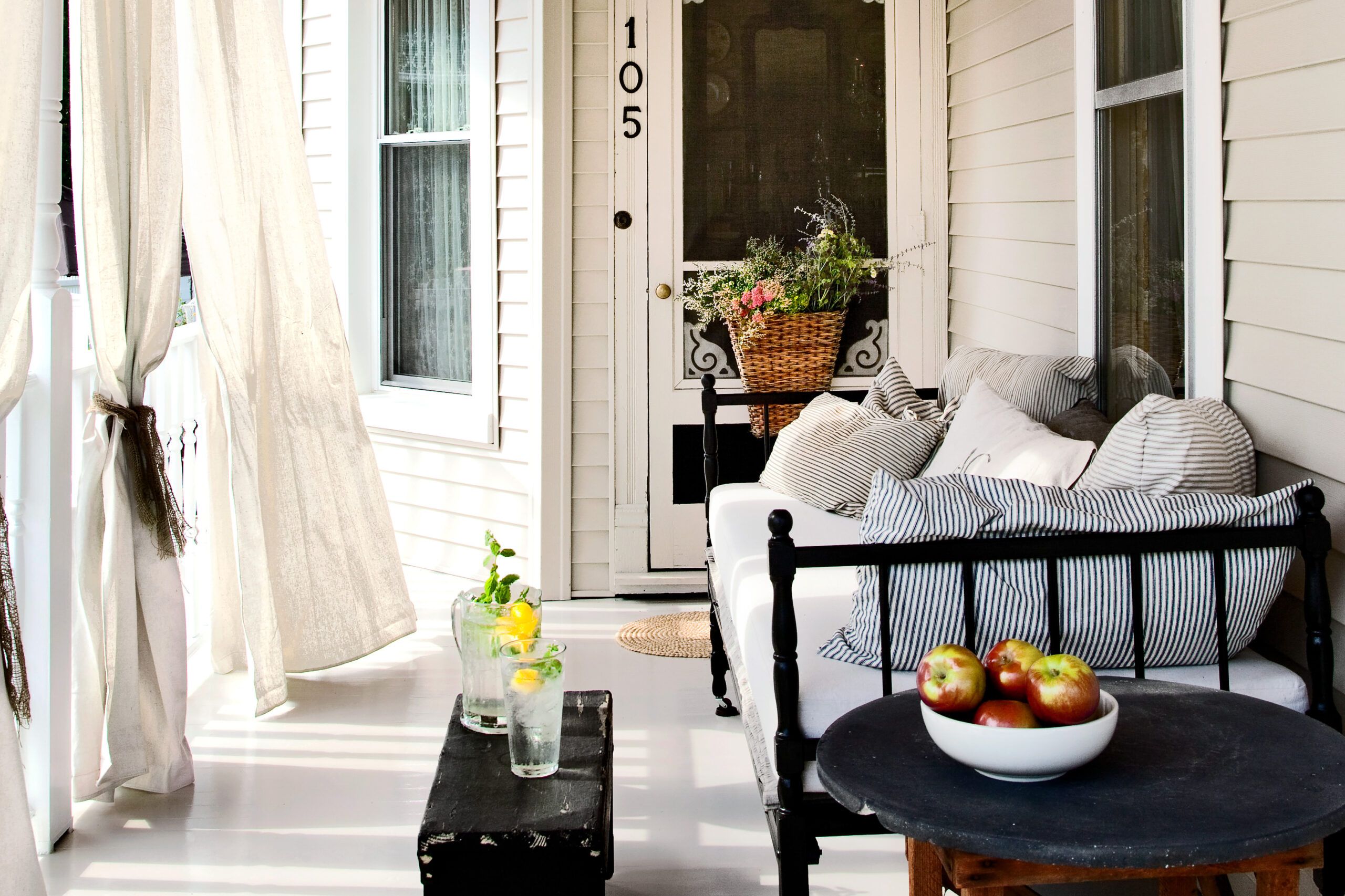 To create an old-fashioned sleeping porch, simply swap the settee for a cot or daybed, such as this vintage version scavenged and refinished by homeowner and designer Joy Waltmire. Protect the mattress by zipping it into a waterproof vinyl cover.
13. Hang Drapes
Not just for windows, long panels on a porch can create a sense of enclosure and privacy and help fend off the sun and wind. These billowy drapes are hung from rods suspended between the porch posts.
14. Show Off The Ceiling
While blue and white are traditional, a wood-slat or beadboard ceiling left bare save for a few coats of protective polyurethane becomes a focal point. Here, warm wood tones contrast with the white clapboard walls and give the porch a cozy feel.
15. Mix Up The Furnishings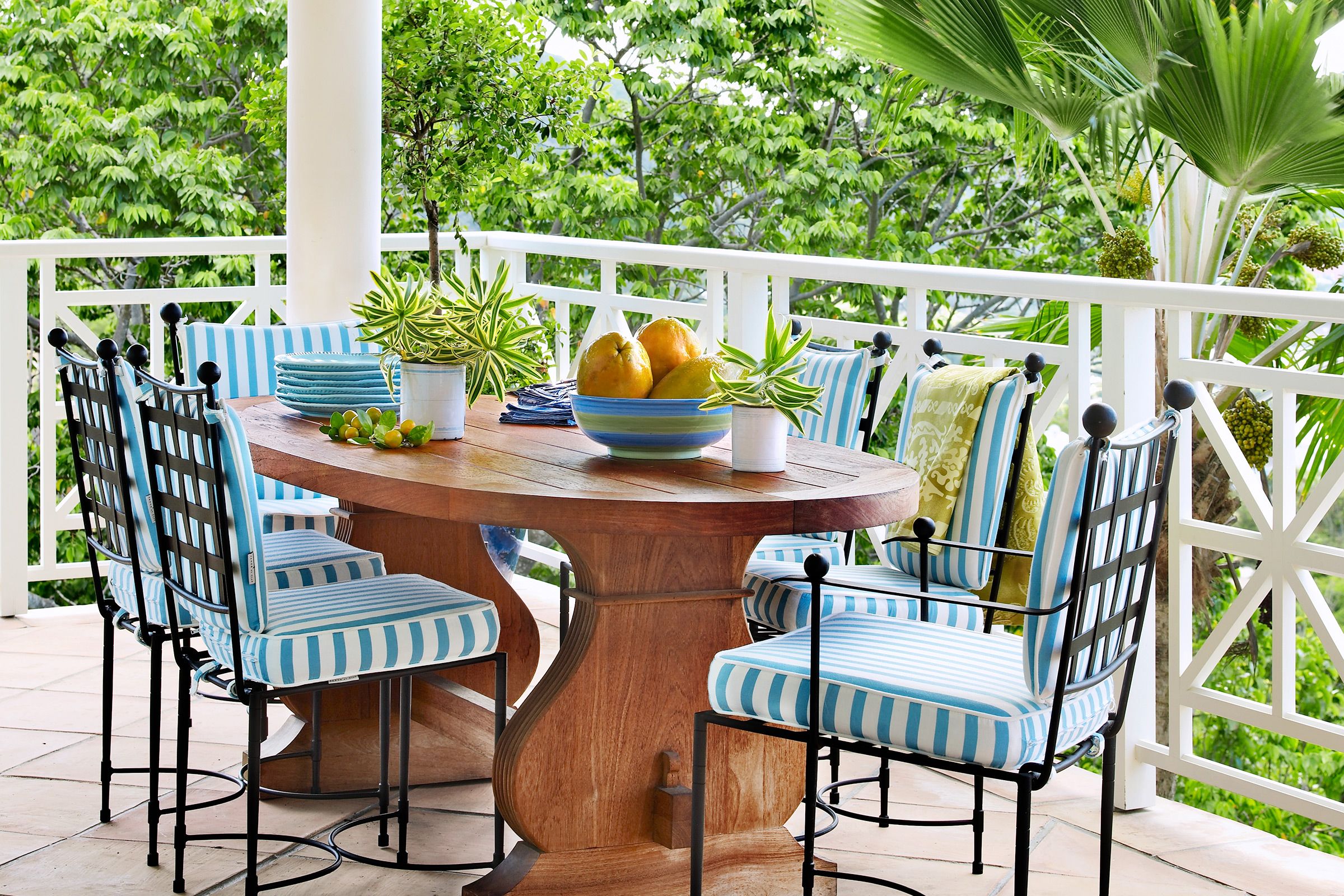 Unmatched pieces add whimsy while also allowing you to freshen the style with new additions. Here, interior designer Barry Dixon used sleek woven-back metal chairs to help balance and modernize the look of a heavy oak trestle table.
16. Go for Bold Textiles
Cushions, tablecloths, and other soft goods add color, pattern, and personality with minimal commitment and expense—just replace or recover if your tastes change. In this otherwise neutral scheme, vibrant striped awnings and chair cushions create a cool, beachy vibe.
17. Illuminate The Easy Way
A hanging candle lantern adds ambiance and brightens a dining table without the expense and hassle of a hardwired fixture. This Moroccan-style pendant also adds a touch of worldliness.
18. Cap It With Green
A lush canopy can provide shade and shelter from the rain. Here, designer Heather Chadduck used a custom metal pergola entwined with wisteria to create a green roof.
19. Pattern the Floor
Give a plain concrete pad a graphic upgrade. Snap chalk lines to map out a design, and cut channels with a concrete saw. Fill them with wet concrete and embed river rocks, making them level with the pad.
20. Add Warmth
A fireplace like this one, built from cinder blocks, lined with fireproof brick, and coated with stucco, can anchor an entertainment area. Cubbies on either side serve as sitting walls.
21. Favor a Free-Form Design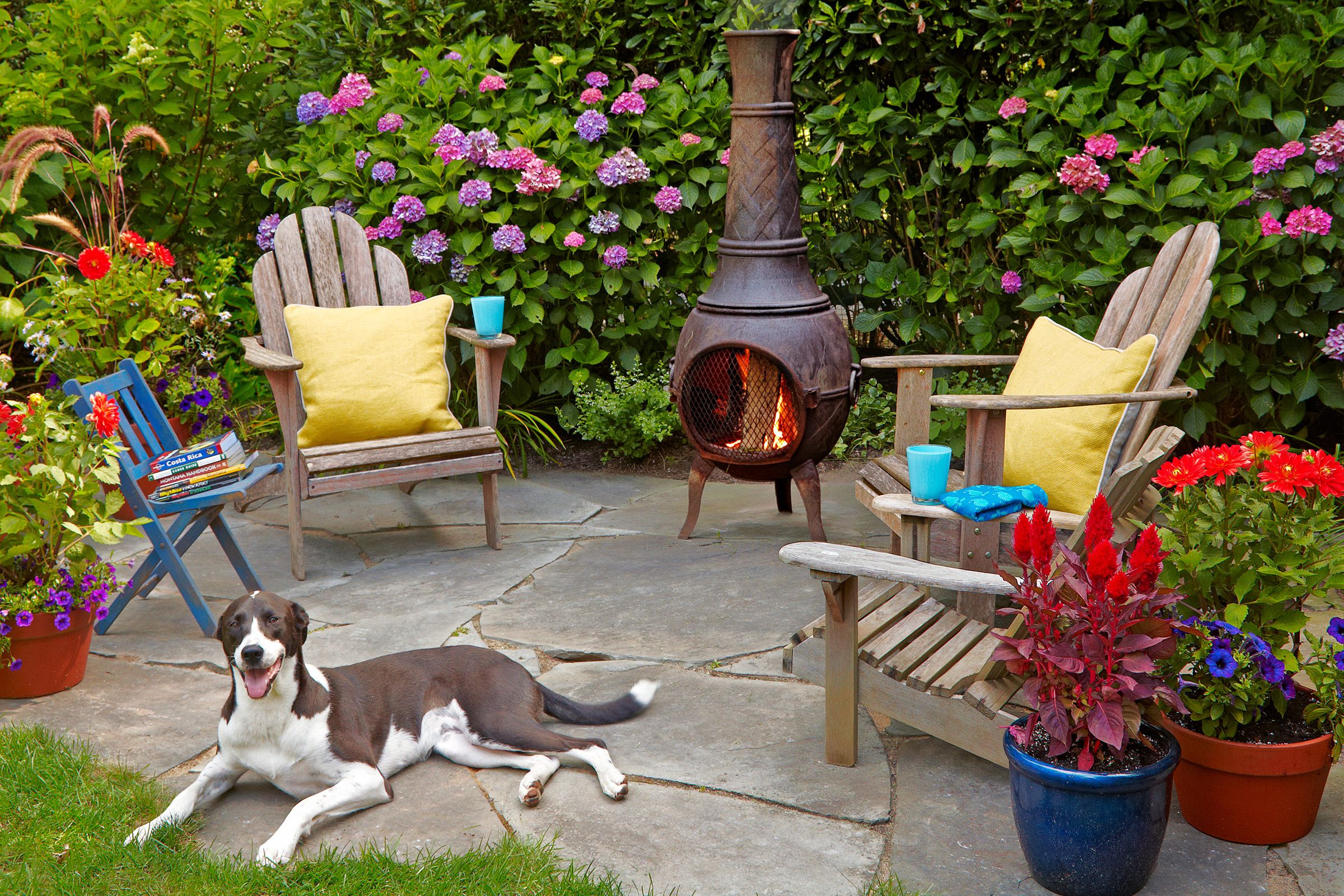 A patio floor without rectilinear lines complements the organic shapes found in nature, for a relaxed, easygoing effect, says architect Erica Broberg Smith, who designed this space at her own home. Irregular bluestones in different shapes and sizes are set in stone dust and butt up against the surrounding turf, no edging required.
22. Plant a Green Screen
A hedgerow can provide a natural backdrop for an outdoor room while also shielding an unsightly view and supplying privacy. Here, flowering shrubs in front of a taller hedge form a layered, living wall that hides the driveway and a neighbor's house.
23. Save With a Store-Bought Heater
Simpler and thriftier than a fireplace, a prefab wood-burning chiminea creates a warm gathering spot. A sturdy metal one with a large mouth, safety screen, and swap-in grate for grilling means you can use it to roast some marshmallows, too.
24. Cozy Up to a Tree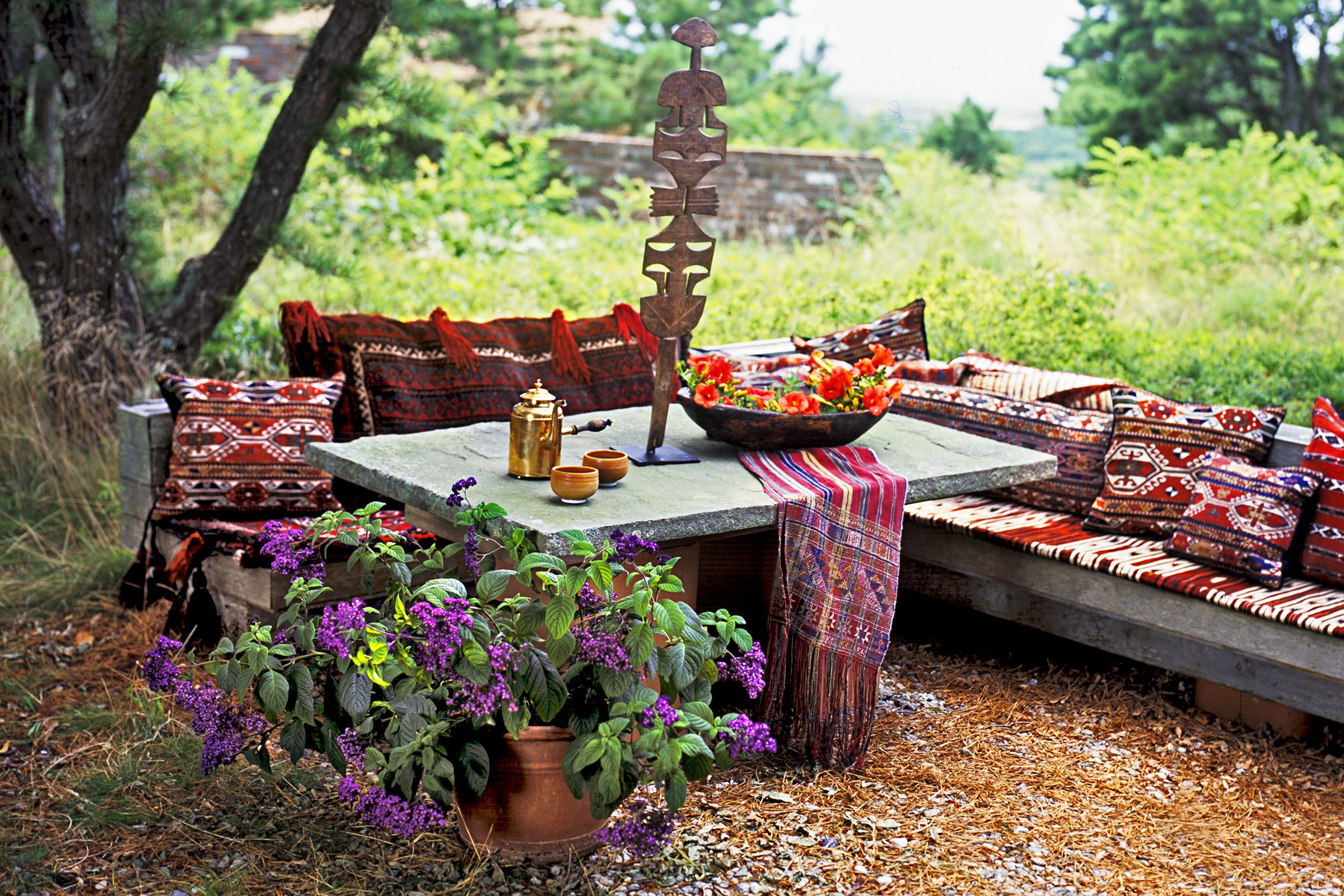 The overhanging branches of an old specimen like this black locust provide a sense of intimacy and filter sunlight and rain—all for free.
25. Put in a DIY-Friendly Floor
For a low-cost, natural-looking retreat like this one, start with pea gravel underfoot. For the base, use crushed stone and stone dust-covered with landscape fabric.
26. Set Up a Flintstones-Inspired Table
A thick bluestone slab provides the perfect top. Make sure the base is no more than 26 inches high and its diameter at least two-thirds the length of the slab.
27. Establish a Perimeter With Benches
Like low walls, bench seats can define the borders of a gathering spot. When arranged in an L-shape, they also provide banquette-style seating around a table.
Buy prefab all-weather benches from the home center, or make your own stylish cedar versions with a backrest and built-in storage for just about $130 each.
28. Erect a Thrifty Metal Wall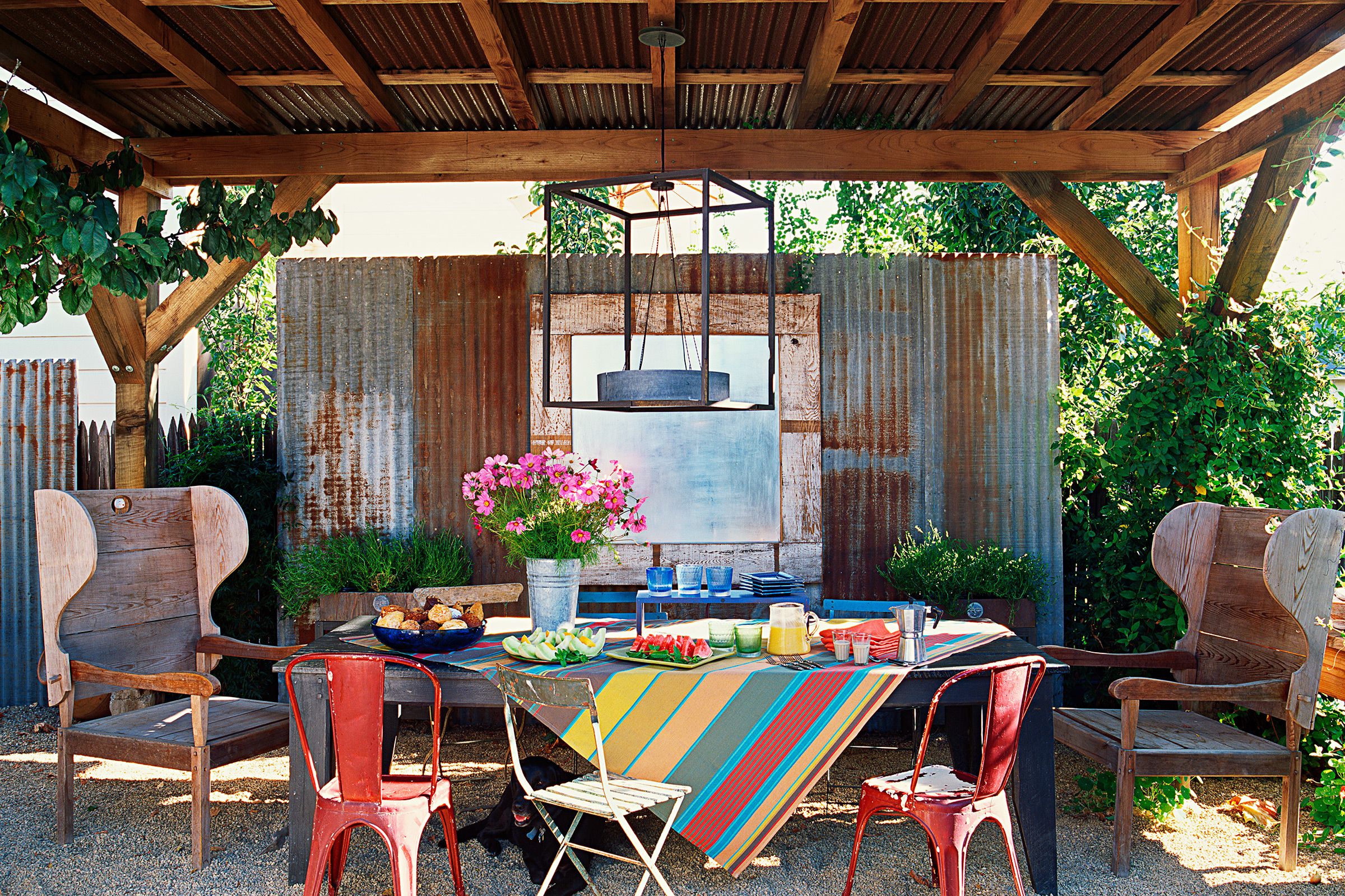 Humble roofing panels become a chic wall when stood on end and bolted edge to edge. More steel panels sheath the top of this pergola, tying the space together.
29. Carve Out a Portal
A window in a patio wall-—here, a sheet of acrylic framed by barn-wood planks—creates a feeling of spaciousness and invites in light.
Save by trading pricey barn wood for wood scavenged from a discarded shipping pallet. And hit the home center for precut acrylic. Optix 36-by-48-inch Acrylic Sheet, about $35; homedepot.com
30. Save Space With Shared Seating
Settees and benches allow more guests to squeeze around the table. Here, Shaker-style benches have striking high backs and shapely sides.
31. Use Trees as a Design Element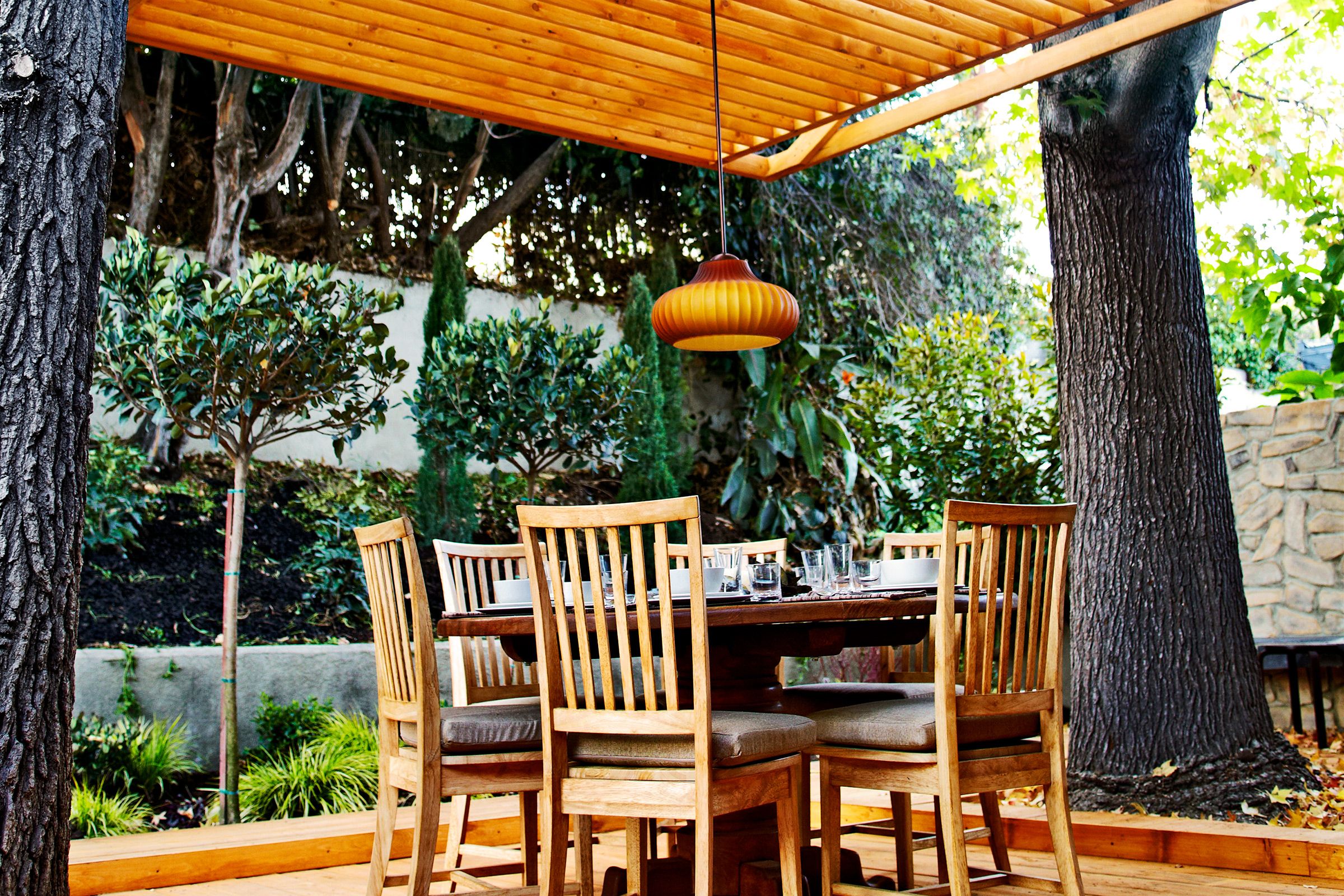 Integrate mature specimens into the building plan. As an alternative to a freestanding pergola, Durie floated a slatted ceiling by using the sturdy trunks as supports.
32. Try a Step-Down
A change in levels can help carve out a distinct, purpose-driven space. In this one, by Jamie Durie Design, the dining area is 5 inches lower than the expansive surrounding deck.
33. Suspend a Pendant
Take advantage of an overhead structure, be it a pergola roof or an outstretched tree limb, to hang a light fixture. The optimal height over a dining table is 30 inches from the table surface.
34. Build in Borders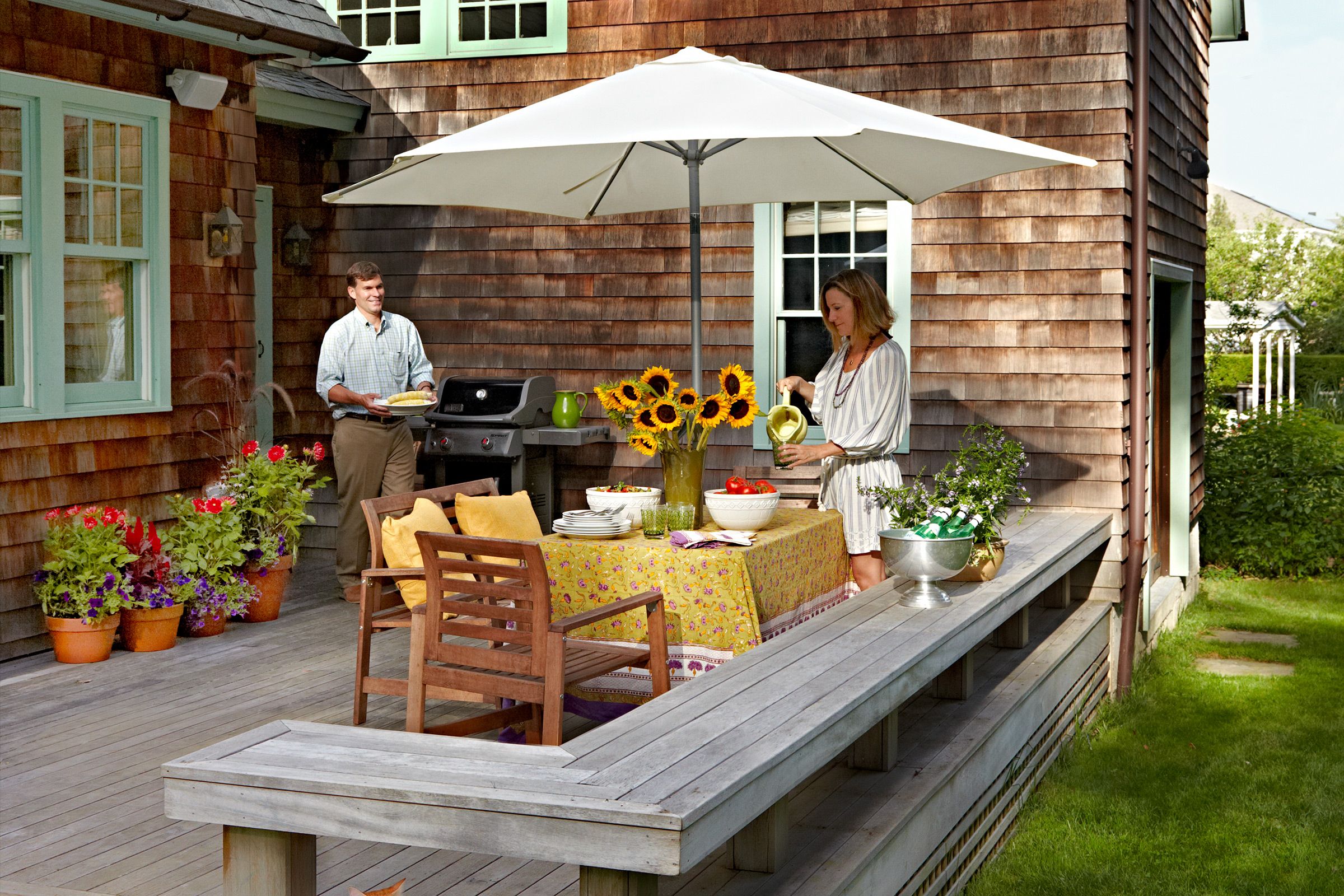 For on-grade or slightly raised decks, a built-in bench can serve as a low railing, defining the area while providing space-efficient seating. Architect Erica Broberg Smith, at home with her husband, Scott, designed one wide enough for lying out on a beach towel.
35. Add Some Tunes
All-weather speakers help get the party started. Choose between hardwired versions that connect to an indoor stereo system and tuck discreetly under the eaves of the house, as shown, or portable wireless speakers that sync via Bluetooth to a smartphone or tablet to tap stored or Internet-streamed music.
36. Go for a Double-Duty Umbrella
A patio umbrella is always welcome for shade during the day. Some new versions also come with tiny LED bulbs built into the frame for illumination and ambiance after dark.
37. Create a Staging Area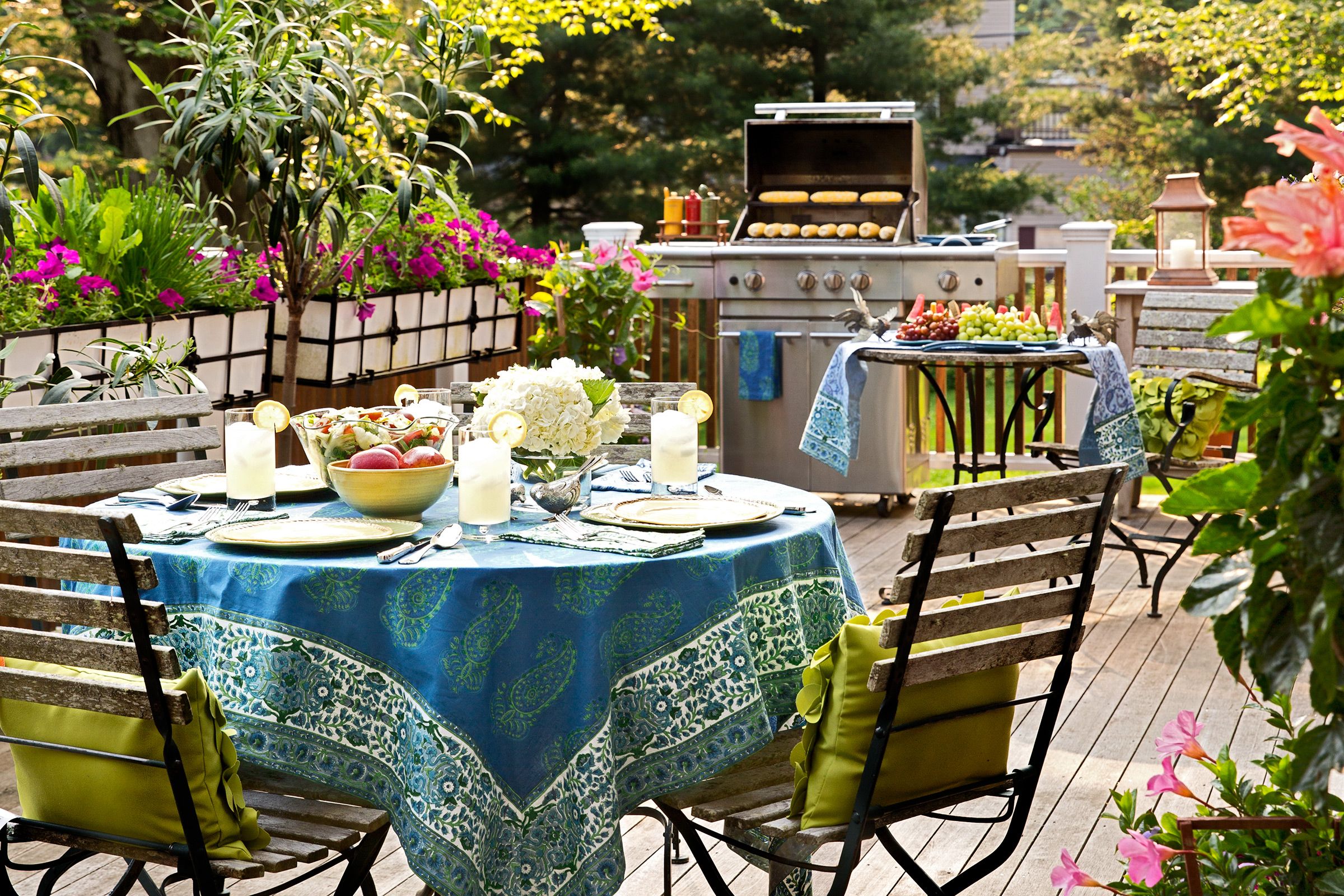 By parking a table near the grill, the chef can prep food and keep ingredients and serving platters close at hand. This simple bistro table also provides an extra spot for diners to gather around for chips and salsa.
38. Make It Mobile
A barbecue on wheels allows the chef to move into the shade or out of the wind in an instant. On smaller decks, like this one at the home of architect John Margolis, it also allows the space itself to multitask, like an outdoor kitchen one day and a place for potting plants or pouring coffee the next.
39. Add Interest All Around
Railing planters filled with bright blooms and tall ferns or grasses offer splashes of color while also increasing privacy. When hung inside the railing, they let you, rather than the neighbors, enjoy their decorative boost.
40. Install a Tent-Like Topper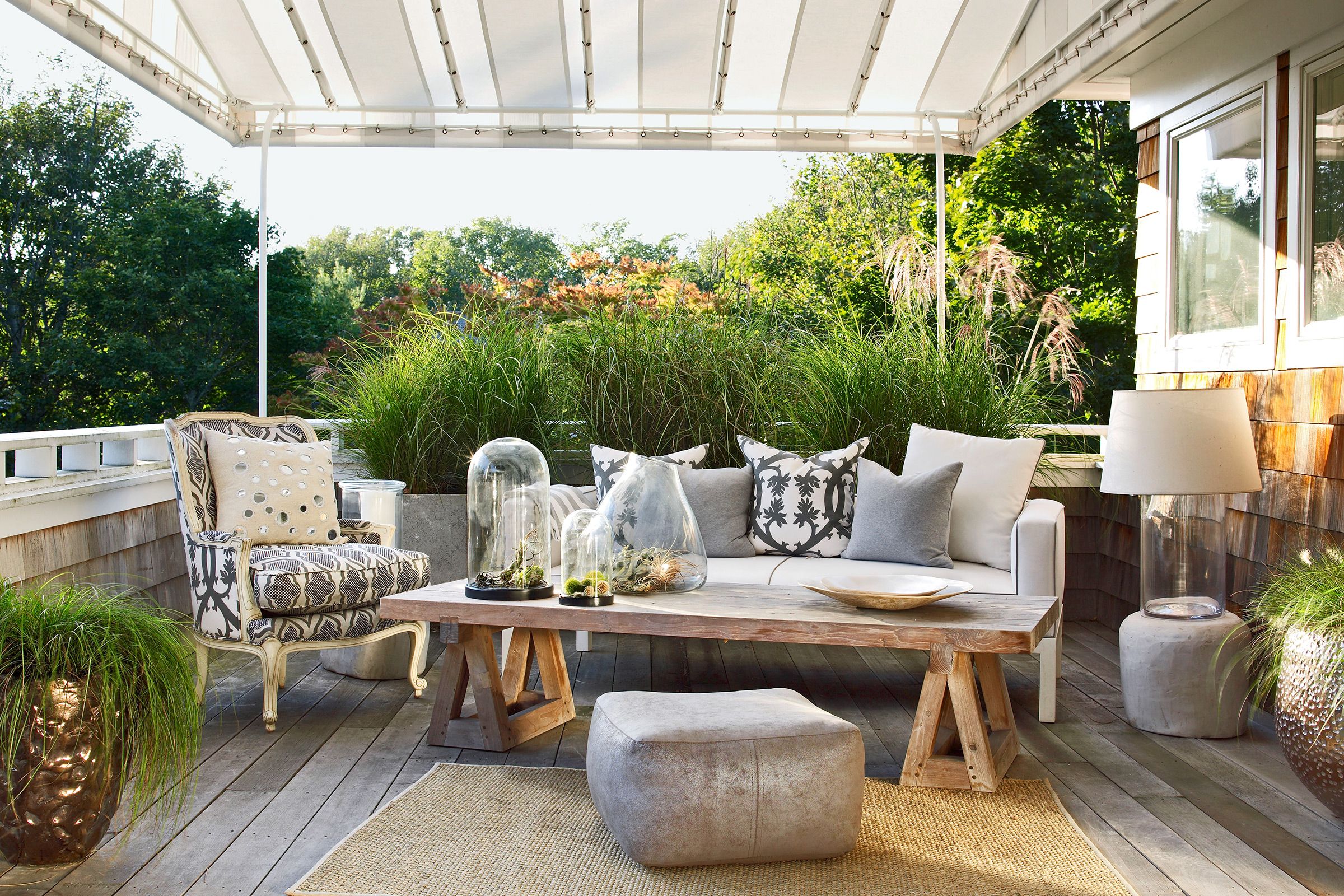 A stylish fabric canopy is a thrifty alternative to a solid roof. Here, metal poles anchored to the deck railings and house form a framework for fade-resistant fabric. Retractable versions allow you to enjoy full sun or a starry night.
41. Make a Rustic Table
A covered deck is the perfect setting for pieces like this coffee table with sawhorse-style legs.
42. Borrow Indoor Furnishings
It's fine to cart out a few pieces, such as this upholstered armchair, to up the style and comfort factor. Just be sure to move them back inside once the party's over. The only investment: a little elbow grease.