Flower Tower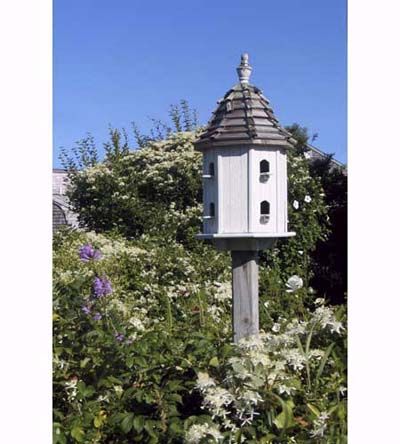 Discreetly poking up amid the garden blooms is a many-roomed purple martin house in the style of a colonial dovecote. The shingle roof protects the structure from water; the finial makes an excellent lookout perch. Purple martins help control insects in the garden, and enthusiasts go to great lengths to entice colonies. Place your purple martin house away from trees and human dwellings, atop a pole for safety from predators. Paint the house white to keep it cool in the sun.
Model Home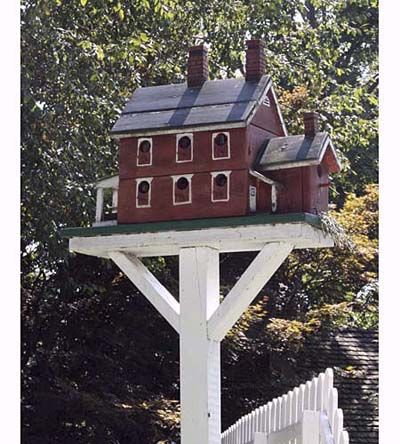 Most birds prefer to nest in "single" homes; the socially minded purple martins like multiple units under one roof. The hinged roof on this Colonial replica makes it easy to clean out old nests, insects, and snakes. The three chimneys make excellent perches, though the dark exterior hue doesn't work as well as white at deflecting the sun.
Martins in the Round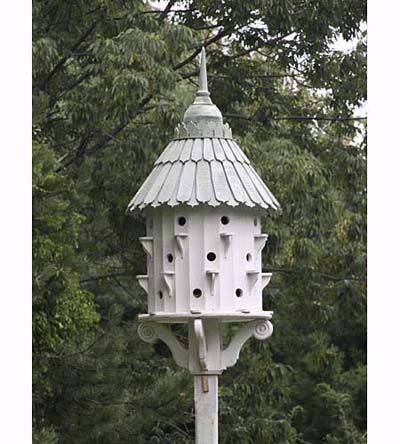 A whimsical castle for purple martins is supported by a scrolled bracket. The house features decoratively tapered shingles and multiple entrances. But the threshold perches are not ideal, as they offer starlings, house sparrows, and other predators a convenient place to wait for lunch.
White Castle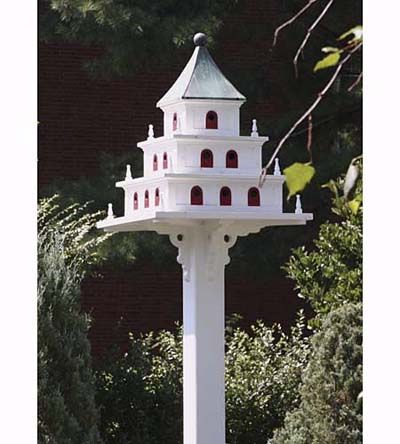 This grand three-story purple martin manse has 24 openings, a copper roof, and plenty of perches, including a ball finial. The scrollwork on the stand lends a Victorian sensibility.
Condos with Bird-eye Views
This two-story, 12-unit aluminum house invites a colony of purple martins to roost. A guard rail extends around the perimeter of each "balcony" to protect fledglings. Models like this often sit atop sectioned posts equipped with pulley and lanyard so they can be raised and lowered for easy cleaning. The hard-to-climb metal pole discourages predators from reaching nests.
Tree Hugger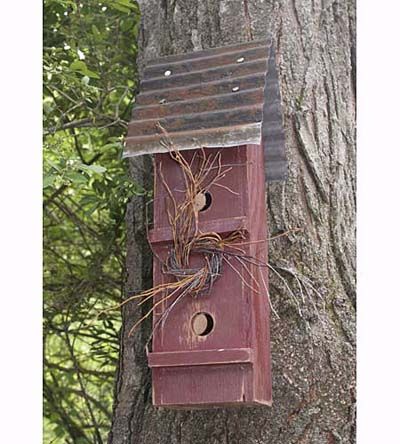 Other birds prefer single-family homes on well-wooded plots. A corrugated metal roof shields this narrow nest box—designed to simulate tree cavities, which are the preferred nesting spot for many types of wrens and chickadees. The artfully twisted strand of twigs provides camouflage and a place to perch in the dappled sunlight. In fact, a small supply of twigs about 3 inches long will aid wrens in nest building. It's best to place several houses in the immediate vicinity as a male wren typically builds several nests for his female companion to choose from.
Tile and Air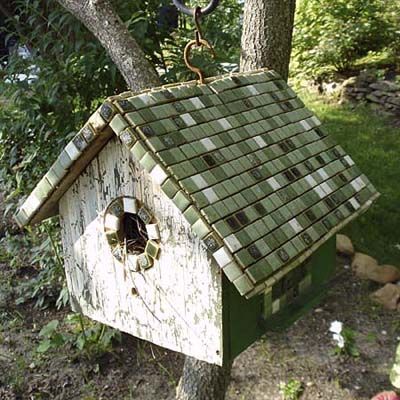 Have some tiles left over from that bath renovation? Here they cleverly clad a roof and make a fancy door surround. The shades of green and white blend into a garden landscape, and with time, the ceramic glaze will grow dull, making this a less conspicuous—and thus safer—nesting spot. This style of house, mounted on or suspended from a tree, may attract titmice and nuthatches, who favor tree cavities for nests in spring and early summer. Remove the nests in late summer or fall after the brood-rearing seasons are over.
Picnic in the Gazebo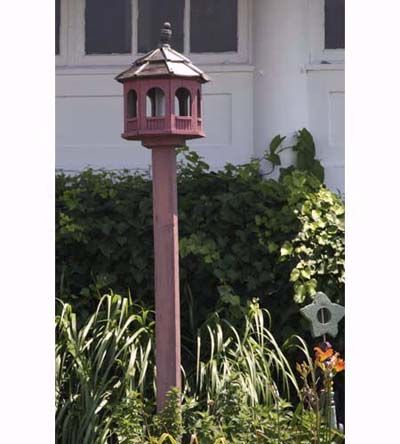 Installing a bird feeder—like this classic red gazebo—will increase the chances of attracting birds to nest in your birdhouse. Just make sure to place the two structures far away from each other. The feeder should be accessible for you to fill and clean it regularly. Surrounding the base with plants and flowers will help hide droppings, feathers, and seed shells that are the inevitable fallout of congregating fowl.
American Bandstand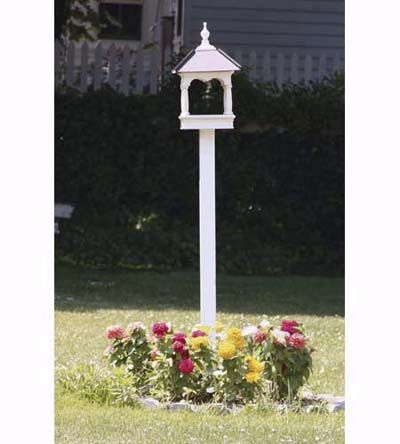 Songbirds and butterflies will flock to this shaded perch, a bandstand-inspired bird feeder. Although nearby shelter is good, it's best to place feeders about 4 yards from trees or outdoor structures that can be used by cats and squirrels as jumping-off points to catch birds or raid bird seed.
Back to the Drawing Board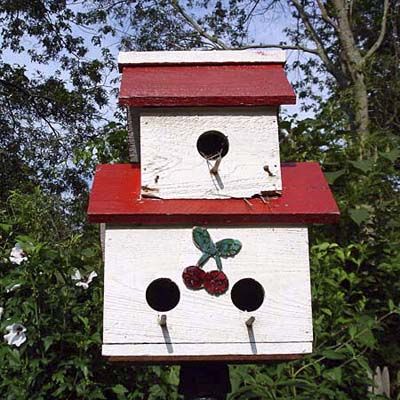 Though housing preferences vary from species to species, there are some universal pitfalls to avoid when designing and installing birdhouses.
Sure, this two-story birdhouse is cute, but it displays several flaws. The bright-red roofs and light-reflecting mosaic serve as a beacon to predators: get your eggs and chicks here! The roofs are not designed to shed water away from the entry hole, nor do they have a long enough overhang to protect birds from mammals and sun. And the front landing perches give predators an unfair advantage when raiding nests. Birdhouse manufacturer Duncraft goes so far as to say, "The only useful birdhouse perches are for home decor—they make great hooks for keys."
Can It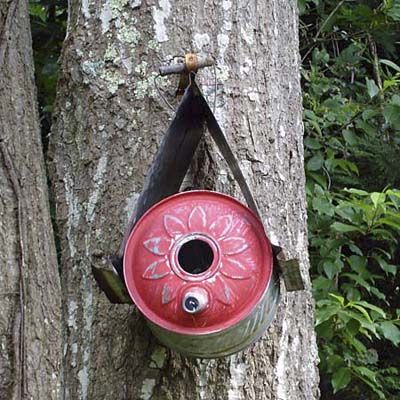 This galvanized aluminum model is placed in a shady spot and features a steeply pitched roof to shed water and discourage mammals. Except for aluminum, metal should be avoided for the body of your birdhouse. Metal turns a birdhouse into a little oven in the sun, and it offers no insulation in cold weather. Also, reflective metal can attract predators.
Tried and Turret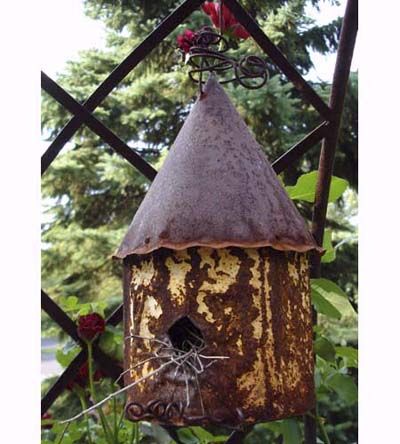 Judging from the twigs poking out the small entrance, birds don't seem to mind the rusty patina on this Tudoresque metal house, hung from a metal trellis in indirect sunlight. However, the twisted wire perch could be a hazard.
Perch and Pose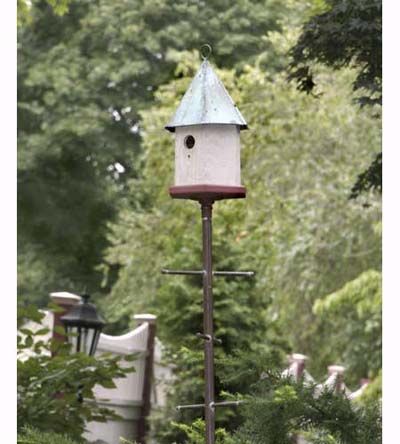 If built and installed carefully, a birdhouse will shelter birds and please their human admirers season after season.
Oxidized copper is a suitable roof for a birdhouse: it offers attractive, durable protection without being so flashy as to signal predators. Just make sure not to hang a metal-roofed birdhouse in direct sunlight. White paint deflects heat, but be certain the paint or stain does not contain lead, creosote, or VOC's. The metal pole for this lantern-style birdhouse features several perches, a veritable playground for feathered friends.