Kids can do just about anything if they set their minds to it, and Kids Making It (KMI) in Wilmington, North Carolina helps them along. Kids Making It is a non-profit that aims to teach local youth and young adults the vocational and entrepreneurial skills to spark an early interest in the trades.
Started in 1994, the organization currently serves 500 students through five different programs. Through these programs, students can learn building skills, make and sell things at KMI's store, and earn income while they're still in school.
KMI is currently working on expanding its facilities with a dedicated building for their Skilled Trades program. Students in the program are connected with local contractors, electricians, and masons to start building relationships to secure jobs and apprenticeships. Jimmy Pierce, the founder and executive director of KMI, said that they started working toward the expansion three years ago with fundraising. "We wanted a way to teach the skilled construction trade to older teenagers and young adults, but we just didn't have any solid space to do it in," he said.
Building a Kids Workshop
Even though the program didn't have a workshop on KMI's grounds, the Skilled Trades program had already been active over many summers. Pierce said that during the summer, KMI helps with building projects for other nonprofits, including building a storage shed for a local domestic violence shelter. "It was more of a pipe dream that we could actually [build our own workshop] on a full-time basis. Now, we're trying to roll into that as much as we can, since we've got the building going," he said.
Building the foundation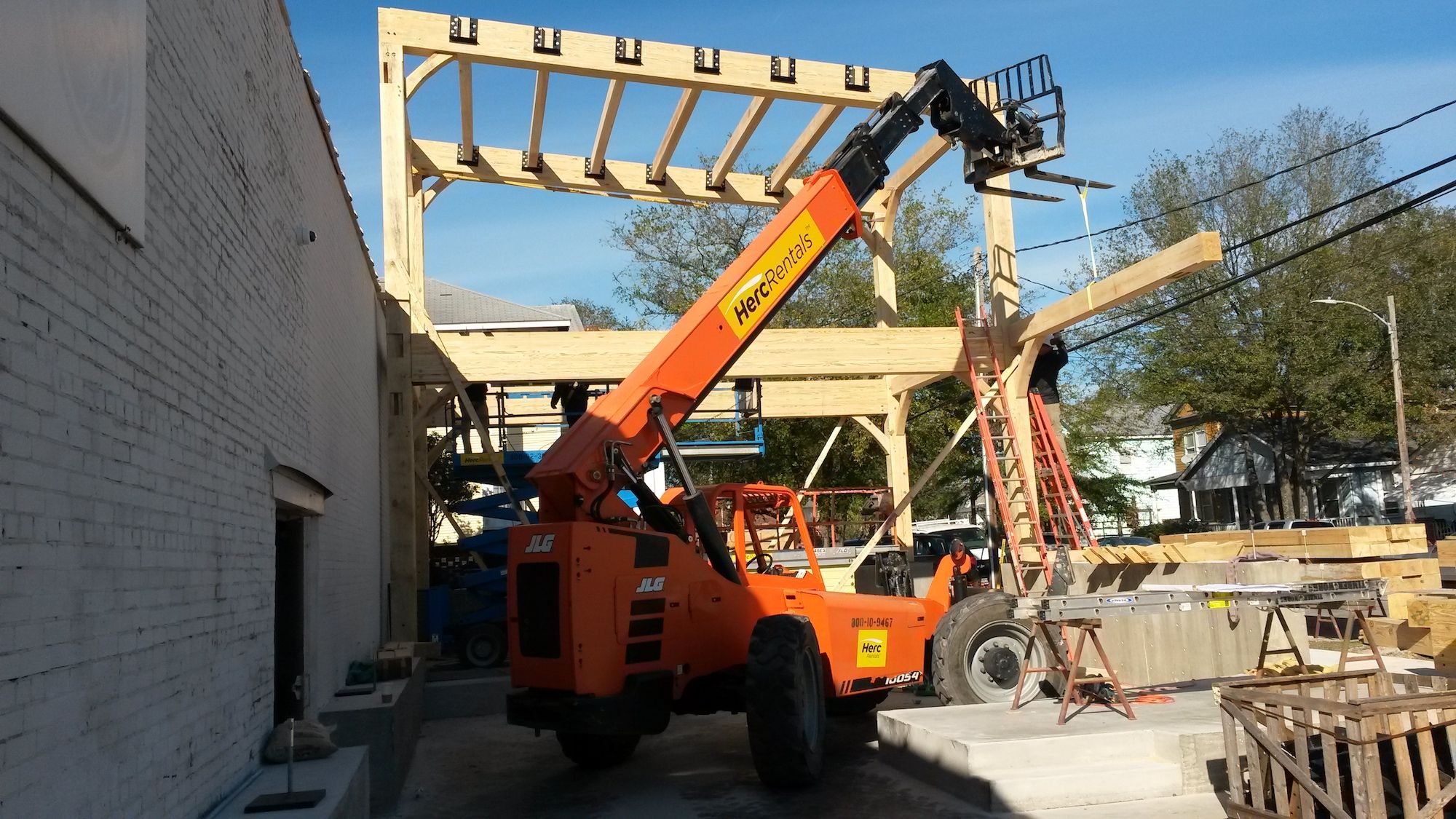 The timber frame of the building was finished on January 18th. According to Pierce, the next step is to get a crew in to put up 2×6 walls, and to use 7/4 cyprus milled into tongue and groove material to become the ceiling of the first story and the floor of the second story. Local pros will donate services to get utilities set up.
Collaborations for the build
Friends of KMI, Turn Bull Lumber, donated the wood needed for framing the building. Meanwhile, Atlantic Barn and Timber offered to donate construction resources. Co-founder and owner of Atlantic Barn and Timber, Sharon Vilcins, was thrilled with the opportunity to work with KMI. She says that she's been a fan of the organization for a long time and is very impressed with the Skilled Trades program participants. "Seeing how our employees react to the kids really warmed our hearts," she said. "Atlantic employees were overwhelmed by the happiness of the kids to see them and their eagerness to learn from them."
One of the young apprentices working on the expansion is Alejandro, who mainly does cabinet work. Under the age of 16 when the timber framing began for the KMI workshop, Alejandro took it upon himself to have his dad sign a self-made permission slip to allow the minor to work on the building project.
"He's a pretty unique young man. For many years, his father has been buying him a new tool every Christmas and teaching him how to use it. So when he came to us, he already had a lot of woodworking experience," Pierce said.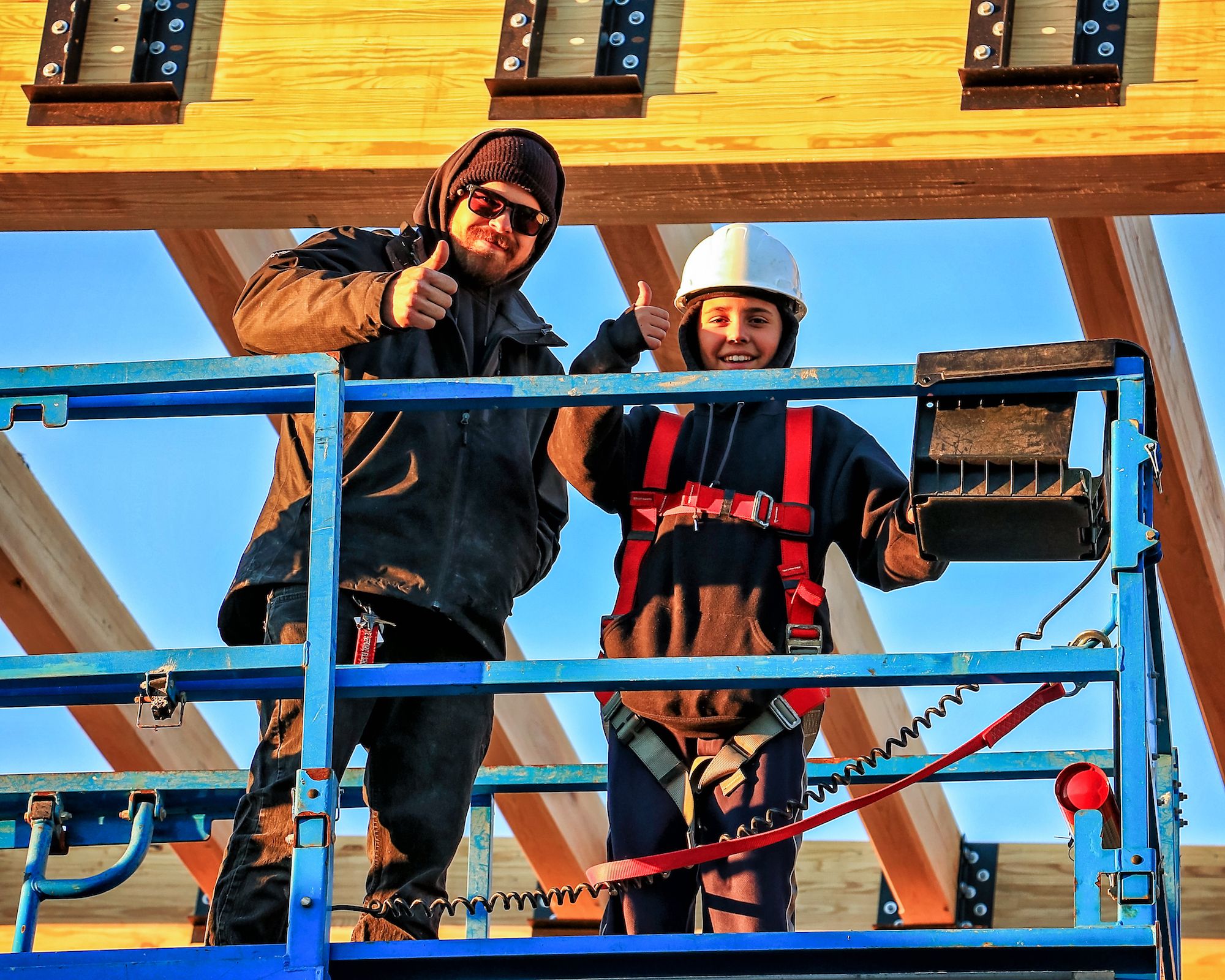 Community impact
Raising the workshop has been a unique experience for the kids. "It's like [our typical summer projects] but on a much larger scale. Hopefully, they'll get a chance to work on the plumbing and the electrical, the siding, maybe the trim," Pierce said. "So our goal is to try and involve them as much as we can." He likes to emphasize that the students are part of the KMI family and in advising the young tradespeople, Pierce often says, "You're gonna do the heavy lifting, but we're gonna provide the opportunities to help you make connections and make sure that you take the right steps to succeed."
---
You can donate to Kids Making It at kidsmakingit.org