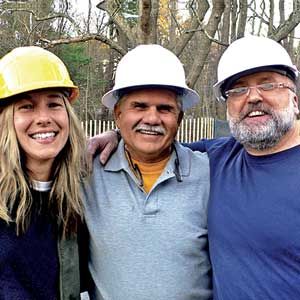 Lest anyone think a show with the word "old" in its title can't look to the future, check out This Old House's ­latest project. The TV pros are working side by side with ­Benson­w­ood, a design-build company, to erect a brand-new ­panelized timber-frame house for Amy and Pete Favat. When the tele­vision season premieres this month, you'll see how the house comes together in prefab sections—complete with wiring, plumbing, windows, insulation, and finishes—that are then trucked from Bensonwood's shop in New ­Hamp­shire to the site in Weston, Mas­sa­chusetts, to be assembled by TOH general contractor Tom Silva's crew.
What makes this project special is technology and ­timing. Shop construction means a controlled building environment and minimal waste, thanks to computer-driven precision on every cut. The Bensonwood team makes the house's parts more quickly than could be done ­on-site, too, while Tom's crew does simultaneous ­duty back in Weston—getting the foundation built, plumbed, and inspected. "In the same two months they're working on their part, we're working on our part," says Tom. "That's months shaved off the project."
This cutting-edge process includes a lot of modern thinking about what should go into the house. Reused timbers and finishes, solar hot water, supplemental solar power, energy-efficient systems, and a rain garden to protect adjacent wet­lands are just some of its eco-friendly features. "We wanted to be super-thoughtful about how we could be green and ­efficient in every little detail," says Amy Favat.
Which is not to say the new home won't have old-house charm. The couple wanted it to echo Weston's many presub­urbia farm buildings. They were inspired by timber-frame struc­tures, as well as colors, textures, and other details they picked up from dilapidated barns, faded road signs, and ­yellowing photographs. But they also liked the industrial look of urban lofts. The resulting design, by Bensonwood architect Chris Adams, is a modern take on the timber-frame barn: an open-plan space pairing worn beams and wide-plank floors with metal staircases and stainless-steel appliances—a new house perfectly suited for its old neighborhood.
The new season of This Old House television premieres on PBS October 2.