Aim for Unique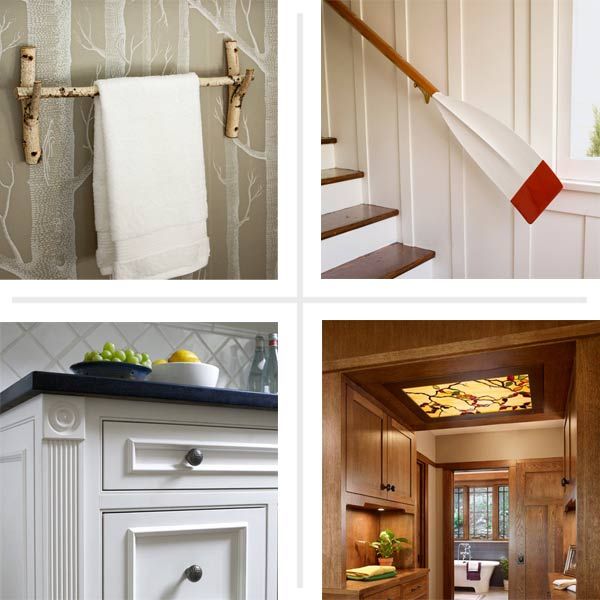 Big design ideas have their place, but often it's the small touches that make a home feel extra special. Consider the 11 creative upgrades we've gathered here, from mix-matched transom windows to wainscot with a unique diamond motif.
1. Mismatched Transoms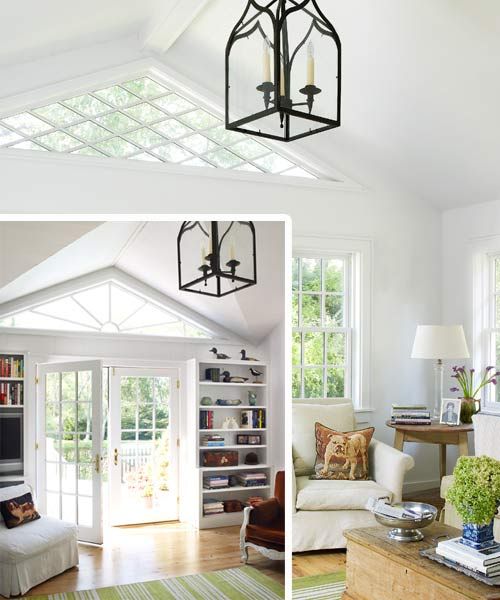 The inspiration: Period homes nearby
The project: Designer Jane Schwartz and her husband, Ken, own a 1920s house in Sag Harbor, New York, and wanted their new sunroom addition to blend into the neighborhood. So Jane tucked patterned transoms under adjacent gable—one with a Colonial-style sunburst, the other with Tudor-style diamonds—and matched the doors and windows below them to existing windows. "We're here day and night," Jane says, "and the windows totally make the room."
The payoff: A twist on tradition that takes full advantage of garden views
2. Craftsman-Style Divider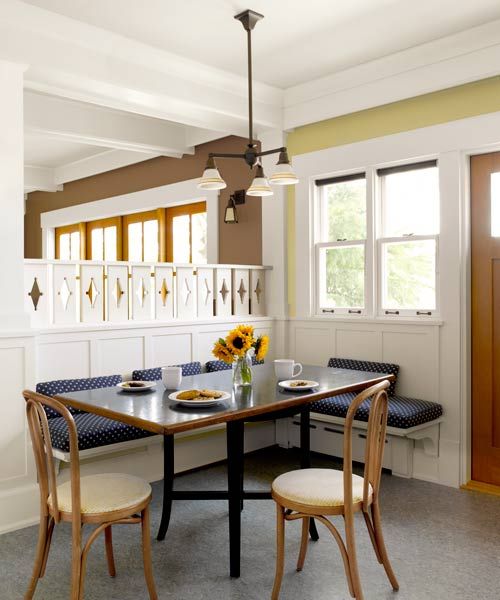 The inspiration: A 1910s railing detail upstairs
The project: After removing most of a wall in this Seattle bungalow, designer Kim Clements wanted to maintain an open feeling while setting off a built-in on one side and a breakfast nook on the other. The answer was right overhead in an original railing on the second floor. "We like to use a decorative element that plays off what's already there," Clements says of her design-build team. They used the railing to create a template for their carpenter. "It was pretty easy," she says. "He drilled four holes—the points of the diamond—then hand-cut the opening with a scroll saw."
The payoff: Discrete spaces that share a compelling period detail and lots of light
3. Branch Towel Bar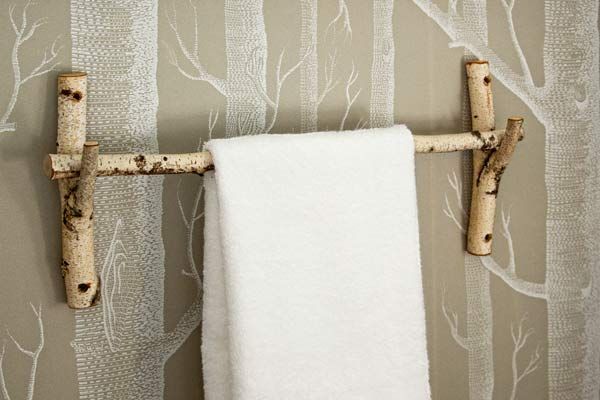 The inspiration: Twiggy wallpaper
The project: After homeowner Jane Ackerman finished the powder room in her Norwich, Vermont, house with tree-themed wallpaper and a secondhand sink, her fiance, Randy Kerr, took salvaging a step further by scooping up birch branches, cutting them down with a Japanese pull saw, sanding the edges, and fashioning a towel bar—and a matching handle for the plunger. "The trick is to find the right branch," he says. "If it's a good piece of wood, the bark stays on."
The payoff: A cottage look that isn't too twee
4. Wallpapered Backsplash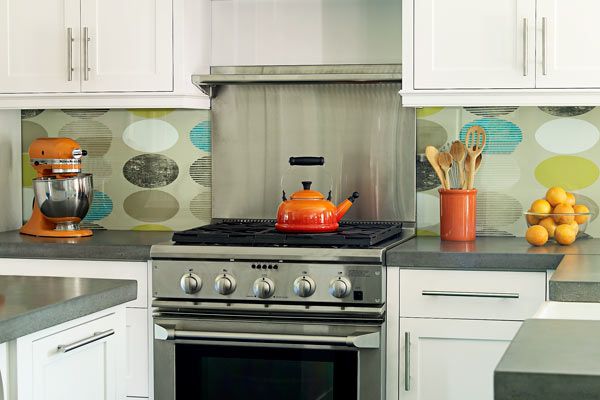 The inspiration: Artful graphic design
The project: "We wanted a clean, simple backsplash that was also unique," says contractor Jeff Kuryluk, who redid his Fairfield, Connecticut, kitchen with help from his wife, Jennifer. They used glass-covered wallpaper, making a template from strips of lauan plywood for the glass and then installing it with silicone caulk.
The payoff: Pattern, color, and texture—minus the grout stains
5. Painted Stair Runner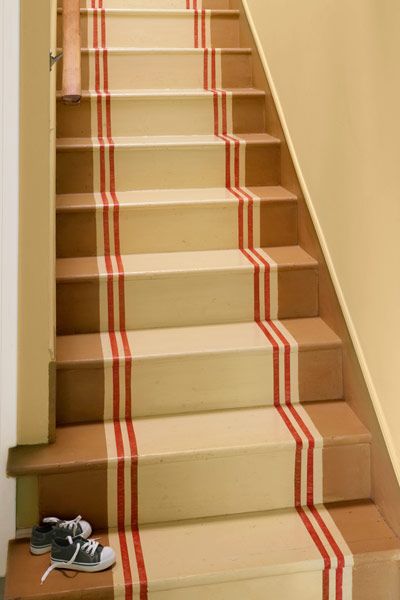 The inspiration: High-maintenance rugs
The project: Homeowner Lynn Boughton loves the look of high-end runners but can't stand to vacuum stairs. So she finished the ones that lead down to the master suite in her Brooklyn, Michigan, home with easy-to-sweep paint. After putting down a wood-colored base coat, she marked off a 2-foot-wide runner edged with bright red stripes. Tools included a small torpedo level and painter's tape in two widths."I put down workable 2-foot lengths as I went along," she says. "Then I 'pounced on' the red to give it a fuzzy-carpet look."
The payoff: A rug that cleans up with a dustpan and broom
6. Arched Sink Window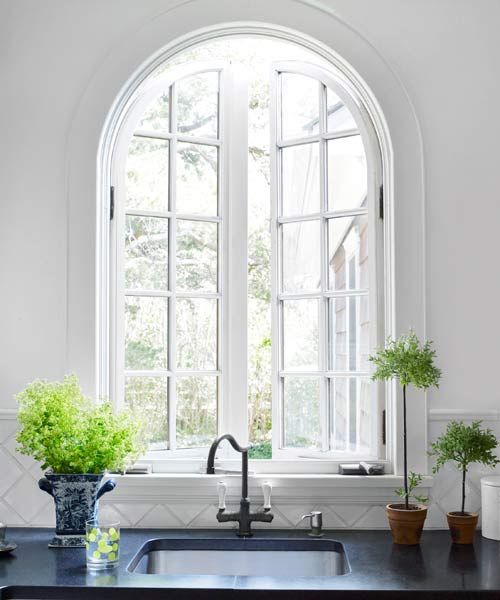 The inspiration: English cottages
The project: This gracefully arched casement window replaced a window half its size, says designer Jane Schwartz, who craved more light and a better view of her garden from the kitchen. To reinforce its old-world flavor, she kept the wall clear of upper cabinets and finished the sink with a porcelain-lever-handle bridge faucet.
The payoff: A downstairs cleanup zone with upstairs style
7. Stained-Glass "Skylight"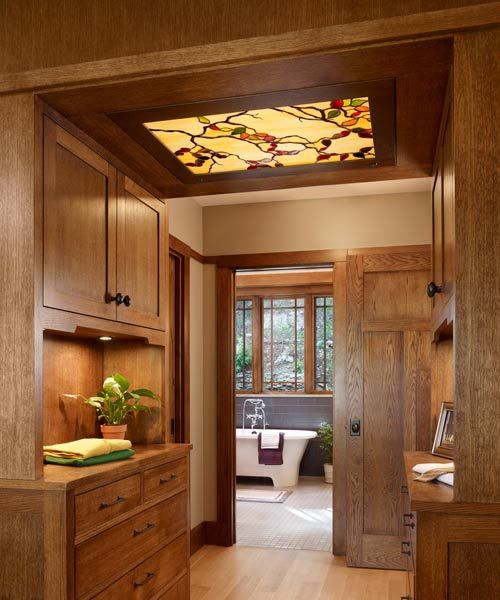 The inspiration: Craftsman-era decorative motifs
The project: The owners of this one-story house, in West Lake Hills, Texas, asked architects Stewart Davis and Marsha Topham to incorporate Craftsman-style details and materials into their new master suite. To bring light and character to a windowless dressing area with a drop ceiling, the team designed a 4-foot-high light box that takes Tiffany-style lamps to a new level. Built with a hinged stained-glass panel by California glassmaker Jeff Balazs, the box rises into the attic and is lit by a single LED bulb. "You need the bulb to be back far enough to not have a hot spot," says Topham. "Distance also allows the light to fill the space and evenly illuminate what amounts to an art object."
The payoff: Form, function, and artwork, together at last
8. Oar Stair Rail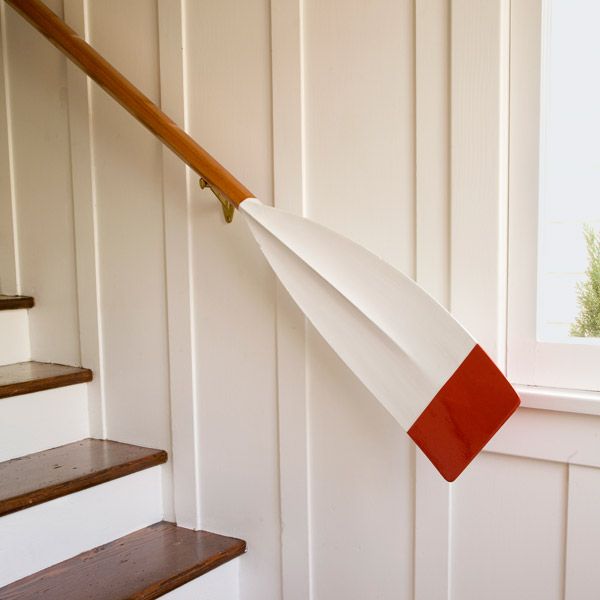 The inspiration: A love of all things nautical
The project: While poking around under their newly acquired bungalow, in Newport Beach, California, Sue and Burr McKeehan found a cache of boat supplies, including an oar so old that it had a leather binding. Burr painted the blade nautical red and white and hired a carpenter to hang the oar along a set of steep stairs. The project prompted other seaworthy improvements around the house: Oars now also adorn a guest-room ceiling.
The payoff: A piece of history you get to hold on to
9. Built-Up Cabinet Trim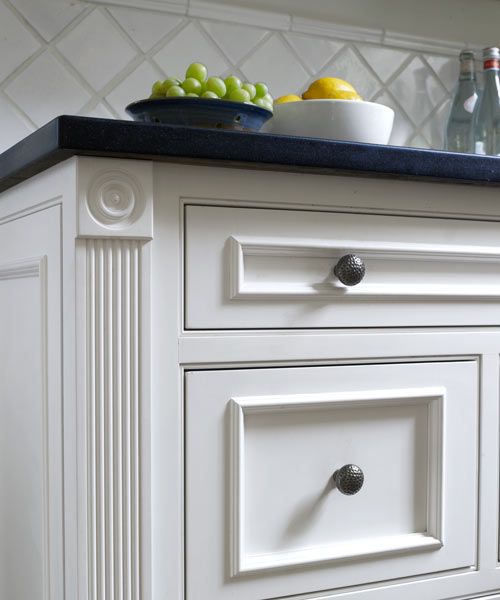 The inspiration: Vintage dressers and woodwork
The project: After gutting her kitchen and opening it to the dining room, designer Jane Schwartz wanted cabinets with traditional woodworking details. She designed cabinets with fluted columns, bull's-eye trim, panel molding—and drawers only. Along with mimicking freestanding dressers, "this makes for easy, pull-out storage," she points out.
The payoff: A vintage look plus full-extension hardware
10. Diamond Wainscot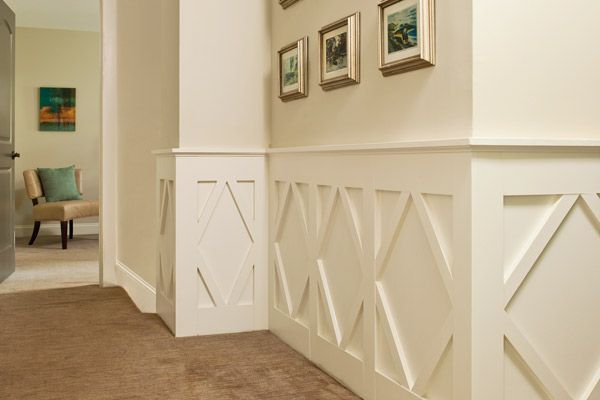 The inspiration: Leftover MDF scraps
The project: Determined DIYer Roy Shore plowed through a redo of his family's house, in Marietta, Georgia, only to be stymied by a hall where he had ripped out a closet, exposing a wall wrapped around a chase near stairs. Then his eyes fell on a pile of leftover 1-inch medium-density fiberboard, and a diamond wainscot sprang to mind. "I went upstairs with a miter saw and laid the MDF out on the wall, and it started taking on its own little shape," he says.
The payoff: An elegant solution, with bonus points for repurposing
11. Two-Tone Paneling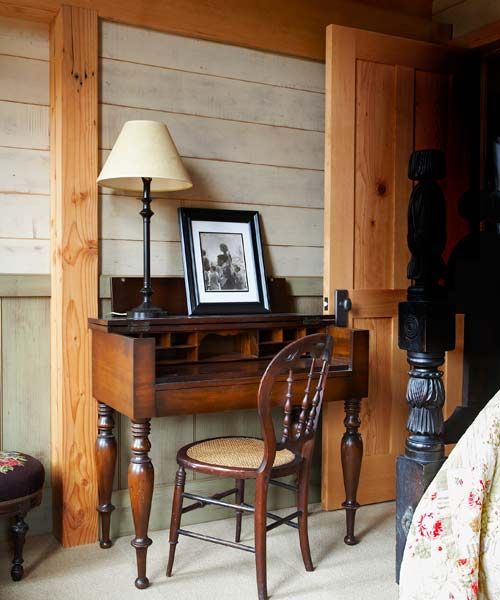 The inspiration: New England barns
The project: Working with the barn-loving owners of a home in Weston, Massachusetts, architect Chris Adams finished this guest room with locally harvested eastern white pine, prefinished by a nearby mill that distressed, stained, and painted the wood in two shades of green. "The horizontal panels evoke barn exteriors, and the wainscot incorporates a bead detail from Colonial houses," he says. Beams and posts made from salvaged Douglas fir frame the paneling, adding to the warm, layered look.
The payoff: The beauty of old buildings with the ease of prefinishing