The Destroyers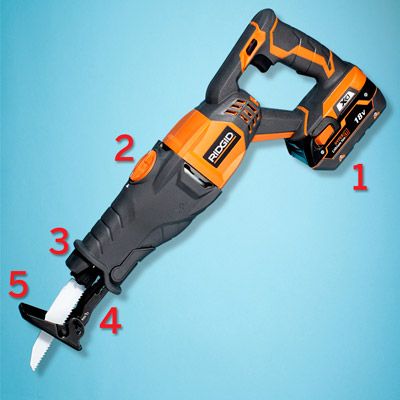 There's no thrill quite like tearing down a wall. These cordless reciprocating saws, with lightweight 18-volt batteries, compact designs, and smart features, keep the debris—and the fun—flying.
With a fistful of blades and a pair of full-capacity batteries, these saws can do a lot of damage. Just don't expect to bring down the entire house without rejuicing.
What to look for:
1. A battery gauge to show charge level because lithium-ion quits without warning.
2. A dial to switch between a normal stroke and a more aggressive orbital setting.
3. A mechanism to make blade changes easy, like this chunky twist collar or a cam lever.
4. An adjustable shoe to set cut depth.
5. A pivoting shoe that allows the blade to get a good bite on pipe.
Battery Test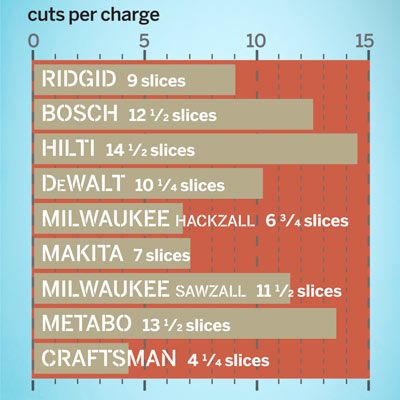 We fitted each tool with a new 6-inch, 6 teeth per inch (tpi) Lenox demo blade and went to work on a pressure-treated 4×4 post studded with 16d nails. Then we counted how many slices we got on a single charge.
Different Strokes: Flush Cut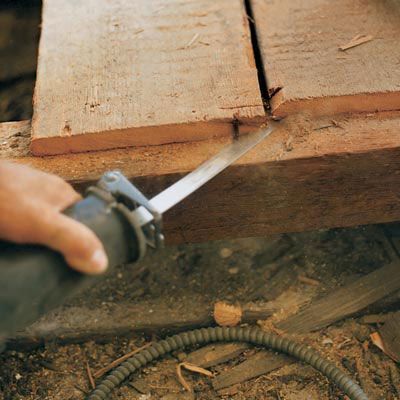 Trimming nails flush with the surrounding wood requires a thin, flexible 9- or 12-inch-long metal-cutting blade. Set the first one-third of the blade against the nail, and press it flat against the surrounding wood by pushing down on the forward grip and lifting up with the handle. Begin cutting at full speed, keeping consistent pressure on the forward grip as you saw through the nail.
Different Strokes: Plunge Cut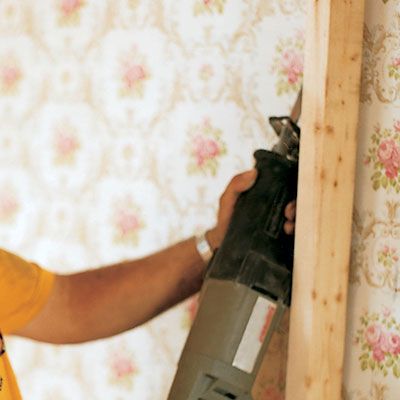 To keep from bending your blade, ease into the cut before going full speed. Press the shoe firmly against the material without letting the blade touch. Squeeze the trigger less than halfway and slowly lift up on the handle, pivoting the saw on its shoe until the blade's tip bites into the material. Gradually increase the speed and the angle until you cut all the way through.
Ridgid R8641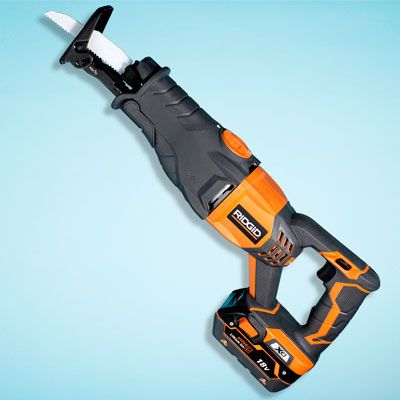 About $270, 7.6 pounds; Ridgid
All reciprocating saws push and pull the blade in a straight line, which is best for cutting metal. But this one can also switch to an orbital setting, where the blade moves with an elliptical stroke, allowing it to blast through wood much more quickly. Given the start-stop nature of demolition, we also appreciate the convenience of being able to leave the safety off. The adjustable shoe extends up to 1 inch, letting you customize cut depth, and also locks in at 90 degrees or at 22 degrees, a good angle for cutting pipe. Our only complaint: The battery gauge faces forward, forcing you to point the blade at your face to read it.
Fine print: Up to 3,600 strokes per minute (spm), ¾-inch stroke, 18⅛ inches long, one 3-amp-hour (Ah) battery. (Amp-hour is a measure of capacity—how long a battery can supply a specified current before discharging.)
Bosch CRS180K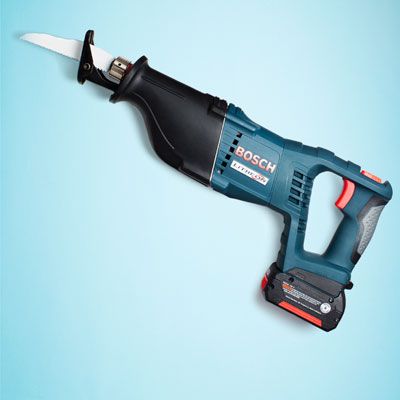 About $300, 7.6 pounds; Bosch Tools
This stellar performer has a unique, two-speed setting. Low is ideal for softer materials, like wood, while higher speeds are best for cutting harder stuff, like steel pipe. This saves you from relying on your trigger finger to find the motor's sweet spot and stay there when you're cutting through the same material all day. The body is well balanced and has the most comfortable forward grip, thanks to the wide lip and narrow neck on its thick rubber boot.
Fine print: Up to 2,700 spm, 1⅛-inch stroke, 17⅜ inches long, one 2.6-Ah battery
Hilti WSR 18-A CPC
About $450, 8.2 pounds; Hilti
Got a gut reno on your hands? This is the saw for you. Big, brutish, and with the longest battery life, this saw is built—and priced—for pros who need corded power where cords can't reach.
The battery gauge is easy to spot, and the pivoting shoe has the smoothest action of the bunch. While we prefer a lever to release the blade, at least this collar is rubber-coated, so it's easy to grip with a gloved hand and won't burn your skin if the glove is off.
Fine print: Up to 3,000 spm, 1⅛-inch stroke, 19⅜ inches long, two 3.3-Ah batteries
DeWalt DCS380L1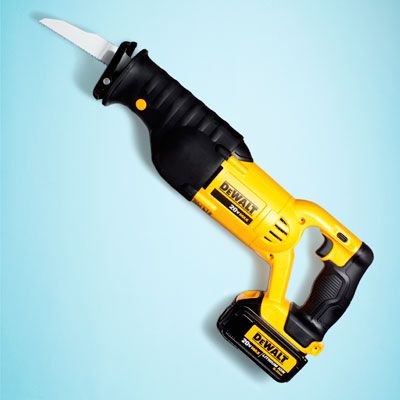 About $250, 7.35 pounds; DeWalt
All saws hold the blade in two positions. This one's four-position chuck ensures a comfortable grip no matter which direction you're cutting. The tool includes an adjustable pivoting shoe, a side-mounted blade-release lever, and a long-running battery in one of the shortest tools tested, making this a solid, all-around performer. The handle is covered in textured rubber for a comfortable grip, which you'll need because the saw tries to twist out of your hand when you start it.
Fine print: 3,000 spm, 1⅛-inch stroke, 16½ inches long, one 3-Ah battery
Milwaukee hackzall 2625-21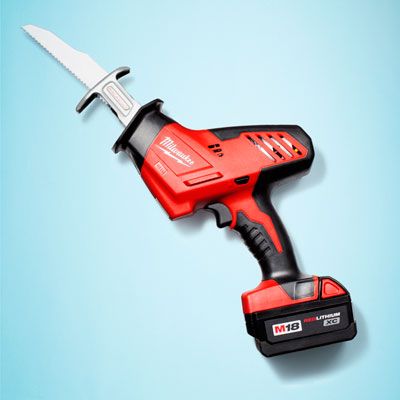 About $200, 5.6 pounds; Milwaukee
This one-handed saw is just the thing for work in tight or tough spots, like between studs, under cabinets, or overhead. The unique orientation of the motor keeps the saw short, giving you greater access in exchange for slightly less running time than the bigger tools. The motor's housing doubles as a forward grip when you need two-handed control. We appreciate the LED, but we'd like to see a blade brake and a pivoting shoe.
Fine print: Up to 3,000 spm, ¾-inch stroke, 13½ inches long, one 3-Ah battery
Makita BJR181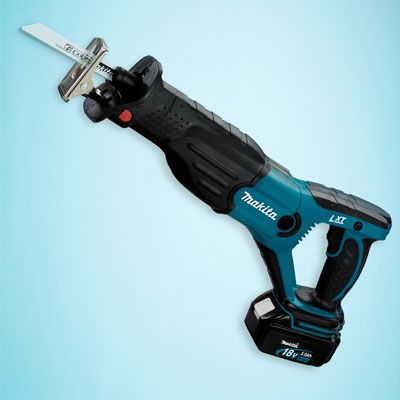 About $320, 8.2 pounds; Makita
This saw is long but well balanced, and there's plenty of comfortable rubber on the handle and forward grip. It's the only saw in this group that includes a big, fat rafter hook—useful when working on a ladder—and has easy access to the motor's brushes, which have to be changed when they wear down. The shoe has a 1¼-inch range and was one of the sturdiest in the lineup. Our biggest complaint about the tool we tested is that it shut down after only a couple of cuts. All these saws have overload sensors to prevent the motor or battery from burning up under heavy use, but the ones on the Makita kicked in so frequently that it slowed the work down significantly.
Fine print: Up to 2,900 spm, 1⅛-inch stroke, 19⅝ inches long, two 3-Ah batteries
Milwaukee Sawzall 2620-21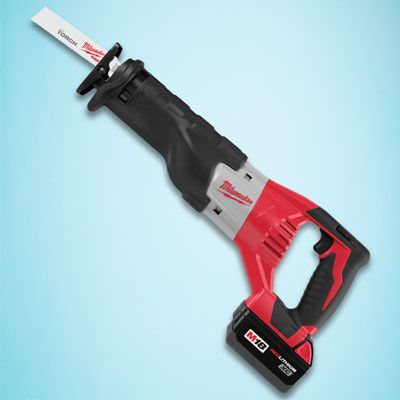 About $350, 7.9 pounds; Milwaukee
From the company that invented the reciprocating saw and pioneered its use as a respectable cordless tool, the new 2620-21 is powered by Milwaukee's longer-lasting Red Lithium batteries. They provided consistent, fade-free power until the saw stopped halfway through its 11th slice. This was the most comfortable saw tested, with a roomy handle and a big, fat lip on the rubber forward grip to brace your hand. The side-mounted blade release and a battery gauge are convenient, but we wish it had an LED, like the Hackzall, and a shoe that can be adjusted in and out.
Fine print: Up to 3,200 spm, 1-inch stroke, 17¾ inches long, one 3-Ah battery
Metabo 6.02269.85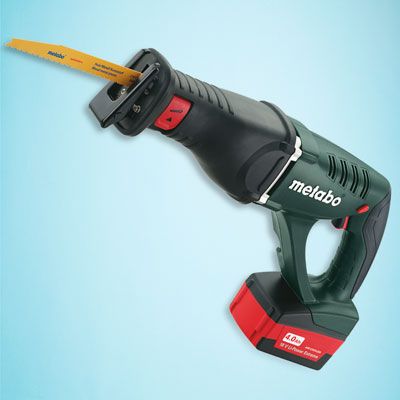 About $629, 7.9 pounds; Metabo
The only recip saw powered by a 4-Ah battery, the Metabo does cut fast, but it finished second in our battery-life test. This is one of the heavier saws, but not the best balanced; the weight feels concentrated in the front. We like the rear-facing battery gauge and side-mounted blade release. We'd like the adjustable shoe more if you didn't have to fiddle with two hex bolts to adjust its 1-inch range. And we didn't like the rubber forward grip, which fits loosely around the housing and makes it hard to hold the tool firmly.
Fine print: Up to 2,700 spm, 1 13/16-inch stroke, 16¼ inches long, two 4-Ah batteries
Craftsman 17549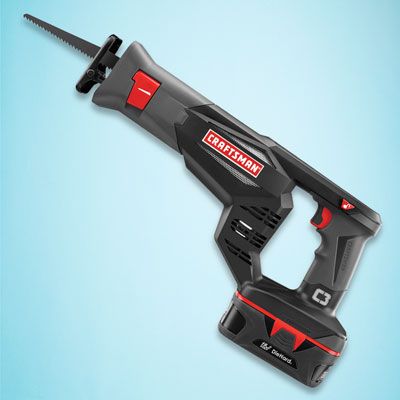 About $195, 6 pounds; Craftsman
Like the Hackzall, it has a compact vertical motor design and a low price, with the added advantage of a side-mounted blade release, to make blade changes quick. This saw is ideal for light-duty work—cutting through drywall or wood, or branches—but nails are a slow go. Two quibbles: You need a hex key to adjust the shoe; a tool-free adjustment should be standard here. And there's no safety lockout; the safety switch must be pressed in before you pull the trigger, an extra step that we found frustrating and unnecessary for this type of tool.
Fine print: Up to 3,100 spm, ⅞-inch stroke, 16½ inches long, one 2.4-Ah battery
Which Blade When: the Tale of the Teeth
Wood
3 to 10 tpi. Large teeth, and the deep gullets between them, slice through wood efficiently.
Shown: Ax, from $19 for five; Milwaukee
Wood with nails
6 to 10 tpi. Small teeth won't chip when they hit metal, but the alternating deep gullets help them chew wood.
Shown: 656G, from $20 for five; Lenox Tools
Metal
10 to 24 tpi. Small teeth leave a clean cut. The blades are wide to stop wobble and thin to reduce heat buildup.
Shown: Torch, from $16 for five; Milwaukee
All-purpose
6 to 10 tpi. Similar to blades for wood with nails, they're extra thick for added durability.
Shown: Wrecker, from $17 for five; Milwaukee
Tip: "Keep fresh blades handy, especially when you're cutting through nails. I'll go through 12 blades a day during a major demo."
—Tom Silva, TOH General Contractor